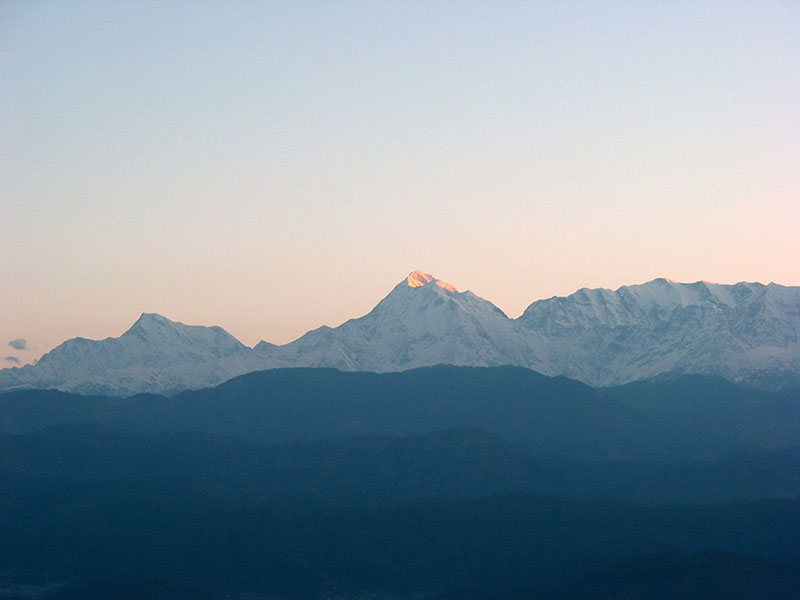 In this article, I will provide information on places to visit in Chaukori. If you are planning a trip to this lesser-known hidden gem of Uttarakhand, the list below can help you plan your local sightseeing in Chaukori.
Chaukori is a quiet and tiny little hill station sitting located in the Kumaon region of Uttarakhand. Until a few years ago, it was just a tiny village, one among many of Uttarakhand. It is only recently that this place has started receiving some tourist attention, after the efforts of Kumaon Mandal Vikas Nigam (KMVN) to develop it as a destination.
As such, there is really no long list of tourist places in Chaukori. The natural beauty of the village and the view it offers of the surrounding Western Himalayan range is by far its biggest attraction. When you are here, the only thing to do is to relax, enjoy the views, and take a walk. I am serious, that is all there is to do in Chaukori.
But with that being said, if you were planning to stay here for a few days, there are plenty of places to visit around Chaukori that you can cover. These are all located within a range of a few kilometers and can be visited as a day-long excursion.
For more details on how to reach, where to stay, the best time to visit, please take a look at How to Plan your Trip to Chaukori.
Places to visit in Chaukori
Let us first take a look at what you can see or do in the village itself.
Amazing view of the Western Himalayan Range
The best thing to see in Chaukori is a view of the distant peaks like Nanda Devi, Nanda Kot, Trishul, Raj Rambha, and the five peaks of the Panchchuli group. On a clear day, when there are no clouds, you can see all of these mountains clearly from Chaukori.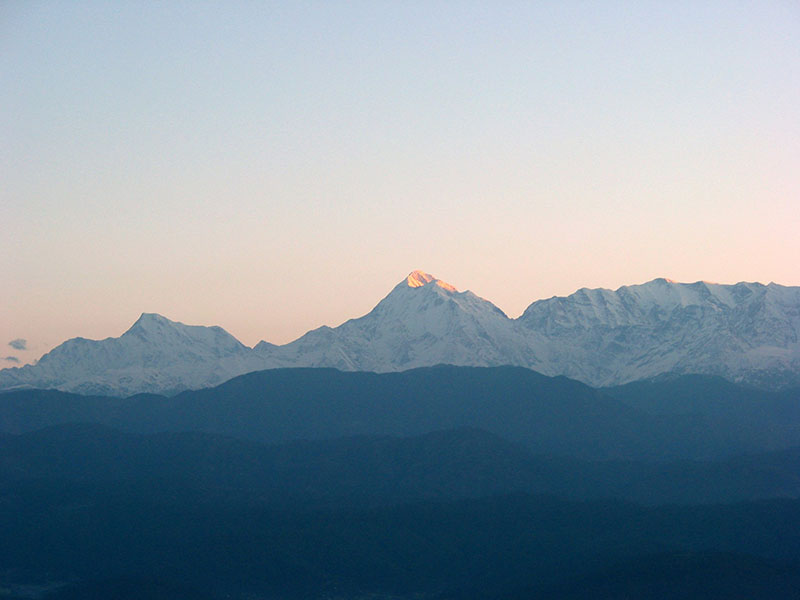 Natural Beauty
The scenery of the village is really like none other. If you visited here during the monsoon season or just after, the lush green valleys will surely inspire the awe out of you. During the winter season, in January especially, the entire region turns white and becomes a sight to behold.
Also Read: Lohaghat – A COMPLETE Travel Guide and Itinerary
Sunrise & Sunset View
Chaukori is among my favorite places to get an astounding sunrise view. Make sure you get out of the bed early and chose a spot of your liking. The KMVN rest house has a watchtower that can be a good spot.
Wait for the sun to come up from behind the mountains and witness a sight that you will remember for a long time. If you missed it in the morning, you will get an equally beautiful sight in the evening.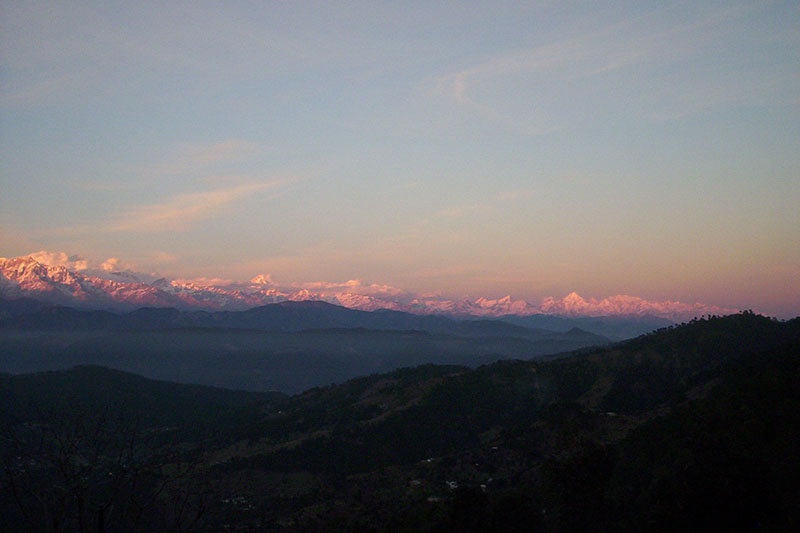 Tea Gardens
Chaukori is also known for its Tea Gardens. There are in fact a couple of resorts that are built inside the tea gardens. Even if you do not stay at the resort, you can still take a walk through the tea gardens.
Also Read: Harsil – A COMPLETE Travel Guide and Itinerary
Hanging Rocks
The entire Chaukori town offers great views but if you want them to get even better, you should take a hike to Hanging Rocks. No, there are no hanging rocks here. It is just a viewpoint at the top of the mountain, located after a short uphill trek of about 800 meters from Chaukori.
It gives an awesome panoramic view and from here, on a clear day, you can view as many as 13 mountain peaks including Trishul, Nanda Devi, Nanda Devi East, Nanda Devi kot, Mrigthuni, Panwali Dwar, Raj Rambha, Panchachuli Peaks and Anapurana range in Nepal.
And that is pretty much it. This is all there is to see in Chaukori itself. If you do a Google search, you will get articles by travel companies on their websites giving you a long list of places of tourist interest in Chaukori. But that is not correct. Those are just SEO designed articles targeting that particular keyword and will only misguide you.
When you come to Chaukori, you really should set your expectations right. You do not come to a place like this to go through an endless list of sightseeing and things to do. For that, you go to a place like Shimla or Manali. If you are coming to Chaukori, your main idea should be to visit an offbeat destination, see the natural beauty of Uttrakhand, relax, slow down life for a while, and rejuvenate yourself.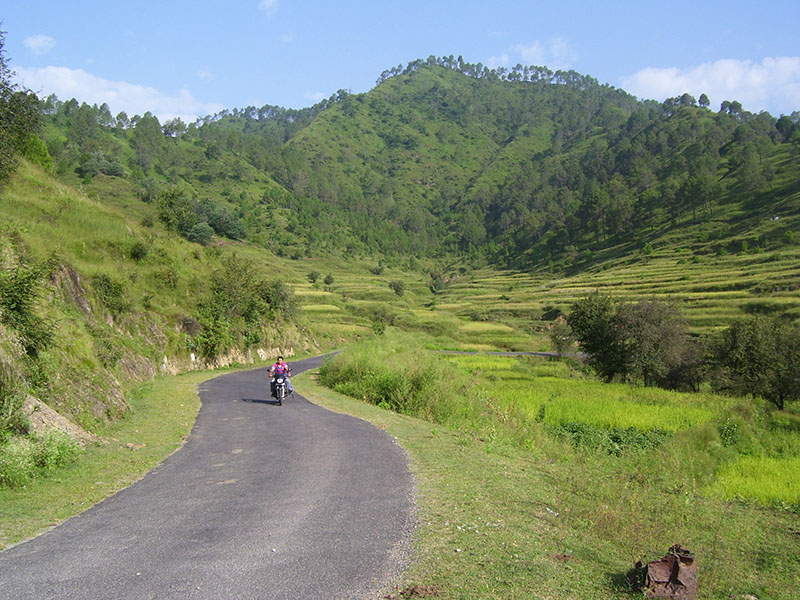 Places to Visit around Chaukori
If you were going to be in Chaukori for a day or two, then just focus on what I mentioned above. But if you were in the region for a few more days, listed below are some other places you can cover.
Also Read: Bike Trip to Auli – An Amazing Road Trip to Auli, Uttarakhand
Kali Taal Waterfalls / Tunkhola Waterfalls
If you want to add a waterfall to your trip, then you should head to Kali Taal, also spelled as Kalital. It is located in a jungle-like setting and is among the best places to visit near Chaukori. Also known as Tunkhola Waterfalls, it is not very large in size but not small either, see the picture below. If you were here after or during the monsoon season, you will find it swelled with water.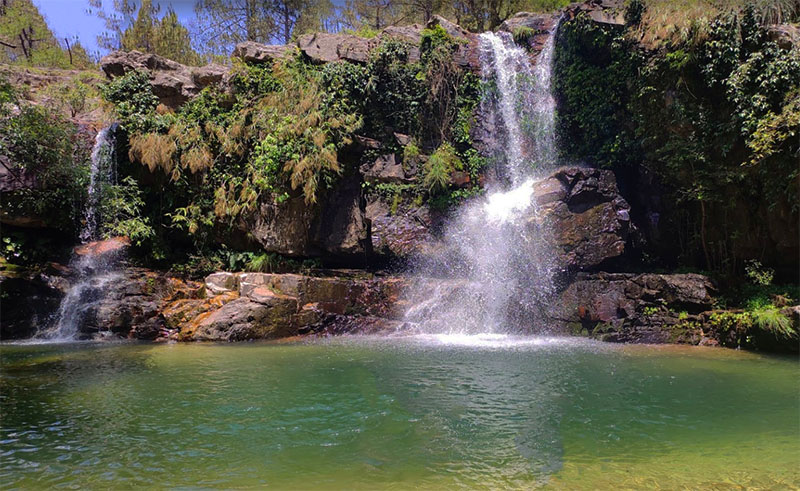 Dharamghar
Also known as Dharamgarh, this place is famous as the final resting place of Sarla Behan, one of the lady followers of Mahatma Gandhi and its tea gardens. It is located at a distance of about 10 kilometers from Chaukori. It is a very serene and calm place that can also serve as a good viewpoint.
Tea Gardens in Berinag
You will cross Berinag about 10 kilometers before Chaukori, if you were coming from Haldwani. It was previously known as Bedinag and is famous for its snake temples and beautiful tea gardens. In fact, Berinag Tea was once upon a time a highly sought after tea and the town was home to one of the best tea gardens in the country. Take a look at The History of Berinag Tea for more details.
There is also an ancient Nagmandir in Berinag that you can visit while you were in the town.
Musk Deer Park
There are only 2 parks in India where musk deers are bred and kept for research. One of them is near Chaukori. You can either trek to the park or drive. If you trek, it will take you about 2 hours to get there. The motorable road goes till the gate and after that, you will have to walk in the park. It is a good place to see musk deer in an almost natural habitat. Photography is prohibited in the park though.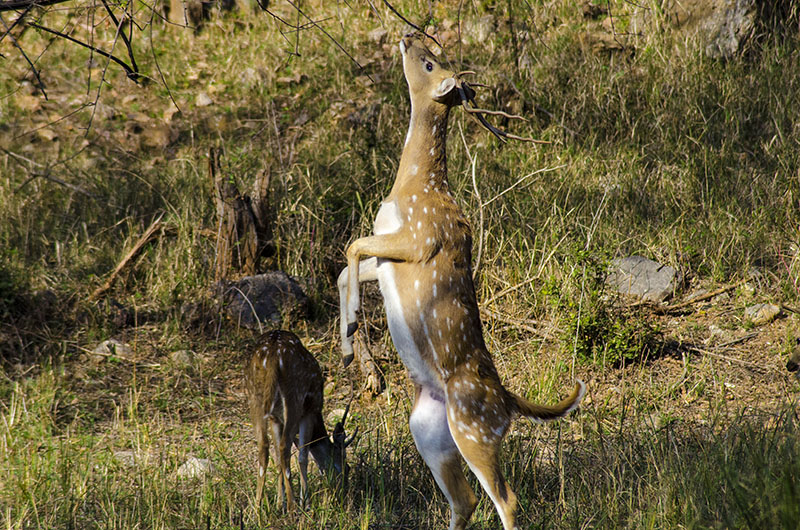 Patal Bhuvaneshwar
There is no way that you can miss visiting Patal Bhuvaneshwar if you were visiting Chaukori. It is a limestone cave temple, 160 meters long and 90 feet deep from the point of entrance. It is located in the village Bhubneshwar and is believed to enshrine Lord Shiva himself.
The temple is at a distance of about 38 kilometers and can be a day-long excursion from the village. I actually visited here while on my way back. We took a detour from Berinag and made a short visit to Patal Bhuvaneshwar. The motorable road ends half a kilometer away from the cave entrance after which, you will have to descend nearly 100 steps in the narrow cave.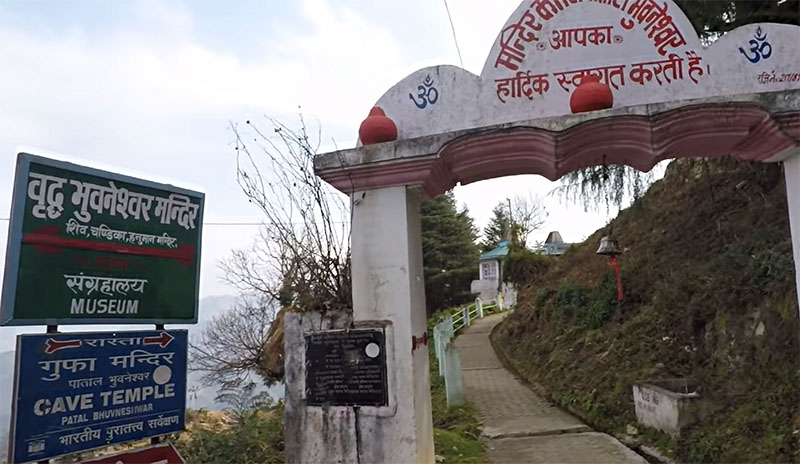 Mahakali Temple Of Gangolihat
Also known as Haat Kalika Mandir, it is a beautiful temple of great religious significance. It is located in Gangolihat, at a distance of about 37 kilometers from Chaukori.
Also Read: Less Crowded Hill Stations in Uttarakhand
Other Temples
There are a lot of other temples around Chaukori that you can visit. Mentioned below is a list.
Mostamanu Temple – It is located about 90 kilometers from Chaukori and dedicated to Mosta God. The temple is best known for its annual fair between August and September.
Cave temples of Ghunsera (Ghunsera Devi Temple)
Kedar temple
Nakuleshwar Temple
Kamaksha Temple
Kapileshwar Mahadev Cave temple
Ulka Devi Temple
Jayanti Temple Dhwaj
Arjuneshwar Shiva temple
Kot Gari Devi
Tripuradevi temple
Maa Bhagawati Devi temple
Sri Moolnarayan temple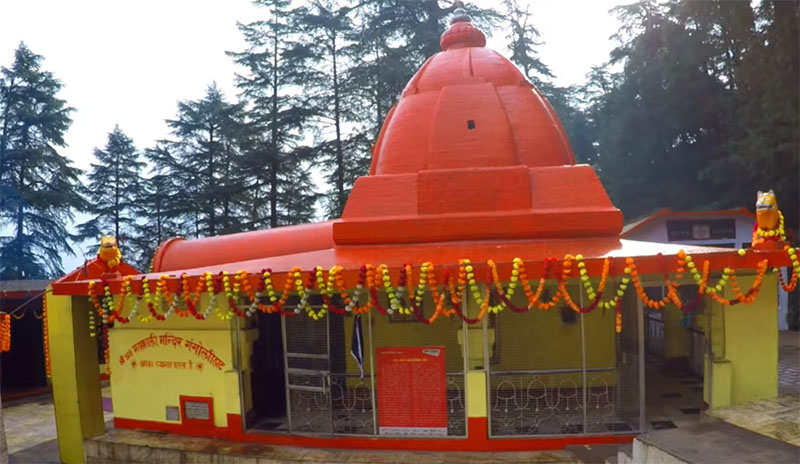 Things to do in Chaukori
Other than visiting the above-mentioned places, listed below are some other things that you can do in and around Chaukori.
Photography
I think this one is a given. Irrespective of whether you were a serious photographer with a huge DSLR hanging around your neck or an amateur with a fancy cellphone camera, you will get numerous opportunities to click stunning pictures in Chaukori. The landscape shots you will get here will be among your very best.
Also Read: Pangot Travel Guide – How to Plan your Trip & Explore !
Enjoy the night Skies
The pollution-free skies of Chaukori light up each night with countless stars, a view that city folks like us rarely get. If you were into photography and were carrying a capable enough camera, you will have your fun getting some great long exposure shots and capturing star trails.
Visit Berinag Market
You can take a short break in Berinag and visit the local market here. It is a good place to but some traditional handicrafts and hand-knitted woolen clothes.
River Rafting
Yes, you can also go river rafting in Chaukori. The rafting point in the Kali River is about 30 kilometers from Chaukori and can be a good day-long activity.
Bird Watching
During the winter season, a lot of migratory birds arrive in Chaukori and make it their home. If you are into bird watching and want to spot some rare but beautiful birds, Chaukori can be a good place to do so. If you are into photography, it will be a great opportunity to click some beautiful bird pictures.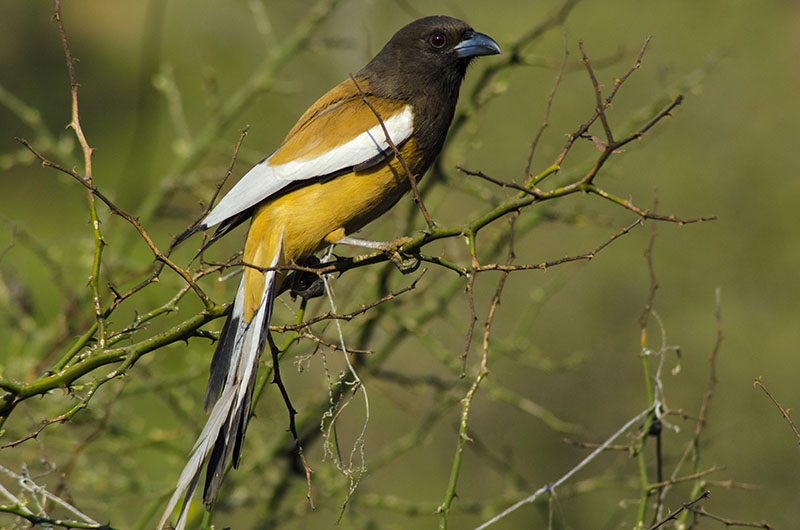 Village Walk
The locals of Chaukori are very warm and welcoming people. Just take a walk through the village, observe their lifestyle, talk to them, listen to their stories, and learn about their culture.
Places to visit in Chaukori – Conclusion
I hope the information above on planning a visit to Chaukori was of help. If you have any questions or need any other details, please feel free to ask in the comments section below, or at our Community Forum, and I will be glad to answer.