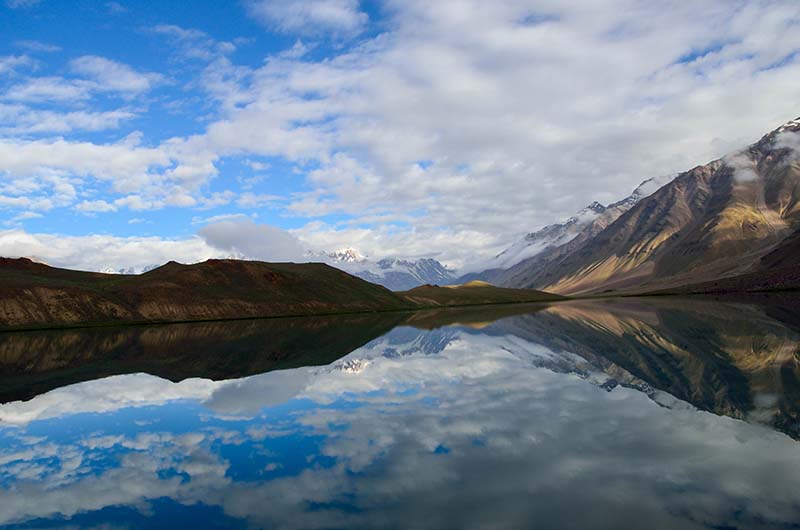 How do you plan a trip to Chandratal if the intent is to only visit Chandratal and not the entire Spiti valley? Hopefully, after reading the Chandratal Lake Itinerary that I am going to discuss below, you will have a detailed answer to this question. I will share a couple of itineraries and you can pick one that suits you the most.
For the sake of the article below, I will assume Delhi as the starting point. If you are traveling from elsewhere, then only your journey for the first and last day will change. The rest will remain applicable irrespective of your starting point.
Please note that in this post, I am discussing the trip assuming you only want to visit Chandratal and head back home from there. If you are however traveling on the Spiti Circuit and wondering how you can include Chandratal in your trip, please read The Best Itinerary for Spiti Valley.
Chandratal Lake Itinerary
While a visit to Chandratal usually gets incorporated with Spiti valley, a lot of people also try to make a short trip to only Chandratal. The major reason behind this is that this small lake has recently been gaining a lot of popularity as a preferred camping spot. And in my opinion, camping here is indeed a heavenly experience.
How to reach Chandratal
In order to plan your itinerary better, you first need to understand the route you should take. There are two ways that you can reach Chandratal. You can either travel from Manali via Gramphu and Batal or you can reach the lake from Shimla via Kaza.
From Shimla, you will have to travel through the entire Kinnaur and Spiti valleys before you make it to Chandratal. This journey will be of 3 days at a minimum. On the other hand, if you went via Manali, you can reach Chandratal within 6-7 hours. So if you only want to visit only Chandratal, the best way to do it is to plan from Manali side.
But traveling from Manali has its own set of challenges which I will detail below.
Acute Mountain Sickness at Chandratal
This will be your biggest challenge when planning a short trip to Chandratal. On Day 1, you will be at home in plains and will reach an altitude of 2000 meters at Manali by evening. On Day 2, you will reach Chandratal which is at an altitude of 4250 meters. So within a matter of 36-40 hours, the gain in altitude will be tremendous, more than what your body could keep up with.
This is more or less an inevitable situation for everyone. The best defense again acute mountain sickness is a slow gain in height and plenty of rest. Since neither of the two is happening in this case, you are likely to suffer from some symptoms, either at the lake or on the way.
It is not absolutely necessary that it will happen though.  I know people who did not feel anything at Chandratal at all. But there have also been instances when people were forced to return from Rohtang itself.
So it is really something that you would know for sure only when you travel. If however, your condition starts to deteriorate, do not spend any more time at the lake, and immediately travel towards Manali. If this is not an option then go to Kaza which may not be at a significantly lower altitude but you can at least hope to get medical attention there. For more information, please read How to Deal with Acute Mountain Sickness in Spiti Valley.
Rohtang Pass Permits
This will be the next biggest challenge. Traveling to Chandratal from Manali means that you will have to cross Rohtang Pass which requires you to obtain a permit; either online or from SDM office Manali. Without the permit, you will not be allowed to go beyond the Gulaba check post.
The restriction on the number of vehicles traveling to the pass makes this process a big hassle. Read  Rohtang Pass Permits: Details, Charges & How to Apply for more details.
If however, you are traveling by public transport, then there is no need to obtain any permit at all. This permit is issued on per vehicle basis and not per person. So if you were sitting on a bus, you won't have the need to get the permit.
With all of the above being said, mentioned below are a few itineraries for Chandratal that you can follow for a short trip. From a place like Delhi or Chandigarh, a minimum of 4 days is required to visit Chandratal and return back home.
However, on a 4 days trip, most of your time will be spent on the road and you will get very little time (just a few hours in the evening and late-night) at the lake. In order to actually enjoy the trip, I would recommend a minimum of 5 days.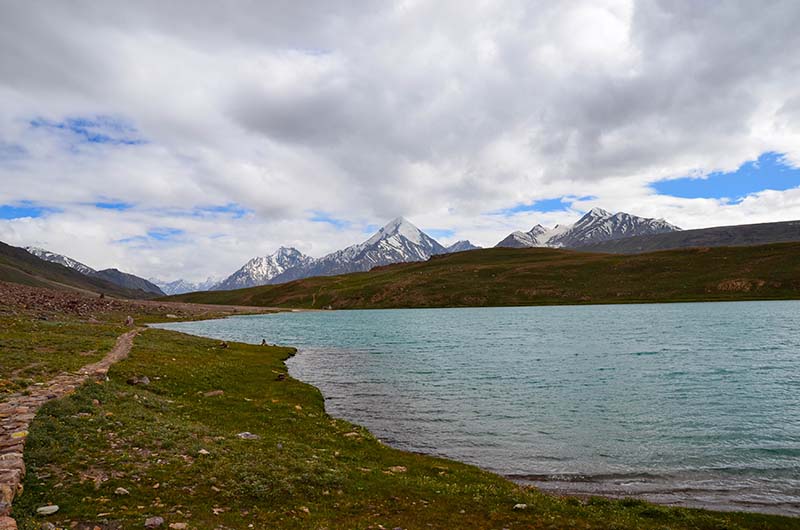 Chandratal Lake Itinerary – 4 Day Travel Plan
The below-mentioned itineraries will apply both from the point of view of traveling by your own vehicle or by public transport. I will mention two itineraries, one for 4 days and another for 5 days.  The details for your journey from home to Manali and then back home will pretty much remain the same. The only change will be around where you will stay while visiting the Lake. The Itinerary will be:
Delhi to Manali – Day 1
Manali to Chandratal – Day 2
Chandratal to Manali – Day 3
Manali to Delhi – Day 4
Mentioned below are further details on your journey on all the four days.
Delhi to Manali – Day 1
This will be a long monotonous drive across NH1 and finally to Manali by late evening. Total travel time can be anywhere between 12-14 hours depending upon your speed and number of breaks you take.
An early start, possibly by 4 AM, from Delhi is highly recommended. If you are traveling by your own vehicle, then the biggest concern would be the permits for Rohtang Pass. You should keep this arranged in advance as you will not have any time on Day 2 to get these from SDM office Manali. There are two ways to go about it.
You can either obtain the permit beforehand online or you can also contact a hotel in Manali and ask them to arrange for your permits. If the hotel agrees, pay them an additional fee for arranging your permits and book your night stay in Manali with them. This way, when you reach Manali late on Day 1, your permit will already be there waiting for you.
If however, you are catching a bus from Delhi, then I recommend that you still make this a day trip. Board an early morning bus from Delhi that can drop you at Manali by late evening. Most of the Volvo or HRTC buses from Delhi start by late evening and reach Manali next day morning which sounds reasonable but may not actually work for you.
From Manali, you will have to catch an early morning bus towards Kaza and if the bus from Delhi did not arrive on time, you will miss the Kaza bus. So either board a day bus from Delhi or catch a night bus that will see you in Manali by 5 AM.
Also Read: How to Plan a Trip to Manali
Manali to Chandratal – Day 2
Once again take an early start. This will help you avoid the possible traffic jam at Rohtang top. There will surely be a long queue at the Gulaba check post and sometimes it can be hours before you are able to cross it.
Secondly, the distance from Manali to Chandratal may not seem that great but the extremely bad roads will severely limit your speed due to which the total travel time will increase.
Cross Rohtang La and while descending, take the diversion towards Spiti valley near Gramphu. From here until Batal, you will be driving on the worst stretch of road that you have ever been on. Numerous water streams, slush, loose stones, sharp rocks, and narrow dirt road will surely make this a joyride.
Once you reach Batal, continue towards Kunzum Pass and after 2-3 kilometers uphill, you will notice the 14 kilometer long road to your left that goes to Chandratal. This is the one you will be taking.
It is barely wide enough for a single car. So drive slowly and keep an eye out for any car coming from the opposite direction. If there was one coming, find a spot wide enough to cross and wait for it there. Below is a picture of the road.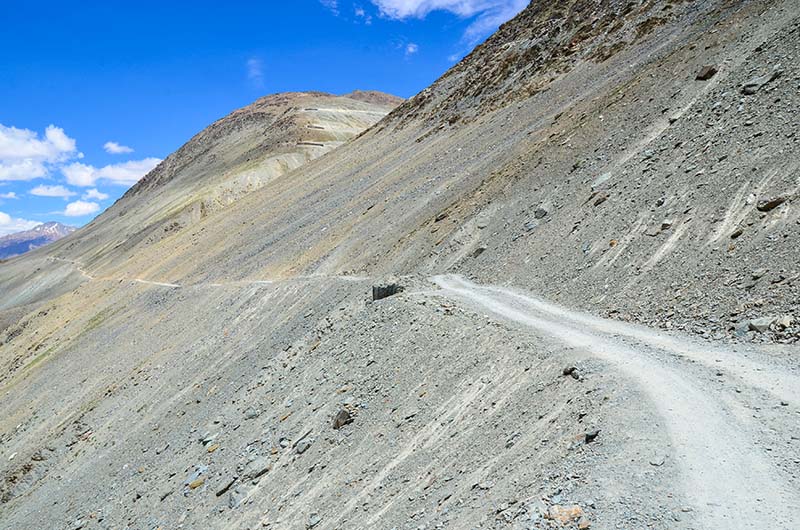 Chandratal
About 4 – 5 kilometers before the lake, you will start coming across several campsites. The law does not allow camping at Chandratal so all the campsites are at least at a distance of about 3 kilometers. Take a look at the camps and check into one per your taste.
The road after the camps continues for another two kilometers before ending at a parking-like area. From here, you will have to walk the last one kilometer to the lake.
Also Read: Where to Stay at Chandratal
By Bus
If you were traveling by Bus, then you will have to catch the bus that goes to Kaza from Manali at 6 AM. Traveling by this bus, you will get down at Chandratal diversion from where you have three options.
Either you wait for a shared taxi to arrive, chances of which are very less. Your second option is to hitchhike. In peak tourist season, a lot of people travel this way so you will have no trouble finding a ride. The third and final option is to start walking.
My advice would be that you should get down at Batal at the Dhaba. Ask around if there was anyone going towards Chandratal. If you did not find anyone, just start walking to the lake and hitch a ride if you come across someone while on the way.
Below is a picture of the camps at Chandratal.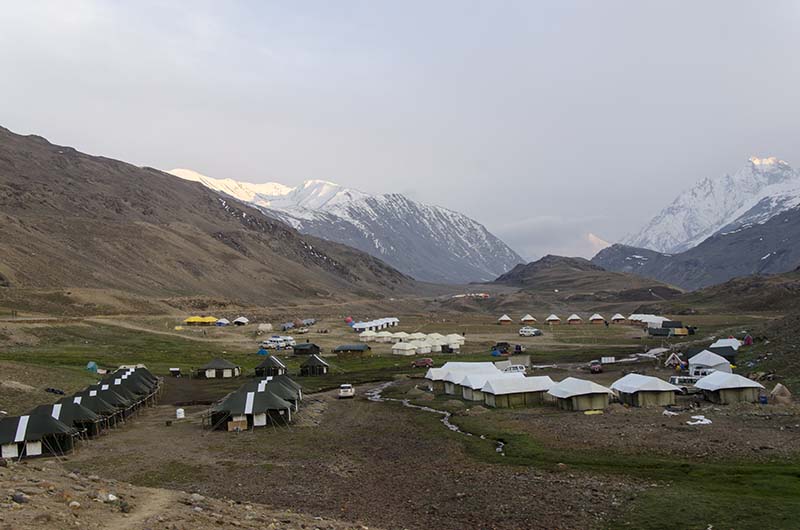 Chandratal to Manali – Day 3
Today you will start your return journey via the same route that you took to reach Chandratal. Take a morning walk at the lake and start towards Manali by 8-9 AM. No permits are required to cross Rohtang if you are coming from the opposite side towards Manali so you do not have to worry about that. Reach Manali by evening and stay here for the night.
If you reached Chandratal by Bus, then on this day you will need to ensure that you reach back the Chandratal diversion at Kunzum Pass before 8 AM. There is a morning bus that goes from Kaza to Manali which you will need to catch. It starts from Kaza sometime around 6 AM and reaches Kunzum Pass / Batal by 8.30 so be here before the bus arrives.  Board this bus all the way back to Manali.
For your journey back from Chandratal to Batal, you will again have to seek help from other travelers and find someone to give you a ride. If you were in no mood to hurry and rush in the morning, you do not absolutely need to. Start as per your convenience, walk back to Batal and from there, find a shared cab for Manali. From Batal, it will not be too difficult finding a ride to Manali.
Manali to Delhi – Day 4
Once again, this will be nothing but a long monotonous drive back home. Start early morning from Manali and reach Delhi by late evening.
If you were traveling by Bus, another option is to catch an evening bus from Manali on Day 3 itself. There are several late-night buses available between Manali and Delhi. So on Day 3, after you come back from Chandratal; do not check into a hotel. Go straight to the bus stand, find the next bus for Delhi, hop on it, and sleep your way back home.
If you can spare a day more, then you can plan your itinerary for Chandratal even better. When it is a 4 days trip, most of your time is spent traveling. The actual camping time on the lake is just a couple of hours in the evening and a morning walk to Chandratal. Adding a day here would help tremendously and you would be able to enjoy the trip better.
Mentioned below is a 5 days Itinerary for Chandratal.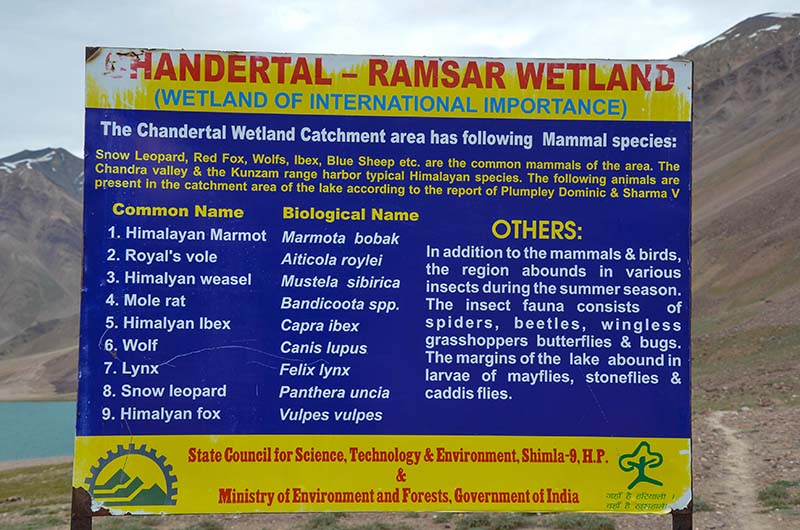 Chandratal Itinerary – 5 Day Travel Plan
There are two ways that you can plan a five days trip. Either you follow the 4 days of travel as I mentioned above and add a Day 3 of stay at Chandratal Lake. I too would advise doing this.  Your itinerary will then look like this.
Delhi to Manali – Day 1
Manali to Chandratal – Day 2
Chandratal – Day 3
Chandratal to Manali – Day 4
Manali to Delhi – Day 4
Another way to travel can be as below, which will be better if you are traveling by Bus.
Delhi to Manali – Day 1
Delhi to Batal – Day 2
Batal to Chandratal to Batal – Day 3
Batal to Manali – Day 4
Manali to Delhi – Day 5
Also Read: Clothes for Spiti Valley – What to Pack
Details
If you are traveling by your own vehicle and budget is not a problem then I would recommend that you go to Chandratal on Day 2 and spend Day 3 there. If however, you are traveling by Bus or on a budget trip, then I would recommend the second itinerary. Batal has a Dhaba where you can get a bed to sleep on for Rs. 200 – 300. Food too at this Dhaba is not expensive.
If the high charges of campsites are not within your budget, even then you should stay at Batal. Almost everyone traveling on this route stops at Batal for a short break. So traveling by public transport means that you have a better chance of getting a shared taxi or hitchhiking from Batal.
If you want to stay at a cemented hotel and would not prefer a camp; then too you should try your luck at the PWD Rest house at Batal.
Following the second itinerary, your Day 1 travel will exactly be the same as I described above. On Day 2 however, rather than going all the way to Chandratal, you will halt at Batal and stay there for the night.
On Day 3, travel to Chandratal and be back to Batal before dark. If you are traveling by public transport; then just wait at the Dhaba for either a shared taxi or someone who can give you a lift to arrive.
Another way and probably the best one would be a walk through the mesmerizing Spiti valley. Since you have all day, start early in the morning and trek all the way to Chandratal. After spending some time there, you can either walk back or hitchhike. On Day 4 you will return to Manali and then to Delhi on Day 5.
Also Read: How to Plan a Trip to Rohtang Pass
Chandratal and Spiti Valley Itinerary
An alternate version of this plan can be as mentioned below, but this is only doable if you were traveling in your own car.
Delhi to Manali – Day 1
Manali to Kaza – Day 2
Kaza to Chandratal – Day 3
Chandratal to Manali – Day 4
Manali to Delhi – Day 5
As per this plan, you will go straight to Kaza on Day 2 via Kunzum Pass and Losar. This will help tremendously in terms of high altitude acclimatization.
On Day 3, you will travel back to Chandratal but will take a different route. From Kaza, go to Kibber village, Chicham, and then drive down to Losar. From there, you will continue to Chandratal where you will easily reach by 3-4 PM.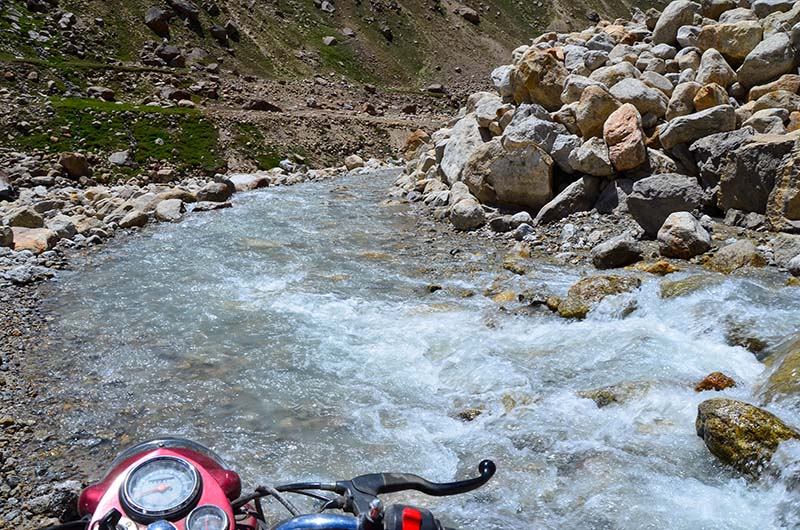 Chandratal Lake Trek Itinerary
Last but not the least, let us take a look at a few trekking itineraries as well. How you want to plan it entirely depends on how much time you have in hand.
A few examples of trekking itineraries to Chandratal are as mentioned below.
Batal – Chandratal Trek Itinerary
Delhi to Manali – Day 1
Delhi to Batal – Day 2
Batal to Chandratal – Day 3
Chandratal to Batal to Manali – Day 4
Manali to Delhi – Day 5
This is the exact same itinerary that I described above. The only thing I would like to add though is that on Day 3, you will not hitchhike or drive but simply walk all the way to Chandratal and back.
This is 18 kilometers one side of walking though so you will go on Day 3 and return on Day 4. But on Day 4, you will not stay at Batal but find a ride back to Manali itself.
Chandratal Lake via Hampta Pass
Another way to do this trek is as mentioned below. This is a little more serious trekking though and not just a walk to the lake. This trek will start from Manali itself and will have you walk across the famous Hampta Pass.
Delhi to Manali – Day 1
Manali to Jobra and trek to Chika – Day 2
Chika to Balu ka Ghera – Day 3
Balu ka Gera to Siagoru via Hampta Pass – Day 4
Siagoru to Chatru and drive to Chandratal – Day 5
Chandratal to Manali – Day 6
Manali to Delhi – Day 7
In all honesty, this is really a Hampta Pass trek itinerary and you are just adding a day to it in order to visit Chandratal.
Suraj Tal and Chandratal Trek Itinerary
A trek itinerary more dedicated to Chandratal can be like below. In this one, you will also cover the beautiful Suraj Tal in Lahaul Valley.
Delhi to Manali – Day 1
Manali to Jispa – Day 2
Drive to Baralacha La and Suraj Tal and Trek to Chandratal – Day 3
Chandratal to Manali – Day 4
Manali to Delhi – Day 5
For this trek though, you will really need to hire professional trekking guides. The entire arrangement will have to be made in advance. On Day 1, you will reach Manali and Jispa on Day 2. On Day 3, you will a vehicle arrange by your tour company will drop you at Suraj Tal at Baralacha La from where your trek will start. It could even take you two days to make it to Chandratal from Suraj Tal on foot.
Once you reach Chandratal, you will check into a campsite and stay there for the night. The next day, you will come back to Manali via Batal and then drive back to Delhi.
There is also an amazing story related to Chandratal and Suraj Tal; a tale of two lovers that I will urge you to read at The Legend of Chandratal and Suraj Tal.
Rented Motorcycles
I will also provide a little information on renting a motorcycle for Chandratal. This is a great choice for someone traveling by public transport but wanting to get a taste of the adventure.
There are numerous motorcycle rental agencies in Manali offering several types of bikes on rent. At an average, you will pay Rs. 1000 for a bike like Pulsar, Rs. 1500 for Enfield 350CC and Rs. 2000 for RE 500 CC or Himalayan. For more details, please read How to rent a Motorcycle in Manali.
If you were planning on this, then I will recommend keeping a motorcycle booked in advance if you were short on time; so that you do not have to spend a day in Manali. While you were booking the bike, also ask the rental agency to arrange Rohtang permit for you.
Traveling this way, you will arrive on Manali on Day 1 by Bus and collect the rented bike.  On Day 2, 3, and 4, you will visit Chandratal. On Day 5, you will come back to Manali, handover the bike and return to Delhi.
Conclusion
I hope the above mentioned information on Chandratal lake itinerary was helpful. If you have any further questions, please feel free to ask in the comments section below or at our Community Forum and I will be glad to answer.