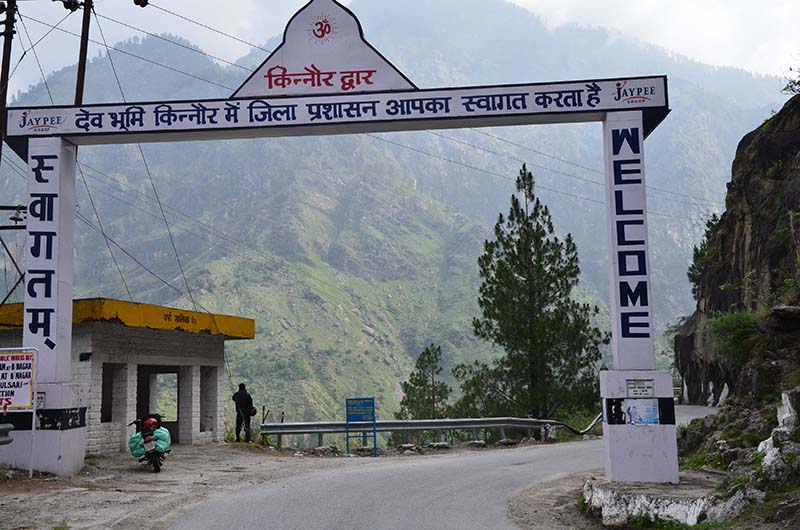 What is there to see in Kinnaur? The answer to this question will be a long list of places because Kinnaur is an entire district. You can spend several days, weeks even, in the Valley, and will still not be done with the list. The natural beauty of the place is its biggest attraction but there are several other places in every town or village that are worthy of mention. In this article, I will provide a complete list of tourist places to visit in Kinnaur Valley that you can use for your local sightseeing in Kinnaur.
Please note that in this article, I will only discuss tourist attractions in Kinnaur. If want to get other details like How to reach, where to stay, the best time to go, etc, please take a look at How to Plan a Trip to Kinnaur Valley – A Complete Travel Guide.
About Kinnaur
Let us first talk about Kinnaur as a region so that you have a better understanding and idea of the places. It is one of the twelve administrative districts of Himachal Pradesh and the second least populous one, after Lahaul and Spiti. It is spread over an area of 6,401 km2 and is surrounded by three high mountain ranges enclosing valleys of Sutlej, Spiti, Baspa, and their tributaries. (Source: Wikipedia).
The valley is divided into two parts, Upper Kinnaur and Lower Kinnaur. You enter the district shortly after Rampur and then it stretches as far as Nako Village. Sarahan is known as the gateway to Kinnaur and Reckong Peo is its administrative headquarters.
The area around Sarahan, Sangla, Chikul, Reckong Peo, and Kalpa is known as lower Kinnaur, and the places like Pooh, Khab, and Nako are a part of upper Kinnaur. Nako is often confused as part of being Spiti valley because of the resemblance in the landscape but it is in fact the last village of Kinnaur Valley. Once you cross over Nako, you enter Spiti.
Most of your drive through the valley will see you traveling along the Sutlej River. As you enter Sangla Valley, you will be right next to the beautiful Baspa River. At Khab, near Nako, you will also see the confluence of Sutlej and Spiti Rivers.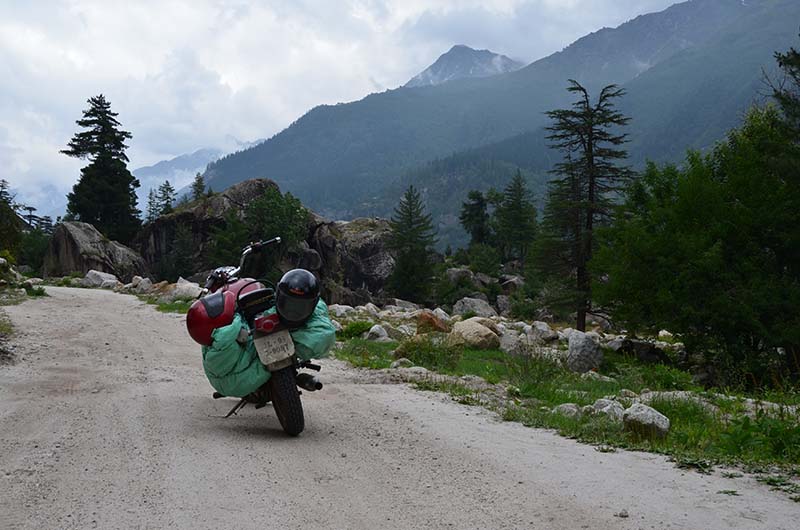 Places to visit in Kinnaur Valley
There are four major places that become a part of a trip to Kinnaur Valley. These are the villages of Sarahan, Sangla, Chitkul, and Kalpa. The list is of course not limited to these places and depending on the time you have in hand, can get extended as well. You can also spend time in Shimla and Narkanda while traveling to Kinnaur and if time allows, can also travel as far as Nako.
So all your tourist spots in Kinnaur are in and around these places only. I have extensively written about these destinations but in this article, I will list down the tourist attractions in Kinnaur as a quick reference.
Also Read: Road Trip to Kinnaur Valley – Kalpa, Chitkul, Sarahan, Theog
Natural Beauty
This I believe is a given when you talk about places to visit in Kinnaur Valley. The natural beauty of Kinnaur Valley will really leave you charmed. It is one of the last few places in our country that is still easily accessible but is yet untouched by the tourism mania. Lush green valleys, snow-capped mountains, beautiful orchards, riverbanks, waterfalls, natural springs are what Kinnaur Valley is all about.
If you included Nako in your itinerary, you will find the slow transformation from all the greenery to the barren brown landscape quite amazing. Within a few hours of drive, all the green will vanish and you would have entered a desert.
Sutlej River
Most of your drive in Kinnaur will be on the banks of the River Sutlej. You will get your first view of the mighty river as you start driving down from Nako. Slowly, you will then drive down right to its banks, and then it will remain on your left all the way until Khab Bridge where it is joined by the Spiti River.
There will be several spots where you can even get down to the river as well. Photographic spots too will be in plenty where you can get some memorable pictures.
Also Read: Kinnaur Road Status | Road Condition in Kinnaur Valley
Baspa River
Once you turn right from Karcham and cross the Dam over, you will enter Sangla Valley, also known as Baspa River Valley. The river flows down to the village of Chitkul, which is the last village on the border and this is where the motorable road ends. After Chitkul, it flows for about 45 kilometers before merging with River Sutlej at Karcham. On the way, it forms the beautiful Baspa River Valley that Chitkul and Sangla are located it.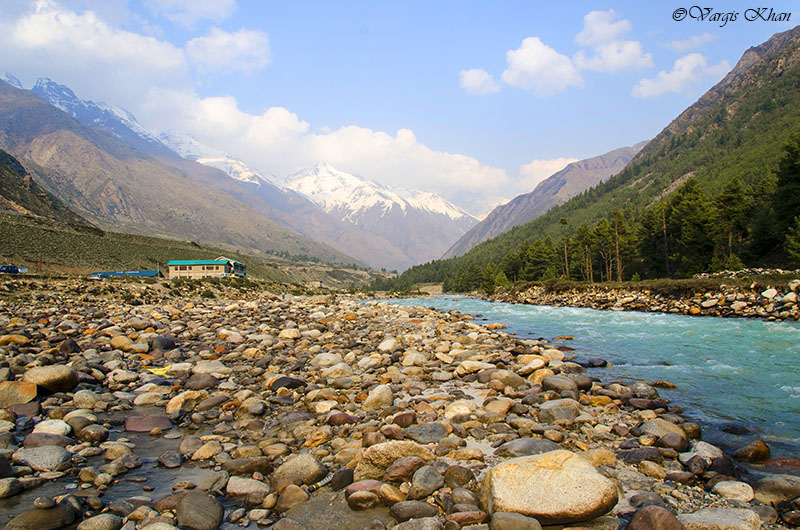 Sarhan
Sarahan is located at a distance of about 170 kilometers from Shimla. It is known as the 'gateway of Kinnaur' and is best known for its Bhimakali temple, one of the 51 Shakti Peethas. It was once the summer capital of the rulers of the Bushahr Kingdom and still holds great significance for the locals.
An ideal itinerary of Kinnaur Valley will have you spend at least 1 day in Sarahan. It is at a significant height and offers a stunning view of the entire valley around. During the winter season, it remains buried under snow and turns into a winter wonderland. The place also has several beautiful apple orchards and is really a good place for nature walks.
In order to get to Sarahan, you will drive from Rampur towards Reckong Peo and will arrive at the small town of Jeori. From Jeori, you will turn right on an uphill road. The road is a very narrow one and will climb steeply for the next 12 kilometers, arriving at Sarahan.
Other than the natural beauty, there are a few places in Sarahan that are worth a visit. Below is a list. If you were able to spend an entire day in Sarahan, you will be easily able to cover them all.
Bhimakali Temple
Sarahan Bird Pheasantry
Hawa Ghar
Sarahan Palace
HPTDC Hotel Shrikhand
Nalati Stadium
Apple Orchards
I have covered all of these items in great detail in another article, Places to Visit in Sarahan and Things to Do, that I will urge you to read. Writing about these places here again would have just rendered this one post endless.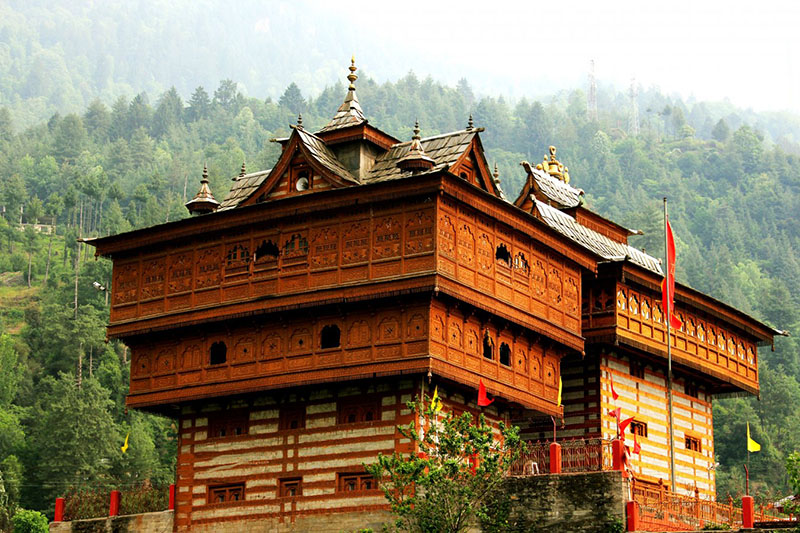 Sangla
After Sarahan, the next entry in the list of places to visit in Kinnaur Valley is the town Sangla. The word Sangla stands for both the town and the valley that it is located in. It is hard to say whether the town was named after the valley or vice versa.
In order to get here, you will drive down from Sarahan to Jeori and then take the road towards Reckong Peo. On the way, you will arrive at the magnificent Karcham Dam. Turn right, cross the dam over and you would have entered the beautiful Sangla Valley, also known as Baspa River valley.
About 20 kilometers after Karcham, you will first arrive at Sangla town. If you continued for another 20, you will reach the end of the road at Chitkul village.
It will not take you long to conclude why Sangla Valley is so well known for its natural beauty. Located right next to the river, the town is really a beauty in itself. It is not too big in size but has an ATM, petrol station, several hotels, and pretty much everything you will need as a tourist.
he natural beauty of the place will be its primary attraction. You can take a walk along the river and enjoy the peace and tranquility that it offers. Other than that, mentioned below are the other tourist attractions of Sangla.
Karcham Dam
Baspa River
Bering Nag Temple
Kamru Village
Kamru Fort
Badrinath Temple
Batseri Village
Trout Fishing Farm
Wood Carving Center
Rakcham
Rafting
Camping
For more details on these places, please take a look at Places to Visit in Sangla Valley and Things to Do.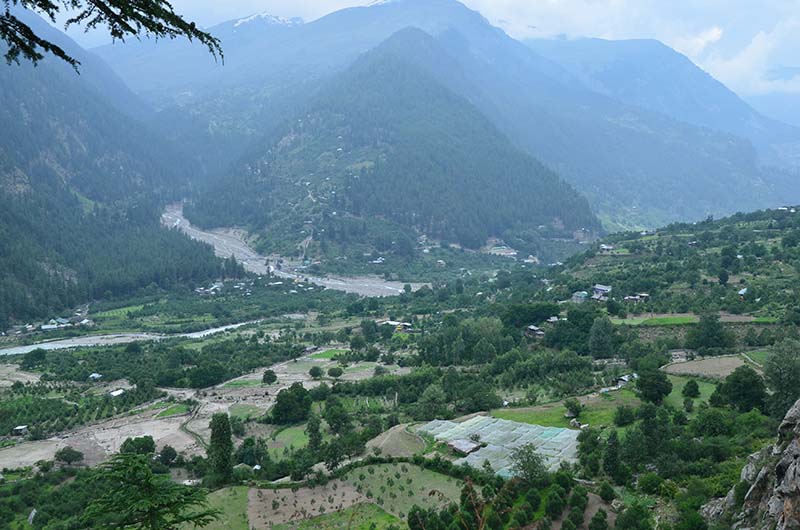 Chitkul
A little ahead of Sangla is the small (and I mean really small) village of Chikul. It is famed as the last village on the Indian border and a restaurant here literally reads as 'Hindustan ka Aakhri Dhaba'. Well, it is true that the road does end in Chitkul, and further ahead lies the Indo-Tibet border.
Did you know that tourism was not even allowed in Chitkul until a few years ago? It is true. It was open for tourism recently and has been gaining immense popularity ever since.
I visited here about a decade ago and since then, it is among my favorite hill stations. The setting of the village really looks like straight out of a painting. It is just a group of a few houses, hotels, a temple, and an ancient fort, that's it. You can walk from one end of Chitkul to the other in under 15 minutes, that's how small it is. But when it comes to natural beauty, the place is really a giant.
Mentioned below are some tourist attractions in Chitkul that you can visit during your stay here. All of these can be covered in a single day easily. A lot of people even stay in Sangla only and visit Chitkul on a day trip but I will highly recommend that you spend at least one night in the village to explore it properly.
Baspa River
Mathi Devi Temple
Hindustan ka Aakhri Dhaba
Chitkul Fort
Architecture
Village School
Trek to Nagasti ITBP Post
Rani Kanda Meadows
Lamkhaga Pass Trek
Borasu Pass Trek
For more information on these places, please take a look at Tourist Places in Chitkul and Things to Do.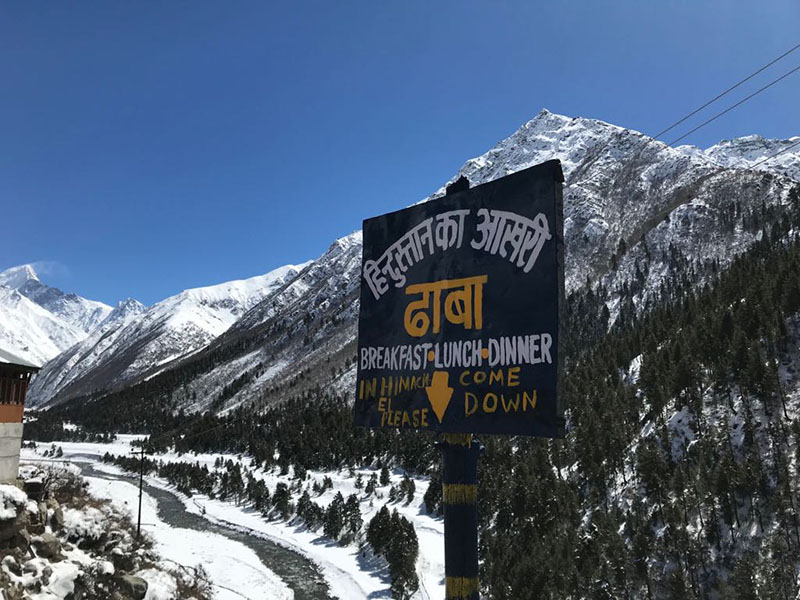 Kalpa
Now let us move on to the heart of Kinnaur valley, the village of Kalpa. The view of Kinner Kailash peaks from here is probably enough to keep you in Kalpa for a couple of days. You can just sit down in the balcony with a cup of tea and keep enjoying the view for hours. That is how magical it is.
Mentioned below is a list of tourist places in Kalpa and its nearby areas.
Kinner Kailash
Suicide Point
Roghi Village
Chaka Meadows
Narayan Nagini temple
Kothi Village and Temple
Apple Orchards
Hu-Bu-Lan-Kar Gompa
For more details on all of these places, please take a look at Places to visit in Kalpa and Things to Do.
In order to get to Kalpa, you will have to drive back from Chitkul to Karcham and then take the road towards Reckogn Peo. It falls a little after the Powari petrol pump, to your left. The narrow road climbs up steeply and you will first arrive at Reckong Peo after a drive of 8 kilometers.
Reckong Peo is the headquarters of Kinnaur Valley and if you want, you can stay here as well. My recommendation will however be that you keep driving further up for another 7 kilometers and stay in Kalpa instead.
The places I listed above can be covered in a single day except for the trek to Chaka Meadows. If you want to cover that as well, you may have to spend another day in Kalpa.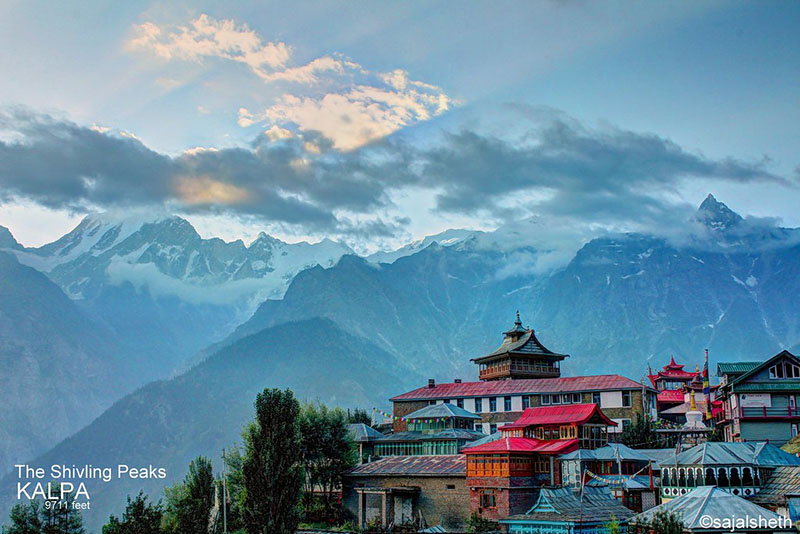 Nako
Nako is the last village of Kinnaur Valley. Due to the similarity of landscape, people often confuse it as a part of Spiti Valley which is not entirely true. If you view it from the point that Spiti is more barren and Kinnaur is lush green, then yes, Nako does feel more than Spiti than Kinnaur. But from the point of a district, it is considered to be the upper Kinnaur Valley.
Not many people visiting Kinnaur come to Nako. The only tourists you will find here are the ones completing the Spiti Circuit. But if you had some time in hand and could spare a couple of days, then I will highly recommend adding Nako Village to your itinerary.
From Kalpa, Nako is only a 4 hours drive. If you started in the morning by 8, you will be in Nako by 12 at most, before lunch. This will give you the rest of the day for sightseeing in Nako. Listed below are the places you can easily cover in a matter of a few hours or while driving to Nako.
Nako Lake
Nako Monastery
Chango Monastery
Kazigs / Ka Loops
Confluence of Spiti & Sutlej Rivers at Khab
Malling Nallah
The next day. you can start on your way back. This way, you would have covered the entire Kinnaur Valley and will also add a different kind of scenery and experience to your trip. For more details on these places and Nako, please take a look at How to Plan a Trip to Nako Village.
Tourist Places in Kinnaur Valley
That is it. That is your complete list of places to visit in Kinnaur Valley. Any name other than this that you will read on travel company portals is either not in Kinnaur or is just way too remote to be explored. Even going through this will need at least 7 to 9 days in Kinnaur, from a place like Delhi.
The road to Kinnaur valley passes through Shimla which in itself is a great tourist attraction. Another great tourist spot that you will pass through on the way is Narkanda, one of my favorite hill stations. If you could, I will surely recommend spending a day couple of days in Shimla and Narkanda as well.
Narkanda is just another small village like others in Kinnaur Valley. Below is a list of places that you can visit if you stayed here for a day or two.
Hatu Peak
Hatu Temple
Bheem Chulha
Jor Bagh
Ski Slopes
Sutlej View Point
Tani Jubbar Lake
Mahamaya Temple at Kacheri
Arya Samaj Mandir
Stokes Farm, Thanedar
St. Mary's Church
For more details, please take a look at Places to visit in Narkanda and Things to Do.
If you stayed in Shimla, below are the places you can visit there.
Toy Train
The Ridge
Jakhu Hill
Christ Church
Kufri
Summer Hill
Chadwick Falls
Viceregal Lodge
Lower Bazaar
Scandal Point
Mahasu Devta Temple
For more information, take a look at What to See in Shimla and Fun things to Do.
Itinerary for Sightseeing in Kinnaur Valley
Below is an example of an itinerary that you can follow for visiting all of the tourist places in Kinnaur Valley that I mentioned above. For the sake of the itinerary, I will assume Delhi as the starting point.
Delhi to Narkanda – Day 1
Narkanda to Sarahan – Day 2
Sarahan to Chitkul – Day 3
Chitkul to Kalpa – Day 4
Kalpa to Nako – Day 5
Nako to Shimla – Day 6
Shimla to Delhi – Day 7
This is just an example of an itinerary. If you had more time in hand, you can add days and explore any of the places I mentioned above. If you were short on time, you can remove any place that you were not interested in.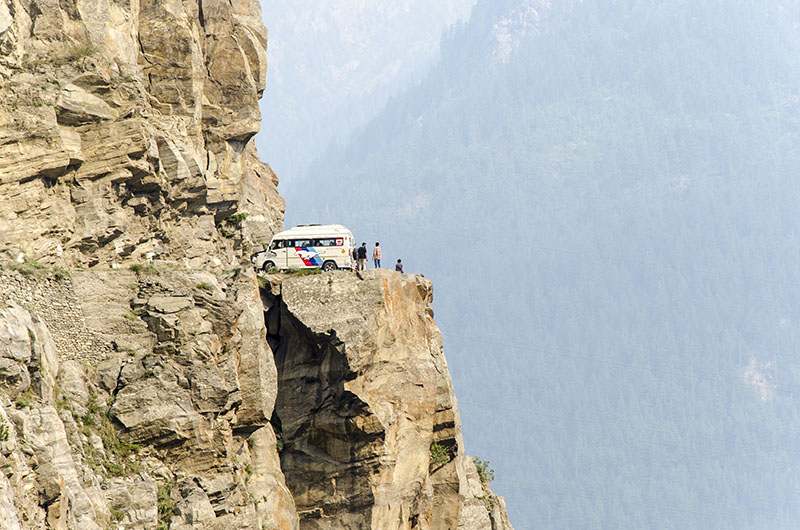 Places to visit in Kinnaur Valley – Conclusion
I hope the information I provided above on Places to visit in Kinnaur Valley was of help. If you have any questions or need any other details, please feel free to ask in the comments section below or at our Community Forum and I will be glad to answer.