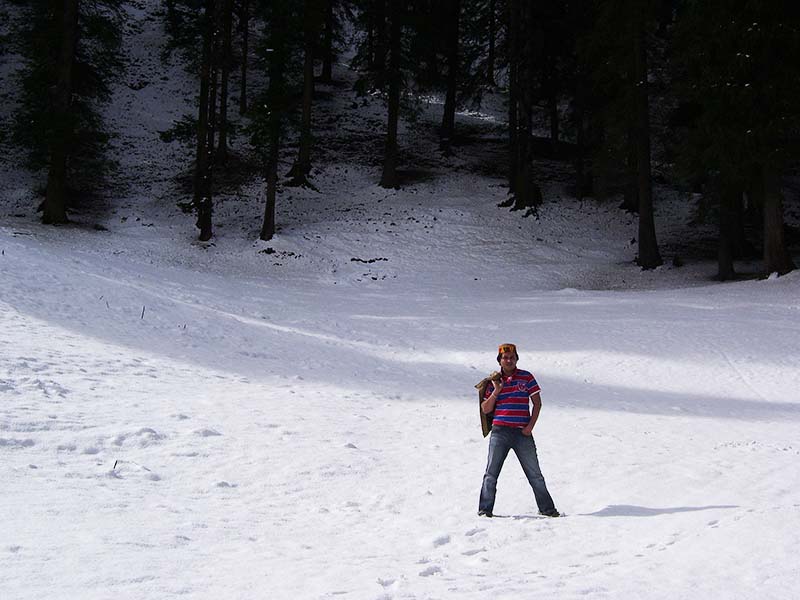 In the months of summer, Narkanda is a quiet little hill station where people arrive to avoid the scorching heat of the plains. But in the months of winter, this small village turns into a well-known ski resort. Snowfall in Narkanda buries this entire region under a thick sheet of snow; making the small slopes here perfect for families to try their hand at skiing.
Do note though that when I say skiing, I am really talking about people trying to slide over snow for a few meters. Families putting on the skiboard and pushing each other; or trying desperately with the ski sticks/poles to move forward a few inches.
Also Read: How to Plan a Trip to Narkanda – A Complete Travel Guide
The slopes here are not such where they could race on the snow, or ski professionally. But just about enough for families and children to have fun. And that short period of fun is what hundreds of people arrive here for.
This article is in continuation of a previous post and a part of my Narkanda Road Trip travelogue. We reached Narkanda on Day 1, visited Hatu Peak on Day 3, and much to our surprise, witnessed snowfall in Narkanda on Day 3. Please click on the links below to read the previous parts of the travelogue.
Journey So Far:
Snowfall in Narkanda
After mid-December, it can snow anytime in Shimla, Kufri, and Narkanda. The months of January and February however are the ones when it snows heaviest here; so much that sometimes it can even block the roads for several days altogether. The intensity and frequency both reduce by March.
Snowfall in Narkanda in April
In April, it is extremely rare that it would snow in Narkanda. But as it turned out that the time of our trip was going to be that rare occasion. And that we were in for a surprise.
Narkanda to Hatu Peak
As discussed and decided yesterday, my plan was to catch a sunrise view from Hatu Peak. Shoaib too had agreed to accompany me, but I had no idea that it was actually going to be this difficult to get him out of the bed.
Thanks to the multiple alarms set up on both our phones, I got up early the next morning. It was still dark outside and I started the tough task of waking up Shoaib; as we both wanted to go see the sunrise from Hatu Peak. However, no matter how hard I tried, he just wouldn't get out of bed.
After trying for 15 mins, I realized that I might miss the sunrise myself if I wasted too much time with him. I hurriedly got ready and stepped out of the room. Thankfully though, the hotel owner was awake and the front door was open.
I stepped out to a cold Narkanda morning, kick-started my Enfield, and started on my second ride to Hatu, but this time alone.
Also Read: Tourist Places to visit in Narkanda
The Dog Incident
I reached the Hatu Top in about 15 minutes. The sun was already starting to come up. But that was the least of my concerns at that time. My mind was rather focused on the dogs running after my bike. The moment I arrived at the top, a pack of dogs roaming around the temple started to chase me.
I knew that those dogs were here at the peak because I saw them the day before. But I thought they were used to seeing human beings up here and had no idea that they would actually charge at me. Maybe it was because I was up there too early. At that time I was the only one standing there.
I continued riding straight ahead and reached the end of the road. After there, it was just the mountain slopes on three sides and dogs coming at me from the fourth. See the picture below. The place where the bike is parked is where I was standing.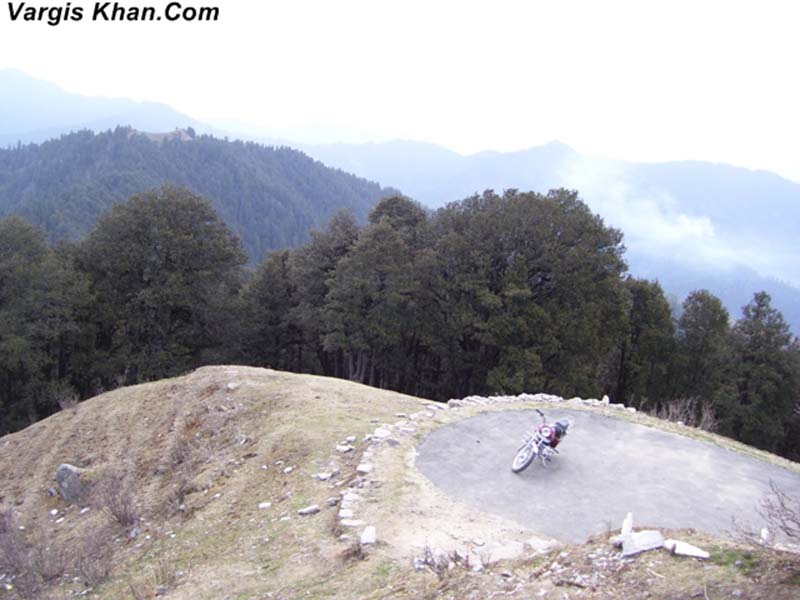 The dogs were still coming towards me and I was the only person up there at the moment; which sent shivers down my spine. I didn't know what to do because the place I was standing at was the dead-end of the road. After this was a straight fall into the valley and from the other side, those dogs were charging at me. I looked around hoping to see someone else but it was just me; standing on top of a hill all alone.
Also Read: How to Plan a Trip to Shimla
Sunrise at Hatu Peak
If it was 1 or 2 dogs, I could have managed to scare them away. But it was a whole pack and I knew that if they attacked, they might just end up killing me or push me down the mountain. I stood motionless, just looking at the dogs and as they got closer, they slowed down and stopped barking.
Finally, they stopped a few meters away and turned back while one of them came to me and started to wave its tail looking at me. I sighed and patted its head and after that, it was time to enjoy what I came here for. Sunrise at the height of 3300 meters.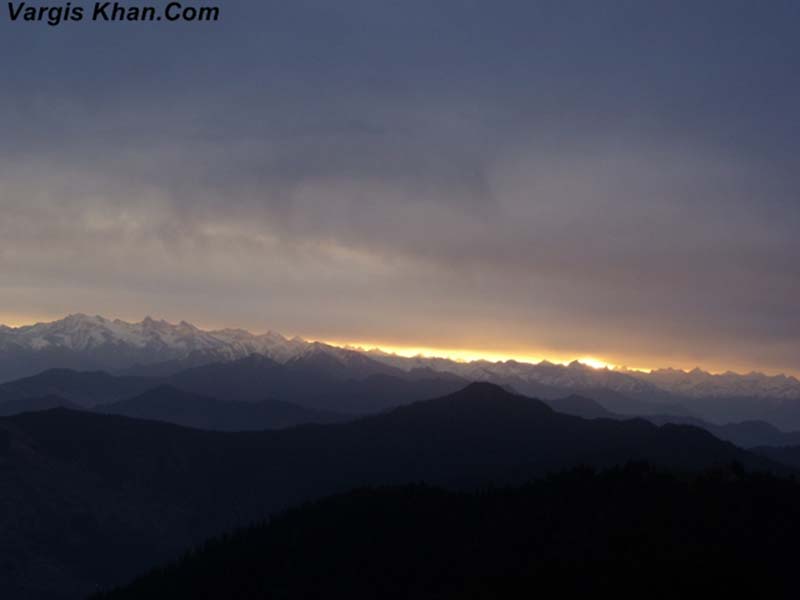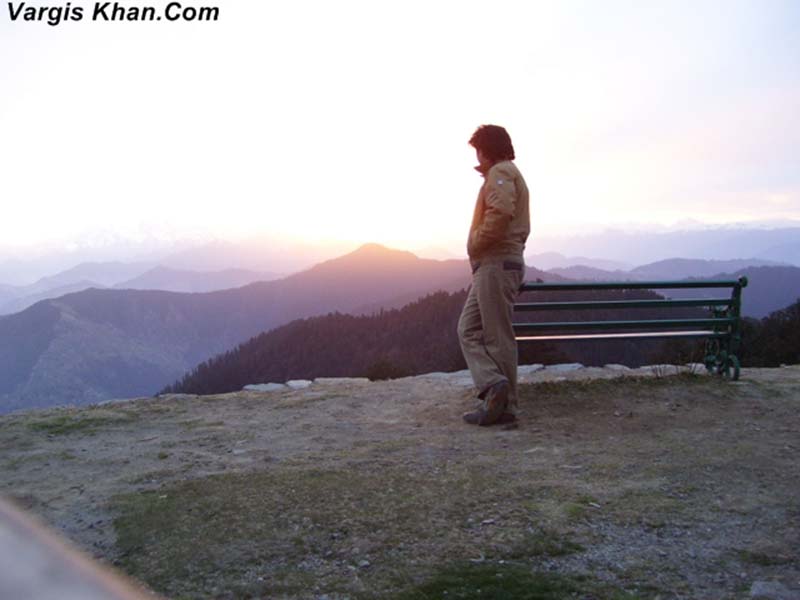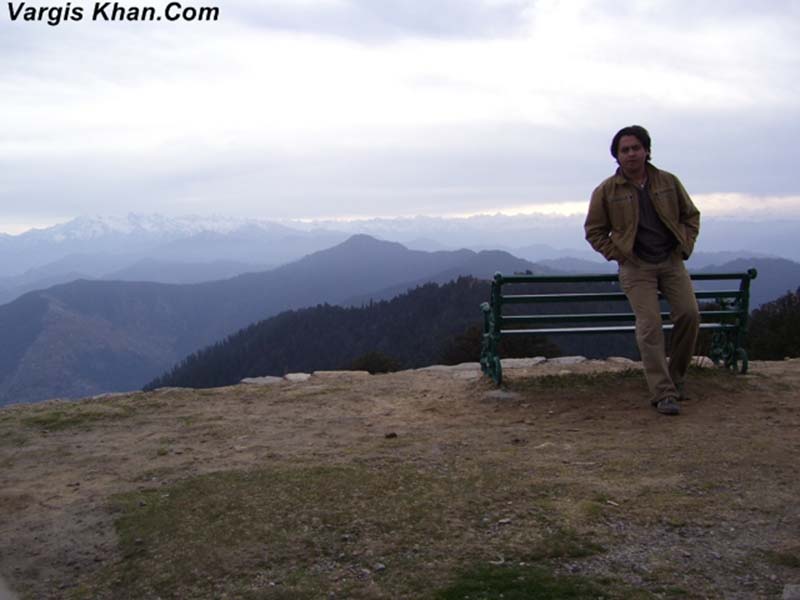 I spent about half an hour at the top taking multiple pictures of the sunrise. No one else arrived and it was just me up there all the time. A few of the dogs gathered around me and gave me the company. After the sun was up and I had taken several shots, it was time to ride down.
Once back in Narkanda, I stopped at a restaurant to eat something. When the restaurant owner came to know that I was up at Hatu this early, he gasped and told me that I shouldn't have gone alone as wild animals come out at night in the jungle. He told me that there had been several incidents of people getting attacked and this is the reason why no one stays at Hatu temple at night.
I just smiled at him and sipped down my coffee while thinking about how I too almost got attacked by the dogs. I came back to our hotel to find Shoaib still sleeping. With nothing else to do, I too crawled in the bed and was soon fast asleep.
Also Read: When is the Best time to visit Shimla
Tani Jubbar Lake
We both got up at about 12 noon. It was very cloudy and looked like it will start to rain at any time. After having our lunch, we decided to go visit Tani Jubbar Lake. I wasn't really sure whether or not we should, considering all the clouds up above. But then decided to take the chance anyway.
Also known as Tannu Jubbar lake, it is a small man-made lake located about 2 or 3 kilometers from Narkanda town. The water body is encircled by a paved pathway, flanked by gentle slopes; and there are pine and spruce trees all around it.
This lake is said to be home to several exotic birds. I didn't see any though. The lake and the nearby area looks very much like a picnic spot, to be honest. I had very high hopes about it but after my visit, was a bit disappointed. There is also a 'Nag Devta' temple near the lake, where the locals offer prayers to the serpent god.
We just walked around the lake and spent some time riding around leisurely. It was around 5 pm when we got back to the hotel. The weather had changed surprisingly. Dark clouds were still looming in the sky. Even though it did not start to rain as we were afraid, it was still very cloudy and cold.
Also Read: Shimla Manali Trip Itinerary
Snowfall at Hatu Peak
When I looked at the Hatu peak from our hotel window, I could see some fresh snow on top of the hill. I knew there was no snow up there when I went in the morning. So whatever snow I see snow must be fresh. I asked our hotel owner and he confirmed that it was indeed snowing at Hatu top at the moment.
He added to the statement that we should have been up there at this time as Hatu looks magnificent when covered with snow.
This was enough to put the adventure spark in both of us. Riding to Hatu top won't take any more than 15 to 20 minutes. So we thought why not go now? I asked, Shoaib agreed, our hotel owner encouraged, and once again we were riding back towards the peak at 5:30 in the evening. This was my third ride to Hatu and second on the same day.
The road to the Hatu peak is hardly 2 meters wide. With a steep fall on one side so one has to be very careful when riding or driving up. One slight mistake here can prove fatal. We were riding in haste as I knew that it would be dark soon; and we have to get back while there was still daylight left.
Also Read: Tourist Places to visit in Shimla
Snow Covered Hatu
About 2 kilometers from the top, the road was completely covered with snow. I knew that riding on such a narrow road with fresh snow on it would be very risky.
So we left the bike parked by the road and decided to walk the last 2 kilometers. It took us about 15 minutes to get to the top. But once we reached there, we know how right our hotel owner was. It indeed looked magnificent standing up there.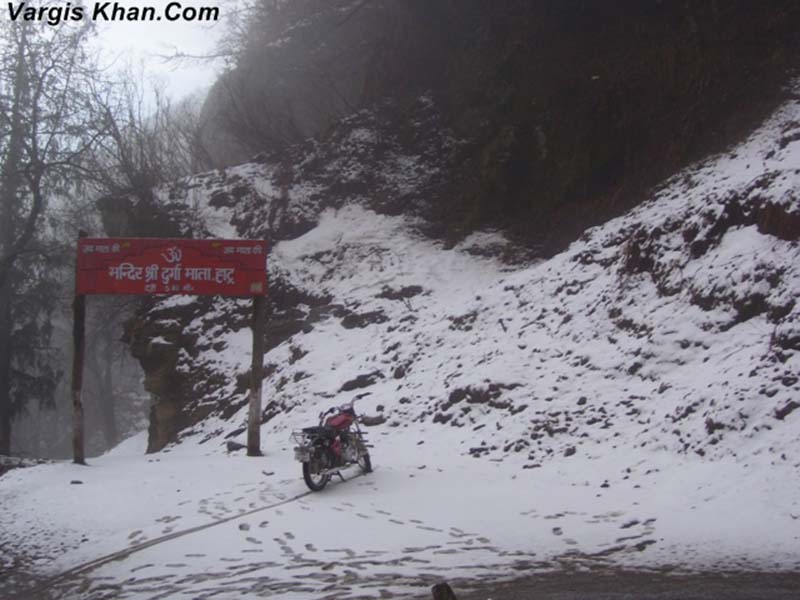 After a little while, it got extremely cold. The only sound we could hear was of the cold blizzard which in itself was sounding so scary. We took a few photos and started to walk back towards the bike in haste as we knew that it would be dark soon.
But darkness came way before then we actually expected. By the time we reached my bike and started to ride down, it was already pitch black all around us. To make it worse, it started to snow.
We had to ride down back to Narkanda in total darkness in a snowfall. I knew that we will have to hurry up because if we take too long, then the entire road would be covered with snow and we might just slip somewhere. But speeding up on a road so narrow was a problem in itself. The only light around us was my bike's headlamp.
Also Read: How to Plan a Trip by Shimla Kalka Toy Train
Snowfall in Narkanda
We finally made it back to Narkanda and it was snowing all around. Yes, to our pleasant surprise, there was snowfall in Narkanda town as well in the month of April, not just at the top of the Hatu peak.
I stopped at the same restaurant that I did in the morning. The restaurant guy once again was shocked to know that we just rode down from Hatu Peak in total darkness. I remember that he called me crazy. First I rode to the peak alone in dark in the morning. Now I went again in the dark when it was snowing all around.
Yet again, I just smiled and sipped my coffee down while listening to him telling us how we could have died.
After we reached back to our hotel, it was time to enjoy the snow.
We stayed up till late that night enjoying the snow. It was indeed one of the best evenings of my life when I witnessed my first snowfall ever.
Conclusion
I hope the information above on snowfall in Narkanda and the travelogue was of help. If you have any other questions or need any further details, please feel free to ask in the comments section below, or at our Community Forum and I will be glad to answer.