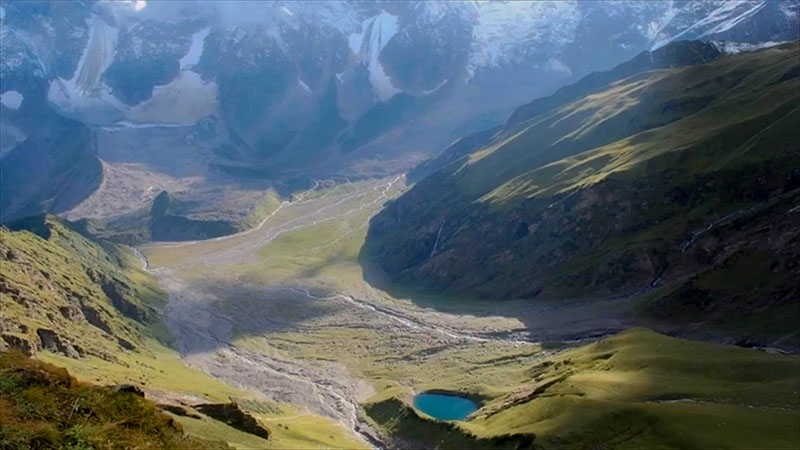 Beas Kund and Manali are two names that go hand in hand. Read any list of places to visit in Manali and you will surely find the name of Beas Kund trek in there. If you were thinking about undertaking this amazing trek but weren't sure about it, then hopefully this travel guide can help you decide.
The difficulty level of the Beas Kund trek is easy to moderate. It takes you through an amazing landscape as you follow the Beas river to its source, the Beas Kund. You pass through beautiful lush green meadows and dense forest as you climb uphill to the glacier that gives birth to Beas River. The best part however is that it does not even take you that long and can easily be done in 3 days from Manali.
This is one of the initial treks that I attempted when I was just getting into trekking. So with my experience, I can tell you that even if you have very little or no prior trekking experience, you can still visit Beas Kund. All that you need is a decent level of fitness and enough stamina to walk 4-5 kilometers.
Please note that in this trek, I am only discussing Beas Kund trek. For other details like how to reach Manali, where to stay and what else to see, please take a look at How to Plan a Trip to Manali.
About Beas Kund
Also known as Vyas Kund, Beas Kund is a small glacial lake at an altitude of 12,772 ft. It sits in the lap of the mighty Himalayan peaks and is fed by the melting waters from the surrounding glaciers. The outlet of this lake a water stream that flows down the mountains; is joined by numerous other streams on the way, and turns into the mighty Beas River, named after the Beas Kund.
As per the mythology, the lake is named after Rishi Veda Vyasa, the author of epic Mahabharata. It is said that he used to bathe in the lake and meditate on its shores.
About Beas River
The water stream that flows out of Beas Kund eventually turns into Beas River and forms the Beas River Valley, in which Manali is also located. From its origin point, the river flows for a total of 470 kilometers before merging into the Sutlej River in Punjab. The river is home to a small population of the Indus dolphin.
As per the local mythology, the river was originally known as Vipasa and Saraswathi before that.
Indus river was also the point where the invasion of Alexander the Great came to a halt. His soldiers refused to cross the river and go any further, forcing the emperor to return home. Indus River thus became the easternmost border of his short-lived kingdom.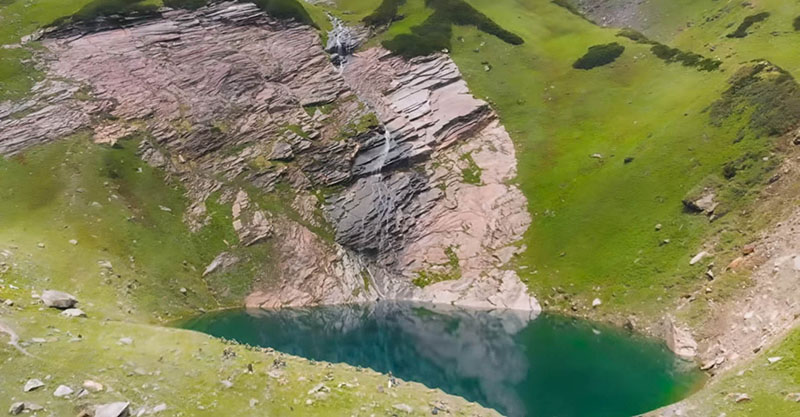 About Beas Kund Trek
Also known as Beas River trek, it lasts for a total of 3-4 days from Manali. During this period, you will follow the river upstream to Beas Kund. Some people have done the trek even in 2 days, something that I will discuss later in the article.
What makes this trail a favorite among trekkers is the landscape that it takes you through. You walk through vast lush green grasslands of Bakarthach and Dhundhi. The trek also offers you an outstanding view of the biggest mountains around Manali; Friendship Peak, Shitidhar, Ladakhi, and Hanuman Tibba. Hidden in these grasslands and mighty mountains is the jewel of a lake that becomes your destination.
Beas Kund Trek Overview
Difficulty: Easy-Moderate
Duration: 3-4 Days
Maximum Altitude: 12,772 ft at Beas Kund
Starting Point: Manali
Base Camp: Solang Valley
Best time to visit: July – September
Beas Kund Trek Itinerary
Manali to Dhundi to Lohali / Bakarthach – Day 1
Lohali / Bakarthach to Beas Kund to Lohali / Bakarthach – Day 2
Lohali / Bakarthach to Solang Valley to Manali – Day 3
Return to Delhi – Day 4
I known people who were able to complete in 2 days as well but for that, you really need some great fitness and some prior trekking experience. For beginners, 3 days is an ideal time to attempt the Beas Kund Trek.
Below is a detailed version of the itinerary mentioned above.
Also Read: Trekking in Parvati Valley – A COMPLETE Travel Guide
Arrive at Manali – Day 0
Your first task will be to get to Manali. This is not difficult at all, considering that Manali is one of the most visited hill stations in the country.
This particular day will really depend on your overall itinerary. If you are only traveling for Beas Kund trek, my suggestion would be to start your journey in a way that you reach Manali by early morning and can continue straight to Solang Valley from here. Catching an overnight Bus to Manali will be a wise choice in this case.
There are regular overnight buses to Manali from cities like Delhi and Chandigarh, operated by HRTC, HPTDC, and several other private travel companies. Just do a Google search and you will get a plethora of options.
But if you had about a week then I will highly recommend spending a couple of days in Manali first. Reach Manali, stay here for a day or two, and spend some time sightseeing. This way, your body will get more time to acclimatize before you take it further to an even higher altitude. For more details on Manali, please take a look at List of Sightseeing Places in Manali.
Another thing that can be done is to head straight to Solang Valley on Day 1 itself and spend the first in Solang town. This would be a good option if you want to avoid the crowded main town. Another nearby and quiet place that you can stay at is Kothi Village.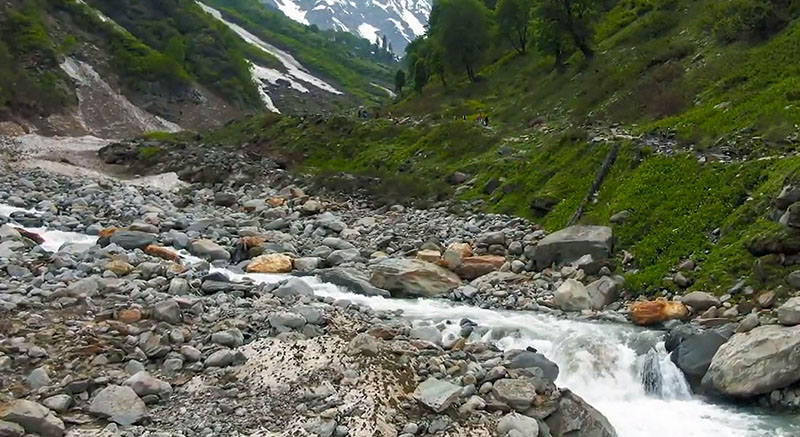 Manali to Solang to Dhundi – Day 0
The next leg of your journey will be to reach Solang Valley and that is where you will begin the trek from. I am keeping it as Day 0 because it will again depend on your overall plan. If you were staying in Manali, you will first have to get a taxi to drive you to Dhundi in Solang Valley.
In order to get to Solang Valley, you will first drive from Manali to Palchan and then turn left, crossing the bridge over Solang Nallah. You will first reach the main town of Solang and then the village of Dhundi.
Solang Valley is one of the most popular honeymoon destinations in Himachal. It is a very scenic place that is not even half as crowded as Manali and is a great place to spend some time in peace. It remains open for all 12 months and turns into a winter wonderland in the months of January and February.
The average altitude of Solang Valley is 8,400 ft and it is famous for adventure sports like Paragliding in summer and skiing in winter. Gondola ride is also another attraction of Solang Valley. For more details, please take a look at Places to visit in Solang Valley and Things to Do.
Dhundi
From Manali, Solang is about 14 kilometers away. The road however will continue for another 8 kilometers, ending at Dhundi. This is where the south entrance of the Rohtang Tunnel is. Once the work is completed, after Dhundi, you will enter the Rohtang tunnel and exit in Lahaul valley. But for now, at the time of writing this article, the road ends to Dhundi.
Dhundi is considered as the base camp for Beas Kund Trek. Some people chose to start trekking from Solang itself but I would advise against it. That was really the old itinerary when the road between Solang and Dhundi did not exist.
For now, I will advise you to drive until Dhundi and start trekking from there. This will save you one day on the itinerary and 8 kilometers of trekking.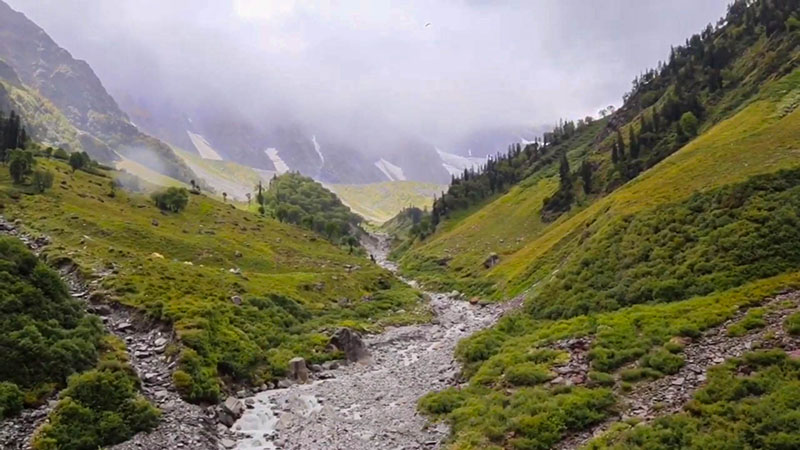 Dhundi to Lohali – Day 1
If you stayed in Manali or Solang the day before, the first task will be to get to Dhundi. If you booked your trek with a travel agency, they will arrange the transport. But if you were trekking on your own, you will have to book a taxi to drop to Dhundi. Or you can also board a bus from Manali to Solang and then hitchhike to Dhundi. Due to the ongoing construction work of the Rohtang Tunnel, you will find a lot of workers traveling on the route who can drop you.
Can you attempt the trek on your own? Yes, you can. The only condition is that you are fit enough to carry the tents and all the cookware on your backs. The entire trail is very well marked with blue arrows painted on the boulders. You will have to just keep an eye on these arrows and you will be able to navigate the way on your own. There will also be other trekkers and villagers around so the chance of getting lost is very little.
But, if you were not much of a navigator, did not want to carry all the luggage, or did not want to cook your dinner, a wise choice would be to hire a guide and porters. Beas Kund is a popular, easy, and short trek so it will not cost you too much. If you search online, you can easily book this trek for Rs. 6000 – Rs. 7000, inclusive of all charges for 3 days.
Also Read: Darma Valley Trek – How to BEST Plan your Trip
The Trek to Lohali
The total trekking distance between Dhundi and Lohali is about 4 kilometers which will take you about 4 hours in total. So if you started from Manali by 9 AM, you will reach Dhundi in an hour and then trek for 4 hours. This will see you in Dhundi the latest by 2-3 pm which will give you plenty of time to set up your camp and make arrangements for food. The rest of the day will be spent just having fun at the campsite and enjoying the natural beauty of the place.
The gain in altitude will be from 9465 ft at Dhundi to 10970 ft at Lohali. The initial part of the trail is a little steep but after that, it is more of a pleasant walk through the meadows.
The first 2 kilometers of the trek will see you walking through the trees but the other half will be through an open valley and boulders. A magnificent Ice wall on the face of the Friendship peak will also become visible after the tree line ends.
There will be water streams on the trail that you will have to cross. This will also be your source of water. You do not have to carry disposable water bottles. Just carry one that you can refill at these water streams.
Also Read: Kareri Lake Trek – How to Plan a Trip to this Hidden Jewel
The Trek to Bakarthach
This is an alternate way that the trek can be attempted. About 15 minutes into the trail after Dhundi, you will come across a bridge that will take you to Bakarthach. The word 'Thach' means a meadow so the name is actually Bakar Meadow.
There is really no difference here. The Lohali campsite is on the right side of Beas River and Bakar Thach is on the left. If you keep trekking up on the right of the river, you will reach Lohali. But if you cross the bridge to the other side you will arrive at Bakarthach and stay for the night there.
Both the trails are equally good, just a different way that you can take reach Beas Kund.
If you were trekking on your own, my recommendation will be to take the Lohali trail. Some of the trek guides prefer to use to Bakarthach trek. The views and pretty much everything is the same. Just a matter of which side of the river are you walking and where do you prefer to camp.
If you were going to a travel company, then it will depend on where their campsite is. Some tour operators have camps set up at Lohali and others at Bakarthach.
The altitude, trekking distance, and time to Bakarthach will be the same as Lohali.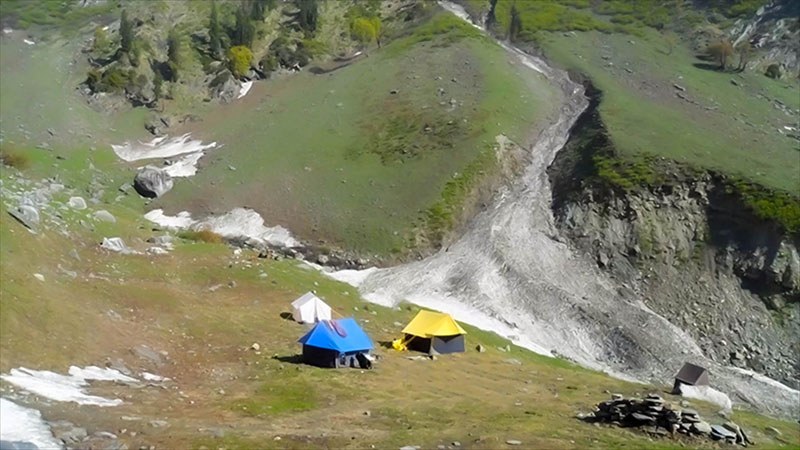 Trek to Beas Kund and Back – Day 2
Irrespective of whether you were starting from Lohali or Bakarthach, the trek will be a little difficult today. The total trekking distance will again be close to 4 kilometers. Depending on your breaks and the time you spend at the lake, a total trekking time will be about 6-7 hours.
The gain in altitude will be from 10,970 ft at the campsite to 12,770 ft at Beas Kund. The climb will continue to get steeper and you will be tackling a lot of boulders on the way. The trail is well marked but may get a little tough to find as you get closer to the lake.
This entire trek from the campsite to Beas Kund is really the highlight of the journey. You will come across numerous water streams and will see a lot of waterfalls coming down the glaciers.
Spend some time at the lake, click pictures, and return to your campsite at either Lohali or Bakarthach following the same route that you took to get there.
Also Read: Jiwa Nala Trek – A COMPLETE Travel Guide
Return to Manali – Day 3
The journey on the third day will be an easy one. You will walk back the same trek from Lohali / Bakarthach to Dhundi. From Dhundi, you will then travel back to Solang and then to Manali. The total travel time for the day will be about 7 hours so you start from the campsite accordingly.
If you had some time in hand, I will strongly recommend that you spend a day in Solang itself. The Gondola ride here, though short, is really fun to try.
If you were short on time, you can actually return home on the third day itself. For example, we started from Lohali early in the morning and were back in Manali by 2 PM. I spent some time at the restaurant, freshened up, and boarded a 5 PM Volvo from Manali for Delhi. I slept my entire way back and was home by the morning of the next day.
My itinerary looked something like this.
Boarded an overnight Volvo from Delhi ISBT for Manali on Friday evening
Reached Manali on Saturday morning. My guide picked me up from the bus stand. We drove to Dhundi and started the trek. My Saturday night was spent in Mohali.
On Sunday, we spent the day visiting Beas Kund.
I returned to Manali on Monday, boarded the Bus, and was back in Delhi on Tuesday Morning.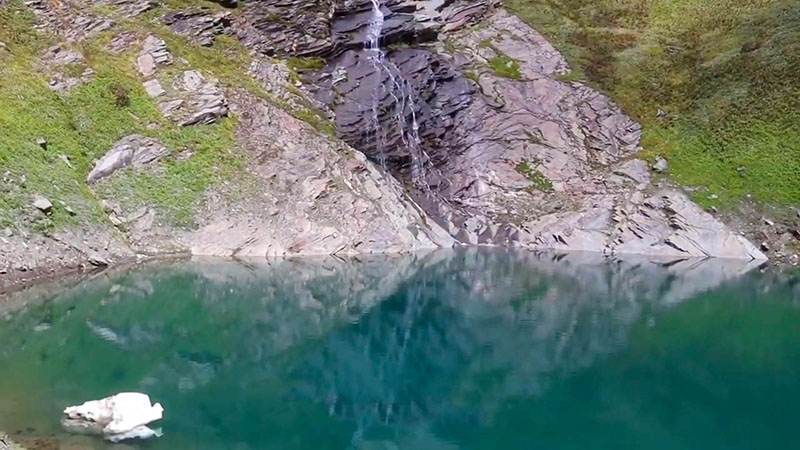 Best Time to Visit Beas Kund
The best time to go Beas Kund will be from May to early June and then September to October. The trek can actually be attempted for all 12 months but comes with its own set of challenges.
From November to April, the trail remains buried under snow and will be impossible to navigate without a guide. For visiting here in winter, you will have to prepare accordingly, carry all the necessary gear, guides, porters, and should have some prior snow trekking experience.
July and August are the months of monsoon and this entire region receives quite a bit of rain each year. Sometimes it can rain non-stop for hours and will just make it extremely difficult for you to trek. Setting up camps in all that water too will become difficult.
Hence, a safer time is from May to June. The weather will be pleasant and the trail will be easier to navigate. All the melting snow will feed the meadows, turning them green and creating plenty of natural springs and waterfall. Overall, the landscape will be very pretty.
You can go in September as well and the scenery will be even prettier. But the water level in the river and the streams will be high because of the monsoon. There will also be a small chance of rain in September.
October will be a little cold but still a good time to go on the trek.
Also Read: When is the Best time to visit Solang Valley
Fitness Required
Beas Kund is considered a beginner trek and the difficulty level is easy to moderate. But with that being said, it is not by any means a walk in the park. You will be climbing up the mountains and will have to tackle some steep ascents. You will reach an altitude of 12,770 ft at Beas Kund which means that the lack of oxygen will cause breathlessness. Add to it the fact that it is also going to be very cold.
Put all this together and you will need a decent level of fitness to attempt Beas Kund. You should be able to run or jog 6-8 kilometers easily in less than an hour. If you have not been working out for a while, step out and start jogging daily for at least a month before the trek.
Trek Duration
From Manali, an ideal time for the trek is 3 days. If you were coming from a place like Delhi or Chandigarh, you will have to add 2 more days to travel to and from Manali. Beas Kund is a great place to add to your Manali trip if you have about a week in hand.
I know people who have done it in two days as well. From Dhundi, they reached the campsite and stayed there on Day 1. On Day 2 however, after visiting Beas Kund, they came straight back to Manali. But in order to do that, you really need to have some good trekking experience and great stamina. My recommendation is that you do not rush and make a plan for 3 days to really enjoy the trip.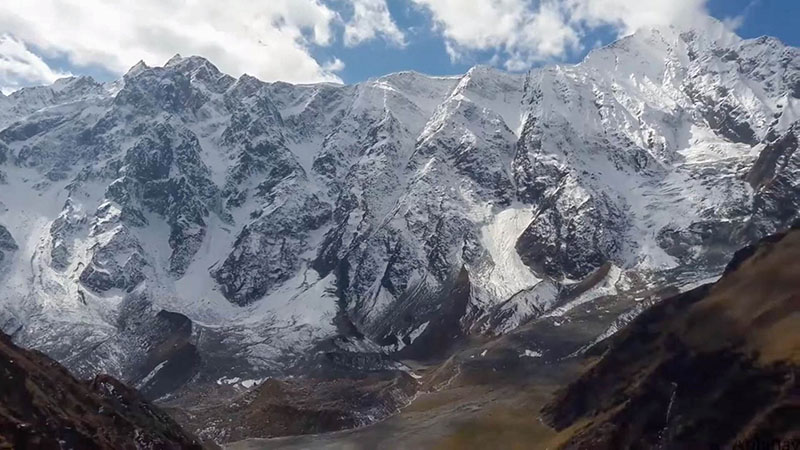 What to Carry
Original and photocopies of a government-issued Identity card like Aadhar Card, Driver's license, etc.
A waterproof good quality backpack with a rain cover
At such altitude, the weather can be unpredictable and change quickly. Irrespective of when you go, you must carry a poncho or rain jacket to keep yourself dry
Buy a pair of Dry fit trek pants.
Sunglasses to protect your eyes not only from the sun but also snow-blindness.
Caps or a Hat
Waterproof Gloves (Synthetic ones)
A warm jacket with a hoodie to protect your head, neck, and face
Additional pair of socks
Flashlight. A headlamp will be even better.
Toilet Paper
Small soap, toothpaste, and toothbrush
Small comb
Your own lunchbox, spoon, and a mug
Some basic medicines for flu, fever, headache, upset stomach
Pain relief spray
Moisturizer, sunblock lotion, and a lip balm
Carry a few spare plastic bags to put your electronics, wallet, and documents in.
Carry your own water bottle that you can refill from the water streams.
A trekking pole is not mandatory but can come in very handy.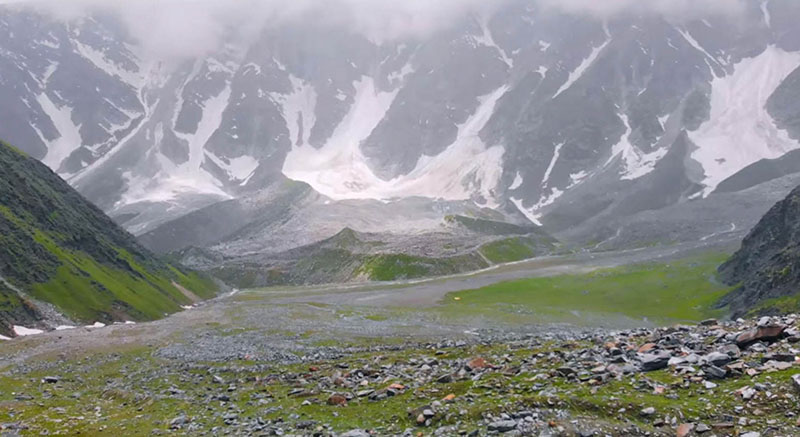 Other Tips
It will be wise to spend at least 1 day in Manali or Solang before attempting the trek.
There is a campsite in Dhundi as well where you can spend a day before moving on to Bakarthach or Lohali.
Carry a waterproof backpack. Make sure you waterproof everything irrespective of the time of your trek.
You must carry some snacks to munch on during the trek. Chocolates and dry fruits will be a good choice.
You will be sleeping in tents, wrapped in sleeping bags. So keep your expectations straight. There was another group with us at Lohali and I think it was their first time camping. The entire night they kept fussing and cribbing about how uncomfortable it was and made it difficult for everyone else. They even got into an argument with the guide. So if you have never been on a trek before, please know that the night may be a little uncomfortable and you will have to be ready to handle it.
Wear loose trekking pants. Do not go trekking in tight jeans.
I will strongly suggest going with a local guide rather than all alone. Even if you do not book with a tour agency, ask at the hotel in Manali and they can suggest a guide.
Do not rush. Take plenty of breaks and enjoy the journey to the fullest.
Have patience. If the trek seems a little difficult at someplace, take plenty of breaks, catch your breath and then attempt in short laps.
Make sure you are bringing in good trekking shoes with a solid grip.
Most importantly, please do not litter. Bring your plastic wrappers, used bottles, and any other trash back with you and dispose of it wisely.
Conclusion
I hope the information above on Beas Kund Trek was of help. If you have any questions or need any other details, please feel free to ask in the comments section below, or at our Community Forum, and  I will be glad to answer.