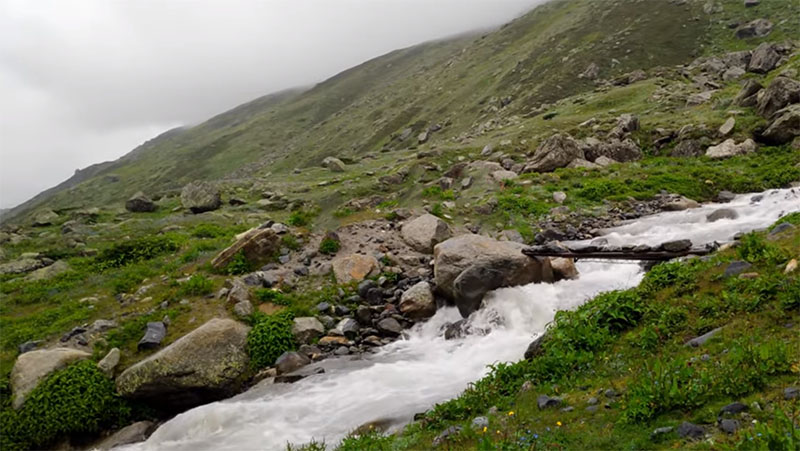 Jiwa Nala trek in Sainj Valley is one of Himachal's lesser-known treks and a hidden gem in every way. With a trekking time of 7-8 days taking you over a maximum altitude of 15420 ft, this trek passes through some of the best landscape of Sainj Valley, Parvati Valley, and the Great Himalayan National Park. A walk through lush Green Meadows, beautiful natural springs, steep gorges, a charming little lake, and snow-capped mountains is what Jiwa Nala trek is all about.
This article is in continuation of a prior series by Vargis Khan on Sainj Valley. In this particular post, I am going to only talk about the Jiwa Nala Trek that starts from one of the villages in Sainj Valley. If you want to get more details like how to reach Sainj Valley, what else to see, and where to stay, I will recommend you to first take a look at How to Plan a Trip to Sainj Valley.
Please also note that the difficulty level of this trek is high. It is an advanced trek and will require that you have prior trekking experience. If you were looking for just some short and easy treks in Sainj Valley, you can trek from Deori Village to Shangarh, Shangarh to Sarikanda Thach, or from Shangarh to Lapah. Please read Trekking in Sainj Valley for more details on these treks.
About Jiwa Nala Trek
The trek is named so after the Jiwa Nala River. The word 'nala' here literally means a stream of water. It is called as Jiwa Nala River but it is really a rivulet that forms in the upper reaches of the Great Himalayan National Park. The starting point of this water stream is a small lake called Sarthoo Pond. The lake is fed by the melting water from the surrounding glaciers and its outlet is called Jiwa Nala.
What starts as a small rivulet at the pond gradually increases in size, as it is joined by several other small streams on the way. The water flows down the mountains and then through a valley known as Jiwa Nala Valley (named after the stream of course). It merges into the Sainj River near Siund Village and then finally into Beas River 18 kilometers later near Aut Tunnel.
So during this trek, over a period of 7 days, you follow the Jiwa Nala stream to its source, Sarthoo Pond. The trek starts from Sainj Valley and ends in Parvati Valley, giving you the best of both the valleys.
The entire length of the trek runs through the Great Himalayan National Park, a wildlife sanctuary. Shepherds are not allowed to graze their livestock here so the majority of the trail is non-existent and covered with vegetation. It means that it definitely cannot be attempted on your own and will need you to hire a local guide and porters.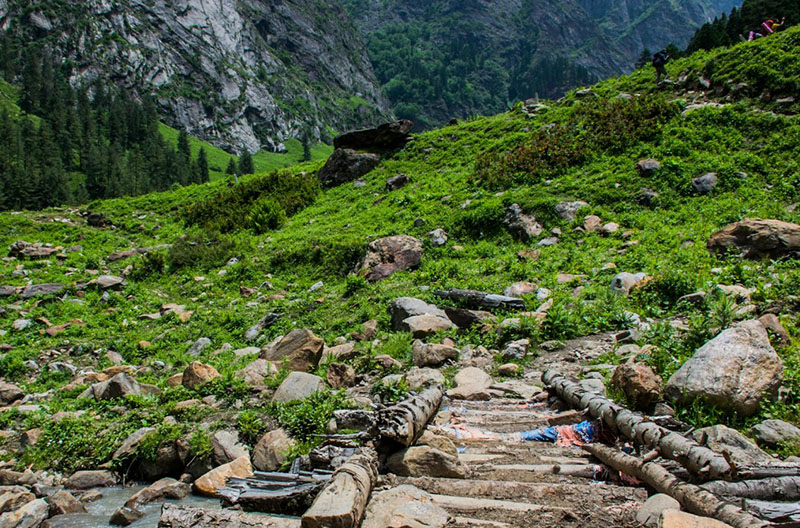 About Great Himalayan National Park
Let me also talk a little about the region that you will be traversing through. The Great Himalayan National Park (GHNP) is spread over an area of 754 km square km2 and was established in 1984.
It is home to a wide range of flora and fauna, providing natural habitat to approximately 31 mammals, 181 birds, 3 reptiles, 9 amphibians, 11 annelids, 17 mollusks, and 127 insects. The park is a UNESCO World Heritage Site and any sort of commercial activity or hunting is prohibited here.
The three large valleys that are part of GHNP are Tirthan Valley, Sainj Valley, and Parvati Valley. On its other side are Pin Valley and Spiti Valley. The park is only accessible by foot and a trek of 35 to 45 km in any of the park's valleys will bring you to high altitude habitat (3,500 m and above) of animals such as blue sheep, snow leopard, Himalayan brown bear, Himalayan tahr, and musk deer.
There are numerous treks that one can cover in GHNP. Since even shepherds are not allowed inside the park, there is hardly any human intervention or movement inside. The only people you will find here will be either the villagers collecting herbs or other trekkers like you.
Jiwa Nala Trek Overview
Duration: 7 Days Minimum
Grade: Intermediate to Difficult
Maximum Altitude: 15420 ft
Total Trekking Distance: 100 – 100 kilometers
Trek Type: Two Way. The trek starts in Sainj Valley and ends in Parvati Valley
Trail: Dense Forest, Rocky Terrain, Steep climbs
Base Camp: Shenshar Village, Sainj Valley
Best Time: September to November; April to June
Stay: Camping
How to Prepare for Jiwa Nala Trek
This trail is no less than an adventure. With adventure comes serious preparation and Jiwa Nala Trail is no exception. Let us take a look at some of the prerequisites that you must take care of.
Challenges
The trail is really rough at several places including some seriously rocky terrain. On most days, you will be climbing up and down 1500 to 2000 meters in a single day.
Since there is almost zero human movement inside the park, you will pretty much be on your own and must take extra precautions for a safe trip. The trail is also not well marked and will need an expert guide to figure out the way. The weather at such heights is always unpredictable and can decide to play spoilsport at any time.
You may even end up trekking for 8-9 hours every day, beating down the trail through thick bushes. The daily climbing up and down is bound to put stress on the body, leading to exhaustion and eventually acute mountain sickness. At such heights, you are anyway prone to altitude sickness, and tiring yourself out everyday just puts you more at risk.
Also Read: When is the Best time to visit Sainj Valley
Best Suited For
The Jiwa Nala Trek is best suited for people who have 3-4 years of experience in high altitude Himalayan trekking. If you were just getting introduced to the concept of trekking, my recommendation would be to postpone Jiwa Nala Trek for a later time. Do a few more treks, easy and intermediate ones, and then plan for this one.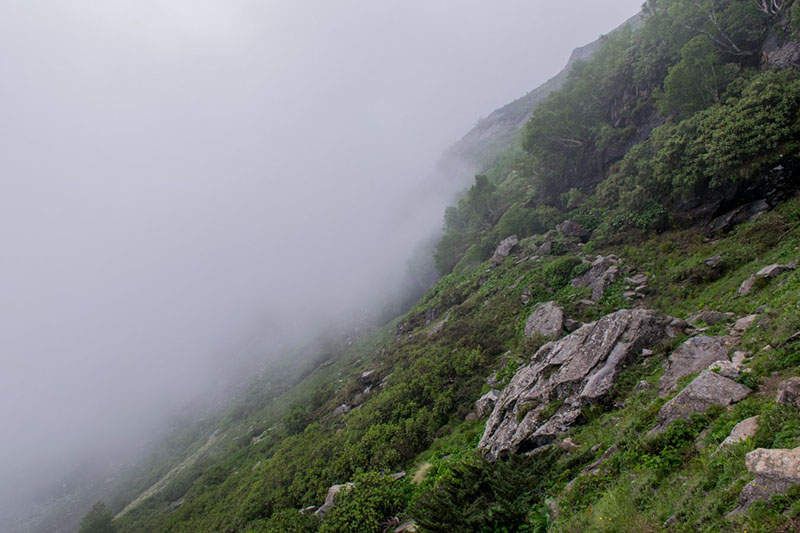 Stamina
You should be able to run at least 6-7 kilometers without any problem at all. When I say running, I do not mean easy jogging but actually running at a fast pace. That is the kind of stamina you really need for this trek. You will not be running on the trek but will be walking steep climbs with a backpack for about 7-8 hours every day.
Add to it the fact that at such high altitudes, due to the lack of oxygen, breathlessness comes easy and quick. You cannot also afford to sit down and catch your breath after every 15 minutes of walking. So building stamina will be of utmost importance
Permits for Jiwa Nala Trek
GHNP, as I mentioned, is a wildlife and restricted area. Human movement here is very controlled. As a result, a permit is needed to complete the trek but it is not difficult to obtain.
You can get the permit from the GHNP office in Sainj. The charges are Rs. 100 per person per day for Indian national and Rs. 500 per person per day for foreign Nationals. Please note that if you were carrying photography equipment, there will be added per day charges for that.
Also Read: What to see in Sainj Valley
Guide and Porters for Jiwa Nala Trek
You have several options for this. You can find a lot of trekking and travel companies that organize this trek. So you can actually book your entire tour with them. But if you would rather do it on your own, porters and guides can be hired from Sainj itself. A friend of mine who went solo on this trek hired a couple of villagers from Shensar to be his guide and porters.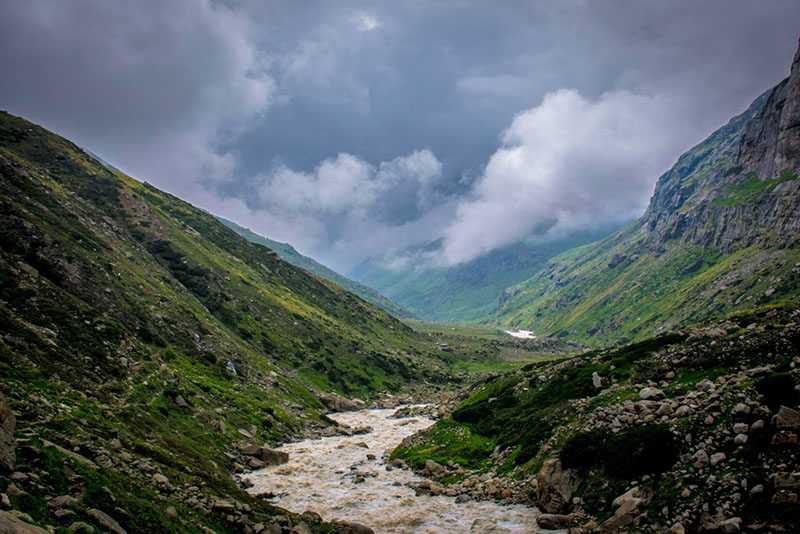 Jiwa Nala Trek Itinerary
Let us now take a look at the day by day itinerary that you will follow for this trek. The minimum days required, as I mentioned, are 7. It can be extended further depending on your own preference.
Day 1 – Arriving at Sainj Valley
The first day of your journey will have you arrive at Sainj Valley. This is not a difficult task at all as the valley is very well connected by a good motorable road. It is at a distance of about 500 kilometers from Delhi, 240 kilometers from Chandigarh, 70 kilometers from Mandi, and 90 kilometers from Manali.
If you were traveling by your own vehicle, you will take the diversion towards Sainj just before the Aut tunnel. Aut to Sainj is just about 18 kilometers and will take only about 45 minutes.
If you were traveling by Bus, you can board a bus or shared cab for Sainj from Aut Bus stand. From Sainj, you can then board another bus or shared cab for Neuli or Shenshar.
For more information on this topic, please take a look at How to reach Sainj Valley.
The trek for Jiwa Nala begins at either Neuli village or Shenshar Village. So for day 1, you can stay at either Sainj, Neuli or Shenshar. All these places have homestay options that you can choose from.
Another place that you can spend the night at is Ropa, slightly before Neuli Village. This is where the gate of the GHNP is. There is a forest rest house at Ropa which is another budget-friendly place to stay. This rest house can also be booked online at GHNP Portal.
Day 2 – Sainj Valley to Bhagi Kashyari
Depending on where you stayed for the night, you can choose to start the trek from either Neuli or Shenshar. The motorable road goes all the way to Shenshar. So my recommendation is that even if you stayed at Sainj or Ropa, it would be best to drive till Shenshar and start walking from there.
If you stayed at Neuli though and do not want to hire a taxi for Shenshar, then you can start walking from Neuli itself.
Your destination on Day 1 will be the village of Bhagi Kashyari. It is at a distance of about 8 kilometers from Shenshar and you will continue walking through a dense forest for the entire length of the trail. The path between these two villages is easy to make out.
The gain in altitude will be from 6890 ft at Shenshar to 8510 ft at Bhagi Kashyari. Total trekking time will be from 3 to 5 hours, depending on your speed and breaks. This day is more of a preparation for what is to come and get used to the high altitude.
The preferred place to pitch your camp for the night is the school playground in the village. This is what most of the trekkers do but you may have to pay a little money for it. If you do not wish to do so, then you will have to find a place to put up your tent. I stayed in the village itself but there is another spot about 3 kilometers ahead of Bhagi Kashyari that is also good for camping.
Also Read: Kareri Lake Trek – How to Plan a Trip to this Hidden Jewel
Day 3 – Bhagi Kashyari to Kandi Galu to Subli Thach
After a relaxed day 2, your third day of trekking will be a long and tiring one. You will end up walking for almost 20 kilometers in 10-12 hours so an early start from Bhagi Kashyari is a must. The gain in altitude will be from 8530 ft at Bhagi Kashyari to 12140 ft at Kandi Galu Pass and then 10820 ft at Subli Thach.
You will be walking up and down and through a dense forest all day long. The final climb to Kandi Galu pass can leave you catching breath several times. From the pass, the final descent to Subli Thach is again a steep one.
Thach in the local language means 'a meadow'. It is basically a campsite where you can break your journey on Day 3. I am not sure who made it but there is a small hut here, a couple of rooms that can be used to sleep for the night. If not, then you can pitch your tent in the open meadow.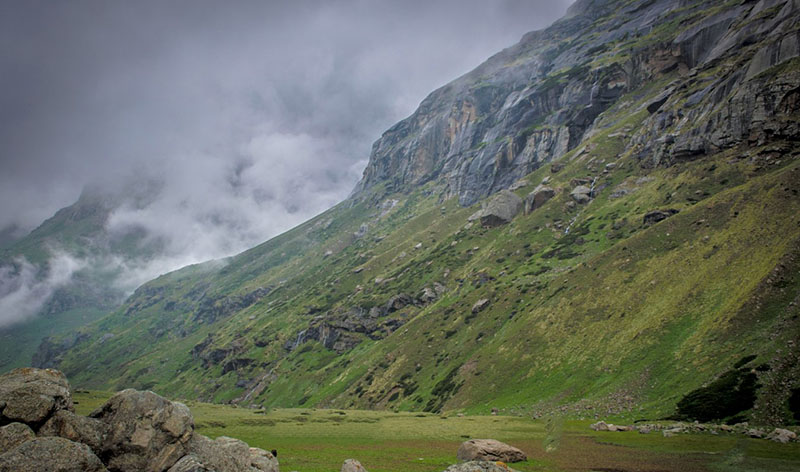 Day 4 – Subli Thach to Dwada Thach
You will traverse today from one meadow to another. The distance between Subli and Dwada Thach is about 8 kilometers and will take you 5-6 hours to cover. Jiwa Nala will be your guide for the day and you can pretty much follow it throughout the trail.
You will be walking through a rocky trail and a lot of vegetation so navigating the way can be tricky at a few places. If you started by 7-8 AM from Subli Thach, you will easily make it to Dwada Thach by 2 pm at most. This will give you plenty of time to set up your camp and relax for the rest of the day. You have a long journey on Day 5 as well so you relax and rest your body.
There is a small hut at Dwada Thach also. This serves as a marker for the camping site. Again, you can either sleep inside the hut or pitch your own tent.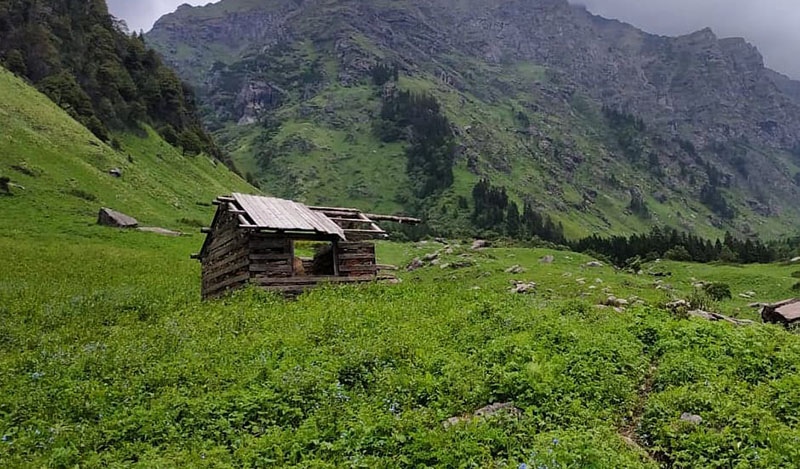 There will not be any gain in altitude. You will in fact climb down from 10,820 ft at Subli Thach to 10,330 ft at Dwada Thach.
Also Read: Mount Batur Sunrise Trek – A Hike to Remember
Day 5 – Dwada Thach to Sarthu Pond to Dwada Thach
From here on, the itinerary can change and I will suggest both alternatives. Let me first suggest the one that I followed because I was not sure about the second path until I read about it on IndiaHikes after I returned. This is the itinerary that is followed by most of the trekkers.
Dwada Thach will remain to be your base for the day. The total trekking distance will be about 18 kilometers and will take your entire day. From Dwada Thach, you will first hike 9 kilometers uphill to Sarthu Pond and then another 9 kilometers downhill back to Dwada Thach.
Sarthu Pond is a small body of water that sits at an altitude of 11,480 ft. It is the origin point of the Jiwa Nala River. The lake (or pond) is fed by the melting waters of the surrounding glaciers and its outlet is what forms the Jiwa Nala.
The gain in altitude from the meadow to the lake is just about 1 thousand ft. So more or less, for the entire distance, you will be walking through a beautiful lush green meadow along the Jiwa Nala water stream, following it uphill to its source. Once you are at Sarthu Pond, you get a magnificent view of the entire Jiwa Nala Valley and its snow-covered mountains.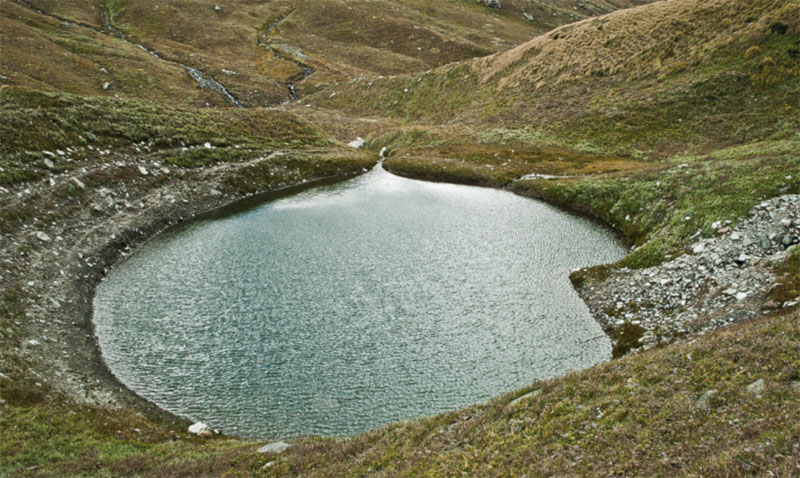 Day 5 – Dwada Thach to Sarthu Pond to Khandedhar Top to Lalbatti
Now let me talk about an alternate way that this trek can be completed. None of the guides I spoke to talked about this route. This trail is only mentioned on the India Hikes website and I wish to take this route someday if I am ever back again in Jiwa Nala valley.
So as per this itinerary, you will trek from Dwada Thach to Sarthu Pond first. But rather than returning back to Dwada Thach, you will walk uphill to Khandedhar Top at an altitude of 14,435 feet. You will cross over the mountain and then walk down to Lalbatti campsite.
The total trekking distance this way will be about 20 kilometers. But if you plan on doing this, please speak to your guide first and ensure that he knows the proper way. The gain in altitude will be from 10,330 at Dwada Thach to 13123 ft at Lalbatti campsite.
Also Read: Darma Valley Trek – How to BEST Plan your Trip
Day 6 – Dwada Thach to Phangchi Galu to Chippi
If you stated to Dwada Thach meadow as I did, you will today trek through the second high altitude pass of the trek. The first one was Kandi Galu on Day 3 and today it will be Phangchi Galu, at an altitude of 15,210 ft. The total trekking distance will be about 24 kilometers and this probably is also the riskiest stretch on the trail.
Phangchi Galu is the pass that connects Sainj Valley and Parvati Valley. As you are climbing it up, you are in the Sainj Valley. Once you have crossed the pass and start trekking down, you would have entered Parvati Valley.
Before going, I read on the GHNP website that this was going to be a very exhausting day so I was kind of a little prepared for it. The risky steep downhill walk from Phangchi Galu that will have you walking through a lot of snow was mentioned everywhere. But in my opinion, what really tires you out is that you are already 5 days into the trek and have already been walking up and down a lot. On top of it, when you end up walking 24 kilometers on this day, it will really take it out of you.
Nonetheless, I am not trying to undermine the fact that it is indeed the most dangerous part of the trail. More than the ascent, it is the descent on the other side of the pass that you will find hard to handle. You will literally be walking down the face of a mountain, not a slope. Even a little steeper than this and it would not be possible to walk it down without the help of ropes I think.
Chippi will be your destination of the day. It is at an altitude of 11,154 ft.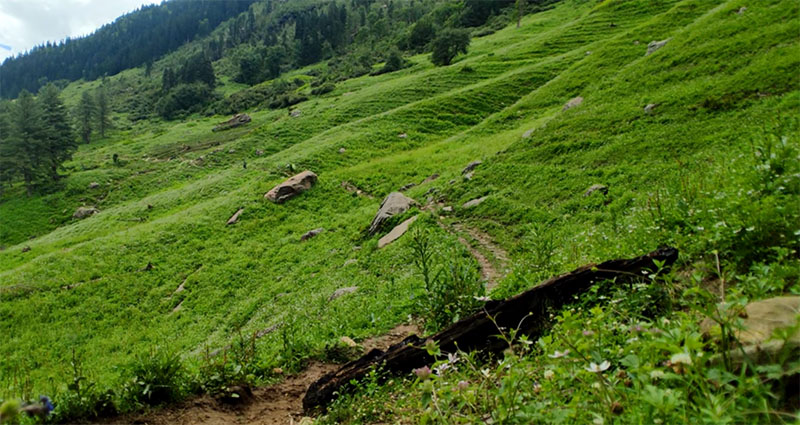 Day 6 – Lalbatti to Chippi
If you followed the second itinerary and stayed at Lalbatti, then the trail will still be 18 kilometers long. You will still need to climb the Phangchi Galu Pass and cross it over to camp at Chippi for the night. The total trekking time will be around 8-9 hours.
Also Read: Trekking in Parvati Valley – A COMPLETE Travel Guide
Day 7 – Chippi to Pulga to Barshaini to Kasol
This will be the last day of your trek. From Chippi campsite, you will walk down to the village of Pulga in Parvati Valley, 9514 feet. The entire distance of about 16 kilometers is a downhill trek and relatively easy. From Pulga, you will walk downhill for about 45 minutes to reach the motorable road to Barshaini.
Another way to do this is to reach the Kalga village instead and then walk down to the road.
After Barshaini, continue driving back to Kasol and stay there for the night. Or else, you can also stay at Kalga or Pulga villages. Both these villages have homestay options available for tourists.
Day 8 – Return Home
Your journey will end today. From Kasol, you will find a ride back home or spend a couple of days here in Parvati Valley. Kasol is a major tourist attraction and while you were here, you can also explore the beautiful Malana Village.
Jiwa Nala Trek – Conclusion
I hope the information above on Jiwa Nala Trek was of help. If you have any questions or need any other details, please feel free to ask in the comments section below, or at our Community Forum, and I will be glad to answer.