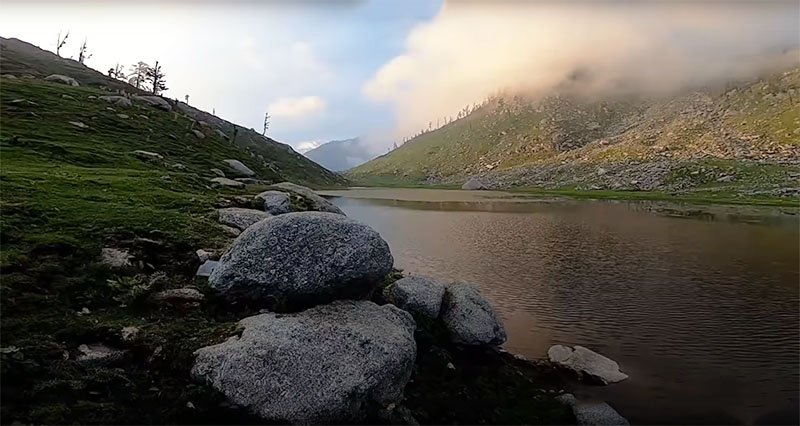 I was on a trip to Dharamshala and Mcleodganj recently and also spent a couple of days in the tiny hippie village of Dharamkot. On one of the days when I had no plans, on the recommendation of an Israeli tourist, I decided to attempt the lesser-known Kareri Lake trek. The experience turned out to be one of my most memorable ones and the views were the best I got anywhere else in Mcleodganj. I am sharing below my experience of the trek as a travel guide for anyone who is interesting in attempting it.
I say 'lesser-known' because only a handful of people visiting Mcleodganj travel this way. This is in fact surprising because Mcleodganj is known as a trekking destination. The Triund Lake trek, snowline, Laka Glacier, and several other trails attract tourists all year long. With such an influx of trekking enthusiasts, one would expect a lot of people exploring Kareri Lake as well but that is not really the case.
So if you were thinking about going on a short, easy to handle, unexplored, not crowded, and highly scenic trek, then look no further. The trek to Kareri Lake will greatly serve the purpose.
About Kareri Lake
The entire Himalayan region is marked with numerous lakes. Some of these lakes are large and famous whereas some others are small and not many people know about them. Some of the lakes can be reached easily while a few others will require several days of serious trekking to get to.
One common thing among all of them, however, is that they are all equally beautiful. Even the smallest of the Himalayan lakes are a giant in beauty. Kareri Lake is one of such.
This tiny body of water sits in the Dhauladhar range at a distance of about 11 kilometers from Dharamshala. It is a glacial lake fed by the water from the melting snow of the Dhauladhar peaks. At an elevation of 2934 meters, it is quite close to the snowline and remains completely frozen from early December to March–April.
The fresh water of the lake is a favorite among the local gaddi shepherds for grazing their livestock. A few house-like structures made out of stone can be seen near the lake that are used by the shepherds as accommodation when they are in the area. The Lake itself is actually named after the Gaddi Village of Kareri, located about 9 kilometers away. There is also a temple here, on a hillock overlooking the lake, dedicated to Lord Shiva.
About Kareri Lake Trek
Kareri Lake is known as a trekking destination. The entire trek can easily be completed in three days and takes you through a beautiful pine forest. The outflow of the lake is known as Nyund nallah which also serves as a trekking guide. You can just follow the stream of the water all the way to its source.
The initial part of the lake is through a forest and the latter half in rocky grassland. There are a few campsites along the trail that you can even stay at for the night. Kareri Lake also serves as a base for Minkiani Pass and Baleni Pass treks for people wanting to trek further into the Dhauladhar Mountains.
What really makes the trek worth the effort is the beautiful scenery on the way and around the lake. It is a perfect destination for beginners and the only thing required is that you have a decent level of fitness. It is also great for people who want to avoid beaten treks like Triund, Kheerganga or Prashar Lake but do not have time to trek for several days deep into the Himalayas.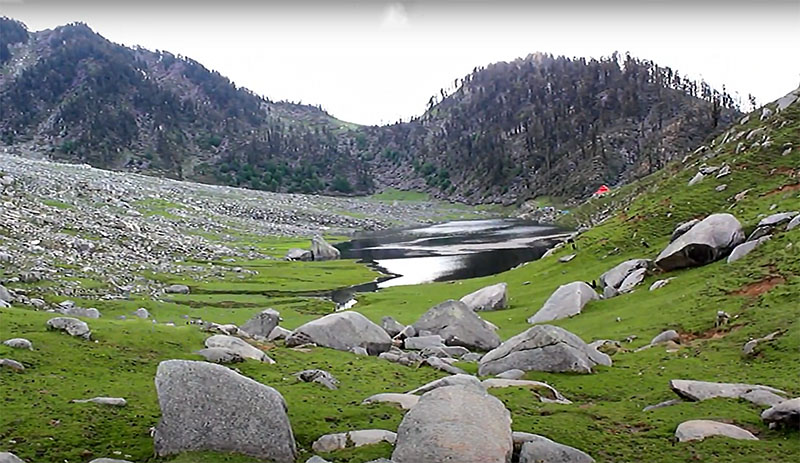 Trek Overview
Duration: 3 Days Minimum
Grade: Easy
Maximum Altitude: 2,950 meters / 9,650 ft
Total Trekking Distance: 25 kilometers
Trail Type: One way. The trek starts and ends at Kareri Village
Base Camp: Kareri Village
Best Season: Spring and Summer
Snow: December last week to April first week
Stay: Camping
How to reach Kareri Lake
In order to reach Kareri Lake, you will first have to reach Dharamshala or Mcleodganj, then go to Kareri Village and finally trek up to the lake. The journey hence will have to be broken down into three parts.
None of the options are too difficult though. Depending on your own preference, you can either travel by your privately owned vehicle, catch a Bus, board a flight, or travel by train. More details are provided below.
By Road
Let us first discuss how to get to Dharamshala (or Mcleodganj) and then I will explain the journey to Kareri Lake from there. If you were traveling by your own vehicle, the journey will be as mentioned below. To explain the route, I will assume Delhi as your starting point.
Delhi – Karnal – Ambala – Rupnagar – Anandpur Sahib – Amb – Ranital – Kangra – Dharamshala
This entire journey will be about 470 kilometers, depending on where you started from in Delhi. The travel time will be anywhere between 10 to 12 hours. The condition of the road is smooth all the way till Dharamshala with a few bad stretches in between.
You do not have to enter Chandigarh, in case you were wondering why that is missing from the route. After Ambala, you can take the Chandigarh Bypass and go straight to Rupnagar without entering the city. This will save you at least one hour of travel time.
By Train
Pathankot is the nearest railway station, about 90 kilometers from Dharamshala. This is a major railway station and is very well connected to the rest of the country by several trains. All the trains to Jammu halt here so you can either look for a direct train to Pathankot or anyone going to Jammu.
By Flight
Dharamshala has its own airport, known as Gaggal Airport. It is about 15 kilometers out of Dharamshala and has connecting flights from Delhi only. If Gaggal was not a convenient option, then you can look for a flight to Chandigarh and travel to Dharamshala from there.
From both Gaggal and Chandigarh, you can easily get a taxi from the airport itself to get a drop at Dharamshala or Mcleodganj. If you were doing this, then staying at Mcleodganj will be a better option because it is closer to Kareri Village.
By Bus
Both Dharmshala and Mcleoganj are among the top tourist destinations in all of Himachal. HRTC operates several buses from all nearby cities for Dharamshala, both ordinary and Deluxe.
If you were coming from Delhi, you can get a bus easily from ISBT Kashmere Gate. An overnight bus will be a better option because then you can sleep through the journey.
Direct buses to Mcleodganj are also easily available which will be better than boarding one for Dharamshala.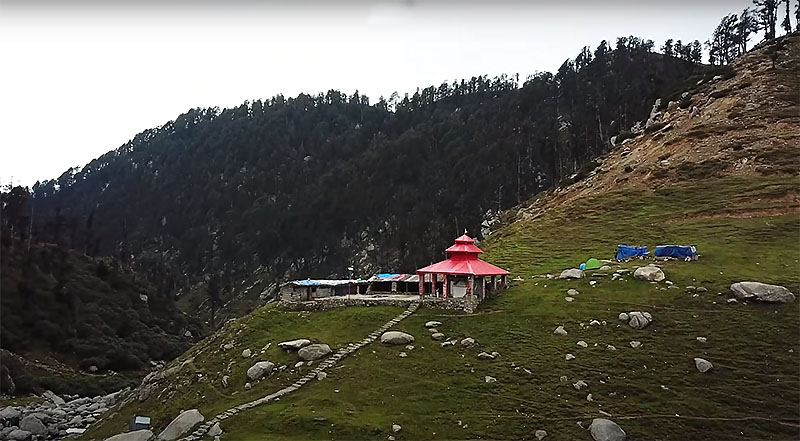 How to reach Lake from Dharamshala or Mcleodganj
Now that you have arrived in Dharamshala or Mcleodganj, the next part of the journey is to reach the Kareri Village, also known as Kareri Khas. This is the starting point of the trek and at a distance of 25 kilometers from Dharamshala. From Kareri Village, you will reach Rioti (also known as Liyoti) which is the base camp for the trek. The next day, you will trek to Kareri Lake and return to Dharamshala by evening. More details are provided further below.
Kareri Lake Trek Itinerary
Mentioned below is a complete and detailed trek itinerary.
Delhi to Dharamshala / Mcleodganj – Day 1
This will be the first day of the journey as explained above. Staying at Mcleodgnj will be a better option than Dharamshala.
Dharamshala / Mcleodganj to Rioti Base Camp – Day 2
On this day, you will first drive up to Kareri Khas. This will take about an hour and a half at most. If you were traveling by public transport, you can either book a private taxi or find a shared one. If you were traveling by bus, it will drop you at Ghera Village, about 4 kilometers before Kareri. After that, you will either have to trek the remaining distance or hitchhike.
From Mcleodganj, you can get a cab for Kareri for Rs. 1500 easily.
From Kareri, you will start trekking for Rioti. Total trekking distance will be about 6 kilometers and will take about 5 hours easily. The trail is mostly all uphill with a few steep ascents in between. For most of your way, you will be walking through a dense forest of Pine and Deodar.
There is also a large waterfall on the way. Nylund nallah will remain with you on the trek.
You will come across a few shacks/tea stalls on the way where you can take a break and get something to eat. I will however recommend carrying your own snacks if possible. Everything at these small shacks is crazy-expensive.
The forest trail will finally open along the banks of the nallah up into grasslands. You will arrive at Rioti Base Camp and stay here for the night in tents. There is a campsite here near the nallah. If you were carrying your own gear then you can self-camp as well.
The total gain in altitude will be from 1475 meters (4839 ft) at Dharamshala or 2,082 meters (6830 ft) at Mcleodganj to 2,450 meters (8000 ft) at Rioti.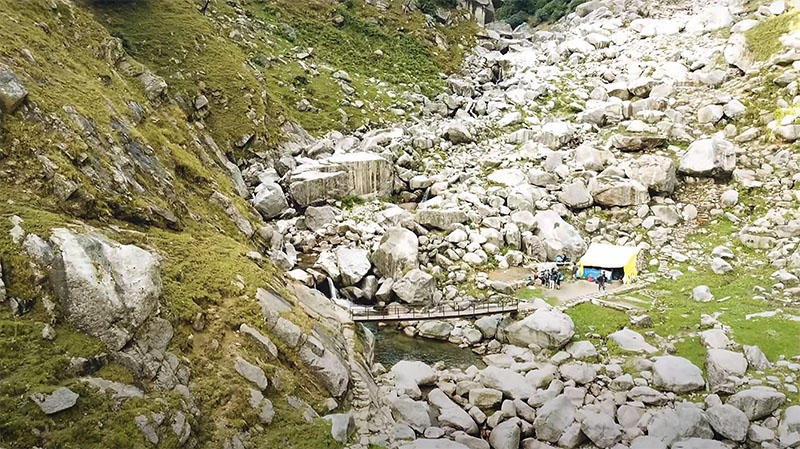 Rioti Base Camp to Kareri Lake – Day 3
The first half of the trek until Rioti is through a forest. After Rioti, you will be walking through a highly scenic grass meadow. You will be walking along the Nyund nallah all the way to the lake which will make the trek even more scenic. There will also be several small springs en route.
After Reoti, the trail is paved for the large part. It is very easy to navigate and will end at the Shiv Temple build at the hilltop. The lake is located on the other side of the hill and you will have to follow the downhill trails to get close to the water.
The walk is uphill still but very easy to handle. The gain in altitude will be very gradual to 2950 meters (9650 ft) highest at the lake.
I will recommend getting an early start on this day because you will also need to return to the base camp for an overnight stay.
Rioti Base Camp to Dharamshala / Mcleodganj – Day 3
You will return to your hotel from Rioti the same way that you reached there. For people traveling by public transport, you may have to make arrangements for a cab to travel back from Karegi Village to Dharamshala.
Another way to do this trip is to camp at Kareri Lake itself for the night. There are no existing campsites available there so you will have to do self-camping. If you were trekking with a tour guide or agency, you can ask them to make the arrangements for you.
There is a Dhaba near the lake where you can eat if you were self-camping. In fact, you can also stay at the Dhaba.
Other Tips
If you had an additional day, I will recommend camping at the lake for a night. This will be a great experience in itself and it will also reduce your trekking distance on Day 2. If not, you will have to come back to Rioti Campsite for Night stay.
If you were not carrying your own camping gear, then you can actually rent it from Reoti. There is a shack here near the campsite that offers tents and sleeping bags on rent.
There are a few dhabas near the start point of the trek, near a large white bridge that you will need to cross. These Dhabas too provide camping and trekking equipment on rent. You can in fact also get a guide for the trek if you needed one.
Another option that you can choose to opt for is the Gaddi shepherd huts that are available at several places along the route. These can also provide shelter for the night. There are a few huts near the lake as well if you want to crash there but will still need sleeping bags for that.
You should carry your own water bottle that you can refill from the waterfall and the water stream
There is another route to the lake that starts from Dharamkot. But your trekking distance will then increase significantly. You will first have to walk to Kareri Village and then to Reoti from there.
Best time to visit Kareri Lake
The best time to visit Kareri Lake is April to June and October to November. But one of the good things about Kareri Lake is that it remains accessible throughout the year. That is right. You can visit here for all 12 months. It is also considered among the best winter treks in Himachal.
With that being said, the best season to go here will be of Spring and Summer. This is when the weather remains enjoyable with moderately warm days and pleasantly cool nights. From Mid April to late June is when most of the trekkers plan to attempt Kareri Lake.
You can do a winter trek as well should keep in mind that the region receives quite a bit of snow and the trek can sometimes get closed as well. It would be best to inquire about the weather in advance.
Another recommendation will be that during winter, you should go with a local guide and not attempt on your own.
Monsoon season is not a good time at all to trek to Kareri. During July and August, monsoon can wreak havoc in this region. Sometimes it can rain non-stop for days and will make it impossible for you to go trekking.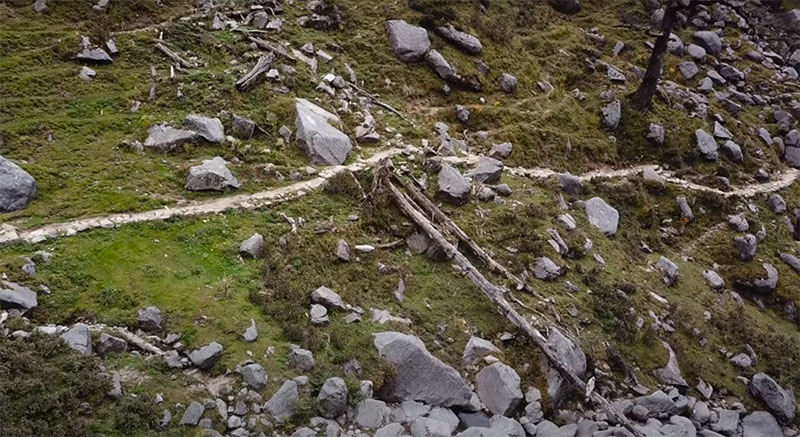 FAQs
Below are some commonly asked questions about Kareri Lake.
1. Where is Kareri Lake?
Kareri Lake is located near the towns of Dharamshala and Mcleodganj in Himachal Pradesh.
2. How to reach Kareri Lake by Car
If you were traveling in your own car, the best option would be to drive all the way to Kareri Khas and start trekking from there.
3. When does it snow at Kareri Lake?
The lake and its nearby area start receiving snow in December. The snowfall usually lasts until March but sometimes it can continue to snow until April as well.
4. Is Kareri Lake Trek Difficult?
No, it is not difficult at all. Even a complete beginner can easily complete the trek. The only condition is that you have a decent level of fitness and are able to walk 5-10 kilometers at a stretch.
5. Do you need a Guide for Kareri Lake
I did the trek on my own and everyone I came across was traveling all by themselves. You do not need a guide in the tourism season as the trail is well marked and easy to find. There will also be other trekkers, villagers, and gaddi shepherds that you can seek help from.
In the off-season, however (November to March) I will strongly advise going with a local guide.
Things To Carry
Backpack
Thermals (If trekking in winter)
Sunscreen Lotion
Water Bottles
Caps or Hats
Flashlight (with spare batteries)
Insect repellent and Emergency Medical Kit
Trekking Shoes
Sunglasses
A Good Warm Jacket
One Raincoat (If traveling during the rainy season)
Lightweight Towel
Wet-Tissue / Toilet Paper
Snacks
Conclusion
I hope the information above on Kareri Lake Trek was of help. If you have any further questions or need any other details, please feel free to ask in the comments section below, or at our Community Forum, and I will be glad to answer.