The Hazratbal Shrine is a Muslim shrine located in Srinagar, on the banks of Dal Lake. Also known as, Dargah Sharif, is considered to be one of the holiest Muslim shrines. It contains a relic, Moi-e-Muqqadas, which is widely believed to be the hair of the Islamic prophet Muhammad.
The shrine is a place of high religious importance and also has quite a bit of history related to it. But other than that, it is also a very beautiful shrine that has also been gaining tourist attention in the last few years. Several of the tour operators include a visit to Hazratbal in their Srinagar sightseeing tour.
I do not want to go into the entire history and religious significance of the shrine. Much of that has already been written about on the web and there is really no point in repeating it here. You can take a look at the Wikipedia Page where all this information is mentioned in detail.
What I instead want to cover in this post is information that will be relevant to you as a tourist like how to reach, what to see, and the best time to visit. For other details on visiting Kashmir like how to reach, where to stay, and what to see, please take a look at How to Plan a Trip to Kashmir.
You can also take a look at the video of Hazrat Shrine below to get more details.
How to Reach Hazratbal Shrine in Srinagar?
Hazratbal is located right next to Dal Lake. The place is in close proximity to both Shalimar and Nishat Bagh. From both these gardens, it will hardly take you 5 to 10 mins to reach the Shrine.
Just drive on Boulevard road right next to Dal Lake and you will get there. If you got confused anywhere, just ask the locals for directions and they point you in the right direction.
The best way would be to travel by your own car or bike or a rented one. Finding public transport in Srinagar City can be a little tricky. It is there but there is really no set time or route that you can follow.
Finding a bus will really be a task almost impossible and you are better off looking for a shared cab. You will definitely not find a shared cab from your hotel to any place in Srinagar and will have to change a few to get to your destination.
The same rule applies to Hazratbal Shrine as well. You should look to reach either Dal Gate or Nishat Bagh. It will be easier to find a shared cab to Hazratbal from both of these places.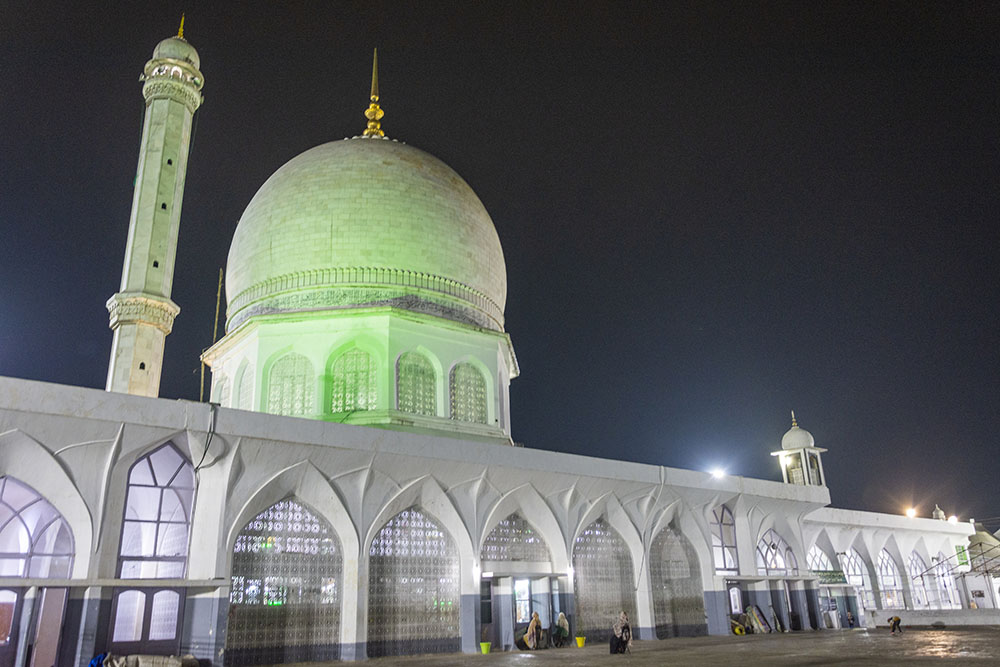 What to See at Hazratbal?
Is Hazratbal a Tourist Place? The answer is no, it is not. It is really a shrine and a mosque and there isn't much for a tourist to do here.
But with that being said, the architecture of the building and the entire setting of the place is definitely worth seeing. That is what you should visit here for. The white building of the shrine really looks majestic during the day as well as the night.
There is a well-maintained garden on its premises that adds to the overall charm of the place. Right next to Hazratbal is Dal Lake which offers a good view of the sunset.
Best Time to Visit Hazratbal Shrine
The first picture I posted in this article was clicked early in the morning. The shrine seems home to thousands of pigeons. If you visit here in the morning, you will find a lot of people coming to the shrine to feed these pigeons.
There are a couple of shops out at the front where you can buy some seeds for the birds. It is really very also. People will come, buy the seeds, feed the birds, and be on their way.
I loved doing that as well. It is both fun and satisfying as well. It presented an opportunity to both feed the birds as well as click a few pictures. With the sun rising in its backdrop, the shrine really looks majestic.
So my recommendation will be that you visit here early in the morning, before sunrise. There is a market near the shrine where you can also have your breakfast. There will hardly be any people around and you will really enjoy being here.
The next best time will be during the sunset. But the problem is that you may not find a place to park your vehicle and it will be a little crowded as well. It will be the time of the evening prayers and there will be a lot of people around.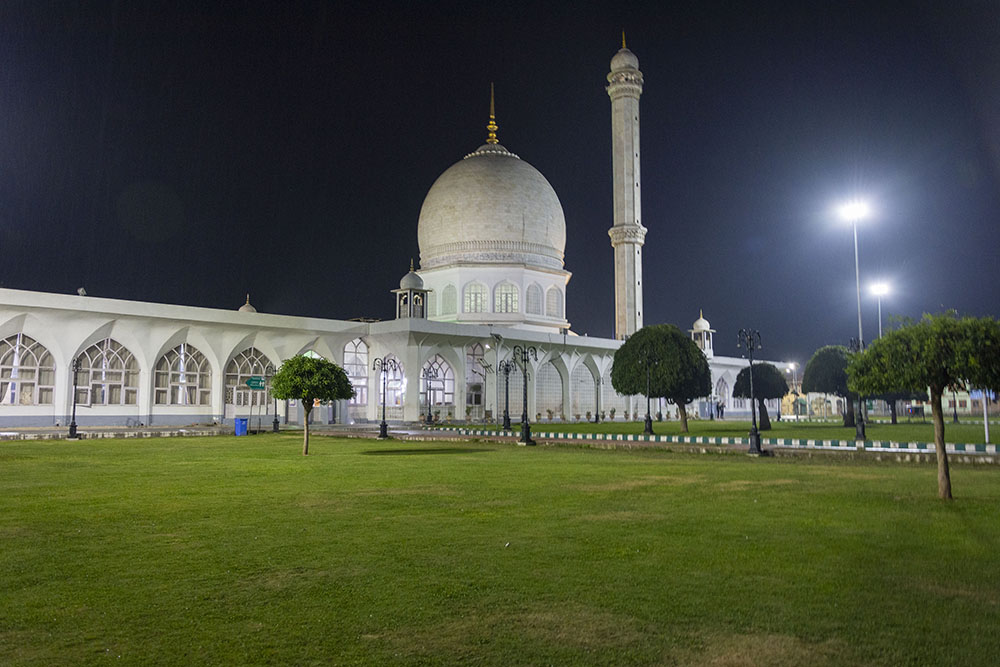 Other Places of Interest
The two other places of tourist interest near Hazratbal Shrine are Shalimar Bagh and Nishat Bagh. Since you will be standing right next to Dal Lake, I am not stating that name because it is an obvious one.
The shrine is about 5 to 10 minutes of drive away from both these gardens. If you drive for another 5 kilometers, you will reach the area that houses Pari Mahal, Chashm-e-Shahi garden, and the Tulip Garden.
Hazratbal Shrine Timing
Hazratbal remains open from early morning till late in the night, from the morning prayers to the night prayers.
Conclusion
I hope the information above on the Hazratbal shrine was of help. If you have any questions, you can contact me on Instagram and I will be happy to answer. You can also consider subscribing to my YouTube channel and asking a question there.