Have you ever wondered why Kashmir is called heaven on earth? Well, if you are traveling in Kashmir, then no one has to tell you the answer to that. You will surely know it by yourself. Sonamarg, the meadow of gold, is a small tourist town situated at a distance of around 80 km from Srinagar on the Srinagar – Ladakh road. Along with the two other towns of Gulmarg and Pahalgam, Sonamarg is among the top 3 most visited destination in all of Kashmir. Sindh River flows along the lengths of the town and stunning valley with pinewood trees lies beyond. In every way, it is a true definition of heaven on earth. There is really no best time to visit Sonamarg because this paradisiacal town has a different color every season and all of them are a sight to behold.
Not just Sonamarg but the best time to visit any tourist destination will be different for everyone because it depends on their reason to visit. Similarly, when should you arrive in Sonamarg will entirely depend on what you seek and when you can. With that being said, there is a certain time of the year when every tourist town receives the majority of its share of tourists and weather is usually the driving factor behind it. With that logic, the months of March, April, May, and June are considered to be the best time for visiting Sonamarg. But will this time suit you as well? Read on to find out!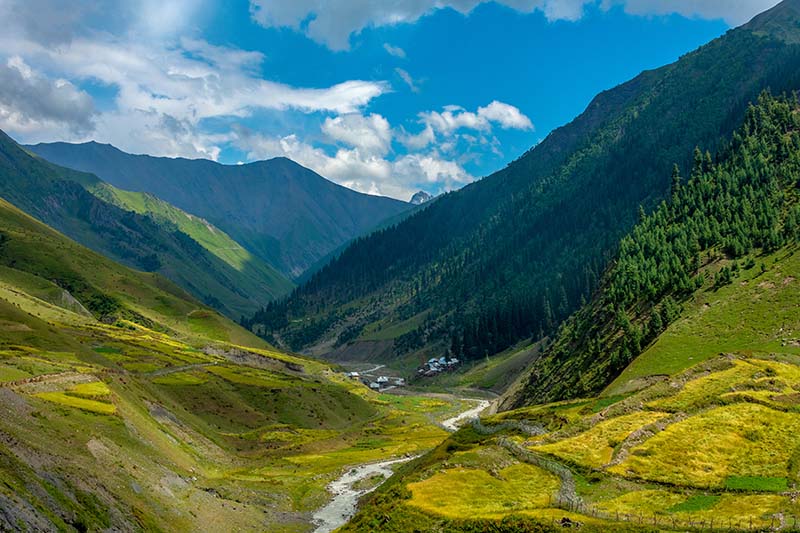 When is the Best time to visit Sonamarg?
Best time to visit Sonmarg depends on a lot of factors. Heavy snowfall during the winter months makes it completely inaccessible. The road from Srinagar to Sonamarg gets closed sometime in December and does not open until March. So if you want to enjoy some snow and possibly even catch a live snowfall, December and March are the best months to be heading towards Sonamarg. If you can only plan in January and February and want to see snow, you should go to Gulmarg because that road remains open throughout the year.
If you just want to enjoy pleasant weather and be in Sonamarg at the time of peak tourist season, then plan your trip in April, May or early June. Weather in these months here is at its best with clear sunny skies, moderately warm days and pleasant nights. This is the best time to plan a family vacation in Sonamarg. If you want to see lush green vistas, floating clouds; and the entire valley at its full blossom, then you will have to come during the monsoon season.
If you have interest in photography then plan in either April, July, August, September or early October. If you want to get pictures of snow-covered Sonamarg, then visit in March; as soon as the road has been opened. If you want to visit when there are a lesser number of people around, plan either in July, August, early September or November. This is also the best time for budget travelers. With fewer tourists in town, you have a greater chance of getting a good deal in terms of commute and accommodation.
Best Time to visit Sonamarg with Family
If you are visiting with the family, avoid winter and Monsoon months. Winter lasts for five months from November to March, January and December being the extreme. You cannot reach all the way till Sonamarg but the road does remain open till Gagangir. Monsoon arrives in the month of July which is not really considered safe. Therefore the best time to visit with the family is in the months of April, May, June and Mid September to early October. A visit to Thajiwas Glacier, pony rides and sleigh ride on snow make your trip memorable.
Also Read: Places to Visit in Sonamarg | Things to do in Sonamarg
Best Time for Solo Travelers
Winter months are not an ideal time for the solo adventurers and solo travelers. However, once the snow is cleared and the road opens, the hill town welcomes you with an enchanting snowscape. If you are someone who wishes to spend some time alone with nature, then avoid the months of Amarnath Yatra and other festival seasons.
Best Time to visit Sonamarg for Photography
Be it in any season, Sonamarg has something to offer for the photography lovers. Months of March and April are ideal for snow photography as the roads open after the extreme winter days. Flowers bloom in the valley during the month of May and June and colors the valley with wonders.
Best Season to visit Sonamarg
Spring and and post-Monsoon is the best season to visit Sonamarg.
Best Month to visit Sonamarg
April and September are the best month to visit Sonmarg.
Also Read: Highest Motorable Road and Passes in the World
When not to visit Sonamarg
You cannot reach Sonamarg in January and February (sometimes even March) so a winter trip to Sonamarg is out of the question. From late June to early September is the time of monsoon season which is generally considered to be a bad time to be in hills. Rains can sometimes wreak havoc here, causing landslides and flooding. Amarnath pilgrimage during the months of July and August creates heavy traffic which again not suited for tourists. So if you are not fond of cold weather, do not go between November and March. If you do not want to risk the rain then July and August is not an option for you. If you do not like crowded places with too many people around then May till August is a bad time for you.
Visiting in the weeks of 26th January and 15th August also is not the best of the ideas during increased security. The weeks of Eid al-Fitr (Meethi Eid) or Eid al-Adha (Bakra Eid) will again be a bad time. During these weeks, most of the hotels close down as their staff goes on leave to celebrate the festivals. Visiting in the month of Ramzan too will leave you traveling through a sleepy valley everywhere as people fast and spend most of their time praying. Last but not least, keep an eye on the news and if there is any news of trouble in Kashmir, best postpone your plans for another time.
November is overall a bad month because the scenery is very dull at this time. Weather will be terribly cold, the scenery will be a bit boring and there won't even be any snow around. April, May and June is not good for anyone traveling on a tight budget.
How to reach Sonamarg
Sonamarg lies in the famous Srinagar – Ladakh highway and if you lost your way, trust me the river will show you the path. Sonamarg is about 80 km from Srinagar and can easily be covered in 3 hours. The nearest airport is of Srinagar and is connected to almost all parts of India. Taxis are available from the airport to take you to Sonamarg. Or you can stay in Srinagar, explore the city and the famous lakes and make a day trip to Sonamarg.
The nearest railway station is in Udhampur or Jammu. Jammu is well connected with rest of India and traveling by train is the best option for budget travelers. Taxis are available from Jammu and Udhampur to Srinagar and Sonamarg. Buses are available from Delhi to Jammu and Srinagar or you can book a cab covering Srinagar and Sonamarg.
Also Read: What to see in Pahalgam | Sightseeing in Pahalgam
Sonamarg by Road
Buses are available from Delhi to Jammu and Srinagar
Private taxi or Bus to Srinagar or to Sonamarg.
You can also drive to Sonamarg on your own vehicle for which you will first have to reach Srinagar.
Sonamarg by Train
The nearest railway station is Udhampur, which is 300 km from Sonamarg. Jammu railway station, which is around 350KM from Sonamarg, is well connected with the rest of the country. From these railway stations, you can catch a private taxi or board a Bus to Srinagar and then to Sonamarg.
Sonamarg by flight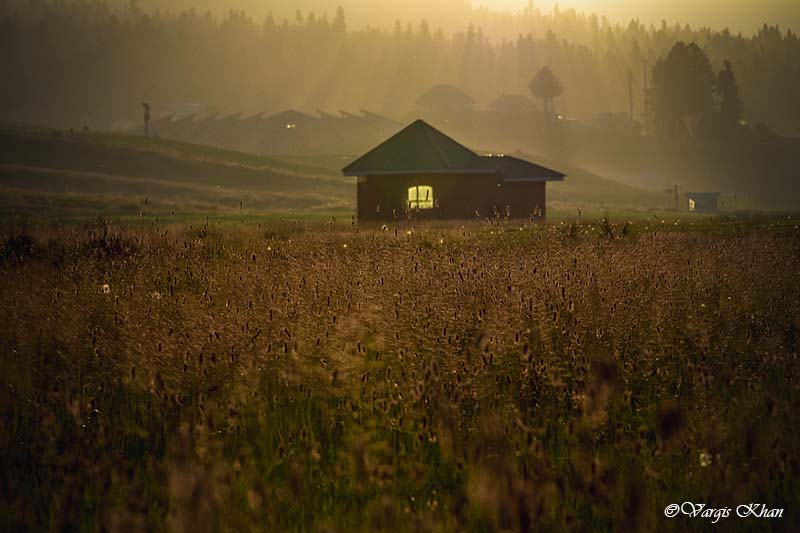 Things to do in Sonamarg
Sonamarg is blessed with many enchanting lakes, glaciers and mountain passes. An ideal place for experiencing the Himalayas and the closeness to nature, it is a true paradise for both nature lovers and adventurers alike. Sonamarg is a major hub for trekkers and hikers as many of the famous Himalayan treks starts here. Among the treks, the most famous one is the Kashmir great lakes trek; known for its picturesque and pristine routes through meadows, alpine forests; and lakes like Gangabal lake, Vishansar lake, Krsiansar, and Gadsar lake that resemble the mythical places in our bedtime stories.
Thajiwas Glacier
Thajiwas Glacier with its breathtaking view of snow-covered Himalayas is famous for snow sports and activities. Ponies and sleigh rides are available but make sure you bargain to get a better deal. It is situated 3 km from Sonamarg town and can be covered by a small trek or pony ride.
Also Read: Food to Try in Kashmir – What to Eat in Kashmir
Vishansar Lake
Panoramic mountain lakes with beautiful flowers and stunning landscape. It is located at a distance of 30 km from Sonamarg town and accessible on a pony or by trekking.
Baltal
Located at a distance of 15 KM from Sonamarg, this beautiful meadow is a camping ground for Amarnath Yatra.
Gangabal Lake
One of the most beautiful lakes in Kashmir, Gangabal Lake is famous for its trek from Sonamarg through Nichinai pass.
Gadsar Lake
Considered to be one of the highest altitude lakes in Kashmir and part of the Kashmir great lakes trek.
Nilagrad river
Believed to have medicinal and healing properties, Nilagrad river is characteristic with its reddish appearance.
Krishnasar Lake
Krishnasar Lake is located about 35 KM from Sonamarg at an altitude of 3500 meters above sea level. It is less than a kilometer from Vishansar Lake as forms the part of famous Kashmir great lakes trek.
Also Read: Srinagar – How to Plan your Trip and Explore?
Weather in Sonamarg
To be more specific, let me give you a month by month detailed description of what to expect in Sonamarg at a certain time of the year.
Sonamarg in January
One of the best times to see extreme snowfall and windy landscape but you can go only as far as Gagangir as the road to Sonamarg remains closed in winters. Heavy woollen clothes and winter gears are necessary. There are hotels near Gagangir if you want to stay there.  Hotel and restaurants do not see much business at this time but will still cost you a little high. Not recommended for traveling with family. Temperature dips to an average of -9 degree Celsius with frequent snowfall.
Sonamarg in February
Conditions in February are pretty much the same as that in January. Average temperature goes to -7 degree Celsius and can expect heavy snowfall. Not an ideal time for family trips and heavy winter gears are necessary.
Sonamarg in March
The temperature starts to gets better and the snow starts melting. Srinagar Sonamarg road gets declared open towards the end of the month. You can expect snowfall and some rain in the month of March as well. Visitors start flowing to experience the snow during this month. Heavy woolen clothes with proper trekking boots are necessary. March is considered to be the best time for snow photography as the valley is covered in snow with clear blue sky. People who don't like cold climate have to wait a little longer for visiting Sonamarg. This is the best time to visit Sonamarg for snow.
Also Read: Doodhpathri – A Comprehensive Travel Guide
Sonamarg in April
Sonamarg in April is Sonamarg in Spring season. Flowers starts blooming this month and flow of travelers increases. This is an ideal time for photographers and families to witness snowscape. Occasional rain can be expected during this month and the temperature starts rising to a comfortable level. Nights are still cold with temperature occasionally falling below zero. Moderate winter gears are recommended during this month. Hotels and restaurants start getting ready for the coming busy months and can expect a small hike in cost. But a good bargain can do the trick.
Sonamarg in May
As the snow started melting, the valley becomes busy with travelers. Hotels and restaurants will be available at decent rates and it is an ideal time for all sorts of travelers. Carry moderate woolen clothes and jackets. Temperature ranges from 8 to 16 degree Celsius with cold nights. This is the best time to visit Sonamarg for camping and trekking.
Sonamarg in June
Considered to be the best time to visit Sonamarg valley for all sorts of travelers because of the following reasons: –
All the tourist activities are available this month.
Best time to escape from the scorching heat of North India.
Best time to visit before the monsoon blocks the hilly roads.
The ideal time before the Amarnath Yatra rush.
You should still carry a pullover or jacket, as the nights can be cold. Make sure that you book hotels in advance to avoid the last-minute rush.
Sonamarg in July
Amarnath Yatra starts in the month of July and therefore not an ideal time for tourists. Availability of hotels and restaurants can be challenging and the town is heavily crowded with pilgrim traffic. Weather remains comfortable throughout the day and occasional rain can be expected. Chances of landslides in the lower Himalayas can be challenging for long-distance travelers. The temperature remains at an average of 20 degrees Celsius.
Also Read: Yusmarg – A Comprehensive Travel Guide
Sonamarg in August
Weather conditions in August remain pretty much the same as in July. A thunderstorm can be expected, so make sure you are geared up for rain. Monsoon season generally is not the best time to visit Sonamarg or any other hill station unless are fully prepared for it and know what you are getting into.
Sonamarg in September
Cooler and greener with mist spreading the valley makes this month ideal for those who seek a little mystery of nature. Temperature goes down a bit to an average of 16 degrees Celsius. September is one of the best times to visit Sonamarg. The town is, however, a little crowded during this month and pre-booking of hotels is necessary if you are visiting as a family.
Sonamarg in October
October is a good time to travel and same is the case of Sonamarg. The temperature starts to fall down for the coming winter month. So, woolen clothes are recommended, as the average temperature goes to 9 degrees Celsius with cold nights. The flow of tourists is still high at this time of the year and pre-booking of the hotels is recommended.
Sonamarg in November
November witness considerable less tourist flow. This is overall a bad month to visit Sonamarg. But for those looking for solitude and less crowd, this may be a good time. However, the end of Autumn and dull topography makes it less favorable for most of the travelers. Heavy winter clothes are necessary as the mercury dips to negative.
Sonamarg in December
Winter moves towards its extreme and not an ideal time for visiting the valley. Chances of getting stranded due to snowfall and closure of roads are high in December. Make sure to carry plenty of woolen clothes and winter gears. Most of the hotels are closed during the winter months and getting a good hotel can be an issue. Not the ideal time for families.
Also Read: How to Plan Your Trip to Gulmarg, Kashmir
When to visit Sonmarg
So in order to sum it all up:
For photography: March, April, June, August, and September
With Family: April, May, June and September
Budget Trip: October to November
For Snow: March
For Snowfall: Late December and March (after the road opens) February
Conclusion
Visiting Sonamarg is seasonal and mainly depends on the closure of routes dues to snowfall and landslides. You should completely avoid winter season if you are traveling with family. It is well connected through Srinagar – Leh Highway, therefore can be considered as part of the Itinerary that includes Srinagar, Kargil and even to Leh.  I hope the information above on the best time to visit Sonamarg was of help. If you have any questions; or need any other details; please feel free to ask in the comments section below; or at our Community Forum; and I will be glad to answer.