Continuing next in the Itinerary series for Spiti valley; in this article I will suggest a few sample itineraries to visit Spiti valley in 6 days. I will first suggest an itinerary that I recommend; followed by a detailed description; and a few other ways to complete the same journey. Apart from the itinerary, I will also try to cover some other challenges that you may face like acute mountain sickness, best time to visit, route to take, accommodation choices and road conditions etc. I will also include information on some of the major tourist attractions en route that are worth a visit. If you have any other questions after reading the article; or need suggestions on your travel plan; you are welcome to ask in the comments section at the end of this page.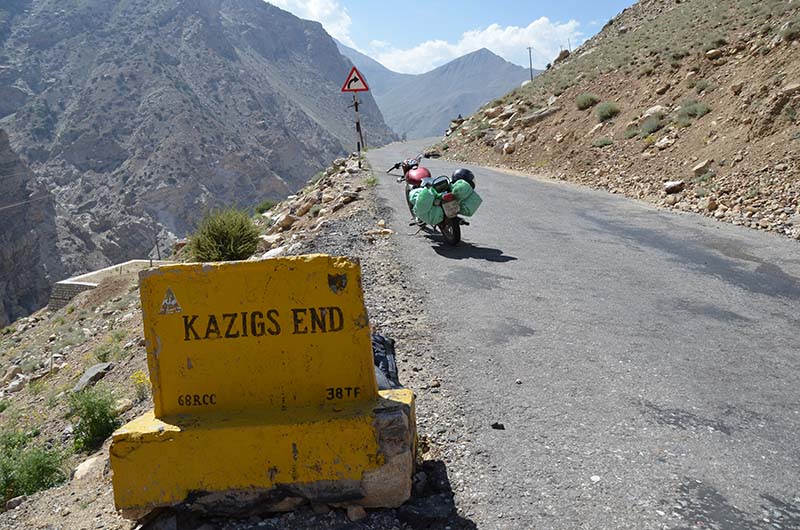 With 6 days in hand, an ideal way to plan the journey would be to reach Spiti via Manali and return the same way. Including Shimla route and Kinnaur valley in the plan would just make the journey more hectic and rushed; giving very little time to enjoy the scenic beauty en-route. Think of it this way, from Manali you can reach Kaza in about 9-10 hours. However for the same journey from Shimla, it will take you at least 2 days, that too if you rushed all the way.
While the single day journey from Manali to Kaza will still allow you sufficient time for sightseeing, if you want to travel in the same manner from Shimla, an ideal time will become at least 3 days. What it also means is that you can only plan this trip when the Manali to Kaza route is open; which is pretty much limited to 4 months in a year, from June till September. For rest of the months, it would be best if you could add a couple more days and plan the trip for about 8-9 days. With that being said, I will suggest itineraries covering both Manali to Kaza and Shimla to Kaza route.
For most recent update on the status and conditions of the roads, please read through the Lahaul & Spiti Valley Road Status thread. For information on which month you should be planning your journey in, please read When is the best time to Visit Spiti Valley.
Will mountain sickness be a problem in Spiti? Chances are that yes it will be; however I have known people who went on a short trip to Spiti and did not face any problem at all. The best prevention against AMS is plenty of rest and slow gain in altitude which doesn't really happen while visiting Spiti Valley in 6 days. One day you are in Manali at 2000 meters and the very next day you are in Kaza at almost 4000 meters.
On the way, you will also be crossing Rohtang at 3,978 meters and Kunzum at 4,590 meters. I wish there was a way around it but there really isn't. Best you can do here is to avoid spending the night at Chandratal on Day 1 and first reach Kaza. This way, in case the symptoms gets worse, you will at least have the choice of seeking medical assistance in Kaza which is not an option at Chandratal.
Also read: How to Handle Mountain Sickness in Spiti
Another thing you can do is to rest all evening after reaching Kaza. Do not walk around a lot or stress yourself; as it will only turn things even difficult. Chances are that you will be OK by next morning but in case you weren't; then do not go elsewhere and just spend the day in Kaza only; or return to Manali.
Last but not the least is the problem of Rohtang Permits. Why is it a problem? Because you only have 6 days in hand. Out of these 6 days, at least 2 days will be spent in reaching Manali and then getting back home. This just leaves you with 4 days to explore Spiti valley. Now getting the permit for Rohtang is a time consuming task. You will have to submit your documents at SDM office Manali before noon and collect permits after noon. Hence one entire day will be spent in Manali itself which you cannot really afford because then it will leave you with only 3 days for Spiti.
Thankfully, this can be dealt with by arranging the permits in advance. First option is to apply for it online; explained at the link below. You can get the permit two days before your date of travel, print a copy out and keep it ready thus avoiding the need of staying in Manali an entire day.
Also read: Rohtang Permits: Details, Charges and How to Apply
If the online option did not work, then the second choice is to ask someone else to arrange it for you. Several hotels in Manali provide this service in exchange of a small fee. Call a few hotels there, ask around and whichever one agrees, book your night stay with them. That way, once you arrive in Manali, you will have the permits ready and can leave for Spiti the very next day. However, please make sure that you call the hotels about a week in advance; thus allowing them time to make the arrangements. It cannot be a last minute thing. If you could not find a hotel to agree on arranging this for you; then try calling a few travel agents and they may arrange the permits for you.
After taking care of the permits, below is a sample itinerary that you can follow to cover Spiti Valley in 6 days. For the sake of this article, I will assume that you are starting from Delhi. Why Delhi? Because for a 6 day trip, this possibly can be the farthest possible starting point. Any farther than Delhi than the itinerary below cannot be followed; as a matter of fact the trip is not possible at all without adding at least a couple of days to it. If you are living at a place nearer than Delhi; like Chandigarh for example, than it is even better.
Spiti Valley in 6 Days
Delhi to Manali – Day 1
Manali to Kaza – Day 2
Kaza to Kibber – Kaumik – Langza – Hikkim to Kaza – Day 3
Or
Kaza to Tabo – Dhankar – Pin Valley to Kaza – Day 3
Kaza to Chandratal – Day 4
Chandratal to Manali – Day 5
Manali to Delhi – Day 6
A detailed description of the itinerary above is provided below.
Day 1: Delhi to Manali
First day of the journey can easily be about 12-14 hours depending upon your speed so ensure that you take an early start from Delhi; possibly by 3-4 AM. Not much to say about this day except for that this will be a long monotonous day of overtaking truck after truck. Roads are mostly good with a few bad patches in between.
There are several regular buses as well between Delhi and Manali and you will easily be able to find yourself a seat.
Day 2: Manali to Kaza
I am assuming that you would already have arranged for permits; so on this day you can head straight to Kaza. Start early from Manali as well which will be beneficial in two ways. First is that you will be able to avoid a possible traffic jam near Rohtang top. Second is that even though the distance is not that great; the journey from Manali to Kaza can still take a while; thanks to extremely bad roads. From Manali, reach Rohtang top and while descending towards Kokhsar, take the diversion towards Spiti near Gramphoo. It will be a small road on your right but a board marking it as road to Spiti Valley makes it easy to spot.
Also read: Clothes for Spiti Valley
The journey from Gramphoo to Batal is a nightmarish drive. It possibly will be the worst road you have ever been on. After Batal, climb up Kunzum Pass and descend to Losar. From there it is a straight run to Kaza.
There are multiple hotels in Kaza and no matter what your budget is, you will easily be able to find a place to stay. For more information on where you can stay and places you can visit in Kaza, please read Kaza – Sightseeing, Accommodation and Other Facilities
If you were traveling by public transport; then there is an early morning bus from Manali to Kaza which you will have to board. It starts from Manali at around 5 or 6 AM and will see you at Kaza by evening.
Day 3: Kaza to Kibber – Kaumik – Langza – Hikkim to Kaza
There are 2 ways that you can spend your third day sightseeing around Kaza and I will explain both. First option is to take a journey towards the remote villages of Kibber, Kaumik, Langza and Hikkim. This can easily be done in a single day but please note that the roads will mostly be dirt trails. For details on how to plan this journey, places to see here and complete road map of the area, please take a look at the articles below.
How to visit Komik, Hikkim and Langza from Kaza
Day 3: Kaza to Tabo – Dhankar – Pin Valley to Kaza
Second way you can spend this day is to plan a visit towards the towns of Tabo, Dhankar and Pin Valley. In order to do this, you will take the road towards Shimla from Kaza and travel all the way till Tabo. Visit the monastery at Tabo, grab a bite if you want to and then backtrack towards Kaza until Dhankar. Visit the two Monasteries at Dhankar and travel back to Attargo. Once there, cross the Attargo bridge and take the dirt trail towards Mud Village in Pin Valley. After visiting Mud, return to Kaza by evening.
Please note that the road from Attargo until Pin Valley is all a dirt trail and can take some time to travel on. Best would be to start as early as you can from Kaza so that you have plenty of time for sightseeing. For more details on the trip to Pin Valley and a road map, please read How to Plan a trip to Pin valley from Kaza
If you were traveling by public transport, you will have to either rent a motorcycle or a private cab for this journey on Day 3; both for option 1 and 2. You will not be able to cover all these areas in a single day (for both options) if you were relying on public transport, either bus or shared cabs.
Day 3: Kaza to Chandratal
Since we are short on time, the return journey will start the very next day. Destination for today is Chandratal where you will be camping for the night. On the way; you can also pay a visit to Key Monastery. It is slightly after Kaza towards Losar; right before the bridge where you cross over the river. Reach Kunzum top once again and while descending towards Batal, you will notice a narrow road to your right. This is the 14 kilometer stretch to Chandratal. Road is barely wide enough for one car so drive carefully.
There are several camps at Chandratal of which, Jamaica's camps is the one that I recommend.
If you reached Kaza by bus than this is where it gets tricky. There is an early morning bus from Kaza to Manali which you will have to catch. By this bus, you will get down at Kunzum pass top near Chandratal diversion from where you have two choices. Either you can start walking for the last 14 kilometers till the lake or stand there and wait for a shared taxi or another tourist to arrive who can give you a ride.
My suggestion will be that you start walking immediately and hitch a ride if someone passed you by. In peak tourist season, lot of people travel this way and you will have no problem hitch hiking.
Day 4: Chandratal to Manali
If you were by your own vehicle than return to Manali via Rohtang pass. If you were however by public transport, than you will have to ensure that you reach back Kunzum Pass slightly before the time you got down here the day before. The Kaza to Manali bus is a daily service and you will have to be in time to catch it once again from Kunzum top.
Day 5: Manali to Delhi
Last day of the trip and nothing much except for a long journey home.
A lot of people try to squeeze in Chandratal on Day 2. Plan changes to Manali to Chandratal and then Chandratal to Kaza which I would advise highly against. Go straight to Kaza first to avoid any unnecessary hassle due to acute mountain sickness and then cover Chandratal while returning to Manali.
The travel plan I suggested above is probably the best one if you have only 6 days for the trip.
Over the last few years however, I have been asked by multiple people if they can cover the entire circuit in 6 days. Though it will be a little difficult and the journey will be rushed, the answer is that yes it can be done. Below I will suggest a different itinerary covering the entire circuit.
Spiti Valley 6 Day Itinerary
Delhi to Narkanda – Day 1
Narkanda to Reckong Peo / Kalpa – Day 2
Reckong Peo / Kalpa to Kaza – Day 3
Kaza to Chandratal – Day 4
Chandratal to Manali – Day 5
Manali to Delhi – Day 6
Please do note though that I do not recommend following this plan; specially if this is your first trip here. Spiti is a place that is known for its natural beauty and the journey is best taken slow; giving yourself ample time to enjoy the vistas and experience the local culture. But if you can only manage 6 days and must cover the entire circuit, below is how you can travel.
Day 1, 2 & 3
Following the above plan, you will reach either Shimla or Narkanda on Day 1. I recommend staying at Narkanda as opposed to crowded Shimla. On Day 2, start early and take the road towards Reckong Peo via Rampur. Once at Peo, continue another 10 kilometers uphill and stay at Kalpa which is a more scenic place than Peo in my opinion. On Day 3, start possibly by first light of the day and reach Kaza via Nako, Tabo and Dhankar.
Roads on this route are mostly all good until Rampur. After this until Peo the roads will be bad. It will turn good again Nako and after that, it is mostly bad until Kaza.
Travel time on Day 1 is about 8 hours. On Day 2 it will be 7-8 hours again. However your longest journey is on Day 3 which may very well take you about 10 hours to cover.
Manali to Kaza
The biggest problem with these plans however is that they can be followed only in the months when Manali to Kunzum route is open; which is limited to from June till September; sometimes late May and early October as well. For rest of the months, the road from Manali to Kaza remains closed and you will not be able to complete the circuit. You will have to then reach Kaza via Shimla and return the same way; for which 6 days are not enough and you must add another 2 days at least to the plan.
Conclusion
I hope the 2 itineraries provided in order to cover Spiti valley in 6 days were of help. If you have any further questions, please feel free to ask in the comments section below; or at our Community Forum; and I will be glad to answer.