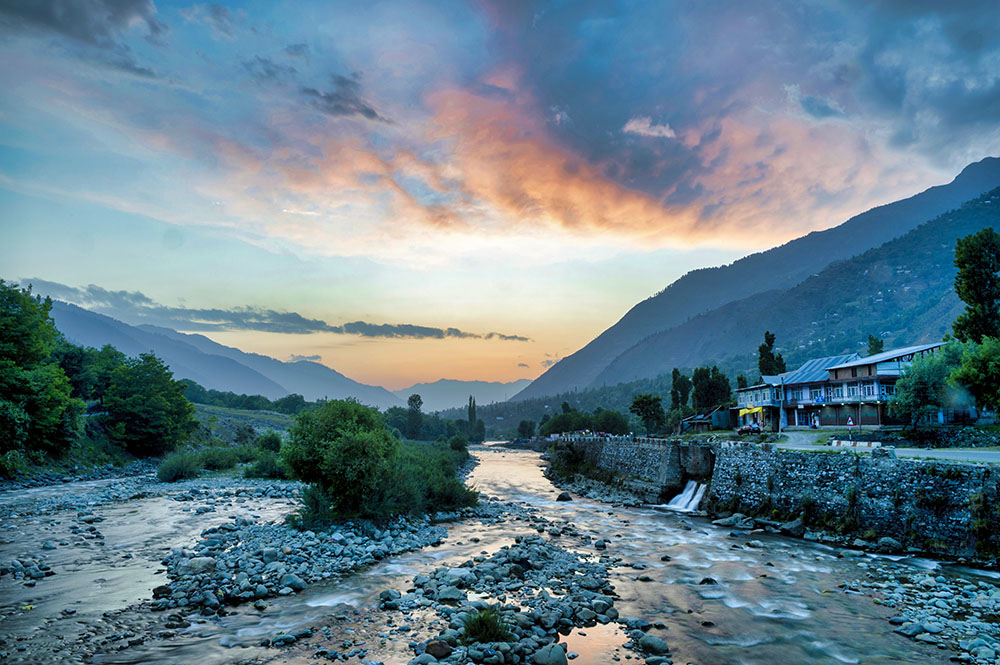 It was the 5th day of our trip. The plan for the day was to travel from Srinagar to the Kashmir Tourist camp in Mamar Village, barely 40 kilometers from our hotel in Srinagar. Since the distance to cover wasn't that great, our day started a little later than usual.
We traveled from Delhi to Srinagar via Jammu and the Mughal Road on days 1 and 2. The next 2 days were spent in Srinagar itself, relaxing and getting a couple of things in the car fixed before we moved on to Ladakh and Zanskar.
To read the previous parts of the travelogue, please take a look at the links below.
Journey So Far:
I was working late the night of Day 4 before and couldn't go to sleep until 2 am. So when my alarm went off at 7 am the next morning, all I could do was turn it off and go back to sleep.
I just did not have the energy to get up and since we only had 40 kilometers to cover, I wasn't even worried about it too much. And that is how our day started much later than usual on Day 5.
Finally, we woke up at around 10 in the morning and started to get ready for the journey ahead. We had some breakfast, bags were loaded in the car and by 11 am, we checked out of the hotel in Srinagar.
It was time to move on to our next destination, Kashmir Tourist Camp. A video of our journey for the day is also posted on YouTube at the link below.
Kashmir Tourist Camp
Kashmir tourist camp is a campsite located in a small village called Mamar, on the Srinagar Leh highway. It is at a distance of approximately 45 kilometers from Shalimar Bagh in Srinagar and 35 kilometers before Sonamarg.
The campsite is in a very beautiful and peaceful location with the Sind River flowing right next to it and a Walnut Orchard on its other side.
It is also a little distance from the usually crowded Sonamarg town. So for anyone looking to spend some time in peace and close to mother nature, this place is perfect.
Srinagar to Kashmir Tourist Camp
Our original plan for the day was to travel to Sonamarg on Day 5 and then spend the next 2 days there.  Camping in Kashmir was never on the itinerary.
The only reason we spent almost a week in and around Srinagar was to have a stable internet connection so we could continue working before we entered the remote valleys of Suru and Zanskar.
Also Read:  How to Plan a Trip to Leh Ladakh – A Complete Travel Guide
But then the owner of Kashmir Tourist Camp contacted me on Instagram while I was in Srinagar and invited us to spend a day at his campsite.
We had 2 days to spend in Sonamarg and there was nothing new for me to see there. I have been to Sonamarg a few times before so even if we stayed there for another 2 days, the plan was just to rest and relax. This made cutting a day short easy.
So our itinerary was changed. We decided to stay in Kashmir Tourist Camp on Day 5, Sonamarg on Day 6, and then move on to Kargil on Day 7. Since the campsite was located on the way to Sonamarg, it made changing the plan even simpler.
Nagbal & Ganderbal
Whenever I am in Srinagar, Hotel Grand Valley Inn is my preferred choice of place to stay. The hotel is conveniently located with Shalimar Bagh, Nishat Bagh, and Dal Lake at a walkable distance.
To read more, please take a look at Hotel Grand Valley Inn – A Great Place to Stay in Srinagar.
That is where we were staying this time as well and as always, I loved my stay here for 2 days.
We checked out of the hotel at 11 am and started on our way from Srinagar to Kashmir Tourist Camp. We had barely gone a couple of kilometers when I got a call from the hotel caretaker that I had forgotten my jacket in the room.
So we turned back, returned to the hotel, collected the jacket, and were on our way once again. The first part of the journey was to navigate our way on the crowded Srinagar Ganderbal road.
Ganderbal is at a distance of around 18 kilometers from Srinagar. But the problem with this stretch of the road is that it is a narrow, single-lane road that sees heavy two-way traffic all day long.
Also Read: How to Plan a Trip to Doodhpathri in Kashmir
If you were able to cross this stretch early in the morning, you will avoid the traffic and will be on the highway in about 45 minutes. But if you started a bit late, it can easily take you up to 90 minutes to cross.
That is what happened to us as well. We started our journey well after 11 am and there was already a lot of traffic on the road by then. Navigating our way through the traffic and busy towns and villages on the way, we slowly moved toward our destination.
The Toll Post Scam
A little after we crossed Nagbal, we came across a Tollbooth. We were asked to pay Rs. 150 as a Toll before moving on any further. Finding a toll post on this road was a bit surprising to me for 2 reasons.
The first reason was that the road here is barely wide enough for 2 cars to pass. It is also badly damaged in several places, gets crowded in rush hours, and is poorly maintained. There is no way that it is a toll road.
The second reason was that I had been on this route several times before and it was the first time that I was seeing this toll booth.
Nonetheless. we paid Rs. 150 and moved on. A little ahead, Lavish looked at the receipt we were given and noticed that it read Rs. 100. So the guy over there collected Rs. 150 from us noticing our Delhi registered car – Rs. 100 as Toll and Rs. 50 for his own pocket.
Also Read: How to Plan a Trip to Pahalgam
I know, Rs. 50 isn't too big a deal. But think about this, they are doing this on a tourist route all day long. Imagine the kind of money they are scamming out of the people.
Waterfall Dhaba
We moved on from the toll post, took a brief stop at a gas station, and soon crossed Ganderbal. We were now on our way to Wayul Bridge where this narrow stretch of road merges into the Srinagar Leh highway.
I knew there was a man-made waterfall somewhere in Ganderbal. But in all my trips to Kashmir so far, I never had the opportunity to visit the waterfall. It is located somewhere near a university but I wasn't aware of the exact location.
Just before the Wayul Bridge, I noticed a huge board that read waterfall and pointed to our right. I thought this is where the waterfall must be. Our journey for the day was a short one and we had ample time to take breaks in between. Excited to see the waterfall, I turned right.
Also Read: How to Plan a Trip to Kashmir – A Complete Travel Guide
To my surprise, we were deceived once again. There was no waterfall there. It was just a small restaurant that went by the name of Waterfall Dhaba.
I am not sure if it was an intentional attempt to fool the travelers into taking a stop at the restaurant or not, but I was greatly disappointed.
The board was designed in a way that the font size of Waterfall was huge and the restaurant was written in very small letters. First look at that board and anyone would assume that there was a waterfall there.
Nonetheless, the location of the restaurant was still great, right next to the river. Since we were there, we decided to get something to eat as well. After a brief break, we continued our journey.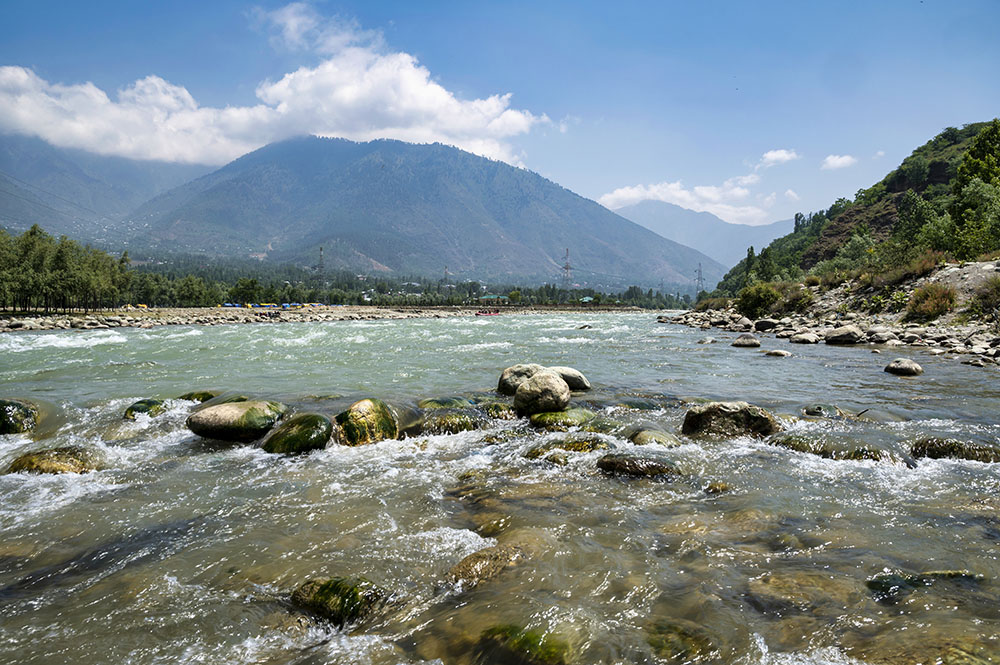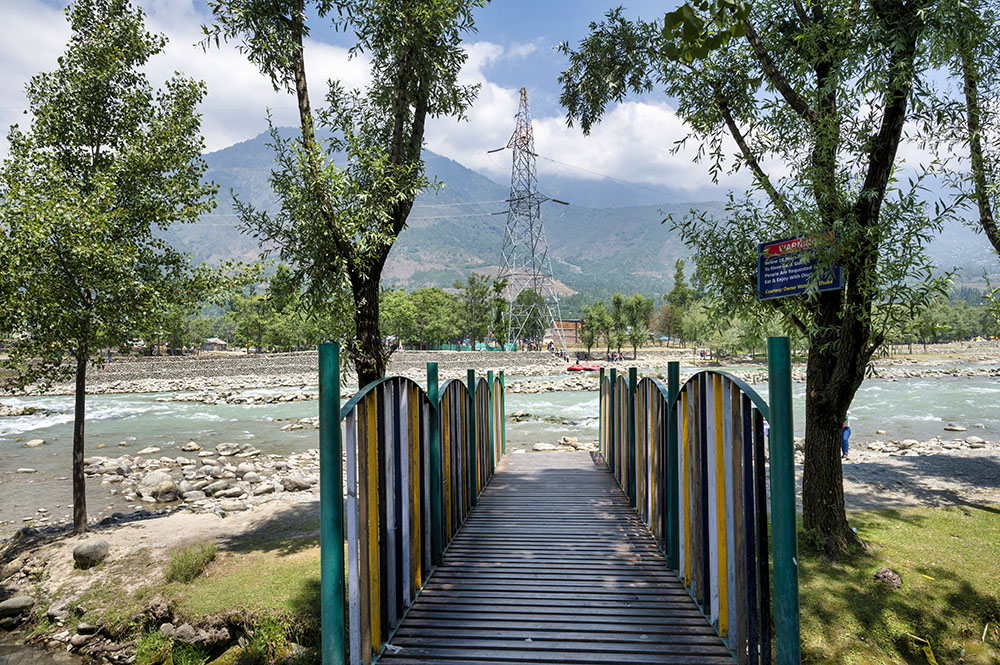 Kashmir Tourist Camp
Not much happened after that. We crossed Wayul Bridge and were soon cruising on the Srinagar Leh highway. We were stopped by cops twice – first to check my car's papers and then once more to check if we were carrying any liquor, which we weren't.
After a short drive, we arrived at Mamar Village where the campsite was located.
So far, I had no idea what to expect because this was my first time at the Kashmir Tourist camp. From the few pictures that I had seen of it, it did seem like the campsite was in a beautiful location. So the hopes were a bit high and it did not disappoint.
The camps are located right along the Sind River. From the Srinagar Leh highway, you will have to leave your vehicle and cross a small bridge to get to the campsite, which we did.
The owner of Kashmir Tourist Camp, Tanveer, greeted us with great warmth and hospitality. We were given one of the luxury tents which was large enough to accommodate at least 3 people in it.
We checked in, got something to eat, and decided to take some rest. The clock showed 3 pm and I was supposed to log in and get working in another 2 hours. But before I could do that, I really needed to get some shut-eye.
I took a nap for an hour and logged in to my office laptop by 5 pm sharp.
Also Read: How to Plan a Trip to Gulmarg
The Scare
Not much happened for the next few hours. Tanveer lit a small fire in front of the camp and arranged for some Kababs as well. So yes, we enjoyed a bonfire while also roasting our Kababs on it. It was indeed a fun experience altogether.
At around 8.30 pm, I noticed that the mobile data was not working in either of our cellphones. We all checked and there was just no internet on either Airtel, Jio, or BSNL.
Tanveer made a few quick calls and we soon learned that internet services were shut down all over Kashmir.
I had a similar experience during one of my previous trips to Kashmir and that one lasted for a full 4 days. In those days, everything including phones, landlines, TV, and Internet services were stopped.
Thankfully, this time the phones were working and it was only the internet that got shut down.
I didn't know what to do next. I had a few important office calls that I was supposed to be on but there was absolutely no way that I could do that now without the internet.
What worried me, even more, was how to plan the journey ahead. The last time it happened, there was no internet for a full 4 days and no one knew how long it was going to last this time.
The Reassurance
In situations like this, it is only the area in and around Kashmir that gets affected. There is hardly any effect felt in the areas under the UAT of Ladakh, including Kargil.
So the only thing I could think of was to be on our way to either Kargil or Dras the very next day. We will have to skip our stay at Sonamarg entirely and head straight to Kargil.
Thankfully, the shutdown lasted only for an hour or so. The services were restored at around 9.30 pm and after that, it was life as usual.
We continued to enjoy our small fire and the Kababs for a little longer. We retired to our tent after that and I got back to work. Lavish went to sleep sometime around midnight but I could not shut down my computer until 3.30 in the morning.
Our plan for the next day was to continue to Sonamarg and spend the night there. But that also got changed and we ended up spending another day at Kashmir Tourist Camp. Please click on the link above to continue reading the next part of the travelogue.
Kashmir Tourist Camp – Conclusion
I hope the travelogue, pictures, and details on Srinagar to Kashmir Tourist Camp were of help. If you have any questions, you can contact me on Instagram and I will be happy to answer. You can also consider subscribing to my YouTube channel and asking a question there.