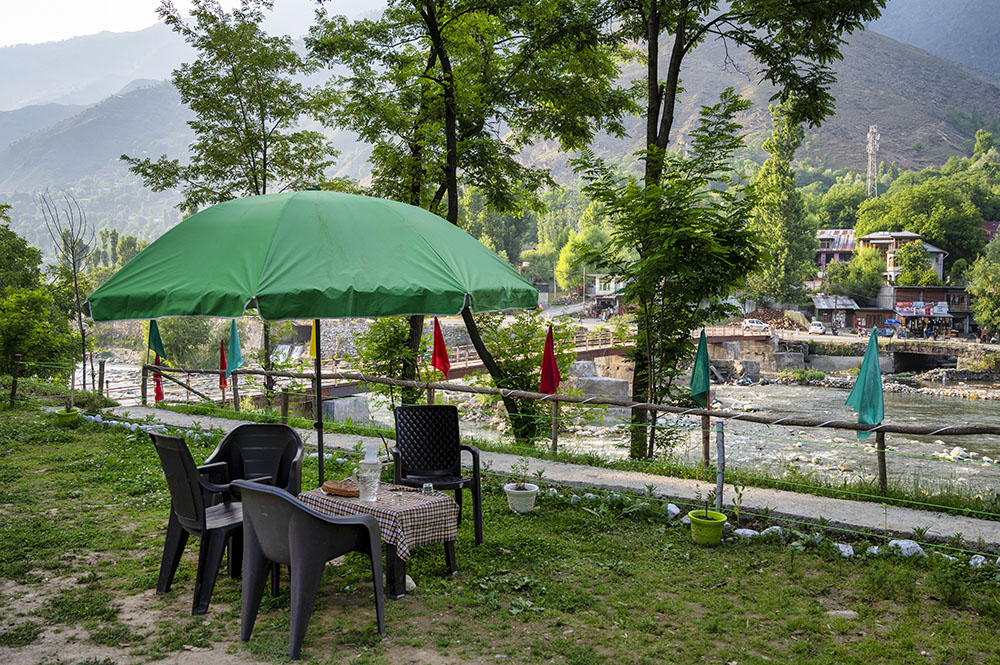 Kashmir Tourist Camp is a campsite in Mamar Village of Kashmir. It is located at a distance of about 45 kilometers from Srinagar and 35 kilometers from Sonamarg. It is a great place for camping – a beautiful location tucked away in the silence between the Sind River and a Walnut Orchard.
We arrived at the campsite on Day 5 of our trip and stayed the night. The plan was to leave for Sonamarg on the morning of the next day. But I liked the place so much that I decided to alter our plans a bit and spend another day at Kashmir Tourist Camp.
Please take a look at the links below to read the previous parts of the travelogue.
Journey So Far:
There was really no set plan in mind for this day. We actually decided to stay for a day more while we were having our breakfast in the morning. While both Lavish and I agreed on this decision, we were absolutely clueless about what we were going to do even if we stayed.
That is when Tanveer, the owner of the campsite, came to the rescue and made a few suggestions. I liked them all and immediately agreed to his recommendations. The first task of the day was to go for a short trek.
You can also watch a video of this day at the YouTube link below.
Kashmir Tourist Camp
Before I move on with the travelogue, let me also post some details about this campsite and what I like about it so much that made me extend our stay here.
This was the first time I was camping in Kashmir. I have neither stayed at any of the campsites here nor did I ever do self-camping.
To be honest, I am not really sure why that is. I have done camping at a lot of other places but it just never happened in any of my trips to Kashmir.
But since I have stayed at several campsites before, I already had an idea of what to expect to term my stay as either satisfying or disappointing. Thankfully, my stay at Kashmir Tourist Camp was a deeply satisfying one.
Also Read: How to Plan a Trip to Kashmir – A Complete Travel Guide
Tents
The campsite offers Swiss luxury tents as well as small Quechua tents for budget travelers. I stayed in one of the luxury tents and absolutely loved it.
The tent was large and spacious enough to accommodate at least 3 people in it without any problem at all. There is an attached bathroom in all the tents with running water and English-style toilets.
The washrooms were very clean and pretty much everything in there was functional and nothing was broken (which is a problem at a lot of other campsites). This was actually the first time that I did not even mind taking a bath in a tent's bathroom.
There is proper carpeting in the tents, the washrooms have a cemented floor, the bedding was very comfortable and there was plenty of space to bring in all your luggage.
There are switchboards in the campsite to plug in your chargers and electrical items.
Also Read:  How to Plan a Trip to Leh Ladakh – A Complete Travel Guide
Self-Camping
If you were carrying your gear, the campsite also offers space for self-camping. You can pitch your own tent and can use the common washroom at the campsite. You can also use the campsite's kitchen to cook your food, all for a nominal price.
Views
This was possibly the best thing I liked about this campsite. Right in front of it is the beautiful Sind River and a walnut orchard in its backdrop.
The only sound we heard while we were here was of the wind, trees, birds, and water. A perfect way to spend some time in peace and get close to mother nature.
Owner
The owner of the campsite is a gentleman called Tanveer and he is a great host. The guy really knows how to cater to his guests and take care of all their needs properly.
He lit a small bonfire for us in the evening and did not even mind serving us freshly roasted Kababs, something you can also do. He also did not mind being our guide on a short trek to the forest and made sure that our stay with him was comfortable.
You can contact Tanveer at 9820137935 to book your stay at his campsite. I will highly recommend it.
Also Read: How to Plan a Trip to Doodhpathri in Kashmir
Day 6 – A Day at Kashmir Tourist Camp
Since I was working till 3.30 am the previous night, an early morning was out of the question. It was already 10 am by the time I got out of bed.
For the next couple of hours, we just sat at the campsite having breakfast, making changes to our plan, and discussing with Tanveer what can we do if we spent another at his camp.
Kashmir Tourist Camp is located right along the Srinagar Leh highway, in Mamar Village, next to the Sind River. Right behind the campsite, on the other side, is a walnut orchard.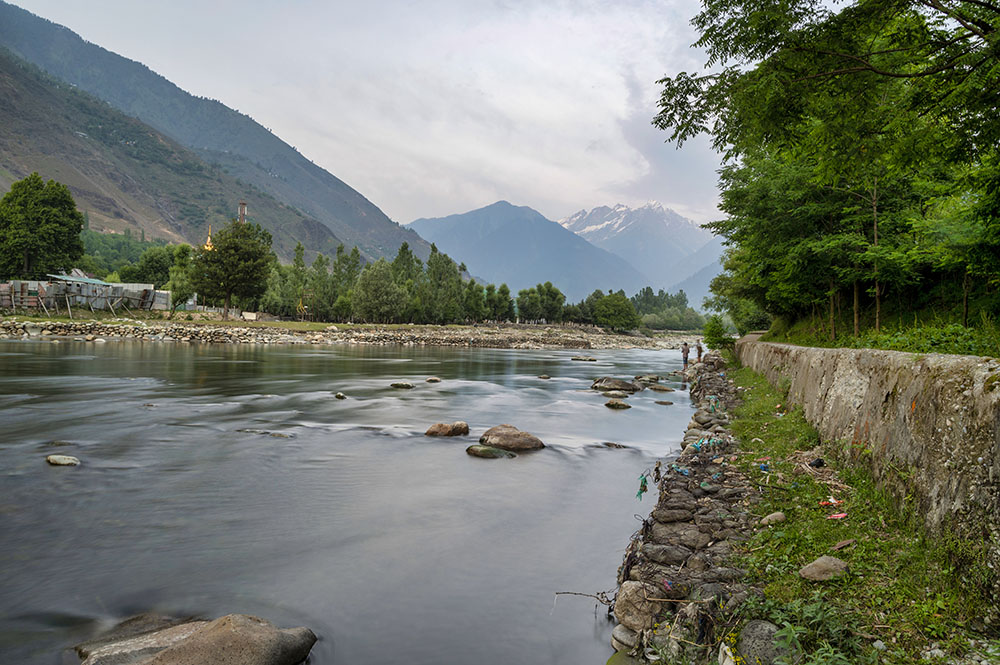 Behind that is an uphill walk to another village located on the slopes of a mountain, in the forest. That is the trek that Tanveer suggested. We were to walk into the forest, see the small village on the way, go as far as we could, and return.
Also Read: How to Plan a Trip to Pahalgam
The Trek
This was the first and hopefully the only trek in my life that I completed in my bathroom slippers.  I don't even know why I did not put on my shoes.
I was sitting in front of our camp in my shorts and when Tanveer asked to start the trek, I just picked up my camera and we were on the way.
The last 2 years of sitting and working from home due to COVID had done a number on my health and stamina. I had put on a lot of weight and had been out of the gym completely.
Forget about the gym, there was no physical activity at all in the last 2 years. The only walk I did was to walk around in my house, that is all.
The results of this laziness were evident as a lack of stamina the moment we started walking uphill. There were 4 of us in total – Lavish, myself, Tanveer, and another boy from his campsite.
While the three of them just walked ahead of me with minimal effort, I was dragging myself up slowly and with frequent breaks.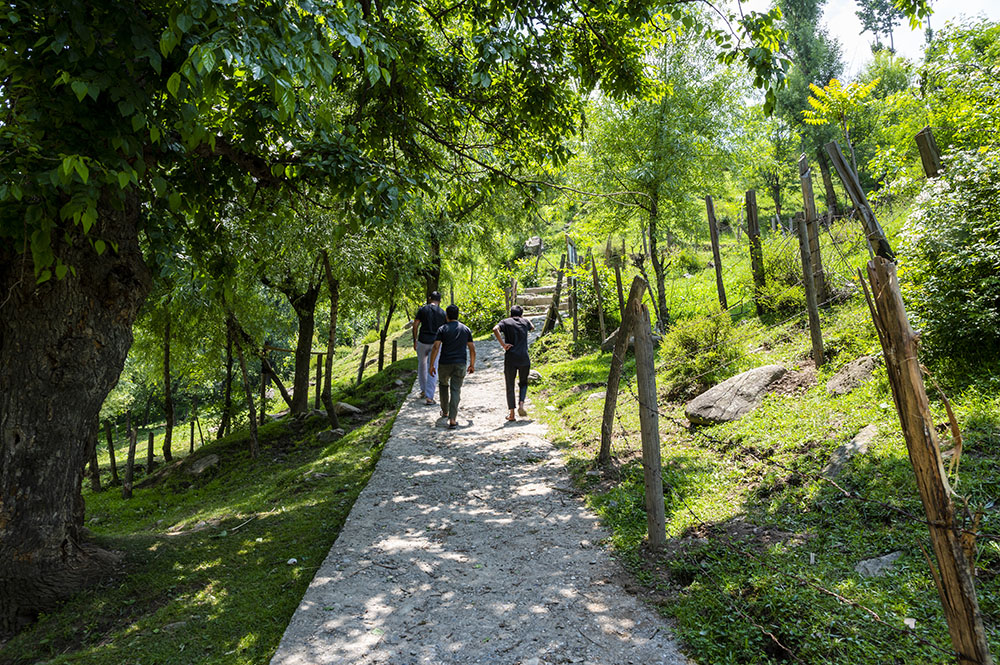 I was embarrassed by myself but did not give up. We first walked to the village, took a break there, bought some water and refreshments, and continued our trek into the forest.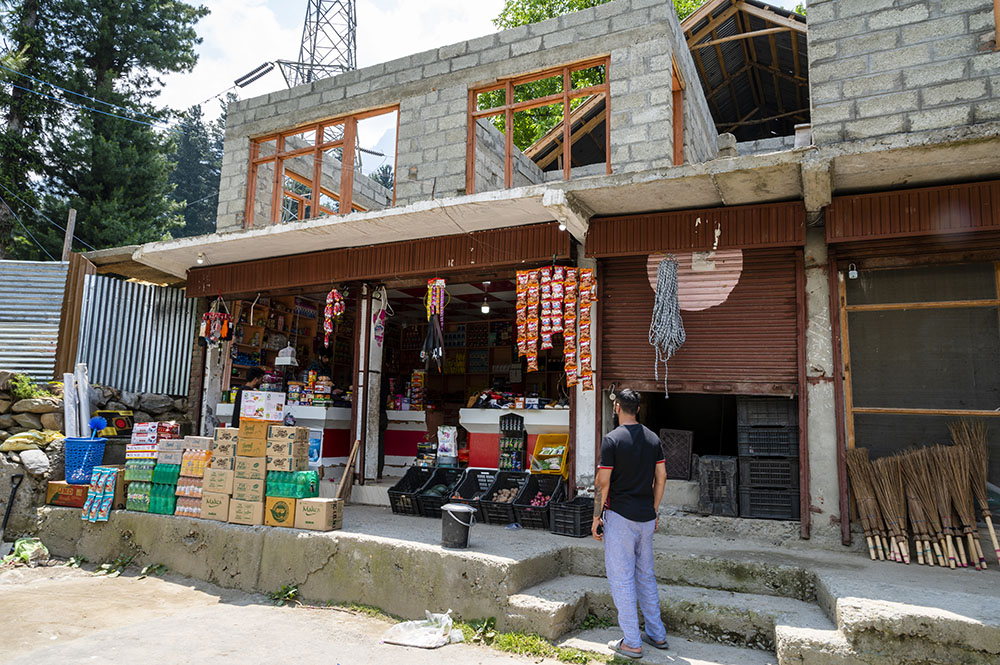 A beautiful mosque in the village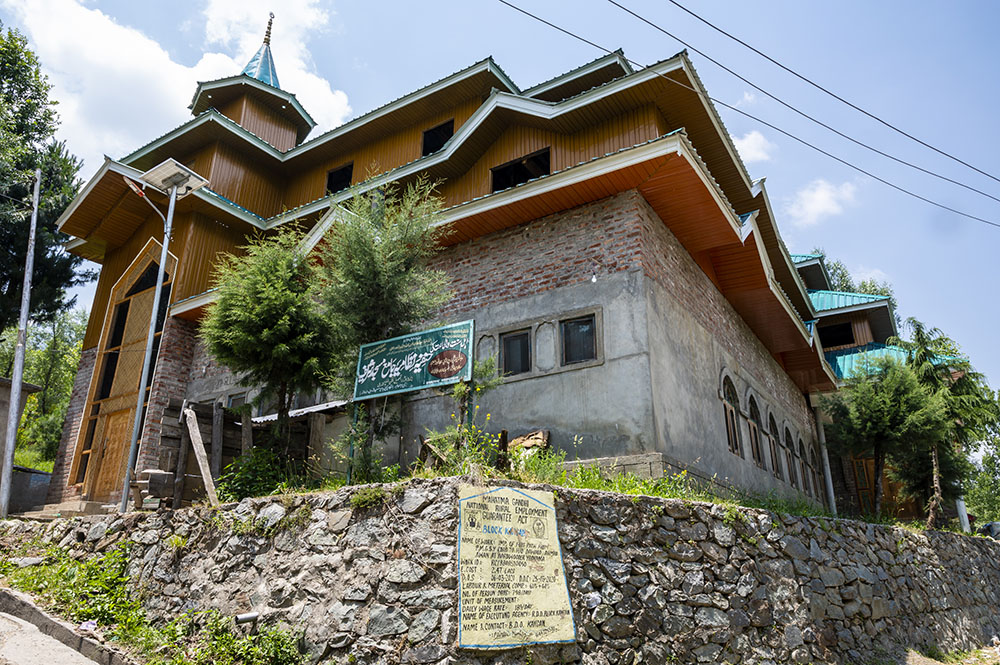 For the next 3 hours, we just wandered aimlessly. It was not a trek, just a walk to be honest. There was no destination in mind. We were just walking around, admiring the natural beauty of the place, and clicking pictures.
Pashmina Shawls
It was 2 pm by the time we circled back to our campsite. We rested for a while by the river, got some wild berries to eat, and shot some videos of the beautiful views around.
While we were still there, Tanveer asked if I was interested in seeing how a Pashmina Shawl is made. I immediately said yes.
We have all heard of Pashmina shawls. They are one of the most expensive shawls on the market. But why are they so expensive, what pashmina exactly is, and how a shawl is made are things I had no idea about.
So seeing one was in making was a suggestion that intrigued my interest.
Tanveer walked us to the house of a local shawl maker, Mr. Mumtaz. They both discussed something in the local dialect and Mr. Mumtaz agreed to show us how a shawl is made.
This is the machine that is used to create a Pashmina Shawl.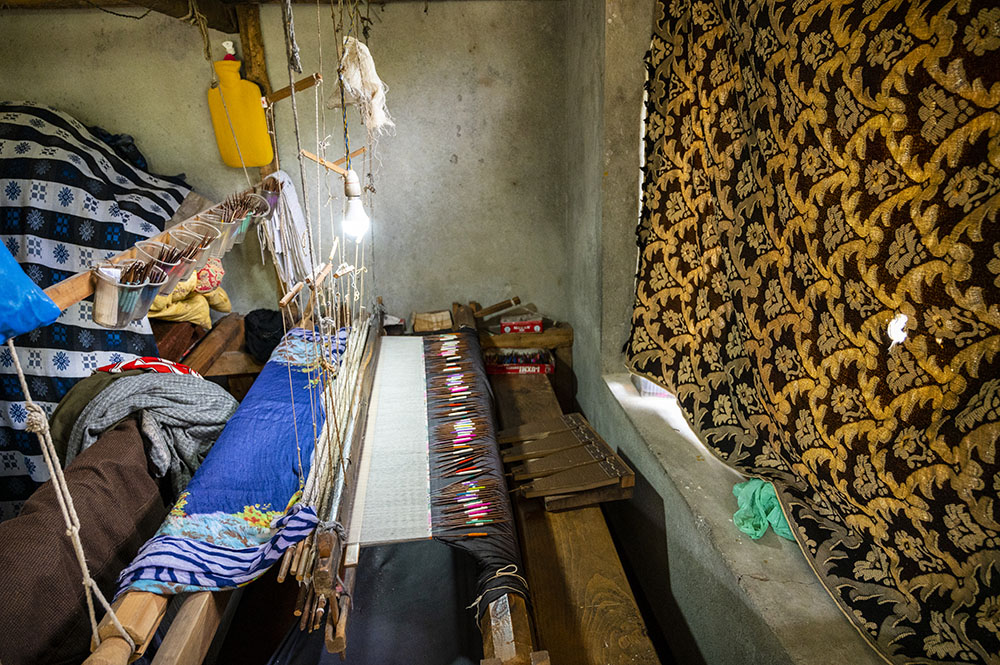 You can take a look at the video below that I recorded while Mumtaz Bhai walked us through the process.
Some of the interesting facts I learned from him that day are
Pashmina comes from the hair extracted from Ladakhi Goats.
An original Pashmina shawl is all handiwork
It takes as long as 4 to 5 months to make a single shawl
These are the reasons why Pashmina Shawls are so expensive
The Weather
We returned to our campsite and rested for a while. Tanveer had a couple of other things on the itinerary for the day but the turn of the weather in the evening forced us to stay in our tents for the rest of the evening.
The weather was quite hot throughout the day. But as it progressed towards the evening, it got all cloudy in a matter of 30 minutes. Pretty soon it was hailing followed by heavy rainfall that lasted for over an hour.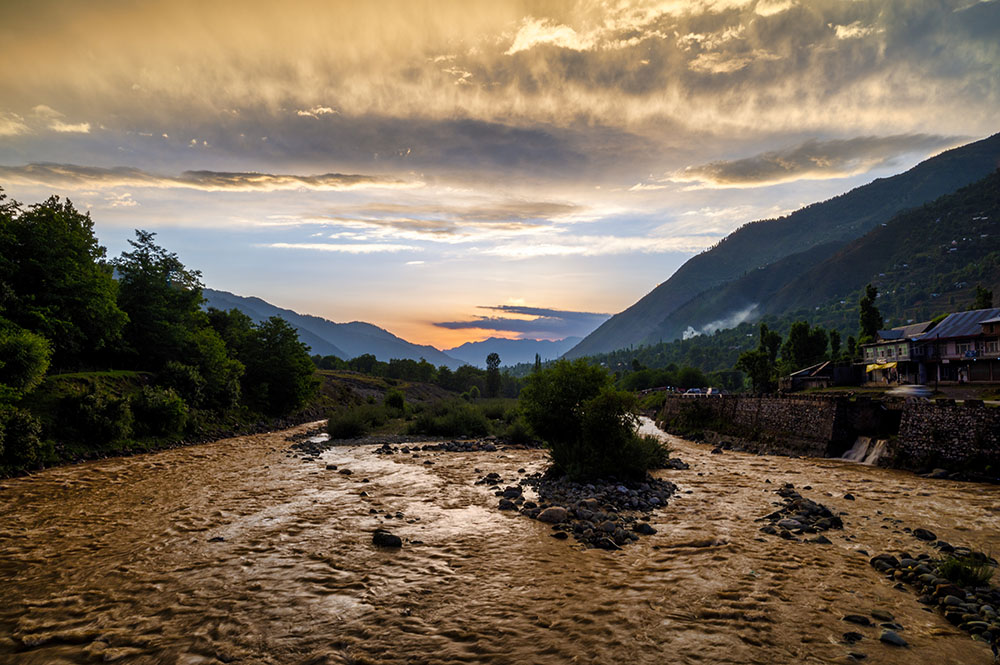 While the weather got pleasant and the views even more beautiful, it got me worried a little. We were scheduled to cross Zojila Pass, Manman top, and Umba la Pass in the next couple of days.
Heavy rain in the lower regions meant that it would have snowed at the top of all these passes.
But there was nothing that we could do other than hope for the best. I just kept my fingers crossed and prayed that we don't find snow on the road and all the passes remain open.
Pretty soon it was dark all around. We had dinner and retired to our respective tents, calling it a day. I logged in to my office laptop and spent the next few hours working.
The plan for the next day was to reach Sonamarg, about 35 kilometers from Kashmir Tourist Camp. I was also planning to go on a trek to Thajiwas Glacier in the evening after we reach Sonamarg. Please click on the link above to continue reading the next part of the travelogue.
Kashmir Tourist Camp – Conclusion
I hope the travelogue, pictures, and details on Kashmir Tourist Camp were of help. If you have any questions, you can contact me on Instagram and I will be happy to answer. You can also consider subscribing to my YouTube channel and asking a question there.