Hazratbal Dargah is a beautiful shrine located in the city of Srinagar. The white building sitting right next to the dal lake with a large garden on its other side presents a charming sight, especially in the mornings and the evenings.
It is one of the places that I highly recommend including in your Kashmir trip. It is located quite close to Shalimar Garden, and Nishat Garden, hardly a 10 minutes drive. So you can easily cover all these places together.
We visited Hazratbal Dargah on the third day of the trip. We arrived in Srinagar from Jammu via Mughal Road on Day 2 and then spent the next 2 days in the city itself. To read the previous parts of the travelogue, please click on the links below.
There is not really a lot to write about our 2 days of stay in Srinagar City. I will narrate the events of these days in a single post. I have been to Srinagar City a few times before and have visited almost all of the tourist attractions there. So sightseeing was definitely not on the plans.
2 Days in Srinagar
The reason why I decided to stay in the city for 2 days was to ensure that we are able to work. We were not on vacation and had brought our work-from-home schedule with us on the road.
The idea of the trip was to continue working as usual and explore the places on the weekend and whenever we find the time.
So we traveled from Delhi to Srinagar on Saturday and Sunday. For the weekdays, we were to stay in places where we will have strong enough internet connectivity to continue our office work.
That is why we planned our 2 days of stay in Srinagar before moving on to Sonamarg and Kargil from there. I was glad that we did that because these 2 days got used to getting the car fixed as well as relaxing for a while before continuing our journey.
Also Read:  How to Plan a Trip to Leh Ladakh – A Complete Travel Guide
Day 3: Monday
We decided to get up early on this day because we wanted to pay a visit to the Hazratbal shrine. I love to be there early in the morning because of the peaceful and serene atmosphere and yes, also the pigeons.
The shrine is also home to thousands of pigeons. In the morning, before the market opens and the road gets a bit crowded, it is really fun to be there and watch the pigeons fly by.
There are also a few shops in front of the shrine where you can buy some seeds and feed the pigeons. A lot of locals do that in the mornings there and that is what we also wanted to do.
For more details, please take a look at Hazratbal Shrine – How to reach, What to See. You can also watch the video that I posted on Youtube with more information on Hazratbal.
Hazratbal Dargah
We got up early and left our hotel just before sunrise. Our hotel was right next to the Shalimar Bagh Garden. The drive from there to Hazratbal is hardly 10 minutes long.
We stopped at the small parking lot outside the shrine to get some tea first. Then we moved on to the shrine to pay respect and feed the pigeons.
We spent about an hour there feeding the pigeons and visiting the shrine. After that, we returned to our hotel, had some breakfast, and got ready for the next task of the day – to get the car fixed.
I called Faisal to inquire about a good mechanic in the city. He runs a motorcycle rental agency in Srinagar City by the name of Kashmir Travelogue.
So I assumed that must know a few good mechanics in the city since he must be getting the bikes fixed all the time.
My assumption was right. He asked me to bring the car to his office near Lal Chowk and from there, he could accompany us to a mechanic.
Cafe Liberty
Faisal's office was located in an Ali Jaan Complex near Lal Chowk. We reached there in about an hour. But before going to the mechanic, we first decided to visit a cafe in that building that I really like – Cafe Liberty.
For more details on this cafe, you can also take a look at Cafe Liberty – One of the Best Restaurants in Srinagar.
Cafe Liberty is one of my favorite places to eat in Srinagar. The overall setting of the place, the atmosphere is really pleasant but most of all, their food is delicious.
They have quite a large menu inclusive of north Indian food, Kashmiri Wazwan, as well as continental. The last time I was there, I loved their Pizza and wanted to try that again this time.
Unfortunately, though, Pizza was not available at that time because of some problem with their oven. So we opted for Kashmiri Wazwan for lunch.
Mechanic
With our bellies full, Faisal then took us to a mechanic nearby to get our car checked. The problem was a bit bigger than what I thought and the next 3 hours were spent at the Mechanic's shop. By the time we drove the car out, it was already 5 pm.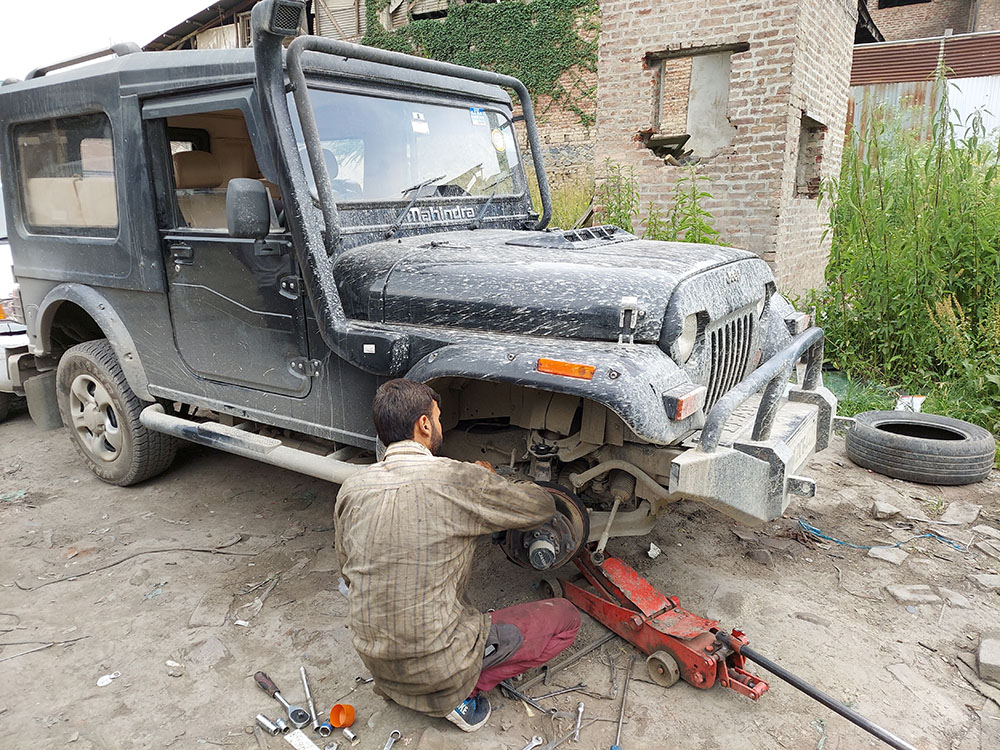 Not much happened after that. We thanked Faisal and returned to the hotel. It was also time for us to switch on our laptops and get back to office work which we did for the next 6 hours before calling it a day and crawling under the blankets.
Day 2 – Tuesday
The initial plan for the second day was to meet Faisal and have lunch at Kareema, another amazing restaurant in Srinagar and one of the best places to eat Wazwan. For more details, you can take a look at Kareema Restaurant Srinagar Review.
But by the time we got up, it was already 11 am and we just did not feel like stepping out of the hotel at all.
I called Faisal and apologized that the plan for Kareema was not going to materialize. The rest of the day was just spent lazing around in the hotel and then getting back to our office work.
As per the initial itinerary for the trip, we were to continue our journey further to Sonamarg and stay there for the next 2 days, before moving on to Kargil on Friday.
But that plan changed on Tuesday. I got a call from Tanveer, owner of Kashmir Tourist Camp near Sonamarg. He asked me to visit and stay at his campsite for a day.
I could easily do that since the campsite was on the way to Sonamarg. So rather than staying for 2 days in Sonamarg, we could spend one day at his campsite.
My only apprehension was the internet connection that we needed to continue working. Tanveer assured us that we could easily do that with our mobile data as well. The speed in that area was fast enough.
I agreed to spend a day at his campsite but with still a bit of hesitation though.
So the plan was changed and we were all set to move on to Kashmir Tourist Camp in Mamar Village on Wednesday. Please click on the link above to continue reading the next part of this travelogue.
Hazratbal Dargah Srinagar – Conclusion
I hope the travelogue, pictures, and details on Hazratbal Dargah in Srinagar were of help. If you have any questions, you can contact me on Instagram and I will be happy to answer. You can also consider subscribing to my YouTube channel and asking a question there.