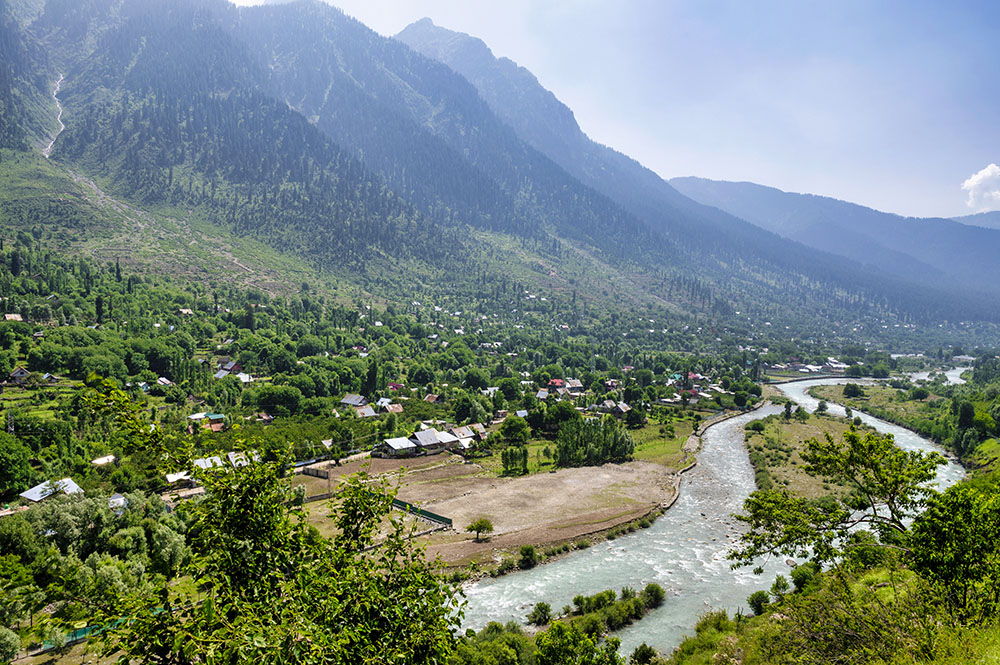 It was the eighth day of our trip and we were still in Kashmir. The plan for the day was to travel from Kashmir Tourist Camp to Sonamarg and stay there for the night. We had already made changes to our itinerary in the first week of the trip itself by including a stay at Kashmir Tourist Camp in our itinerary. But other than that, the journey was progressing as per the schedule.
Kashmir Tourist camp was a last-minute addition but I was glad that we included it in our travel plan and stayed here for a couple of days. We just liked the place so much. The campsite is in a very good location and has a charm of its own that grew on both of us.
This was the reason why we extended our stay here by a day. But even on the third day, when we were supposed to leave for Sonamarg, we just did not feel like leaving. As a matter of fact, I considered staying here for a day more but that would have meant making several other changes to the itinerary.
So, with heavy hearts, we decided to continue our journey ahead and check out of  Kashmir Tourist Camp.
Journey So Far:
The total distance from Kashmir Tourist Camp to Sonamarg is only about 34 kilometers. It was a short journey for the day, one that we could have easily covered in 90 minutes at most, with ample breaks. Hence, we were in no hurry and did not leave until 2 pm.
Kashmir Tourist Camp to Sonamarg
I was working late the night before. In fact, I actually shut down my laptop and went to sleep at 4.30 am. So, there was absolutely no way that I could have woken up early. By the time I got out of bed the next morning, it was already 11 am.
For the next hour or so, we just sat out there under a Walnut tree, having breakfast and enjoying the view of the Sind River in front of us.
This peaceful environment of the campsite is what made us extend our stay there yesterday. For a while, we started to get the same idea once again. Can we or shall we stay there for a day more?
Also Read: How to Plan a Trip to Kashmir – A Complete Travel Guide
But then I gave up on this idea because it would mean making a lot of changes in our plan ahead. Hotel bookings have been made at a lot of places already and extending our stay at the Kashmir Tourist camp by another day would mean changing all of those bookings as well.
This was not only a hassle but chances were that we may not even get the bookings because there was a lot of tourist rush almost everywhere in Kashmir and Ladakh.
So we decided to stick to our plan and move on to Sonamarg today. But before we did that, there was one thing that I badly wanted to do ever since I arrived at the campsite – wash my car in the river.
You can see a video of our journey on this day at the link below.
Natural Car Wash
The Sind River flows right in front of the campsite. There was one spot by the road where I noticed that the locals drive right down to the river bank and wash their cars there.
In the last 2 days, I saw several people doing it and thought to try it myself. It was not because the car needed a wash but because I just wanted to have some fun.
So I asked the boys at the campsite to arrange a couple of jugs for me, some soap and pieces of clothes to wash the car. After that was done, we walked over to the car and drove it to the river bank.
For the next 30 minutes or so, we had a lot of fun, standing in the cold water, washing the car, and clicking pictures.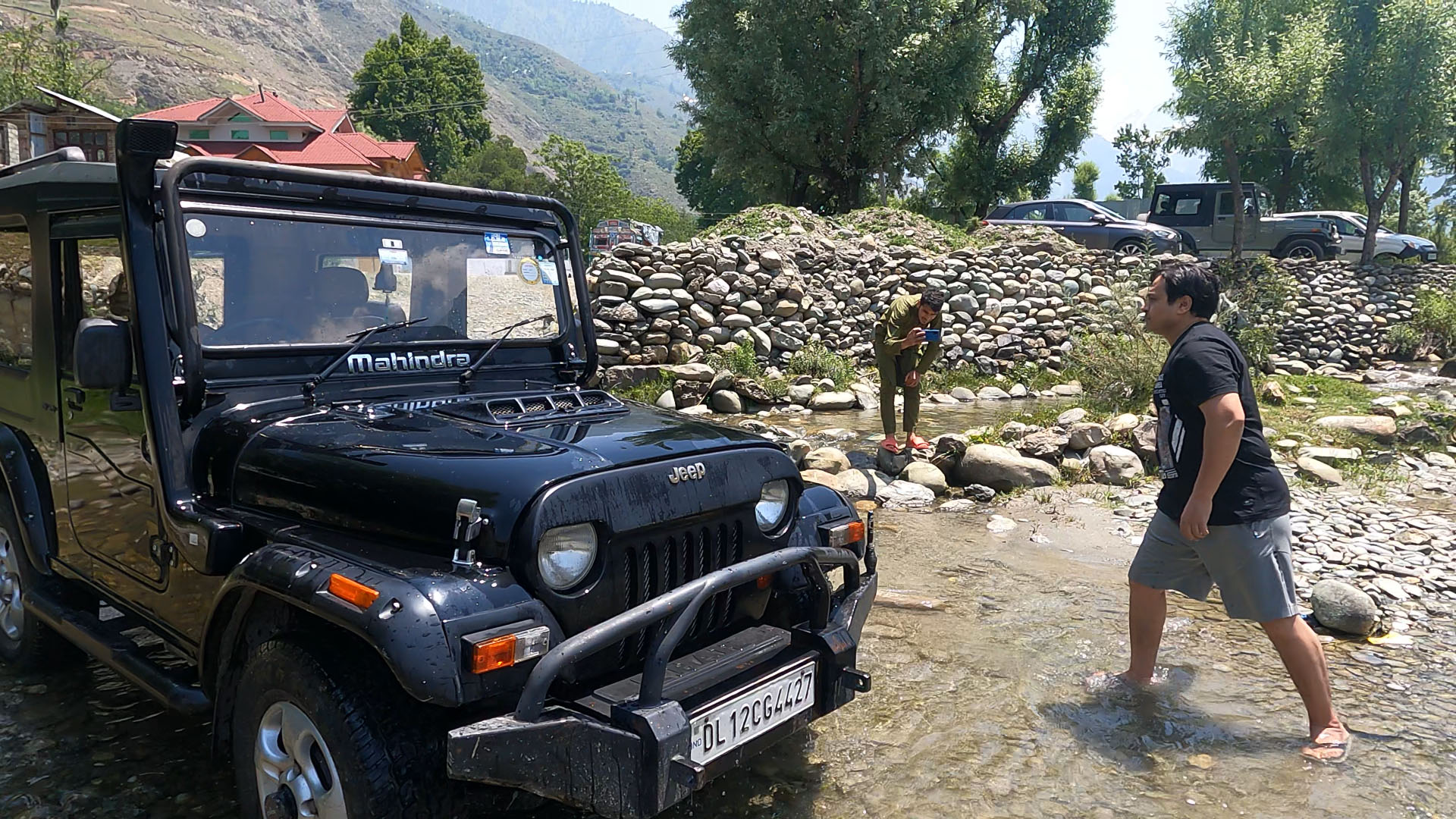 The car was soon washed clean and we walked back to the camp. Tanveer, the owner of the campsite, requested us to stay for another day as he too was enjoying our company. Much to our own disappointment, we had to politely say no and started packing our bags.
At around 2 pm, we bid adieu to Tanveer, his beautiful campsite, and started on our way to Sonamarg.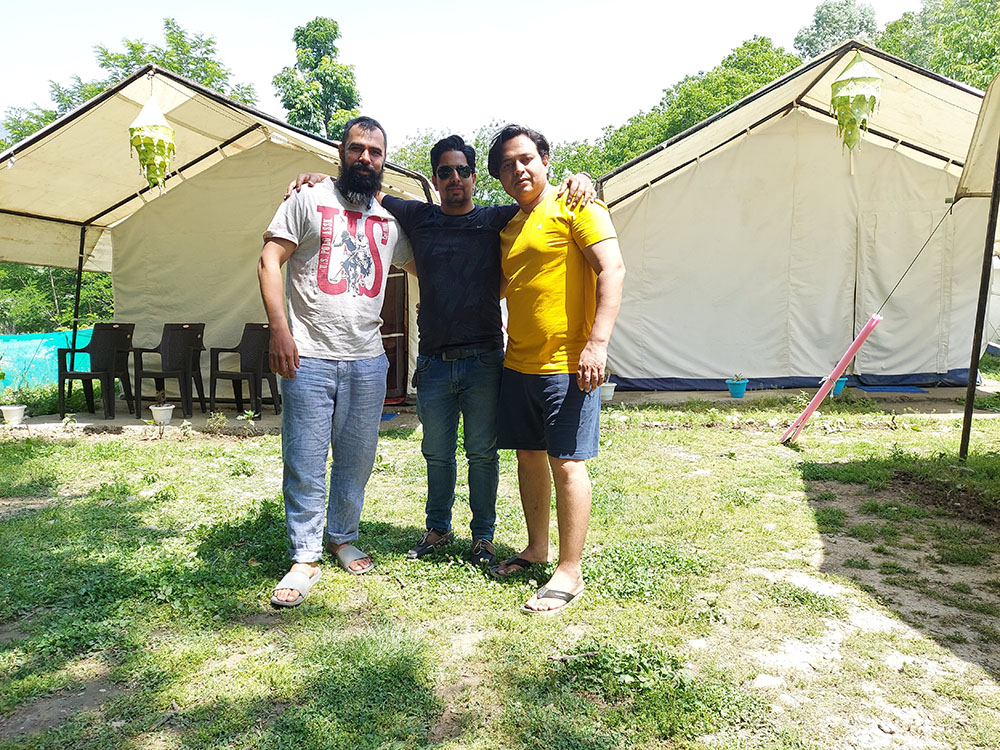 Hotel Barzman, Sonamarg
The journey from Kashmir Tourist Camp to Sonamarg was only a drive of 35 kilometers. But this is also a very scenic drive that takes you through the lush green valleys of Kashmir. You will have a river flowing right next to the road and snow-capped mountains greeting you right in front.
The views forced us to take a lot of breaks in between. It took us over an hour and a half to finish our journey from Kashmir Tourist Camp to Sonamarg.
Hotel Barzman is where I always stay whenever I am in Sonamarg. It is a great hotel that offers a comfortable stay, good service, and amazing views of the valley around.
The owner of the hotel is also a very friendly gentleman who will make sure that all your needs are properly taken care of.
We arrived at Hotel Barzman to find it completely booked. Every room in the hotel was occupied. This wasn't surprising as there was a great tourist rush in the entire Kashmir valley at that time.
Every hotel in Sonamarg was booked to its full occupancy. Thankfully, I had notified the owner of our arrival well in advance. He kept a room vacant and ready for us.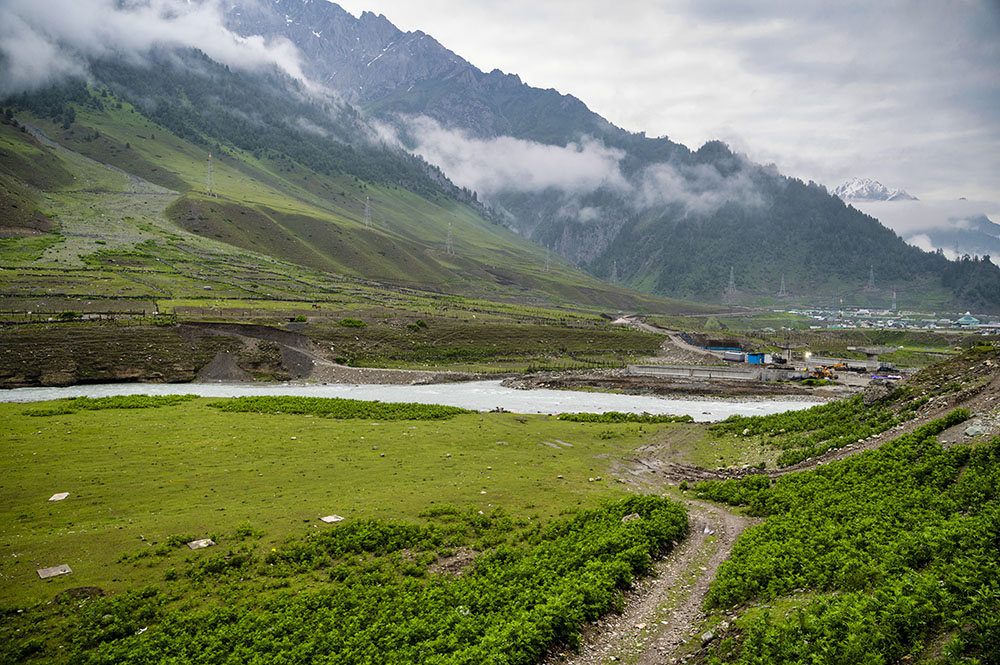 The Weather
It was the month of May. Until a day ago, the weather in Kashmir was very hot. So hot indeed that while we were in Srinagar City, it left me wishing for an AC in the room.
But then everything changed when we were at the Kashmir Tourist Camp. It rained heavily the night before and the weather turned pleasant.
Though the sky cleared during the day, the clouds were again starting to appear in the sky when we were checking into Hotel Barzman.
We were going to stay in Sonamarg only for one night and had to leave for Zojila Pass as soon as possible the following day. So we left all of our luggage in the car only and only took out a few necessary things for the evening.
We ordered some tea and spent the next 30 minutes chit-chatting with Mohsin, the owner of Hotel Barzman.
There was not much to do in the evening and there were still a few hours of sunlight left. I asked Lavish if wanted to go on a short trek and he immediately agreed.
Also Read:  How to Plan a Trip to Leh Ladakh – A Complete Travel Guide
Thajiwas Glacier Trek
I had been to Sonamarg a few times before and had already seen all that there was to see. Lavish on the other hand was visiting Sonamarg for the first time and we thought to go for a quick walk to the Thajiwas Glacier.
The trek from Sonamarg to Thajiwas Glacier is a walk of about 6 kilometers. From Sonamarg, you walk 3 kilometers to a spot called Snow Point. This is where the trek ends and you get a clear view of the glacier right in front of you. Then you walk back the same way for 3 kilometers.
So 6 kilometers in total but it can take you as long as 4 to 5 hours, depending on your speed and breaks. You can either walk to snow point or can also rent a pony for the trek.
For more details on this trek, please take a look at How to Plan a Trek to Thajiwas Glacier from Sonamarg.
By the time we stepped out of Hotel Barzman and started walking, it was already 4 pm. The trek usually takes about 4 hours and going by that time, it was already a little too late to start the trek.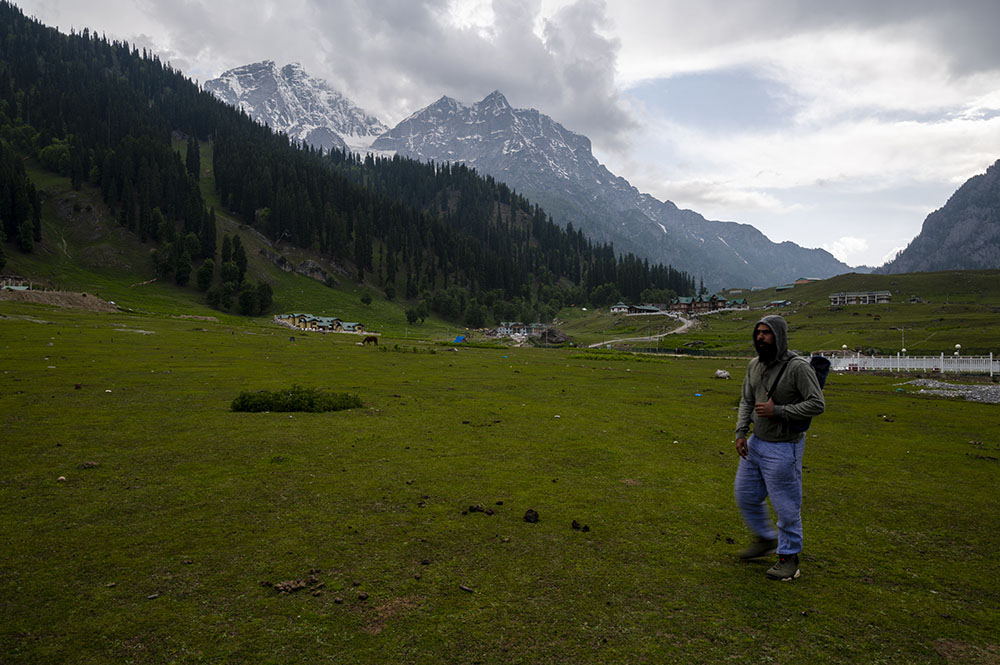 But I had been on this trek before and knew the route. Add to it the fact that it was the month of May and the sunlight remains until 7 pm. So we had roughly 3 hours in hand and I was confident that we would be able to get back before it got dark.
The Rain, The Battery & The Disappointment
I had very fond memories of this trek from the first time I completed it. The entire route is very beautiful and this is where you will get some of the most beautiful views that Sonamarg has to offer.
I loved being on this trek the first time and that is the reason why I wanted to do it again, to see all that beautiful scenery once more.
But it proved to be a mistake in the end.
We had barely walked for 15-20 minutes when it started to drizzle. I was carrying a Nikon Z6 ii and a GoPro. So the first thing that we did was to wrap the Nikon in a plastic bag for good, to keep it safe from the rain.
Photography was now limited to our cell phone camera and GoPro was being used for videos.
Next came the disappointment. The last time I was on this trek, there were hardly any tourists around. The entire trek route was devoid of any tourists and we had a lot of fun walking on it.
Such was not the case this time though. There was a huge tourist rush in Sonamarg and the effects of it were evident on the trek route as well.
There was hardly any space to even walk. The entire path was occupied by the pony owners ferrying people to snow point and back. It was so crowded that the ponies were bumping into each other.
There was horse dung everywhere, making it difficult to walk or even breathe for that matter. For most of our journey, we avoid the main trek path and walked through the forest.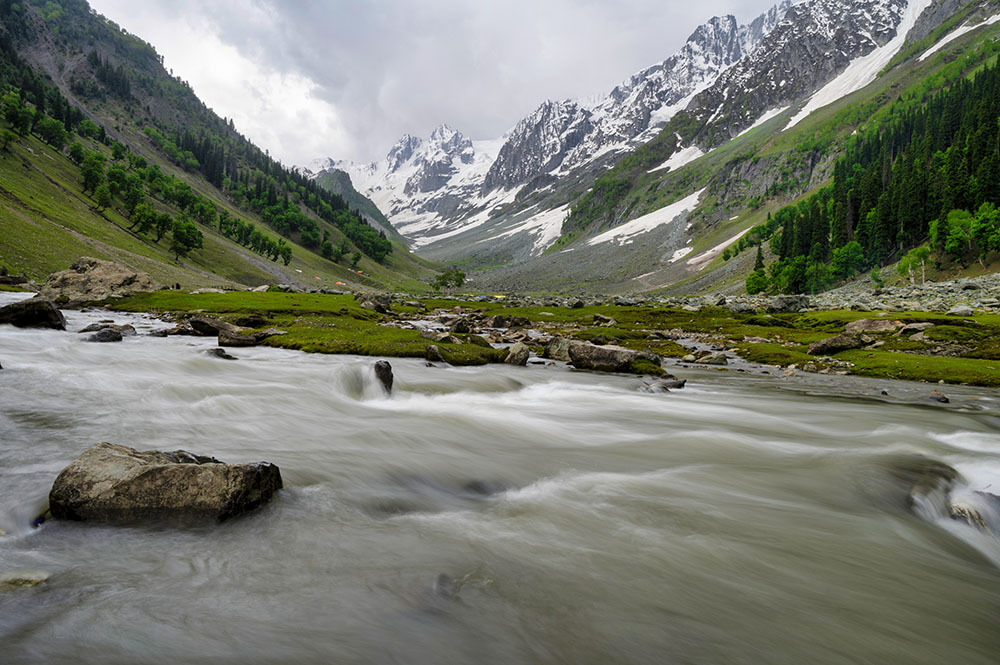 A Trek that We Should Not Have Been On
It took us about 90 minutes to reach the snow point. The entire time, we were either avoiding getting hit by ponies, covering our noses to avoid the terrible dung smell, or trying to find an alternate way to move ahead.
There were hardly any photos taken because the Nikon was wrapped in plastic and we did not even take our cellphones out because of the drizzle. Huffing and puffing, we reached snow point around 6 pm.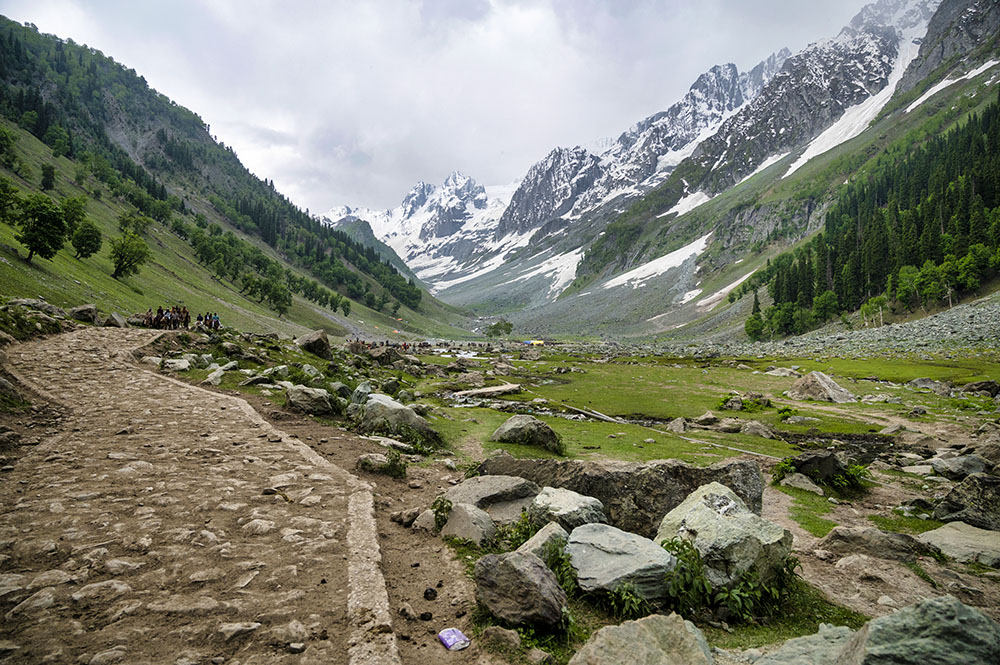 Lavish's as well as my own enthusiasm for the trek was dead by then. The next thing that died was my GoPro. It ran out of battery while we were eating at the snow point. So the last few photos and videos were shot on our cellphones.
We took a brief break at snow point to get some tea and Maggie. After resting for a while, we started to walk back by 6 pm. That is when things got even worse. The drizzle that we had been struggling with so far now converted into heavy rain.
For most of our way back, we were jogging rather than walking. I knew that there was no point in waiting for the rain to stop because the skies were giving a clear indication that it was going to rain all night. The rain wasn't going to stop. So we had to rush back.
Completely wet, cold, and tired, we reached back our hotel in Sonamarg by 7.30 pm. We walked for 2 hours to get to snow point and rain for an hour on our way back.
Also Read: How to Plan a Trip to Doodhpathri in Kashmir
The Car Trouble
We dried ourselves, changed our clothes, and continued our chit-chat session with Mohsin, sitting in the reception area of Hotel Barzman. The intensity of the rain was increasing by the minute which got me worried. Heavy rain in Sonamarg like this meant that the chances of snowfall at Zojila were very high.
We were to cross the pass the next day and if it snowed anywhere on the route at night, the road would get closed temporarily until the snow cleared. This is not something that I wanted to happen.
Nevertheless, after about an hour, Lavish stepped out to get something from the car. He came back a few minutes later to inform me that I left the ignition on.
This was not possible because I had the car keys in my pocket. We both walked back to the car and a surprise awaited us.
The ignition was off and the keys were indeed in my pocket. Yet, the music system and the tail lights of the car were somehow still on.
It baffled me completely. I turned the car on and off once and the issue with the tail lights was fixed. The music system however continued playing.
The only explanation I could think of was that the car was getting wet in the car. All the water must be affecting the wiring somewhere, causing a short circuit and the music system to remain on.
This wasn't a good indication at all but the only explanation I could come up with.
Change of Plans
We were scheduled to drive to Zanskar Valley the next day. But with an electrical problem like this, it was a big risk to take. Zanskar Valley is a highly remote area with no chance of finding a mechanic anywhere on the route. If the car was to break down anywhere, it would leave us stranded.
So our itinerary was changed once again. As per the original plan, we were to cross Zojila pass and reach Dras. From there, we would take the Umba La route to drive down to the Suru Valley and stay for the night in Panikhar.
Now because of the car problem, we had no option but to go straight to Kargil the next day and get the car checked. From there, we could go to Zanskar Valley the day after but the idea of covering the Umba La route had to be trashed.
With a heavy heart, I changed our itinerary and started to look for a hotel to stay for the night in Kargil. A few calls later, our booking was confirmed in Hotel Rangyul.
Not much happened after that. Lavish skipped dinner entirely and retired to our room early. I stayed down for a little longer with Mohsin and went to bed at around 11 pm, after having dinner. Please click on the link above to continue reading the next part of the travelogue.
Kashmir Tourist Camp to Sonamarg – Conclusion
I hope the travelogue, pictures, and details on traveling from Kashmir Tourist Camp to Sonamarg were of help. If you have any questions, you can contact me on Instagram and I will be happy to answer. You can also consider subscribing to my YouTube channel and asking a question there.