This article is in continuation with a previous one and a part of my road trip to Ladakh from Delhi in a Maruti Swift. The trip lasted for a total of 13 days. We started the road trip from Delhi to Ladakh via Srinagar and Kargil and returned via Kargil. The details of the trip from Day 7 to 13 are in the article below. To read the previous part of the travelogue, please click on the given link.
Journey So Far: Delhi to Leh via Mughal Road, Srinagar, and Kargil
After spending a day in Leh, I was now feeling much better. I recovered completely and had no concern anymore in terms of my health anymore. I am not sure if it was acute mountain sickness or something else that hit me in Lamayuru but for a while, it did get me worried.
Whatever it was, it lasted for a day and was now gone. I was back on my feet and it was time to move on to the next destination in our itinerary.
Our next 2 days were going to be spent in Nubra Valley. Our plan was to reach Turtuk on this day and as per the itinerary, spend only one day in Nubra Valley. But things took a surprising turn and we ended up staying for one more day in Nubra.
Day 7 – Leh to Hunder
We left Ling's after breakfast and a few clicks with Dorjay Bhaiya around 08:40 am. It was a clear day and we had news that Khardung La top had received a good amount of snow a couple of days before.
We reached Khardung La at 10:30. We spent about an hour at the top without any issues as we all were very well acclimatized. The next stop was the Maitreya Buddha statue in Diskit. After a few photo breaks, we all started feeling hungry.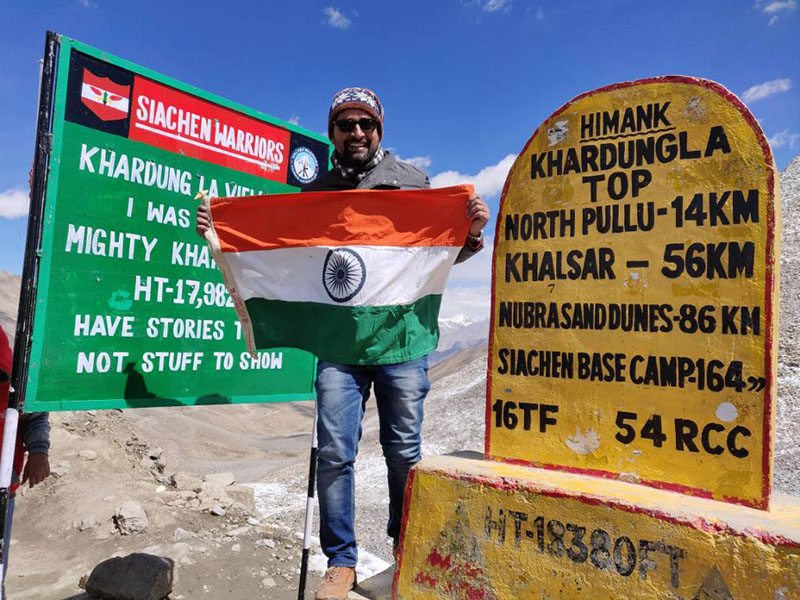 I found a place in the Diskit market where we have some maggie. I received a call from Colonel Pawar after which we canceled our plan to Turtuk as something else was arranged by Colonel Pawar for us. Yes, we 3 were so excited about that.
As per our changed itinerary, we had to stay in or around Diskit. A friend Jigmet runs his beautiful Guest House in Hunder named "Wachan Guest House". He was informed about our trip so our stay was sorted already. We reached Wachan around 4 pm where we got the same room where I stayed last year.
After settling down there and a brief chat with Jigmet, we went out to spend our evening in the famous Dunes in Nubra Valley. The weather at that time was not so clear and high-speed winds were making almost everything invisible. Nevertheless, we spent some good time in Dunes and returned to Wachan where we got a good homemade dinner.
Our families were informed about our changed plan – all thanks to BSNL prepaid.
Day 8 – Hunder to Siachen Base Camp to Hunder
This was one of the most memorable days of the entire trip. It was spent traveling from Hunder to Siachen Base Camp and back to Hunder for the night stay. The reason why we returned to Hunder was that we wanted to tank up from the Diskit pump for the next few days.
We started from Wachan around 8:30 am and reached the Siachen Base Camp by 1:30 pm. Here we spent the best time of our trip – all thanks to Col. Pawar.
Also Read: How to Plan a Trip to Turtuk
Luckily met Jawan Devi Singh who was posted in SBC at that time. He was with us in SNM hospital for 2 days last year. He helped us a lot, running around all the time to get what we needed in that situation.
I am sharing pics until Sasoma due to some reasons. Sasoma is 47 km before SBC and civilians are not allowed to cross Army TCP at Sasoma without permission.
We also visited Panamik Hot springs while returning to Hunder.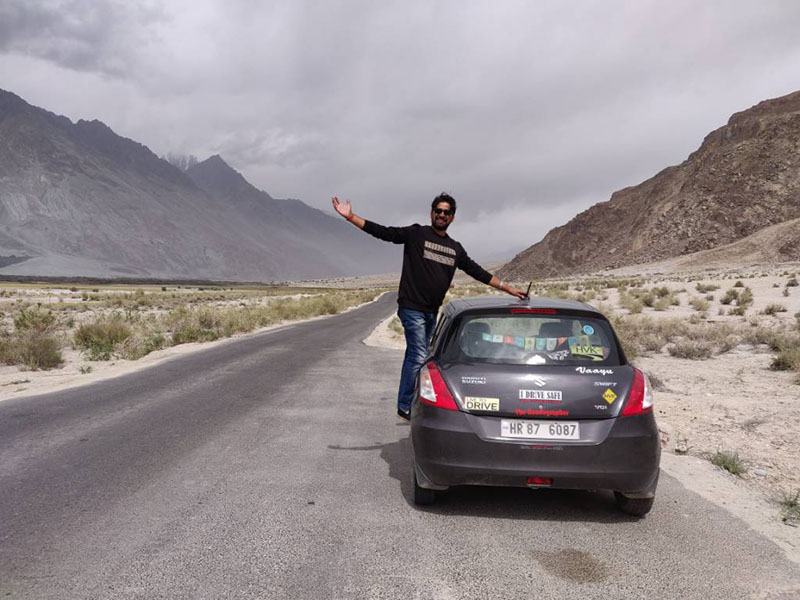 Day 9 – Hunder to Merak
Now Turtuk and Tso Moriri were out of our plan as we had permits for 5 days only. Out of these 5 days, 2 were already spent in Nubra Valley.
Hunder to Spangmik via Agham Shyok Road
We started from Wachan around 8:30 and took the Agham-Shyok route to reach Pangong Lake. The route was a mix of very bad to very good roads but luckily we managed to cross all bad sections without any underbody hit.
I spotted the same bus at the same place which had hit us last year.
We reached Shyok by 11:20 am. This entire route was very scenic and we took many photo breaks at multiple places. Our permits were checked at Tangste. After meeting Himalayan Marmots, we saw the board saying 'First view of world-famous Pangong Lake' at 13:30 Hrs.
We had our Maggie lunch at Lukung right in front of Pangong Lake and then moved forward to spend time alongside the lake. Just after 5 km, we reached Spangmik where we spent an hour at the lakeside. We continued further towards Man which was 11 km ahead of Spangmik then 8 km more to Merak Village.
Spangmik to Merak
The weather was not clear when we reached Lukung. But after some time, it got cleared and we could see the magical colors of Pangong. This entire stretch between Spangmik and Merak was extremely beautiful with spectacular views throughout. There was no road though, but not a problem, Vaayu didn't complain anywhere.
Peaceful Homestay was the place that was already noted for night stay however it was not booked in advance. We did some negotiations with Mr. Palzor who is the owner of GH and settled at Rs. 800 per person with meals. This was the best and closest place to Pangong Lake in Merak. The host was very nice and the place is highly recommended.
The mobile network was not there in that area but there is a satellite PCO available in the village from where we informed our family about our night stay. Another dinner of simple but delicious home-cooked food followed by an hour's walk in the village in pitch dark night added unforgettable moments to our trip.
Day 10 – Merak to Hanle
The night at Merak must be sub-zero and we had to take an additional layer of the quilt. These nights were probably the coldest in our entire road trip to Ladakh from Delhi so far. I was the first one to get up early @ 5:30. Yes, it's too early for me as I have been working as per UK working hours for 11+ years. So my regular morning starts at 9.
Other guys did not want to come out of the quilt so I decided to go alone near the lake around 6:15. That entire place was mine for that hour. What a beautiful and colorful quiet morning it was.
Merak to Chushul
I returned to the homestay and joined other guys at Tea. Then we 3 got ready and moved after having breakfast towards Chushul. Our journey continued alongside the lake for some 18 more km close to Chushul.
Permits were checked at Chushul check post and we got the BSNL network back in the village so we informed our families.
Our next stop was 13 km ahead. It was the high altitude pass of Rezang La where Major Shaitan Singh showed his bravery in the 1962 war. We spent some time at the war memorial and moved ahead towards Tsaga La.
There was some improvement in road conditions after Chushul. But for the most part, it remained a dusty non tarred road till Tsaga La. This route runs through very close to the China border on our left-hand side. We had Maggie at the pass and a chit chat with the dhaba guy. He gave us some insights on the hardship of locals in that region, especially in winters.
Chushul to Hanle
We found good roads after Tsaga La throughout till Hanle. The landscape changed too. A lot of greenery on both sides of the road and colorful mountains were looking beautiful. Our permits were checked at Loma and they told us not to take left after crossing the Loma Bridge. That left road goes to Demchok but we continued straight.
Also Read: How to Plan a Trip to Hanle
Just after crossing the bridge, 2 wild dangerous Chunkies (local dogs) chased us for few meters. Chunkies are dangerous as a couple of chunkies are capable to kill a snow leopard. Loma to Hanle was 50 km with excellent roads. We covered this distance in an hour with a couple of photo breaks.
Sightseeing in Hanle
We checked into the famous Padma Guest House in Hanle. The owner is Sonam Dorjay who is a member of our HVK group too. We knew that we will get fuel through Sonam Dorjay in Hanle. It was a big relief as we were not carrying additional fuel with us and the next fuel pump was far away in Tandi.
After settling in the homestay, we moved to see the Observatory which is the world's second-highest Observatory (the first one is in Chile). It's situated on top of the hill a bit away from the village. We visited the Observatory and then moved towards a drive around the village including Monastery which seemed closed permanently but situated at a beautiful location.
BSNL connectivity was good in the village so we were well connected to family and friends. We took 20 liters of Diesel from Sonam Dorjay and paid 2400 with meals for our stay there. That night was cold but our quilts were good enough to keep us warm. We did not compromise on drinking a lot of water regularly which helped us with no health issues due to AMS.
Another beautiful day of our trip ended playing with Sonam's 9 months old daughter – Tenzin.
Also Read: Fuel Availability in Leh Ladakh – How to Manage
Day 11 – Hanle to Sarchu
We started our return journey from here as Tso Moriri was canceled already. We had Aaloo Paratha for breakfast and left Hanle at 7:45 with a target of covering maximum distance.
I called up a friend a day before to check whether we can reach Jispa from Hanle or not. He responded positively if we start at 5 but it was a bit late start. Anyhow, we did not want to run through just to cover maximum distance so decided to go easy and see things on the way.
Hanle to Pang
The morning was cold. The water flowing on the road yesterday was frozen this morning. Hanle to Loma was covered in 50 mins with a photo break. After crossing Loma, we saw the different colors of soil and red-colored mountains all around. It was a magnificent view of that region near Nyoma.
We reached Mahe around 10:20 from where took left towards Debring which connects on Leh – Manali highway. Another isolated pass was on the way named Polokongka La. I literally read this name multiple times to remember so I could mention it here in the travelogue. It was a few km before Tso Kar.
The road from Mahe to Tso Kar was all a dirt track. With a few photo breaks, we reached Debring at 13:30.
Now Pang was some 50 km from Debring to the left. We however turned right because we wanted to see Tanglang La which was 23 km from Debring but completely off route. Roads were superb from Debring and we reached Tanglang La by 14:00. Fresh snow was lying there as pass received snowfall that morning only.
After a few clicks at Tanglang La, we moved back to Debring and took a Maggie break there. We started from Debring at 15:00 and reached Pang in 50 mins. The road was excellent till Pang and after a long time we used 5th gear.
Pang to Sarchu
We took a short break at Pang and moved on. The road started vanishing in just a couple of km.
We gained more height after Pang (15280 ft) to Lachungla (16616 ft) and then Nakeela (15547 ft). We reached Sarchu by 18:30 and decided to stay overnight there only. Accommodation however seemed like a little problem that evening. We only found a small tin-covered room in Sarchu @ 200 per person without meals.
There was no other place to stay between Sarchu and Jispa; and Jispa which was far away to cover that much of distance at that time. So we decided to manage the night in that tin-covered room only.
Day 12 – Sarchu to Manali
In a way, this was going to be the last day of the road trip to Ladakh from Delhi. This was the coldest morning we encountered during our trip. Or maybe it was the first that we all got up so early on the trip. It was 5:40 and we were ready to roll. I splashed some water on the windscreen and in a few seconds it froze.
Then another mug of warm water was splashed to clear the glass; thanks to Dhaba owner for our early morning start at 6. We reached Baralacha La by 7:30 and continued moving on. We took a break at the Tandi petrol pump to fuel up the tank and had breakfast nearby.
Rohtang was crossed at 11:45 am. The roads were in very bad shape between Gramphu and Rohtang as expected. We were stuck in a traffic jam near Kothi for almost 2.5 hours due to an accident. It delayed our arrival at Manali however we were connected to the internet so got busy. All the jam time was spent in checking office e-mails etc.
We found a hotel near Mall Road and checked in there as the plan was to rest for the night and go easy from here on. An hour was spent in a hotel room and then moved to see Mall Road (my first time).
I personally didn't find Mall road worth spending more than 15 mins. In fact, I will not prefer visiting it ever again. Anyhow, we had nothing else to do after that. A quick walk, then dinner on Mall road, and we were done for that day.
Day 13 – Manali to Delhi
There is nothing much to write for this day. It took about 18 hours to reach home due to frequent disruptions, majorly between Manali to Mandi (100 km in 5 hours).
That is how a memorable road trip to Ladakh from Delhi got over with beautiful memories, hope you enjoyed the long read.
Many thanks to my travel partners and Vaayu for all the pain on bad patches.
Just finishing the log with regards. Be safe and Happy Motoring.
Road Trip to Ladakh from Delhi – Conclusion
I hope the travelogue above and the details on the road trip to Ladakh from Delhi were of help. If you have any questions or need any other details, please feel free to ask in the comments section below or at our Community Forum and I will be glad to answer.