A road trip to Ladakh was on my mind for a long time and this was my second attempt at it. The first attempt resulted in a very bad experience when our cab met an accident in Nubra Valley. My family and I barely escaped with our lives and had to be airlifted out of Leh city. But even after such a harrowing experience, I planned for a second trip to Ladakh. Unlike last time, I was going to drive on my own all the way with a couple of friends.
After reading a lot of travelogues, It was decided to do this trip in September. Why September? Because this month is the best in terms of weather conditions, fewer tourists and good roads. What else can a traveler want?
We 3 colleagues Gaurav, Subbu, and I took 10 days of leave from work. This was not an issue since we planned it well in advance. We had a maximum window of 16 days for this trip including 3 weekends. So we prepared an itinerary for 14 days so that we could travel at ease.
Road Trip to Ladakh by Car
My Vaayu (Swift) was prepared to take us on this dream drive. Throughout the journey, we did not face any problem at all traveling in a swift. So if you were thinking whether or not a hatchback can handle Ladakh, my answer is that yes it can. Still, I would highly recommend getting your car properly serviced and ready for the trip ahead. You will have to be completely prepared because, in Ladakh, something as simple as a flat tire is enough to ruin your entire day.
For more details on this topic, please take a look at How to Prepare your Car for Leh Ladakh.
Day 1 & 2 – Delhi to Srinagar
We started around 8 pm after the office on a Friday and ended on Saturday. The first destination of our road trip to Ladakh was Srinagar and we decided to do it at a stretch without any break anywhere. Delhi to Srinagar was done via Mughal Road covering a total of 1023 km in 22 hours.
Route Taken: Delhi – Pathankot – Jammu – Akhnoor – Rajouri – Bufliaz – Shadra Sharif – DKG – Peer Ki Gali – Shopian – Srinagar.
Mughal Road was not in our original itinerary but it was on my To-do list for a long time. Thanks to Ajay Jagga and Puneet Verma whom we joined in Jammu and re-routed our plan within 2 mins.
Day 3 – Srinagar to Kargil
Srinagar to Kargil via Sonamarg, Zoji La & Drass was done on Sunday, covering 215 km in approx 10 hours.
After a long drive on day 1, the plan was to do further drives in the daytime only. We started at around 9 am from Srinagar towards our next destination, Sonamarg.
After a few photos break en route, It took us around 2.5 hours to reach Sonamarg. There we spent 1 hour and moved towards Zoji La.
Roads conditions deteriorated while approaching Zoji La. We did not struggle much in a small car anywhere to cross Zoji La though. One hour Maggie break taken at Zoji La before moving towards Kargil. At a point, we realized low air pressure in one of the tires but it was not problematic.
After an hour's drive, I spotted a beautiful gorge on the right downside of the road. A couple of kilometers later, I wanted to go back and see what that place is. It was a beautiful gorge with nobody around and water was gushing amazingly there.
It was just 6 km before Dras.  A 30 minutes photo break was taken there before reaching Drass War Memorial. It's a must-visit place to witness the bravery of our Armed Forces. They gave up their lives for our Future.
After Drass, our next stop was Kargil where we ended our day. We took 1.5 hours to reach Kargil from Drass War Memorial as one of our tires got punctured. We were looking for a repair shop but all we could do was to fill Air and move on with the thought of getting it repaired in Kargil the next day.
Is Traveling via Kashmir and Srinagar Safe?
A question often asked is how safe it is to travel via Kashmir? We drove through some of the areas that you often hear in the news, places like Rajouri and Shopian. To be honest, we did not see or hear anything. It was just like a drive through any other part of the country. We say people going through their daily lives and nothing seems out of the ordinary.
The vistas and the scenery on the Mughar road were absolutely stunning. I will highly recommend taking a drive on this road. But with all that being said, I am not saying that Kashmir is entirely safe either.  There have been incidents when tourists have in fact lost their lives in the valley. How can you safely travel through Kashmir will depend on several factors.
I will recommend taking a look at Is Kashmir Safe for Tourists to Travel or Not for more details on this topic.
Day 4 – Kargil to Lamayuru via Batalik
So far our road trip to Ladakh was going completely as planned with no trouble anywhere. The plan for today was to travel from Kargil to Lamayuru via Batalik. Initially, we thought to go straight to Leh but then decided to break the journey into two days for the sake of sightseeing.
Hunderman Village
We started from Kargil around 08:30 towards a village at LOC called Hunderman. It is about 12 km from Kargil and was another item on my wish list for some time.
It took us approximately 30 mins to reach Hunderman. At that time, we 3 were the only tourists there. We could see a village across the border on the way as well.
The village is beautiful, small, not developed and the population was 21 only. The road was very narrow but in good condition. We met a few locals in Hunderman village. They offered us tea in their house. It was indeed a very warm welcome.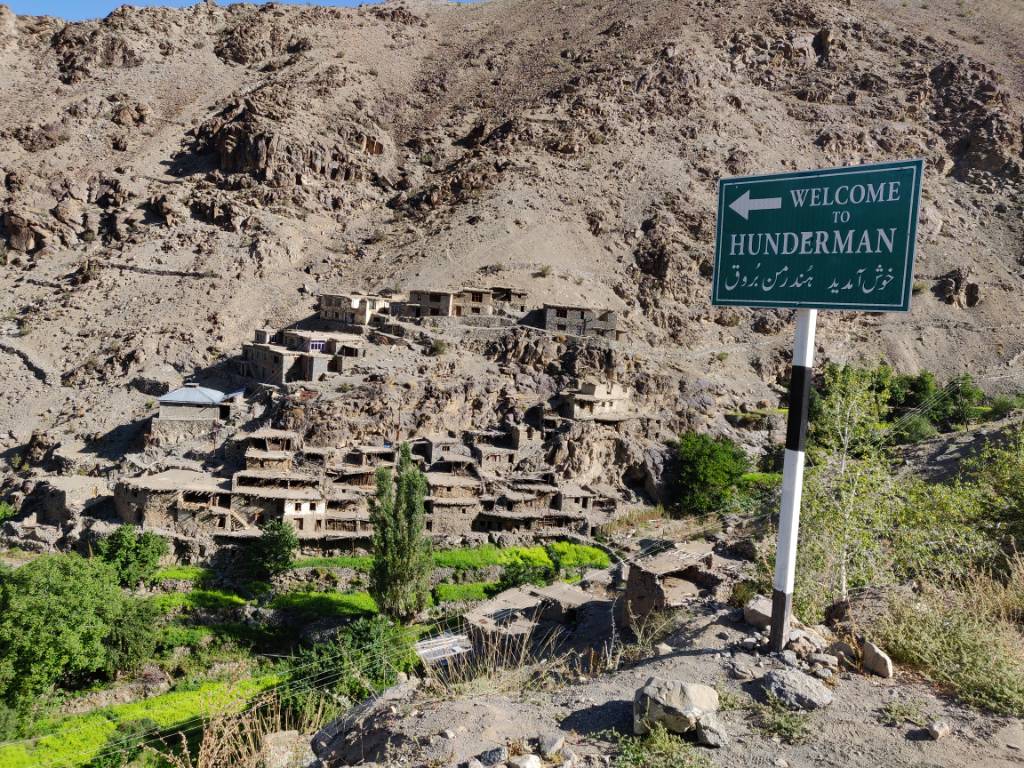 Hamboting La
After spending some time in Hunderman, we returned to Kargil and started towards the Batalik sector rather than taking the regular NH1 route via Mulbekh.
After an hour's drive covering 30 km from Kargil, we reached Hamboting La. It is a high altitude pass at 4024 meters and is the only pass on this route.
It was a beautiful route with no traffic at all. We spent a few mins at the Pass and moved towards our next destination Batalik which was about 25 km ahead of the Hamboting La.
Also Read: Srinagar to Kargil Travel Guide
We were not allowed to take pictures at Batalik. We stopped there for some time and had a word with Army jawans who gave us some insights into that region.
The road after Batalik towards Khaltse runs along with the Indus River. It was another wonderful route to drive on.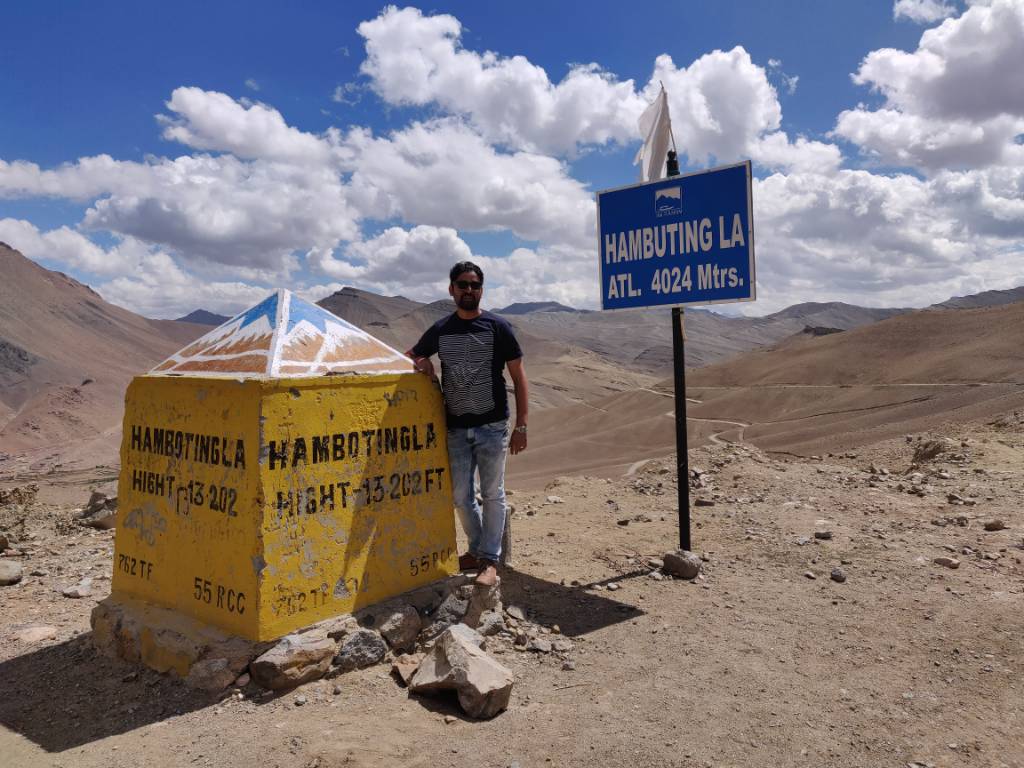 Garkon Village
Our next stop was Garkon Village which is about 30 km ahead of Batalik.
Garkon is an Aryan village and one of the four main villages in this region. The other three are Dah, Hanu, and Darchik. All these four villages are situated at the banks of the Indus River.
Darchik and Garkon villages are in Kargil district. The inhabitants of these villages are known as 'Dards'. Locals also call them 'Brokpas' which in the Tibetan language means the highlanders.
People there wear a different traditional costume occasionally and their headgear is very attractive.
Nobody asked for a permit but from what I read, a permit has to be issued to visit these villages especially if you are coming from the other side i.e. Leh side.
Also Read: Fairs and Festivals Celebrated in Ladakh
This was another place I wanted to visit for a long time. So I was quite excited to see what I had read on the internet only. We were very lucky to attend a local function where District Magistrate was the chief guest. The locals were performing fully dressed up in their traditional attire. We had a great experience visiting this village.
After Garkon, we started for Lamayuru via Khaltse as another route via Sanjak was not in good shape as told by locals.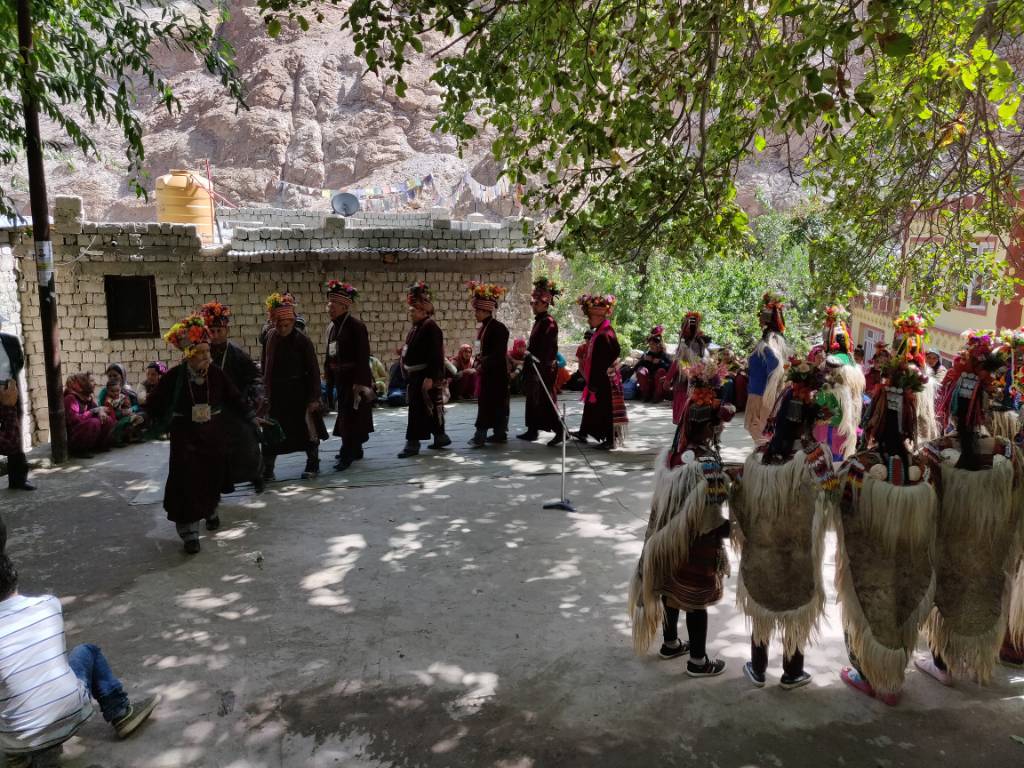 Kargil to Leh via Batalik
We planned to stay at Lamayuru (detour of approx 20 km) rather than moving to Leh directly. This was done so that the next day we can visit the oldest Monastery of Ladakh in Lamayuru and the Moonland before moving towards Leh.
But if you want to, you can easily travel from Kargil to Leh via Batalik in a day. It is just that the drive will be a very long one and you must take an early start from Kargil.
We stayed in Greenland Guesthouse in Lamayuru. It is a good place to stay with good facilities, including Airtel 4G network.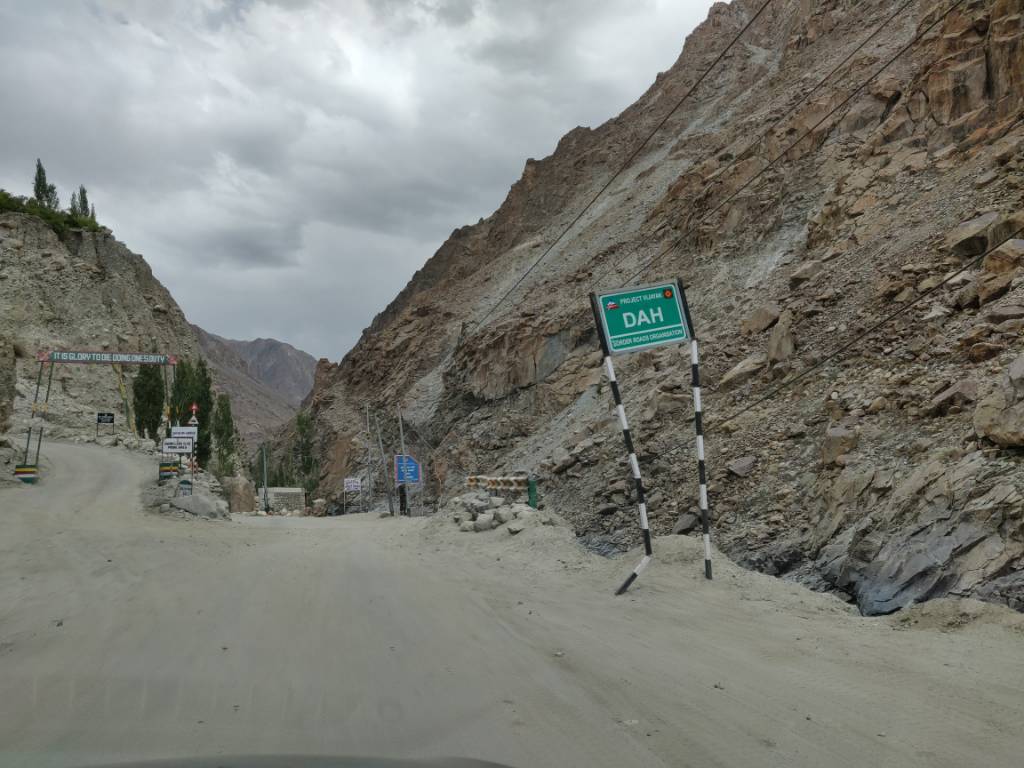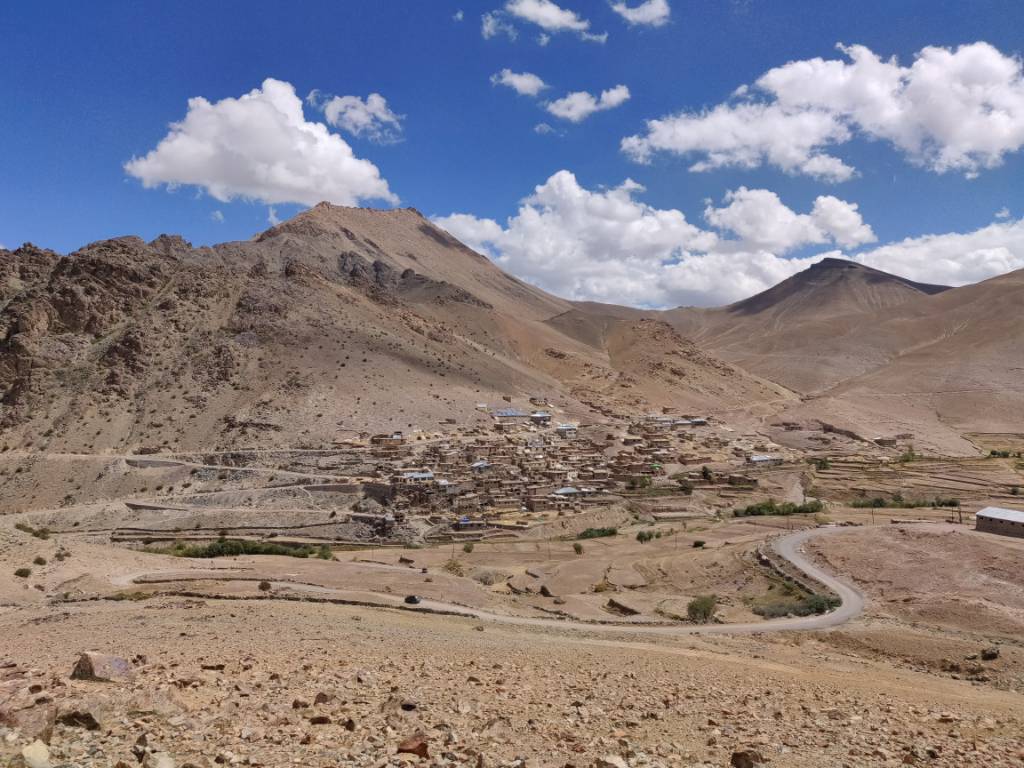 Day 5 – Lamayuru to Leh
The night in Lamayuru was not good for me in terms of health due to the cold outside. It was my carelessness that I took it very lightly. I had lost a lot of water overnight due to multiple episodes of vomiting and stomach upset. So it was a bad morning for me as I was unable to get up from bed for a few hours. This got me worried about the remaining days of our road trip to Ladakh.
I was afraid that this could be acute mountain sickness which is really a very serious concern for people visiting Ladakh. All the symptoms were of AMS. Looking at my conditions, we thought it to be wise to consult a doctor in Leh and decided to leave from Lamayuru ASAP. For more details on what altitude sickness in Ladakh is and what its symptoms are, please take a look at How to Handle Acute Mountain Sickness in Ladakh.
We had to cancel our plan to visit the Lamayuru monastery and Moonland. Both the guys helped me to get into the car and moved towards Leh around 12 pm.
We took 2.5 hours to reach SNM Hospital in Leh where I wanted to consult a doctor. I also wanted to return a blanket that I had taken from the hospital last year when we were airlifted after our accident in Nubra Valley. During the journey between Lamayuru and Leh, I gained some energy by continuously drinking ORS and Juices.
I somehow couldn't return the blanket this day as I wanted to meet Dr. T Dorje (Ortho). He was not available but we consulted the doctor on duty regarding my health.
Also Read: What Clothes should you Pack for  a Ladakh Trip
Sonam Nurboo Memorial Hospital
For information – SNM (Sonam Nurboo Memorial) Hospital is one of the best hospitals in Leh. The other two good hospitals are GH (General Hospital) and MH (Military Hospital).
We moved towards our homestay after consulting with the doctor and taking medicines. My stay in Leh is fixed at a place called "Ling's" at upper Tukcha road. I always stay here because the owner is more than a friend to me. I owe him a lot as he was one of my biggest help during our bad time in Ladakh last year.
Only a few pictures to share from this day as after landing into the room I didn't come out of the bed. But the other two guys were rolling continuously and completed the following tasks without me.
Puncture repaired
Local BSNL prepaid SIM purchased @ 300 rupees with unlimited outgoing calls for the next 84 days. It was activated in a couple of hours and was a big support throughout our road trip to Ladakh. SIM is easily available and issued using the Aadhar number.
Some snacks and fluids (not alcohol) purchased as our stock for the next few days.
So the maximum time of this day got wasted due to my illness. We could not see anything in Leh as well which was in our itinerary as per the original plan.
Day 6 – Local Sightseeing in Leh
One more time Dorjay Bhaiya (Ling's owner) took care of me so well that I was feeling much better today. I was ready to move around with not full but with manageable energy. The plan for today was to spend the entire day sightseeing in Leh City.
We got ready at around 10 to start our local excursion in and around the city. We gave our IDs and itinerary to Dorjay Bhaiya to arrange our permits for the next few days. Take a look at How to Obtain Inner Line Permit for Ladakh for details.
We first went to Spituk Monastery from where we could see a spectacular view of AI flight landing at Leh Airport. Later we realized it was not allowed to click Leh airport or runway due to security reasons.
We had only one day to visit so many places in and around Leh. So after SNM, we went to Shey Palace, Thiksey Monastery, Rancho School, Stakna Monastery then moved back to Ling's for lunch.
After an hour's lunch break at Ling's we went to see more places in the other direction. This time we covered Magnetic Hill, Indus Zanskar River Confluence, Gurudwara Patthar Sahib, Local Leh Market, and Shanti Stupa.
After that, we visited the Hall of Fame which was on the way to SNM Hospital where the blanket had to be returned. Dr. Dorje was not available today as well but I handed over the blanket to the caretaker of the same ward.
Our day in Leh was really fun. As it passed, I started to feel much better and gained confidence that I can survive the rest of the trip easily. We drove around freely and had a great time.
Road Trip to Ladakh by Car – Conclusion
I hope the travelogue, information, and the pictures above of our road trip to Ladakh were of help. Please click on the link above to continue reading the next part of the travelogue. I could not add all of it here on the same page because this post when would have become way too long.
If you have any questions or need any other details, please feel free to ask in the comments section below or at our Community Forum and I will be glad to answer.