This travelogue is in continuation to a previous one and a part of my road trip to Auli travelogue. We drove from Delhi to Auli on the first day and went on a trek to Gorson top on Day 2. On the third day, we drove to the lesser explored Malari Village and Niti Valley, details of which are covered in the post below. To read the previous parts of the travelogue, please click on the links below.
Journey so Far
Our plan for the day was to go as far as possible on the Badrinath route, and do the 5 km Vasudhara falls hike if possible. Keeping this in mind, we'd checked out from the hotel.
Day 3: Auli to Malari Village and Niti Valley
We left around 6:30 am, without breakfast, and were at Vishuprayag (which is around 10 km from Joshimath) in an hour. The confluence of the Alaknanda and Dhauliganga rivers at Vishnuprayag looks ethereal, and we were more than happy to capture the lovely sight on our camera.
Also Read: How to Plan a Road Trip to Auli –  A Complete Travel Guide
A panorama of the GMVN rest house at Auli

Hathi Parvat was clearly visible today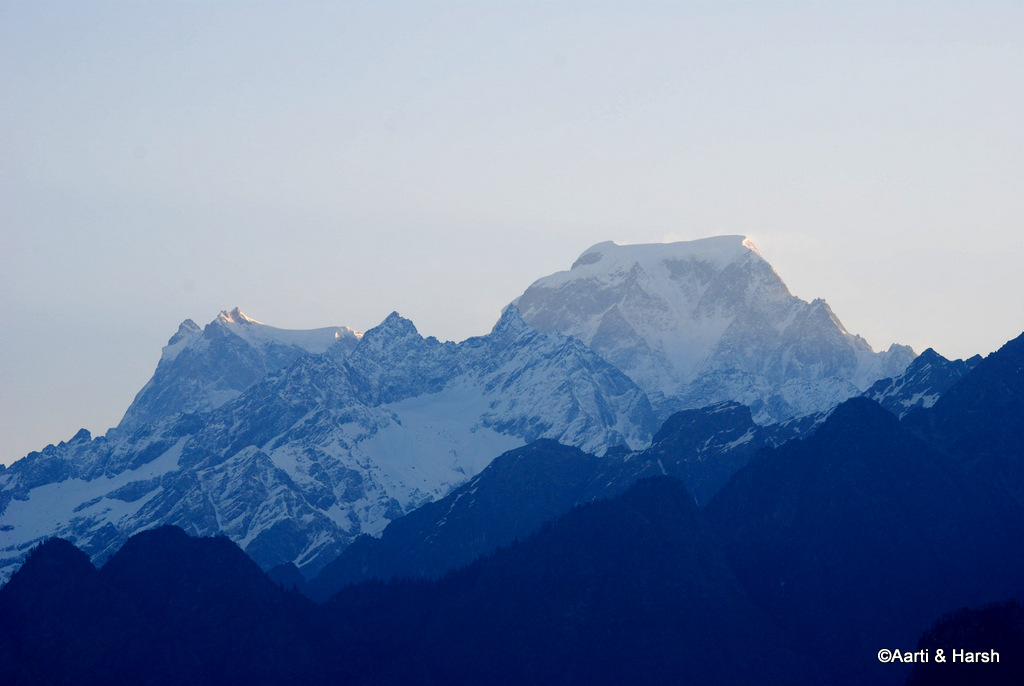 Bidding adieu to Nanda Devi one last time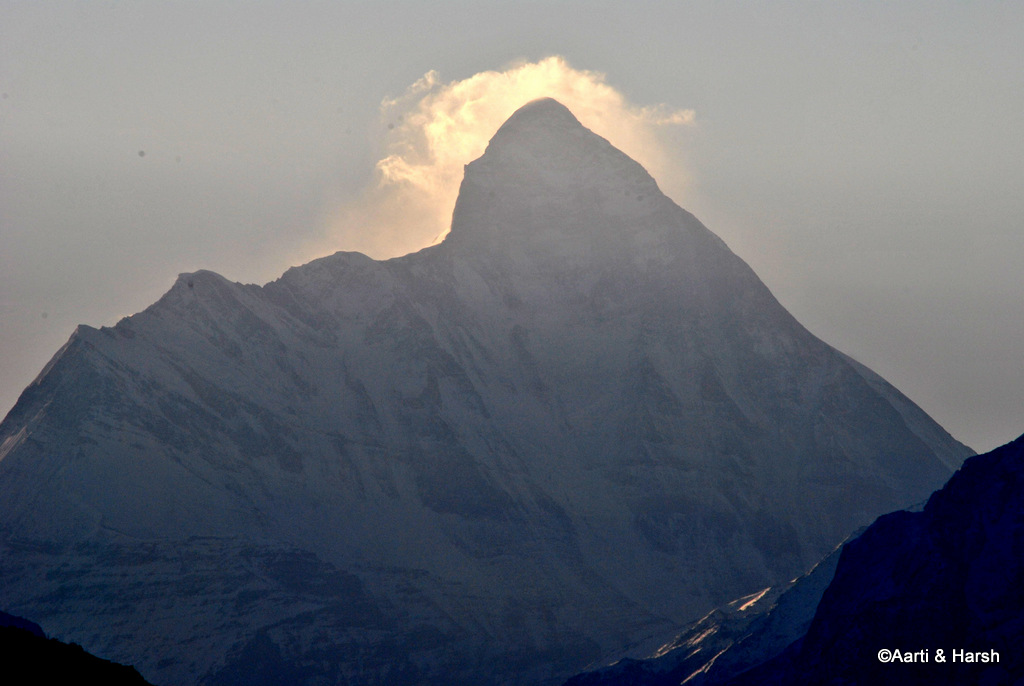 ​As one descends from Joshimath and crosses over the Alaknanda river, the road broadens and has a fantastic tar. The wide and excellent tarmac stays the same all the way up till Hanuman Chatti.
We moved over this lovely tarmac at a fairly good speed; all the time troubled by the fact that locals were pretty confident that we will not be allowed to go beyond Hanuman Chatti. Little did we know that the last day of our road trip to Auli was going to be completely different.
We reached Pandukeshwar in good time and stopped for some tea and breakfast. However, the only Dhaba that was operational at that time did not have anything except buns for us. A nearby grocery shop was open from where some butter, eggs, and onions were imported and the raw material was handed over to the lazy dhaba owner.
A beautiful breakfast of omelet and buns followed satiating us to the fullest. We proceeded further up the Alaknanda gorge praying all the while, hoping against hope that we are allowed to go till Badrinath.
The Hurdle
Upon reaching the police barrier, we found that there was ample space in between the barrier for us to pass through and speed away. However, we tried to resist our temptation of breaking the sacred law of the land.
A conversation began with the officer-in-charge there, and he denied us permission to move ahead. He mentioned, after ample persuasion – reluctantly, that the road ahead till Badrinath was fine and open now. However, since the "putt" (gate) of the temple had not yet been opened, no one was allowed beyond this point.
I found this to be a ridiculous rule! Why would the opening of a road be dependent on anything that has to do with religion? I tried to reason with the dude but he was resilient. Finally, he gave up and said that the only way to proceed ahead was to go back to Joshimath and speak with the SDM to allow us to proceed further.
Hope is a good thing, maybe the best of things. So with this hope, we proceeded all the way back towards Joshimath, hoping.
The confluence of Dhauli Ganga & Alaknanda rivers at Vishnuprayag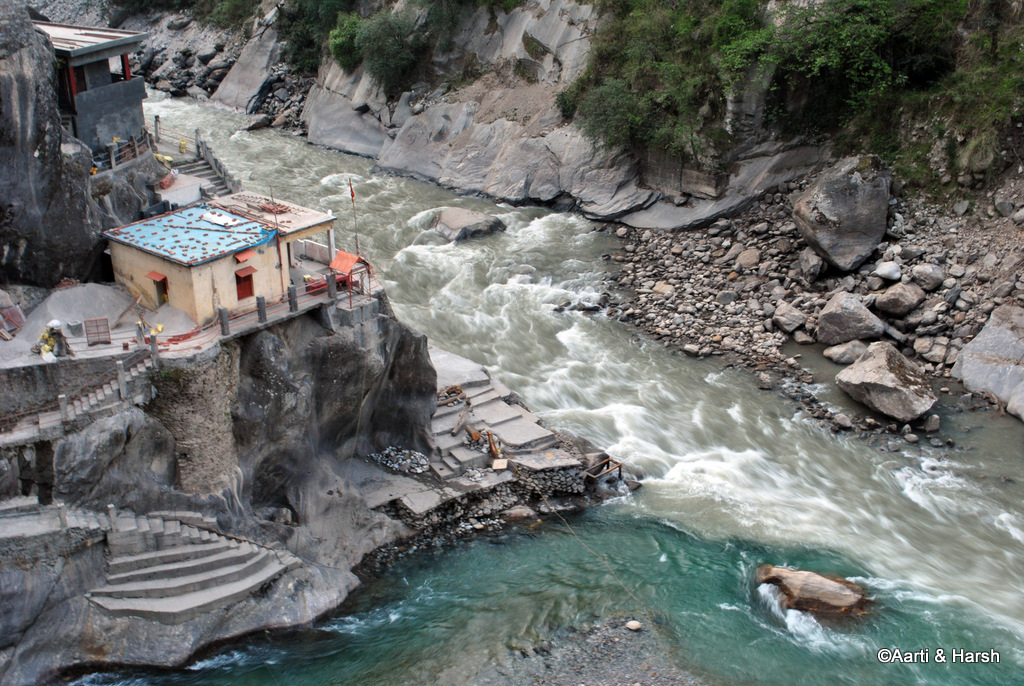 Some ladies working it out, carrying a lot of load but still pleasant when we chatted them up. This photograph needs to be couriered now.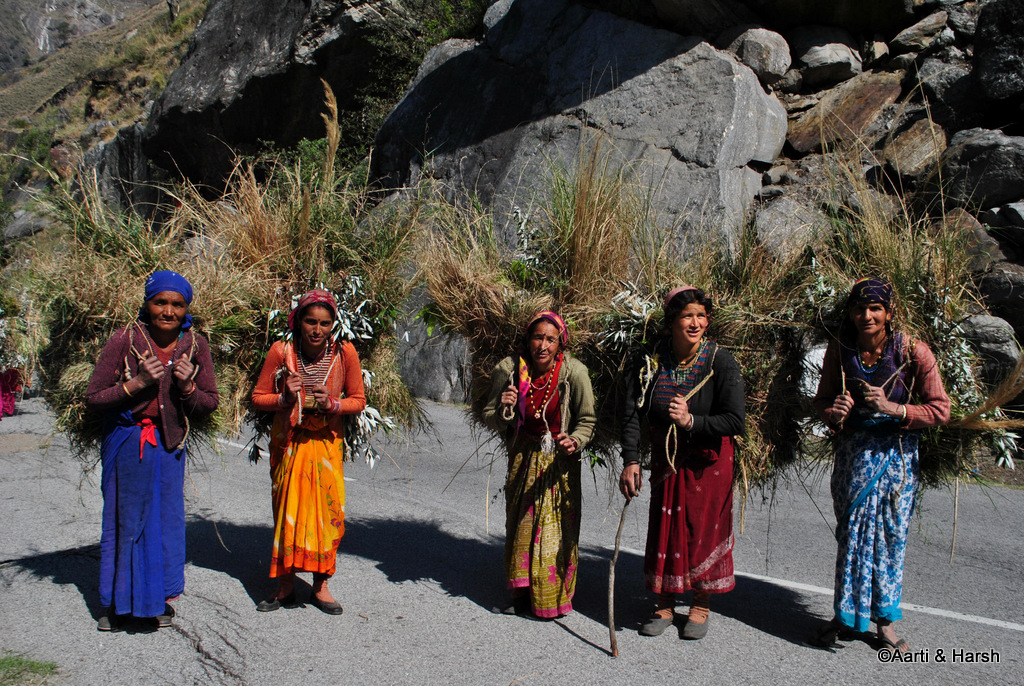 SDM Office Joshimath
The SDM office at Joshimath was a bit difficult to find, and the SDM himself more so. Being Friday and that too Good Friday, the SDM had gone off to Dehradun to enjoy the extended weekend. We did meet his personal assistant though and tried to push our agenda for permits.
He was vehement and actually appalled by the very concept of going to Badrinath before the "putt" (gate) was open, frustrating me even more. This is probably why Uttarakhand has never been able to capitalize on its true tourism potential. It still remains a distant second cousin to its neighboring state Himachal.
Also Read: Delhi to Pabbar Valley and Chanshal Pass
Change of Plans
Once it was clear that the permit for Badrinath was not a possibility, we requested for permits to go to Niti village. For the uninitiated, Niti is the last village on the road going towards Tibet, beyond which the ITBP guys trek.
Upon hearing the request, the officer started laughing loudly and mentioned that even the villagers of Malari (a village before Niti) were not being allowed back in their village – to aap kis khet ki mooli hai. After some persuasion he relented and said, you can go as far as they don't stop you! Now, these statements can be quite dangerous sometimes and we took his verbal statement on its face value and sped towards Niti.
The road at Joshimath diverges into two roads, one that goes towards Badrinath, and the other one which is marked as Malari. Malari is a village situated quite close to the international border with Tibet and lies on the way to Niti, which is the last village on that route before Tibet.
Malari (3000 m) is about 65 km away from Joshimath and Niti (3400 m) is another 20 km from Malari. Beyond Malari, the road goes north towards Niti and then further climbs to Niti pass – which is the de-facto Indo-Tibet border. To do this, one has to cross over the Dhauli Ganga river.
However, there is another road – relatively lesser-known – which goes east to a village called Sumna, about 20 km from Malari. I am not 100% sure if the village lies in the Tibet region or not. If you see the map below you will probably understand why I'm confused. Google maps mark this territory as Tibet; however, I think it is in India. I could not find references over the web too about this village. ​
Joshimath to Tapovan
Coming back to the story, we left Joshimath at about 11:15 am for Malari, without permits and without a clue on what lay ahead in store for us. It was almost noon and there were no major clouds in sight, except the ones on the peaks ruining the impressive view that we would otherwise have had.
It was getting pretty warm, and with the windows rolled up in our Kiyang, the heat effect was doubled, so much so that we had to switch on the AC almost all the way to Malari. The road climbed initially to give us a fantastic view of the villages below.
Tapovan was the first village – it is famous for a hot water spring and is also the culminating point of a trek-route to Kuari pass from Auli. The road was smooth with the tarmac having been freshly laid. Apart from the heat, it was a pleasant drive.
Also Read: Sach Pass Road Trip and Season's First Snowfall
Roadblock
The first roadblock came just before the village of Tapovan, when we had hardly driven for about 30 minutes. The PWD guys were laying the road up ahead with tar, and thus we had to wait. Thankfully, there was a shade or else it would have been a pain to have waited for what turned out to be close to an hour.
We chatted up with some GREF personnel who were also waiting for the roadblock to clear. The driver of the jeep they were traveling in lost his patience and decided to go back to Joshimath. We offered to drop them at their base at a place called Suraya Thoda.
Apparently, this is the place from where the climb begins to Lata Kharak and goes beyond into the Nanda Devi national park. We were now pretty close to the peak itself. However, being at the river bed level, there were hardly any views. The valley was pretty wide initially, and the road was okay till Suraya Thoda with minor stretches where it turned bad.
Also Read: Delhi to Ranthambore Road Trip – Call of the Wild
Tapovan to Malari Village
Beyond Suraya Thoda, the road condition further deteriorated to an almost non-existent road. However, since we were still at the river bed level, there was hardly any steep gradient during our entire drive till Malari.
The river was beautiful down below, but the valley was getting narrower and narrower. With little knowledge about Malari and what to expect out of it, and to add to that the sun beating down upon us, and with the windows rolled up, we were getting a bit impatient.
We even thought of turning back and returning to the comfort of Auli. We had hardly moved for about an hour from the previous jam at Tapovan when we found ourselves stuck at another roadblock. This time a JCB bulldozer was clearing a landslide and it made us wait for a good 30 minutes or so before we could move ahead.
The roads are beautiful immediately after Joshimath
Some quaint villages such as these mark the highway heading towards Malari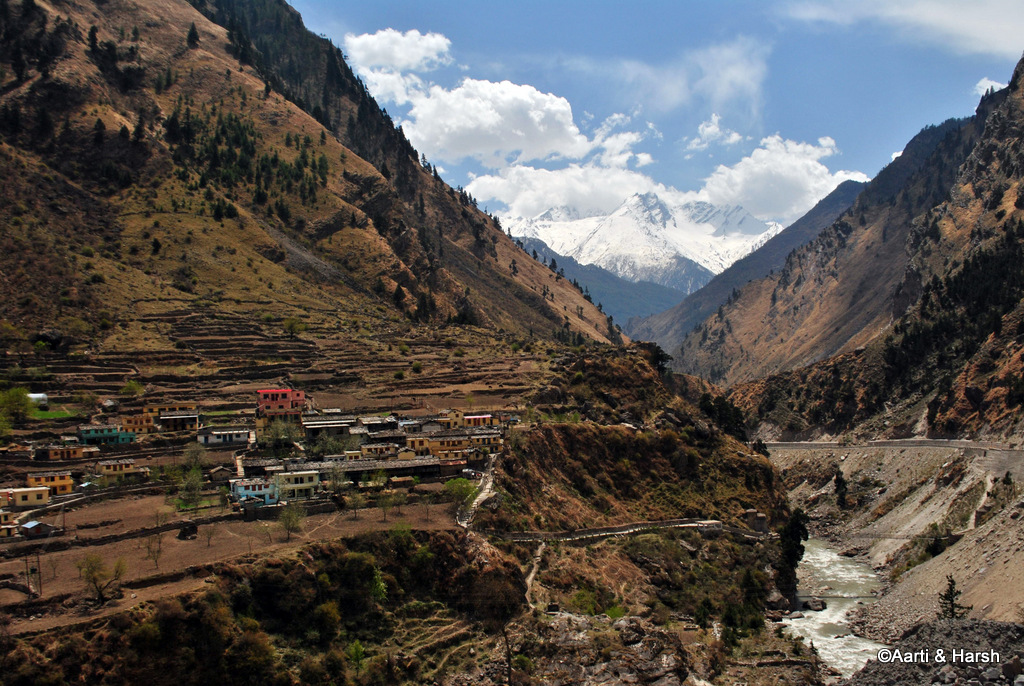 This was the final set of loops beyond which the roads have not been built yet – thus bad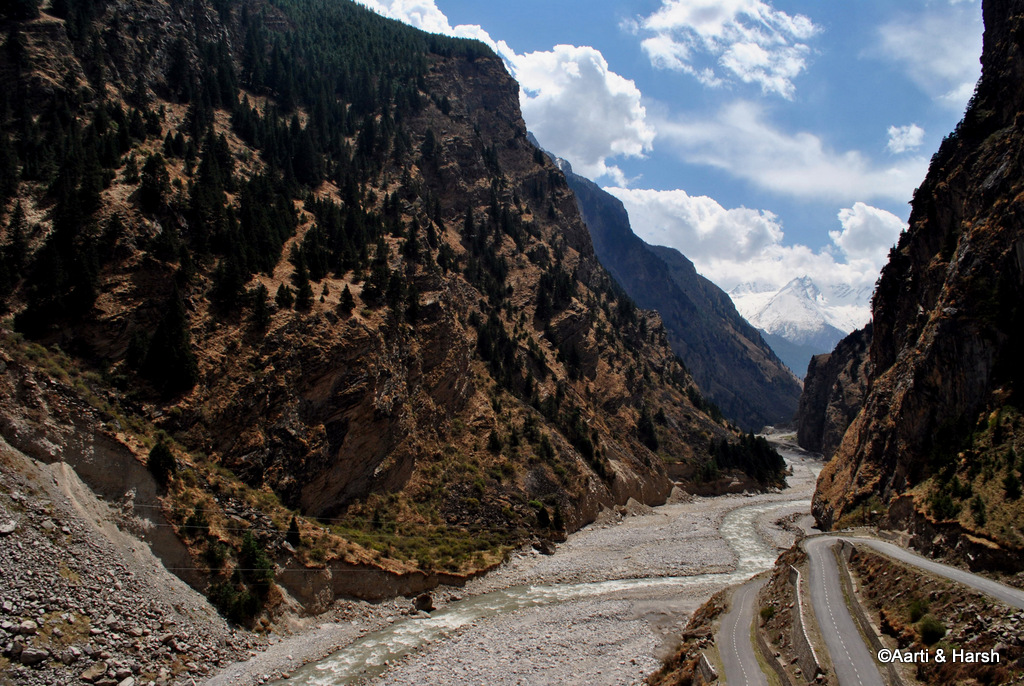 Exploring the Lesser-Explored
Surprisingly, not even a single vehicle joined the queue on either side of the blockade in those 30 minutes, and we had also not seen any vehicle cross us in either direction ever since we had left Suraya Thoda. This was the first time in our entire road trip to Auli that we were pretty much all by ourselves.
Also Read: Delhi to Lansdowne – A Weekend Drive
Also, given the road condition, it did not feel like the route was used much in any case. Just after the blockade, we crossed over to the left bank of Dhauli Ganga where the road thankfully turned slightly better. However, it was now narrower, so I'm guessing they are trying to broaden the entire stretch to the international border.
The valley was still narrow though, with limited views, and we crossed a few interesting villages with white and pink colored trees surrounding them. It was getting pretty monotonous and the day was seeming to be lost cause when all of a sudden the wide valley of Malari opened up after a turn. What a sight it was!
Malari Village
The narrow valley opened into a huge one where the mountains were a mix of brown, green, and even a bit of pink! Nestled in that huge valley was the very tiny village of Malari.
The entire scenery was pretty close to what one gets while entering Ladakh/ Spiti. One can actually feel the transition happening from the lush green valleys of Uttarakhand to the deserted highlands of Tibet which lay up ahead. There were huge fields just below Malari, clearly indicating the source of livelihoods of the people of Malari.
As we ambled along and reached Malari, we could see that all the houses in the village were locked. Not even a single door was open. It was as if it were a ghost town. This seemed pretty strange to us, given that there was no apparent reason for the isolation.
We saw some ITBP officer but fearing that we might be stopped in our pursuit towards village Niti, we marched on. After all the "bada babu" at Joshimath had said: "You can go as far as you can unless you are stopped".
A wonderful mix of white – pink – mauve – violet and all kind of colored trees in a village across the mountain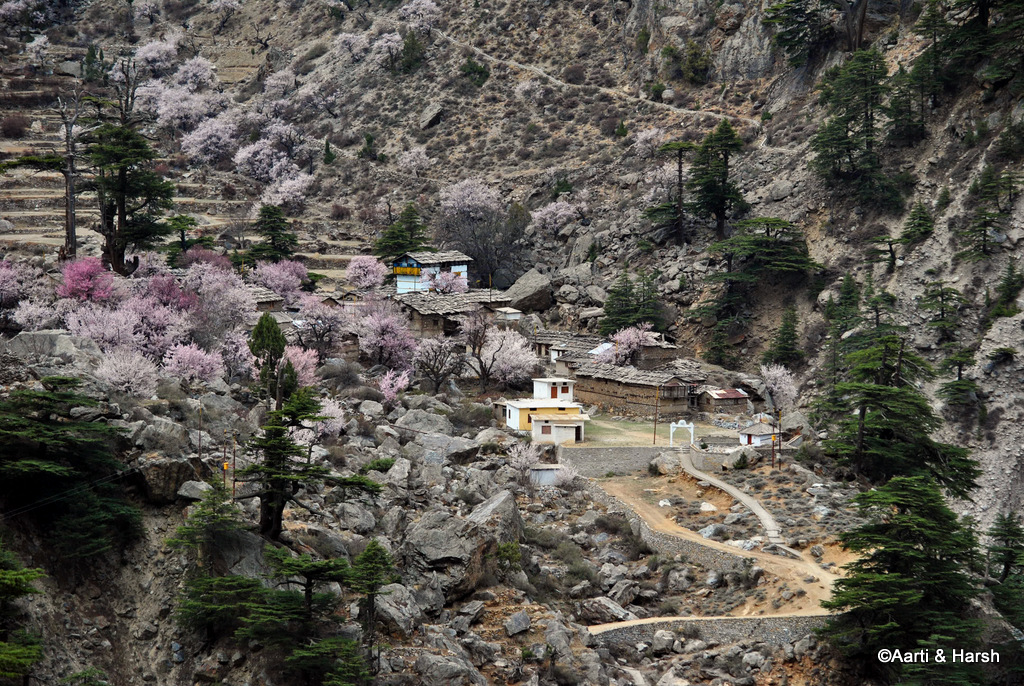 The Malari valley – Malari village is at your bottom-right corner – up ahead on the road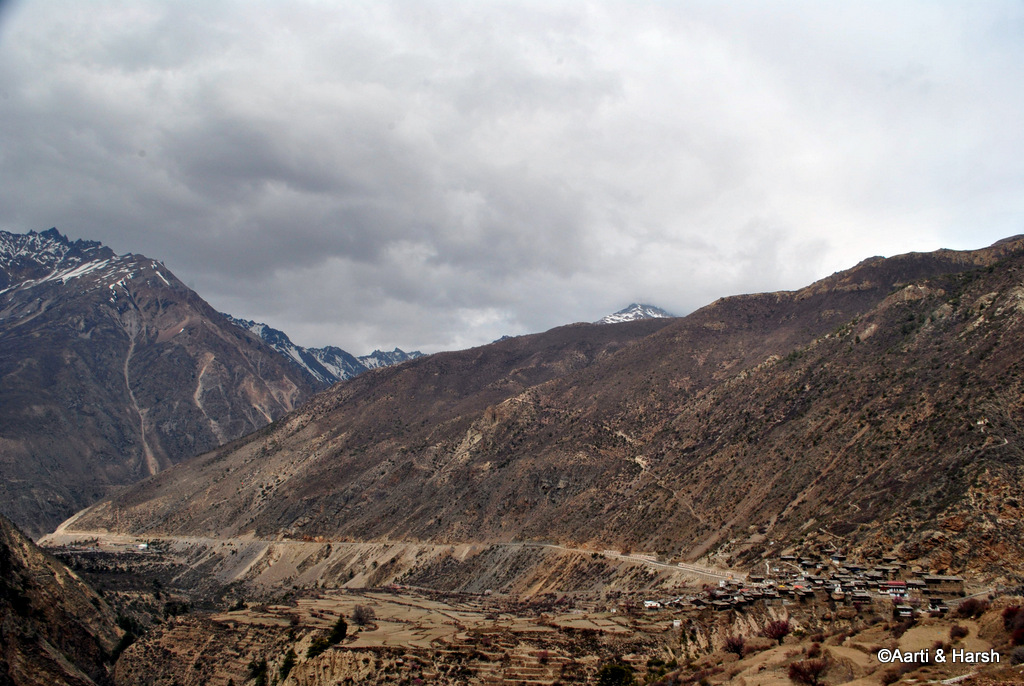 Niti Village
The road beyond Malari was pretty bad and was layered with stones with sharp edges. We have not changed the tires of our Kiyang ever and were hoping to not get a flat tire. Our progress was slow but steady.
Upon a bend on the road, we saw a road going down towards the river with a bridge over it and another one going straight up ahead. Not having researched the place at all, we assumed that the road going towards the other bank – over the bridge – must be a random one and the one going straight must be the road going to Niti.
Also Read: Road Trip from Delhi to Kinnaur and Mussoorie
We continued, only to see another ITBP / GREF camp ahead. With no barriers in sight, we again rambled along, hardly believing our luck that we were just about to reach Niti. The weather had also turned for the bad by now and dark clouds were upon us waiting to open up and shower. The entire aura was very eerie.
My heart was beating pretty heavily in anticipation of reaching the end of the road and Niti. Reach the end of the road we did, however, it did not terminate at a village but rather at a huge landslide that had not been cleared up yet.
By the looks of it, it seemed to have happened a long time back and maybe the ITBP guys were waiting for summer to kick in before removing the rubble. The abrupt end left us high and dry and we had to take an about-turn and head back towards Malari.
The road beyond Malari kisses the Dhauli Ganga throughout – at least as far as we went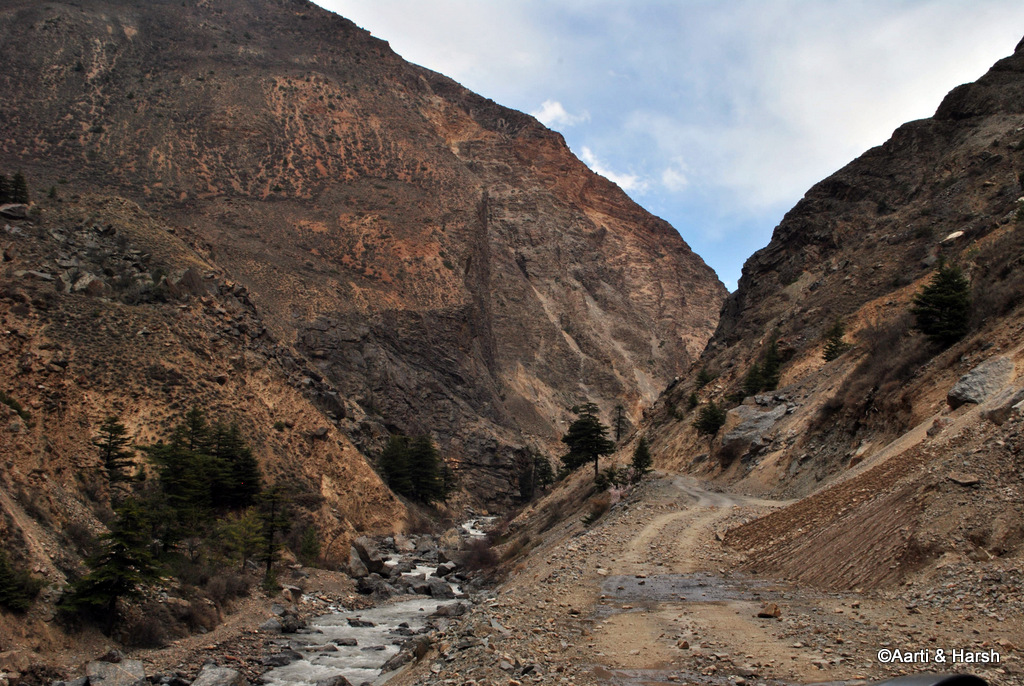 The weather was turning for the worse – hardly any sun now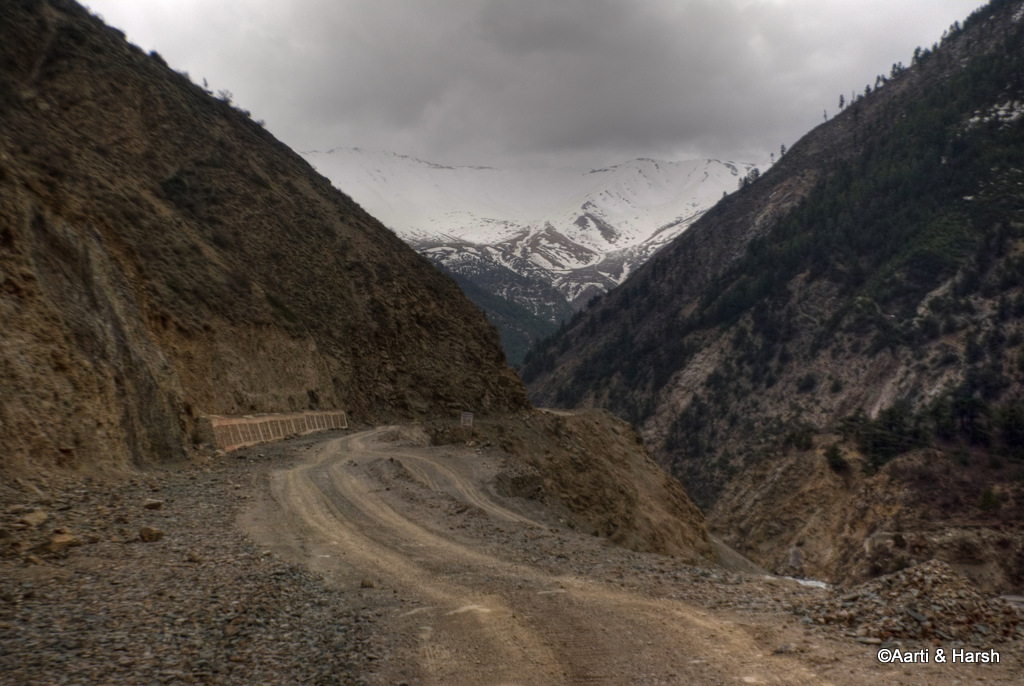 Malari to Tapovan
On our way back, we checked out the road which went down to the river thinking that maybe Niti was after all on this road since the other one was blocked. We took the detour again, postponing our return to Malari, but after moving only 500 m or so from the bridge, we reached another dead end. There was another landslide up ahead.
With a heavy heart, but a smile on our faces, we turned back towards Malari. Maybe we will be able to reach Niti on our next road trip to Auli.
It was already 4 pm now and we had not had lunch yet! Our stomachs were rumbling but the problem was the lack of any kind of a dhaba en route. To add to our woes, we were pretty sure that sooner or later we would be stopped by some ITBP officer and be given a good scolding and sent back to Joshimath. In my head, I was already making excuses for our actions.
Also Read: Delhi to Jim Corbett Road Trip – An Exciting Adventure
We reached Malari and luckily found an open shop! The entire place was deserted and now we had managed to chance upon an open grocery shop. Fate I tell you! We asked if we could get some food, and the gentleman sitting there immediately agreed to make some Maggi for us.
Another gentleman was quick to take this opportunity to ask us for a lift to Tapovan village. To this we agreed, it was a nice opportunity to know about the place from a local on our way back.
The haunting village of Malari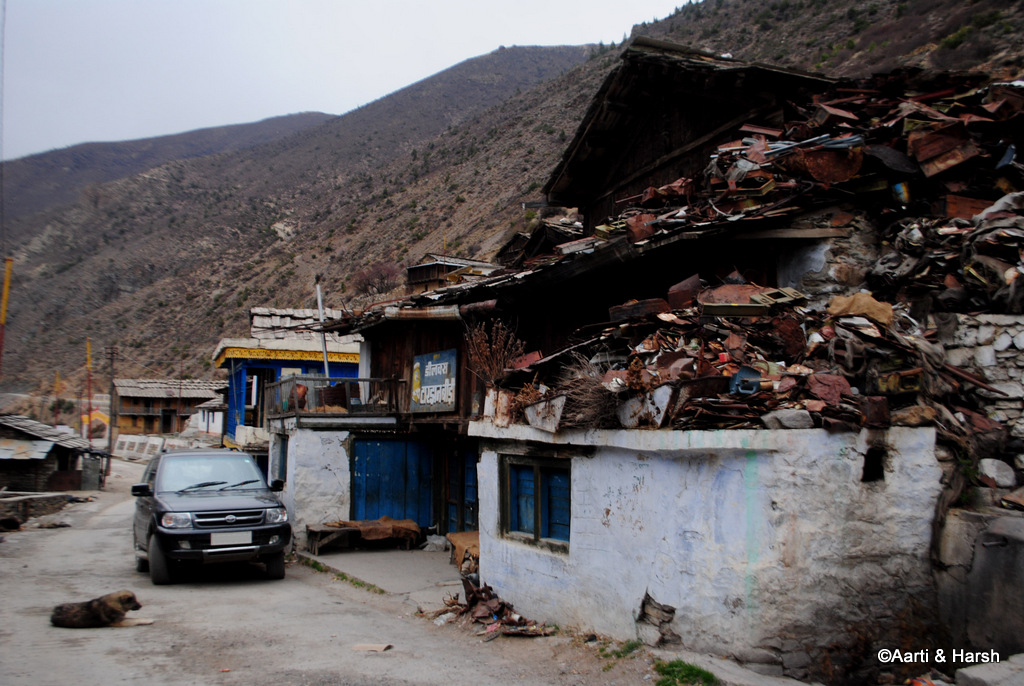 A Bhutia dog – they were huge but still, they loved the biscuits that we fed them.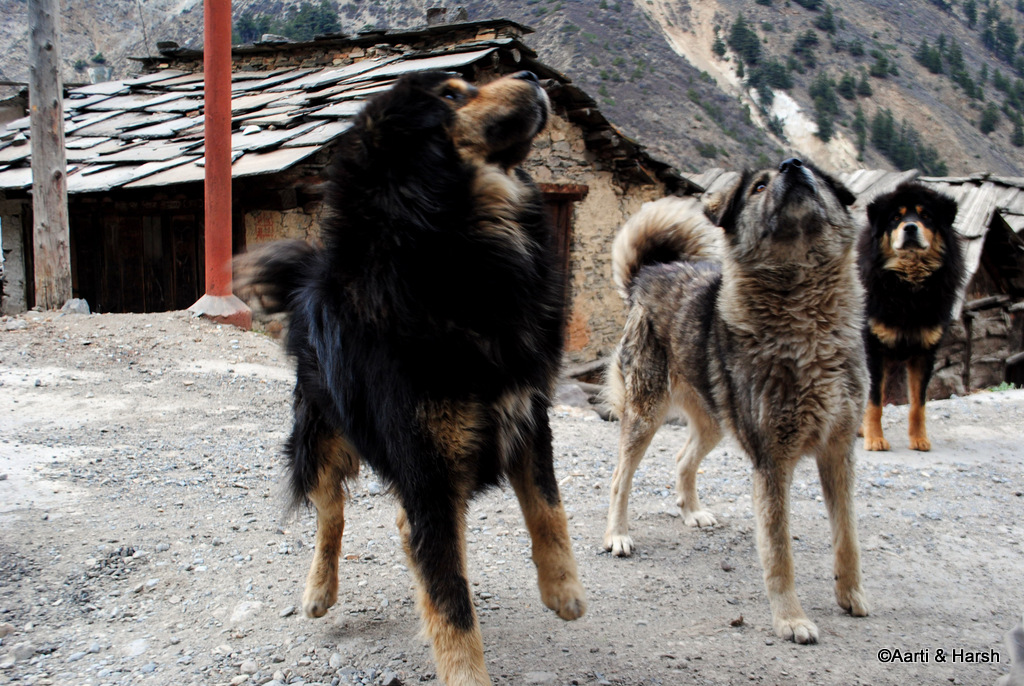 This was Mr. Grumpy pants – did not like to be touched. Was a bit scary and loveable at the same time.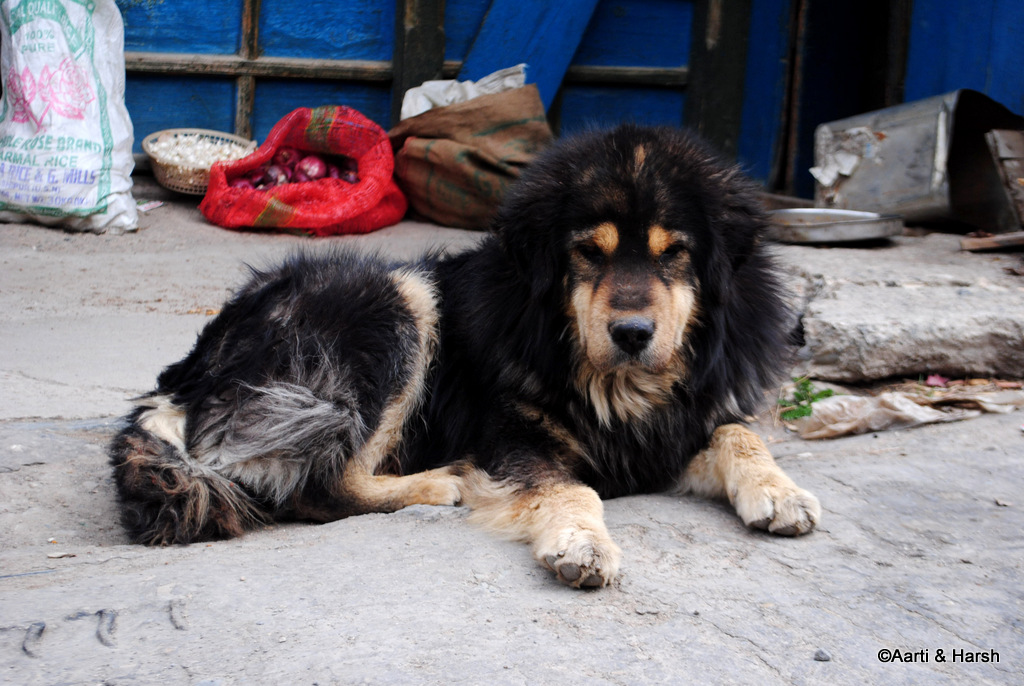 ​A Tough Life
The Maggi lunch was delightful and a blessing for our famished stomachs. We also spent a good amount of time chatting with some passing ITBP personnel. The shop was open only to cater to them. Upon questioning the reason for the empty village, the guy explained at length that their economy is primarily agrarian and based very little on livestock.
Traditionally, villagers stay in Malari only in the summer months to harvest their crops. They return to lower climes during winters and pursue another source of livelihood. Nowadays, agriculture in the summer months too has taken a slight backseat; ever since the sale of keeda-jadi has taken precedence over it.
He explained how the local youth devote more time in the search of this herb rather than toiling hard on their soil. This herb, which is found only in high-altitude meadows in the region, is sold at a very high rate in the black market.
India still accounts for a smaller percentage of its production with Tibet taking a clear lead. One can find more about the mythical herb here: Wikipedia page for Keeda Jadi.
Thar
As we moved along, all of sudden we saw a landslide happening on the other side of the mountain. This had happened once before, landslides without rain/ any other external factor could mean a high probability of some bharals causing them. The guy mentioned that bharals are locally called "Thar". Wonder if that is the inspiration that Mahindra took for their vehicle.
The road back towards Auli – immediately after Malari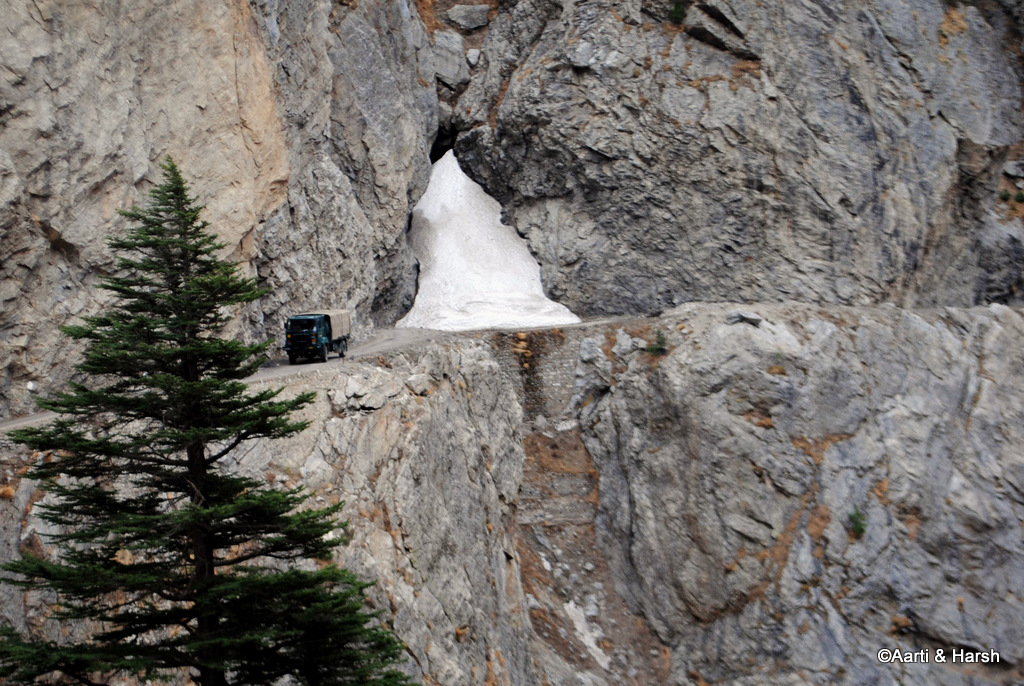 A baby Thar crossing and creating the landslide zone.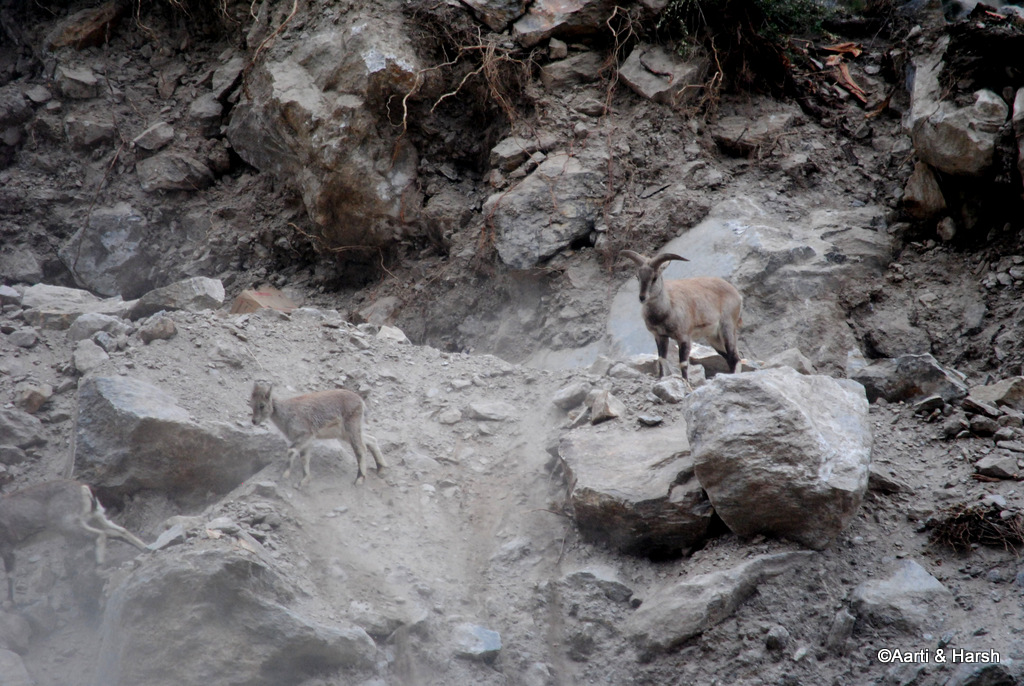 A curious one looks on towards us. These were one of the few clear shots. It was way too dusty to capture the action of them crossing this zone. They were like riders in a group;  waiting for the bike in front to lead and waiting for the one behind
Back to Auli
After shooting down them Thars (with our camera) of course, we marched on. It was already getting dark and soon the rain started to pour and poured quite heavily. It was only by about 8 pm that we finally managed to reach Auli in the pitch dark. A quiet and relaxing dinner later, we called it a day. A long and tiring day had come to an end.
The sad part was that after a long time, we were not carrying our tent/ sleeping bag. Neither did we get a place to stay in Malari. It would have been great to spend a night at that haunted village in the middle of nowhere. It resembled Ladakh to a certain extent, with those Bhutia dogs for company. Oh well some other time, some other day.
Day 4 – Auli to Delhi 
Day 4 was a Saturday. It was the last day of our road trip to Auli and we still had two full days left before we had to reach Delhi. Somehow though, at the end of the day, we found ourselves back at home.
Don't get me wrong, Auli is a great place to stay, but it is quite far away from Delhi. So we had to make a move on Day 4 in order to reach a reasonable place to spend the night so that we could do the rest of the journey to Delhi the next day.
With this theory in mind, we decided to take the long road back to Delhi – via Chopta – extending the drive by about 50 km. We had been to Chopta before, but it was worth a drive-by again.
Also Read: How to Plan a Trip to Chopta
Auli to Chopta
We left lazily by about 9 o'clock. The drive back was nothing spectacular. The only interesting part of the drive till Gopeshwar happened when we were crossing Chamoli.
A police constable flagged us down and requested us to give a lift to his senior officer till Gopeshwar, a town 20 km away. I found this very weird and kind of insulting. The officer should have either himself asked us for a lift or should have used a public mode of transportation.
Doing it this way, he managed to keep his ego intact and got a lift in a comfortable car. I was so pissed off by this that I gave him the cold shoulder. Not a single word was exchanged in the next half an hour – no pleasantries – nothing. I guess by the end of the lift I did manage to get my message across but I wonder if it would be of any use.
The road to Chopta is through a thick jungle and is pretty narrow. Though tarred, it is a bit bumpy. It is a pleasant drive and when one climbs all the way to Chopta, the views on either side of the mountain open up. Too bad the day was a bit cloudy, but nevertheless the drive was a pleasure. It was way better than the Rudraprayag route at least.
A cute baby langur peers at us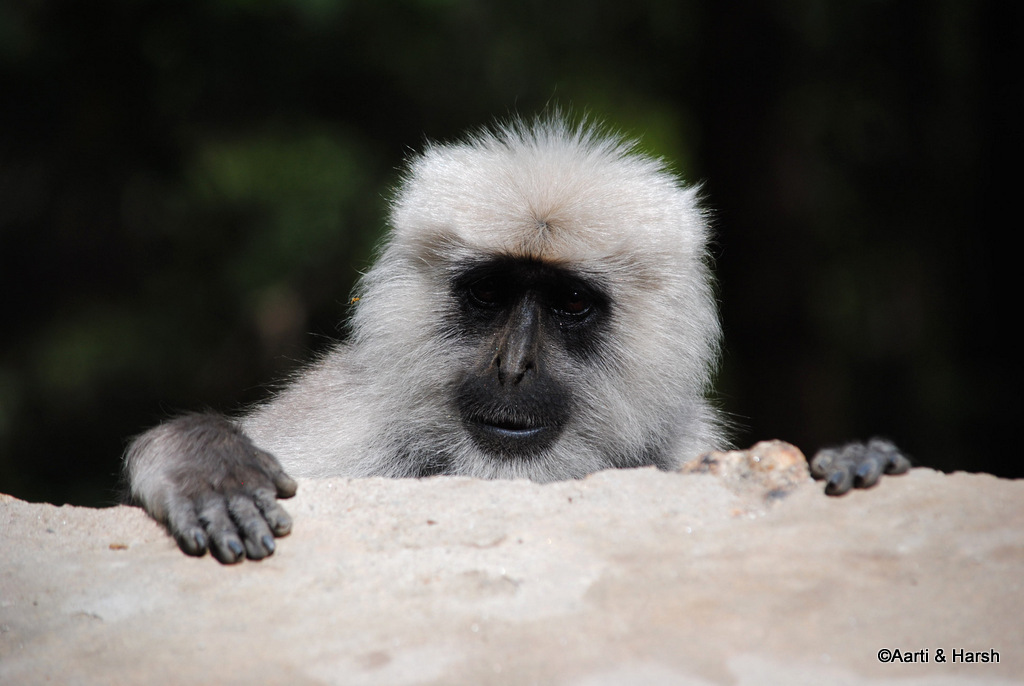 At the top, near Chopta – colorful rhododendrons make their presence felt. Ahh those colors are beautiful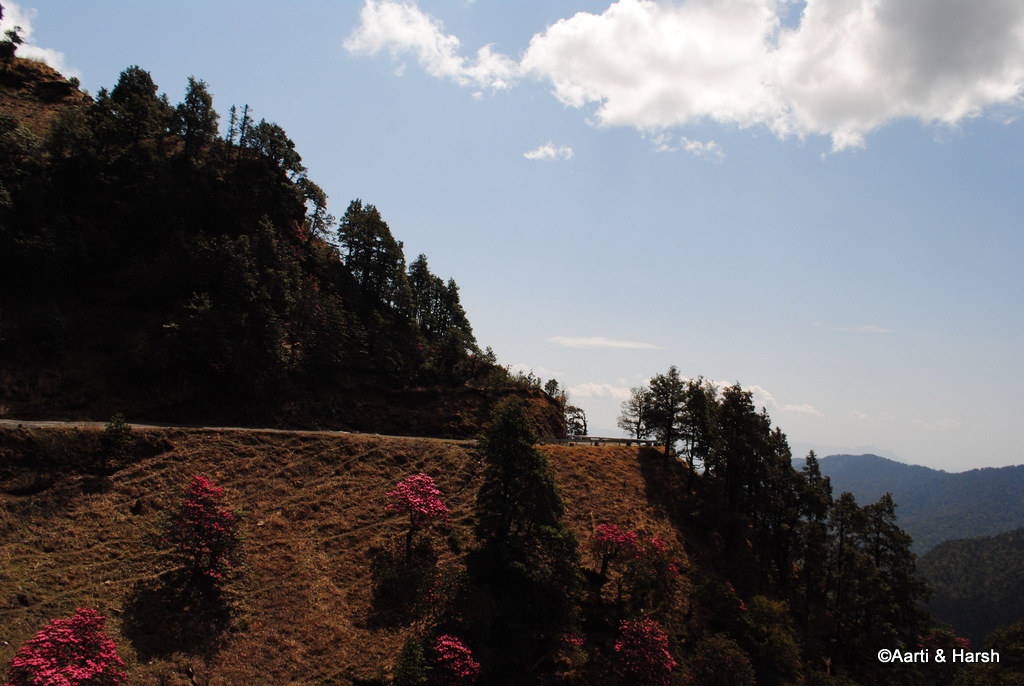 Chopta to Rishikesh
We had a quick lunch at a dhaba at Chopta and then resumed the rest of the drive till Rishikesh, which was pretty lackluster. The drive along Mandakini (between Ukhimath and Rudraprayag) was actually quite nice though. Please correct me if it is Mandakini that comes from Kedarnath or some other river.
We were hoping to find someplace to stay on our drive from Chopta to Rishikesh which could have caught our attention, but there was nothing that was exciting enough. How could it have been?
After Auli and Malari, everything else seemed to be a joke. We decided to stretch the drive all the way to Delhi instead. At least this way we would be relaxing nicely on a Sunday and would be ready for the work-week ahead.
The jungle road while climbing down from Chopta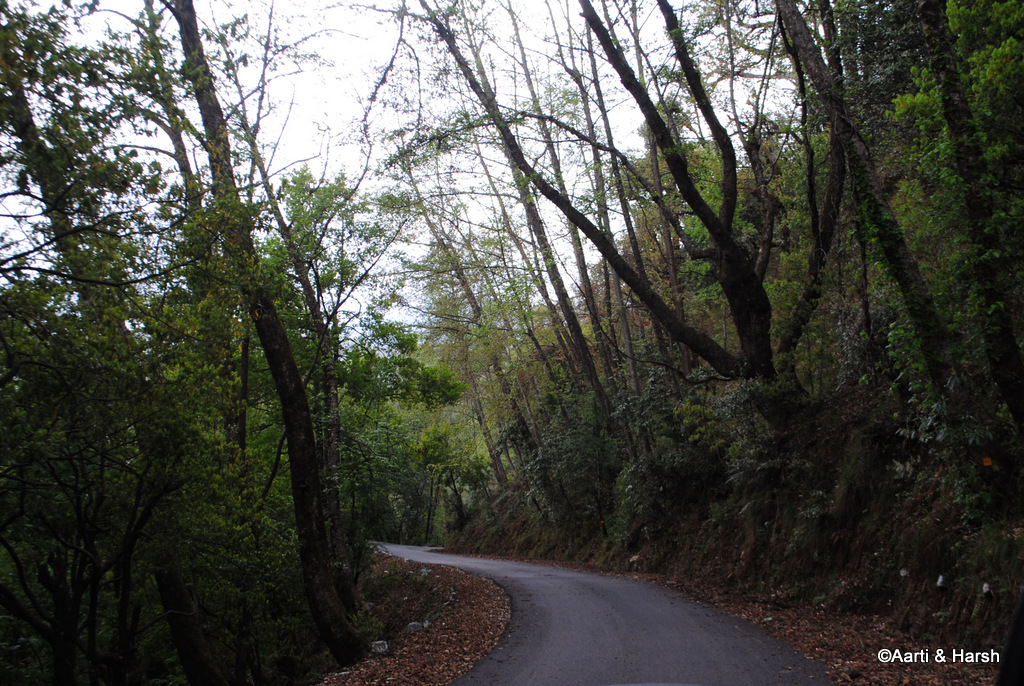 Rishikesh to Delhi
We'd reached Rishikesh by about 7 pm, and assumed that the drive home would take another 5 hours. How wrong we were! It was a Saturday, that too the Saturday of the long Good Friday weekend, and it seemed as if the entire NCR had descended upon Rishikesh and Haridwar! This was the most frustrating drive in our entire road trip to Auli.
However, it was thankfully not a Sunday, as I've heard of tales when people have been stuck in 4-hour long traffic jams between Kaudiyala and the end of Rishikesh on a Sunday!
It took us a good 7 hours to reach home, to cover about 270 km that is. It was simply pathetic, especially the entire stretch from the beginning of Rishikesh till the time we reached the newly constructed highway near Muzzafarnagar.
Other Tips for Road Trip to Auli
A word of advice for fellow travelers (car ones) who are planning a road trip to Auli. If coming down from Kedarnath/ Badrinath, avoid the Rishikesh route. Instead, take the Srinagar – Lansdowne – Najibabad – Meerut one to reach Delhi, especially if you returning on a Sunday evening.
One does need a permit for Badrinath, that is when the "Dwar" is open of the temple located there. Neither for Mana village. I've heard that there's a checkpoint at Mana beyond which one needs to get permits from forest officials, civil admin, and ITBP to go till Mana pass.
Towards Malari – Niti, I think permits are required for both. I don't think they issue permits for beyond Niti easily. Again the 3 departments would be involved if one wants to go there. We were lucky not to have been stopped en route Malari. But to be honest, there were no check-posts either. I think one would be stopped at Malari from proceeding ahead, or might just reach Niti without permits even in the normal season.
Road Trip to Auli – Conclusion
And just like that, our tiny road trip to Auli Uttarakhand came to an end. It surprised us with its known as well as unknown gems. Auli is a place we might visit again, but we're already dying to go back to Malari.
I hope the travelogue, pictures, and information on a road trip to Auli were of help. If you have any questions or need any other details, please feel free to ask in the comments section below or at our Community Forum, and I will be glad to answer.