With the coming of the Internet age and the possibility to exhaustively research a location before visiting it, it has become increasingly difficult for a place to pack some surprise punches. Contrary to this, our Delhi to Auli road trip managed to surprise us, much to our own surprise.
Our itinerary that included Auli and a trek to Vasudhara falls (beyond Badrinath) was turned upside down. A place we were least interested in (Auli) managed to awe us with its beauty. Places which we least expected to reach (Malari – Niti villages) were in fact the easiest to reach. And a place where we never thought permits will be an issue (Badrinath) turned us away.
It is when the best-laid plans fail to materialize, and the unexpected takes over that a trip becomes memorable.
Also Read: How to Plan a Road Trip to Auli –  A Complete Travel Guide
Delhi to Auli Road Trip
With a long weekend coming up it was time to search for a place in the mountains which was not too far off. Since both of us were Auli virgins, we decided that it was about time we visited this 'tourist hotspot'.
Although the season for Auli was not an ideal one, April is the month when the snow starts to disappear on its ski slopes, it was ideal for non-skiers like us as it meant little tourist rush. Neither the pilgrims nor the summer holiday kids would be disturbing us making the 'tourist hotspot' a place of zen.
Since Auli was not our preferred destination, we thought of spending only a night there en route to Badrinath and our trek from Mana to Vasudhara falls. We had also planned to visit the villages of Niti and Malari but the likelihood of getting permits for places so near the border was bleak.
Also, Uttarakhand being a 'pilgrim tourist state', tourists like us would hardly be entertained by the authorities, so we thought. So right we were!
The Travelers: Aarti & Harsh
The Machine: Our very own wild ass – Tata Safari 4×4 – affectionately called Kiyang
Also Read: Delhi to Jim Corbett Road Trip – An Exciting Adventure
Delhi to Itinerary
Below is the itinerary we followed for our trip.
Day 0 & 1: Delhi to Auli. Night stay at Haridwar – 500km – 13.5 hrs
Day 2: Auli. Short hike to Gorson Top and return to Auli.  3 hr trek)
Day 3: Auli to Hanuman Chhatti to Joshimath to Malari to EOR (end of the road) to EOR (end of the road) to Joshimath to Auli.  230kms – 13hrs
Day 4: Auli to Chopta to Ukhimath to Haridwar to Delhi. 540kms – 18 hrs
Day 0 & 1: Delhi to Auli – Night stay at Haridwar – 500km – 13 hrs
With time also being an issue, it was decided that we would leave on the afternoon of Tuesday, the 3rd of April, winding up the office early so that we would be able to beat the traffic out of Noida and Ghaziabad. As it turned out, it was one of the better ideas of the trip.
We left at 4 pm from Noida, and quickly exited Delhi in the non-peak traffic hour. Chatting and exchanging work stories, we did not even realize when we reached the Haldiram and McDonalds on NH24.
Also Read: Road Trip from Delhi to Kinnaur and Mussoorie
Haridwar
We broke there for a late evening snack and then moved on. We made it to Haridwar by 9 pm and checked into a hotel that Aarti had found on the net. Called La Casa, it was reasonably clean and affordable and good for a short night stay. We had some dinner in our room and then called it a night.
Day 1 began at 4 am – it had to begin early. We had to reach Auli in time so that we could get ourselves checked into the few hotels Auli boasts of. We showered, packed, and were on the road again by 5 am. To be honest, we were pretty proud of ourselves since leaving so early gave us a no-traffic pass through Rishikesh.
Rishikesh to Auli
Breakfast happened at Byasi, 35 km from Rishikesh, at a dhaba on the side of the road. At Devprayag, we stopped for the first photo-op of the trip – a shot of the lovely blue Bhagirathi meeting the slightly muddy Alaknanda to form the legendary Ganga.
Srinagar posed the same problem it always does – too many people on the road! Maneuvering through the human traffic, we moved on. As we neared Rudraprayag, we looked for the stone on the side of the road which tells us how Jim Corbett had killed the man-eating leopard of Rudrayragag back in 1925, but as usual, we were unable to locate it.
Crossing Rudraprayag brought back the memories of our first road trip together (also our honeymoon) to Kumaon back in 2007. We even zipped our car across the Gauchar runway, the same way we'd done on our honeymoon.
The difference of course being that now instead of Dhanno (our good old Esteem), we had Kiyang. Somehow it was more exciting doing the run on the runway in our pyaari Dhanno rather than Kiyang. Seems like we are moving a bit towards maturity.
The confluence of Alaknanda & Bhagirathi – A birth of a river – Ganga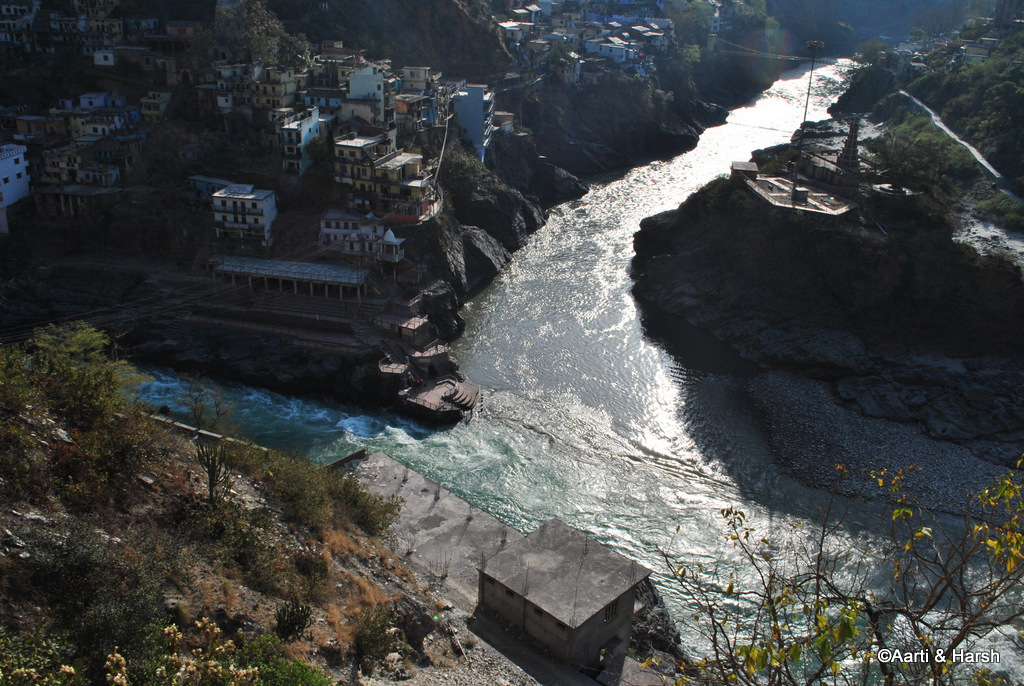 Auli​
​From my childhood trip to Kedarnath, I'd remembered Karanprayag to be a quiet and pretty town, so I was in for a shock when I saw the hustling, dusty town it'd now become.
We were doing good on time and decided to stop for lunch at Joshimath, which we finally reached around 2 pm. However, as Auli was just 16 km away, we thought of further postponing lunch after the hotel was figured out.
So, we began the climb to Auli, which was quite charming with pine trees all around. The initial few kilometers have houses and an army cantonment, but thereafter the population disappears, and the road winds through a beautiful forest.
Being closer to the river bed, Joshimath hardly boasts of any views, however as one starts climbing, one can see the location of the hill on which Auli stands. The view starts to open up with huge peaks all around, a feeling much akin to the climb towards Kalpa from Powari.
The drive all the way till Joshimath is more or less at the river level. The first view of the peaks came quite late. A few twists and turns and the magnificent peaks, which were not visible so far, make their presence felt.
Also Read: Delhi to Lansdowne – A Weekend Drive
Hotel Hunting
​As we entered Auli, we first came across the GMVN but bypassed it to go check out the Clifftop Resort, hoping to get a good price from them. Off-season should've meant a 90% discount, or so we desperately hoped. The climb to the resort is rather steep, and one leaves the tarred track to jump upon a dirt track with a decent incline.
During monsoons, I don't think anything but a 4WD would be able to manage this incline. Thankfully this was a dry season and 4×4 did not need to be engaged, but who cares, engage we did. It was a bit embarrassing though, that Altos were doing this incline where I'd engaged 4H, but at least it was a hassle-free drive up.
We got a good shock upon reaching the Clifftop Resort. Indeed, it was off-season and indeed they were ready to give us a GOOD discount. However, the discounted price was 7500 bucks a night!
With this discounted price, I did not even bother to ask about the actual room tariff. Hunger pangs were striking us, so we went to a dhaba nearby and ate Maggi + omelet to our hearts' content. Pretty soon we were found checking in at the GMVN below, which although does not have killer views from its rooms but is pretty affordable at 1600 a night.
GMVN Auli
A snippet about the GMVN at Auli: It was renovated recently to accommodate the visiting sportspersons for winter games. It was done at a lavish budget, but the architect who did the design must be off his rockers.
All the rooms are designed on the BACK side so that there is absolutely no view from and sunlight in those rooms and the corridors have ample light and views! Such a stupid design I tell you. Anyway, these new rooms are pretty expensive at 4000 and 3000 a night respectively.
We checked into the relatively cheaper tin shacks at 1600 a night. Being GMVN, their rates are fixed. The room was pretty tiny but decently clean as one would expect from GMVN. We were tired by now and decided to have a bit of shuteye. The views were blocked off by clouds, so there was nothing else to do then.
After a refreshing nap, we went off to see the sunset over Nanda Devi (which was now clear of clouds) at a meadow at the end of the tarred road from where the climb to Clifftop begins.
Also Read: Gangotri – A Complete Travel Guide and Itinerary
Sunset over Nanda Devi
The sun had set but the view from that meadow was absolutely wonderful. With rain happening near the Nanda Devi region, the entire panorama had cleared and one could see the huge peak vividly. It was a fantastic evening spent with the goddess of the peaks.
It reminded me of our evening spent in the meadows of Munsiyari with the 5 brothers towering above us. Only this time the goddess was way taller. It was getting darker by the minute and we soon returned to the hotel to have a decent meal and then a good night's rest.
The next day was going to be a bit tougher – we were scheduled to climb all the way till the Gorson top.
The sun sets on the peaks visible from GMVN – towards Badrinath. The clouds clear over from Nanda-Devi peak – The lovely 7000m+ one of the region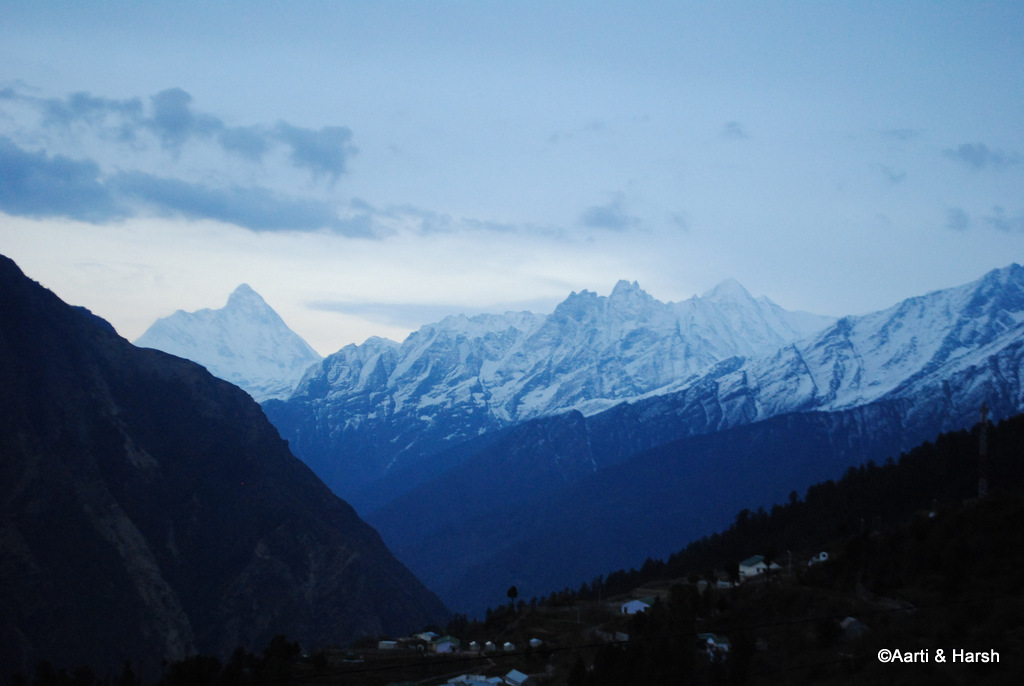 It was quite cold there – in that wide meadow at that time of the evening.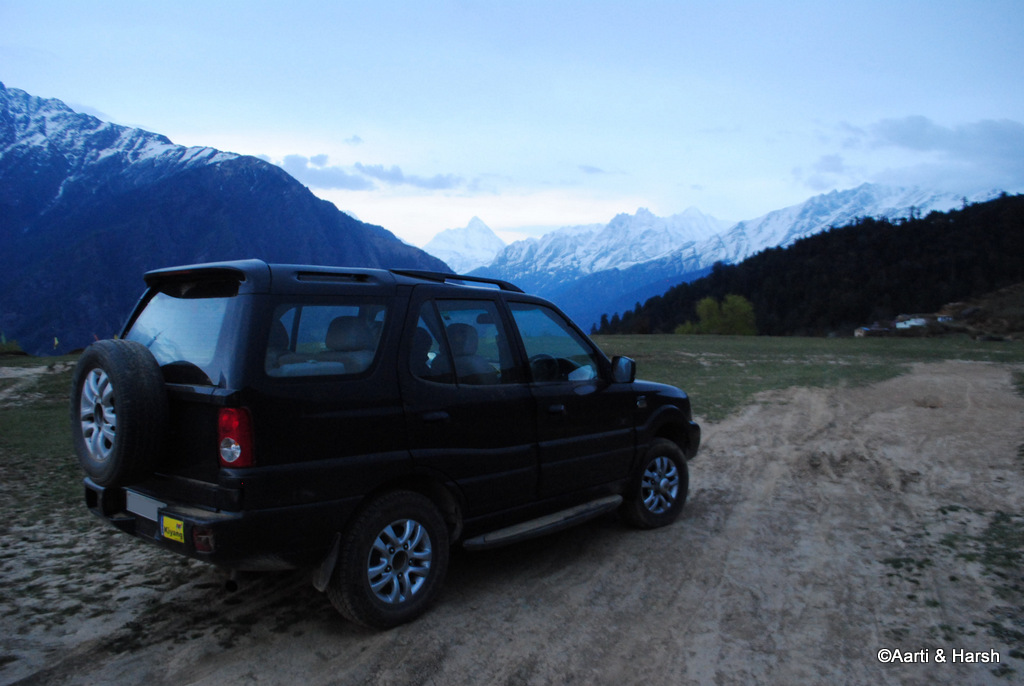 Nestled in the lap of Himalayas – bidding adieu to daylight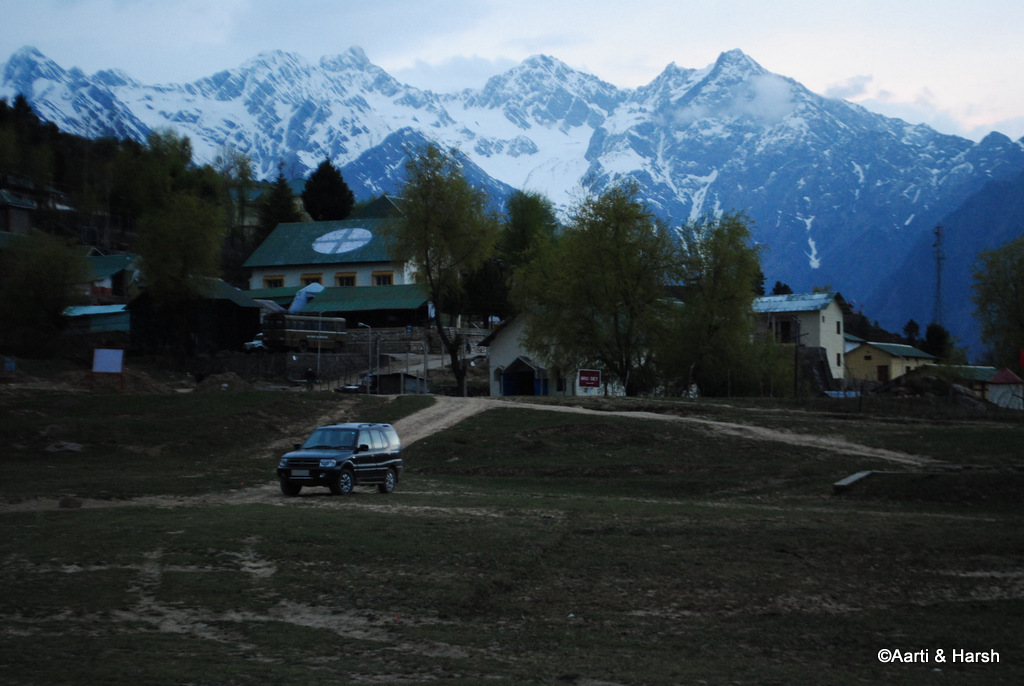 Our first day of Delhi to Auli road trip finally came to an end. The next few days had more adventure in stores for us. With that thought, we retired to our room and called it a day.
Delhi to Auli Road Trip – Conclusion
I hope the travelogue, pictures, and information on Delhi to Auli road trip were of help. Please click on the link above to continue reading the next part of this travelogue. If you have any questions or need any other details, please feel free to ask in the comments section below or at our Community Forum, and I will be glad to answer.