During a weekend, I along with a friend of mine drove to Karna Lake. There was no specific reason to go there except for to go out on a drive and break the monotony of busy work life. Karna Lake is a small water body located in the city of Karnal. I had never been there so I wasn't really sure of what to expect but still had an idea in my mind. Upon reaching there, I pretty much saw what I thought. A small lake located in a city that had been turned into either a picnic spot or a lover's point. We reached there at noon after a quick meal at Haveli restaurant and hence there weren't many people around except for a few mischievous teenagers. While my friend and I were sitting in the park like area, enjoying the peace of this place, something really interesting and peculiar happened. Something that none of us had only seen either on National Geographic or Discovery Channel. Swimming out of the lake towards the shore was a snake with a fish in its mouth.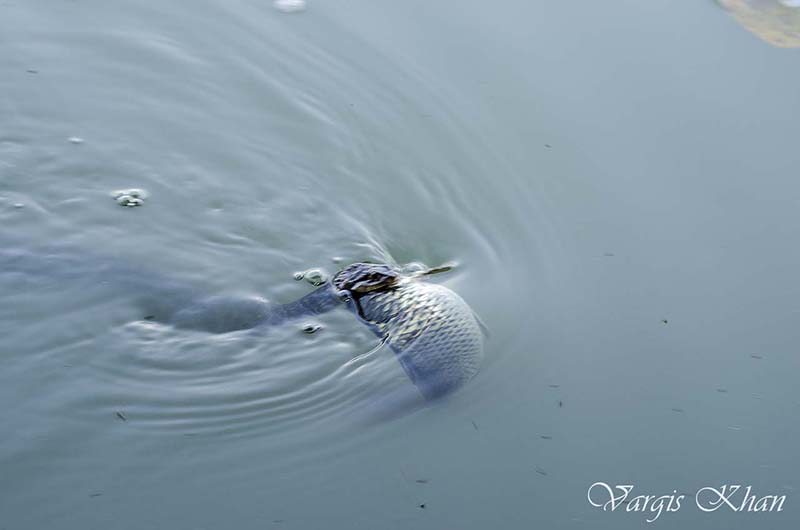 I quickly grabbed my camera and we ran closer to observe. This snake had just caught a fish in the lake after which it swam to the shore and crawled between the stones, with the fish still in its mouth. There was really not much space to hide so it had no option but to feast with our curious eyes fixated on it.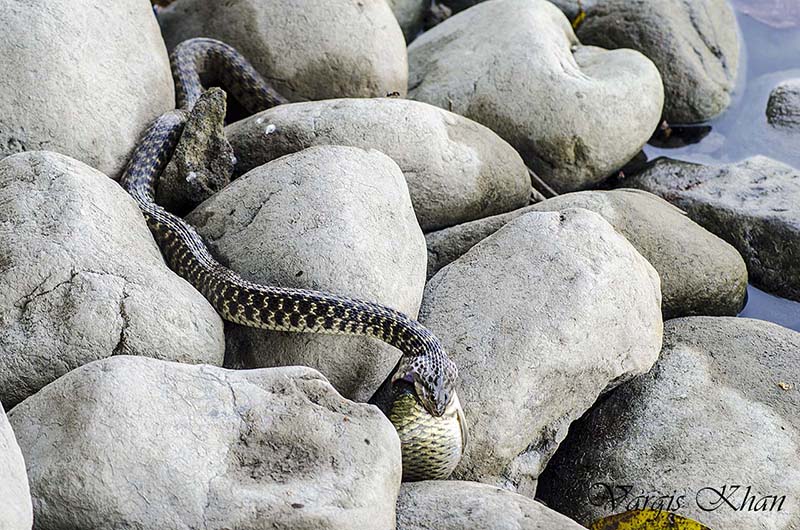 The fish was still alive and for the first 10 minutes, it continued to struggle to get out of the death's jaws and swim back in the water. Snake on the other hand just waited patiently with its fangs buried in the fish, which as you can see in the pictures, was quite big as compared to its mouth. After a little while, the fish stopped struggling as life escaped out of it which was in a way sad as well. As the scuffle of life and death ended, so started the marvel of the snake adjusting its jaws and starting to swallow the fish. The progress was painfully slow and it took almost next half an hour for it to swallow one third of the fish.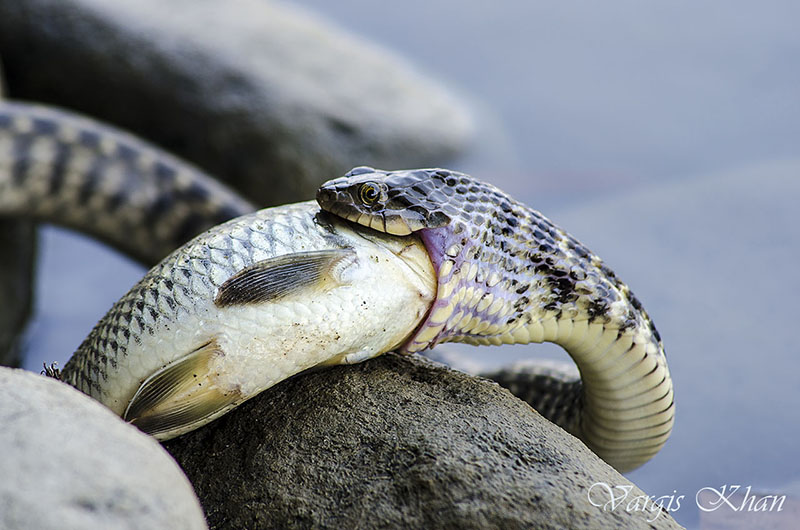 It was like watching a private show. My friend was thrilled with what was happening in front of our eyes and I was occupied with clicking as many shots as I could. Just then, the mischievous teenagers that were at some distance from us noticed us. It did not take them long to figure out that we had found something interesting; with my continuous left and right movement with a huge camera in my hands and my friend's amazed expressions. One of them lazily walked over to us and after seeing what we were seeing, he immediately called out for his friends. They ran over to us and within a couple of minutes, our private show had gone public. The poor snake who was happily enjoying his meal in solitude was now surrounded by at least 10-12 noisy people. To make the matters worse, one of the teenagers found a long stick and started to poke the snake with it. I tried to stop him the best I could but all my efforts proved futile.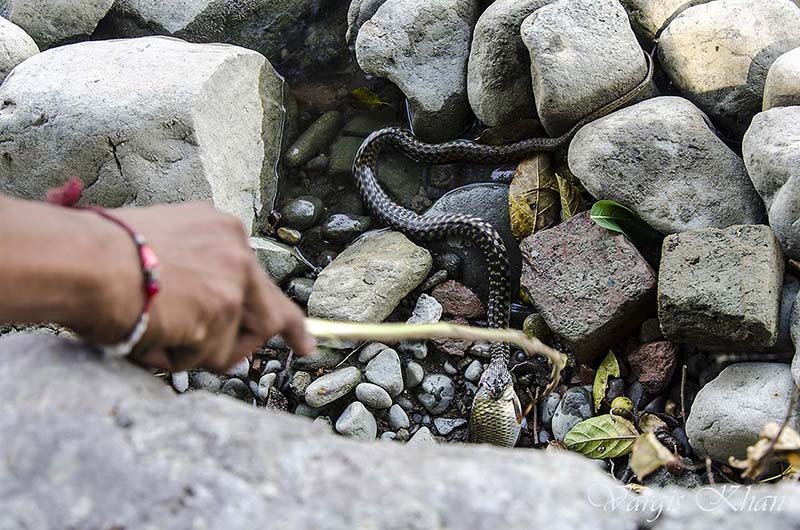 That boy tried his best to make the snake let go of the fish with continued poking but the snake too was too stubborn to let go that easy. As if this wasn't enough, in a quick move using the stick, the boy pulled the snake out of the lake on the pavement.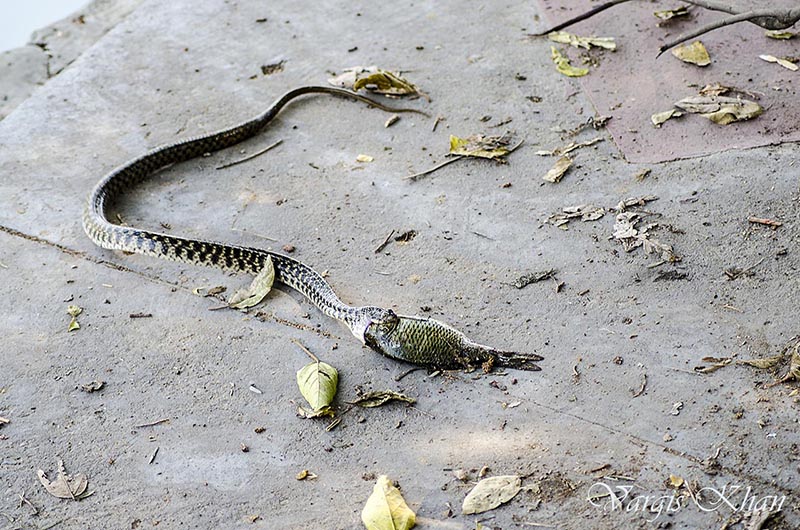 This move was immediately followed with shouts and screams as people ran in all directions trying to get away from the snake. What amazed me however was that the snake still did not let go of the fish but immediately started to crawl its way back to the lake.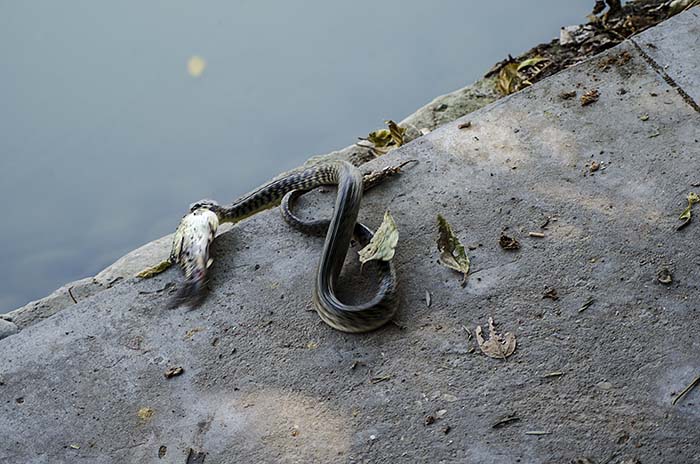 Seeing that the snake is trying to get away, the boy used the stick again and pulled it further from the lake, in the grass and so started another series of continued poking with the stick.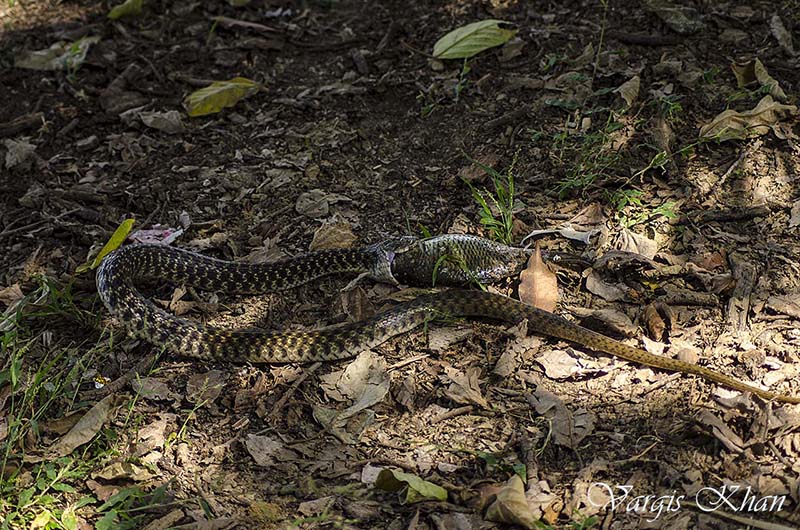 This went on for another 15 minutes after which the snake finally gave up. It let go of the fish as if saying "Ok fine, you eat it" and slithered back to the lake.
The show was over, much to my disappointment, as I really wanted to watch the snake gulp down the entire fish. Had it not been for those kids, we could have seen something that is quite rare to find. I mean how often do you get to see a snake hunt, catch a fish and then eat it?
CLICK HERE to read more.
Karna lake is a nice place for a weekend outing but not in summers. Go their in winters and I am sure you will enjoy the place. Haweli is just a couple of kilometers away so you can also have your lunch there.