A trip to Spiti Valley, beyond any doubt, is an experience of a lifetime. As you travel from either Shimla or Manali to Kaza, you not only witness landscape beautiful enough to leave you enchanted; but also an amazingly unique culture that is hard to find elsewhere in the world. Visiting Spiti valley means that you saw beautiful vistas, met hospitable and warm people, challenged yourself on some tough roads and felt the thrill of an adventure. If your trip was a bike ride to Spiti Valley, then the challenge, adventure, and thrill factors increase even more. But in order to enjoy your trip, you must ensure that you are fully prepared and have proper knowledge about the terrain.
Do you need to be an expert rider for a bike trip to Spiti Valley? The answer is no, you do not have to be a hardcore biker as such but should have decent enough experience on a motorcycle. The very fact that tourists have actually died on Spiti Circuit should give you an idea about how serious the topic is. Spiti is a barren wasteland where the availability of basic amenities is still scarce. Out here, something as simple as a flat tire is enough to ruin the day for you.
Also Read: How to Plan a Trip to Spiti Valley –  A Complete Travel Guide
A bike trip to Spiti is fun only as long as you are well prepared, know what you are getting into and are ready to handle any kind of situation. In this topic, I will share some important tips on how to plan your Spiti valley bike trip.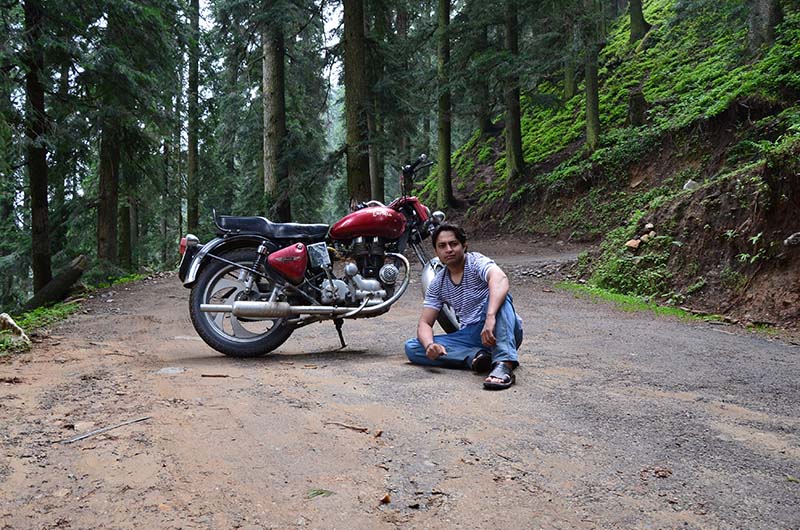 Know Yourself
This sounds very simple but is probably the most important part of a bike trip to Spiti. A lot of people attempt bike rides like this because some of their friends have done it; or they read about it on the web; or because it is a hot topic in terms of tourism these days. But you need to ask yourself, are you actually prepared for it? Do you have enough riding experience to handle tough roads and almost no roads even? Are you going to enjoy the difficult but adventurous ride? Or are you risking yourself getting hurt just to show off?
The basic rule is that you have a motorcycle and have been riding around for at least a year. You should have made at least one bike trip in the hills elsewhere and know how to maneuver the bike on steep ascents and sharp turns. If you do not, then please plan another trip to somewhere else and then attempt Spiti Valley. You do not want Spiti to be your first bike trip to the mountains.
Another factor to consider here would be Acute Mountain Sickness and your own physical health. If you are suffering from respiratory or any heart-related ailment, then it is best to give up the idea or at least consult a doctor before you go. For more details on Altitude Sickness, please read How to Handle Acute Mountain Sickness in Spiti Valley.
Know your Motorcycle
The next thing would be to know your motorcycle. By know it, I mean you should really be aware of how it performs on steep ascents; how it feels on sharp turns; at what maximum speed will it still be fully under your control; how much load can it take, how does it react to sudden brakes; the average fuel efficiency; condition of the parts; can it take a pillion; how much tilt can it take before it skids; how much weight can you put on one side without losing control;  and how long can you sit on it for long hours. If you do not know all this, then take your vehicle for a test ride and find out.
The second thing to know would be minor fixes like taking out a wheel, replacing tubes, tightening the brakes, changing headlamp, etc.  You must also carry some necessary spares because finding those is almost impossible on the circuit. You may be able to find a mechanic but if you do not have a spare part, then it is of no use. For more information on how to get your bike ready and a list of parts to carry, please read How to Prepare your Motorcycle for Spiti Valley.
Know the Route
The next step while preparing for a Bike Ride to Spiti Valley would be to know the route well. You should be well aware of the towns on the way, where can you stay for the night, where can you find a mechanic, petrol pumps, and condition of the road, where can you find a hospital and what to watch out for. A well laid out itinerary can be a real lifesaver. Do not just start and decide while on the way. You should know where your next destination is and how long will it take to get you there.
You do not need to book hotels in advance and can easily find one on the spot unless you were riding during the peak tourist season. For more details on all these points, I will recommend that you take a look at How to Plan a Trip to Spiti Valley.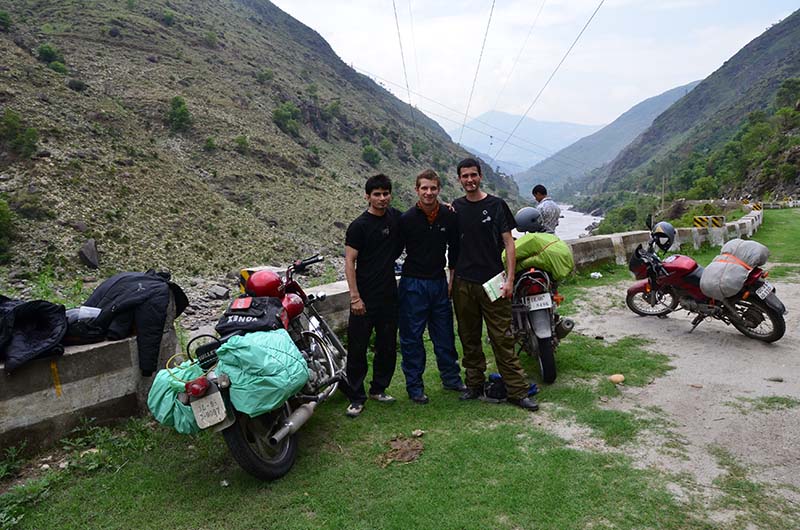 Know the Weather
This is of extreme importance. You must first find out how the weather was trending before you leave home for Spiti. This will apply more during the monsoon season and in winters. Incessant rains and resulting landslides in the months of July and August is a common sight. The entire sections of roads sometimes get washed away and can pose a serious threat. At the least, it will leave you stuck and stranded until the road is restored.
Even if it did not get that extreme, riding with the rain beating down on your helmet is no fun. So please find out how the monsoon was trending in the Kinnaur area.
The maximum time when tourists get stuck in Spiti and then have to be rescued is either late in the season or early; the months of either October / November or March. For a trip in these months, find out how the weather was before you leave.
Also Read: What Kind of Clothes should you Pack for Spiti Valley?
Go via Shimla
This really cannot be stressed upon enough. Unless you are very short on time and cannot do the entire circuit, the best way to enjoy a Bike Ride to Spiti Valley is to start from Shimla and end at Manali. You will be able to acclimatize better, save the hassle of Rohtang Permit and have a few days of riding practice in the hills before you hit the really bad roads.
Don't ask me how but vistas too seem a little better this way. Since it is Spiti that you are targeting and want to see, you should save that for the last. The entire itinerary too gets planned better and in a seamless way if your starting point was Shimla.
Also Read: Why you should travel to Spiti via Shimla
Stay Alert
There are several stretches on the circuit where you will have to be really very careful. These are called the shooting stones areas. The good part is that all these posts are marked by BRO. So wherever you see a board that reads shooting stones, pass through very carefully and do not stop. The worst of such stretches are right before Chitkul and then after Reckong Peo.
In 2019, two bikers were killed on the spot near Reckong Peo when huge stones fell on them and their bikes as they were riding through a shooting stone area. So please be extremely careful.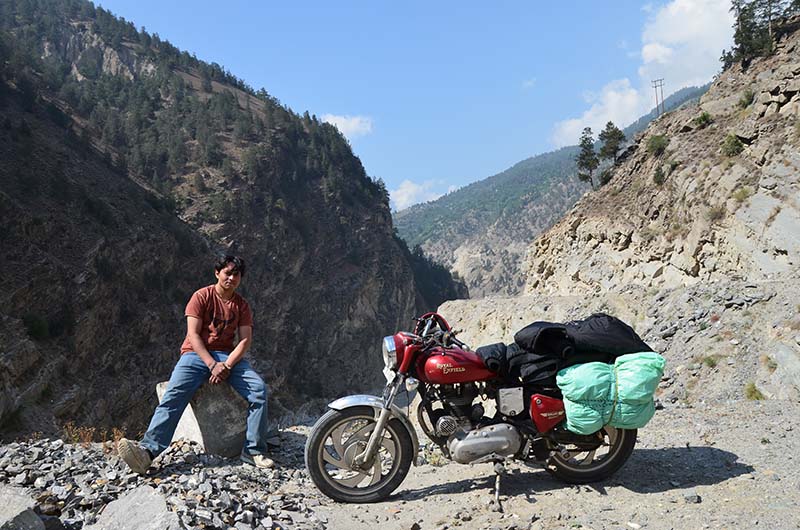 Follow the Rules
You may break the traffic rules in the city every once in a while and get away with it but it is not something you can afford to do in the hills. The thing is that out here, there are not going to be any traffic cops or cameras monitoring you. It would have to be you monitoring yourself and must ride sensibly.
Just be aware of your surroundings. Let the climbing vehicle pass first, especially on narrow roads. Never overtake on a curve and always blow the horn at one. Never be in a hurry to overtake. Blow the horn and give other vehicles some time to allow you to pass. There absolutely cannot be any speeding at all and do your best to avoid riding after dark. And of course, do not drink and drive.
Keep your eyes on the road and never lose focus. If you want to enjoy a view, stop and take a break.
Be Patient
On areas that were too narrow for two vehicles to pass, keep an eye out for vehicles that were coming from the other direction. This will apply on roads like the Chandratal stretch where at some places, not even a car and a bike can pass, picture below. If you see a vehicle coming from the opposite direction and found a spot broad enough to pass, please stop and let the other vehicle arrive.
Also Read: How to Plan a Trip to Chandratal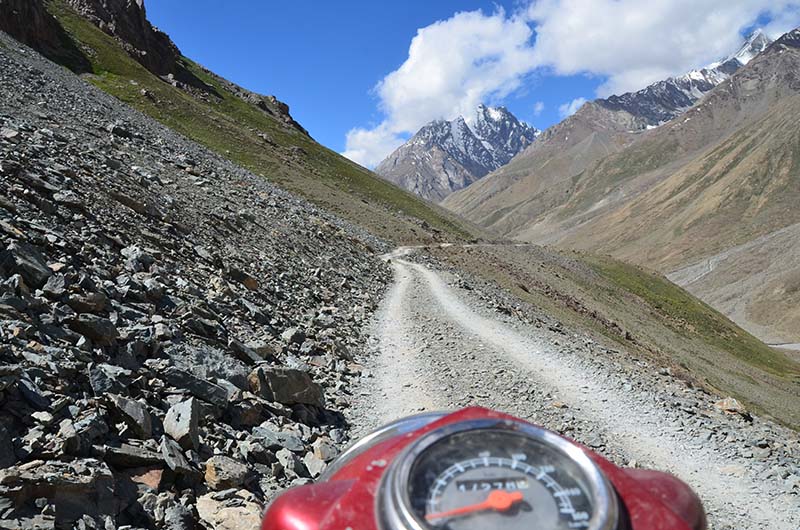 This will also apply to areas with sharp blind turns, like Jeori to Sarahan, Reckong Peo to Kalpa, Ka loops before Nako, and the roads around Kunzum Pass and Rohtang Pass. Just keep an eye out and be aware of what vehicle was coming from the opposite direction. This will avoid any sudden surprises at a blind turn.
Black Ice
This will be more applicable if you were planning a Bike Ride to Spiti Valley late in the season, after September 15th; or if you were going in winters; or early in the season like March or April. What is black ice? It is a thin layer of ice that forms overnight on roads and remains invisible to the naked eye. If you were to encounter one at a great speed, you will definitely end up skidding and falling.
The best way to encounter it is to start a bit late in the day. Wait for the sun to come up first so that the black ice would melt away. If you could not wait and must start early, then ride slowly and carefully for the first few hours until it warms up a bit. Even then, there is a chance of black ice in shadow areas or spots that are protected from the sun and heat.
Also Read: Spiti Valley in Winters – How to Plan your Ride
Don't Push It
Be patient and do not try to push yourself or your motorcycle. Plan an itinerary that is comfortable and convenient for you and your machine both. Start early in the day and keep a track of how much distance has been covered. If for any reason you were not able to make it to your destination for the day, do not try to push it after dark. Find the nearest place where you can get accommodation and call it a day.
If you weren't feeling too well, add a day to your plan and rest before moving on. If your motorcycle is refusing to climb a certain ascent, do not force it and continue accelerating. That will only make things worse. Ask your pillion to get off and see if you can take some load off. There was one instance when I actually walked with my Pulsar on an ascent because she was refusing to climb with me on it.
Also Read: How to Ride to Spiti on a Smaller engine Motorcycle or Scooter
Braking
Now let us talk a little about how you should be handling your motorcycle during the Bike Ride to Spiti Valley. Braking will definitely be the most important part of it. In the hills, you will either be going upwards or downwards. Going upwards is actually a little easier than going down. All that you need to do is stop accelerating and the bike will stop. Rear braking is what you should be relying upon when riding up.
But while going down, the entire weight of will shift on the front wheel and rear braking will become less efficient. A lot of people tend to overuse the front brake while riding down which can actually prove to be a mistake. A wise thing to do would be to use engine braking and apply front and rear brakes both at the same time.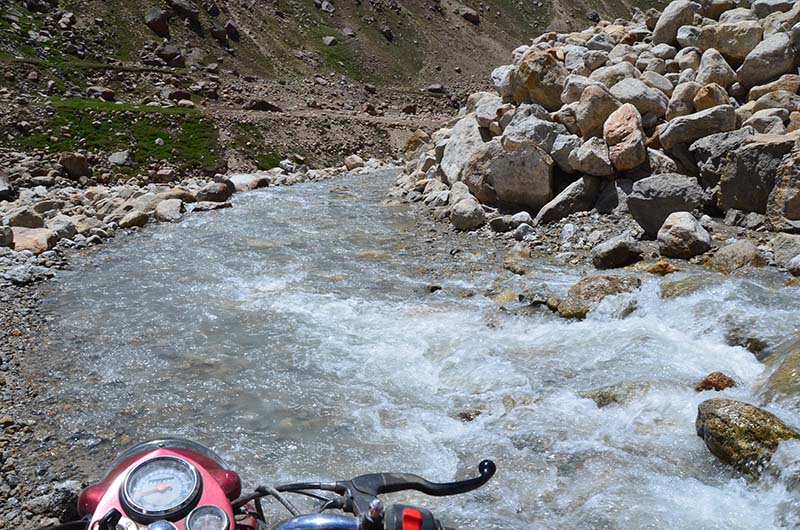 Parking
Sounds easy enough, correct? You will actually have to be very careful in terms of where you park or stop as well. The first rule is to not park at a turn where your bike will be a problem for the passing traffic. Do not stop at narrow roads either because even then, your bike will be blocking the road. Find a wide enough spot and stop there.
Try not to park with the front of the bike pointing downward. It can first result in your bike falling. Second, it will also become a problem when you have to mount the bike and start riding again. Try to find a place that is a little plain and not a steep incline. Most important of all, do not stop or park in a shooting stone area.
Also read: Places Less Visited in Himachal
Stay in your lane
The mountain roads are rarely marked or divided into lanes. There will not be any dividers or markings anywhere. In a situation like this, it will be your responsibility to stay on your side of the road and ride sensibly. It becomes a problem at turns especially when riders take a wide turn and end up in another lane right in front of an oncoming vehicle.
Ride slowly in a lower gear and stay on our side of the road. And the low gear will apply both whiles going up and down. If you were riding upwards, it will ensure that you have maximum power at your disposal. While going down, it will help you with engine braking.
Engine Braking
Now let us talk a little about what engine braking is. It is when you are riding downward in a lower gear without pulling the clutch and letting the engine run. How does this help? Well, first of all, it will prevent you from speeding while going down. Secondly, it will prevent you from relying entirely on the brakes and use them excessively, which in turn will result in the brakes heating up. Third, your entire braking and stopping will be a lot smoother.
The rule of the thumb is to never ride down in neutral. A lot of people do this thinking that they are saving fuel after switching off the bikes. This is not a good practice and can result in you losing control of the bike.
Clutch
Do not engage clutch if your bike stalled while going uphill. Let it stay in gear and apply the rear brake even if it meant letting the engine stall out. Engaging the clutch will just have you start rolling backward and fall eventually.
Also Read: How to Plan a Trip to Sarahan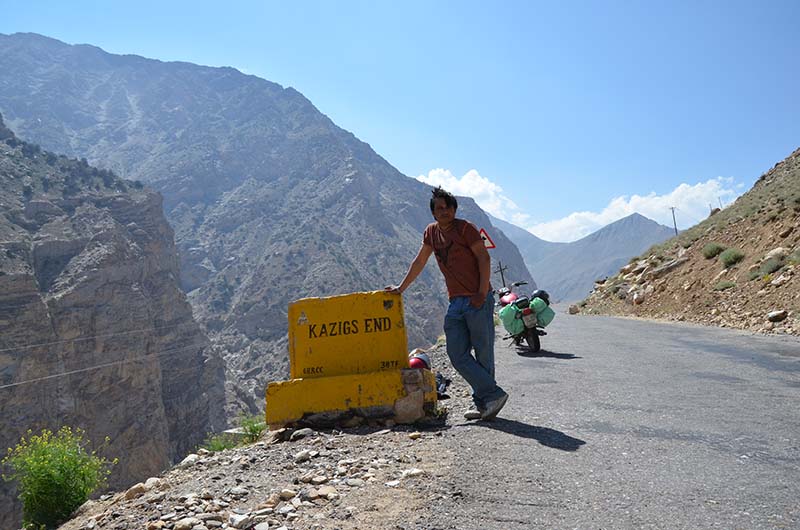 Relax, Do not Panic and Enjoy the Ride
A bike ride to Spiti Valley is supposed to be fun and not something too hectic. Riding for long hours every day is eventually going to take a toll and stress you out. So do not just keep riding all day long and push yourself and the motorcycle too hard.
Take plenty of breaks, click photographs and ride in a relaxed manner. If you were trying to hurry up, you will ignore all of the above things that I mentioned above which can prove to be disastrous. Avoid excessive speeds, especially on unfamiliar roads. Do not drink and drive. Stop and relax regularly at proper pull-out locations to enjoy the scenery, recharge yourself; and also to give your body a breather from the saddle.
Best Bike for Spiti Trip
There is really no best bike for Spiti as such. People have done the trip even on scooters and 100 CC bike easily. All that you need to make sure is that your bike is well serviced, well maintained and ready to take on the tough journey ahead. A bigger engine bike like RE 350 CC or 500CC will definitely have an added advantage but is not absolutely mandatory. For more details on this topic, please read Which is the Best Bike for Spiti Valley.
Spiti Valley Roads
Now to summarize it all, below is some information in regards to the roads you will be riding upon.
Delhi to Shimla – Smooth
Shimla to Rampur – Smooth
Rampur to Jeori – Average
Jeori to Sarahan – Narrow roads and very steep. Will have your heart jumping to your mouth at several places. Ride carefully.
Sarahan to Karchham – Mix of good and bad
Karchham to Chitkul – Average but narrow road. Steep climb and hairpin bends. Just before Chitkul, there is a shooting stone area. Be careful.
Karchham to Reckong Peo to Kalpa – Steep climb, hairpin bends, narrow road and average in condition.
Reckong Peo to Nako – Just after Reckong Peo starts a shooting stone area that lasts for several kilometers. Be careful while riding and stay alert. Stop only if absolutely necessary and after inspecting the area carefully. Hairpin bends just before Nako.
Nako to Kaza – Mix of good and bad. Steep downhill after Nako. Narrow road.
Kaza to Chandratal – Extremely bad, narrow, broken, water crossings, slush, boulders. Kunzum Pass to Chandratal is barely wide enough for one car and will give you the thrill of your life.
Chandratal to Manali – Possibly the worst ever road you have ever been on. I once counted as many as 40 water crossings in 60 kilometers. Ride very carefully.
Bike Ride to Spiti Valley – Conclusion
That mostly covers all that you need to know about a bike ride to Spiti Valley. I hope the information above was of help. If you have any questions; or need any other details; please feel free to ask in the comments section below; or at our Community Forum; and I will be glad to answer.