What would it feel like to be up close to the world's tallest mountain? To see the sun's rays light up its craggy edges? Wouldn't it be a moment you consider as an achievement for a lifetime? No matter where you go, this adventure would stand out as a solid bucket list item ticked off. But anyone who considers Everest Base Camp trek seriously will encounter a few queries; such as am I fit enough to do it? How costly will it be? Is it too dangerous? How many days do I need to complete this trek? Can I do it solo or would I need a porter and a guide?
Obviously, the list goes on but with this travel guide, I hope to address all such curiosities. I recently completed this trek myself so this travel guide is also a travelogue completely based on my own experience. How do you prepare for trekking to Everest Base Camp is really a vast topic so I will be breaking this information in a series of articles. I will run through each aspect of the trek and cover it in a comprehensive manner; including details on my own journey and also things that I would have done differently if I had prior knowledge.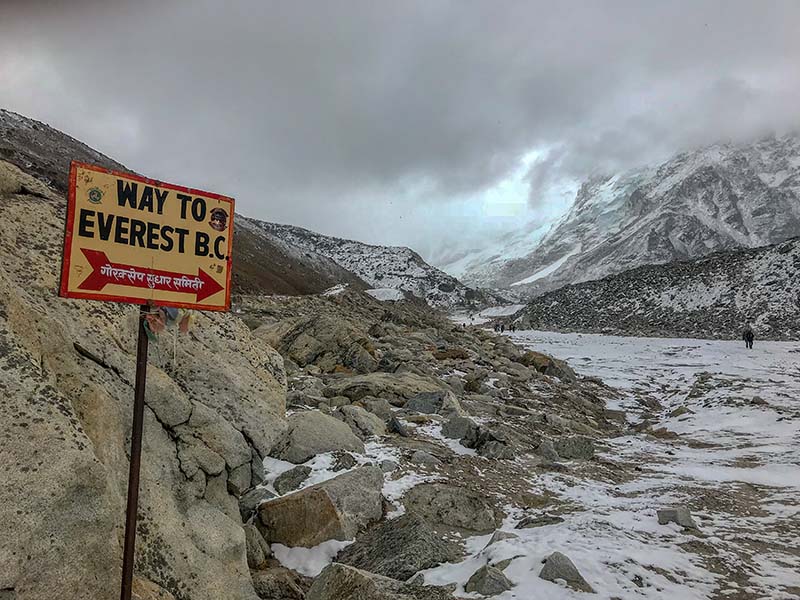 The image above is of Gorakshep (also spelled as Gorak shep) which is the last stop before Everest Base Camp. This entire region, in fact, is a frozen lake-bed covered with sand. At an altitude of 5,164 meters(16,942 ft), this small settlement serves as a much-needed stop for trekkers going towards Everest Base Camp.
Everest Base Camp Trek – An Introduction
When we say Everest Base Camp, we are really talking about two camps and not just one. Mt.Everest, at an altitude of 8,848meters / 29,029ft, is on the Nepal – China border. The boundary between the two nations passes through the summit and hence, the mountain has two base camps, north and south. The North Base Camp is in Tibet at an altitude of 5,150 meters (16,900 ft); and the South Base Camp is in Nepal at 5,364 meters (17,598 ft).
Both of these camps are very basic campsites that get used by mountain climbers during their ascent and descent while climbing Mount Everest; either via southeast ridge or the northeast ridge. The north camp can even be accessed by vehicles (at least in the summer months), unlike its equal down south. The South Base camp is deep within the Sagarmatha National Park of Solukhumbu district in Nepal. There is no vehicular access here. One has to either fly in (helicopter) or trek all the way.  Supplies are brought to the camp by Sherpas or porters with the help of animals, which usually are yaks.
For all intentions and purposes, henceforth, "Everest Base Camp (EBC) trek" refers to a two-week journey from the hustle and bustle of Kathmandu (1,400 meters/4,600ft) all the way up to the South Base Camp of Mt. Everest (5,365m/17,600ft) including the climb to Kalapathar peak (5,545m/18,192ft) to view the tallest mountain in the world up close and of course, the journey back down to Kathmandu.
The image below is en route a climb to Kalapathar peak, as the sun comes up behind Mt.Everest.

Why you Should Trek to Everest Base Camp
Trekking to Everest Base Camp is by no means a walk in the park. It is not impossible either. It is a fortnight of you away from your comfort zone. This is not your average fun trip with friends where you party it up. This is more of you exploring yourself in the company of Himalayan giants. It is a perfect time to start or quit certain habits and addictions. Do you want to stay off social media for two weeks? Have you been thinking about quitting to smoke? Do you want to meditate or reflect? I doubt anything else could be a better choice as the daily rigors of this trek and the absolutely stunning views keep your mind always full and you, always blown away.
This trek is the pinnacle of Himalayan majesty; and the best way to experience it is to walk among nature and observe the changes in the environment in a phased manner. Picture this; you land in a crowded city (Kathmandu), you fly to Lukla, and you enter the peace and quiet Sherpa country. You see lush greenery; and you leave the tree line at Namche. You walk through rhododendrons; you see peaks that touch the sky as you are transported to the alpine world of rocks, snow, and ice. All along you hear the wind, you hear the calming yak bells and of course your breath. For me, this was no less than meditation.
Mt.Ama Dablam – the most beautiful companion from the day you leave Namche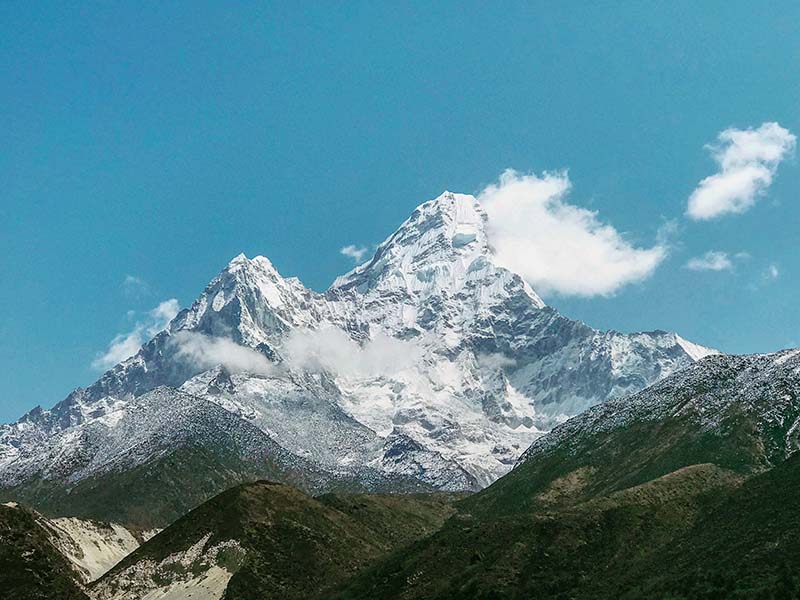 How to Plan a Trek to Everest Base Camp
In a nutshell, you land at Kathmandu, take a flight to Lukla, from where you walk all the way to EBC taking 9 -10 days up and 3 days back down including acclimatization days at Namche and Dingboche. But before we proceed to the day to day account of the actual trek there are certain logistical details that need attention. These details, if taken care of, will ensure that your trek becomes easier, safer and you'll know what to expect at each leg of your journey.
In the next series of articles, following are some of the topics that I will be covering.
Booking your flights/guide and porter/travel agencies
Can it be done by yourself
Expenses
Connectivity and network
What to eat/avoid
Travel Insurance/Emergency Medical care
Once we cover these, we will move on to the actual travelogue of trekking to EBC. I shall also include alternative routes/detours as well as options for people who do not have more than a week, to just see Mt.Everest from far and return rather than completing the whole circuit. Please click on the link below to take you to the next part of this article detailing on how to prepare yourself for EBC Trek.
Continue Reading: How to Prepare for Everest Base Camp Trek
Conclusion
In the next part of this series, I will continue sharing my knowledge about how you can best prepare to undertake the exciting and thrilling task of completing the Everest Base Camp Trek. If you have any questions; or need any other details; please feel free to ask in the comments section below; or at our Community Forum; and I will be glad to answer.