If you think about it, there is really no definite answer to the question of the best time to visit Gangotri and Gaumukh. Why? Because it will be different for everyone. And it is not just about Gangotri but other places as well. When to go to a certain place will entirely depend upon your reason to visit.
In the case of Gangotri, the tourist crowd here is majorly a mix of devotees and adventure seekers. So when should you plan your trip will entirely depend on which category do you fall in, your preference of the kind of trip, your mode of travel, and the weather of Gangotri.
With that being said, there is a certain time of the year when every tourist destination receives the majority of its share of tourists. In the case of Gangotri, this time falls between April to June. But will that time suit you as well? Read on to find out.
Please note that in this post, I will only be discussing the best time to visit Gangotri and Gaumukh. For other details like how to reach, where to stay, and what to see, please take a look at How to Plan a Trip to Gangotri – A Complete Travel Guide.
About Gangotri
For a brief Introduction, Gangotri is a town in Uttarkashi district in the state of Uttarakhand. At an altitude of 3,100 meters, it is a major Hindu pilgrim site. It is located on the banks of the river Bhagirathi and is known as the origin point of the River Ganges.
According to Hindu mythology, it was here that Goddess Ganga descended when Lord Shiva released the mighty river from the locks of his hair. The entire town and the local life are centered around the Gangotri temple, originally built by the Nepalese general Amar Singh Thapa in the nineteenth century.
Image: By Dhwani Shree
I will begin by first talking about the weather of Gangotri, the best time to visit here, followed by a brief summary of how the temperature here trends each month.
Weather of Gangotri
The weather of Gangotri remains pleasant for most of the year but also fluctuates between extreme cold to moderately warm. During the months of January, February, and March, the entire region receives heavy snowfall and the temperature remains close to 0 degrees even during the day. At this time, Gangotri temple remains closed and even the hotels here shut down for a few months as the locals move to lower areas to survive the harsh winter.
Spring arrives in April and both the town and the temple get reopened to receive tourists and devotees. During April and in the following months of May and June, the weather remains very enjoyable. Nights will still be cold but days will be clear and sunny.
It starts to rain here towards the end of June and the next two months are the wettest time of the year. Gangotri receives heavy rainfall each year and it can sometimes rain non-stop for days. The weather during the season of Monsoon can turn really extreme and the 2013 floods of Kedarnath are proof of the same. Landslides and roadblocks become a common sight in the months of July and August.
Monsoon leaves by late August. September is one of the pleasant months of the year. The scenery at this time is at its best with pleasing lush green vistas all around.
Autumn arrives in October and all that was green in September turns golden orange. It really is a magical time for photography enthusiasts. Cold again starts to settle in by the end of October and the temple shuts down in November with the arrival of winter. It can snow here anytime in December and people start to leave before the roads get blocked due to snowfall.
Also Read: 12 Scenic and Offbeat Places in Uttarakhand
When is the Best time to Visit Gangotri?
Now based on the information above, I think it is safe to assume that the months of April, May, and June are the best time to visit Gangotri. Summer starts in Gangotri towards the end of April but summer here is way different than that of the plains. As a matter of fact, summer in Gangotri is equivalent to Spring in the northern plains.
The maximum recorded temperature in Gangotri in May or June is 20 Degrees Celsius making it a perfect time to be in this tiny hamlet. With summer vacations on in the schools, this is also a good time to bring your family along.
Monsoon season is generally considered to be a bad time to visit primarily for 2 reasons. One is the incessant rains that this region receives. If visiting in June or July, you may be forced to remain indoors in your hotel if the rain did not stop.
The second reason is Kanwar Yatra which usually happens in July or August. At this time, not just Gangotri, but the entire stretch from Haridwar to Gangotri gets crowded with Kanwariyas. So, if you are planning a bike ride, or wanted to go camping, or do not like crowded places, then you should skip July and August.
For someone with an interest in photography, the months of April, September, and October will be best.  You should avoid May, June, and November because the scenery in these months gets a bit dull and dry.
The town remains closed between December to March so you cannot visit here in these months anyway. If cold is not your cup of tea, then you should avoid October as well. If you want to see lush green valleys and ready to take the risk, you should visit in July or August.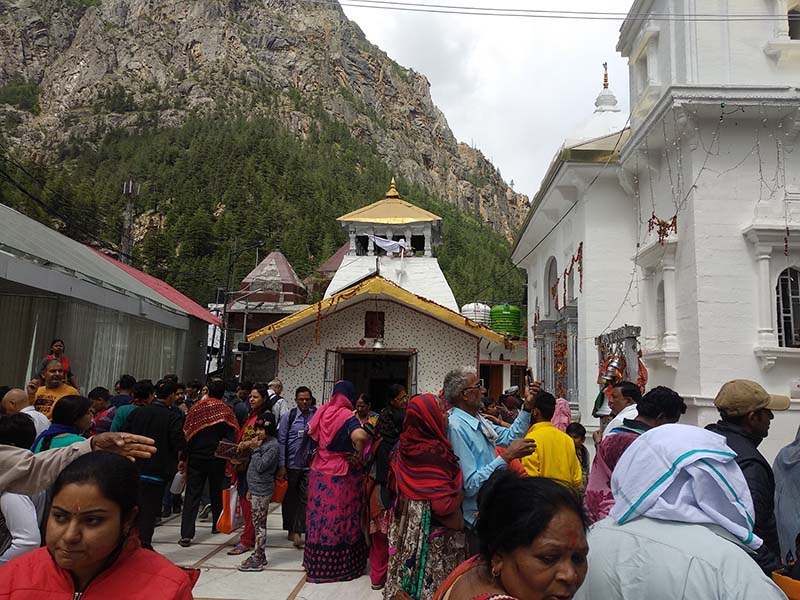 Temperature in Gangotri
The average maximum temperature in Gangotri is around 15° Celsius maximum and 2° Celsius minimum. But this is just an average digit and will fluctuate highly between different times of the year and night and day. Let me break it down month by month for a better understanding.
Gangotri in January
The entire region remains buried under a thick sheet of snow. Gangotri turns into a ghost town at this time with no one around. The temple is closed for the season and due to the inhospitable weather conditions, locals too move to lower areas for the winter.
You cannot reach Gangotri at this time and even if you somehow managed to, there will be no place to stay anywhere. The average temperature at this time will remain around 0 Degrees Celsius during the day and subzero during the night.
Also Read: 7 Short & Easy Winter Treks in Uttarakhand
Gangotri in February
Weather conditions in February remain the same as those in January. Even if there was the sun in the sky, the temperature will still remain below zero. The situation at night will get even worse. In these months, the best you can do is to arrive until Harsil but not beyond that. Even the drive to Harsil will depend on the weather conditions.
Gangotri in March
Winter starts to recede in March and the average temperature rises slightly. It can still snow here anytime in March as well and the area remains closed for tourists and devotees both. Work for the opening of the road and the temple starts in March.
Gangotri in April
The average temperature in April remains between 5 to 7 Degrees Celsius. The road to Gangotri is freed of snow and tourists start to arrive. Days will be moderately warm but nights will still be very cold. Though the town is open in April, the temple will remain closed still.
Gangotri in May
The temple is declared open for pilgrims in May due to which it can get a little crowded at this time. The average temperature at this time ranges between 10 to 12 Degrees Celsius.
Gangotri in June
The temperature continues to rise and reaches an average of 17 to 20 Degrees Celsius in June. Because of favorable weather conditions, this is the best time to trek to Gaumukh and see the Gangotri Glacier and the origin point of the River Ganga.
Gangotri in July
Monsoon arrives in July and the region gets engulfed in torrential rain at this time. The average temperature will remain between 10 to 20 Degrees Celsius at this time. You should check the weather forecast before traveling this month.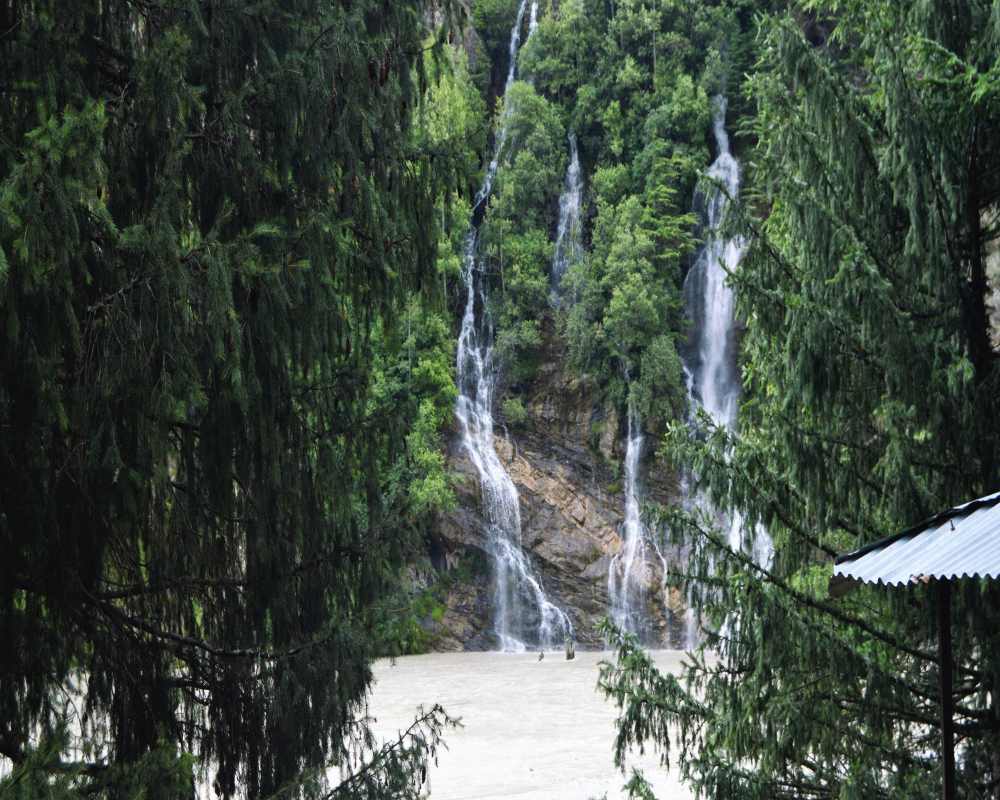 Gangotri in August
Traveling at this time is not advised as the region becomes prone to landslides due to all the rains since July. The weather at this time remains pleasant though with chances of occasional and unexpected rainfall. The temperature will range from 10 to 20 Degrees Celsius. You should check the weather forecast before traveling this month.
Gangotri in September
The days in the month of September are pleasantly cold but nights will feel much worse. The temperature starts to dip at this time and will go down to a maximum of 10 Degrees during the day and a minimum of around 5 degrees at night. There could be some post-monsoon rainfall in September but that happens only occasionally.
Gangotri in October
Winter starts to settle in by October and the average temperature dips down to around 5 to 7 degrees. Nights, however, will be even colder. This is a good month for some outdoor activities but not a good time to visit if you cannot face some really cold weather.
Also Read: List of Necessary Items to Carry for Trekking
Gangotri in November
The temple is declared closed for the year and the average temperature drops down even further to around 2 to 3 Degrees Celsius. Hotels too close down in November and there would hardly be anyone around.
Gangotri in December
The town gets deserted again and buried under snow. The temperatures drop down to zero and subzero levels making a trip to Gangotri impossible due to the inhospitable weather conditions.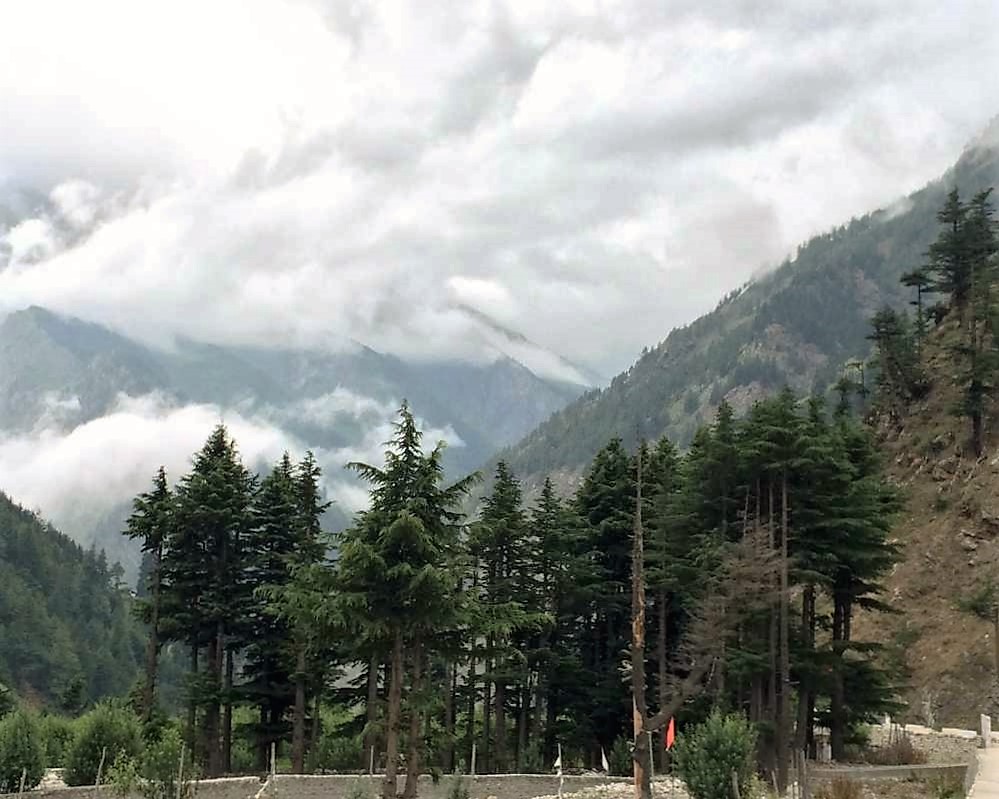 Clothes to Pack for Gangotri Trip
What clothes to pack for Gangotri will depend on the month you arrived. From November to March you cannot reach Gangotri at all. For traveling in April and October, you should pack heavy woolens and a warm windproof jacket.
Ensure that your jacket also has a hood to protect your head and face. Thermals too will be required at this time, especially for the lower part of the body (something that you can wear under your trousers).
Warms Gloves and socks will also be a must for a trip in these months. For traveling in May, June, and September, pack some light woolens and a heavy windproof jacket.
If you were visiting in July or August, you should bring clothes that can dry faster; like polyester. Irrespective of the time of your travel, gloves, warm socks, caps, and a heavy jacket will be a must.
When to visit Gangotri
So in order to summarize it in the end,
Best time to visit Gangotri: April, May, June; and September
Best time to visit Gangotri Glacier: May and June
Best time to visit Gangotri Temple: May, June; and September
Best time to visit Gangotri and Gaumukh: May and June
Best time to visit Gangotri National Park: May, June; and September
Best time for a camping trip to Gangotri: May and June
Best time to visit Gangotri and enjoy some rafting as well: April and May
Conclusion
I hope the information above on the best time to visit Gangotri was of help. It is truly a charming place that serves a wide range of visitors. If you have any questions; or need any other details; please feel free to ask in the comments section below, or at our Community Forum, and I will be glad to answer.