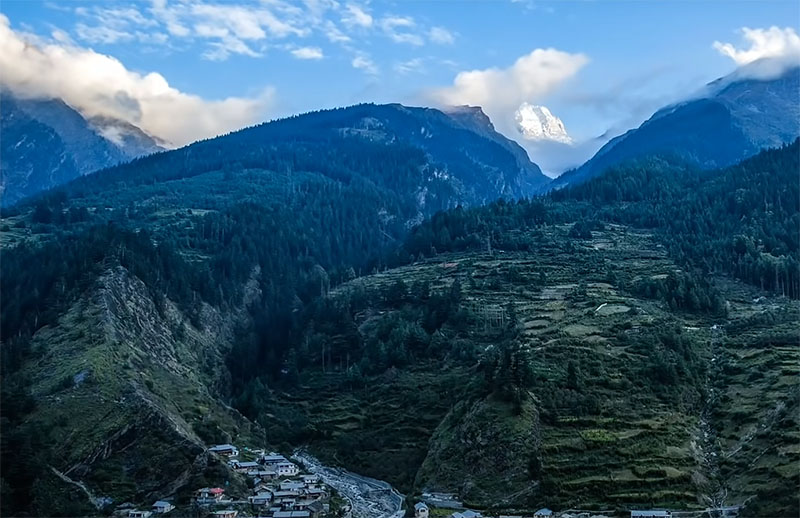 Not only Harsil Valley but the best time to visit any tourist destination will be different for everyone. When to go really depends on what you seek. Some other factors like budget, weather, mode of commute play an important role as well. Usually, it is the month of May and June that is considered as the best time to visit Harsil. But will it suit you as well? Read on to find out.
This tiny hamlet is located on the way to Gangotri which means that Harsil remains accessible for most of the year. The only time you may not get here is if there was a lot of rain and the roads were blocked due to landslides. In winter, the same situation could be caused by snowfall. But other than that, it is on a busy pilgrimage route and should not be difficult to reach.
Please note that in this article, I will only discuss the weather conditions and the best time to visit Harsil. For details like how to reach, where to stay, and what to do, please read A Complete Travel Guide & Itinerary to Harsil.
About Harsil
Harsil is also known as Harsil Valley. It is located on the banks of the Bhagirathi River, on the way to Gangotri, at an altitude of 9,005 ft (2,745 meters). The place is best known for its apple production and natural beauty due to which it also earned the nickname of 'Mini Switzerland of India'.
But that nickname has been given to numerous other places in both Himachal, Uttarakhand, and even Kashmir. What is more interesting is how the place was named so.
Also Read: Gangotri and Gaumukh – How to Best Plan your Journey
It is said that Harsil's real name is Harishila. As per the local legend, rivers Bhagirathi and the Jalandhari once had an argument about who was more significant. When the argument could not reach a conclusion, they asked Lord Vishnu to intervene and give his opinion.
Avoiding taking sides, Lord Vishnu instead turned himself into a large stone and absorbed their anger.
And that is how the valley was named Hari-Shila; Hari being another name for Lord Vishnu and Shila meaning stone. Even today, once both these rivers pass through Harsil Valley, their waters become less turbulent and more peaceful.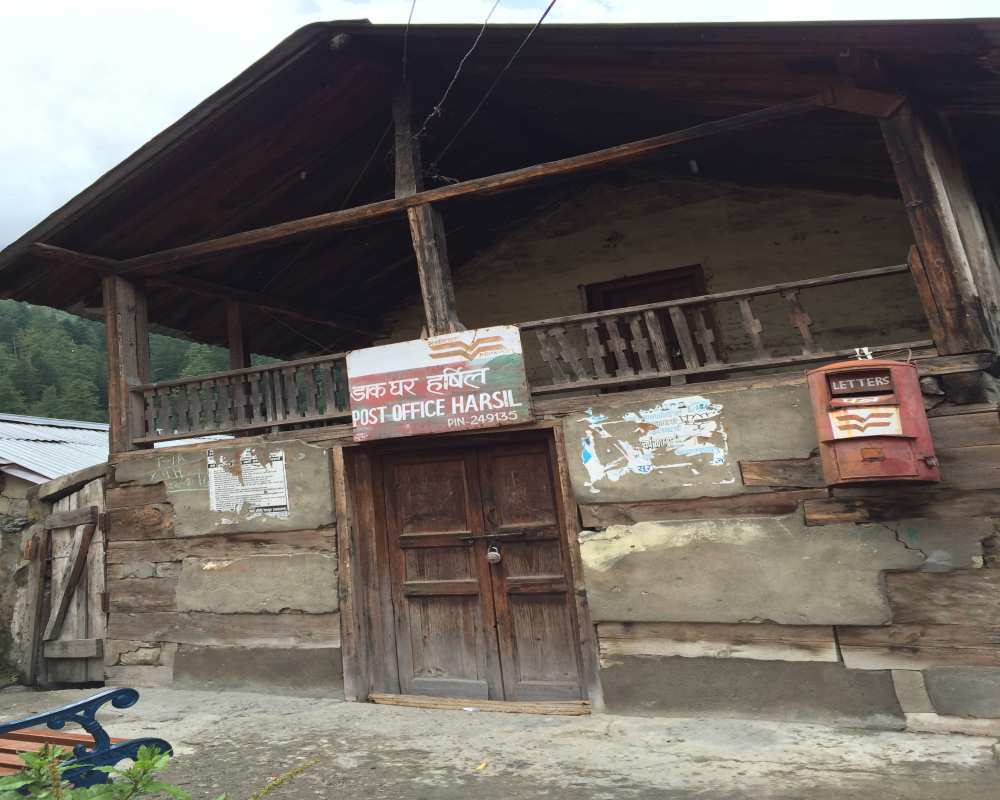 Best Time to Visit Harsil
The majority of tourism in Harsil happens in the months of April to June. This is when the weather here is at its best. Days will be moderately warm and nights pleasantly cool. The road will remain open and if you went all the way to Gangotri, you may even find some snow.
Weather of Harsil
Due to its high altitude, the weather of Harsil remains cold throughout the year. The only change in the weather is in terms of 'How Cold'. During the summer season, the average temperature is around 10° – 12° Celsius. During the winter season, it drops down to an average of 0° Celsius. However, at night, it can even fall down to -5°C or lower.
Below is a month-by-month breakdown of how the weather and tourism in Harsil trends in the year.
Harsil in January
January is when the entire region remains buried under a thick sheet of snow. It can snow anywhere and anytime. If the weather turned extreme, the roads may even get blocked, leaving you stranded. Gangotri gets closed as well. The average temperature at this time will remain around -2°C minimum and 10°C maximum.
It is a good time to go if snow was on your mind. The entire valley turns white and becomes a winter wonderland. I will strongly recommend inquiring about the weather conditions and the road before you leave home for Harsil.
Harsil in February
The temperature in February improves slightly, averaging at 2°C minimum and 12°C maximum. Chances of snowfall will still remain but the frequency and intensity will decrease a little. The weather at this time mostly remains calm and pleasant. If you were traveling in the early part of the month, you may witness snowfall as well.
Also Read: Gaumukh Trek from Gangotri – A Complete Travel Guide
Harsil in March
The weather continues to get warmer with the arrival of March. The average temperature will go up to 5°C minimum and 15°C maximum. The snow in the upper regions will start melting and you may even be able to go all the way to Gangotri. Nights will still be terribly cold but days will be warm and sunny with clear skies.
Harsil in April
April is when the weather turns really pleasant. Spring seasons arrive in the valley and the average temperature rises up further to 10°C minimum and 20°C maximum. Gangotri too starts to prepare to open.
It is a great time for trekking, camping, and other outdoor activities. Days will be warm and sunny but nights will still get a little cold. You will need to bring in a few light woolens for morning and evenings but during the day, you can easily walk around in regular cotton clothes.
Harsil in May
May is the peak tourist season in the valley. The temperature ranges between 10°C minimum and 25°C maximum, making it a great time to plan a family trip. In fact, with summer vacations on in the school, you will find a lot of families in Harsil Valley at this time. The entire Rishikesh to Gangotri route remains open at this time so depending on the time you have in hand, you will also be able to cover other tourist attractions en route.
Harsil in June
June is another great month to visit Harsil. The weather will mostly be dry and pleasantly cold with temperatures ranging between 10°C minimum and 25°C maximum. It is a great time to go trekking and the most popular one is the Gaumukh Trek from Gangotri. There could be some pre-monsoon showers towards the end of the month.
Harsil in July
Two things happen in the month of July. The first is that the monsoon season arrives early in the month and the second is that the Kawad Yatra begins towards the end. July is not really a good time for tourists but if you must, then plan your trip in the early part of the month. It is also the warmest month of the year with an average temperature of 13°C minimum and 28°C maximum.
Harsil in August
August is probably the worst month to plan a trip on this route. There will be a lot of Kawad Traffic and the incessant rains will only make things much more difficult. August is when the maximum number of landslides occur in this region. If the weather turned extreme, you may even end up getting stuck for days. The average temperature will range between 10°C minimum and 22°C maximum.
Harsil in September
This is my favorite time to plan a trip to Harsil. Kawad Yatra would have ended so there won't be any traffic. Monsoon would have departed but left behind plenty of greenery for you to enjoy. The hills and the valley would seem like it has just been washed clean and covered with a carpet of green. The views you will get at this time are truly heavenly. The weather too will be pleasant with an average temperature of 10°C minimum and 20°C maximum.
Harsil in October
The first half of October is an amazing time for some great photography. With the arrival of the autumn season, the valley turns a golden orange. The second half of the month however marks the beginning of the winter season. The average temperature will drop down to 7°C minimum and 18°C maximum. Nights, however, will be even colder. This is a good month for some outdoor activities but not a good time to visit if you cannot face some really cold weather.
Also Read: Places to Visit in Gangotri – What to See in Gangotri
Harsil in November
You can go to Harsil in November but I would not recommend it. The scenery at this time is very dull and dry. The weather will be terribly cold and there won't even be any snow around. The temperature will drop down 5°C minimum and 13°C maximum.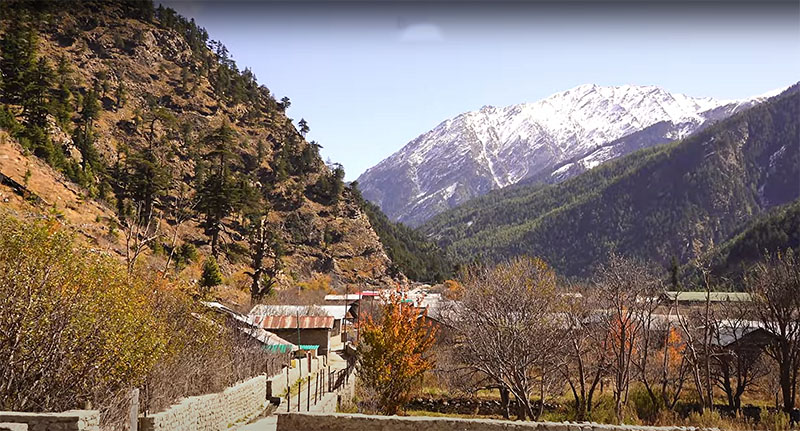 Harsil in December
The winter season is here and the top of the mountains surrounding Harsil would already have turned white. Gangotri would already have closed in November and by mid of December, Harsil also receives its first spell of snow. You must carry heavy woolens for a trip in both November and December. The average temperature will range between 0°C minimum to 8 °C maximum.
Best time to go to Harsil
Now based on the information above, I believe it is safe to say that the months of May, June, and September are the best time to visit Harsil. After these three, April and October will be the next best time. The months of July, August, and November are the worst months to go.
Below is a quick summary
Harsil in Summer: Good Weather, Open roads, Peak tourist season, easy to find accommodation, good for outdoor activities and sightseeing.
Harsil Valley in Winter: Extremely cold, only suitable if it is snow you are chasing. February and March will be a preferable month for a winter trip.
Harsil in Monsoon: Not advisable at all, risk of landslides, Kawad Traffic on the route
Conclusion
I hope the information above on the best time to visit Harsil was of help. If you have any questions or need any other details, please feel free to ask in the comments section below, or at our Community Forum and I will be glad to answer.