In the last article, I provided a comprehensive travel guide on traveling to Chopta; covering almost all the details that you needed to know before you go. Continuing in the same series, in this particular post, I will write in detail about the Tungnath Chandrashila Trek which is probably the biggest tourist attraction in Chopta.
In my opinion, it wouldn't be wrong to say that this trek, combined with some camping experience, is what really puts Chopta on the tourist map. The majority of the people visiting here are either looking to trek up to Tungnath, Chandrashila, or Deoria Tal and then spend a night at a camp before heading home. Without the trek, even Chopta would be just another hill station like several others in Uttarakhand.
Tungnath Chandrashila Trek
For a brief overview, the Chopta – Tungnath – Chandrashila trek is a 5.5 kilometers long trail that starts from Chopta and ends at the top of Chandrashila peak. The distance between Chopta to Tungnath is about 4 kilometers and 1.5 kilometers between Tungnath to Chandrashila.
Maximum Altitude: 13,123 feet
Total Trekking Distance: 11 km
Grade: Easy to Moderate
Ideal duration: 4 days; can also be covered in 5 & 6 days span
The trek is considered to be moderate in terms of difficulty and is among the most popular ones in all of Uttarakhand. It remains accessible throughout the year except for the months of January and February when the winter season buries the entire region under several feet of snow.
Also Read: Chopta – A Comprehensive Travel Guide & Itinerary
So what is it that makes this trek so special? The answer is that it is perfect for even an absolute beginner. It is neither too long nor too short. It is not too challenging to dishearten you, nor is it too easy to disinterest you. Combined with a night stay at a campsite, trekking to Tungnath really makes the trip to Chopta a wholesome experience.
You get to drive through beautiful valleys full of breath-taking vistas; walk to either the Tungnath temple or Chandrashila peak and get a taste of adventure, and then sit down with friends or family around a bonfire in the evening before crawling inside a tiny yet comfortable tent. What more to ask for really?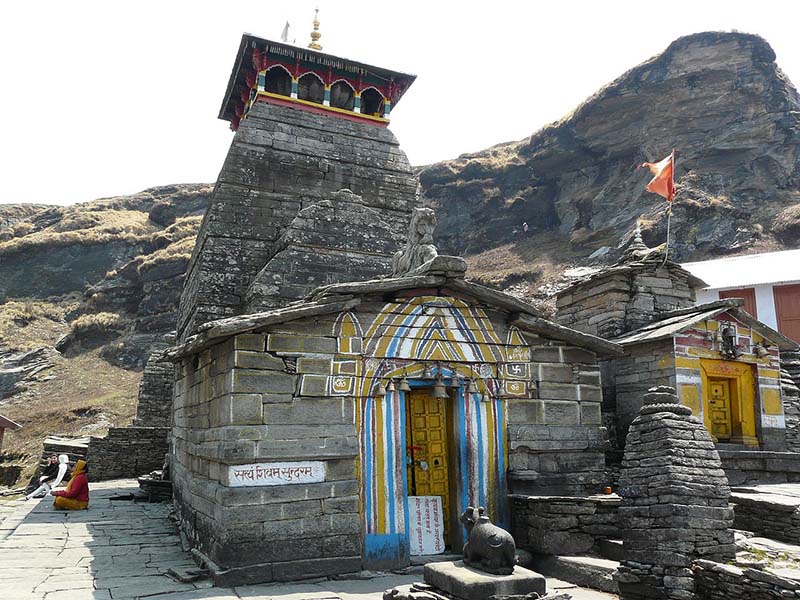 Image: Wikipedia
About Chopta
Chopta is a small region of meadows and evergreen forest which is popular as the base for trekking to Tungnath and Chandrashila. It is located at an altitude of 2,680 meters (8,790 ft) and is surrounded by forests of pine, deodar, and rhododendron. It is, in fact, popular as a tourist destination itself.
This entire region is part of Kedarnath Wildlife Sanctuary and Chopta is known to be rich in flora and fauna; including rare Himalayan species of monal bird, musk deer, and Pika Mouse.
About Tungnath Temple
Tungnath is one of the five 'Panch Kedar' temples dedicated to Lord Shiva; the other four being Madhyamaheshwar, Rudranath, Kalpeshwar with Kedarnath. At an altitude of 3,680 meters (12,073 ft), it is the highest of all the five temples but is also the easiest one to reach.
It is said that the temple is over 5,000 years old and third in the pecking order of the Panch Kedars; due to which it is also known as 'Tritiya Kedar'. There is a whole legend associated with these temples that I have further explained in the article.
About Chandrashila
Chandrashila is the summit of the Tungnath and is located 1.5 kilometers further up from the temple at a height of over 4,000 meters (13,120 ft). The literal meaning of the name is "Moon Rock" and there are several legends associated with it. According to one such legend, this is the place where Lord Rama meditated after defeating the demon-king Ravana.
Another legend, however, says that it was Ravana himself who did penance to Lord Shiva here. There is in fact also a peak here called "Ravanshila" where the demon king is said to have meditated. A third legend states that it was the moon god "Chandra" who spent time here in penance at the peak due to which it is known as Chandrashila.
The Trek
The motorable road to Chopta, which further goes to Gopeshwar, will actually bring you right to the starting point of the trek. If you stayed at Dugabitta or Baniyakund, you can bring your vehicle to the start of the trail. There are also a few campsites near the starting point if you wanted to stay somewhere close.
The total distance from Chopta to Chandrashila and back will be about 11 kilometers in total and can eat up your entire day. Hence, an early start from Chopta is advised.
Chopta to Tungnath Trek
The entire trek from Chopta to Tungnath for a total of 4 kilometers is a cemented path. The trekking path to Chopta begins right on the road and is surrounded by many dhabas and guest houses.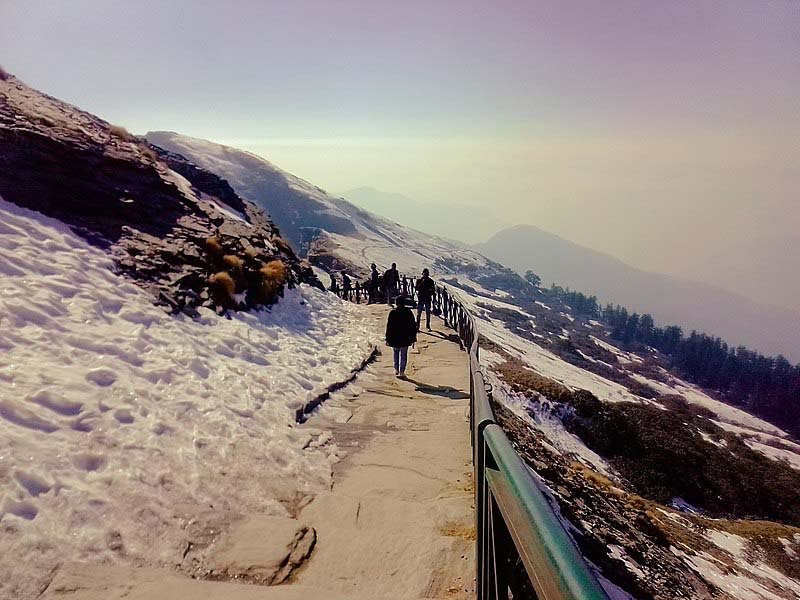 Image: Wikipedia
There are a total of 11 scissor bends that you will walk on while climbing up the ascent. The walk is pleasant enough with magnificent views all around but can feel steep to a lot of people. You have no need to rush through. It takes about 2 hours for an average person to reach Tungnath and then another one hour to reach Chandrashila.
The climb down back to Chopta can easily be done in half of this time. So if you started early in the morning, you will have sufficient time to plenty of breaks and walk at a pace that suits you the best.
In my opinion, the entire trek from Chopta to Tungnath and to Chandrashila is fairly easy. You do not really need a guide for this trek unless you were visiting in peak winter. You will come across a meadow about an hour into the trek.
There are a few eating joints / dhabas here where you can take a break and eat. The trail will continue to zigzag and gain altitude. There are several points in between where you can sit and relax while enjoying the views around you.
Ravanshila
You will reach Tungnath temple after climbing the 11 scissor bends. The temple remains closed in the winter season and you should find snow up here well into April. The peaks of Chandrashila and Ravanshila too will be visible from this point.
Around ten minutes before you reach Tungnath, there is a small detour that will take you towards Ravanshila if you wish to explore that too. You can get some amazing panoramic valley views from Ravanshila. If you are unsure about the location it is best to ask the locals at the temple.
Also Read: Deoria Tal – A Complete Travel Guide & Itinerary
Tungnath to Chandrashila Trek
Chandrashila peak is a trek of another 1.5 kilometers from the temple. This final climb will see you gaining altitude by almost 1,000 ft and is a bit steep. The path leading to the summit is from behind the temple complex. It is clearly marked and hard to miss. You will also notice the dormitories near the temple which remain open during summer. A lot of people stay at Tungnath for the night and then trek to Chandrashila in the morning to catch the sunrise view.
You will once again climb up a series of several scissor bends and arrive at top of the peak. The pace of the wind too will pick up here. From the top, you get a stunning 360-degree view of the mountains around like Nanda Devi, Trishul, Chaukhamba, and Kedar dome. There is another temple at top of the summit.
The Mythology of Tungnath Temple
As per the legend, after the battle of 'Mahabharata', Pandavas were advised by Rishi Veda Vyas to seek forgiveness from Lord Shiva for killing their relatives in the battle. They were told by the Rishi that it was a sin that could only be pardoned by Lord Shiva himself. The Pandavas took the advice and went in search of Shiva who on the other hand was convinced of their sin. Thus, the Lord decided not to appear in front of the Pandavas and hid underground after taking the shape of a bull (Nandi).
Later, it is said that Shiva's body rematerialized at five different locations, still in the form of a bull. These five locations are what are now known as 'Panch Kedar' Temples; built by the Pandavas themselves in order to seek Lord Shiva's forgiveness and blessings.
Each of the temples is identified with a different part of Shiva's body. Tungnath is identified as the place where 'baahu' (hands) were seen: hump was seen at Kedarnath; head appeared at Rudranath; his navel and stomach surfaced at Madhyamaheshwar and his jata (hair or locks) at Kalpeshwar.
Altitude
Chopta is at an altitude of 2,680 meters (8793 ft). Elevation of Tungnath Temple is 3,680 meters (12,073 ft) and Chandrashila is at 4,000 meters (13,120 ft)
Best time for Tungnath Chandrashila Trek
This trek can be completed anytime between April to November but the best time is the months of April, May, and June. If you could not make it in either of these months then September and October are equally good. April will give you a chance to find some snow which will add a charm to the overall experience. May and June will have you traveling in very pleasant weather. September will present you with lush green vistas all around and October would have turned the valleys golden with the arrival of Autumn.
Also Read: Delhi to Deoria Tal – A Memorable Trip
Tungnath Chandrashila Trek in January and February
You can complete the trek in other months too but there will be a few disadvantages. It starts to snow here sometime in December and continues till March. During this time, completing this trek for an amateur trekker becomes a task impossible. There could be around 4 to 7 feet of snow which means that you will need to carry some serious trekking equipment like crampons/micro-spikes and an ice axe.
Tungnath Chandrashila Trek in March
If snow is on your mind and I mean a few feet of it then March will be a good time to go. But you must be well prepared for walking in knee-deep snow and should have a proper guide with you. The road to Chopta remains closed in March and you will only be able to reach Dugalbitta by your vehicle. So your trek will actually start from Dugalbitta itself and will add about another 10 to 12 kilometers to the day's walk.
Tungnath Chandrashila Trek in April
Snow starts to melt towards late March and the Spring season starts in April. This is a great time if you want to find a little snow on the trek, especially around Tungnath Temple and Chandrashila top.
There will also be no option of staying at Tungnath in either Jan, Feb, March, or early April.
Tungnath Chandrashila Trek in May and June
These two months are the best time to complete the trek. Weather will be pleasant, snow will be gone, roads will be all open and accommodation will become available at both Chopta and Tungnath. Days will be clear and sunny and you will get stunning views of the peaks around.
Tungnath Chandrashila Trek in July and August
This is not a good time to be walking around here. The region gets heavy rainfall each year and it can rain anytime anywhere. Landslides become common and roads too can get closed. You do not want to get caught up on the trail in heavy rain and walk back completely drenched and cold. If the weather turned extreme, you may not even be able to get out of the hotel and start on the trek.
Also Read: Devprayag to Chopta – The Valleys of White
Tungnath Chandrashila in September and October
Views will be all green and mesmerizing in the month of September. Not just Chopta or the trek but the entire drive is a feast for eyes at this time. Monsoon would be gone but would have left plenty of greenery behind. In October, Autumn will arrive and everything that was green would turn Orange. This is another great time for visiting Chopta and Tungnath.
Tungnath Chandrashila in November and December
You can do this trek in November as well but this is not a good time in my opinion because vistas get very dull and dry. The accommodation at Tungnath too becomes unavailable in November. By Mid December, it can snow here anytime. The trek, temple and Chandrashila peak actually get snowfall weeks before Chopta. If you are planning a winter trek then best to wait for a couple of months more and visit in March. The months of November and December really have nothing to offer except for dry, cold and dull weather.
Now based on the information above,
Best time for Tungnath Trek: April, May, June, September, and October
Best time for Chandrashila Trek: May, June, September, and October
The reason why I removed April for Chandrashila because if there was a lot of snow, then you may not be able to reach all the way to the top.
How to reach Tungnath / Chandrashila
Chopta is where you will need to get in order to visit Tungnath and Chandrashila. The motorable road will, in fact, bring you right to the starting point of the trek. I have covered this topic in detail in the previous part of this post, How to plan a trip to Chopta. Please take a look at this article for very detailed information on how you can arrive at Chopta by either car, motorcycle, taxi or public transport.
Acute Mountain Sickness
Another thing to consider here would be Acute Mountain sickness. At Chandrashila, you will be standing at an elevation of slightly over 4000 meters. You must consider the fact that you may start to suffer from altitude sickness either at the peak or on the way. If it happens then you should immediately stop and climb down to a lower altitude.
Symptoms of altitude would be a little same as those of high fever. If you start to feel dizzy, found it difficult to breathe, fatigue, headaches, chest pain or feverish then do no continue on the trek. Return to Chopta immediately and you will feel better.
Also Read: Sari Village to Deoria Tal – An Awesome Trek
Accommodation Choices
Accommodation is available at Chopta, Dugalbitta, Baniyakund, Gopeshwar, and even at Tungnath. Depending on your itinerary, you can choose to stay at either of these places. Booking in advance is not really required. You can arrive in Chopta, find a place per your liking, and negotiate an on the spot deal.
What and Where to Eat
There are several dhabas and restaurants in Chopta and even at Tungnath temple as well. You will keep coming across tea stalls on a couple of places on the trek as well. My advice would be to carry some items to eat like biscuits or chocolates to munch on.
The important thing to remember would be that the dhabas and restaurants in Chopta charge a bit much even for the simplest of meals. They will not give you a menu listing down the prices but will just tell you verbally what is available. You will order a few basic dishes and then will get slammed with a huge bill with no choice but to pay. Before you order anything, please make sure that you check the prices of the items.
Tungnath Chandrashila Trek Itinerary
Last but not the least, let me also suggest an example of an itinerary that you can follow for this trip. For the sake of the itinerary below, I will assume Delhi as your starting point. If you were however even coming from a different place, then only the journey till Rishikesh may be different. The rest of the details will still apply.
Also Read: Deoria Tal to Rishikesh – Camping on White Sands
Delhi to Rudraprayag / Chopta – Day 1
Your first day of the journey will be a very long one so please ensure that you get an early start. It will easily take you about 12 to 13 hours to get to Chopta from Delhi. The drive from Delhi to Rishikesh is mostly smooth on the national highway. After Rishikesh, you will start climbing up the hills and the road will be a mix of good and bad.
Continue following the road via Devprayag, Srinagar till Rudraprayag. A few kilometers after Rudraprayag is the small town of Kund from where you will have to take the turn towards Ukhimath. Continue driving via Ukhimath, Dugalbitta, and Baniyakund to arrive at Chopta.
If you got late somewhere in between and it got dark then you can break your journey at Rudraprayag itself rather than continuing to Chopta.
Rudraprayag / Chopta to Tungnath to Chandrashila to Chopta – Day 2
You must get an early start on this day because you have a long trek ahead of you. Views too tend to be a little better in the first half of the day. In the latter half, clouds start to block the view and you will not be able to see all the mighty peaks around. Target to start the trek latest by 8 AM.
This should get you to the top of the peak by noon and give you ample time to return at an easy pace. You must carry adequate water and keep yourself hydrated. Getting back to Chopta via the same route will take you not more than 2 hours.
In our case, we got delayed in Delhi and took a very late start. Heavy traffic further delayed our progress and we reached Rudraprayag at about 10 PM where we stayed for the night. The next day, we started from Rudraprayag at 5 AM and reached Chopta at around 8.30 AM and started on the trek.
Chopta to Deoria Tal – Day 3
Reaching Deoria Tal is not a very long journey so you will have time for visiting other local places as well. Take a look at Tourist Attractions in and around Chopta for a list of some other old temples that you can visit here. Indulge in sightseeing in the first half of the day and come back to your hotel. Check out and be on your way to Sari Village after having lunch.
Locals in Sari are very helpful people and you can ask anyone for directions towards Deoria Tal trek. But I am assuming here that you would already have made arrangements for your stay at the camp by the lake.
These are not a pre-arranged thing and you must call and book in advance. Talk to your campsite owner and coordinate to trek up to the lake. It will take you about 2 hours to walk up to the lake and you will arrive in time to enjoy a great sunset view.
Please note that Deoria Tal is part of a wildlife sanctuary and Bonfire is not allowed here by the law. So do not light up any fires here on your own in the night.
Deoria Tal to Delhi – Day 4
Make sure you set up alarms and get up in time before sunrise. You simply cannot afford to miss sunrise at Deoria Tal. It is truly a sight to die for. Have breakfast and climb down to Sari Village from here you will follow the same route back to Delhi. If you have another day then you can make this a 5 days trip and stay in Rishikesh on Day 4.
There is a road from Srinagar that goes to Lansdowne which is another popular hill station. So an alternate way for this journey would be to come back to Lansdowne on Day 4 and return to Delhi on Day 5 via Meerut.
Also Read: Himalayas in Monsoon: Top Tips for a Safe Trip
Tungnath Itinerary
Another itinerary that you can follow is as mentioned below.
Delhi to Rudraprayag / Chopta – Day 1
Rudraprayag / Chopta to Tungnath – Day 2
Tungnath to Chandrashila to Chopta To Deoria Tal – Day 3
Deoria Tal to Delhi – Day 4
Delhi to Tungnath Itinerary
Or a more relaxed version of this journey can be as below.
Delhi to Rishikesh – Day 1
Rishikesh to Chopta – Day 2
Chopta to Tungnath to Chandrashila to Chopta – Day 3
Chopta to Deoria Tal – Day 4
Deoria Tal to Lansdowne – Day 5
Lansdowne to Delhi – Day 6
Below is a list of some items that you would want to bring on this trip. Not for just the day of the trek but the overall trip for 4 to 5 days.
Clothes & Items to Bring
Full Sleeves Windproof Jacket / Down Jacket
Comfortable Trek Pants. Do not wear Jeans or tight trousers.
Full sleeves T-Shirts with collar
Good Trekking Shoes with a good grip so that you can manage slippery trails.
Sports Socks
Wear light and quick dry clothes; avoid jeans and other body-hugging clothes.
Bring a raincoat if visiting during Monsoon or at least carry a Poncho
Balaclava or woolen muffler/scarf
Hand Towel
Sunglasses
Cap or Hat
Water Bottle
LED Torch
Sunscreen
Moisturizer
Toilet paper
Some basic medicines for cold, flu, headache, body ache (like Crocin, Combiflam, Dispirin)
Band-Aid
Crepe Bandage (You may need it)
Lip Balm
Cold Cream / Vaseline
Also Read: Chopta Tungnath Chandrashila Deoria Tal Itinerary
Other Tips
I know I said that this trek can be done by beginners as well but a basic fitness level must be required. Ask yourself, can you walk 5 kilometers? If the answer is no that you complete this trek. You must be physically fit to walk and climb long distances.
During winters, the entire trek is covered with snow and it won't be wrong to term it as "a bit dangerous". You must not attempt it on your own in January, February or March. Hire a guide who can help you navigate the way.
There are no ATMs, Petrol Pumps, or Mechanics in Chopta. You will have to go to either Ukhimath, Rudraprayag for these or to Gopeshwar.
Carry sufficient water with you before commencing the trek and keep yourself hydrated. De-hydration on a trek can make you lose energy very quickly and intensify the effects of AMS.
If possible, carry two pairs of gloves for the trip. One woolen and the other one a water-resistant and windproof that you can put on while trekking.
In case you are carrying your Camera or Mobile phone with you, make sure you carry enough supply of plastic waterproof bags.
Never attempt to walk too fast as this can lead to fatigue. Remember, it is not a race. Walk at a pace that is convenient for you.
Eat lunch either near Tungnath temple or at the dhabas on the trail and start the walk back to Chopta.
Views of the peaks are generally clear till noon and after that, the snowy mountains may be obscured by clouds. Hence it is recommended to reach Chandrashila as early as possible for a clear view of the peaks of both the Kumaon and Garhwal ranges.
Conclusion
That mostly is all that you need to know about trekking to Tungnath and Chandrashila. Please note that all other information like how to get to Chopta, where to stay, where to eat, availability of basic facilities, route, road conditions, mobile network, etc have already been covered in the previous part of this article, How to Plan a Trip to Chopta that I will urge you to need.
I hope the information above on the Tungnath Chandrashila trek was of help. If you have any questions; or need any further details; please feel free to ask in the comments section below, or at our Community Forum, and I will be glad to answer.