My last vacation was at Rajaji national park – Chilla gate. Yes, I am among those who went there for a tiger but didn't find one. The next bike trip from Delhi to Mana Village, Auli, and Badrinath however turned out to be a much better one.
If I talk about mountains, it's around 5 months since I had touched any. So the zeal was already there. This time I had already been giving daily dozes to my two friends just to make sure they do not ditch me when I make a plan.
With Saturday and Sunday in hand, I applied for leave on Friday and Monday. So it was a total of 4 days from 19th May to 22nd May that were finalized for the trip.
Initial Plan:
19th May – Start from Gurgaon early morning and reach Joshimath in the evening
20th May – Visit Badrinath, Mana village, Bhim pul, and back to Rudraprayag\Chopta
21st May – Visit Tungnath Ji and Chandrashila peak in the morning and back to Delhi
22nd May – Buffer Day for relax
This was how the itinerary was laid out initially. But God had some other plan for us. Due to Landslide at Badrinath, everything got changed. We traveled a little differently but the fun part remained unchanged.
Delhi to Mana Village – Auli – Badrinath
On the day of the trip, I was the one who woke up first after four hours of light sleep. Vivek and Ashok were still sleeping. I had to warn them about the best possible way to overcome dizziness, ie water treatment Lol.
Around 3 AM, everyone was ready but we still had some stuff left to pack. After that, we started loading luggage on our bikes.
Day 1 – Delhi to Joshimath
At 3:30 am, we started from Gurgaon.
Riders:
Me – On Avenger 220
Vivek – Apache RTR 200
Ashok – Thunder B 350
At 5 PM we were somewhere after Ghaziabad and stopped for a while to get some tea. The next tea stop was near Meerut at roadside dhaba.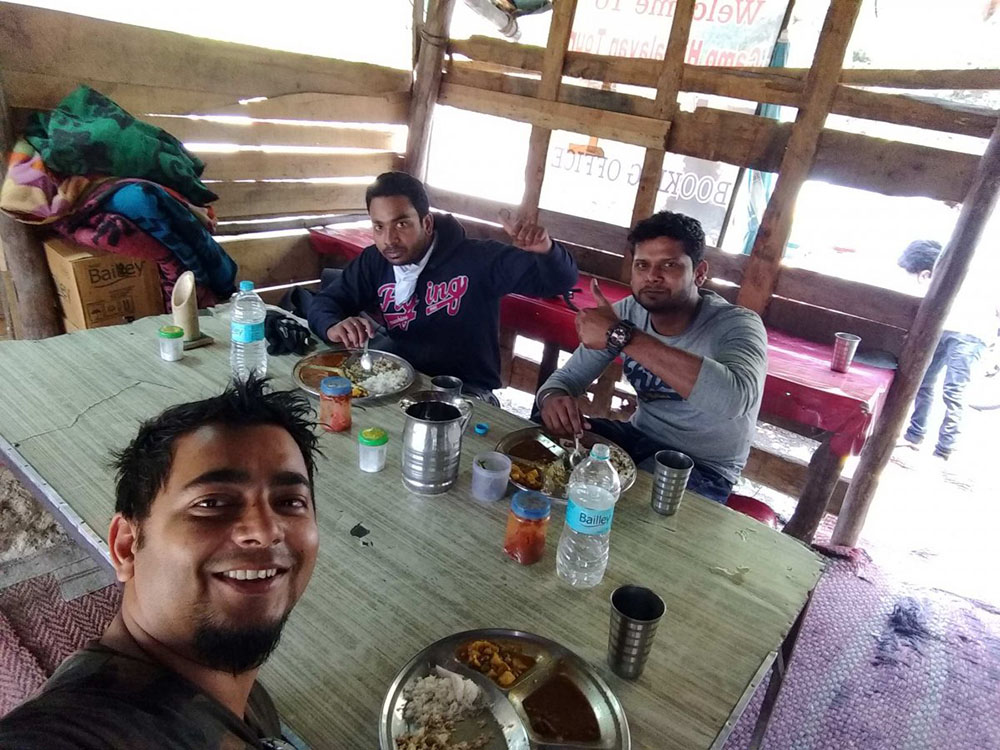 We wanted to avoid traffic at Muzaffarnagar. But one wrong move could lead you to hell. The next 10 km wasted almost an hour. We crossed Roorkee and pushed the throttle again
Haridwar & Rishikesh
In between, we didn't stop because the plan was to cross Haridwar and Rishikesh as early as possible. We made it there by 9 AM but again faced a huge traffic jam till Shivpuri. It was tiring,
At 11 AM we stopped for brunch and had Veg Thali at a roadside dhaba. It was ordinary food. Even the name of the dhaba was not there.
Vivek saw people carrying a rafting boat. He was excited and suggested leaving Joshimath, doing rafting, and return back. But actually, he never had an experience of rafting because of his fears. I don't know why he fears this adventurous sport.
Devprayag
After filling our stomachs, we started again with full energy and reached Devpyarag at 2 PM. We didn't stop there because we knew this place could have easily taken an hour. So we decided to stop there on the return trip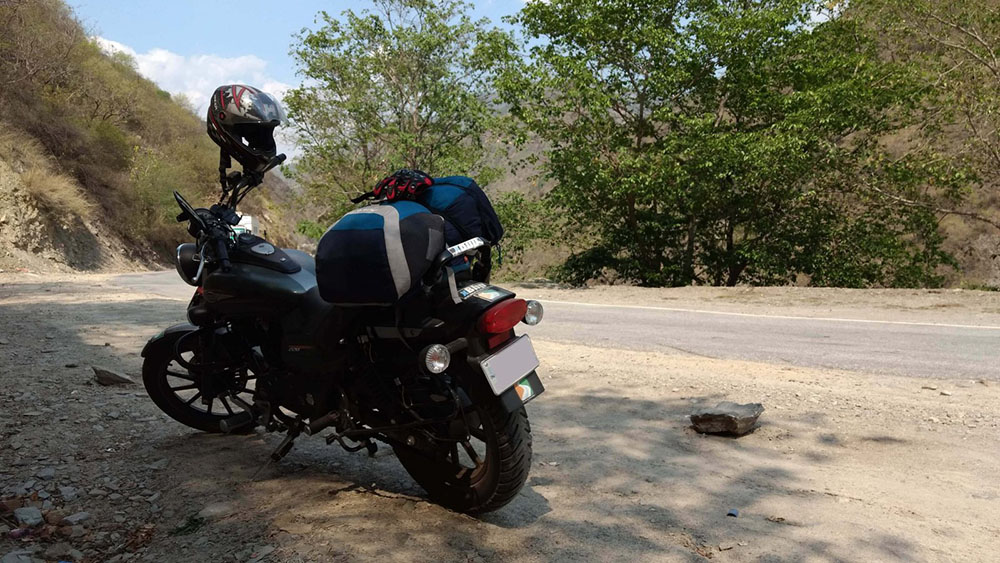 Our next destination was Rudraprayag. En-route, we stopped at A roadside dhaba to have some tea and met with a person who was offering Bhole ka prasad.
After taking tea we started again, will meet Bhole Baba at Badrinath.
Rudraprayag & Karnaprayag
We reached Rudraprayag at 5 PM and 7:45 PM at Karnaprayag. En route, we had taken fuel of 400 INR just to be on the safer side and some evening snacks.
It was dark and drizzling which made things even worse. We had to decrease our pace. This last 90 KM stretch was hectic and scary.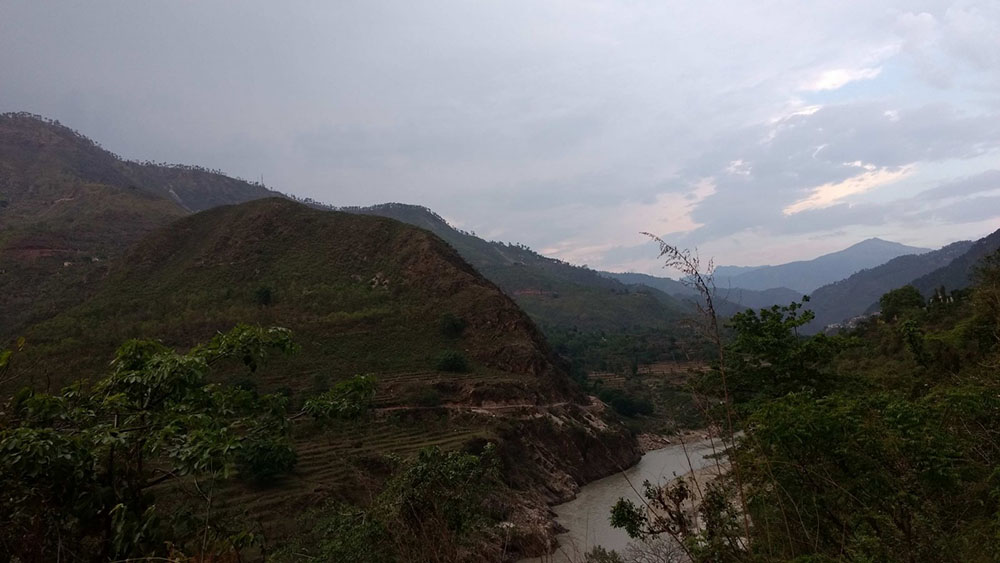 Multiple turns on the road in the dark will make you decrease the speed while cornering; especially when the turning radius of your bike is a little big (Avenger). Here I felt some extra lighting could have been helped better.
The journey started to seem never-ending. Fellow riders started complaining that I was riding slow. In this situation, 40 kmph was the max that I could ride in the dark, off-roading frequently.
But I had to push. I called the hotel guy and he told me not to worry about food. Food was the last thing that would be needed after running 500 KM in a single day
At one of the turns, it was written on a board "Ishwar ko yad kare". These lines were also responsible for our low speed. No internet but my google map was still working coz of offline data.
Joshimath
The last 50 KM were done in 30-45 minutes. I couldn't check the speed.
It was 10:15 when we reached Hotel Dream mountain at Joshimath. We parked our bikes in the parking area, unloaded our baggage, and even forget to pull bike keys.
We were tired like hell that even our fingers refused to work. Traffic at Rishikesh was so bad that it affected our fingers by using clutch brake frequently.
We ordered Aaloo paratha, paneer, rice, curd and one by one everyone took a bath. Thanks to the hotel manager Mr. Sohan to provide warm water so late in the night.
Now came the biggest problem. We were not able to break Parathas with our tired fingers. So we had cut them with the help of a knife (An engineer can find the solution anywhere).
The food was awesome in the Hotel. Paratha and Paneer vegetables were delicious. After an hour we settled down.
The odometer reading was 529 KM. It was the maximum ridden by me in a single day.
Day 2 – Joshimath to Auli
I didn't want to miss the sunrise. Well, sunrise was not impressive there but still sunrise is sunrise. After drizzling, the weather was pleasant, drops on Walnut were making it greener. Initially, I thought it was some other fruit and kept myself busy in taking photographs but a person was noticing me and my friends.
He called Vivek and Ashok and asked to go up by stairs and then only the peaks would be visible completely but both of them ignored him.
He was a very simple-looking and polite person. I wanted to talk to him just to get some knowledge of Joshimath as he seemed local there but because of hesitation, I wasn't able to.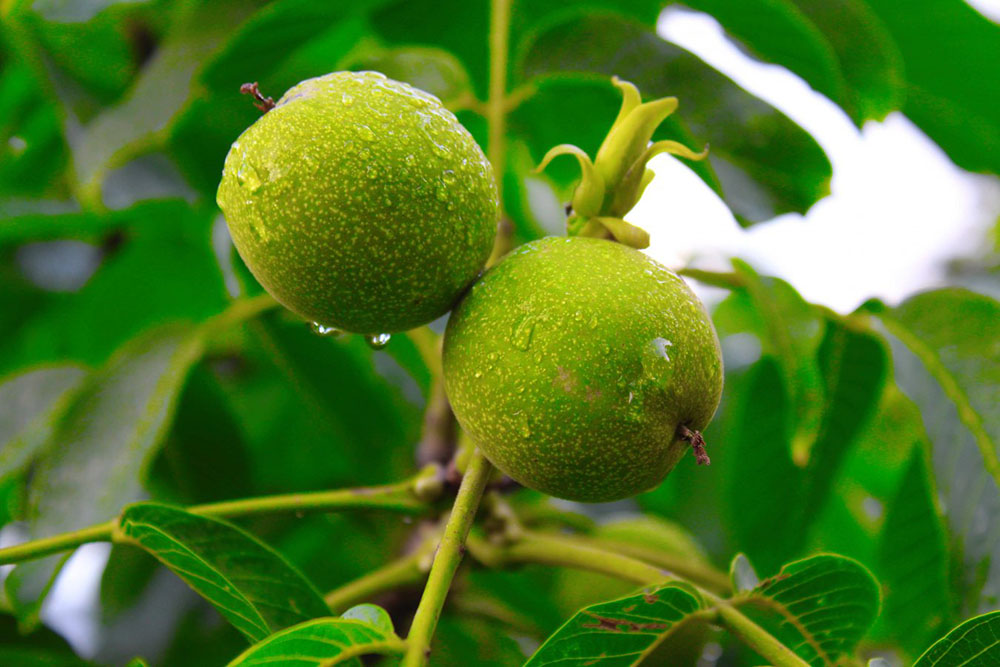 Change of Plans
Hotel manager Mr. Sohan told us about yesterday's landslide and it was just 3 KM away from our hotel could be seen by the naked eye. ETA was 24 hours last evening so it was impossible to open for today. Our travel from Delhi to Mana Village would have to wait for another day.
What to do then? Obviously will have some Aaloo Paronthe and visit Auli and nearby places. Sohan told me about Shri Shankaracharya Ashram where you can see 2500 years old Kalp tree and that seems interesting to all of us.
While talking with Sohan I noticed some books of Uttrakhand when asked he told me they were written by the Father of the MD of this hotel "Mr. Kedar Singh Fonia" and I was like WOW.
I asked him, could he get me a signed copy and he agreed. I asked could I meet him but he told that nowadays he does not meet people more often, he is too old now.
Our room was booked for today only but the plan extended, yes without visiting Badrinathji and Mana we were not going to return.
We finished breakfast and again started photography. This time the old man called me and told me to do a 5-minute trek and go up to take the best photographs. I was curious to know about him so asked, Sir your name, please?
Yes !! He was Mr. Kedar Singh Fonia. I was very happy. He smiled and said he was the one who signed the ordered book.
Hathi Parvat & Sleeping Beauty
It was like you are sitting inside google and searching for information. He shared multiple things and stories about this place. There was a power plant made inside the mountain which produces 400MW of electricity and UK gov sells it to UP and there is a direct phase electrical line that connects Joshimath and Muzzaffarnagar UP.
He pointed his finger towards a corner and showed me the power plant. It was a perfect example of Indian Civil, Mech, and electrical engineering.
He showed me "Hathi Parvat" and sleeping beauty mountain and told me about some German mountaineer Francis that discovered the sleeping beauty mountain. It looks like a lady is sleeping on the mountain and looking a the moon, I could not have imagined this without his guidance.
He only told me the difference between "Pahad" and "Parvat"
Pahad – Where inhabitation of people is possible that we why we called them "Pahadi"
Parvat – Where inhabitation is not possible
We talked for around an hour and then he told me to take photos as someone was calling him for breakfast.
He was a gem of a person. With him, you can talk for hours and hours about history, culture, mountains, treks.
Sleeping beauty mountain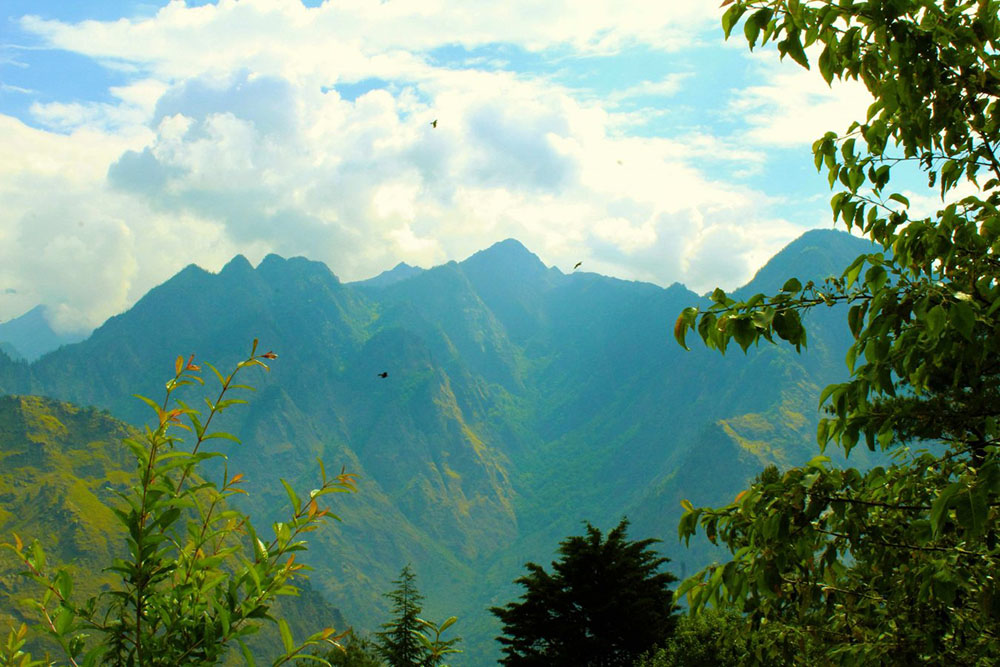 Hathi Parvat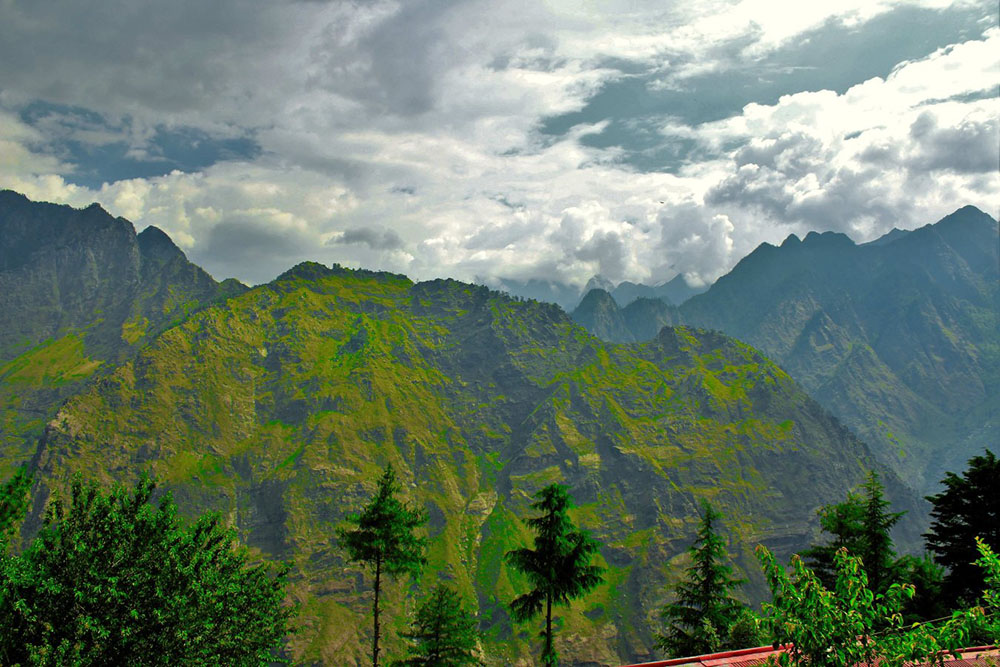 Beautiful Surroundings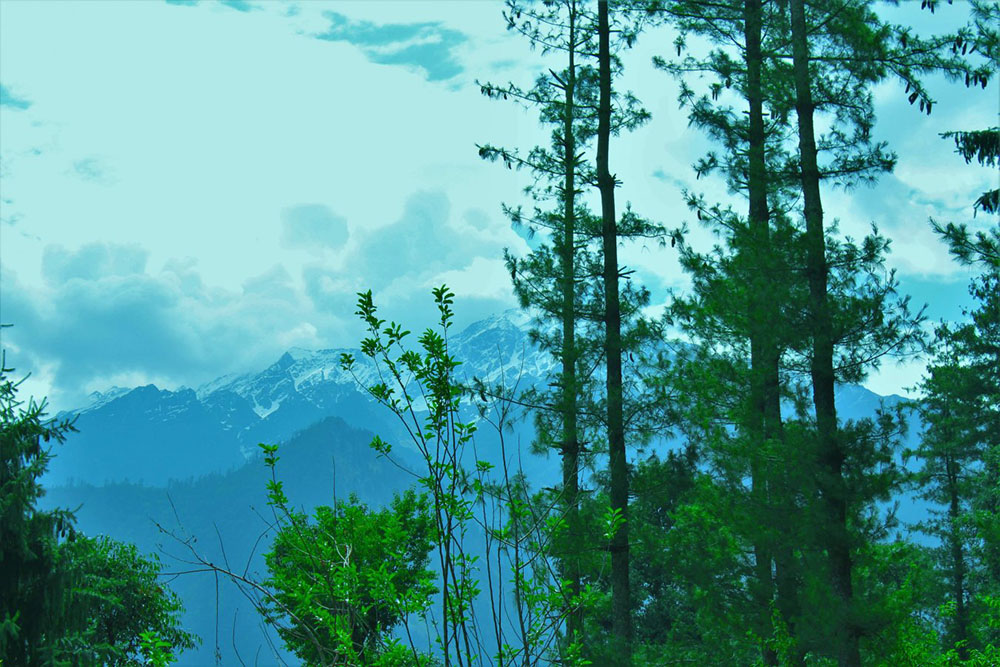 Auli
From the hotel, we took a right turn and headed towards Auli. It was just 16 KM ahead. In no time we reached there and parked our bikes.
To add some adventure, we decided to try ropeway but it was scary because no proper safety was there. But Auli was in full blow and we witnessed the beauty.
Pictures can't define the feeling of being there
After we returned, we took a rest at the hotel because the Badrinath route was choked due to a landslide
But we roamed around the Joshimath town and clicked a few pictures.
2500 years old Kalp tree at Joshimath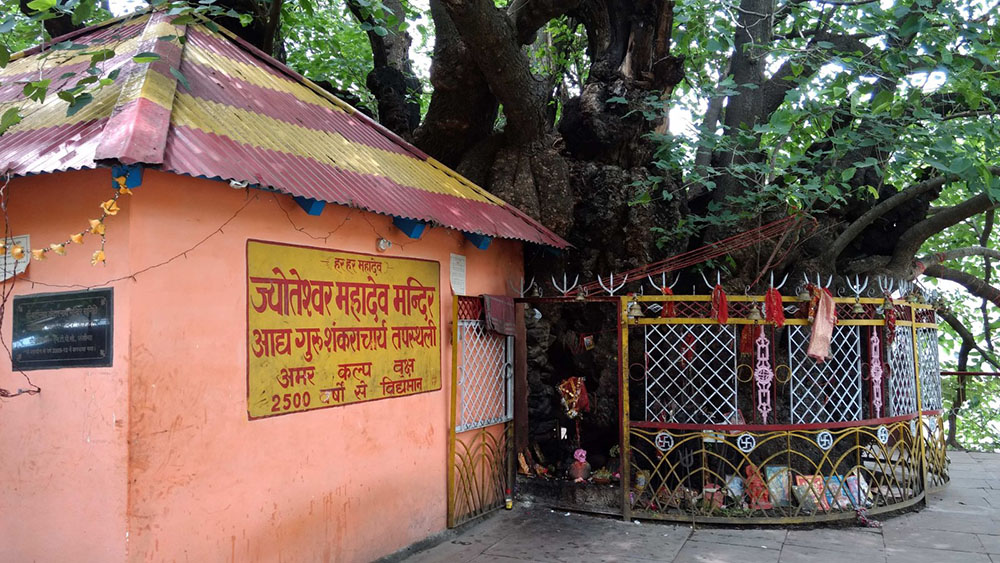 Day 3 – Joshimath to Mana Village
We started early morning around 8 AM but due to a traffic jam and landslide, our speed was decreased.
Around 11 AM we reached Badrinath. There were more than a KM line was already there and we didn't have time so decided to return back.
But God showed some mercy and we had a talk with security guards there. He told me there is a way from the backside but don't know they will allow you or not.
We followed the path. There were 2-3 people guarding the other gate. We started requesting them and they started refusing our entry.
We told them all the story that how we reached here after driving 500+ KM on bikeS and the good part was still on biking gear.
Badrinath
After 15 minutes of the conversation then allowed only three of us.
Bowed our head took Prasad and blessings of Badrivishal and headed towards MANA village
It took 10 minutes from there to reach Mana and then in no time we were at Bheem pul, watching the Saraswati river.
Our plan was to cover Vasundhara fall but due to lack of time we left it for some other time
Jai Badri Vishal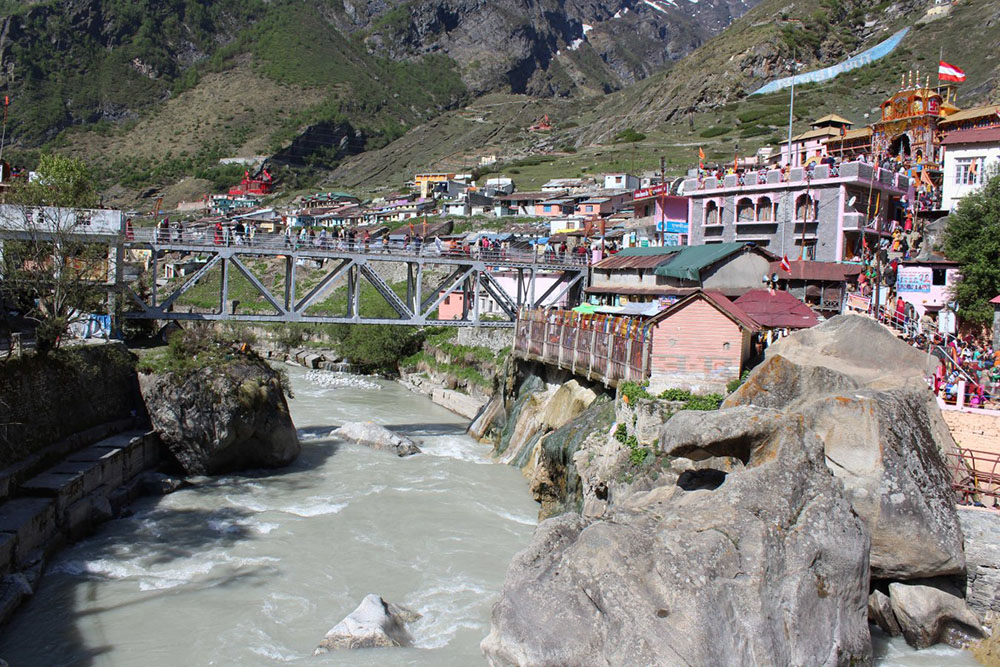 The new temple. The older one is in the back where photography is prohibited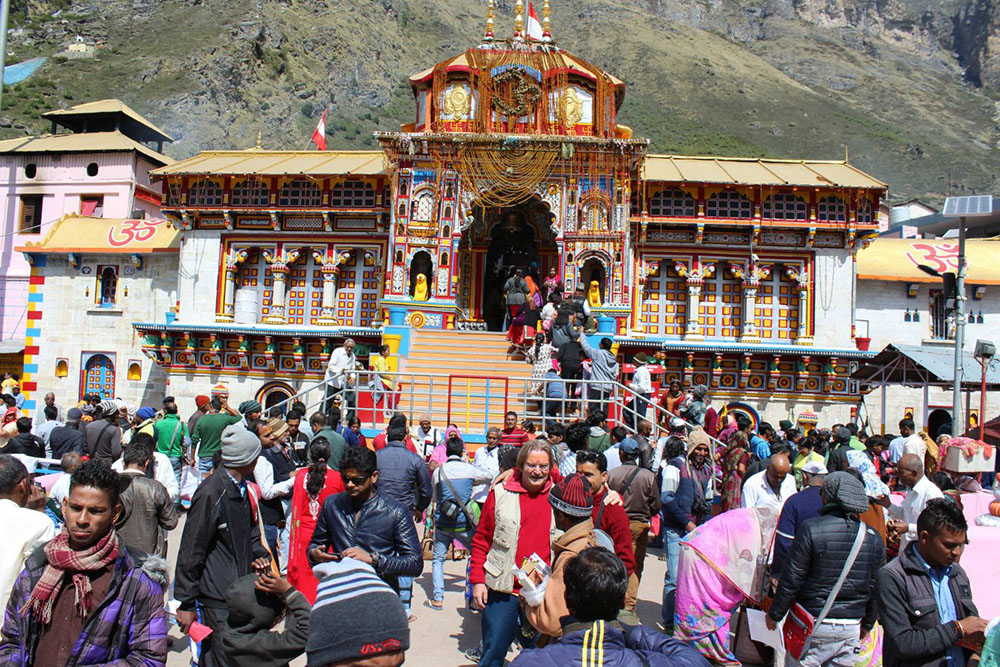 Mana Village
Our plan was to travel from Delhi to Mana Village and after a few changes and delays, finally, we made it there.
Welcome to Mana Village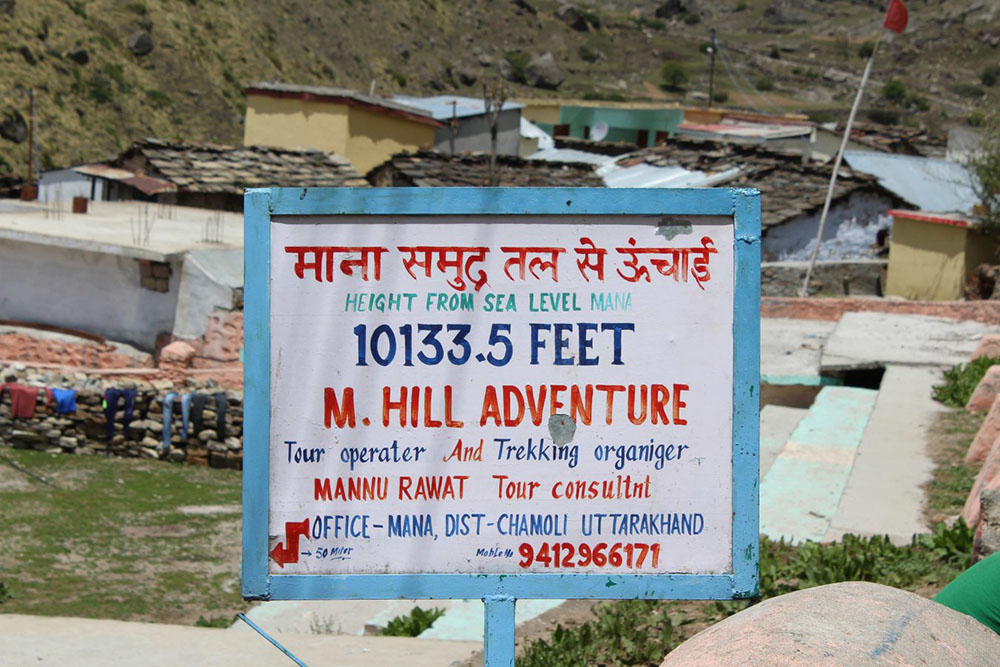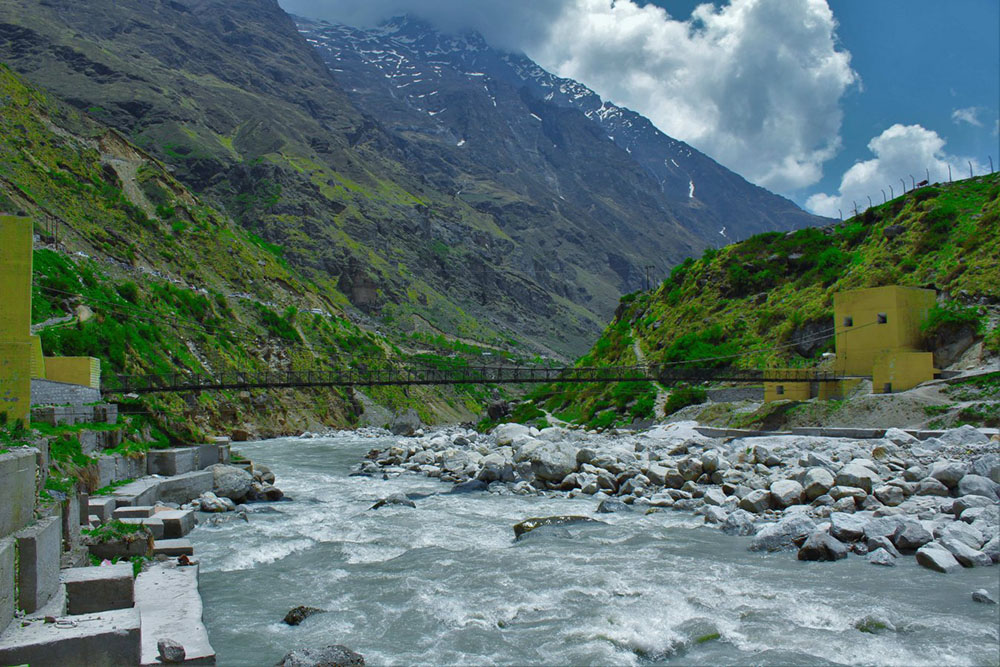 Holy river Saraswati in full flow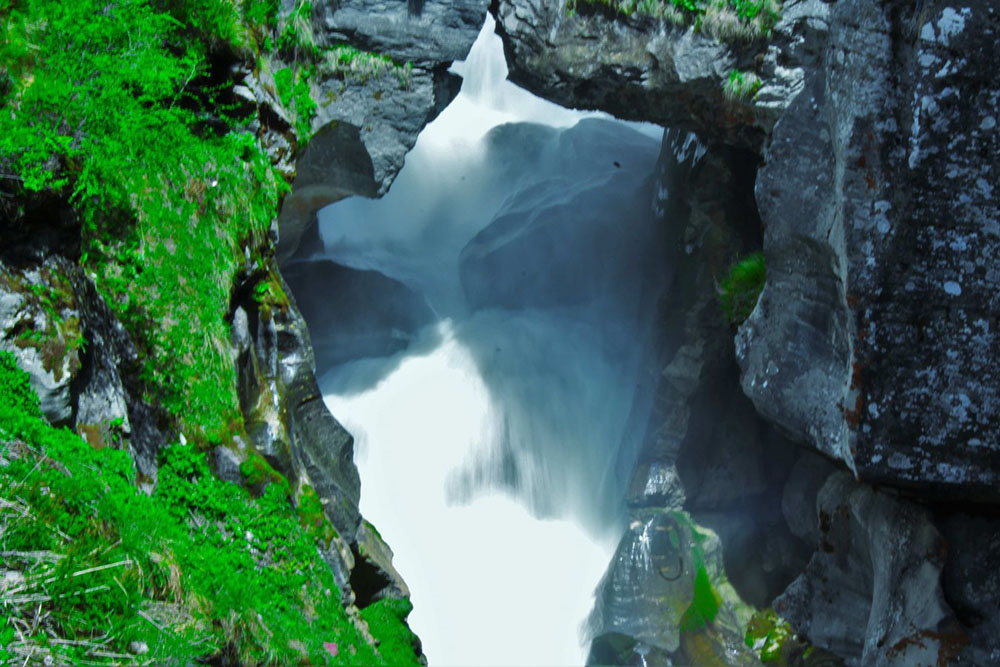 Bheem pul. There is a single big stone which made people cross the river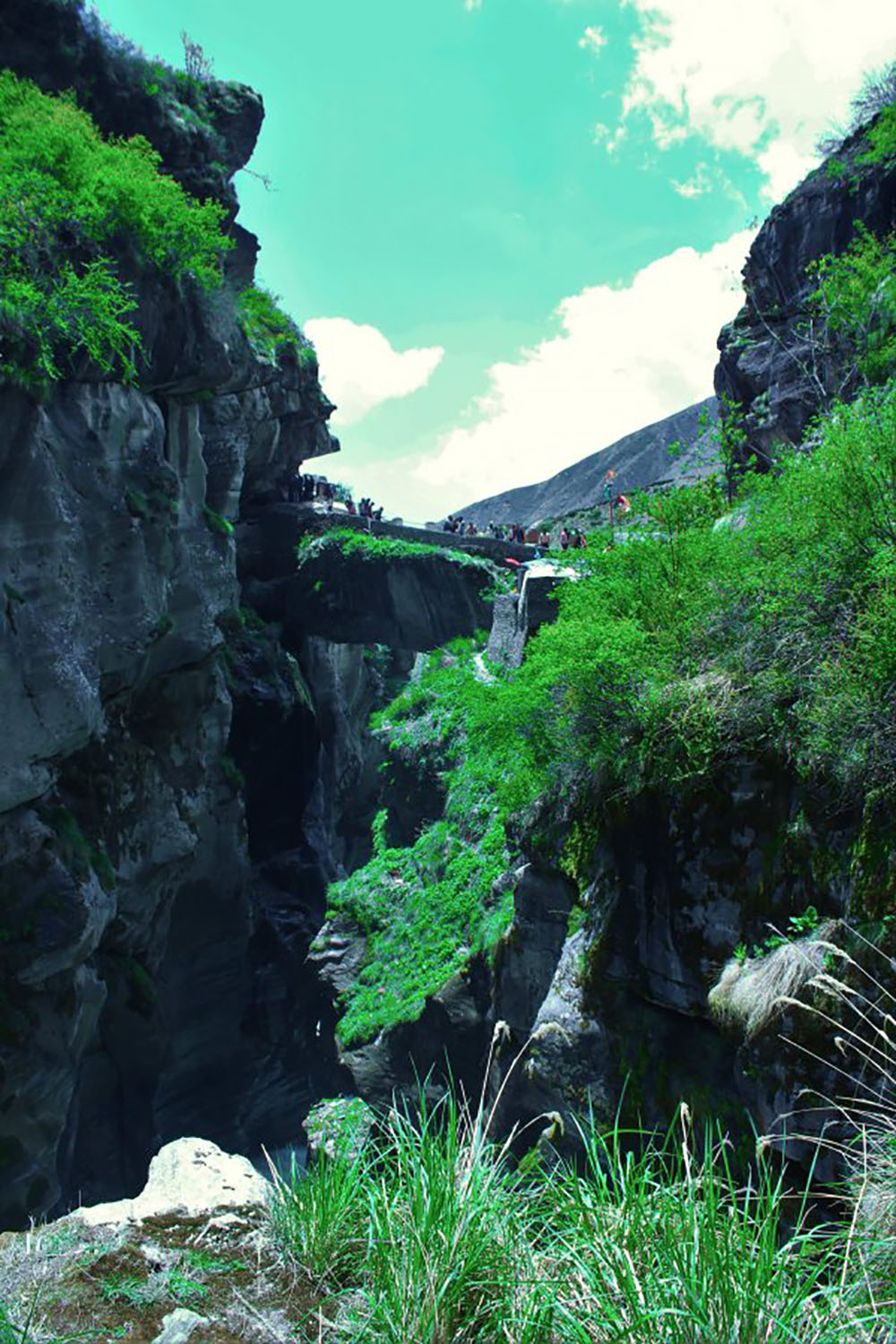 The last of India was a tag that was added to almost everything.
See what people have done to this beautiful place. Just a few steps ahead people bow their head to Sarasvati and after returning within 2 minutes starts polluting it, another side of the coin.
Sad to say but this kind of people doesn't deserve any river.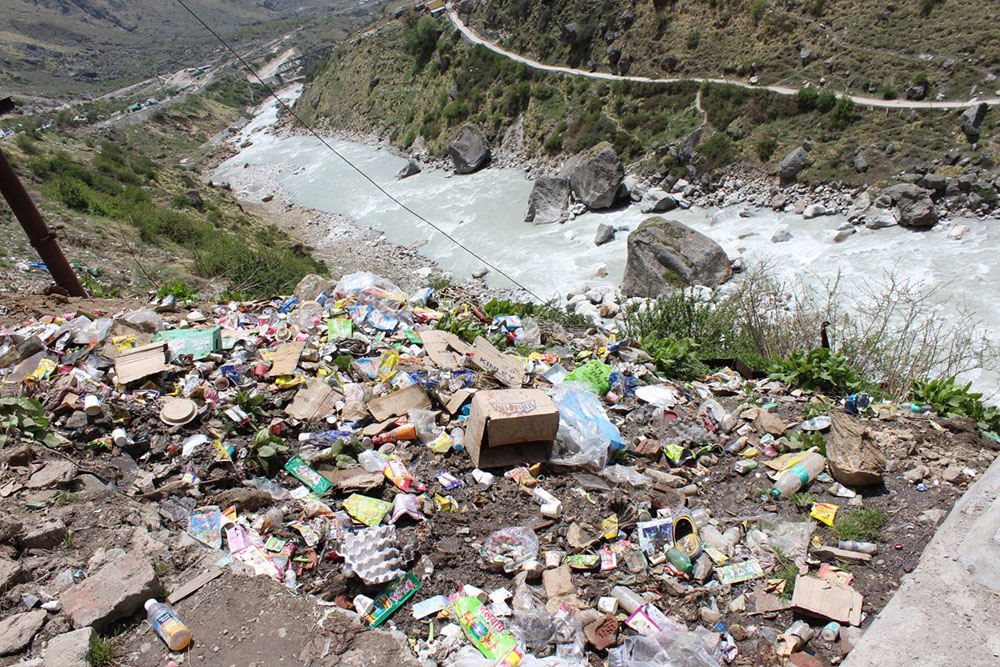 Rudraprayag
Our plan was to return the same day and reach at least Devprayag. But due to heavy traffic jam on Badrinath road, it took 3 hours to reach Joshimath.
We started binding our bags and started around 4 PM.
we were at a good speed. Crossed Karnaprayag and stopped by rain for half an hour. Driving on the wet road was difficult at night so we started searching for a hotel but didn't find any good stay option.
It was dark. Around 9 PM just before Rudraprayag we found a roadside hotel and called it a day. Matar paneer and Tandoori roti gave us some energy
Spent the night at Neelkand hotel for 800 INR for 3 people.
Day 4 – Rudraprayag to Delhi
The next morning we again started at 6 AM. It didn't save us from Rishikesh traffic. The entire route until Delhi was full of traffic which made us extremely tired.
When we reached Gaziabad it was full chaotic. Slowly we proceeded and reached Gurgaon finally at 10 PM, bringing our bike trip from Delhi to Mana Village to an end.
Finally felt relaxed. Ordered food from Swiggy and don't remember when we slept.
It was a different exp all together but we enjoyed it a lot. Wanted to cover Vasundhara fall but due to lack of time we couldn't
But I promised myself I will visit Mana again.
Delhi to Mana Village – Conclusion
I hope the travelogue, pictures, and information above on Delhi Mana Village were of help. If you have any questions, please feel free to ask in the comments section below or at our Community Forum, and I will be happy to answer. You can also follow me on Instagram and chat with me live there or subscribe to my YouTube channel and ask a question there.