A common belief is that a ride to terrain like Ladakh or Spiti can only be done if your motorcycle is heavy on CCs. When you look at all the pics and posters promoting tourism to these areas, you will mostly see riders on Royal Enfields only. While I am not denying the fact that higher the CC count is, easier the ride becomes; what does a person do if they only own a smaller engine motorcycle? Do they go around buying a new bigger motorcycle just for this ride? The answer is a definite no. With a little preparation and precautions, you can even ride to Spiti valley on 100CC motorcycle; or even a scooter for that matter. In this article, I will provide some tips on how you can prepare for such a journey and precautions you need to observe in order to ensure a safe trip.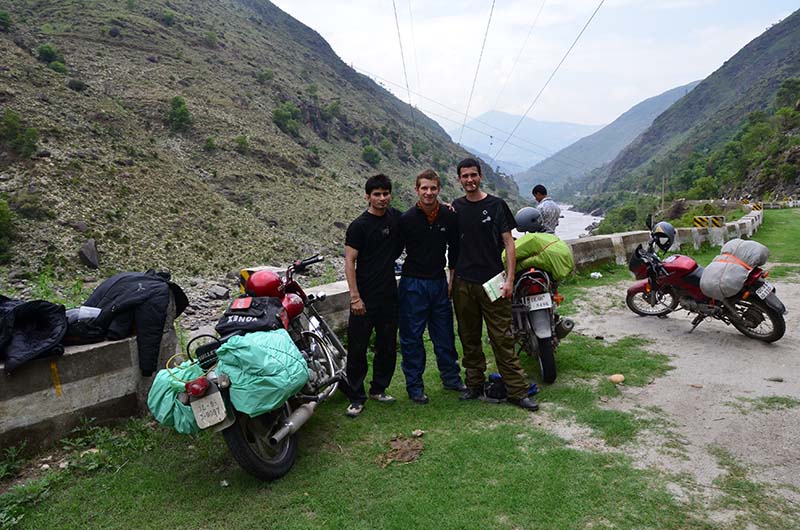 Though I mentioned 100CC motorcycle as the subject line; I only used it as a reference because that probably the smallest motorcycle engine available as of today in Indian market. Information below will also apply to 125CC or 150CC motorcycles; or automated bikes like Activa. First I will discuss the pros and cons of riding a small engine motorcycle (yes there are pros as well); then a few tips on preparations and how to ride during the journey.
Let me first explain a bit on the terrain that you will cross while completing the Spiti circuit. Traveling via Shimla, the first couple of hundred kilometers from Chandigarh till Narkanda is mostly a smooth ride. You climb up all the way but the good condition of the roads will ensure that you do not struggle anywhere; no matter which motorcycle you are on. As a matter of fact, you will find the locals here riding around scooters and driving Maruti 800s as well.
After Narkanda, you descend down to the banks of Satluj River and from there, it is mostly a flat ride with very few uphills involved. The only time you will be climbing up is on the diversions towards Sarahan, Kalpa and towards Sangla or Chitkul. The 16 kilometers long road from Jeori to Sarahan is a steep climb but road is mostly good. The 70 odd kilometers from Karchham to Chitkul however can be a bit tough due to terrible condition of the roads.
Just before Nako, you will climb up the Kazigs, a series of hairpin bends which is quite steep. After Nako however, you will again go downhill to Tabo, Dhankar and then straight to Kaza on a straight road. The road remains flat even after Kaza till Losar and then climbs up to Kunzum Pass. The ascent of Kunzum is tough in terms of bad roads but it is not really that steep. You then will again climb down to Batal and this is where the real challenge begins.
The Batal to Gramphoo stretch is once again mostly a flat road but it is a nightmare in terms of the condition. You will cross several numerous water streams, slush, boulders on the road etc and will have to be extremely careful. After Gramphoo, you climb up a while till Rohtang Pass and from there, it is once again a downhill journey all the way till Chandigarh via Manali.
As you can notice from the description above, the ride never really gets too tough or too uphill. I am not saying that you are riding in a plain area here, you are of course up in the hills and will gain altitude but it will be so gradual that you will barely notice it. Your real challenge while in Spiti will always be the bad condition of the roads. Some good suspensions, good planning and careful riding is all that you will in the end need.
Challenges of riding to Spiti Valley on 100CC motorcycle
Let me first list down a few hurdles that you will be facing in Spiti on a smaller engine vehicle.
Long Rides
Typically, smaller engine motorcycles are considered best for city purpose; short rides from one place to another. If you ride these continuously for several hours; it may result in a heating problem. This will further lead to accelerating problem and in some cases; bike may even refuse to come alive if engine shuts down.
Broken Roads
Spiti is notorious for its bad roads; and at several stretches, you may not even find a road at all. While traveling here, stones on the road, mud, slush will become an everyday story.
Water Crossings
This will actually be a hurdle no matter how strong your motorcycle is. It however becomes even a bigger problem if you are going to Spiti on a scooter; like Activa for example. On your way, you will be crossing several rivulets, small streams of water created by melting snow, some of which can be quite deep with large stones underneath the water. Due to low ground clearance of a scooter, taking it across may become a challenge. At several stretches, roads will be completely broken and as you ride across, stones will keep hitting the belly of the scooter.
Steep Climb
At some places, the ascent will be quite steep and if you are on a 100CC motorcycle with quite some luggage or a pillion, your motorcycle may struggle to climb up.
Advantages of riding to Spiti on 100CC motorcycle
With the challenges listed above; there are a couple of things that can be counted as a benefit of riding on a smaller engine motorcycle.
Light in weight
The weight of the motorcycle will differ and depend on the engine size. Smaller engine bikes are not really that heavy which means that it will be easy to maneuver them through difficult terrains or slush. They are also easier and lighter to push.
Better Mileage
This is a great benefit if a budget trip is on your mind. Fuel is the biggest cost of a trip like the one to Spiti and if your vehicle is able to cover great distances on a tank full, it will bring down your cost of the trip significantly.
How to prepare your motorcycles
After challenges, mentioned below are a few tips on how you can prepare your motorcycle for the tough ride ahead.
Get it serviced
This is the first thing you need to get done and if done properly by a good mechanic; this will be the only thing you need to worry about. You need to get your motorcycle serviced at least 1 week to 10 days in advance; and then ride it around the city for few days to ensure that everything is working smoothly. Some important things to check will include; the chain set to see if you need to replace it with a new one. Get the entire wiring system checked and if needed, get it changed. Take a look at the article below for a detailed explanation on getting your motorcycle ready for a Spiti trip.
Also read: How to prepare your motorcycle for Spiti Trip
Replace clutch, accelerator and brake wires with new ones. Get both front and rear brakes checked; if it is drum brakes then might as well just put in new brake shoe. Check the ball bearings to ensure they are all right. Check the suspensions; change or top up all the fluids including engine oil, brake oils, suspension oil and gear oil. A ride to Spiti will put stress on every part of your motorcycle so whatever seems dicey, better replace it.
Spares
Spiti is a well connected region and you may not struggle much to find a mechanic. The bigger problem is however of spare parts which may not be available due to remoteness of the area. Ensure that you are carrying some essential spare parts with you; like a headlamp bulb, set of clutch/accelerator/brake wires, chain locks, a tool kit, puncture set, a couple of spare tubes, and a foot pump.
Tires
It is extremely important to check the condition of both the tires. If they are nearing end of their age, then it would be best to get them replaced. Look closely for any cracks or damage that may become of problem later. Take your motorcycle to a puncture repair shop and ask the person there to inspect the tires for any small nails that may have found their way in the tire but did not come to notice because they haven't caused a puncture yet. While you are at it, apart from the tires; look at the rims for any dents or unevenness.
Know your motorcycle
You must know your motorcycle well before riding to Spiti. Things like its capabilities, where it can go, where it can climb, weight it can take, where would it ditch you, how to manage it on steep climbs and sharp curves etc. The very sound of your motorcycle should be able to tell you if there is something wrong with it.
Test Both
By both, I mean test yourself and the motorcycle as well. If you do not have enough riding experience, then ensure that you first get it before your trip. If you have never been up the hills then do that a couple of times. Going to Spiti means a lot of riding for long hours and riding in hilly region; and Spiti is not the place that you want to be your first in this aspect. Do a day ride on Sunday to some nearby place for about 7-8 hours; to get yourself habitual of long riding hours.
How to ride to Spiti Valley on 100CC motorcycle or Scooter?
Next question or course is; how do you handle the challenges? How do you successfully ride to Spiti on 100CC bike or any smaller engine motorcycle or Scooter?
Ride Solo
By this I do not mean that you travel all alone by yourself. No, I mean to ride without a pillion rider. Carrying a pillion not only means another person but also luggage of two people which your motorcycle may not be able to handle.
Ride In a group if possible
Ride with a group if possible at all or at least have a few more people accompanying you on the journey on other motorcycles. This way you can be sure that if something goes wrong; if your bike breaks down or you get stuck in slush or a rivulet; there will be someone around to help.
Travel Light
This is not applicable only when you are riding with a pillion but also when solo. Keep your luggage to bare minimum. Just take what you will absolutely need and try to travel as light as possible. Too much luggage not only is additional weight on the motorcycle; but also a hassle to rope it around every morning and then to remove every evening.
Stay on the road
While this of course also means that do not fall off a cliff; what I meant to imply here was to avoid taking shortcuts. At several places, as the road goes uphill, you will notice a dirt trail leading straight to the upper section of the road. Do not take any shortcuts at all and stay on the road. This can be extremely dangerous for both the motorcycle and the rider. One small miscalculation or if the bike stalls midway, you will come tumbling down.
I noticed a lot of people attempting this during my trip to Kibber and Komik from Kaza; both people traveling in a 4X4 and motorcyclists as well. If you see anyone doing this; just ignore and continue on your way. While this may look thrilling, you need to consider the risks involved and the consequences as well. Do not be a hero; you are on a smaller engine motorcycle which will be stressed trying to go up a steep dirt path; some wire may snap, brakes may get burnt and worse of all; the motorcycle may just refuse to climb any further and come to a complete halt. You will take a fall, get hurt and the entire trip will be ruined. It is just not worth to risk for a few minutes of thrill.
Heating Problem
Since there is no engine temperature gauge, your motorcycle may heat up at several places, especially at steep and narrow climbs while riding in lower gears. If that happens, do not panic. Take a break, enjoy the vistas around you, let the motorcycle cool down and be on your way again. Just make this a thumb rule that you have to take a short 5-10 mins break after every 20-30 odd kilometers; or after crossing every steep climb; or after every 30-40 minutes of ride. Do not climb in first or second gear for more than 2 kilometers, if you do so then take regular breaks after every 2-3 kilometers. If your engine is starting to heat, then the first sign would be the decelerating process.
Stalling
If your motorcycle stalls anywhere on a climb, let it stall and come to a complete halt while still in the gear. Do not pull the clutch; if you do so the engine braking will go, motorcycle will start to roll backwards and pull you along with it.
Chain Set
All the dust on the roads to Spiti can settle on chains and start to make it rough. Keep an ear out for any unusual sounds from the chain set. To test, accelerate to 40-50 kilometers/hour speed on a flat stretch, get to neutral, kill the engine and see if the chain is making noise more than usual. If it does, lubricate it. You should keep a small bottle of mobile oil for the trip handy.
No Speeding
It is quite plain and simple, no matter what others tell you. No speeding anywhere at all, be it the plains or while riding in the hills. Stay safe, ride slow, and enjoy the trip. A smaller engine motorcycle is also lighter in weight which means that it will not handle traction well on turns if speeding. Take a look at this like this; a lighter bike with heavy weight of the rider and all the luggage isn't really the perfect definition of "well balanced". You lean in too much at any turn or applied sudden brakes and you will be down on the road in a second.
And that is pretty much it. Just keep in mind the above mentioned rules and you will be able to complete your trip to Spiti on a 100CC motorcycle just as well as on a 500CC Royal Enfield.
Trip to Spiti Valley on Scooter
Now let us take a look at some problems that are specific to riding to Spiti valley on Scooter.
Fuel Tank
You will have to make arrangements for carrying fuel and in ample amounts. Scooters usually have a smaller fuel tank. For example, a Honda Activa is only 5 liters in terms of fuel capacity and a Mahindra Gusto is 6 liters. Try to keep your itinerary in a way that you do not stay away from a gas station for way too long.Take a look a the article below for a list of gas stations on Spiti circuit.
Also read: Accommodation and Other Facilities on Spiti Circuit
Tires
The small tire size on a scooter will make it tough to take it across a rivulet, slush and broken roads. Just ride slow and very carefully. Have someone standing readily as you ride through a water stream; so that in case you get stuck, someone is ready to push you out. Same logic applies for slushy areas too. On broken roads, keep your eyes focused on the road and ride slowly, avoiding extremely damaged sections.
Shock Absorbers
Most of the scooters come with a mono shock absorber which will put stress on the machine and the rider as well. Your back may start to hurt after continuous jolting for several hours. Plan your travel in a way so that you do not ride for over 6 hours a day. Ride slow and do not speed unnecessarily.
Engine Capacity
With smaller engine and lesser torque, everything that I mentioned above for 100 CC motorcycles applies here as well.
In the end, you need to remember that it is not the machine that is taking you there but it is you taking the machine to Spiti. It all depends on the way you ride and maneuver your motorcycle or scooter. Keep your spirits high, get challenged but without being over confident; ride slow and carefully and you will come back from Spiti with tales to tell for several years to come.
I hope this information on riding to Spiti Valley on 100CC motorcycle or Scooter was helpful. If you have any further question; please feel free to ask in the comments section below or at our Community Forum and I will be glad to answer. Also, if you a few tips that can be added, I welcome you to please share. You can mention it in the comments and I will be glad to add to the main article.