As you start descending from Rohtang Pass towards Keylong, a small untarred road bifurcates to the right near Gramphoo. The sign board at the beginning of the road reads" Welcome to the mystic land of Lahaul & Spiti".  When I first visited Ladakh, I did not pay much attention to it as I journeyed on towards Leh. However, the next year, when I went traveling to Spiti valley, I realized how true this board was. For anyone who has even the slightest of interest in travel, photography or adventure, this place should be on top of the list.  This one of the least populated regions of our country is in every way a land mysterious. It is like that "A land far away" that you read and heard so much about, a place that not many people go to but so enigmatic that you always wanted to see how it was. However, because of the same remote nature of the area, drafting a Spiti Valley Itinerary for someone who is visiting here for the very first time can be a little confusing. If you are too planning a trip to Spiti in near future and are not sure about how to take the journey, below is an example of Spiti Valley Itinerary that you can follow.
I suggest everyone that while traveling to Spiti, keep this in mind that this is not a journey that you are going to take each month or each year. Most of the people would not even know when they will be in Spiti next so the idea should be to see as much as possible and trust me, there is plenty to see there. My advice would be is to focus on the journey and not the destination. Unlike most of the other tourist destinations, Spiti is a place where your entire journey is something that you should enjoy. Vistas change at every corner and it is a feast for eyes at every turn of the road. This is not a journey where you can just doze off in the vehicle and wake up when you reach at the destination. Instead, this is a journey which is an adventure in itself. A journey that you cannot afford to miss any part of.
Click on the map below to view it in full size.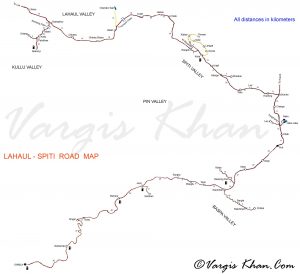 A few things that you really need to keep in mind while planning your itinerary, no matter which part of the country you are coming from, are;
Also read: Must See Places in Spiti Valley
While the entire Spiti circuit (Shimla to Manali or vice versa) can be done in 5 days, It is advised to at least give at least 8-9 days to enjoy this journey to its fullest. Read Lahaul Spiti Route Guide for a detailed description of the entire Spiti circuit along with a road map.
You really need to consider and prepare yourself for AMS which you may suffer from during the journey. Spiti is one of the highest altitude regions of the  and If this is your trip here, it is advised to start the journey from Shimla and end at Manali, for better high altitude acclimatization. For more detail on what AMS is and what its symptoms are, read How to Handle Acute Mountain Sickness in Spiti Valley?
If you are not traveling in your self-owned vehicle, then you can easily find public transport on this highway. This road passes through a well populated region and finding a shared taxi and even bus service is not at all difficult.
Hotels are available in Spiti in plenty and in every price range. You can find a hotel in here for as less as Rs. 500 per night for 2 people. If your trip is tight budgeted, then shared taxis are your best bet but visiting the nearby regions of Kibber and Kaumik can then become a pain. For people visiting on a motorcycle, a 10 days trip, covering entire Spiti, including fuel, accommodation and food can easily be capped within Rs. 10,000 per person. If you are traveling in a four wheeler, expect the cost to be around Rs. 15,000 to Rs. 17,000.
With above being said, below is how you can plan your journey. For the sake of this article, I will assume that you are starting from Delhi. If you are journeying from elsewhere, then the first and last day travel will change. If you are starting from even farther than Delhi, you may have to add a few more days to reach Shimla.
Also read: Top 10 Things NOT to do in Spiti Valley
Spiti Valley Itinerary
Day 1 – Delhi to Shimla / Narkanda
Day 2 – Shimla / Narkanda to Sarahan
Day 3 – Sarahan to Chitkul
Day 4 – Chitkul to Kalpa
Day 5 – Kalpa to Nako
Day 6 – Nako to Kaza
Day 7 – Kaza to Kibber, Komik, Tashigang, Kaza
Day  8 – Kaza to Chandratal
Day  9 – Chandratal to Manali
Day 10 – Manali to Delhi
This itinerary is more from the point of view of a person who is visiting here for the very first time. The way I have laid it out is keeping in mind that you neither travel too less nor too much on any given day while covering all the major tourist areas on the circuit. Below is a more detailed explanation of the above mentioned Spiti Valley Itinerary. I will start the journey from Shimla and exit at Manali which in my opinion is better for a first visit to high altitude regions.
For a complete list of accommodation at all these places, please read the article at the link below. I have mentioned here a few recommended hotels and guest houses here with their contact information.
Also read: Accommodation in Spiti Valley: Recommended hotels and guest houses
Day 1 – Delhi to Shimla / Narkanda
Nothing much to really write about this except for a long day of journey. Start early from Delhi, take NH1 towards Chandigarh. Just before Chandigarh, take the Himalayan Expressway towards Shimla. Once at Shimla, you can either chose to stay here or if you still have some time left, continue towards Narkanda. Personally, I prefer staying at Narkanda as compared to the crowded city of Shimla. It is about a 2-3 hours' drive from Shimla.
If you are staying at Shimla, then you can talk a walk through the market, mall road, Ridge etc. Narkanda is just a small village but with tons of scenic beauty.
If you have time, you can also break this journey in two parts. Reach Shimla on Day 1 and go to Narkanda on Day 2. Hatu Peak in Narkanda is well worth a visit. It is the highest peak in the region and a steep climb of about 10 kilometers. There is a narrow road that goes all the way to the top that you can take your car or motorcycle on.
About 8-9 hours' drive until Shimla and 10-11 hours for Narkanda. Both Narkanda and Shimla have several hotels and finding one for about Rs. 600 – 700 should be easy. Road conditions are mostly good all the way till Narkanda.
Also read: Traveling to Spiti Valley from Manali
Day 2 – Shimla / Narkanda to Sarahan
Start early if you stayed at Shimla. If you stayed at Narkanda on Day 1, you have plenty of time to reach Sarahan which is about 6 hours from Narkanda. Visit Hatu Peak early in the morning and return to Narkanda. Have breakfast, check out of your hotel and be on your way towards Sarahan. A little after Narkanda you will get your first view of Sutlej river which you will be traveling right next to for rest of the day. Continue towards Rampur where you may have your lunch as well. Once you reach Jeori, turn on the 16 kilometers long road that goes towards Sarahan.
Bhimkali temple and a bird sanctuary in Sarahan is well worth a visit. It will take you about 7-8 hours from Shimla and about 5-6 hours from Narkanda to reach Sarahan. Road conditions will mostly be good. There are several hotels here and you can easily find one within budget, for as low as Rs. 500.
Day 3 – Sarahan to Chitkul
From Sarahan, travel back to Jeori and continue towards Karchham. There is a huge dam built over Sutlej at Karchham which you will cross as you drive by. From Karchham, leave the highway again and take the diversion towards Sangla. Have lunch at Sangla and from there it is another couple of hours drive to Chitkul which is the last village on this road.
Sangla is famous for Nages god temple and Kamru Fort. Chitkul is a beautiful small village located right next to Baspa river. There is also an ATM at Sangla if you need to withdraw cash. Some people prefer chose to stay at Sangla but I would recommend going all the way to Chitkul. You can also break this journey in 2 days if you have enough time. Reach Sangla from Sarahan and then go to Chitkul the next day.
A total of about 6-7 hours of travel from Sarahan to Chitkul.
Both Sangla and Chitkul have several hotels and you will be able to find one for price between Rs.700 – Rs.100.
Road will start to deteriorate after Jeori and you should prepare yourself for traveling on bad roads from here on. Karchham to Chitkul is mostly an untarred dirt trail all the way.
Also read: Traveling to Spiti Valley from Shimla
Day 4 – Chitkul to Kalpa
From Chitkul, come all the way back to the highway at Karchham and from there continue towards Powari. At Powari, leave the highway once again and turn on the road going uphill towards Reckong Peo. From Peo, keep going further up until you reach Kalpa.
Reckong Peo is an Army base and foreign nationals have to obtain a pass here to continue further towards Spiti. Kalpa is a small town famous for its apple orchards. Primary attraction of Kalpa is that it presents a magnificent view of Kinner Kailash. Public smoking is banned in Kapla so do not lit a cigarette out in public. You should also buy your smokes from somewhere on the way as you may not find any cigarettes here on sale.
Road will continue to be bad mostly. A total of 4-5 hours journey. You may have to do a bit of hotel hunting but will easily find a hotel within budget, price ranging between Rs. 700 – Rs. 1000
Also read: Is Spiti Valley Safe for Tourists?
Day 5 – Kalpa to Nako
Reckong Peo has the last petrol pump until Kaza so ensure that you tank up here. Once again, do a bit of backtracking and drive all the way to Powari. Continue on NH1 towards Pooh where you will need to register yourself at the check post. After Pooh, road conditions will improve and will remain so all the way till Nako. You will also cross Kazigs on your way, numerous hair-pin bends just like the gata loops of Ladakh.
There are a couple of hotels at Nako and also a PWD guest house right next to Nako Lake. Expect the price to be around Rs. 1000 here.
Road conditions until Pooh will be bad but after that it is a good tarred road. Total of 6-7 hours of journey for the day.
Nako also has a small man-made lake but I found nothing too great about it really. You can also do a bit of trekking to a nearby hilltop to get a panoramic view of the village.
Also read: Best Hotels in Spiti Valley
Day 6 – Nako to Kaza
From Nako, its a smooth drive to Tabo. Road conditions will mostly remain good with a few bad patches here and there.
A few kilometers before Tabo, you will come across a cemented gate on your right and road heading towards Gue village. This site is famous for a 650 year old Mummy located here and is worth a visit. From the gate, it is an 8 kms drive to the village. The temple where the Mummy is placed is on a hilltop and is hard to miss once you have reached the village. You can also ask any of the locals and they can point you in the right direction. After visiting the temple, drive back 8 kms to the highway and continue towards Tabo.
Primary attraction at Tabo is the Tabo Monastery which is said to be over a thousand years old. In case you want to stay at Tabo for the night, there are a few hotels here, of which the Banjara Camps retreat is the most luxurious. There are other hotels and hostels like Tashi Gangsar, Menthok Dumra at Tabo, including the monastery's own guest houses.
Next after Tabo will be the small village of Dhankar, which is famous for its two (old and new) monasteries. There is also a lake near Dhankar, known as Dhankar Lake. You will have to trek on foot for a few kilometers to reach the lake. Dhankar does not have any hotels, nearest accommodation available is either at Kaza or Tabo.
After Dhankar, it is a straight run to Kaza. Some of the major tourist attractions in and around Kaza are Tangyud Monastery, Key Monastery, Kibber village,Gette Village, Langza village famous for presents of marine fossils, and the Pin Valley National Park, a protected area for Himalayan high altitude wildlife. There are multiple hotels in Kaza so finding an accommodation is not a problem.
Road conditions will be a mix of good, average and bad. A total of 6-7 hours of journey for the day.
Also read: Mobile Network and Data Connectivity in Spiti Valley
Day 7: Kaza – Tashigong – Langza – Kaumik – Kaza
Start early the next day from Kaza to visit the nearby villages of Gette, Tashigang, Kibber, Kaumik and Langza. Leave your luggage at the hotel and you will be returning to Kaza by evening unless you plan to stay at either of these small villages. Langza is famous for very old fossils found here which you can even buy if interested. It also has a small restaurant where you can eat and also see some fossils.
Day 8: Kaza to Chandratal
Tank up at Kaza as the next fuel station is at Manali. Head towards Losar and from there, take the ascent towards Kunzum Pass. As you start on your descent from the top towards Batal, there is a small road that goes towards Chandratal. This is the one you will need to turn on from where the lake is about 10 kilometers. It is a very narrow dirt trail so caution is advised while driving on it.
It will take about 5-6 hours to reach the lake from Kaza. Road conditions will be bad throughout. Chandratal has several campsites where the price will range between Rs. 1500 to Rs. 3000 per person including meals.
Also read: Clothes for Spiti Trip – What to Pack?
Day 9: Chandratal to Manali
From Chandratal, drive back towards Kunzum pass and head to Batal. After Batal, you will come across the worst stretch of road you have seen in your life. The distance is short however it will take you good 5-6 hours just to cross this small patch. From Gramphoo, take the turn towards Rohtang Pass and then descent into Manali.
Road conditions are worst until Gramphoo and after that it will be a mix of good and bad until Manali.
Total of 7-8 hours of journey for the day. Manali has several hotels and you will easily find one within any budget.
Day 10 – Manali to Delhi
Nothing but a long 12-14 hours of long monotonous journey back home.
This will sum up your 10 days journey to Spiti valley, the land mystic. No matter how many time you return here now, your first time will always be your most memorable. Drive back home with memories to cherish and tales to tell.
Planning a trip to Spiti valley by bus or other public transport services?
Also read: How to travel to Spiti valley by Public transport services
I hope this information on Spiti Valley Itinerary was helpful. If you have any further questions, please feel free to ask in the comments section below; or at our Community Forum; and I will be glad to answer.