When one talks about planning a trip to Spiti valley in December, several questions come to mind. The first and the foremost is whether is it doable or not? And if yes then what is the best way to plan the journey? How will the weather be and how should your packing be for the journey ahead? In this article; I will details some necessary information that you should keep in mind while visiting Spiti in December. I will first add a few tips to plan the journey better, followed by a few advantages and disadvantages of going to Lahaul Spiti in December. If you have any doubts after reading the article, you are welcome to comment and ask.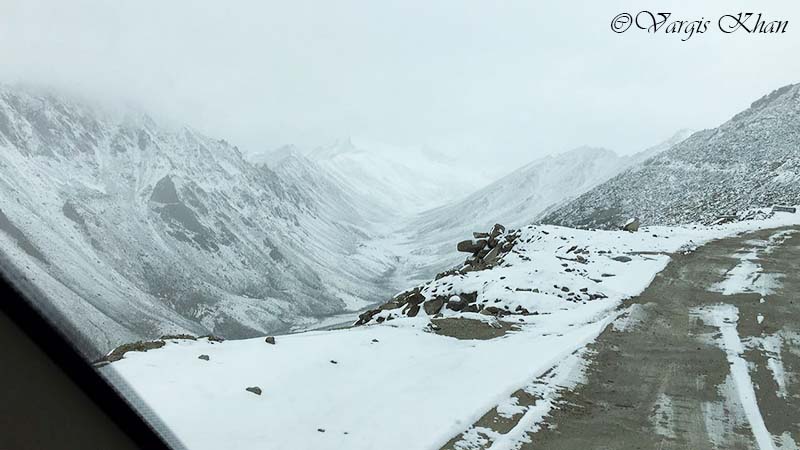 Can we visit Spiti in December? Answer to this questions is a definite yes. By road, the valley remains accessible throughout the year. The only difference however is that that you can approach it via Shimla only. The stretch between Manali and Kaza which is the shortest gets declared closed after it starts to snow to Kunzum Pass; sometime in October.
The road from Shimla to Kaza however remains open all 12 months; except for occasional road blocks caused by heavy snowfall. Even if that happens, authorities clear the road just as soon as they are able to.
You must however keep in mind that life in Spiti valley during winters is tough. When I say tough, I mean extreme cold due to which even water in pipes freezes. So there will be no running water; you will have to work with warm water provided in buckets; and may even have to do your business in a dry pit every morning. If the weather turns extreme, you may be stuck in the valley for days altogether. Your phones will definitely not be working and there may not even be any electricity as well. People living in the region are accustomed to this life as they go through it each year. But for people like us; it may get a bit frustrating so please do consider this before you plan your travel to Spiti in December.
One of the most common questions I get asked by people traveling to Spiti is if they need to obtain a permit. There is actually a requirement of Inner Line Permit for Spiti valley but it is applicable to only foreign nationals. Indian citizens can freely visit the valley without needing any permit at all except for the one for Rohtang Pass; if you were approaching via Manali. But since it is the month of December we are talking here, you won't be heading towards Rohtang Pass anyways so there is no need of that permit as well. For more information on ILP for Spiti valley, please read through the article at the link below.
How to Get an Inner Line Permit for Spiti Valley
With the above being said, if you are thinking to visit Spiti Valley in December, mentioned below is how you should plan your travel. It will definitely not be an easy or regular journey; not even a typical Spiti valley trip but if adventure is what you seek then you will get plenty of it.
Visiting Spiti In December
I will first list down a few important tips, followed by some advantages and disadvantages; and a then suggested Itinerary in the end.
Spiti valley weather in December
Cold and harsh are the two words that describe it the best. And it is not even the regular cold that we are discussing here. Temperature at nights will fall several degrees below zero. Days too will be no better. You may not see Sun in the sky for several days and even if you do, temperature will still be close to zero. You must prepare yourself for extreme cold, both physical and mentally. At an average, temperature in Spiti valley in December during day will fluctuate between -1 to -5 Degrees Celsius. By Night, it will drop down to between -20 and -25 degrees Celsius.
Clothes for Spiti Valley

This will relate to the point above. You need to pack woolens that can keep you warm in a freezing environment. Good thermals are a must followed by both light and heavy woolens. You also need to protect yourself from cold winds and a good quality heavy; windproof and waterproof jacket will be your best friend. Ensure that your jacket has a hood to cover your neck and head as well. Waterproof warm gloves, woolens socks, muffler, possibly waterproof shoes, sunglasses are some of the other accessories. You will also have to pack a good sunscreen lotion, cold creams, lip balms and some basic medicines for stomach ache, fever and cold.
Also read: Clothes for Spiti trip: what to Pack?
Do not Plan on the entire Circuit
As you probably would already have figured it out; you cannot plan on completing the entire Spiti circuit in December. Since Manali Kaza road will be closed, you will reach Kaza from Shimla and return via the same route.
For a complete list of places to visit in Spiti valley please read through the following article.
Also read: Tourist Attractions in Spiti Valley and its vicinity
Do not plan unless you are good at the wheel
Spiti is notorious for its bad roads and situations gets even worse during winter. While in summer it is just bad broken roads with a lot of potholes, dirt and water crossings; the risk increases in winter due to frost, black ice and snow. It doesn't matter if you are going by a motorcycle or a car, you must be a good experience driver or rider who is capable of maneuvering the vehicle and navigate your way through. If you do not have much of experience then it is best to cancel the plan of visiting Spiti in winters.
Start a bit late in the day
Black ice is one of the biggest threats of traveling to Spiti valley in December. What is black ice? It is a thin coating of ice on surface of the road. It is formed on relatively dry roads because of moisture present in the road texture which when frozen; creates a honeycombed invisible sheet of ice. The ice itself is not black, but visually transparent, allowing the often black road below to be seen through it. There is, thus, a risk of skidding and subsequent accident due to the unexpected loss of traction.
In order to avoid any unfortunate incidents; it is best to wait for the sun to come up. A couple of hours of sunlight will ensure that the black ice has melted and the road is relatively safer to travel on.
Keep Buffer Days
It is always wise to not keep your itinerary strictly bound to a set timeline. Keep at least a couple of days as buffer so that if you do get stuck somewhere; your entire plan does not go for a toss. If the trip was event-less and you traveled as decided, this day can be used to relax at the last destination of your trip; or maybe to rest at home after coming back from the trip before you went back to work.
Plan in Early December
There are two aspects of visiting Spiti valley in winter. One is that you just want to go there for the first time and were not able to do it in summer. Second is that you have been there and this time you want to see how the valley looks when covered under a thick sheet of snow. If your reason of visiting Spiti valley in December is the second one, then December is not at all a good time. It starts to snow heavy sometime towards late December and what you want to see exactly will be available in January and February the best. There will not be that much snow in early to mid December.
If however you just want to visit Spiti and not too eager handling snowfall and heavy snow all around; then I recommend that you plan your trip early in the month. Weather I agree will be cold but not as much as it would get towards late December. Snow it may but not as heavy or frequent as it would towards end of December.
Get your Vehicle Ready
It is not just you who will be under stress while traveling through Spiti but also your vehicle. Availability of mechanic is anyways limited here but in winters it gets even rare. You must get your vehicle ready and reduce all risks of a possible breakdown anywhere. If your vehicle ditches you somewhere, you will be stuck in the middle of nowhere; either looking for a mechanic or to get it towed. Diesel run engines can sometimes give start up trouble in cold regions so you will have to speak to a mechanic and get that taken care of as well.
How to Prepare your motorcycle for Spiti Valley Trip?
How to Prepare your Car for Spiti Valley Trip
Is it wise to travel to Spiti in December?
Not really is my answer to the question above. It will be extremely cold, you will have to leave certain areas out and still will not be able to witness the white Spiti. Better plan for January, February or March if you want to see snow all around. If you are thinking of visiting with family or children, give up that idea completely and leave it for summer next year. There really is not much that Spiti offers in December but staying here will definitely get difficult.
For more details on an ideal time to plan a journey through Spiti circuit, please take a look at the article below.
Also read: When is the best time to visit Spiti valley?
Advantages of Traveling to Spiti Valley in December
I know I said that December is not really the ideal time to be visiting Spiti but nonetheless, this month too has a few advantages of its own. Since the tourist season in the valley has already ended and there aren't many people around, you will actually get that feeling of being away from every inch of civilization that so many people come here seeking. The biggest charm will however be catching a live snowfall during the trip. If you did not catch it live; or if there was no snow at Kaza as well; then you can take a drive towards Kunzum Pass from Kaza; go as far as you can safely; and you will definitely get to see some snow there.
Disadvantages of Spiti Valley in December
Now let us take a look at some factors which make December a bad month to be visiting Spiti. Manali Kaza road will come at the top. This small stretch is one of the prime attractions of the Spiti circuit because it takes you across two high altitude passes and one of the most challenging and adventurous road that you have ever been on. Traveling in December will mean that you will have to keep this route out of your plan. Chandratal will come next in line. The lake gets closed for tourists by mid October so you will have to exclude it from your itinerary too.
Since you will be traveling from and to Shimla, you will need at least 1 week for the trip and cannot make it a short one. Cold will be a challenge at a whole another level. In winter, cost of living goes up in Spiti so it is possible that you may end up paying more for even some of the basic commodities. Black ice if you weren't careful can cause serious damage. If the road ahead is not open due to recent snowfall, you will have no choice but to wait it out until the authorities to declare it safe to travel on. There is no running water here in winters and you will have limited warm water in buckets. If there is no warm water then even washing hands will become a herculean task. Morning business will happen in dry pits.
Suggested Itinerary for Spiti Valley in December

Your final travel plan will depend on how many days you have in hand but I will still make a few suggestions that can help you to lay out your itinerary. For the sake of this article, I will assume you are starting from Delhi. If you need help with setting up itinerary, please mention your details in comments and I can suggest any possible changes, if required.
It will take you a day to get to Shimla from Delhi. Kaza is at least about 2 days from Shimla. Then you will stay there for at least a day. Total minimum time of this trip then will be 7 days.
Do not however bound yourself to these timelines. Keep at least 2 days as buffer and plan with 9 days.
Shimla gets a bit crowded and I will not recommend staying there. A better choice would be to go straight to Narkanda and stay there for the night. This will also reduce your travel time on Day 2.
On Day 2, you can break the day at Reckong Peo and then go to Kaza on Day 3.
You can visiti Kibber, Kaumik and Langza on Day 4
If you have time, you can go to Pin Valley from Kaza on Day 5
From Pin Valley, you can come back to Nako and stay there for Day 6
On Day 7 you can head straight for Sarahan
You can break Day 8 at either Shimla or Narkanda and return to Delhi on Day 9.
Can we visit Spiti Valley In December?
Keeping the above mentioned points in mind, yes you definitely can. Just be careful, go slow and enjoy the white valleys of Spiti valley. I hope the information above was of help. If you have any further questions, please feel free to ask in the comments section below; or at our Community Forum and I will be glad to answer.