Is Spiti valley safe for tourists? To be honest, on a general basis, the answer to this question is a straight yes. There is nothing here that is an immediate threat to the travelers; or something that can cause a serious enough risk for people wanting to visit the valley. But then a lot of it will really rely on several other factors. How safe Spiti valley is also depends on how and when are you traveling; what your itinerary was and how prepared were you; how much your driving or riding experience is; but most of all, how much were you putting yourself at risk on your own. If a trip to Spiti valley was on your mind and you were worried about the safety risks in Spiti valley; then read on for some tips on how to ensure a safe and enjoyable trip.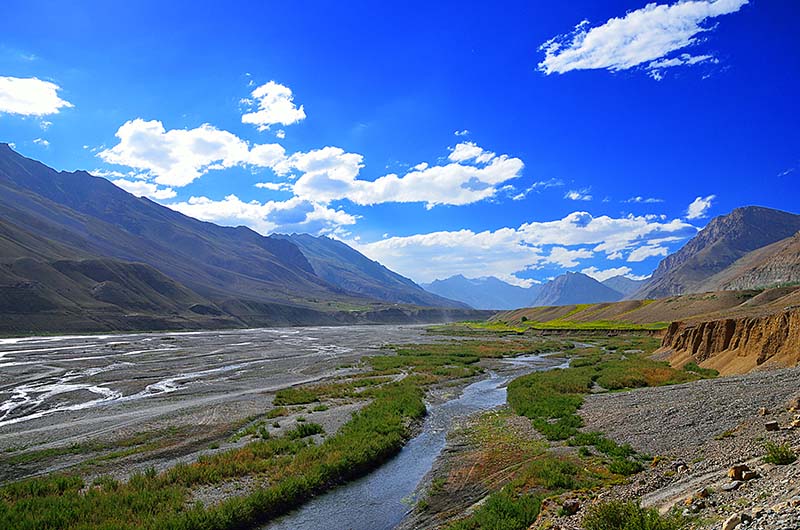 Spiti Valley is also called as second Ladakh sometimes and quite rightly so. The terrain and overall topography of the region is quite similar to that of Spiti. Another important aspect however is close proximity to China border. After all the recent Chinese incursions in Spiti, a lot of people have started to worry about it even while visiting Spiti so let me start with this only.
Safety in Spiti Valley after Chinese Incursions
As I mentioned above, Chinese incursions happened in a few areas of Ladakh; but nowhere in Spiti. The only time you get close to the border in Spiti is when you pass the area around Khab and Shipki La. Even in these areas, there have never been any Chinese incursions ever. Rest of the time during your travel, you are at quite a safe distance from the border. As a matter of fact, even in Spiti, places where incursions happened are a long way from the popular tourists destinations so you really have nothing to worry about in this aspect.
Also read: How to Plan a Trip to Spiti Valley – A Complete Travel Guide
Spiti Valley Road Safety
Yes, the roads here are bad. Spiti is in fact notorious for damaged condition of its roads for all 12 months. The stretch between Manali and Kaza will probably one of the worst roads you would have ever been on. The safety here will depend on two factors; your time of travel and your experience at the wheel. The months of monsoon are the ones when most of the landslides and road blocks occur as a result of too much rain.  Too many water crossings and slushy areas are another concern; so traveling in late July and August should be avoided; if you are not too keen on driving through rain and slush.
The road from Shimla to Kaza remains open throughout the year; but the months of December till March bring a risk of snow and slippery roads. Black ice is another serious threat. If there is too much snow then the road may get blocked for several days or weeks altogether.
Both these times needs some serious driving or riding skills. If you are not too experience in a car or on a bike, then you must avoid going to Spiti at this time. If traveling in winter, make sure you know how to handle slippery roads covered with ice or you will end up taking a serious fault. Same applies for monsoon season as well. Driving or riding through slush and bad roads; with rain beating down on you will definitely take some serious skill; and if you do not have it, then best to not go to Spiti at this time.
Also read: Mobile Connectivity in Spiti Valley
Acute Mountain in Spiti
Yes it is real and yes it is serious; but not applicable to just Spiti valley. You will suffer from it at other high altitude places like Spiti as well. As a matter of fact, I have seen people suffering from altitude sickness even at Manali. Slow gain in altitude is the key to avoid suffering from symptoms.
Chance of altitude sickness are greatest if you go via Manali to Kaza. If you are worried about it too much then just take the Shimla Kaza route to get to Spiti and give the journey some time. Take the trip slow, do not exert yourself, avoid smoking and drinking and you should be OK. If you start to get restless while traveling from Kaza to Manali then drop the idea of staying at Chandratal for the night and head straight to Manali. To read more in details about what acute mountain sickness is, what causes it, what its symptoms are and what can you do to avoid it in Spiti, please read How to Handle Acute Mountain Sickness in Spiti Valley.
Is it safe to travel to Spiti with Family?
If you are planning a trip with your family that includes either your elders or children, then the first step would be to consult a doctor and take a professional opinion. Children have the same tolerance level for mountain sickness as that of adults so the same rules will apply that I mentioned above. Keep a check on their overall behavior and for any symptoms of AMS. Kids are more active by nature which makes them prone to AMS by exerting themselves so keep their movements under control. Give plenty of water or other fluids and keep them covered from cold. If your parents have any medical conditions like Asthma, heart problems then bringing them to Spiti without going to a doctor's first will be a bad move.
Is Spiti Valley safe for foreigners?
Yes Spiti is as safe for foreigners as it is for Indian citizens. However, as a foreign national, you must obtain a permit to travel through the valley. Without the permit, you will be sent back from any of the check posts en route. This permit can be procured from Shimla, Manali or Reckong Peo. You must however apply through a registered travel agent because that agent will have to sponsor you for the permit. For more details on the complete procedure and related charges, please read How to Obtain Inner Line Permit for Spiti Valley. A lot of foreign tourists travel on Spiti circuit each year and you will definitely not be the only one. Some foreigners as a matter of fact I have found living here for several months altogether.
Is Spiti Valley safe for Heart Patients?
My knowledge in the field is next to none but as far as I know, traveling to high altitude places for people suffering with coronary Heart Diseases is not the best thing to do. Spiti is a remote area and it is not just about the present medical condition of the person. An even serious matter is the absence of medical support anywhere in Spiti except for Kaza city. If any medical emergency arises to a heart patient, it is bound to turn into a disaster because the nearest help would be miles and hours away. Still if you want to go, then you must find a good cardiologist and get a medical opinion. Please do not go looking for this answer on the web
Is Spiti Valley Safe to Travel?
How safe is Spiti is not really a question that only depends upon the region but also upon the traveler. Just follow the advice I provided above and you will be able to travel to Spiti without any hassle; have lots of fun; and return home happy. I do hope the information above was of help. If you have any further questions, please feel free to ask in  the comments section below; or at our Community Forum; and I will be glad to answer.