The month of September is about to end and along with it, ends the tourist season in the valleys of Ladakh and Spiti. A lot of places in Himalayas have already seen their first spell of snow for the season. As winter starts to settle, number of tourists continues to get sparse and locals prepare for the tough months ahead. While October is mostly considered an off-season for tourism in Spiti; a lot of people wonder if they can still complete the journey before the valley gets buried under a thick sheet of snow. If you too were planning the same, in this article I will provide some details on how you can plan your trip to Spiti in October.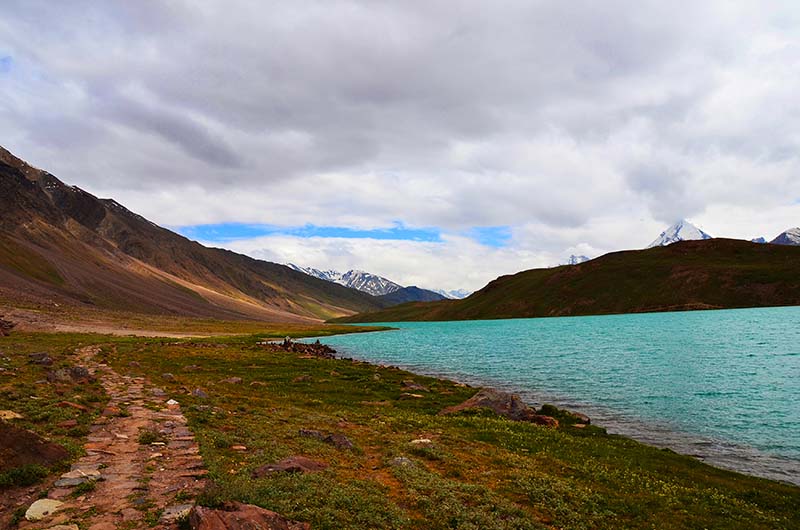 Is October an ideal time to visit Spiti valley? To be honest, there is really no straight yes or no to this question. It will depend on several factors like your mode of travel, itinerary, budget constraints if any and which part of October are you traveling in. In the end however, it is definitely not the best time to plan a trip to Spiti. In the month of October, the accessibility of certain regions comes under question and the weather will definitely start to get colder. For sightseeing purpose as well, it may not be a great time. However if this is the only time when you can afford to plan this trip, you can definitely do so keeping a few things in mind; details on which I will further provide in the article.
For more details on an ideal time to plan a journey through Spiti circuit, please take a look at the article below.
Also read: When is the best time to visit Spiti valley?
For a complete list of places to visit in Spiti valley please read through the following article.
Also read: Tourist Attractions in Spiti Valley and its vicinity
There are two way that you can access Spiti Valley. The more common, traditional way as I call it; is to start from Shimla and reach Kaza via Rampur, Reckong Peo, Pooh, Nako, Tabo and Dhankar. Then you can exit via Manali while covering Chandratal on the way. Second way to do the journey is to travel this circuit in the opposite manner; that is to start from Manali and exit via Shimla. The road from Shimla to Kaza remains open throughout the year. There may be a temporary road closure in case of heavy snowfall but it usually gets cleared within a day or two; unless it is a case of extreme weather conditions which can close the valley for even weeks altogether.
The road between Manali and Kaza however involves crossings over two high altitude passes; Rohtang La and Kunzum La. This stretch of the circuit closes by Mid-October after it starts to snow at Kunzum top and remains so until June next year. It means that if you are planning a trip between Mid-October to early June, you will have to reach Kaza via Shimla and return the same way. The Manali to Kaza road cannot be covered at this time.
How to Plan a Trip to Spiti in October
I will break this article in three different parts. First I will cover some important tips on traveling to Spiti in October; followed by some advantages and disadvantages of traveling at this time of the year.
Plan in early October
If at all possible, plan your trip in first 10 days of October. This will beneficial in two ways. It starts to snow at Kunzum top sometime by mid-October which means that if you were traveling within first 10 days, you will be able to complete the Spiti circuit. Chandratal too remains open till around 10th so that too can be included in the itinerary in early October. Traveling in later part of the month will deprive you of both these important parts of Spiti trip. After the road across Kunzum La gets blocked, you will have to return via Shimla only and a night stay at Chandratal will have to be pushed for another time.
Spiti valley temperature in October
Once it starts to snow at high altitude passes, temperature in the entire regions drops drastically. While the days will still be moderately warm in October, there will be a definite chill in the air and nights will get extremely cold. You must prepare yourself for the cold, both mentally and physically. Please note that when I say cold, it is not the regular cold that people like you and I experience in plains. Temperature in Spiti in October at nights can even drop to several degrees below freezing point.
Pack Accordingly
This is related to the point above. In order to ensure that you are able to handle the cold, you must pack your clothes accordingly. This does not mean that you stuff all your heaviest woolens in the bag. Pack clothes in layers. Thermals are a must followed by some light woolens and heavy windproof jacket.
For example, you can first put on the thermals, then your regular cottons covered by light woolens sweaters and then a thick windproof jacket. What this will ensure is that if you start to feel cold, you will have sufficient protection with your jacket blocking the wind and thermals keeping you warm. At the same time, if you start to feel warm, you can just take off any of the layers until you are comfortable. A good sunblock lotion, cold creams, some basic cold medicines, lip guard, woolens gloves and socks, a cap that can cover both your head and ears and if possible, a muffler to protect your neck are must. For a complete list of clothes to pack for Spiti trip, please read through the following article.
Also read: Clothes for Spiti trip: what to Pack?
Do not plan the entire circuit in later October
If traveling in later part of the month, it is best to avoid Manali to Kaza route altogether. Just plan to reach Kaza via Shimla and return the same way. If however, the road across Kunzum and Rohtang is open and you do want to attempt it, ensure that you speak to the locals at Kaza; get accurate information on the road before you head this way.
Avoid a bike trip if possible
For a trip to Spiti in October, plan your trip by a car and avoid a bike trip; if at all possible. Riding in such weather with cold wind blowing on your face; freezing your hands may not be the best idea. If you do however choose to go by bike, then ensure that your gloves are really good and warm. Protect your face under the helmet so that you do not end up catching a cold. Wear warm thermals underneath your trousers to also keep your lower body warm. Ensure that you are carrying woolen socks and good pair of shoes that can protect your feet.
Start a bit late in the day
It may not snow across Spiti in October but the low temperatures at night may result in black ice on the road at several places. When the sun is up, snow melts and wets the roads but at night, this water freezes and turns in to black ice which can be extremely dangerous. Do not start by first light of the day. Let the sun come up and wait until it is a bit warm. This will melt the black ice and remove the risk.
Keep Buffer Days
It is always wise to not keep your itinerary strictly bound to a set timeline. Keep at least one day as buffer so that if you do get stuck somewhere; your entire plan does not go for a toss. If the trip was event-less and you traveled as decided, this day can be used to relax at the last destination of your trip; or maybe to rest at home after coming back from the trip before you went back to work.
Advantages of Traveling to Spiti in October
With the above being said, there are a few advantages of planning a trip to Spiti in October. There aren't really many but I will list down a few.
Less Number of Tourists
For a lot of people, trip to a place like Spiti valley means getting away from regular crowded tourist destinations; to go to a place where time stands still. If peace and tranquility is what you seek with only a handful of people around; then Spiti in October is the place to be. Tourist season is over but not completely which means that you will still be able to enjoy a comfortable stay; be away from people yet get the basic facilities before the valley shuts down and the weather turns to extreme.
Chances of finding snow
Though not great, but if traveling in October you have small chance of finding snow or even catching a live snowfall at either Rohtang or Kunzum top.
Good Deals on Accommodation
This is not guaranteed but can be a great advantage if you are able to talk yourself in to it. Most of the hotels at this time are winding up and there aren't many customers around so a bit of negotiation may get you an accommodation cheaper than expected.
Water Crossings
Crossing water streams is one of the biggest challenges while planning a trip to Spiti valley. In the months of May and June, the melting snow rises the level of water in these rivulets; thus making to extremely difficult to cross these sometimes. Same is the story in August as well after Monsoon arrives. In October however; after Monsoon is gone and snow stops to melt; most of the small water streams vanish and the level of water in the big ones too will not be that high.
Cons of Traveling to Spiti in October
After advantages, let me also list down a few disadvantages of planning a trip to Spiti in October.
May be a bit expensive
Cost of living goes up in Spiti in winter and you may even end up paying more than the actual charge for basic facilities and sundries.
Black Ice
A great risk during road trip. While no water in rivulets will be a great advantage, it will create even a bigger risk of black ice or completely frozen water stream or black ice on the roads.
Cannot cover Manali Kaza stretch
This will be one of the biggest disadvantages of traveling to Spiti in October; especially in later part of October. In it snowed at Kunzum Pass, you will have no other choice but to give up the Manali to Kaza route altogether and return via Shimla only.
No Chandratal
Chandratal is in my opinion the prime attraction of a Spiti trip. Camps here wrap by and close for the season by 8th to 10th October at most. If you are able to make it in first few days, you may keep Chandratal in your itinerary. After this, you will have to exclude the night stay at this beautiful lake from your travel plan altogether. Even if it did not snow at Kunzum Pass, there will still be no place for you to stay. Camping on your own too is not advised after the camps are gone because then you will be all alone in the middle of nowhere; on the banks of a lake where there is wildlife around. If it snowed, then you will get stuck alone.
Cold
Handling extreme cold is not everyone's cup of tea. If you too fall in the same category, then it would be best to give up the idea of visiting Spiti in October and plan for next year summer.
Conclusion:
In the end, though visiting Spiti in October is not the ideal; you can still plan your trip keeping the above mentioned in mind. If you have any further questions, please feel free to ask in the comments section below or at our Community Forum and I will be glad to answer.