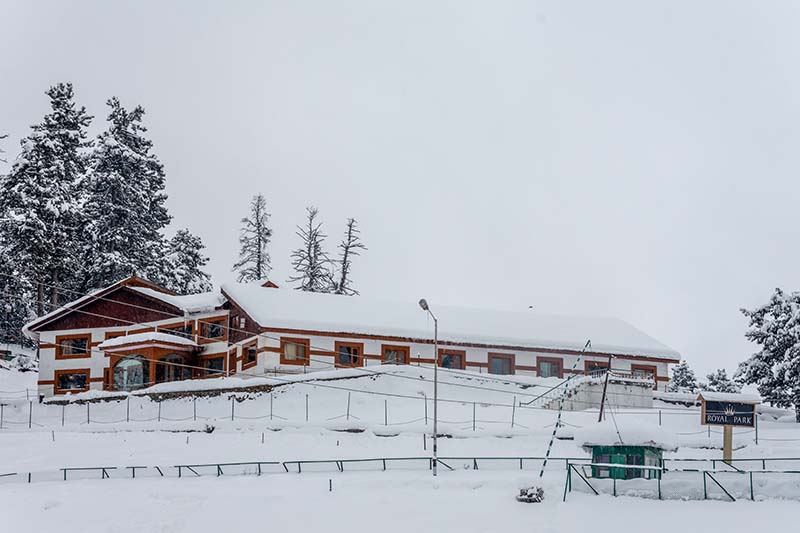 I was on a trip to Gulmarg some time ago and stayed at Hotel Royal Park for a day. Below is a short review of how my experience was, what I liked or did not like about this hotel, and whether would I in fact recommend it to anyone.
My stay at Royal Park was not really planned to be honest. I was visiting Gulmarg with a cousin of mine and we were staying at a different hotel called Hotel Affarwat.
The weather in Gulmarg was amazing at that time and we decided to stay for a day more. Unfortunately, Hotel Affarwat had further bookings which they had accepted payment for from other guests. Hence, they could not extend our stay for a day more.
On the recommendation of the manager at Affarwat, we chose to move to Hotel Royal Park on that day. Both the hotels are within a distance of a few hundred meters. It just took us 5 minutes to walk from one hotel to another. Our luggage too was shifted by the Affarwat Hotel Staff. So for us, it was just like walking from one room to another.
For other details on visiting Kashmir, you can also take a look at How to Plan a Trip to Kashmir – Complete Travel Guide. You can also take a look at the following video showing how beautiful Gulmarg looks in the winter season.
Hotel Royal Park, Gulmarg
Below is a brief overview of how my stay at Royal Park was.
Price
The regular price at Hotel Royal Park is over Rs. 4000 per day for a room with a double bed. But I actually paid a lower price than this. The manager at Hotel Affarwat made the call to the manager at Royal Park letting him of my move.
So I paid the same price that I was paying at Affarwat; Rs. 2300 for a room excluding meals. This is mostly the standard rate all across Gulmarg. You will not find a room anywhere in Gulmarg for less than Rs. 2500.
Location
This I think is the biggest advantage of Royal Park. It is located at an amazing location overviewing the entire Gulmarg town. The view from your room's window would be great with the entire Golf Course right in front of your eyes.
But at the same time, it also is located a little away from the main market on a small hill. So it would in fact require you to walk a bit every time you want to visit elsewhere in Gulmarg.
Rooms
Surprisingly, their rooms were quite small for the price, and ironically, the bathrooms were quite large. I am not sure who designed it that way but with a double bed and all the furniture, it looked a little cramped up in there.
The bed was comfortable though with an inbuilt heater. It was one of those extra soft beds where you just get buried in the mattress. I think could be a problem for someone with a back ailment.
Another complaint I had was with the washrooms. They did not have a geyser installed and the hot water was provided from some centralized hot tank or something.
The problem was that every time we wanted hot water, I had to call reception because either they were heating up the tank or there was something wrong with the taps.
TV was a disaster completely. There were only about 8 or 9 channels available and the video quality was really horrible.
Food
No complaint in this aspect. The food was actually quite delicious. We ended up overeating just because it tasted so good.
Staff
This was my biggest problem with this hotel. The entire staff has such a cold attitude towards the guests. None of them would smile even slightly and would talk to you as if they were doing you a favor.
For a minute, it felt like we were in a hotel run by Zombies with flat dead looks; unable to smile and give a warm welcome to their guests. They did not mistreat us or anything but it was not a pleasurable experience either.
Hotel Royal Park – Conclusion
My final word on Hotel Royal Park would be to stay here if you are unable to find a room elsewhere in Gulmarg. This hotel charges quite a bit of money but fails to provide service that can live up to the cost. There are multiple other hotels in Gulmarg that will cost you less but serve you much better.
If you have any questions, you can contact me on Instagram and I will be happy to answer. You can also consider subscribing to my YouTube channel and asking a question there.