This article is in continuation of a previous one and a part of my Ladakh and Zanskar Valley travelogue. We traveled from Delhi to Jispa in the first 2 days and Jispa to Leh on Day 3 and 4. The article below is a detailed log of our fourth day of the journey when we traveled from Tso Kar to Leh. Please click on the link below to read the previous parts of the travelogue.
Journey so Far
The night before had been terrible. I could not sleep at all and kept feeling cold throughout the night. To top it all I also had an upset stomach. We'd planned to leave at 5:30 in the morning to explore the Tso Kar basin and come back to the camp for breakfast. Then we had planned to go to Yar La and Datgo (the Rupshu region) before lunch, before finally heading off towards Leh.
Although we did wake up at 5:00 am, I was in no position to go, having not slept a wink the previous night. We went back to sleep and only woke up at 8:30. Sadly, it was now too late to do both the Tso Kar basin and Yar La, so we decided to explore the former. Both our heads were throbbing badly, and we wanted to take it a bit easy. After a lazy breakfast, we finally moved from the camp at 10 am.
Day 4: Tso Kar to Leh
A note before you proceed reading:
Kiang = A wild ass, whose home is the cold desert of Changthang.
Kiyang = A wild Tata Safari, whose home is in New Delhi, at times found in the cold desert of Changthang.
The people at the camp had told us that the dirt track that led us there would go till the lake, but beyond that, they had little idea till where it went. So far our tryst with the lake was from a distance, and naturally, we were eager to get a closer look. As we moved ahead on the track, the pretty Lake slowly came into view.
Also Read: How to Plan a Trip to Leh Ladakh – A Complete Travel Guide
We realized how big Tso Kar really was, and what a small bit of it we'd seen last year. Thankfully, there was hardly any wind at the time, and the lake was perfectly reflecting the mountains behind it. The lovely blue sky dotted with fluffy white clouds completed the perfect picture. We spent some time soaking in the vistas, before moving on.
Kiyang enjoying its natural habitat.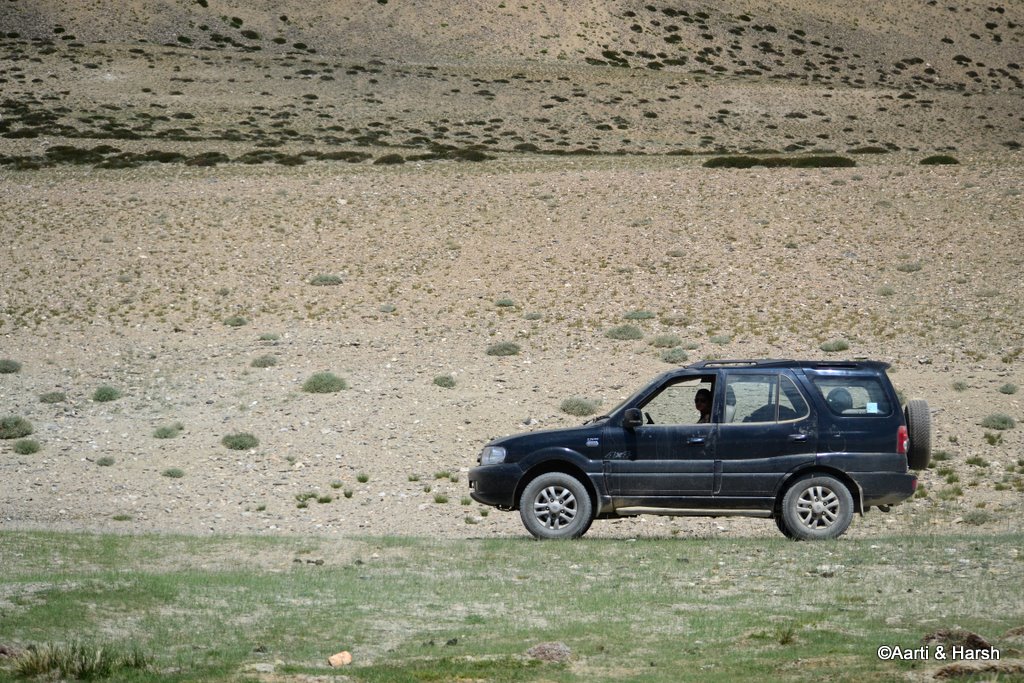 Surprisingly perfect reflections at Tso Kar, least expected.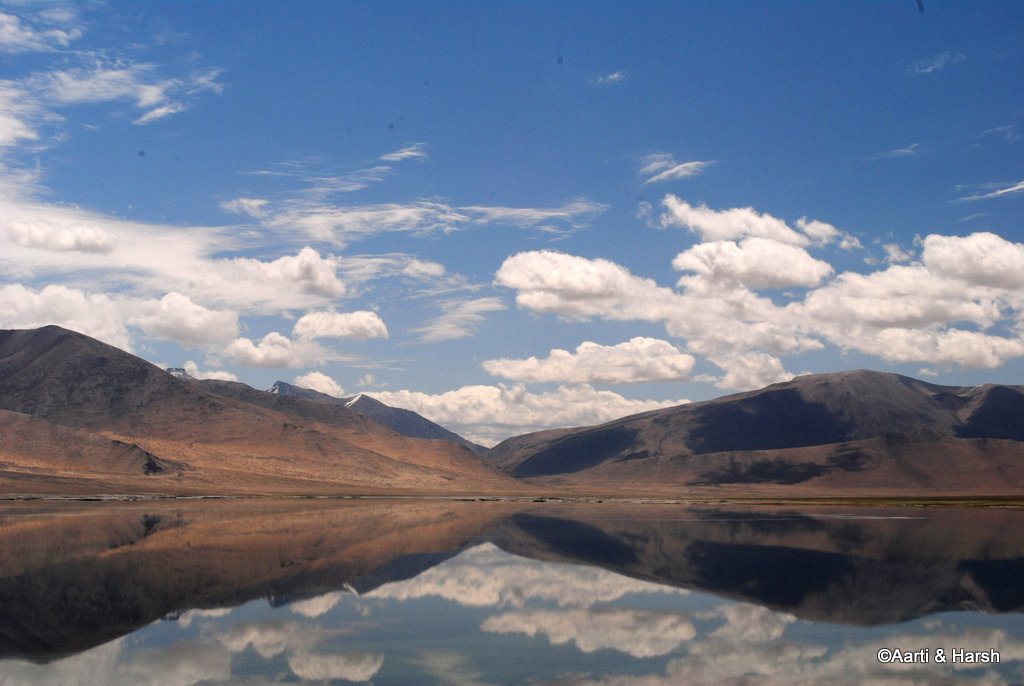 The leftmost part of the above panorama gives one an idea of the scale of things!
​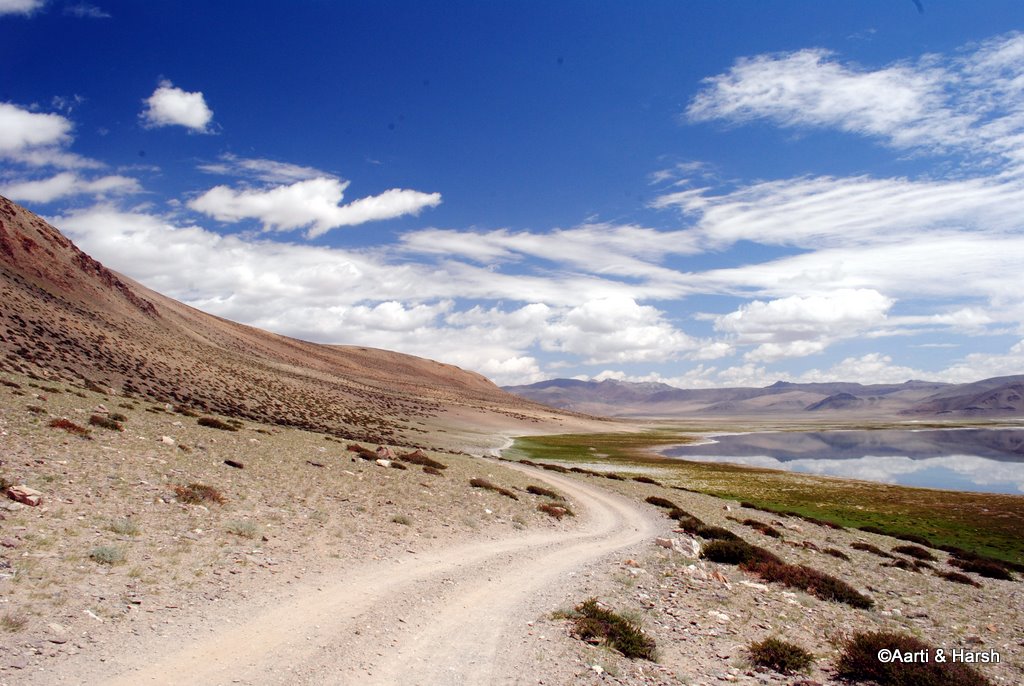 The Tso Kar basin is beautiful, and a large part of it was covered with purple shrubs this time of the year. These shrubs also grow on mountains, giving the whole landscape a purplish tinge. The fact that the place is a wetland only adds to its beauty.
Riyul and Chutak Villages
Soon we came to the tiny village of Riyul, from where the track bifurcated, one leading towards the lake and to the village of Nuruchan, and the other towards the end of the basin and to the village of Chutak. We opted for the latter since we also wanted to glimpse the Startspuk Tso, having missed it last year.
My hidden agenda was to check if the dirt-track went all the way till Kiagar Tso, had a hunch that it just might. For a change, the hunch was wrong and we did manage to hit a dead-end at the village Chutak.
The outline of a village, which we now know as Chutak, appeared in the distance, and that is where the track was going. We hesitated a bit since we wanted to circle the lake, but then curiosity tempted us to check out the village. All this while, we were hoping to spot a Kiang, as we had seen them last year in this very wetland, on the opposite side of the lake.
Also Read: Clothes to Pack for Ladakh Trip
The Locked Houses
Just as we were losing hope, we spotted two of them, and one crossed the track right in front of us. We were elated, and spent some time trying to capture the Kiang on camera, but did not get good shots as it soon ran away.
As we neared the village, we saw that its boundaries were fenced. Inside the village, however, all we could see were locked houses and not a soul around. We went up to the end of the village, which was also the end of the basin. The end was uncharacteristic, the terrain ahead was simple enough to have dirt-tracks and the climb ahead to Startspuk La seemed easy for a 4WD!
However, there were no dirt-tracks. Not even signs of tire tracks which we could follow. My hunch was thus rendered false, and we realized that the route from there to Kiagar Tso was only a trekkable one for now. We could still not see any person or animal around.
Some houses had what seemed like pashmina goat wool on top of their roofs, but ALL of them were locked. We could not figure out if the village was abandoned or if the villagers had simply gone out to earn a living, which of course would mean grazing their flock!
The tiny hamlet of Riyul. The track ends here, the trek route and Startspuk La can be seen ahead.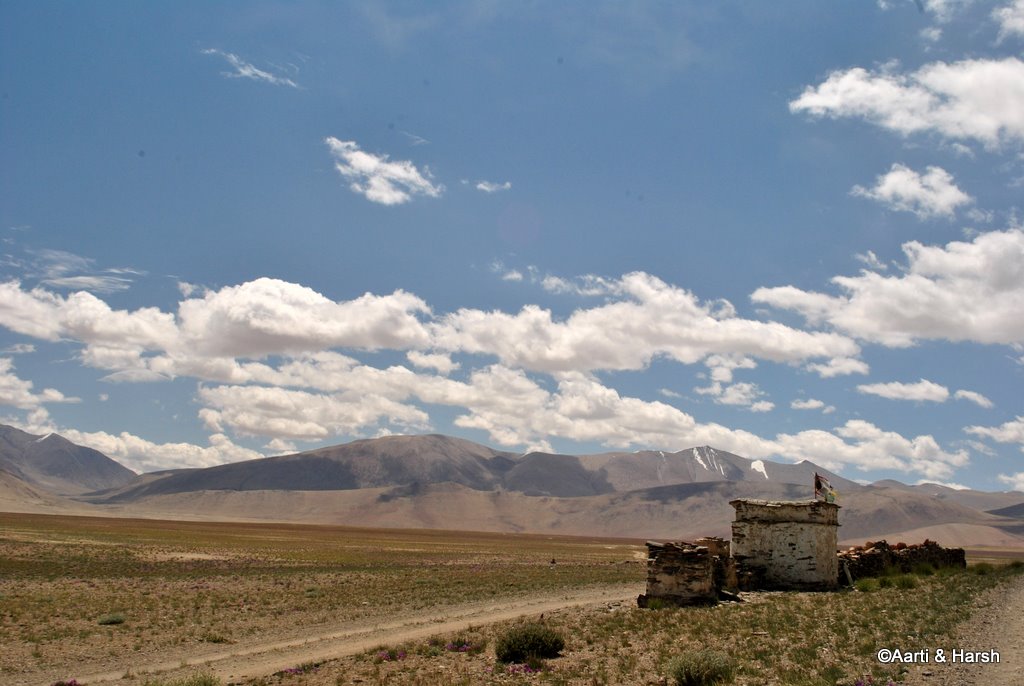 The ghost village of Chutak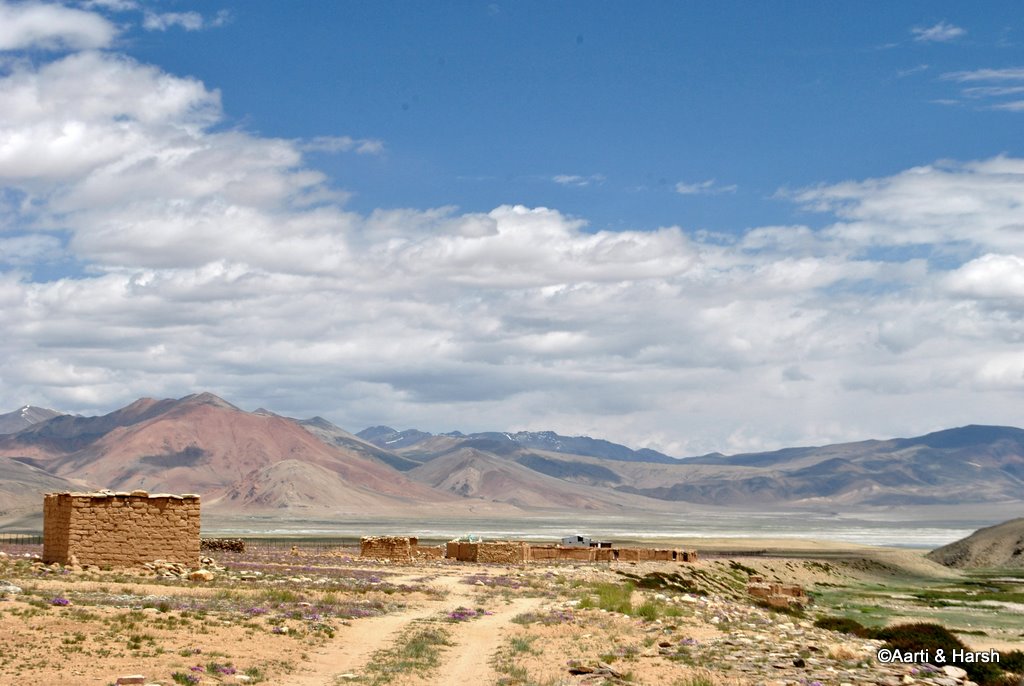 The villagers must have gone out to work. There was precious Pashmina wool (Pashm) kept on the top of this house.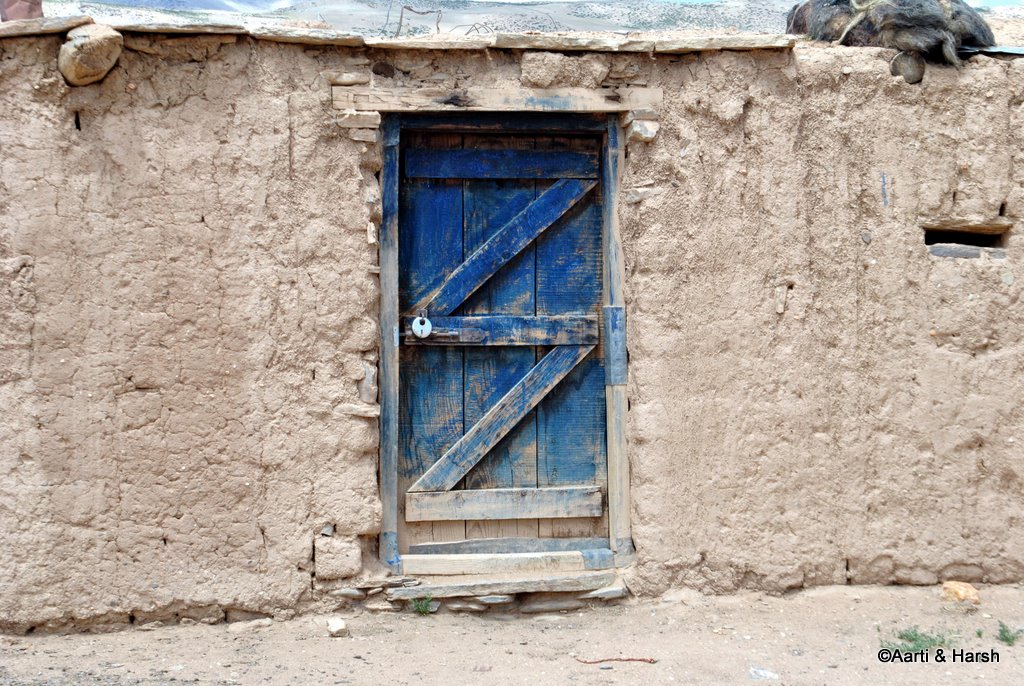 Purple shrubs, a fenced road, a vast landscape!
​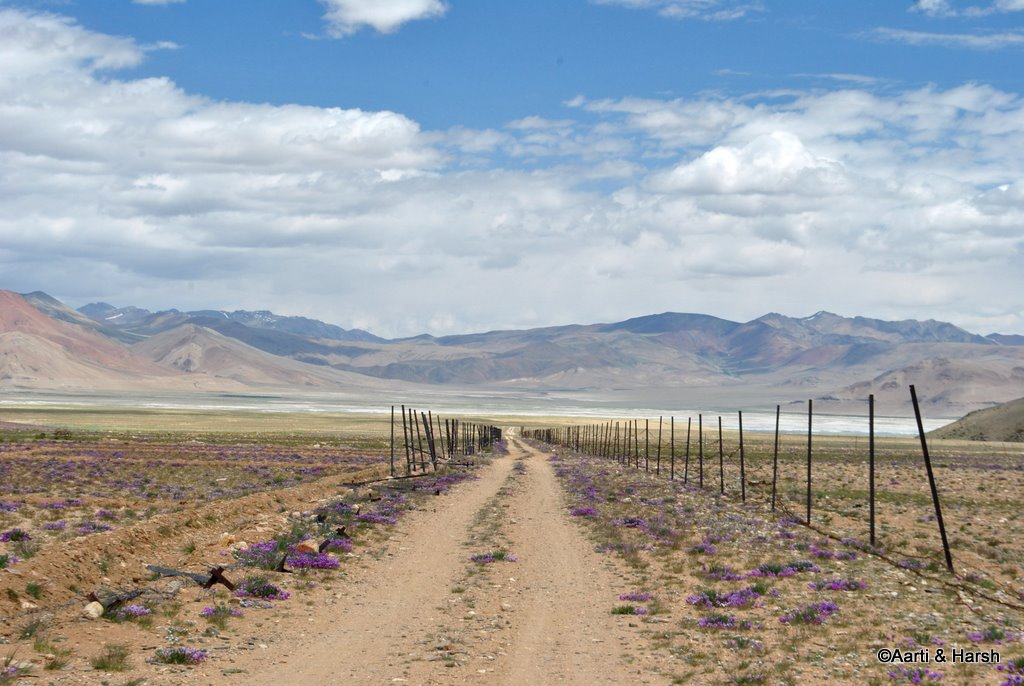 Nuruchan
We then retraced our steps and went all the back till Riyul where the track had bifurcated. We now took the other path which led towards the lake and to Nuruchan. This path was much less used, and we sometimes even lost the tire tracks for a few meters.
It was also much closer to the lake, and hence we had to be careful not to veer off into any marshy areas or worse onto any part of the wetland. In the distance, we saw a watchtower and concluded that this must be used by bird watchers to monitor the movement of migratory birds.
Also Read: How to Plan a Trip to Nubra Valley
Kiangs
Along the way, we spotted two or three brown spots far away, and on looking through the zoom lens figured that they were actually Kiangs. I even got down from the car to capture two of them on camera. As I was walking back, they too seemed to follow me.
Then, they stopped pretty close to us and stared. And stared. And stared. Took a graceful turn, in perfect coordination, and then stared. And stared. And stared. Took a graceful turn, in perfect coordination, and then stared. And stared… and so on!
All this while, Aarti had been shooting furiously with the zoom lens and even managed to shoot a video of their antics. We were bewildered by these two brave and bold Kiangs, so curious about us humans that they did not let us out of their sight even for a second.
It was us who had to finally give up and drive away when we got the feeling that this cycle might actually go on the whole day! But indeed, the grace with which the Kiangs carry themselves is marvelous. Everything about them – their slender, athletic body, their beige and brown color which completely blends into the barren surroundings, their cute, alert ears, their majestic mane, the way they run with their heads up – is beautiful.
What elegant creatures! Needless to mention, we were absolutely thrilled with the attention we got from them.
A bird watchtower that must be used by Ornithologists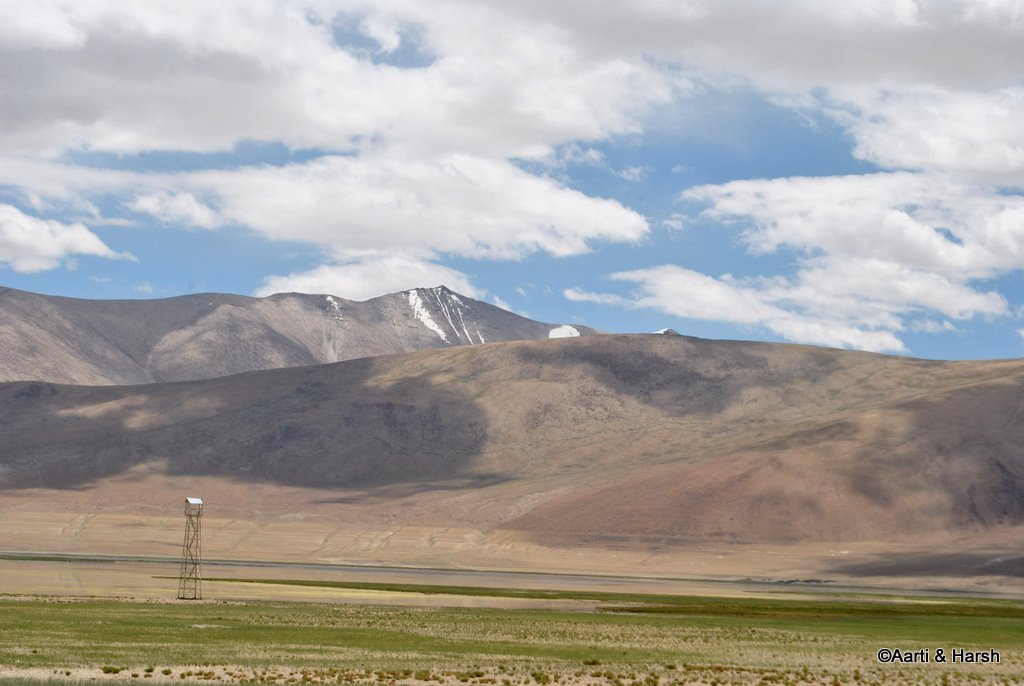 I went after them Kiangs, on foot this time.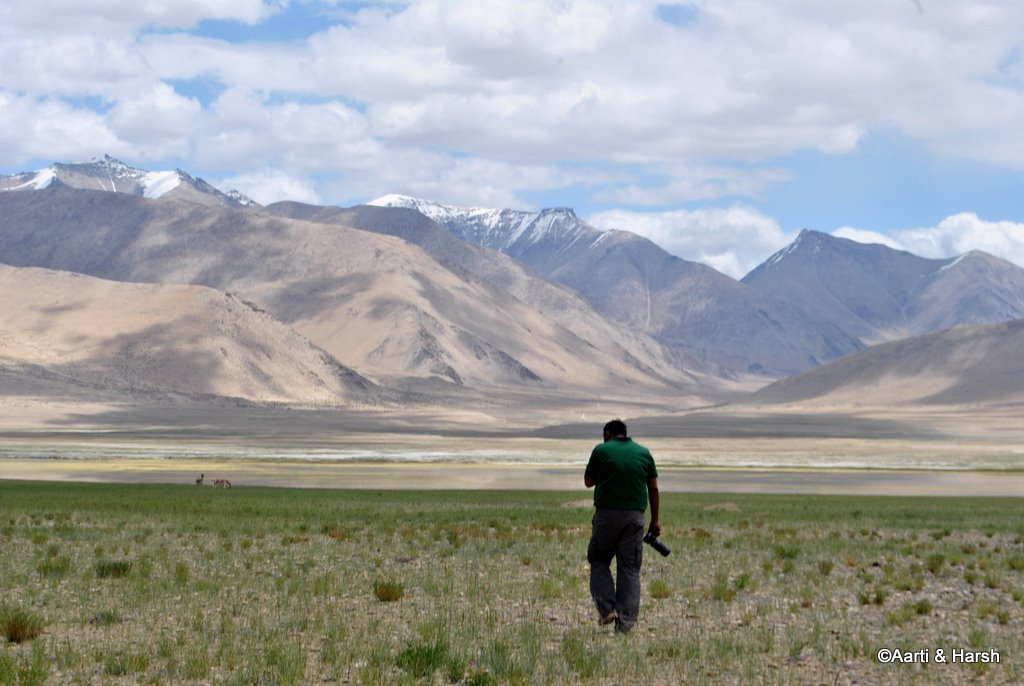 The perfect pose!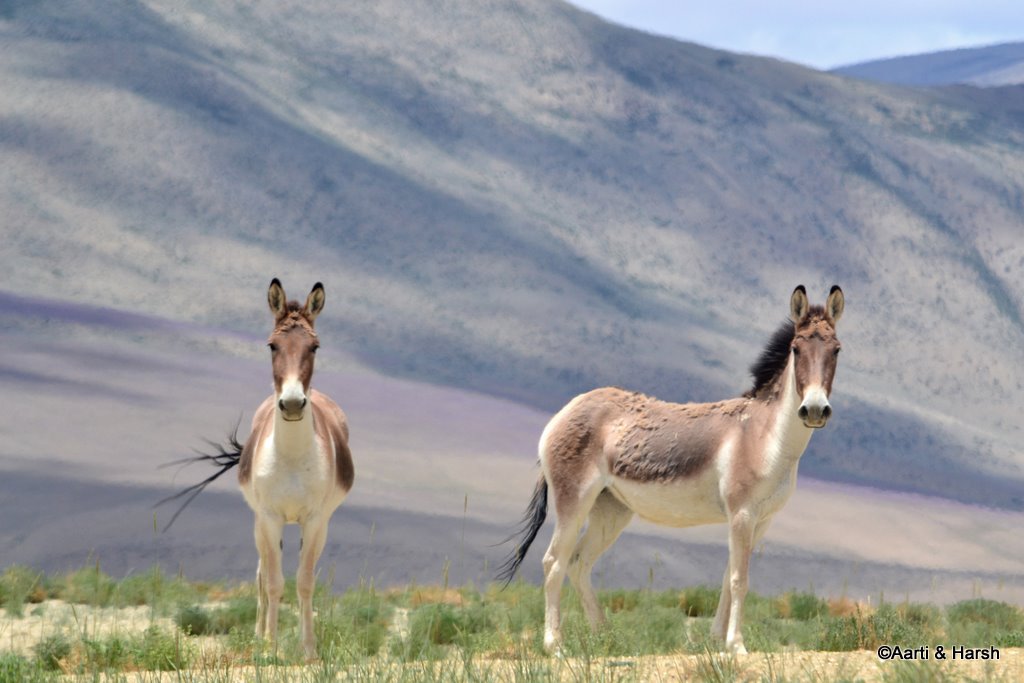 The closest I could get to them, pretty close I reckon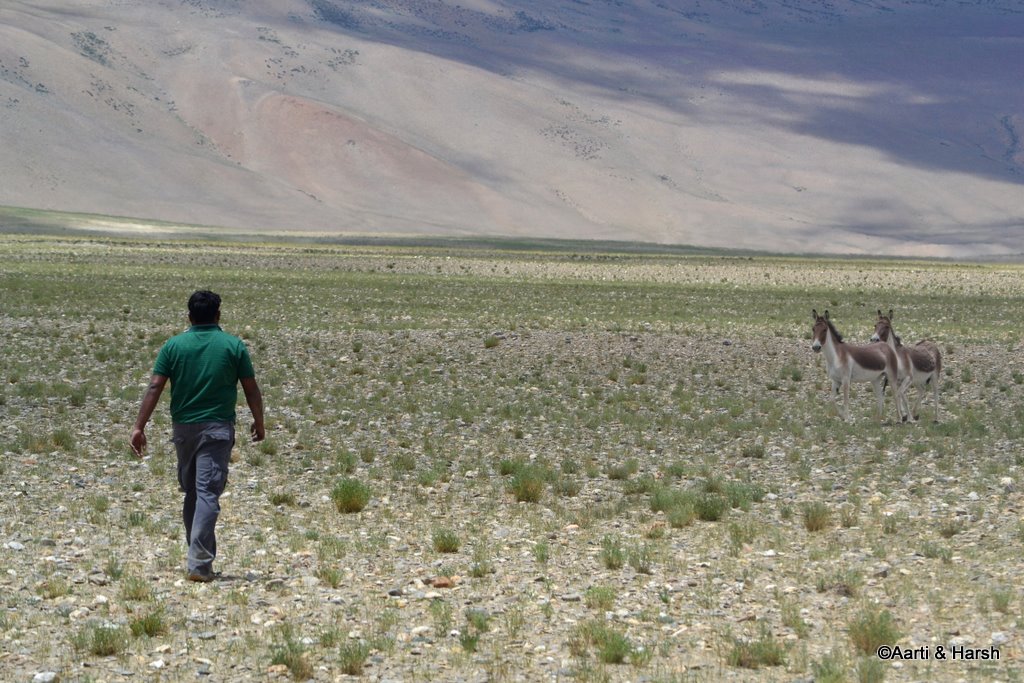 Startspuk Tso
We also spotted the tiny Startspuk Tso in the distance. Both of us somehow love the name of that lake and were glad to have finally seen it. Realizing that this track too did not cut across the lake, as marked on the map we had, we went back the way we had come.
Also Read: The Ghost of Gata Loops
Some Brahmini ducks were frolicking on the edge of Tso Kar, but we couldn't get good shots of them as they were very shy and flew away at the slightest indication of movement. We had almost reached our camp at Panginagu when we noticed some marmots on either side of the track and were delighted at having spotted the one animal that we were really missing.
A painted stone on a Mani wall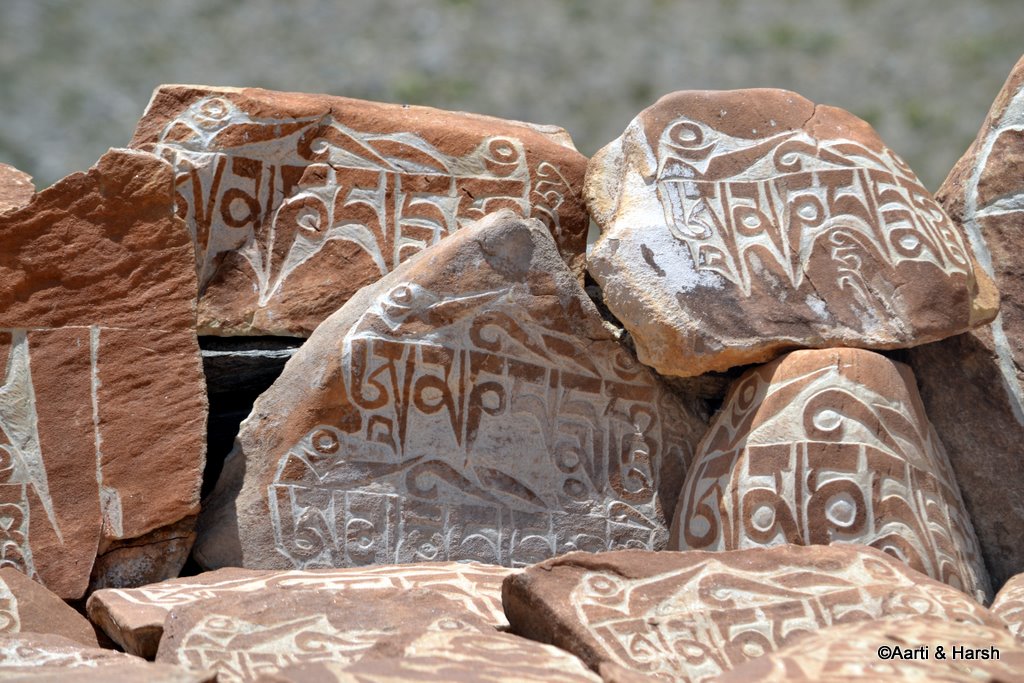 A Himalayan Marmot, there were many in the Tso Kar basin, although very shy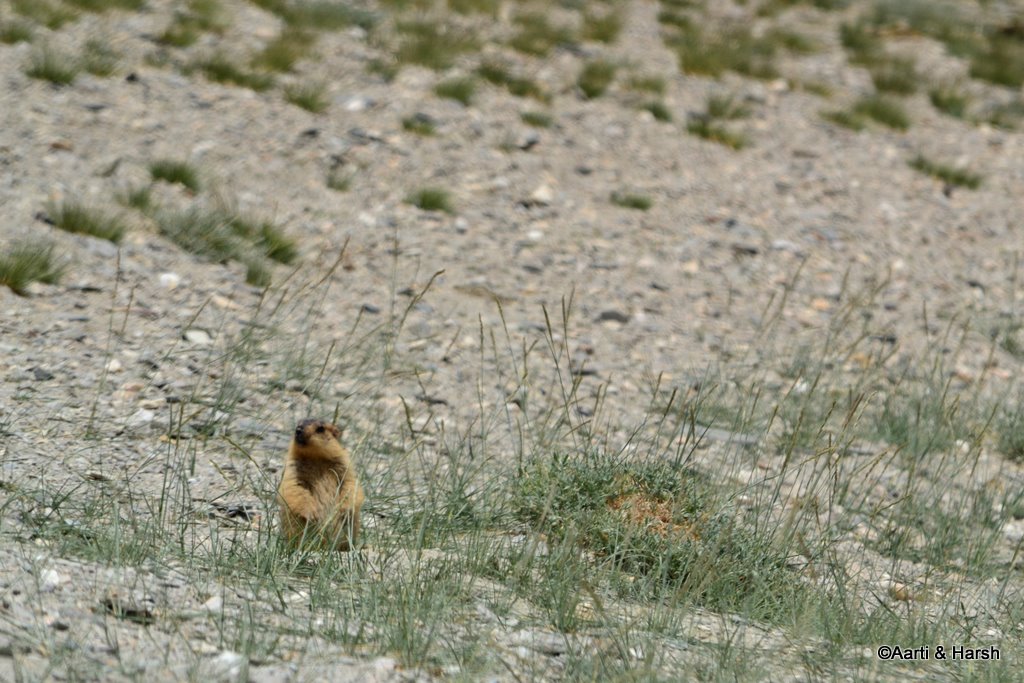 Brahmini ducks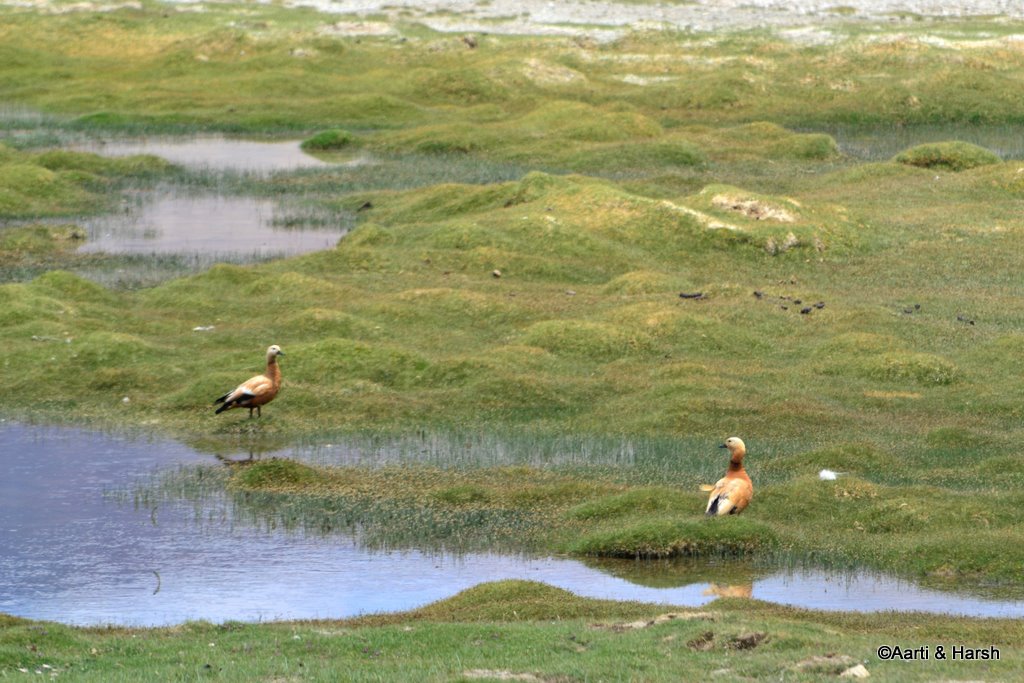 Our campsite for the night at Panginagu
​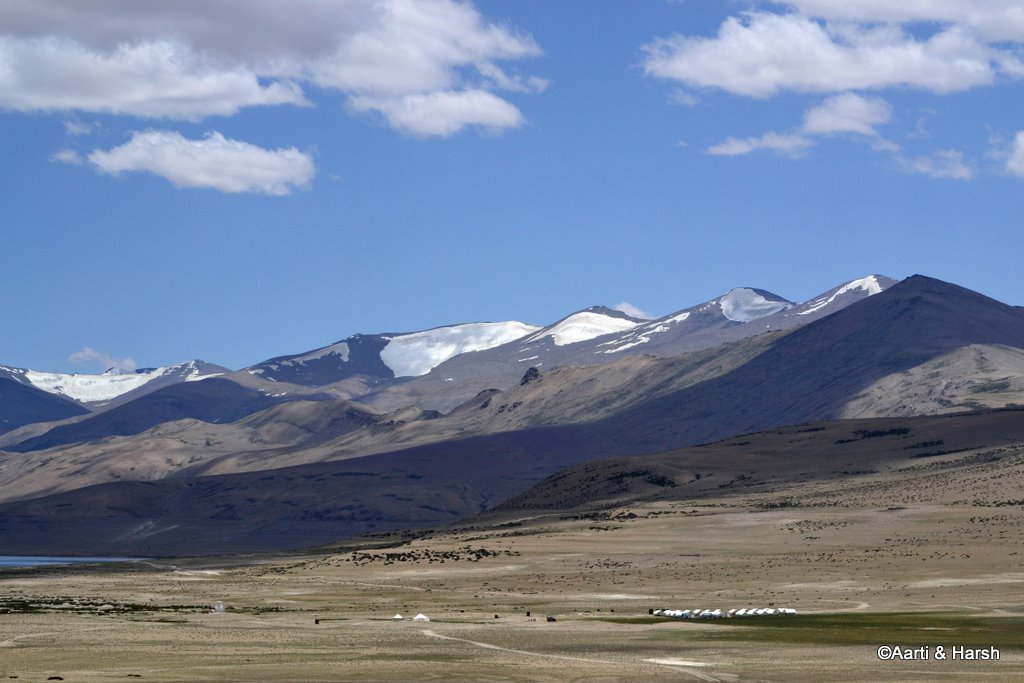 Debring
On the way back, from a very gratifying outing at the Tso Kar Basin, we touched the highway at about 1:30 pm and soon stopped for lunch at our favorite dhaba in Debring. This was the third time we were stopping there, and the owner immediately recognized us.
We'd taken some photographs of him and his friends last year. We had promised to send them to him, having noted down his name and address. Aarti had even got the photographs printed. But we did not send them after the flash floods hit Leh as we were unsure whether the photographs would reach them or not.
But we'd remembered to carry them along with us this time. When Aarti took the photographs out of her bag and gave them to the guy, the expression on his face was truly priceless! He could not stop admiring his solo snap. Soon he called his friends from the other two dhabas there, some of whom were also in the photographs.
They had a field day looking at their pictures, and we thoroughly enjoyed seeing them so happy. Those were some moments that both of us will cherish for a long long time. It is a wonder how seemingly small gestures can make people so happy.
Also Read: Complete List of Tourist Attractions in Ladakh
The Cycling Brit
At the dhaba, we met a Brit with a fully tattooed body that was relaxing. As we started chatting with him, it became apparent that he was a cyclist on the Manali-Leh highway and resting the night here. The shock value came when we got to know that the dude began his cycling at Rishikesh.
He rode all the way to Rohru via Chakrata, rode further up to Narkanda, did the Spiti circuit, and finally was now doing the Manali-Leh highway. Phew! He had been on the road for more than 5 weeks now, and still planned to move on towards Srinagar and probably Zanskar too! Now that's called a truly adventurous road-trip. Respect!
We meet flat roads again towards the end of Moreh Plains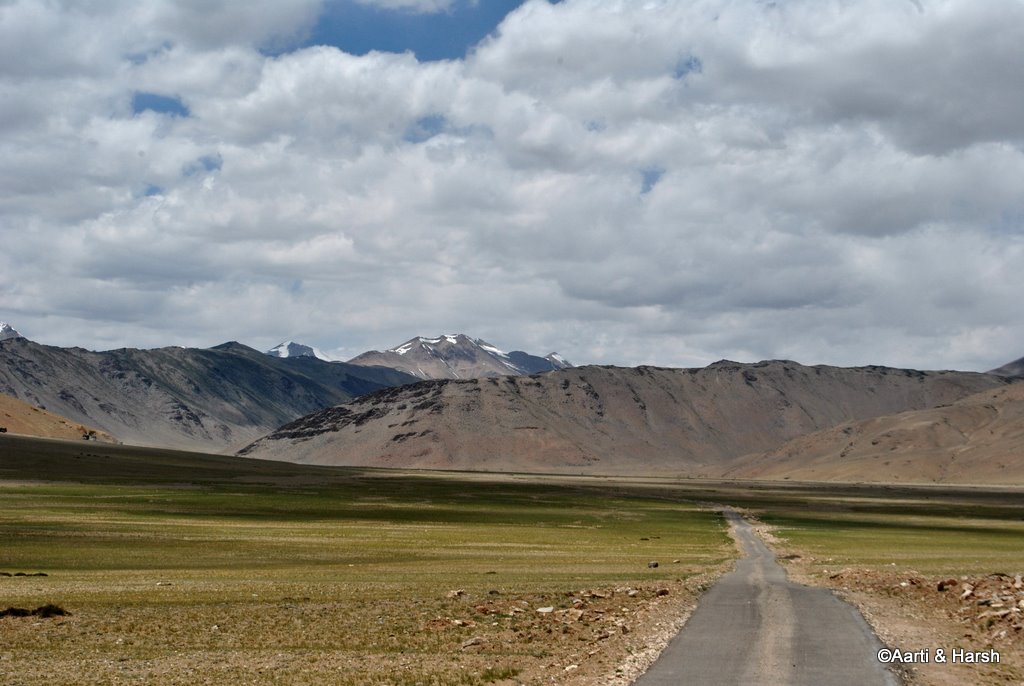 As is evident, lunch at Debring was very satisfying. As we left, the dhaba owner, Urgain, said "Agle saal phir milte hain!" (we'll meet again next year). We did not have the heart to tell him that we may not come back the next year. So we simply said that we surely would meet again.
Also Read: How to Plan a Trip to Pangong Tso
Tanglang La
I was quite tired by now, and that feeling of being unwell, which had somewhat disappeared after breakfast, came back full-on. I decided to get some rest, and Aarti took the wheel. The climb to Tanglang La was a bit painful, the road being very dusty.
A dozer was clearing a landslide halfway up, and we had to wait for half an hour or so for it to clear. We reached the pass somewhere around 3 pm and took a photography break. If you try hard enough and know where to look, you can actually spot Tso Kar from Tanglang La.
The climb to Tanglang La is being double-laned these days
The view from Tanglang La. Tso Kar can be seen in the distance.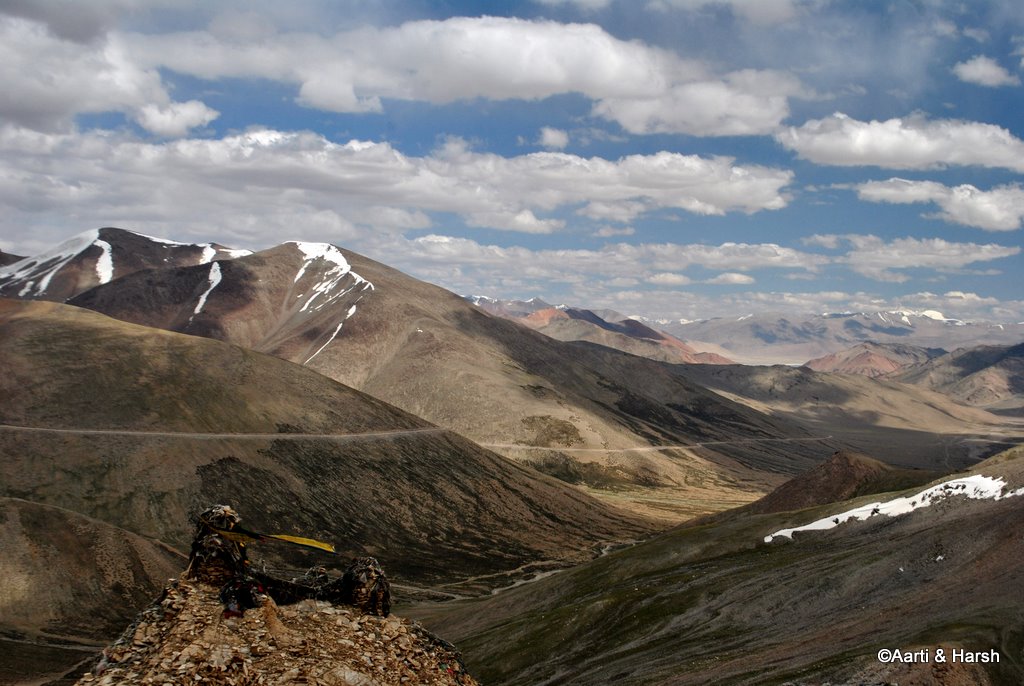 The descent from the pass was smooth, with the road being mostly tarred and pretty wide. As one enters the valley on the other side of the pass, the scenery changes dramatically, the barren mountains get a definite purplish touch, and the greenery returns. The road is nicely tarred, and villages reappear.
Also Read: How to Handle Acute Mountain Sickness in Ladakh
Rumstse greets you with its white chortens and green fields, followed by the Gya monastery and Lato along with other small settlements. The sight of civilization after 1.5 days of the wilderness was welcome. The road runs mostly level with the Khyammar river, and at many bends, we could see the destruction caused by the flash floods last year, with parts of the road completely washed away.
Gya gompa is located on the other bank of Khyammar river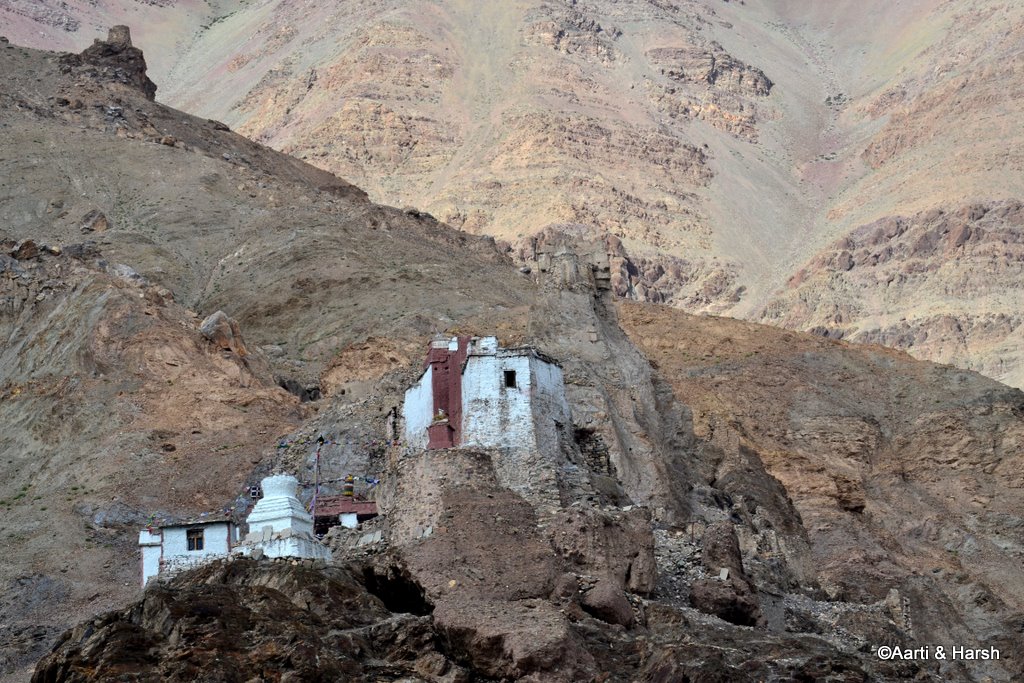 A pretty farm next to the highway at Lato village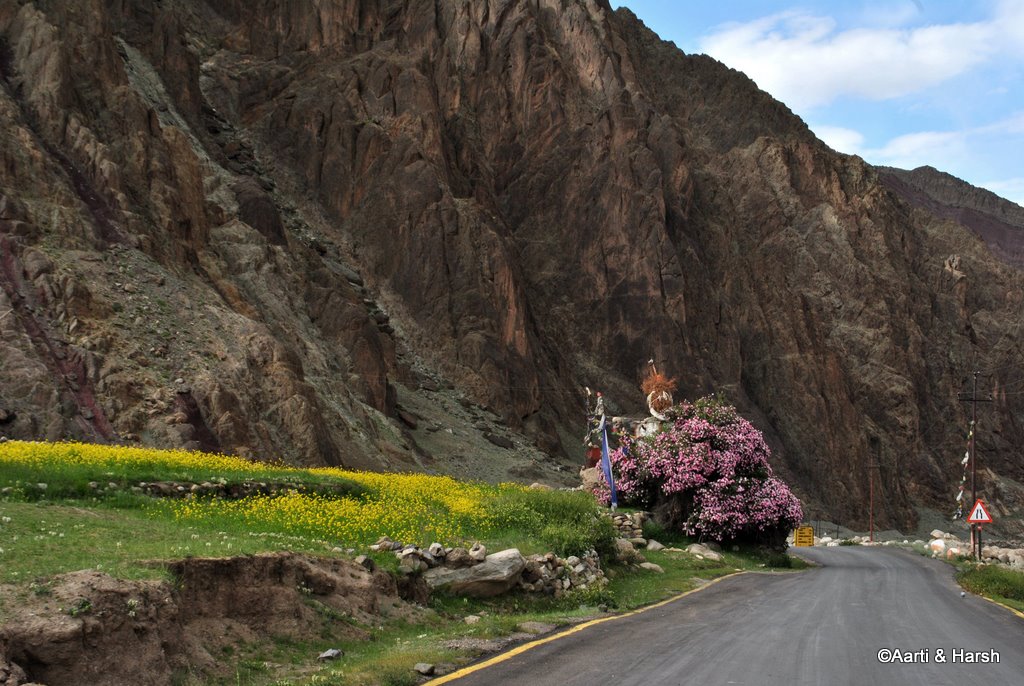 Shades of purple start appearing in the mountains.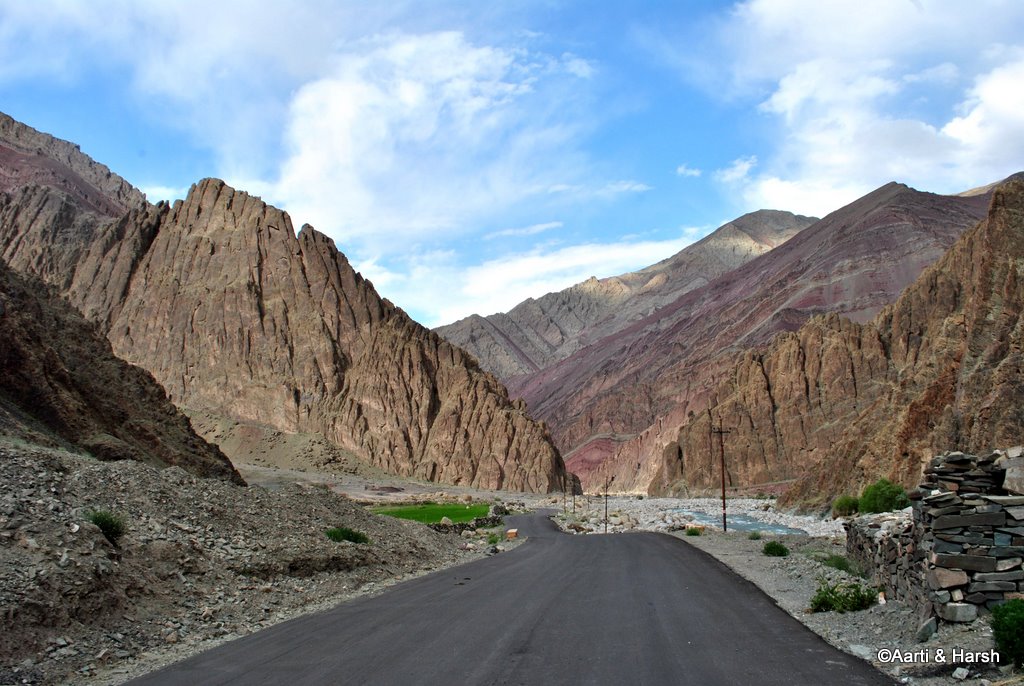 Riding along the Khyammar river, till it drains itself into the mighty Indus
Upshi and Stakna Monastery​
At Upshi, we said hello to the lovely Indus; and also to long, straight roads in a wide-open valley, much in contrast to the narrow, purple valley that we had just exited. From here on till Leh, there is habitation throughout, and one gets to see army camps almost every 5 km. The Stakna Monastery, perched on a hill to the left of the road, was a pretty sight in the evening light.
The flat road next to Indus, all the way to Leh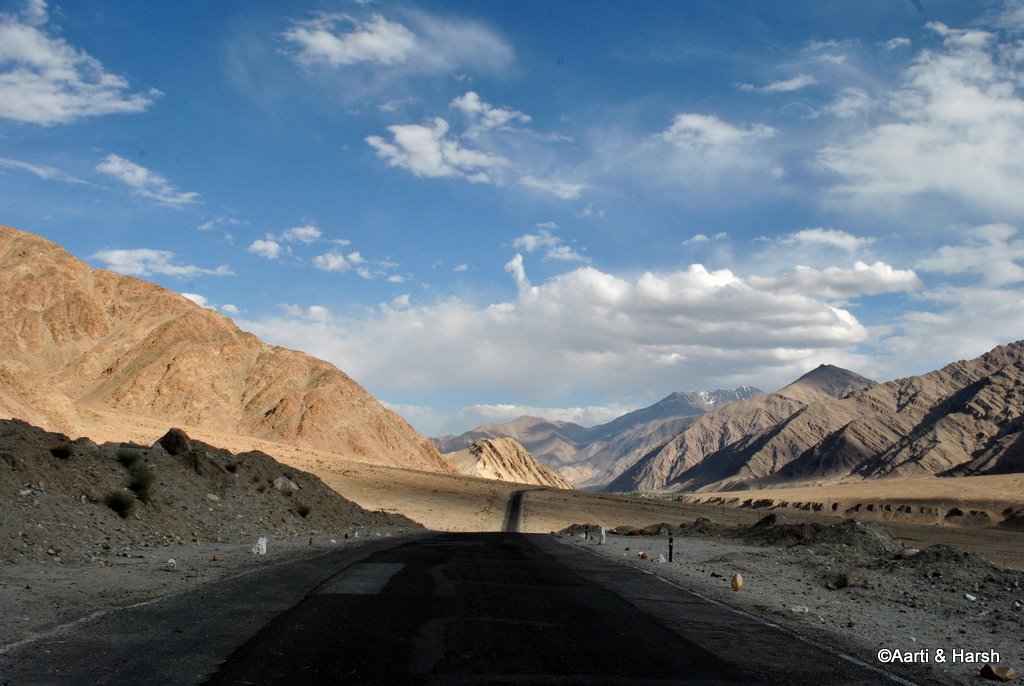 A canal runs beside the Indus here.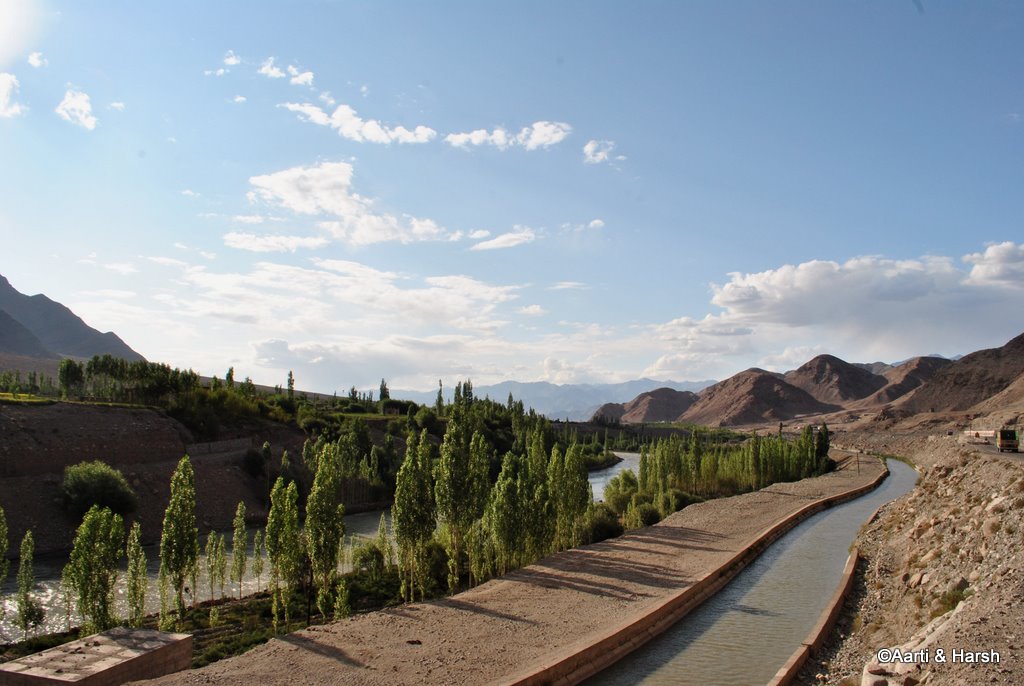 Stakna Monastery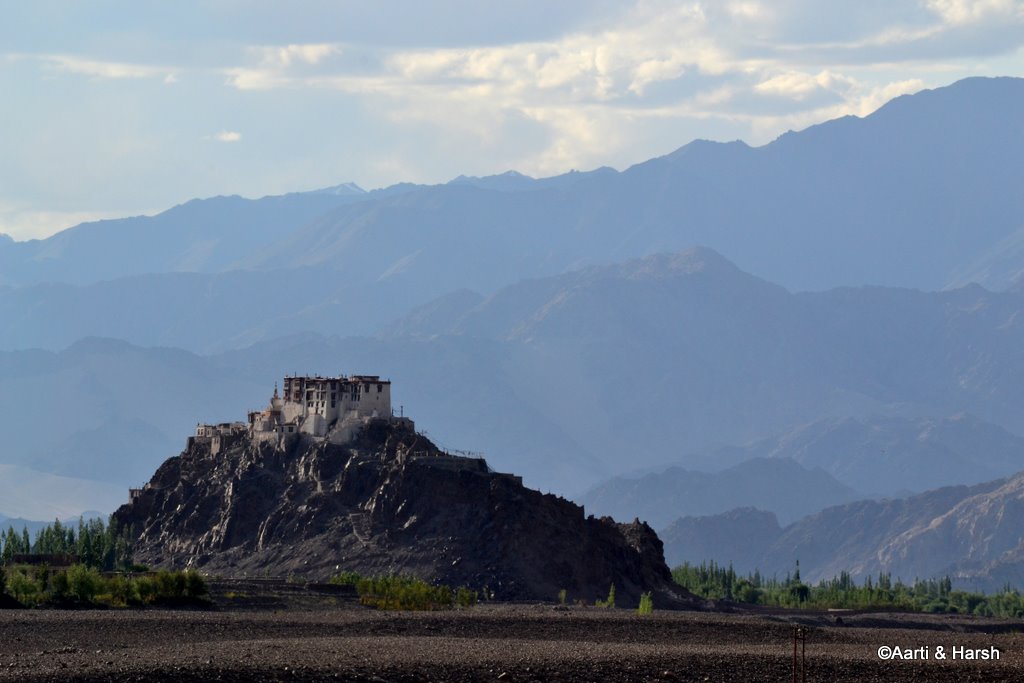 ​Leh
Our unemployed-for-two-days mobiles suddenly received full network at Upshi. We were soon flooded with texts from people concerned about our fate in the Rohtang jam. That is when we realized that nobody actually knew that we'd managed to free ourselves from that horrible jam the same day.
Parents had to be called up immediately. Friends we were meant to meet in Leh also had to be contacted. Aarti took care of all this, while I took the wheel again. We finally reached Leh around 6:30 pm.
We checked into our pre-booked hotel, Padma, where we had stayed last year as well. After quickly freshening up, which made me feel better, we set out for dinner with friends at Sunbeam Cafe on Fort Road. It was awesome to meet close friends in Leh – three college friends, one of them now my business partner, and his wife.
We thoroughly enjoyed even the bad food at Sunbeam Cafe. Then we walked down the road for some equally bad coffee and dessert. Our friends were planning to scale Stok Kangri and were to leave the day after for their expedition. They were going to Pangong Tso the next day and asked us to come along. We, unfortunately, had our permit work to do, so had to decline.
Tso Kar to Leh Distance and Route
Below is a little information that can be of help while traveling from Tso Kar to Leh or vice versa.
Tso Kar to Leh Route
The route between Leh and Tso Kar is as mentioned below.
Leh – Karu – Upshi – Rumtse – Tanglang La – Debring – Tso Kar
At Debring, you need to leave the Manali Leh Highway; and turn on a narrow road that goes all the way to the campsites near Tso Kar. Please note that you cannot bring your vehicle all the way to the lake at all spots and may have to walk as well.
Tso Kar to Leh Distance
The distance between Tso Kar and Leh is a total of 153 kilometers.
Is there a Bus Available?
No there is no bus or public transport available from Leh for the lake. Your best bet is to board the daily Leh to Manali bus and get down at Debring to get to Tso Kar.
Camping at Tso Kar
There are campsites available on the banks of the lake. If you were carrying self-camping gear, you can pitch your own tent as well. The lake is never crowded and an amazing place to go camping.

Tso Kar to Leh – Conclusion
I hope the travelogue and information above on traveling from Tso Kar to Leh was of help. If you need any other details or have any further questions, please feel free to ask in the comments section below or at our Community Forum and I will be glad to answer.