This article is in continuation of a previous one and a part of my Ladakh and Zanskar Valley travelogue. We traveled from Delhi to Jispa via Manali in 2 days and stayed at Padma Lodge in Jispa for the night. The article below is a detailed log of our journey on Day 3 and Day 4 as we moved from Jispa to Leh. Please click on the link below to read the previous part of the travelogue.
Jispa to Leh is ideally a journey of 2 days if you truly want to witness the beauty of the Manali Leh Highway. If you are short on time, you can do this in a single day as well. But that will mean that you were just rushing through most part of the journey and had little time for sightseeing.
The entire stretch from Jispa to Leh is a long list of tourist attractions. If you did not have time to take enough breaks and enjoy the views, you are really committing a sin. In this case, you might as well have just caught a flight to Leh and dedicate the 2 days you saved for sightseeing in Ladakh.
Our plan was to complete the journey in 2 days with a night halt at either Pang or Tso. We were carrying our own camping gear so all that we needed was just a suitable spot. For Day 3, we were going to do Jispa to Tso Kar and then Tso Karo to Leh on Day 4.
Day 3 – Jispa to Tso Kar
The night in Jispa was a very comfortable one. Padma Lodge really exceeded our expectations and we slept like babies. After the tiring 14 hours journey from Manali to Jispa, we were dead tired and a good night's sleep in comfortable beds was really needed. Yes, you read it right. It took us 14 hours to get to Jispa from Manali due to a massive traffic jam at Rohtang. See the previous part of the travelogue for more details.
Also Read: How to Plan a Trip to Leh Ladakh – A Complete Travel Guide
Jispa to Shinkula Pass
Day 3 had to have an early start. We'd lost 8 hours the previous day, and were determined to make up on the lost time. Jispa looked ethereal in the early morning light, and we had to steel our hearts to leave it in a hurry. We wanted to reach Sarchu for an early lunch and planned to camp that night either at Debring or at Tso Kar.
As we crossed Darcha, we came to the cut which marks the beginning of the Darcha-Padum trek route. We stopped and mulled over our obvious curiosity to check out till where the road was complete. We'd anticipated this, and knew that if we took this detour; all our plans would again go awry. But as we all know, curiosity killed the cat, and in this case, the cat was our plan. So we took the turn and rolled on.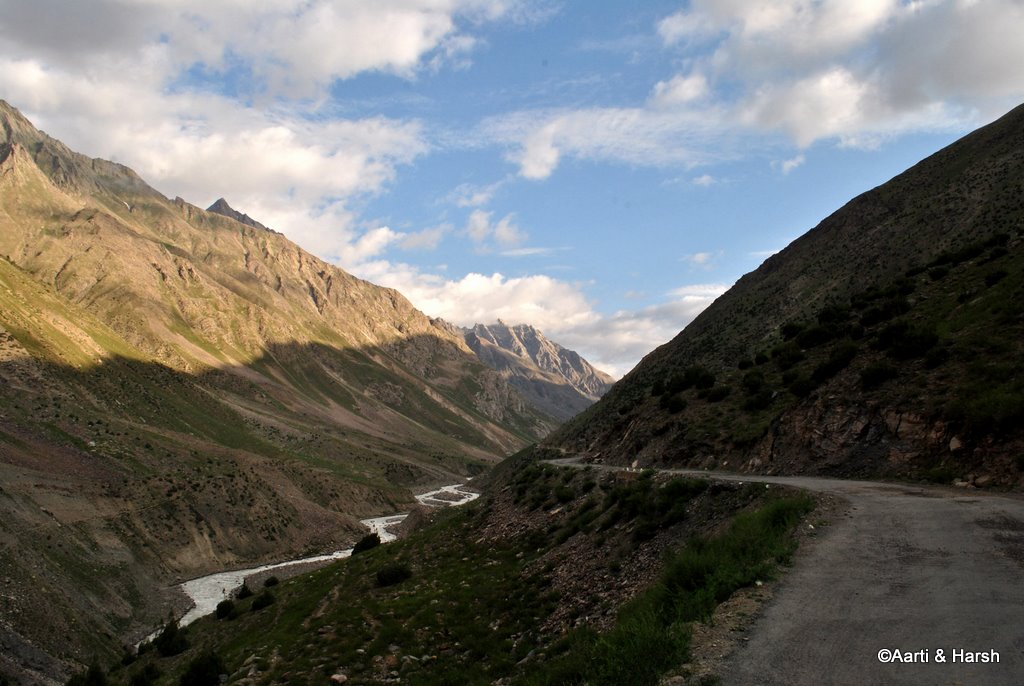 A few kilometers after the cut, we came upon the beautiful twin villages of Chikka and Rarig. Moving further, we came to a tiny hamlet with a couple of houses by the name of Palmao, which was also a makeshift BRO camp where construction-related work was in full progress.
Charlie's Angels
A few meters ahead, an old lady, a young girl, and a little girl waved to us for a lift. As we drove along with them towards the end of the road, they told us that they live in Kargiak, a village across the Shingo La. From Zanskar Sumdo, which marks the end of the road, for now, it would take them another 3 – 4 days to reach their village.
They had come to Manali for some work and were now going back. We asked them why they had not taken the Kargil – Leh – Manali route, because although longer, it is much more convenient as there is a road all along the route, and the trek from Kargyak to Padum would not be very difficult, being a relatively flat walk.
Also Read: Clothes to Pack for Ladakh Trip
But the old lady said that that makes the trip very expensive, and they prefer to trek and save that money. What we consider a 'difficult' trek is taken head-on by these brave locals without even a tent! Respect!
The brave Charlie's Angels, ready for the rough 3-day trek ahead.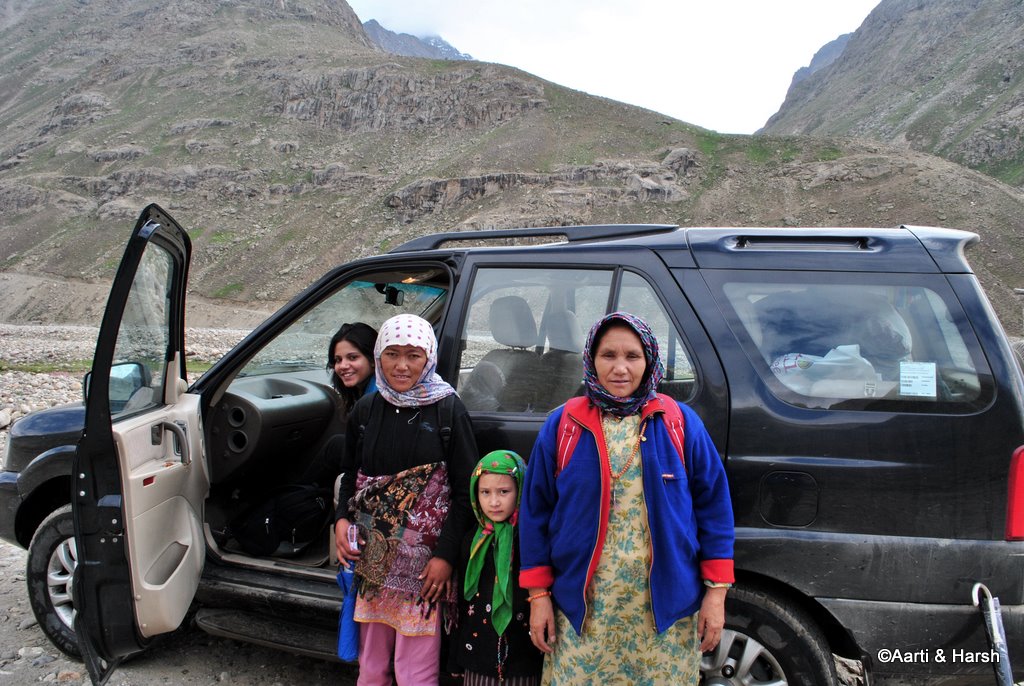 The road is metalled almost until the twin villages of Chikka and Rarig, 6 km away from the highway. A clean Kiyang above the twin villages.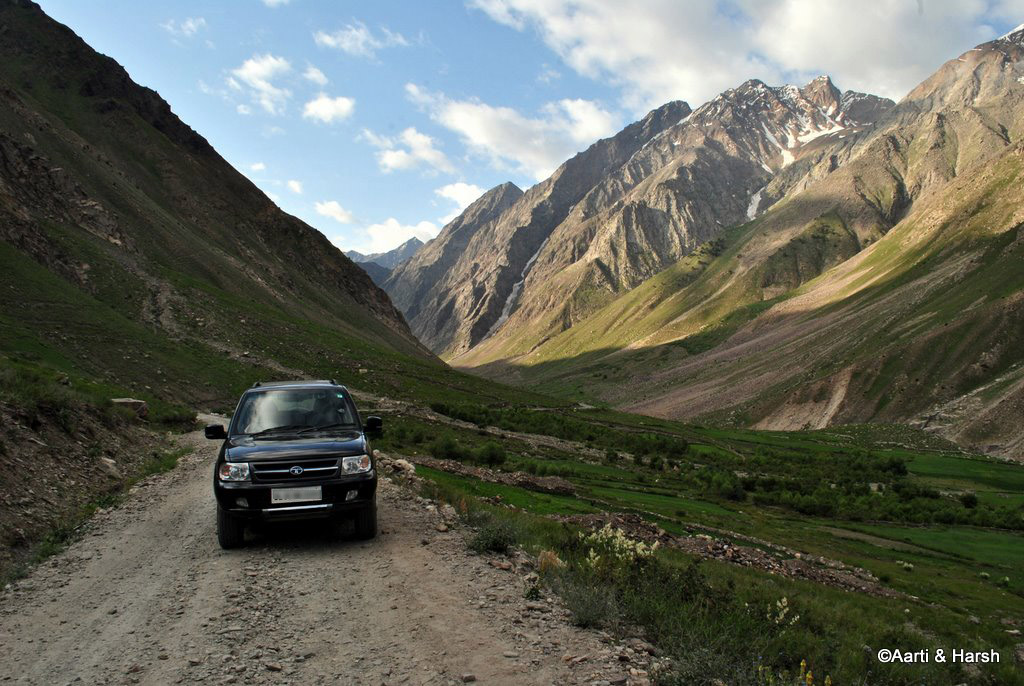 Darcha Padum Road​
Zanskar Sumdo is about 20 km from the Manali-Leh highway and takes about an hour. The literal end of the road was marked by a bridge over the Barai Nallah. The Nallah had accompanied us throughout and drains itself into the Bhaga at Darcha. This bridge was only for people on foot and was not meant for vehicles.
However, on the other side of the river, we saw that a couple of switchbacks had been blasted, where a dozer and a blasting machine were parked. We wondered how those crossed the river and then saw tire marks on the bank of the river at a place where the embankment was not high.
We then realized why no one was working on the road now – the only way for machines and material to cross the valley was through the river, and it was monsoon time now when the water was too much to allow crossing. It is indeed a marvel how BRO manages to construct excellent roads under such constraints and in such difficult terrain.
We crossed the bridge, which has to be the ricketiest bridge we've ever crossed in our lives. It swayed like crazy while we were on it! The view from the other end was spectacular, and we just stood gazing at it for a few minutes. Oh, what fun it is to see the end of the roads!
The rickety bridge which marks the end of the road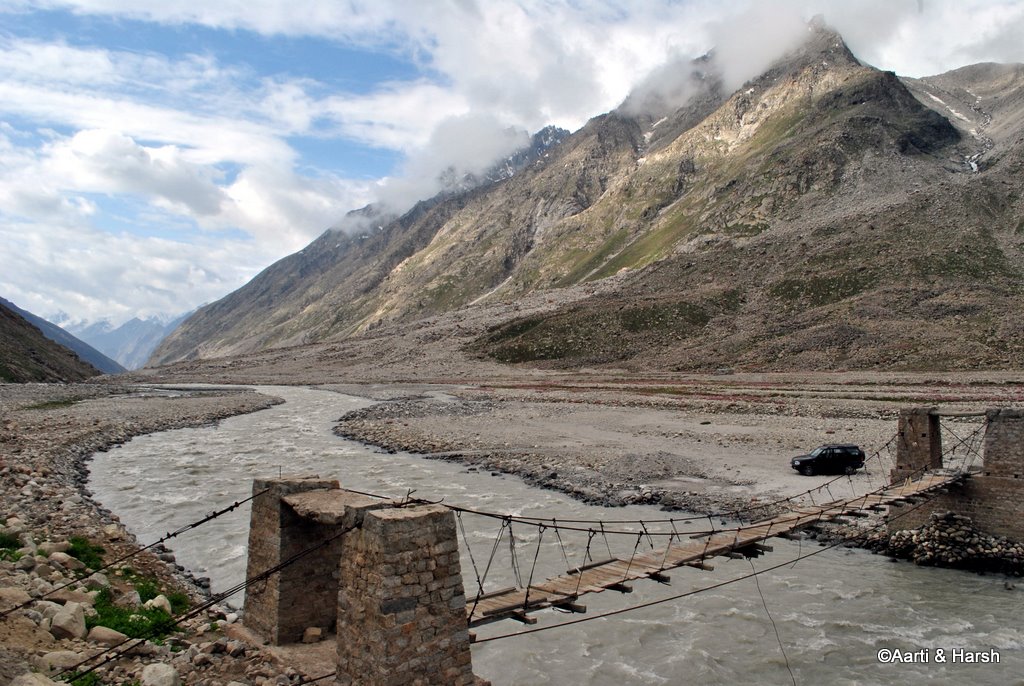 Time to Return
One will reach the Miyar Valley after crossing the mighty Tarasalamu Pass (5400 m) which lies somewhere beyond those mountains
It was 9'o'clock already and our stomachs were beginning to rumble! We decided to have some breakfast at the tiny dhaba there where the family to whom we'd given a lift were also snacking. Over chai and Maggi, the owner of the little shack told us how difficult life was for him, and how desperately he was waiting for the Darcha – Padum road to get completed.
It would bring more business, more tourism, and overall prosperity to the region. Not to mention a much better level of medical facilities in case of emergencies. After a hearty breakfast and exchange of lots of stories, we said our goodbyes and moved on. It took us about an hour to reach the Manali – Leh highway.
Our breakfast point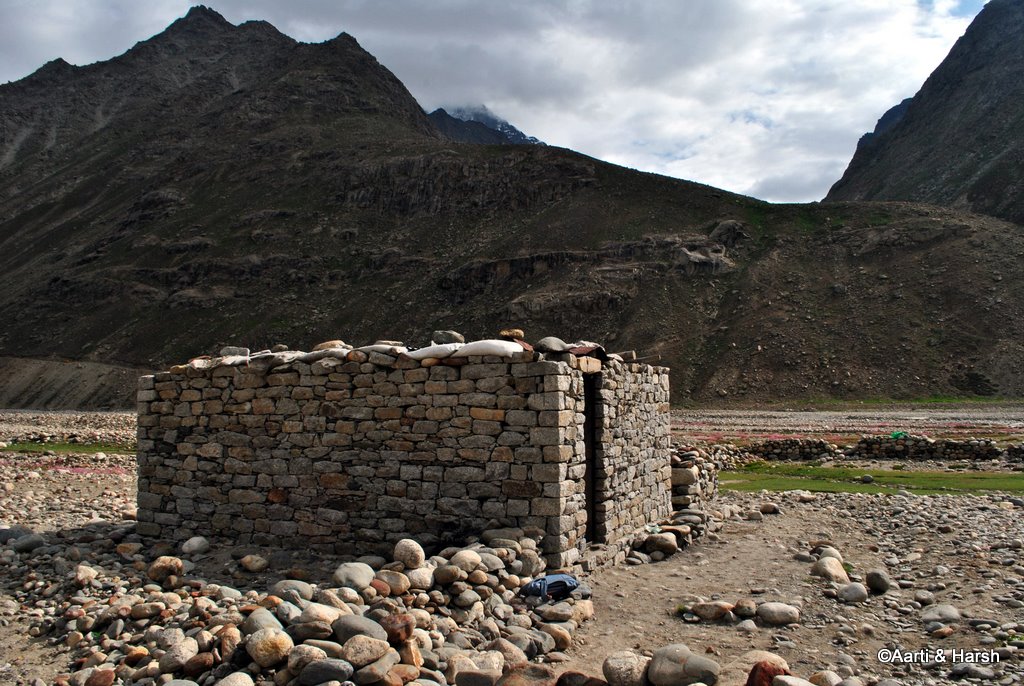 That is not the river, but water crossing on the road!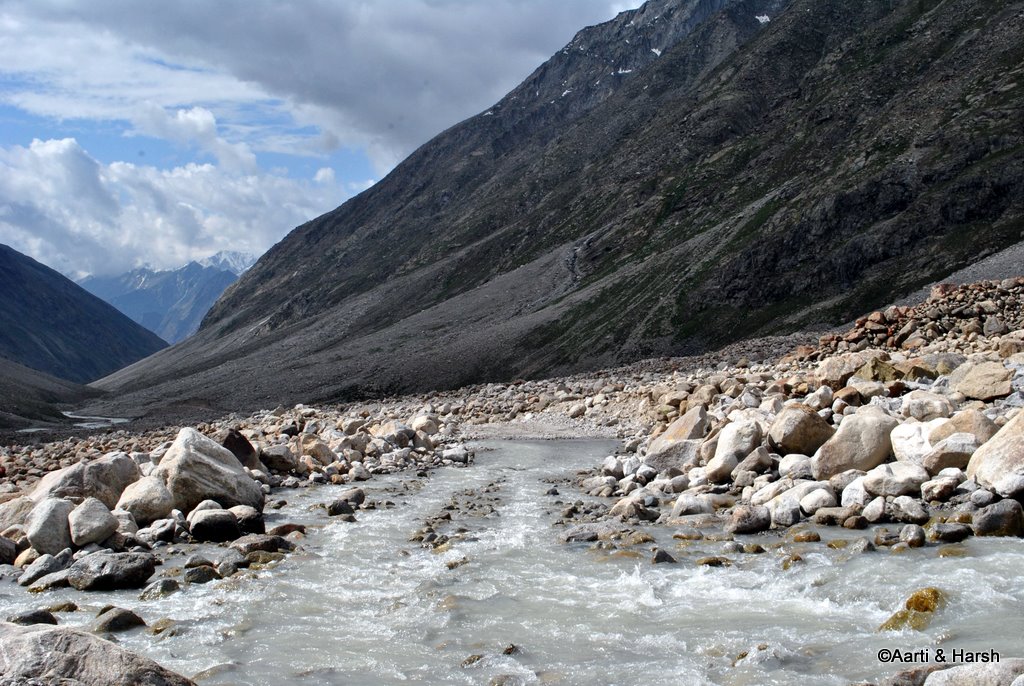 And we're back on the highway!
​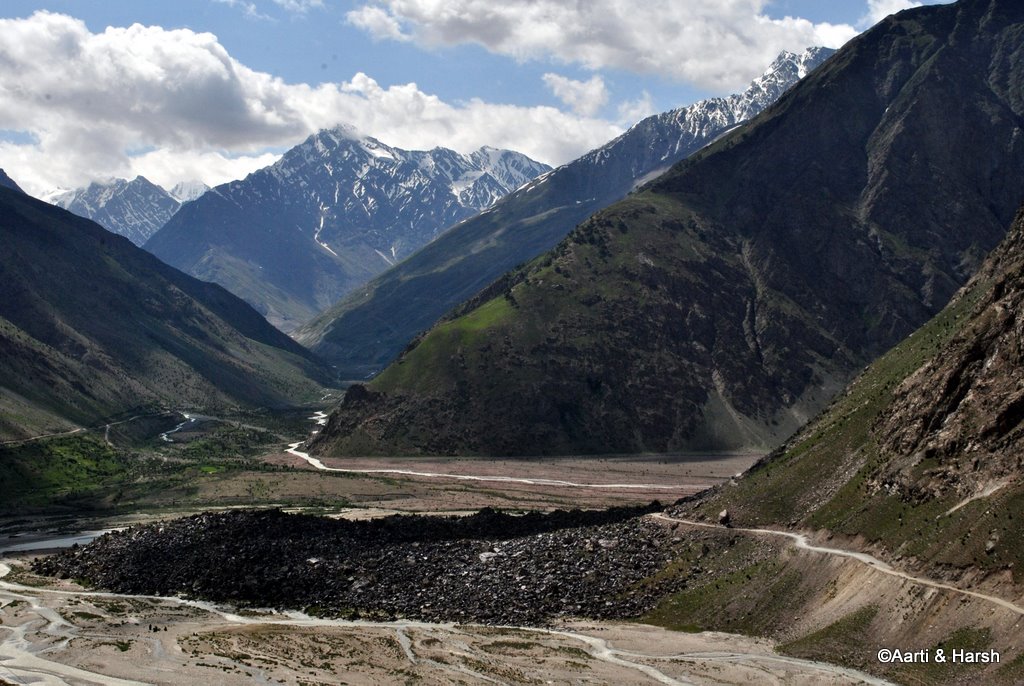 Once the road to Padum is complete via Shingo La, Zanskar Valley would be a two-day drive away from Delhi.
The detour to Zanskar Sumdo had been completely worth the 3 hours spent on it. However, even now, a full day of stupendous scenes awaited us. The exquisite plains of Sarchu and Moreh never fail to awe and shock, even for returning visitors on this highway to heaven.
Darcha to Baralacha La
After returning to the highway, we got some excellent roads all the way up till Baralacha La. There were no reflections in Deepak Tal due to the wind. Also, for the first time, we saw tents around it. At Patseo, we saw, as usual, a fleet of Stallions parked. We were anticipating a decent water crossing (read a difficult one) at Zing Zing Bar, as some T-logs had warned. But didn't come across any, probably because it was still very early in the day.
The climb to Baralacha La has some good shortcuts which looked quite steep and difficult, sufficient enough to make Kiyang sweat. But we resisted our urge in order not to lose any more time than we already did. The sight of the unfrozen Suraj Tal was mesmerizing, the blue, brown, and white landscape giving the place a painting-like effect.
As we got down to shoot the lake, a huge Lammergeier swooped on a rocky ledge above us, and then immediately disappeared out of view. We hardly had any time to respond with our cameras. But the huge white wing-span of the bird was so enticing that I was determined to get a shot, and almost began climbing the scree slope.
However, given our time constraint, and the low probability of spotting the bird again, I resisted the urge to undertake the mini-quest. A shot of the bird would have been a prized possession though. We soon reached Baralacha La top which was windy as always, and we only stopped there very briefly.
Even Deepak Tal boasts of dhabas now!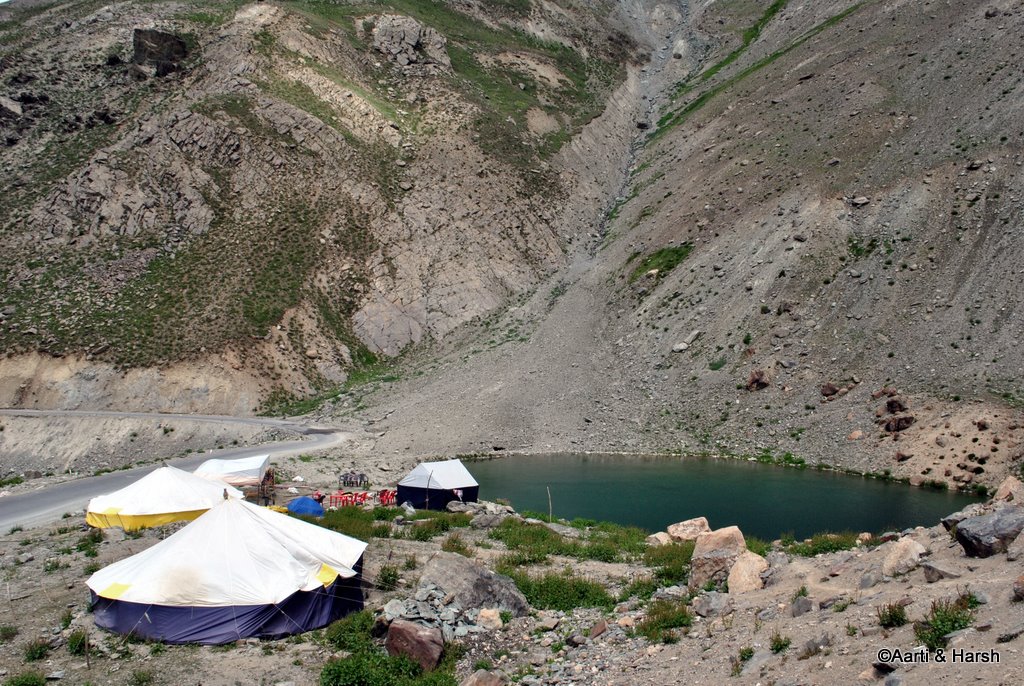 Looking at an un-frozen Suraj Tal for the first time. It adds the perfect touch of blue to the otherwise brown and white landscape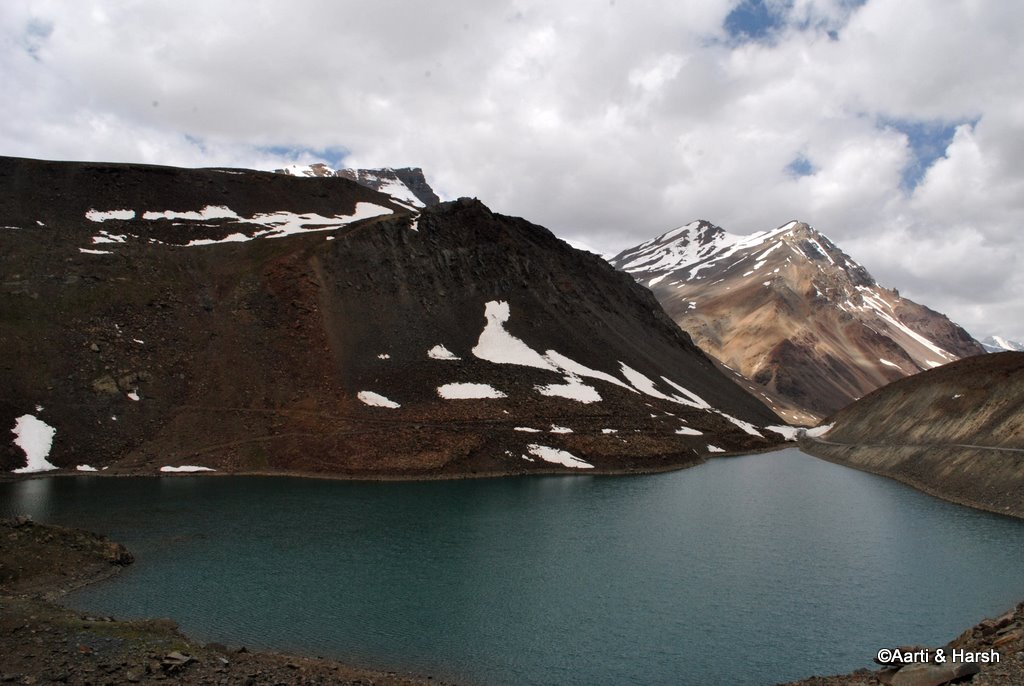 Finally at Baralacha La Top

Baralacha La to Sarchu
Then began the descent to the Sarchu plains. As we climbed down, we crossed the spot where we had been stranded for 8 hours (across two days) last year and clicked some pictures for comparison with those from the year before. We then came across a set of tent dhabas, and at first, could not understand what the place was.
Soon it dawned on us that this was 'Bharatpur City', and then realized the meaning of what a friend, KD, had once said – that you don't always get to see Bharatpur City. It comes on and goes off overnight! We gave a lift to some people from there, and on our way to Sarchu discussed the dates when they had put up their dhabas last year, and how we'd missed them by just one day.
Also Read: How to get Inner Line Permit in Ladakh
The sight of the Sarchu plains is heart-stopping! No matter how many times one does the Manali-Leh highway, this sight will never ceases to awe. Plains and straight roads at that altitude are nothing but spectacular!
Immediately before Sarchu tents, one crosses a bridge that forms the border between Himachal and J&K. It also marks the end of Project Deepak and Project Himank begins. For the uninitiated, these are two separate projects run by the BRO to maintain these roads.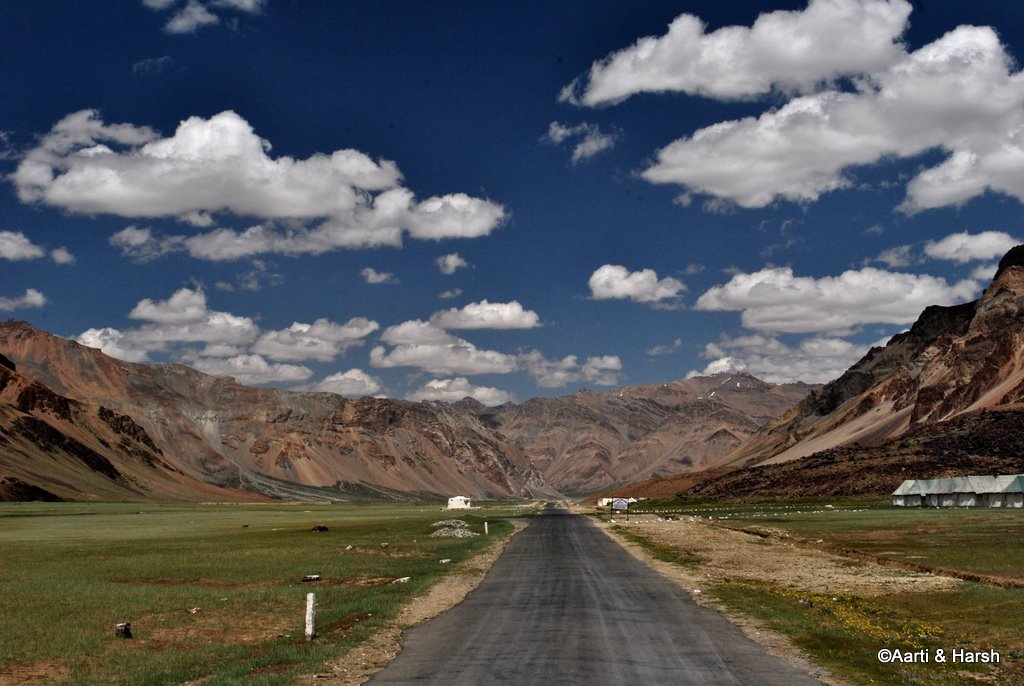 We broke for a quick lunch at the Sarchu tents. Here we met a brave Spanish couple on a rented bullet from Delhi. With little knowledge of English (and of course none of Hindi) and age not on their side, they had decided to do this highway all by themselves. I would say it was nothing but courageous. After exchanging pleasantries, we moved on.
Sarchu to Pang
The Sarchu plains extend for quite a while even after the tents. One follows the Tsarap Chu and crosses over a bridge over one of its many tributaries till the ascend of the Gata Loops begins. A little known fact about Tsarap Chu is that it originates somewhere in the Spiti region a little North of Losar, with tributaries also coming in from Baralacha La (Yunam river) & Phirtse La (Lingti Chu, near Kargyak village in Zanskar).
The Yunam river and Lingti Chu join somewhere when we descend the Baralacha La, to eventually join Tsarap Chu after the Sarchu tents. From here we leave the river at Gata Loops to continue our journey towards Leh. The river itself twists and turns, including twin U-bends, crosses the Phutgal Gompa, and eventually joins the Kargyak Chu to form what we know as Tsarap Lingti Chu.
Also Read: Complete List of Tourist Attractions in Ladakh
This eventually drains into Doda (Stod) river a little after Padum to form the mighty Zanskar. Phew! So theoretically, if one gets into a raft at Sarchu, they could go all the way into Pakistan and drain out into the Arabian Sea near Karachi!
The Gata Loops begin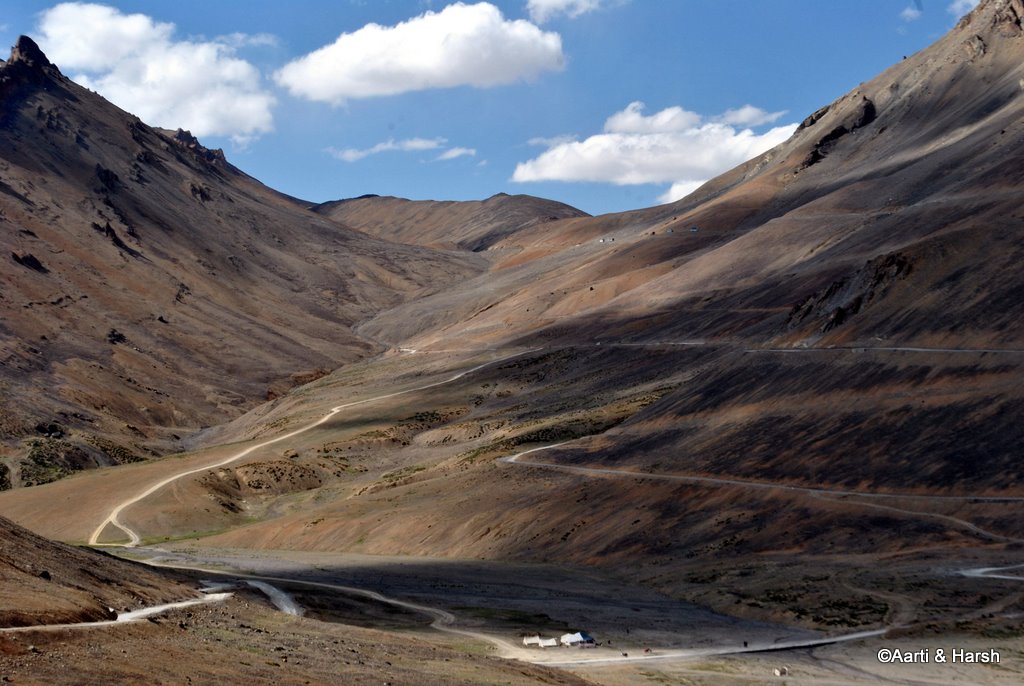 We leave the lovely Tsarap Chu to continue with its long journey.
​Gata Loops
As compared to this long journey of Tsarap Chu, we continued our smaller journey towards Leh by climbing the Gata Loops. I, unfortunately, could not take any shortcuts on those bends, thanks to Aarti's wish to COUNT all the 21 loops! So 21 hairpin bends and a lot of frustration later, we reached Nakee La.
A short descent from the pass, and then one starts the gentle climb to reach the next pass, Lachulung La. Thankfully, this time around I convinced Aarti not to stay on the road, and allow me to take a shortcut, basically do an off-the-road climb. Needless to say, it was good fun.
Also Read: The Ghost of Gata Loops
After spending a while at the pass and chit-chatting about the climb to Marsimek La with a NIOC guy who was in a Gurkha with his wife, we moved on. While descending from Lachulung La, we spotted some Bharals at the very same spot where we'd seen them last year.
Parked at Lachulung La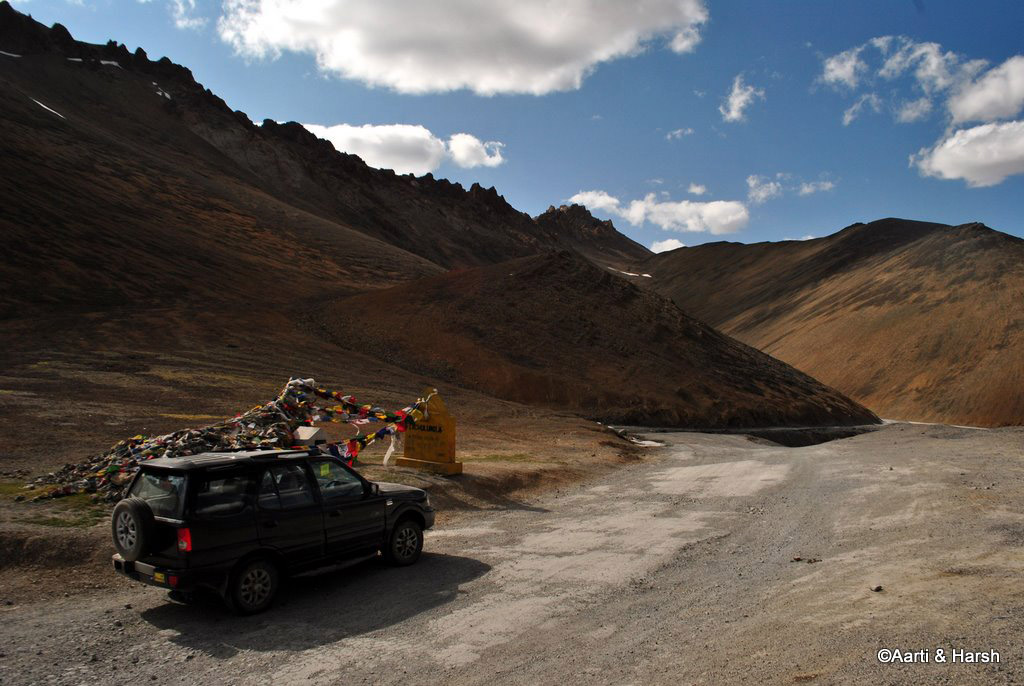 Pang
The most dramatic stretch of the Manali – Leh highway starts after Lachulung La. The road mostly runs along the river Lachulung Lungpa, at times almost level with it. The mountains on either side seem as barren and as majestic as ever. One truly feels dwarfed by the magnitude of the landscape around.
The notorious Kangla Jal is not much of a nuisance anymore. The road has been cemented and also made broader at that point. We then climbed a bit, crossed a mountain, and then descended again to cross a pretty looking bridge. The valley opens up a bit after this. One can spot the famous landmark, the wind-carved archway, which warrants a photography break.
Also Read: How to Plan a Trip to Nubra Valley
Hoodoos, the weird structures formed as a result of continuous wind erosion, come up next. All one can do is sigh and revel in the beauty of the vista around. And this is when one knows that the stupendous Moreh Plains is up next!
A quaint bridge over Lachulung Lungpa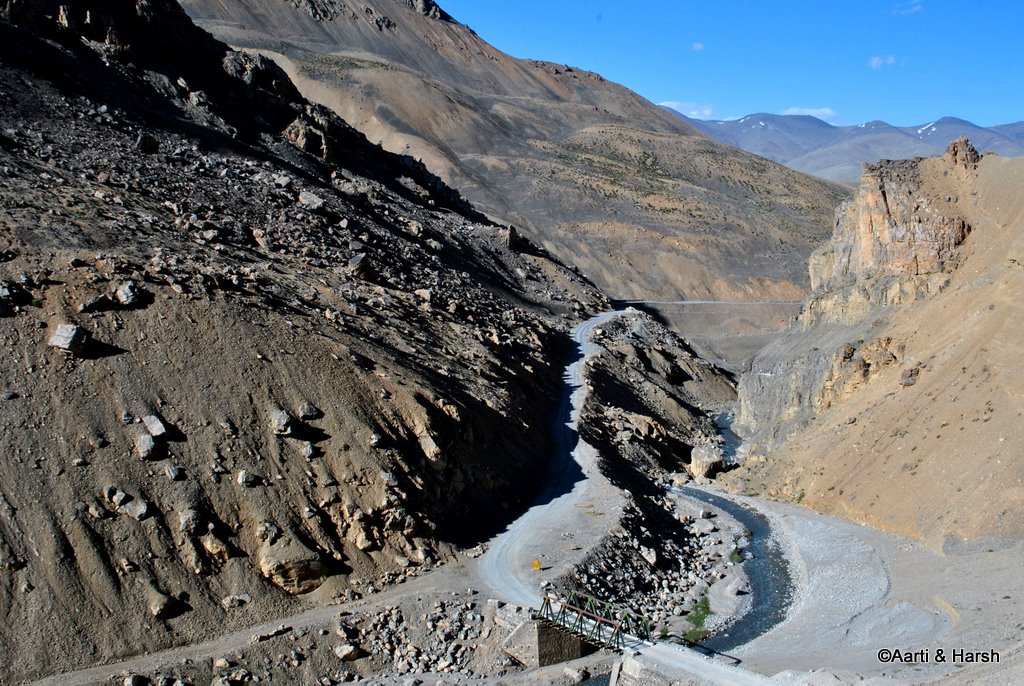 Finally, we reach the Pang military base
​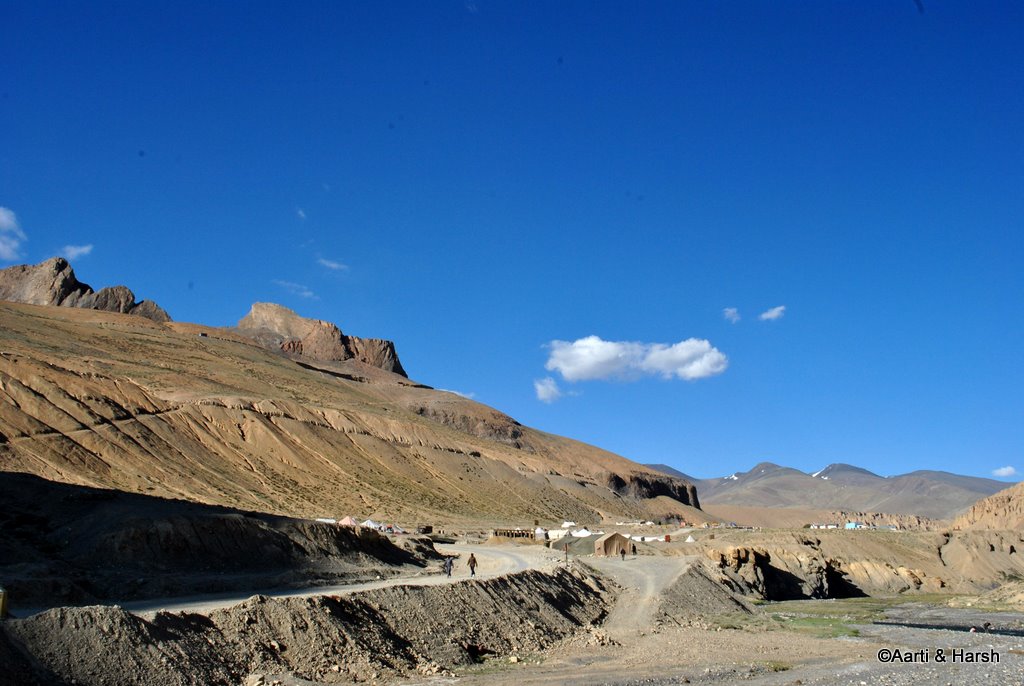 More Plains
As we ascended to Pang, we could hardly control our excitement to see the Moreh Plains. However, when Aarti saw a souvenir shop at Pang, all excitement was postponed, and off she went shopping. Thinking that this would take care of most of her shopping for the trip, I too went in to help.
This clever thinking helped me save at least half a day of shopping at Leh. God bless the army for bigger things and even smaller pleasures such as these. The shop had closed for the day, but the army men in charge showed us the stuff. After buying all kinds of souvenirs ranging from beer mugs to table clocks, we finally got back into the car and drove on.
Also Read: How to Plan a Trip to Pangong Tso
There are very few sights that can overwhelm you as much as the vast Moreh Plains unfolding before your eyes after Pang. It is as if you suddenly come upon a flat tabletop, and can simply not see the end of the table. Just as one enters the Moreh Plains, the view from the edge of the plateau of the Sumakhel Lungpa river winding through the valley beyond is simply beyond words.
We decided to not drive on the road on the Moreh Plains, and for quite a while drove parallel to the actual road. However, once the stretch we were driving on turned marshy, we had to quickly join the road, which right now is still under construction, with diversions every 200 meters.
The table-top at 4750m above sea level!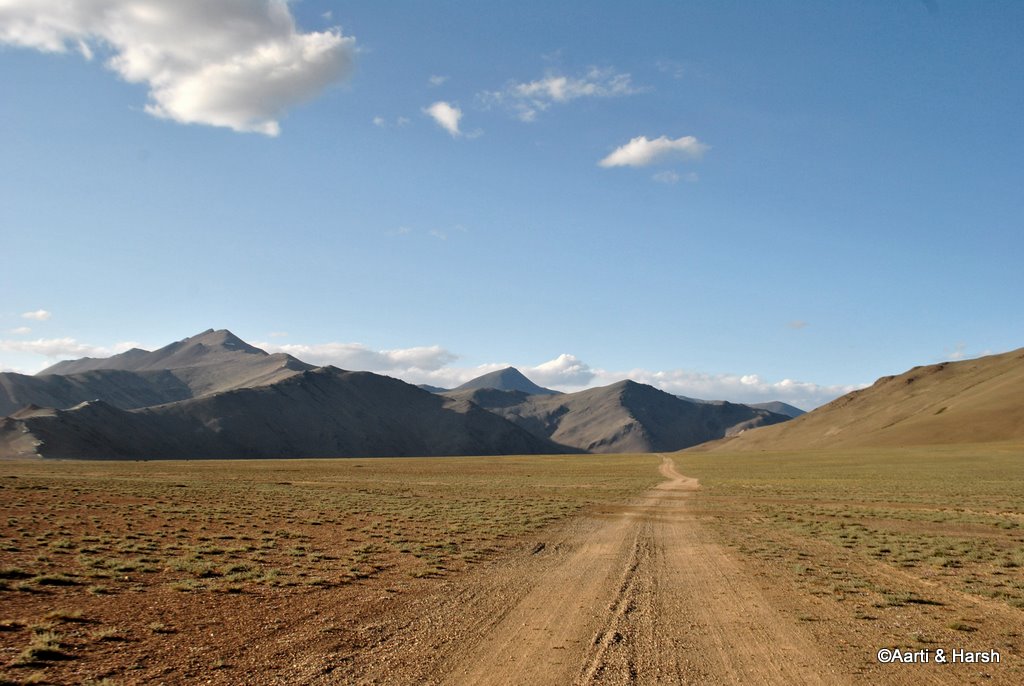 Tso Kar
The day about to end, and we are still some distance away from our destination for the day. It was 7:15 pm by now, and we had just taken the decision to camp at Debring, about 15 km away. This is when we came across a signboard about a camp just 3 km from the road in Panginagu, next to Tso Kar.
We were tired and in no mood to pitch our own tent (it is not the easiest tent to pitch). Quickly decided in favor of going to Panginagu. The thought of spending the night next to the beautiful Tso Kar was also quite tempting. Although the board mentioned it to be 3 km away, even after 5 km, we could not see any sign of the camp.
A feeling that was quite similar to the one we experienced last year at Tso Moriri dawned upon us. A feeling of going down the wrong path at dusk, with no option left but to pitch our own tent in the middle of nowhere. We were really not up for that today.
Thankfully, we found the campsite after about 20 minutes and were glad to see that they had nice and clean tents. Having our own tents did help us bargain immensely on the rates. It was slashed from 3000 bucks (including dinner & breakfast) to a reasonable 1200.
Acute Mountain Sickness
After a nice dinner of noodles and baked beans, we retired for the night. It was cold, and we were also feeling a bit breathless. However, tiredness took over, and instead of popping a Diamox, which would have been the prudent thing to do, we just went off to sleep. At least Aarti did manage to sleep, while I simply tossed and turned. For the first time, AMS hit me. It was a long, restless night resulting in a complete change of plans for the next day.
Please click on the link above to continue reading the next part of this travelogue. Below is a little more information on traveling between Jispa to Leh.
Jispa to Leh Distance
The total distance between Jispa to Leh is about 335 kilometers in total. The travel time, because of the bad stretch and the high altitude passes, can be anywhere between 8 to 10 hours.
Is there a Bus from Jispa to Leh?
Yes there is a daily bus available on the route but it starts from Keylong. If you were staying at Jispa, chances are that the bus will not stop to pick you up. If you are not traveling by public transport, you will have to skip Jispa and stay at Keylong instead.
Can Jispa to Leh be Done at Night?
Absolutely. You must avoid traveling on Manali Leh Highway at night. The temperature will drop down below 0 and will make it difficult to drive in the night. On top of it, driving on such treacherous roads in pitch black is not at all advised anyway.
Also Read: How to Handle Acute Mountain Sickness in Ladakh
Can Jispa to Leh be done in a Day?
Yes, you can travel from Jispa to Leh in a day easily. Just start from Jispa by 6 AM and you will comfortably make it to Leh by 4 or 5 pm. But as I previously mentioned, it will severely limit your sightseeing on the highway and you will just be rushing to make it to Leh before dark.
Can you get a shared Cab from Jispa to Leh?
Yes, you can but the chances will again be less. Taxis ply on this route only when they have enough passengers from either Manali or Keylong. They will ensure that they are full to the capacity before starting the journey. So by the time they reach Jispa, they will have no place to accommodate you.
Jispa to Leh – Conclusion
I hope the travelogue and information above traveling from Jispa to Leh were of help. Please click on the link above to continue reading the next part of this travelogue. If you have any questions or need any other details, please feel free to ask in the comments section below or at our Community Forum and I will be glad to answer.