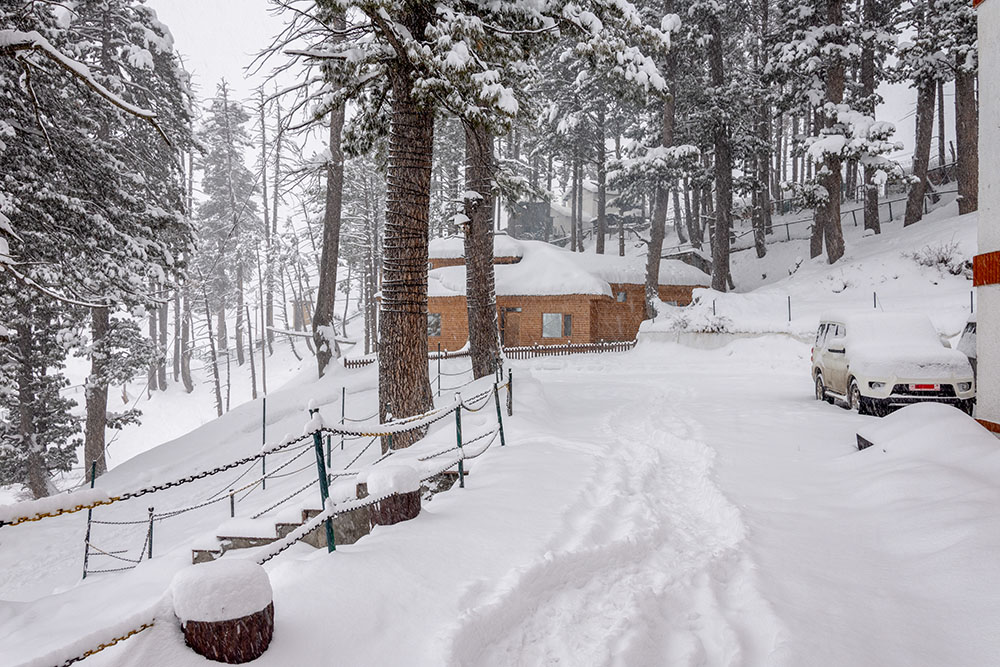 It was the third day of our winter trip to Kashmir and the plan was to go to Gulmarg. This was the second time I was traveling from Srinagar to Gulmarg in January. So I already had an idea of what we would see and was pretty excited about it.
But it was going to be the first time that I was behind the wheel. During our previous visit, we hired a local taxi driver. This time, however, I was going to be driving on my own, and in all honesty, it made me very nervous.
Journey So far:
Why? It was because I had no experience driving in the snow. On top of it, we were in a Duster 2×4 and did not have snow chains either. So yes, I was pretty excited about the entire experience but it was all a little scary as well.
The good part was that I knew I only needed to manage the driving until Tangmarg. From there, we would have to hire a local cab anyway. Private vehicles, even the ones with Srinagar registration, were not allowed to go beyond Tangmarg for safety reasons.
For a complete travel guide on visiting Kashmir, you can take a look at How to Plan a Trip to Kashmir Valley. For getting the best hotel rates, and taxi charges, and to organize your trip to Kashmir, you can speak with Kunal @ 9910 402 252.
Below is a video of our trip from Srinagar to Gulmarg in January. You can continue reading the travelogue below or you can also take a look at the video to get the details.
Srinagar to Gulmarg in January
The morning in Srinagar was a cloudy and gloomy one. As per the weather forecast, it had snowed in Gulmarg the previous night and the effects could be noticed in Srinagar as well. It drizzled last night and looking at the sky, it seemed like it may start snowing in Srinagar as well anytime.
We wanted to start as early as we could because it was going to be a long journey. The idea was that we will drive to Gulmarg, spend some time there, and return to Srinagar by evening. On our way back, we also wanted to visit Drung Waterfall.
Also Read: How to Plan a Trip to Gulmarg
Due to the ridiculously high hotel prices in Gulmarg, we had no intention of staying there for the night. On top of it, during one of my previous winter trips to Kashmir, I once stayed in Gulmarg for three nights.
So it did not really make sense to spend (or waste) money on overpriced hotels for an experience I already had once before. This time, we wanted to make it a day trip only and for that, an early start was required.
Per my calculations, it would take us about 2 hours to reach Gulmarg, and 2 to come back. We will spend an hour or two there and another hour was needed for Drung Waterfall.
So about 9 hours of traveling and back to Srinagar before dark (6 pm). All of this meant that we must start our day latest by 9 am.
Good Morning Srinagar
The alarms in our phones were set for 7 am, although I wasn't sure if we will actually be able to get up that early due to the cold weather. There was not much of a choice though. We had to start the day early if we wanted the time to be on our side.
Thankfully, when the alarms went off in the morning at 7, we somehow managed to crawl out of our blankets and started getting ready. Since it was going to be a day trip, there was no packing required but the more I thought about it, the more I started to doubt my plans.
In all my trips to Gulmarg before, I always stayed there for the night. This was the first time we were thinking of making it a day trip to Gulmarg. Due to the weather, the snow, and the fact that I myself would be driving, I wasn't sure if our plan was a good one.
The doubt was whether we should rush the day to return to Srinagar by the evening. Or should we just stay at Gulmarg to enjoy the day and the journey properly?
The problem was that the hotels in Gulmarg were asking a ridiculous Rs. 12000 to Rs. 15000 per night, for very average hotels. There was no way I was going to waste money like that. The cheapest hotel was available in Tangmarg, 10 kms away, for Rs. 3500 per night.
We thought about it for a while and decided that we should pack some clothes as well. That way, if we indeed decide to stay in Gulmarg or Tangmarg, depending on if we can find a budget hotel, then we could just check in easily. Otherwise, we will come back to Srinagar.
Gulmarg to Tangmarg
We packed our bags and loaded them in the car. By 9 am, we were ready to be on our to Gulmarg with high hopes that we will find snow there or even see a snowfall.
Days start late in Kashmir in the winter season. Even though it was already 9 am, there was hardly any traffic on the roads and most of the shops were still closed. In no time, we were out of the city and cruising on our way to Magam.
There was no snow in Srinagar. I was expecting that we will find some when we got out of the city, based on the fact that Gulmarg had received plenty of snow the previous night.
Surprisingly though, we reached Magam and there was still no sign of snow on the roads, not even an inch. It was completely dry and it started to make me wonder if we made a mistake by coming to Gulmarg that day, or if we should have waited a couple of days more.
Nonetheless, we crossed Magam and took our first break to get some tea.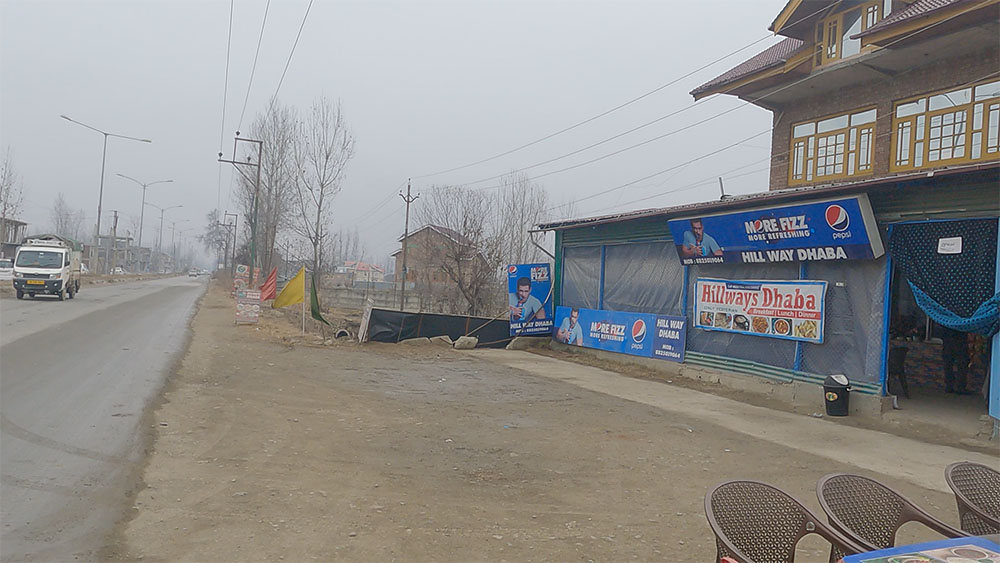 After 15 minutes of really bad tea and a horrible bread omelet, we continued our journey and reached Tangmarg shortly after. Thankfully, there we found what we had been waiting for since the morning – Snow.
Also Read: Srinagar Taxi Rates – Updated List
Taxi Rates in Tangmarg
If you are traveling to Gulmarg between April to November, you are free to travel as you wish. You can either bring your own car or rent a private taxi in Srinagar.
The rules however change when you plan a trip in the winter season. After it starts to snow, you can no longer travel by a Srinagar-registered taxi. Sometimes, even private vehicles are not allowed to go to Gulmarg.
In winter, the farthest you will be allowed to go is Tangmarg. Once you get there, you will have to rent another cab to bring you to Gulmarg.
So for example, let us say you were traveling from Srinagar to Gulmarg in January and you rented a cab in Srinagar. He will charge you about Rs. 2000 minimum and will bring you to Tangmarg. In Tangmarg, you will then have to rent another cab for at least Rs. 2500 for a return trip to Gulmarg.
All this while, your Srinagar cab will just wait for you at Tangmarg and will not be allowed to go any further. So in the end, you are forced to pay twice the amount.
Also Read: Places to Visit in Gulmarg & Things to Do
Is it Justified?
Why is this the case? Well, the official statement is that the road between Tangmarg and Gulmarg is not safe in the winter season. So to avoid accidents, they force you to rent another cab with snow chains.
But in the end, it is just a facade. Even if you bring snow chains from Srinagar, they still won't let you go. All of this is just the hooliganism (or gundagardi in simple words) of the local taxi drivers.
If you are on a budget trip, you can also board a Bus from Tangmarg to Gulmarg that charges only Rs. 50 per person. It is however very inconvenient and uncomfortable and not recommended if you are traveling with kids or family.
To get more details on planning a visiting Gulmarg in the winter season and other tips, you can also take a look at How to Plan a Trip to Gulmarg in the Winter Season.
Tangmarg
Coming back to the travelogue, the amount of snow we found in Tangmarg was not what I expected. During our last visit, the entire Tangmarg town was turned white, buried under a thick sheet of snow. But this time, it was just a few inches of snow on the ground.
Nevertheless, we were still happy that we finally saw what we so badly wanted to see.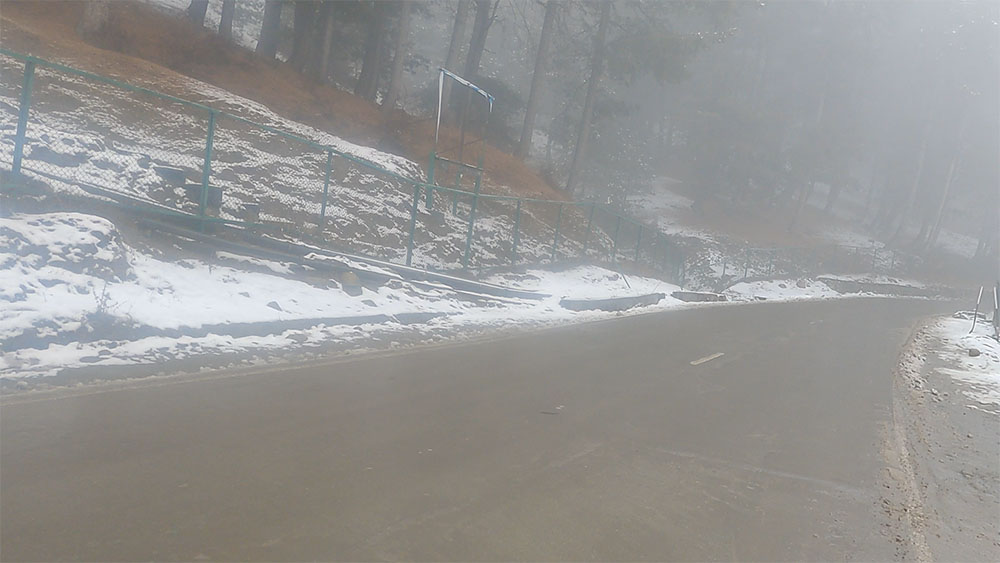 Just as we entered the town, a local guide approached us and offered to show us around Gulmarg. But this was my 5th trip to Gulmarg so a guide was the last thing I needed. There was nothing in Gulmarg that he could show me that I didn't already know about.
I politely said no after which, he offered to arrange a cab for us and help us get snow boots. I asked him the rate of the cab and he quoted Rs. 2200.
Also Read: When is the Best Time to Visit Gulmarg
This sounded like a good enough deal because I knew the cab official cab charge at that time was Rs. 2500. So I agreed. He boarded our car and help us navigate our way to TRC Tangmarg.
The deal was that we will rent boots from the TRC, and he will help find us a safe spot to park our car. After that, we will board a taxi from the TRC for a return trip to Gulmarg. The same cab will then take us to Drung Waterfall as well.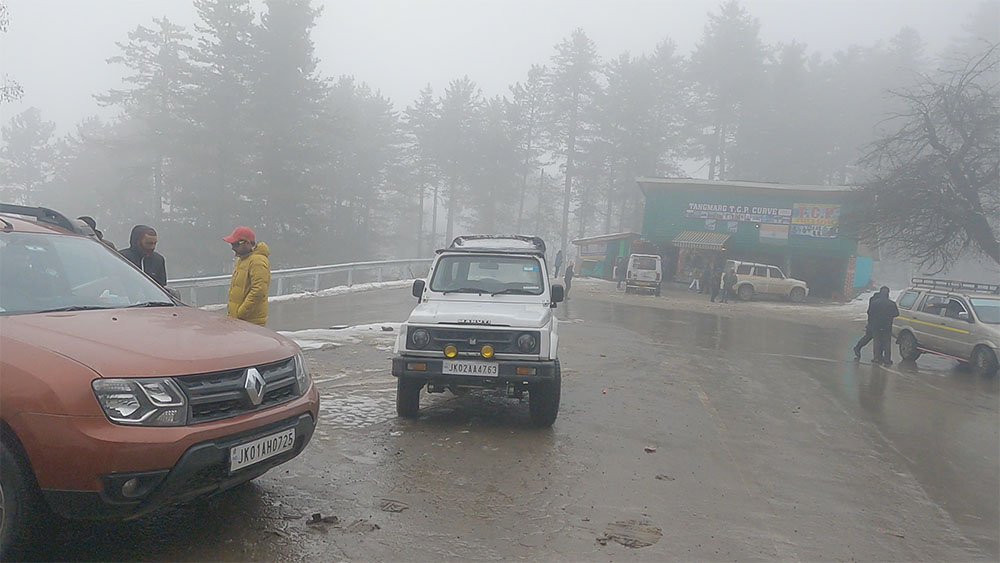 For all of this, I paid Rs. 3700. I later realized that this was a waste of money and I could have saved at least Rs. 1500 from this amount. Read on to find out more.
Renting the Boots
For a trip to Gulmarg, you do not really need any special kinds of shoes. Any normal sports shoes will do. But in the winter season, if your plan is to walk or play around in the snow, you will have to look at the kind of shoes you are wearing.
Since there had been fresh snowfall in Gulmarg and the ground was still wet, I knew that our normal sports shoes won't do. We will either have to walk very carefully, avoiding the snow, or risk getting our shoes wet.
Neither of these two situations was acceptable to us. So we decided to rent a pair of boots and paid Rs. 250 each for the same. We were now ready to move on to Gulmarg.
Also Read: Mobile Network in Kashmir & Data Connectivity
Gulmarg
Soon our cab arrived which turned out to be a 4X4 Gypsy. The distance between Tangmarg and Gulmarg is only about 11 kilometers. It took us about 20 minutes to cover this journey.
There is not a lot to write about this part of our trip. We did not take any breaks on the way and drove non-stop to Gulmarg. I will let the pictures do the talking.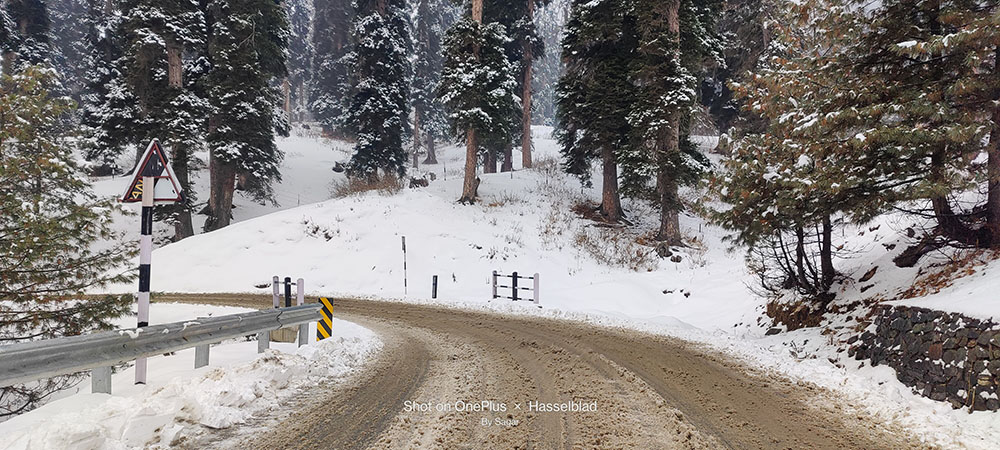 The last time I traveled from Srinagar to Gulmarg in January, it was all buried under snow. The entire 11 kilometers of the road were completely white. This time, while the snow was not the same, it was still beautiful and we enjoying to the fullest.
We soon reached Gulmarg and as expected, were surrounded by the so-called guides within a few minutes. Saying no to everyone, we first made our way to a small restaurant to get some tea.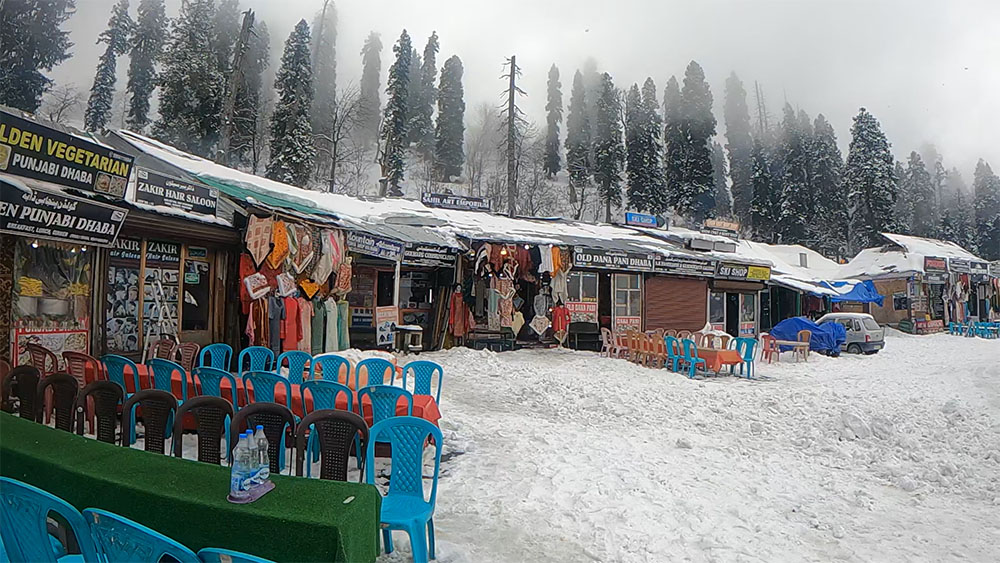 We had no intention of staying in Gulmarg for the night. So all that we did for the next 2 hours was to walk around, play in the snow, click tons of pictures, and shoot videos.
We started from Srinagar at around 9 am and reached Gulmarg by 11.30 am. We spent the next 2 hours in Gulmarg. After having our fill of snow, started on our way back to Tangmarg, concluding our trip from Srinagar to Gulmarg in January.
Srinagar to Gulmarg in January – Conclusion
For a while, I thought of going for the Gondola ride. I have done this ride in the summer season during one of the previous visits but never in winter.
So we thought to give it a try but unfortunately, the Gondola was closed that day due to bad weather. Disappointed, we decided to head back to Tangmarg since there was still one more place we needed to cover, Drung Waterfall.
The journey back to Tangmarg took longer due to slippery road conditions. I think it took us about 35-40 minutes to reach back to the TRC Tangmarg where our car was parked.
We returned the boots that we hired earlier and it actually proved to be a good decision. We did walk around in the snow a lot and had it not been for the boots, our shoes would have been completely wet.
Nevertheless, we drove back to the place where the road to Drung Waterfall bifurcates from Tangmarg. Please click on the link above to continue reading the next part of the travelogue.
I hope the information above on the traveling from Srinagar to Gulmarg in January or February was of help.  If you have any questions, you can contact me on Instagram and I will be happy to answer. You can also consider subscribing to my YouTube channel and asking a question there.