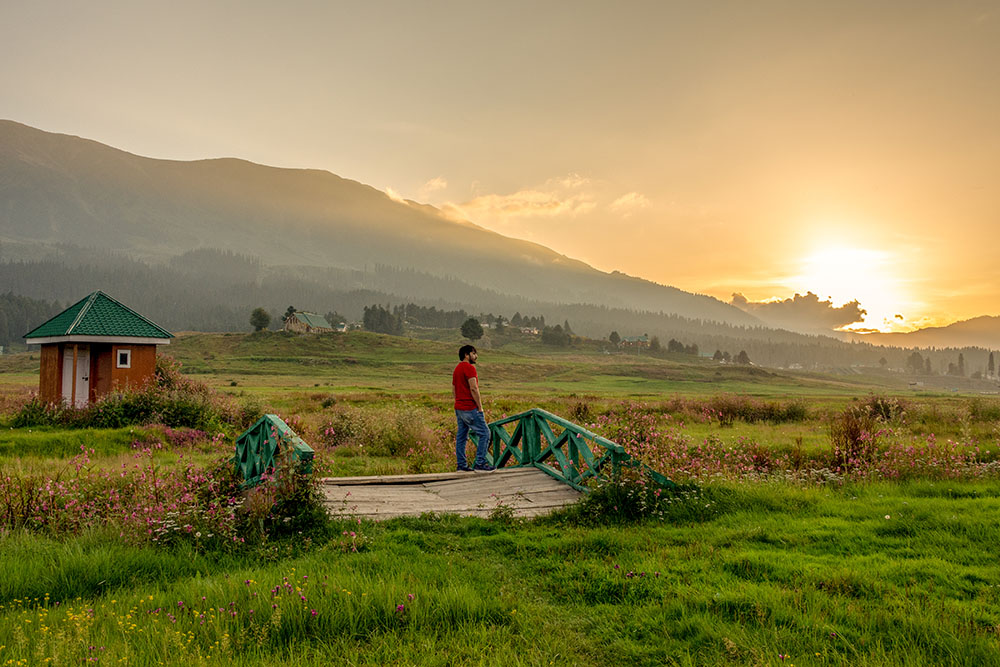 Tourism in Gulmarg is not limited to a certain period. This tiny hamlet serves as a year-round tourist magnet and can be visited every season. The best time to visit Gulmarg will entirely depend on what kind of trip you were looking forward to but no matter which month you arrive here, I can bet that you will not be disappointed.
Everyone has their own reason to visit a place like Gulmarg. Some people would come looking for snow while others for lush green meadows. The adventurous lot would visit Gulmarg for some snow sports whereas a lot of people come to a hill station looking to spend some time in peace.
Hence in this article, I will provide a breakdown of how Gulmarg is at different times of the year. Hopefully, after reading through this, you will be able to decide when should you plan on visiting.
For any other details on visiting Gulmarg like how to reach, where to stay, cost of the trip, and what to see, please take a look at How to Plan your Trip to Gulmarg?
When is the Best time to Visit Gulmarg?
To see a white Gulmarg and a lot of snow everywhere, the months of January or February would be the best time. To see the colors of the spring season in the meadows of Gulmarg, you should visit in April and early May.
If lush green valleys were on your mind then plan sometime in July, August, or early September. If you wanted to avoid the crowd and wanted to be here with less number of tourists, then you should visit either in March, August, November, or early December.
For a budgeted trip, I will recommend visiting in August, late October, or November.
The months of April till June sees a huge number of tourists in Gulmarg. This is the time when you would have to wait in line for 2-3 hours for a 15 minutes Gondola ride. Unless this was the only time you could afford to plan this trip, I would recommend avoiding visiting Gulmarg in these 3 months.
Also Read: How to Plan a Trip to Kashmir – A Complete Travel Guide
Best time to Visit Gulmarg for Snowfall
It starts to snow in Gulmarg towards December end and continues till March. The frequency and intensity of snowfall will be greater in January and lowest in March.
The snow remains for a little after as well but chances of catching a live snowfall become rare. Normally the area above the gondola middle station (3'050 m) remains covered in snow from mid-November till around the end of May.
In the lower area of Gulmarg town, however, it may take till mid-January for the snow to stick to the ground. The snowfall may occur towards late December but the snow usually melts away.
At the top station of the cable car (4000 m), the top of Apharwat peak, you may find snow till the end of July. For regular tourists, this usually suffices. If you however want to see Gulmarg buried under several feet of snow then plan between Mid-January and February.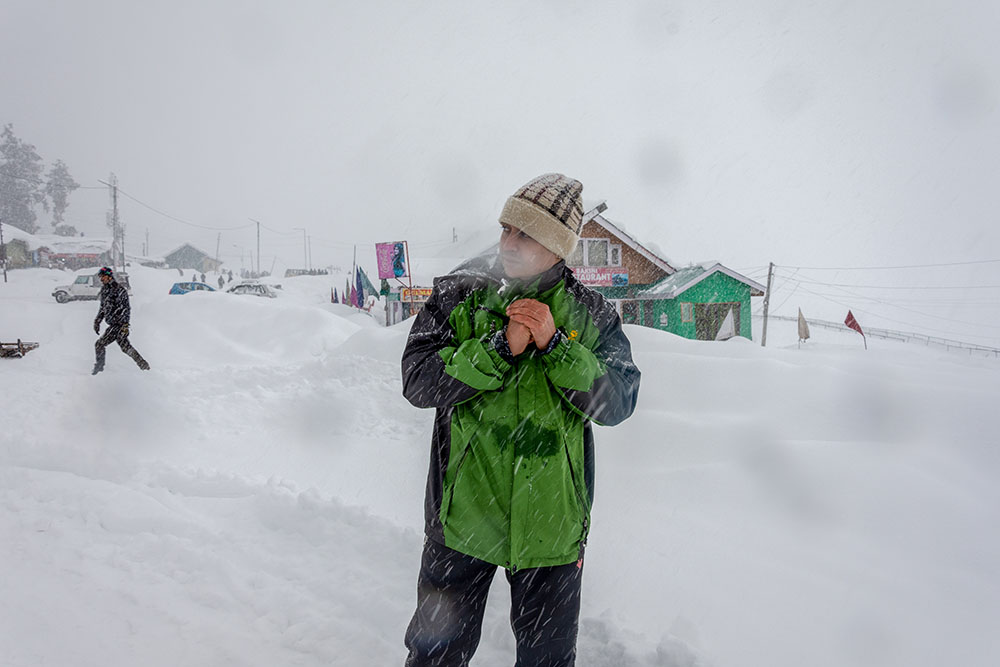 Best time to Visit Gulmarg for Photography
If you are interested in photography, I would recommend visiting either in January, February, April, August, or September.
In February, you can get some really stunning snow-covered valleys to shoot. It will be there in other months as well but not as much as in February.
In April and August, it is the lush green valleys all around and you will definitely be able to get plenty of good shots.
The rest of the months present plenty of photographic opportunities too but vistas in these 5 months would be at their best.
Also Read: Places to Visit in Gulmarg and Things to Do
Best time to Visit Gulmarg with Family
All months I would say. Gulmarg remains open for tourism throughout the year and you can bring your families anytime when you can manage to.
Best time to Visit Gulmarg for Budget Travelers
None to be honest. Gulmarg is really a place a bit on the expensive side and I am speaking this out of the personal experience. You will not find a place to stay here for any less than Rs. 2000 to Rs 2,500 during the tourist season.
The food here too is costly. Still, if you were on a budget then I would recommend coming sometime in August. At this time, there aren't many tourists around and your chances of getting a cheaper hotel deal are better.
Also Read: Hotel Green Park – A Good Budget Hotel in Gulmarg
Best Time to Visit Gulmarg for Skiing
The best time for ski enthusiasts will be either late January or February. This is when the snow on the ground is greatest making it perfect to enjoy snow sports.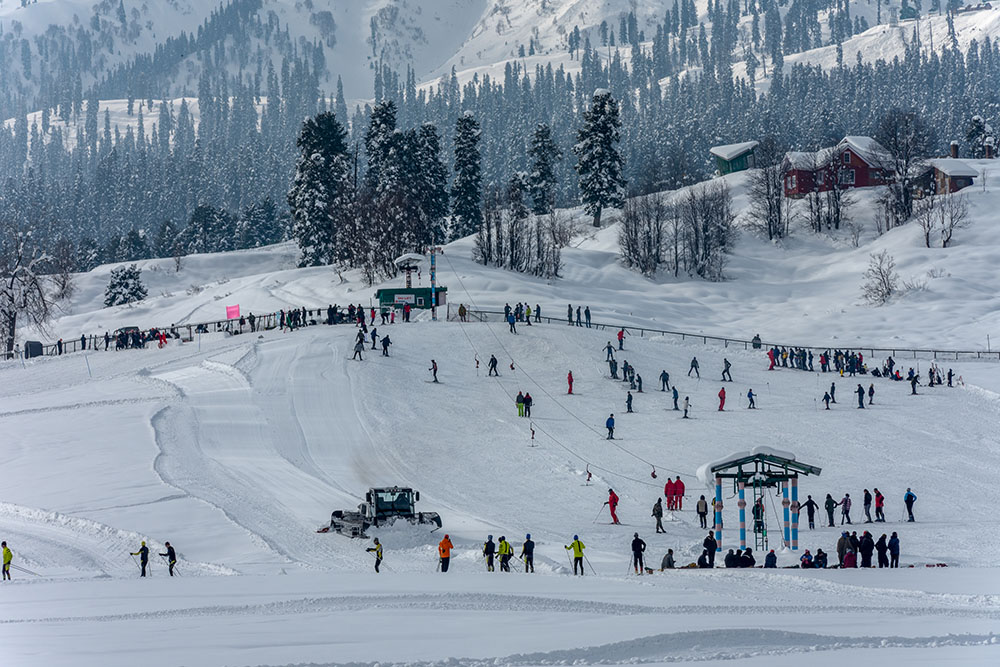 Best Time to Visit Gulmarg for Honeymoon
The months of March, April, and September is the best time to visit Gulmarg for Honeymoon.
Best Time to Visit Gulmarg Gondola
The best time to visit Gulmarg Gondola is the months of March to May and September to December. The Gondola remains operational for all 12 months but the bad weather in January, February, late June, July, and August can sometimes force authorities to shut it down temporarily.
The unfortunate accident that claimed the lives of 7 people happened towards the end of June after the monsoon season arrived.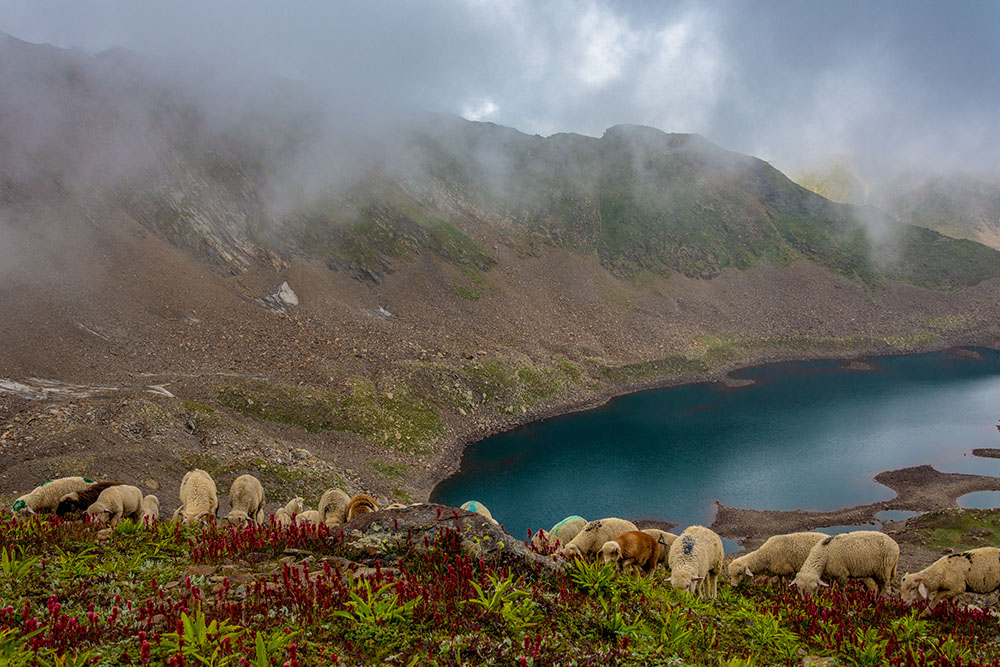 Weather in Gulmarg
The weather of Gulmarg remains to be very cold during the winter season and pleasant during summer. Below is a month-by-month breakdown of how the weather trends throughout the year; and how the temperature fluctuates.
Please note that the temperature that I am mentioning below is just a historical average. Depending on the weather and time of the day, it may change by several degrees.
Gulmarg in January
It is the peak winter season and you will feel the chill in the wind. Pack all your woolens and heavy windproof jacket if visiting this time.
The temperature of Gulmarg in January will remain about 0 degrees Celsius on average. At night, it can drop down to -5 to -7. It can snow anytime but the amount of snow on the ground will be a bit less towards the earlier part of the month.
Also Read: How to Plan your Journey on Mughal Road?
Gulmarg in February
January is pretty much the same deal as January. The difference however is that the amount of snow accumulated on the ground will be far greater.
The average high temperature in February will remain around 1 degree Celsius and the lowest at -5 degrees. You will definitely need to keep heavy woolens for visiting at this time.
Gulmarg in March
The average temperature in Gulmarg in March goes up to around 5 degrees Celsius. The night temperature will hover between 0 to -2 degrees Celsius.
Snow will start to melt from lower Gulmarg and get limited to areas around Kungdoor and above. You will need to pack woolens and a good windproof for the trip.
Also Read: Hotel Affarwat – A Good Place to Stay in Gulmarg
Gulmarg in April
Spring arrives and the weather turns pleasant.  The average temperature jumps up to about 10 degrees Celsius. The night temperature will still remain around 2 degrees.
Please note that it can sometimes even snow in April in Gulmarg. You should bring plenty of cotton clothes, some light woolens, and a heavy jacket this month.
Gulmarg in May
This is the time when Gulmarg gets really very crowded with summer vacations in schools and people arriving with their families.
It is not really a good time to visit unless this is the only time you can come. Gulmarg's average high temperature in May remains around 15 degrees celsius and low at 6 degrees Celsius. Pack a jacket, some light woolens, and plenty of cotton clothes for visiting this time.
Also Read: How to Plan a Journey to Aharbal?
Gulmarg in June
June is another not-so-good month. Vistas will be a bit dull and it will still be crowded. Weather however will be pleasant, with the average temperature ranging between 12 to 21 degrees Celsius.
Towards late June, Monsoon arrives in the region and it starts to rain as well. Pack a light jacket and plenty of cotton clothes for visiting this time.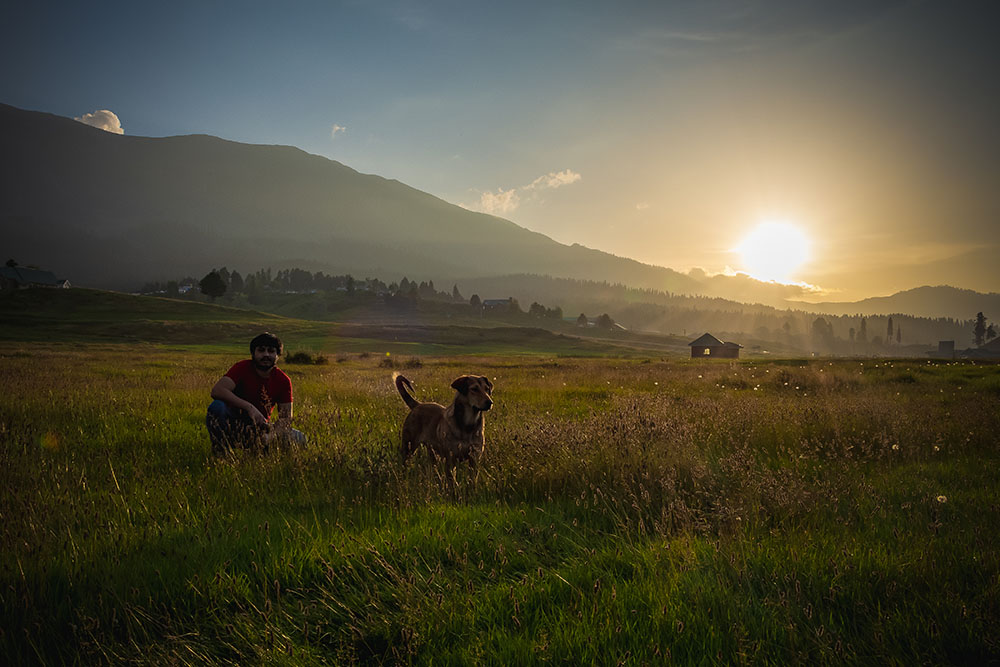 Gulmarg in July
July is the warmest month of the year in Gulmarg with an average temperature ranging between 13 to 23 degrees Celsius. It also officially marks the beginning of monsoon season here, though it doesn't rain too much in Gulmarg.
The plus point of visiting Gulmarg in July however is that you will rarely find any tourists here at this time. You can get better deals at the hotels which also makes it a good time for budget travelers.
Pack a light jacket and plenty of cotton clothes for visiting this time.
Gulmarg in August
The monsoon season will be in full swing and tourists won't be too many in number. It is a great time for photography enthusiasts and budget travelers alike.
The temperature in August will average out at 20 degrees high and 12 degrees low. Pack a light jacket and plenty of cotton clothes for visiting this time.
You should bring an umbrella or a raincoat along for both July and August. If possible, pack clothes that can dry faster.
Gulmarg in September
Monsoon starts to recede leaving behind lush green meadows. The weather will start to turn cold again and the average temperature will drop down to 16 degrees high and 8 degrees low. In terms of clothes, however, you can still easily survive with cotton clothes and some light woolens or jackets.
Gulmarg in October
October officially marks the beginning of the winter season in Gulmarg and you will be able to feel it in the air. The average temperature will range between 3 and 14 degrees Celsius.
It is also the time for autumn in Gulmarg and a great time to visit for those eager to see the orange all around. If you are a photographer, then you will be able to get some great Autumn shots in the valleys of Kashmir.
Do note though that the orange effect of Autumn is not that greatly visible in Gulmarg. You will see more of it in Srinagar city itself.
Gulmarg in November
November is not at all a good month to visit Gulmarg. Vistas will be dull all around, there will be no snow and the weather will be very cold with the average temperature ranging between 0 and 8 degrees Celsius.
It also starts to snow at this time in the upper areas near Kangdoor and Apharwat peak. It is however a good time if you were planning a budgeted trip. With not many tourists around, you may get a good deal on accommodation.
Also Read: How to Plan a Trip to Doodhpathri?
Gulmarg in December
It is the peak of the winter season now with the average high temperature of 3 degrees Celsius and the lowest at -4 degrees.  By end of December, it can snow time in Gulmarg town.
For visiting in either October, November, or December, you must pack all your good woolens to help protect against the cold.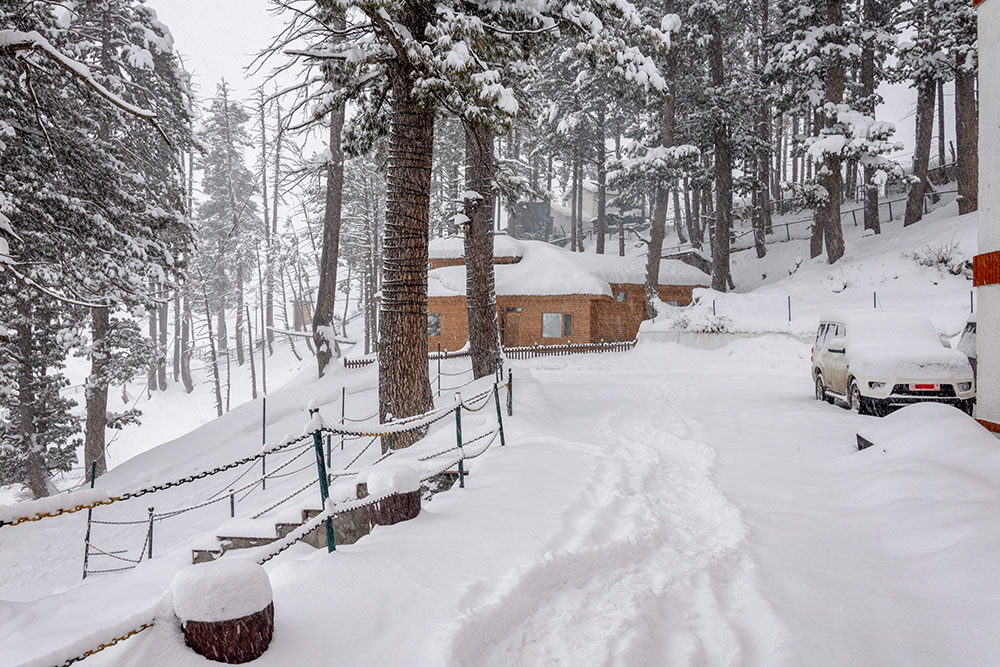 Best Month to Visit Gulmarg
In the end, in my opinion, the months of February, April, and September are the best to visit Gulmarg, depending on the type of trip you wanted.
Best Season to Visit Gulmarg
Winter and Spring seasons are the best time to visit Gulmarg.
Conclusion
I hope the information above on the best time to visit Gulmarg was of help. If you have any questions, please feel free to ask in the comments section below and I will be happy to answer. You can also follow me on Instagram and chat with me live or subscribe to my YouTube channel and ask a question there.