et A trip to Kashmir in winter is really a beautiful experience. Valleys covered in white, ample chances for snow activities and sports, frozen lakes and waterfalls, heavy snowfall, freezing temperatures, and mesmerizing views when put together form an experience that you will cherish for life.
Kashmir receives tourists throughout the year. Every season and month presents a different type of Kashmir that is beautiful in its own way. But when you talk about visiting Kashmir in the winter season, you cannot expect it to be just all beautiful. It will also bring its own set of challenges.
If a winter trip to Kashmir was on your mind, you must plan carefully and give thought to each and every aspect of your trip. Otherwise, your trip will all end up in a huge disappointment.
Why do I say that? It is majorly because of four reasons – the cold weather, the unpredictability of it, the cost of the trip, and inaccessibility to certain areas. Read on to find out more.
How to Plan a trip to Kashmir in winter
I recently returned from an 11-day long trip to Kashmir. In the post below and the ones to follow in this series, I will narrate our experience of these 11 days in detail.
But before I do that, let me first talk about how can a winter trip to Kashmir be planned and what are some of the things you should keep in mind. If you need a tour organizer to arrange this for you at the best possible rates, you can contact Kunal @ 9910402252.
You can read through this article or check out the video at the link below to know how our trip was planned and executed.
Check Weather Forecast
The first thing that comes to mind when you are going to Kashmir in the winter season is snow. This is what 90% of the tourists would be after. They want to see the valley covered under a thick sheet of snow and hopefully catch a snowfall as well.
But the thing is that it is not always the case everywhere. The entire Kashmir doesn't get covered in snow. Srinagar these days remains dry and devoid of any snow at all for most of the winter season. In fact, that is the case with most of the lower areas of Kashmir.
Also, in winter, it is only the snow that makes Kashmir pretty. Trust me, if there is no snow, it rather looks dull, gloomy, and boring. There will be no leaves on the trees, the weather will be freezing cold, no sun in the sky, foggy atmosphere and you would just hate being there.
So what do you do? You check the weather forecast and plan your trip accordingly. See when it is supposed to snow in Kashmir and be there at that time.
A safe period would be between 10th January to the end of February. But even at this time, a lot will depend on your travel itinerary. Confused? Let me explain.
Srinagar in Winter Season
There was a time when Srinagar city used to receive several feet of snow each year. Dal Lake would freeze completely – so much that the kids used to play on it. But due to global warming and climate change, that is not the case anymore.
It does snow in Srinagar still but only a few inches, just a light spell. The snowfall would last for an hour or two and there will be small patches of snow on the ground for a day. After that, it will be all gone, leaving the city dry again.
So the city is definitely not the place you want to spend your time in during the winter season. There is really nothing to see, no sights to enjoy. Srinagar comes alive with colors in April but before that, it looks rather dull.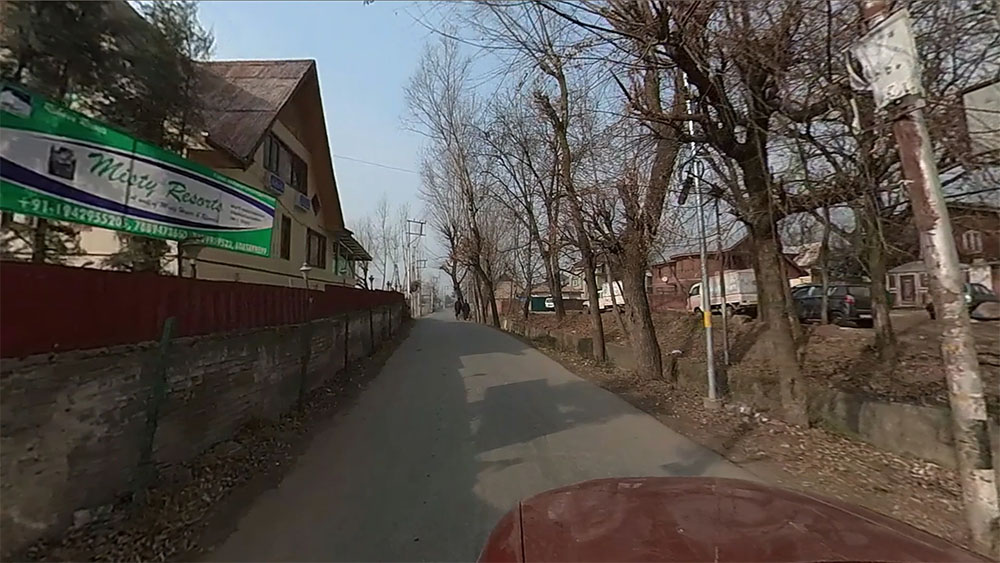 But with that being said, it is still a great place to make base while you explore the rest of the places. If you are on a budget trip, this is where you will find accommodation choices that will fit your pocket.
Hotel prices in places like Gulmarg and Pahalgam start to sound like daylight robbery in winter. So for anyone traveling on a limited budget, the best choice would be to plan night stays in Srinagar and make day trips to the rest of the places.
Gulmarg in Winter Season
Gulmarg becomes the highlight of a trip to Kashmir in winter. This is one place that will not disappoint you and you will definitely find snow here. The amount of snow however will depend on the time of your trip.
It starts to snow in Gulmarg by November but it doesn't stick. The snow will just be a few inches and will melt away in a matter of hours. This remains to be the case until the end of December.
Early January is when Gulmarg receives heavy snowfall. Everything gets buried under a thick sheet of snow which remains to be the case until the end of February.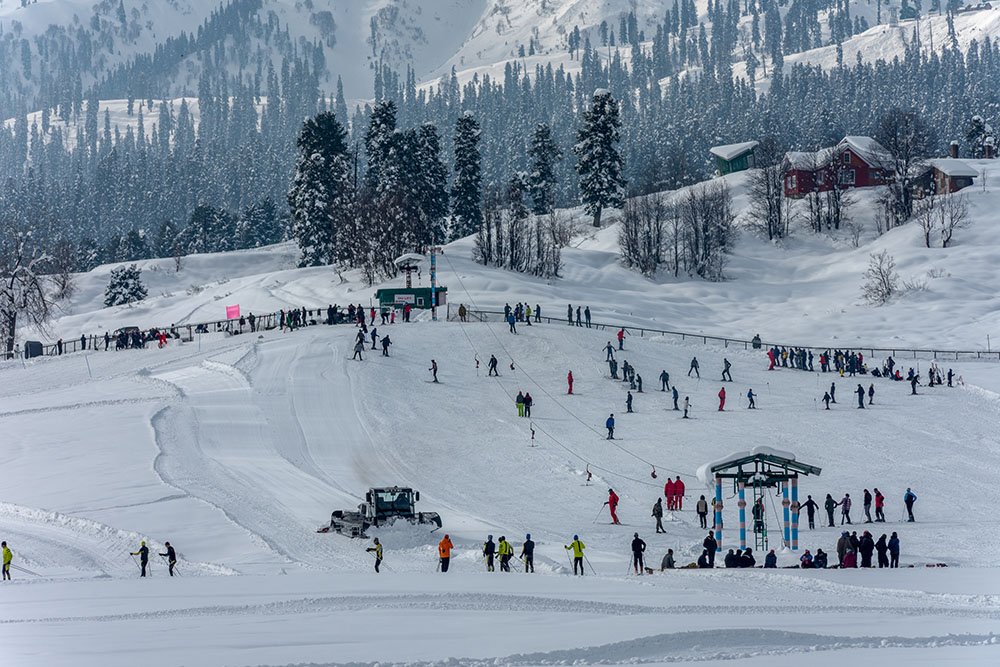 The intensity and chances of snowfall are higher between January 10th and February end. It does snow after that as well but not as frequently and as heavily.
So the first thing to do is to plan your trip when you have confirmation from the news that it has already snowed in Gulmarg. After that, try adjusting your travel dates according to the snowfall prediction so that you are in Gulmarg on the day when it is supposed to snow.
For other details on visiting Gulmarg in the winter season like how to reach, public transport, hotels, and sightseeing, you can also take a look at How to Plan a Trip to Gulmarg in Winter.
The road from Srinagar to Gulmarg remains open for all 12 months. This means that irrespective of when you reach Kashmir, you will surely be able to include Gulmarg in your itinerary.
Below is a video of our trip to Gulmarg in winter.
Pahalgam in Winter
Pahalgam should be the second place to visit in your itinerary. While the place may not look as pretty during the rest of the year, it certainly has a charm of its own in January and February. You will love being here at this time.
Much like Gulmarg, it starts to snow in Pahalgam by November but it is only in January that the snow sticks to the ground. Heavy snowfall is most frequent between January 10th and February end.
Within Pahalgam, Betaab Valley remains open for all 12 months but the road to Chandanwari gets blocked. You may also not be able to reach Aru Valley because that road is narrow and steep and usually remains blocked in January and February.
Baisaran Valley is another popular tourist attraction in Pahalgam that you can visit. It is a trek though that will surely get even more difficult after a snowfall. The best thing to do would be to hire a pony rather than walk all the way in the snow.
For more details on this topic, you can also take a look at How to Plan a Trip to Pahalgam in Winter. You can also check out the video below for more details.
Sonamarg in Winter
For now, Sonamarg remains closed in the winter season. You can get there by road until December but once heavy snowfall starts in January, the road gets completely blocked.
The farthest you will be allowed to go is the small village of Gagangir. There is a check post there and the cops will not let you go any further than that.
There is Tunnel work underway and in the coming years, the plan is to keep Sonamarg open for all 12 months. But for now, it is only Gagangir that you can reach in that direction.
For more details on this topic, you can also take a look at How to Plan a Trip to Sonamarg in Winter. Below is a video of our journey to Sonamarg in the winter season.
Drung Waterfall
Drung Waterfall, also known as Drang Waterfall, is a man-made waterfall located in the village of Drung. It is about 4 kilometers from Tangmarg, on the way to Gulmarg.
This waterfall is the newest entry in the list of tourist attractions in Kashmir. It doesn't look as pretty during the rest of the year but in winter, it freezes completely and starts to look majestic and beautiful. Take a look at the short video below.
A trip to Drung Waterfall can be included in your Gulmarg visit. You just need to take the 4 kilometers road to the waterfall from Tangmarg and return after spending some time there. In total, from Tangmarg, a return trip to Drung will not take more than 90 minutes.
For more details on this waterfall, please take a look at Drung Waterfall – How to Reach, What to See & Where to Stay.
Yusmarg in Winter
Yusmarg remains closed in the winter season and cannot be reached. The farthest you will be able to go is the town of Charar-e-Shariff but not beyond that.
Some local taxi drivers may agree to take you there, but I would advise you not to risk it. Yusmarg may remain open in winter in the coming years but for now, you should keep it out of your itinerary. You are Ok to go there in November and December but not in January and February.
For more details on this charming little offbeat destination of Kashmir, you can take a look at How to Plan a Trip to Yusmarg.
Gurez Valley in Winter
The only way to reach Gurez in the winter season is by Helicopter service from Srinagar or Bandipora. You will not be able to get there by road after it starts to snow at Razdan Pass. The road usually remains open until mid-December but not from January to March.
For more details on Gurez, its villages, and sightseeing spots, you can take a look at How to Plan a Trip to Gurez Valley.
Aharbal Waterfall in Winter
Whether or not you are able to reach Aharbal entirely depends on the amount of snow on the road. If you are visiting in November or December, you can include Aharbal in your itinerary.
But after the intensity of snowfall increases in January, the road to Aharbal can also get closed from both Kulgam and Shopian sides. During this trip in January, we tried getting there from Kulgam but were not allowed to do so.
The cops stopped us at Kulgam and we were sent back to Srinagar because of safety reasons. The road to Aharbal is both steep and narrow and once it starts to snow, it becomes risky to drive on it.
So if there has not been heavy snowfall at the time of your visit, chances are that the road will remain open. Ask the locals and they can tell you the most recent status. But if there has been heavy snowfall in the valley recently, chances are that the road to Aharbal will also be closed.
How does this waterfall look in the winter season? Well, you can take a look at the video below. For more details, you can also check out How to Plan a Trip to Aharbal Waterfall.
Doodhpathri in Winter
Doodhpathri remains closed in the winter season and cannot be reached. Some local taxi drivers may agree to take you there, but I would advise you not to risk it.
Winter tourism may get allowed here in the coming years but for now, you should keep it out of your itinerary. You may visit Doodhpathri if you are going to Kashmir in November, December, or late March but definitely not in January and February.
For more information, you can take a look at How to Plan a Trip to Doodhpathri.
This is it. Those are the places that you will visit during your winter trip to Kashmir. If there is some other place on your mind that I did not talk about, feel free to ask about it in the comments section below.
Let me now talk about some other aspects of visiting Kashmir in winter that you should keep in mind.
Clothes to Pack
After all this talk about heavy snowfall and cold weather, let us discuss how you should prepare for it. As it goes without saying, for a winter trip to Kashmir, you need to pack clothes that can keep you warm in freezing temperatures.
Here is an example of what your packing should consist of.
Heavy windproof and warm Jacket
Woolen Cap to cover your head and neck and possibly face as well / Monkey Cap
Heavy Woolen Clothing
Thermals / Warmers
Woolen Socks
Warm & Waterproof Gloves
Snow boots or Waterproof Trekking Boots
Sunglasses
Cold Cream
Lip Balm
You should expect the average temperature below 0 degrees and pack accordingly. If you do not have snow boots then you can bring your normal shoes as well. Just make sure that pack the ones that can stand getting wet and are at least ankle-high to prevent any snow from entering the shoes.
If you want to go playing around in the snow, then snow boots are available for rent in almost all of the places where it snows.
Good quality warmers that you can wear underneath your clothes will be highly beneficial. The second most important thing is to pack a high-quality, warm, and windproof jacket.
Accommodation
You will find hotels operational in Srinagar, Gulmarg, and Pahalgam. Hotels in Sonamarg close doors by late November and December. If you are planning to go to Gurez by Air, you will be able to get a hotel there as well but make sure that you book in advance.
You will not find accommodation at Yusmarg or Doodhpathri. If you want to spend a night in Aharbal or Drung, you will have to talk to any of the locals about homestay. There are no hotels in Drung and the JKTDC cottages in Aharbal get closed in winter.
Cost of the Trip
A winter trip to Aharbal will be a costly affair. The hotel charges in Gulmarg and Pahalgam at this time are enough to burn a hole in your pocket.
On average, a decent enough hotel in Gulmarg will cost you around Rs. 10,000 per day. These are the most recent charges that I am referring to here. It could go higher or lower in the coming years.
In Pahalgam, expect the price to be between Rs. 5,000 to Rs. 10,000. The surprising part is that these charges are for very average hotels, not for luxurious resorts or grand hotels.
In Srinagar, an average hotel will cost you between Rs. 1500 to Rs. 2500. So if you are on a budget trip, you should plan your stay in Srinagar and then make day trips to all the other places that you have in your itinerary.
If you do not mind paying the extra charges, then yes, you can plan to stay in Gulmarg and Pahalgam as well. It will add to the overall experience of the trip.
Public Transport
The first thing that you should know is that public transport in Kashmir is not that organized and regular. It will be very hard to find a JKSRTC bus and you will have to mostly rely on the mini-buses operated by the locals.
The other option, if you could not find a bus, is the shared cabs. The frequency of the shared cabs is much better than the buses but it will be hard to find a cab that can take you all the way to your destination.
There is however no direct bus or shared cab from one destination to another. For example, if you want to go to Gulmarg from Srinagar, you will first have to look for a shared cab to Magam, then to Tangmarg, and then finally to Gulmarg.
Similarly, for Pahalgam, you will first have to reach Anantnag by bus or shared cab. Then you will have to look for another mode of transport from Anantnag to Pahalgam. Then finally, you will have to rent a local taxi that can take you to Betaab Valley, Chandanwari, and Aru Valley.
There are no direct buses or cabs for Aharbal and Drung Waterfall as well. For Aharbal, you will first have to go to Shopian and then try to find another local transport there. For Drung, you will have to book a private cab from Tangmarg.
To get more details on this topic, please take a look at How to Travel in Kashmir by Public Transport.
Taxi Charges
Hiring a private taxi will be the most convenient way to plan a winter trip to Kashmir. The catch however is that you cannot just rent one taxi for the entire tour.
For example, a taxi from Srinagar cannot take you all the way to Gulmarg. It will drop you at Tangmarg and from there, you will have to pay another Rs. 3000 for another cab that will take you to Gulmarg.
Likewise, the cab from Srinagar will only bring you to Pahalgam for approximately Rs. 5000 for a return trip. But for local sightseeing in Pahalgam, you will have to pay another Rs. 2500 to rent another cab there.
I know this sounds ridiculous but that is the way it is. For more detail on taxi rates, please take a look at Taxi Charges in Srinagar.
Mobile Network
When it comes to the mobile network in Kashmir, the important thing that you should know is that only postpaid connections work in the valley. Irrespective of which network you were on, your phone will be dead as soon as you enter Kashmir if it was a prepaid connection.
But if it was a postpaid phone, you will have good reception and data connectivity in tourist destinations like Srinagar, Gulmarg, Sonamarg, Pahalgam, Aharbal, Drung, Yusmarg, Doodhpathri, and Gurez Valley. If you went a little offbeat, your phone may or may not work.
For more details on this topic, you can take a look at Mobile Network in Kashmir & Data Connectivity.
That majorly covers everything that you need to know before visiting Kashmir in winter. Now let me get back to the travelogue and talk about the first day of our trip to Kashmir in winter when we traveled from Delhi to Srinagar.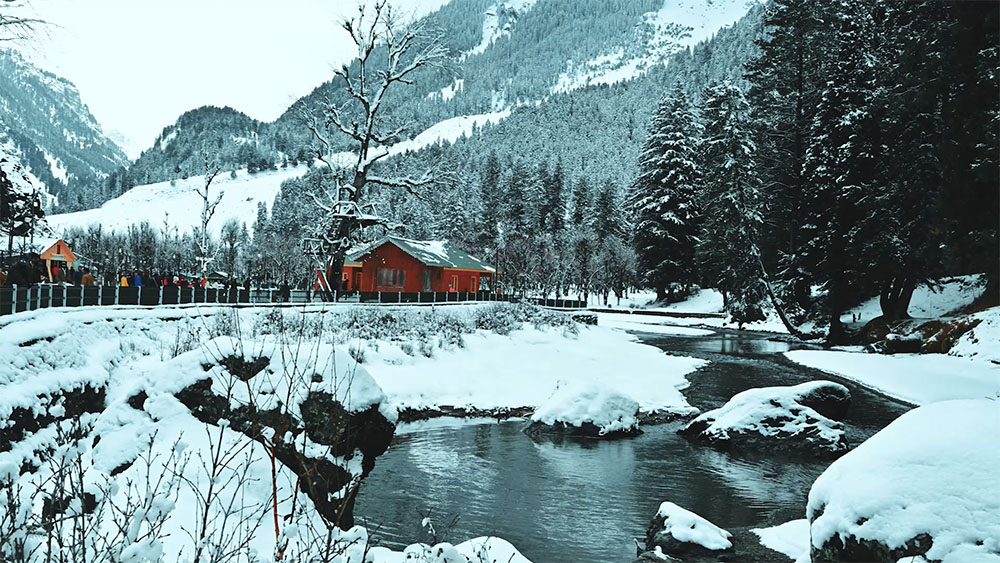 Kashmir in Winter Season
This was possibly my first trip to Kashmir that was executed without a set itinerary. No, I am not saying that you should do the same. The only reason why I did it this way was that I had been to Kashmir numerous times before.
All the places that we visited during this trip were not new to me. I had been there before and knew exactly what I was getting into. So rather than tying ourselves down with a set itinerary, we decided to rather chase the snow.
So the way this trip was executed was that we stayed in Srinagar for 11 days. We would check the weather forecast a day before or early in the morning and whichever place was receiving snow that day became our destination.
Preparation
The tickets for this trip were booked about 2 months in advance. The month of January was finalized because I knew this is when the chances of snowfall in Kashmir are the highest.
So with the time decided and tickets booked, my focus shifted to the next 2 more important aspects of the trip. Where were we going to stay and how were we going to travel?
At first, I thought to spend a couple of nights in Pahalgam and Gulmarg. So I called a few hotels in both these places and the prices I was quoted just blew my mind. I was asked for Rs. 7500 in Pahalgam for one night and Rs. 12000 in Gulmarg.
These were hotels that I knew of, hotels that I had stayed at previously. I knew of their conditions were and there was absolutely no way I was going to give them so much money just for one night.
So it was decided that we will just stay in Srinagar for all 11 days and make day trips to all the other places. If we were able to find a reasonably priced hotel at any of our destinations on the day of our visit, we may stay there for a night. Otherwise, we will just come back to Srinagar by evening.
Accommodation and Mode of Commute
Next came the question of how we were going to travel around. Faisal is a friend of mine who stays in Srinagar and runs the best motorcycle rental agency in Kashmir. When I told him about my visit, he offered to lend me his Duster for 11 days.
This was definitely a great help because it saved us all the money that we would have instead spent on taxis. It just made the trip so much easier.
The last thing to take care of was where were we going to stay. It is the hotel Grand Valley Inn that I always stay at whenever I am in Srinagar. This time, however, Faisal suggested me another hotel in Srinagar, a resort actually.
It was located on the outskirts of Srinagar, in Harwan, about 5 kilometers from Shalimar. I was not too keen on staying that far out of the city. But when I saw the pictures of this resort, I liked it and decided to give it a try.
I spoke to the owner of the hotel. To my surprise, he offered to let us stay there at no cost at all. What he asked of me in return was that I help promote his hotel on my blog. It was a great deal and I agreed to it.
With all of it decided, it was just a wait for the day of our trip. We packed our bags and got ready for our first trip of the year.
Delhi to Srinagar Flight
At that time, there was a lot of noise about how long it was taking people to board their flights at Delhi airport. Videos were getting posted on the internet of the chaos caused by long waiting periods.
People even missed their flights standing in the queue while going through the security clearances. To ensure that this did not happen to us, we planned to start our day early and were there at the airport 3 hours before the flight.
This was actually as per the advisory issued by the authorities, asking people to get to the airport 3 hours before the domestic flights and 4 hours before international flights.
Surprisingly, on that particular day, it took us only 30 minutes to go through the entire security clearance process. After that, it was a long wait of 2 and a half hours for our flight from Delhi to Srinagar.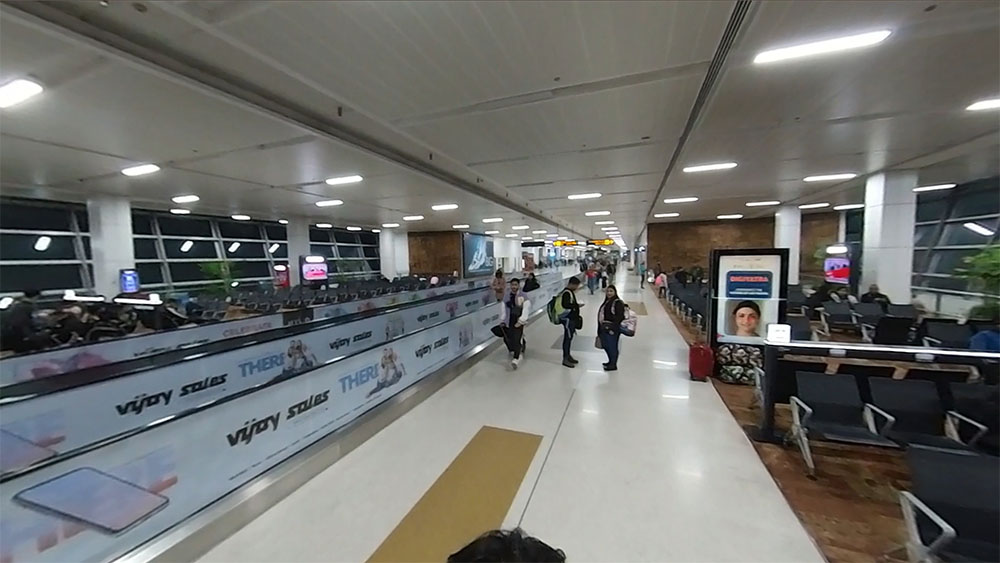 Finally, we boarded the plane at 7.30 am and landed in Srinagar at 9 am. Our trip to Kashmir in winter has now officially started.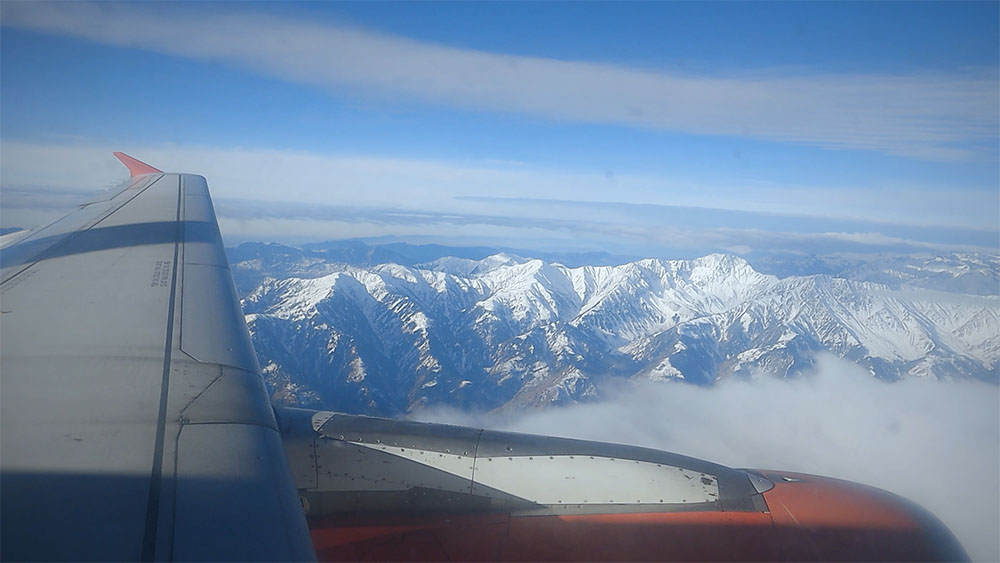 A cousin of Faisal was waiting for us at the airport and handed us the keys to the Duster, our car for the trip for the next 11 days.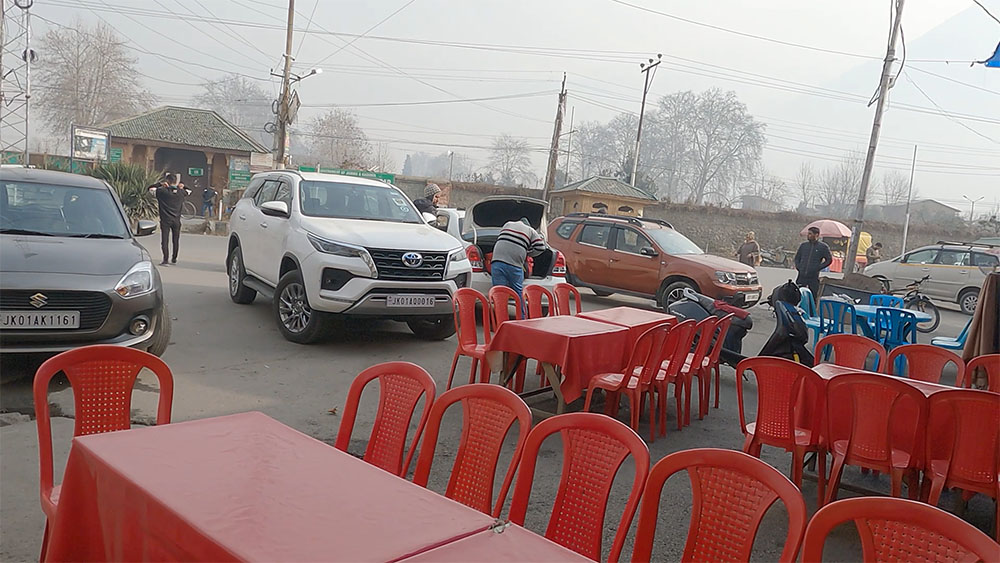 We drove straight to the resort that was booked for us in Harwan. It took us about an hour to get there from the airport but a surprise awaited us.
The door to the resort was locked. When we talked to the caretaker, he had no idea of our arrival and refused to let us in. I called the two numbers I had of the owner but both were switched off.
Hotel in Srinagar
It was a very cold day. We waited outside the resort for an hour and kept calling the owner but his numbers remained turned off. Annoyed, I called Faisal who recommended staying there. He too tried contacting the owner but to no avail.
We gave up the idea of the resort and drove back to Hotel Grand Valley Inn, the hotel I always stay at when I am in Srinagar. It was about 1 pm when we got back there.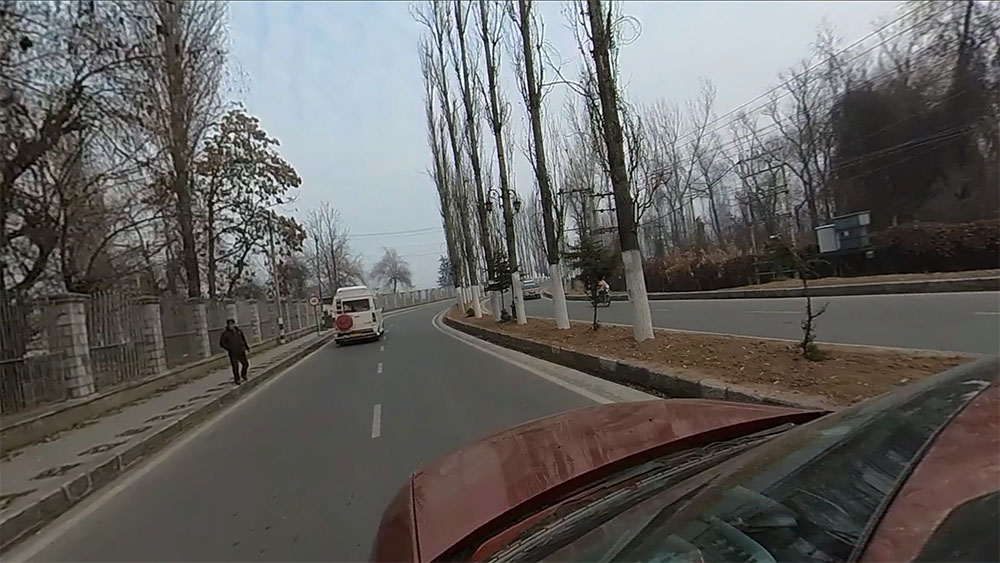 To date, I do not know what happened with our booking at that resort. The owner messaged him in the evening the same day apologizing and inviting us again but by that time, I was super annoyed to even think about going back there.
In the end, it actually turned out to be a good decision. Harwan is located outside the city, near Astanmarg, and at some altitude. The plus point was that it offers a good view of the city. The downsides however were many.
There was no one at that resort except for the caretaker. There was no provision for a kitchen or meals and we would have to step out for even a cup of tea. To make things worse, there was nothing near that resort, not even a small shop or a tea stall.
On top of it, later in the trip, when it snowed in Srinagar, we realized that it would have been a challenge to even get down to the city from that resort. We would have just been trapped there and could not even have ordered tea inside.
End of Day 1
So in the end, whatever happened was for good. I am really glad that we did not stay there and returned to Hotel Grand Valley Inn which is right next to Shalimar Garden and a market area.
Not much happened that day. I was up for almost 32 hours by then and was very sleepy. So I thought of getting a brief nap at around 2 pm but my nap lasted for a good 5 hours and I got up only by 7 pm.
We stepped out to get some dinner and returned to the hotel in an hour. After that, we just watched some TV, chit-chatted for a while, and went to sleep early.
On the next day of the trip, we went out to explore the old Srinagar town, a part of Kashmir that I had never seen. It was a great day and we visited several historical parts of the city. Please click on the link above to continue reading the next part of the travelogue.
Conclusion
I hope the information above on visiting Kashmir in winter was of help.  If you have any questions, you can contact me on Instagram and I will be happy to answer. You can also consider subscribing to my YouTube channel and asking a question there.
This error message is only visible to WordPress admins
Error: No feed found.
Please go to the Instagram Feed settings page to create a feed.