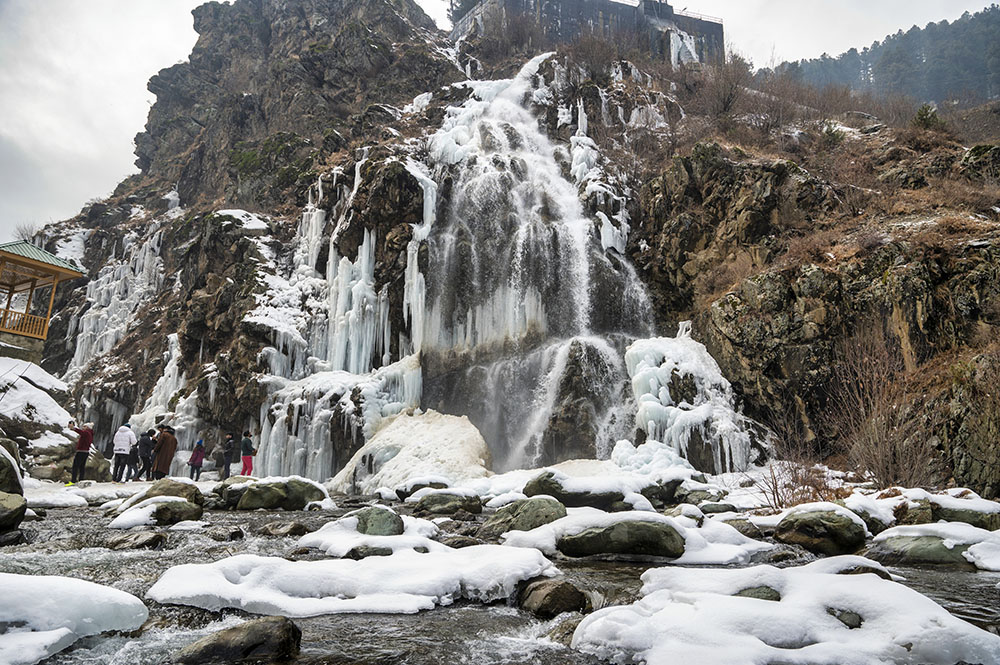 If you are planning a winter trip to Kashmir, then a journey from Srinagar to Drung Waterfall must find a place in your itinerary. Located about 15 kilometers from Gulmarg and 42 kilometers from Srinagar, this waterfall was largely unknown until a few years ago but is now one of the most popular winter destinations of Kashmir.
What is so special about Drung Waterfall? Well, in the summer season, it looks quite ordinary and not even that pretty in my opinion. But in the winter season, as the temperature in the valley drops, the water of this fall starts to freeze.
By early January, the entire face of the mountain that it falls from is covered by a thick layer of ice. The water still continues to flow down but is surrounded by huge icicles and snow and looks quite majestic.
I was recently on a winter trip to Kashmir and had the chance of visiting Drung Waterfall on the third day of our trip. The post below is a brief narration of our visit and experience. To read the previous parts of the travelogue, you can follow the links below.
Journey So far:
For a complete travel guide on visiting Kashmir, you can take a look at How to Plan a Trip to Kashmir Valley. For getting the best hotel rates, and taxi charges, and to organize your trip to Kashmir, you can speak with Kunal @ 9910 402 252.
Below is a video of our trip from Srinagar to Drung Waterfall. You can continue reading the travelogue below or you can also take a look at the video to get the details.
Srinagar to Drung Waterfall
Before I continue with the travelogue, let me first provide some information on how you can plan a trip from Srinagar to Drung Waterfall and the different modes of travel that you can choose.
How to reach Drung Waterfall from Srinagar
If you were traveling by your own car or bike, then you can follow the route below to reach the waterfall.
Srinagar – Magam – Tangmarg – Drung Waterfall = 42 Kilometers
From Srinagar, you will first reach Tangmarg via Magam. This entire stretch is mostly a flat road and there is hardly any uphill driving involved. You will not even feel like driving in a hill station actually.
After you reach Tangmarg, look for a road that bifurcates to your left. It is just before the main taxi stand. There is a marker next to the road that can help you identify the turn.
If you were unsure, just ask any of the locals about Drung Waterfall and they can point you in the right direction. Turn left and after about another 3 kilometers, you would have arrived at Drung Waterfall.
You will reach a Hydroelectric power plant, then cross a small bridge and turn right to reach the viewpoint. There are several small dhabas next to the viewpoint where you can also get something to eat.
Also Read: How to Plan a Trip to Gulmarg
In Winter
If you were traveling in the winter season though, you may not be allowed to bring your car or bike all the way to the waterfall. You may be asked to leave your car parked at Tangmarg and rent a local taxi for the waterfall.
The small stretch of 3 kilometers between Tangmarg and Drung is a narrow road that gets covered in snow in January and February. At this time, it can get a little risky to drive if you did not have proper experience and snow chains.
Other than this, there is also the monopoly of local taxi drivers in this area. They do not allow outside vehicles to ply on routes to Gulmarg and Drung. This even applies to the Srinagar-registered cars.
In this case,  you will need to leave your car in Tangmarg and rent a local taxi to take you to the waterfall. It can either be a car or even an ATV, both are available at the taxi stand.
The rent for this short drive of 6 kilometers (round trip) can be as much as Rs. 1500. Yes it does sound like daylight robbery but that is how it is. You may pay a little less for the ATV but it will be between Rs. 1000 to 1500.
If you do not want to waste money like this, then you can just walk 3 kilometers to the waterfall. Just be a little careful while walking in the snow to ensure that you do not slip and hurt yourself.
By Private Taxi
A private taxi will be the most convenient way of planning a trip if you were not traveling by your own vehicle. From Srinagar, it will cost you between Rs. 2500 to 3000 for a round trip to Drung Waterfall in the summer season.
If you booked a taxi for Gulmarg and also want to include Drung, make sure you clarify this with the driver. Explain to him the route, and places you want to cover, and then agree on the total fare including Drung. Otherwise, he may claim later that Drung was not part of the original plan and ask you to pay him more if you wanted to go that way.
In the winter season, you will first pay around Rs. 2300 for a cab from Srinagar to Tangmarg. You will then board another cab or ATV from Tangmarg for Drung as I mentioned above. So the total fare will be between Rs. 3500 to Rs. 4000.
The Srinagar-registered taxi will not be allowed to go to Drung. It can only bring you to Tangmarg and the driver will have to wait for you there while you go visit the waterfall.
For more details on the rates, please take a look at the Latest Taxi Rates in Srinagar.
By Shared Taxi
For budget travelers, a shared taxi is the best option. The problem however is that you will not find a direct cab to either Tangmarg or Drung Waterfall and will have to break your journey into different parts.
You will first have to reach Dal Gate in Srinagar and look for a shared cab to Parimpora or Batmaloo. If you found one that was going directly to Tangmarg, you can board that. Otherwise, find one for Parimpora or Batmaloo.
From Parimpora / Batmaloo, you will again have to change cabs and look for a cab going to Tangmarg. Once you arrive at Tangmarg, you can either rent a private taxi or just walk to the waterfall. The total fare for a shared cab from Srinagar to Tangmarg will be around Rs. 150 per person.
Another option is to look for a cab to first go to Magam from Srinagar. From Magam, you will easily find a shared cab for Tangmarg. Another thing to keep in mind is that shared cabs in Kashmir are referred to as 'service gaadi'.
By Bus
Like shared cabs, your journey will have to be broken into three parts by bus as well. First, you will have to board a bus for either Parimpora or Batmaloo from Srinagar.
Then you will have to board a bus for Tangmarg, and then finally walk to Drung Waterfall. The total fare will be about Rs. 150 per person.
There is no bus or shared cab available between Tangmarg and Drung Waterfall. It may start in the future but for now, a private taxi or walking is your only option.
For more details on traveling in Kashmir by Bus and shared cabs, you can also take a look at How to Plan a Trip to Kashmir by Public Transport.
Srinagar to Gulmarg
Now coming back to the travelogue, we started our journey on this day from Srinagar at 9.30 am. It was a cloudy day and there had been a snowfall in Gulmarg the night before.
We did not find any snow on the way and reached Tangmarg by 11 am. It was in Tangmarg that we first witnessed snow on the ground.
We decided to first go to Gulmarg and cover Drung Waterfall on our way back. It was going to be a day trip anyway. Because of the ridiculously high hotel prices in Gulmarg, we had no intention of staying there for the night.
We parked our Duster car near TRC Tangmarg and rented a local taxi to take us to Gulmarg. We also rented a couple of pairs of snow boots from Tangmarg. Traveling by taxi, we arrived in Gulmarg by 12 noon.
The next couple of hours were spent in Gulmarg playing around in the snow and clicking pictures. You can reach this part of the journey in the previous part of this travelogue – Srinagar to Gulmarg Day Trip.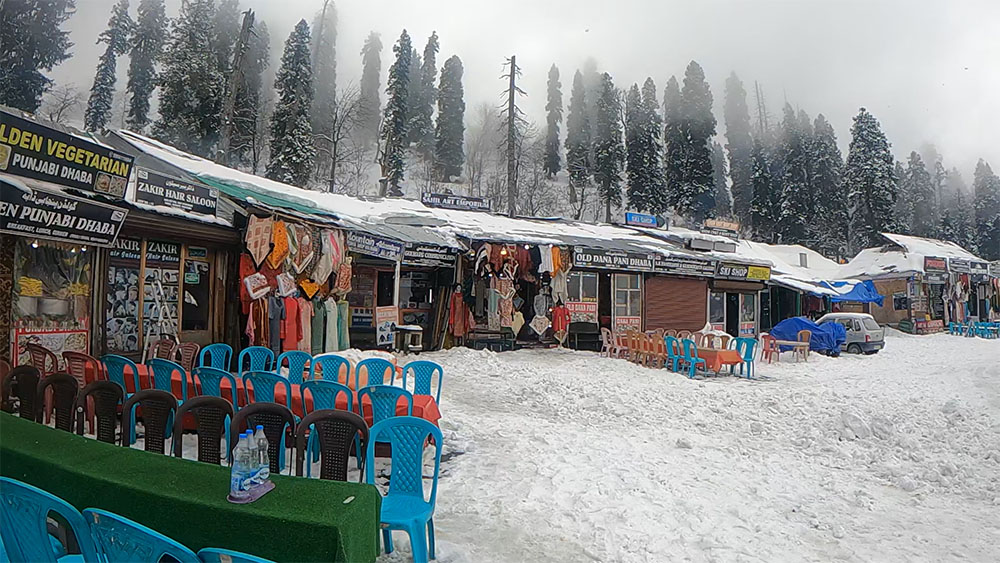 After getting something to eat, we started our return journey and reached Tangmarg by 3 pm. From there, it was now time to go to Drung Waterfall.
Tangmarg to Drung Waterfall
The total distance between Tangmarg and Drung Waterfall is only about 3.5 kilometers. It is a narrow road that bifurcates from the main Gulmarg road near the taxi stand in Tangmarg.
The condition of the road is good though. The only thing that makes this drive tricky is the snow. If there is snow on the ground, you will have to be very careful because, in some places, this road is barely wide enough for one car.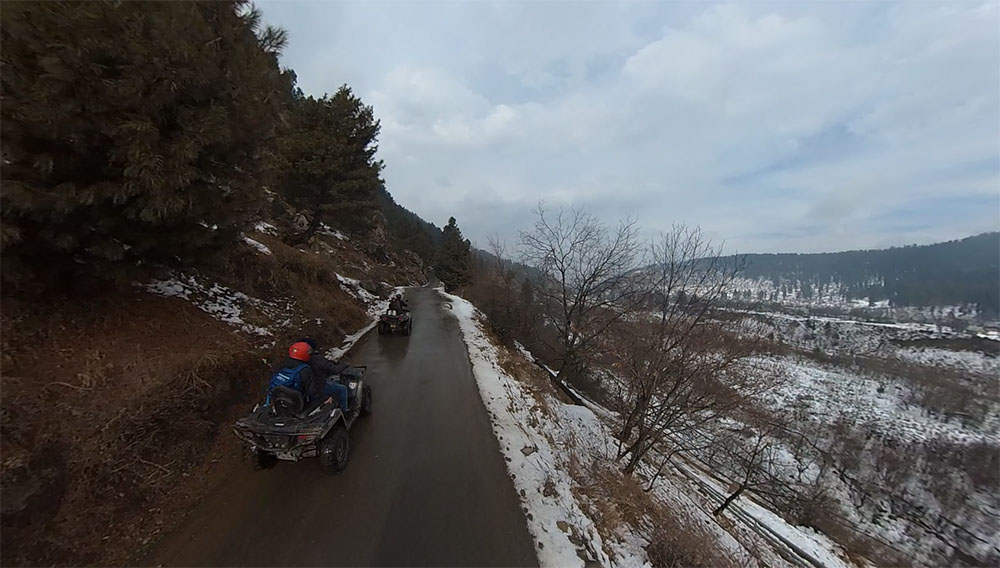 Since this was my first time driving in the snow, we decided not to take the risk. The deal that we made with the taxi driver was for Gulmarg and Drung Waterfall both, for a total of Rs. 3700.
I realized later that this was completely foolish. I unnecessarily paid him Rs. 1500 for Drung Waterfall. There was not a lot of snow on the road and I could have easily driven my own car. Even if there was snow, we could have just walked to the waterfall and saved this money.
You got to be careful with this. The taxi drivers in the Gulmarg area (even the hotels for that matter) are a huge scam to rob tourists of their money. I was an idiot to fall for this after being to Gulmarg so many times before.
Nevertheless, we returned our snow boots at TRC Gulmarg and started on our way to Drung Waterfall. The journey was short and we reached there in less than 10 minutes.
Also Read: Clothes for Kashmir Trip – What to Pack
Drung Waterfall
The entire way, I was cursing myself for being foolish enough to fall for this taxi driver scam. There was no way that a drive for just 3 kilometers was worth Rs. 1500.
But the moment we arrived at the waterfall, I completely forgot all about it and was awestruck by the sight in front of me.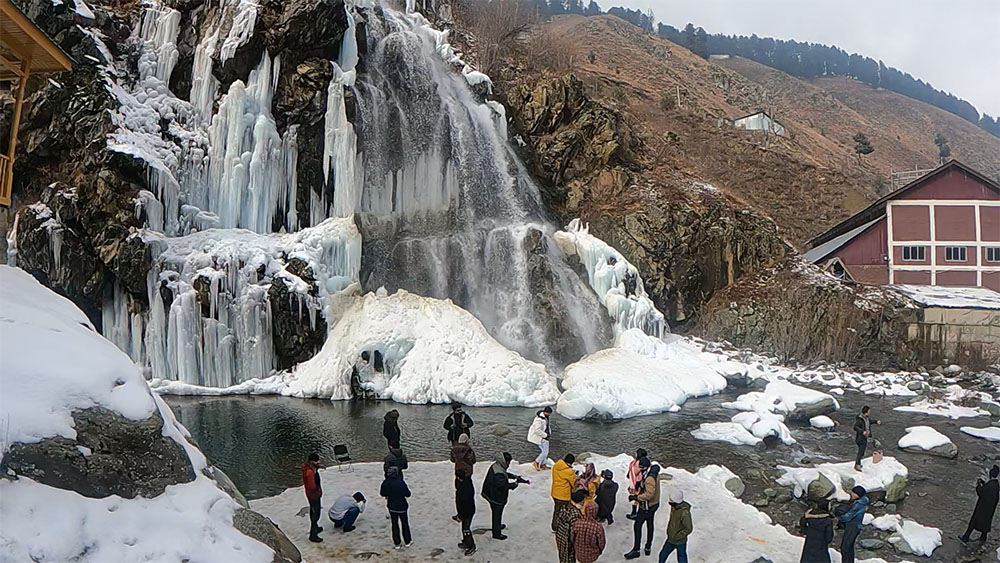 This waterfall must have been a natural one a few years ago but what you see now is a manually controlled flow of water. The source of this waterfall is a dam and a hydroelectric project. See the picture below.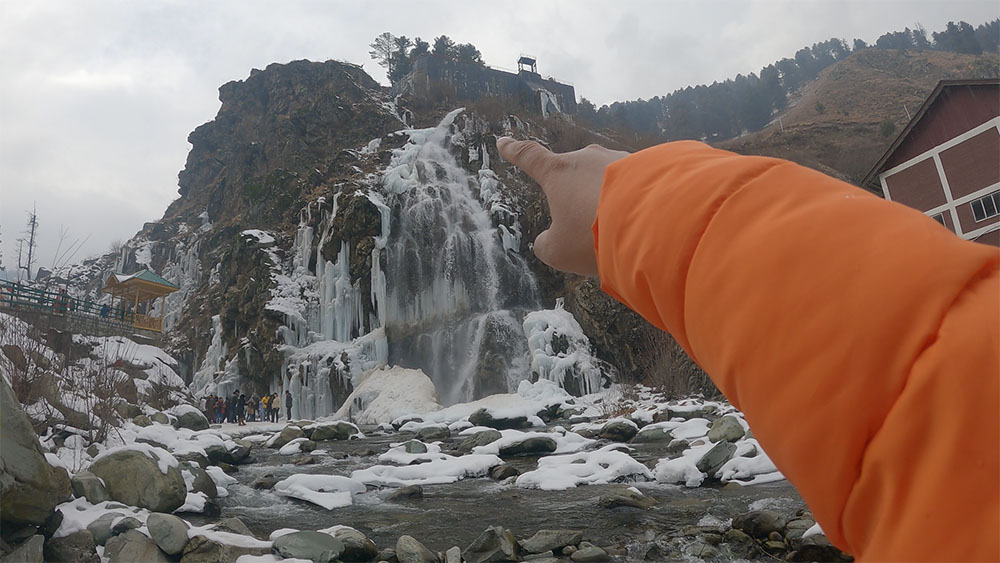 On the top of the hill is a dam. The water from the dam is released by a huge pipe and it falls down the mountain into the river below. In winter, when the water starts to freeze, it presents a spectacular sight.
This waterfall was largely unknown until a few years ago and recently found its place on the tourist map. These days, everyone visiting Gulmarg ensures that they take a detour and cover Drung Waterfall on the way.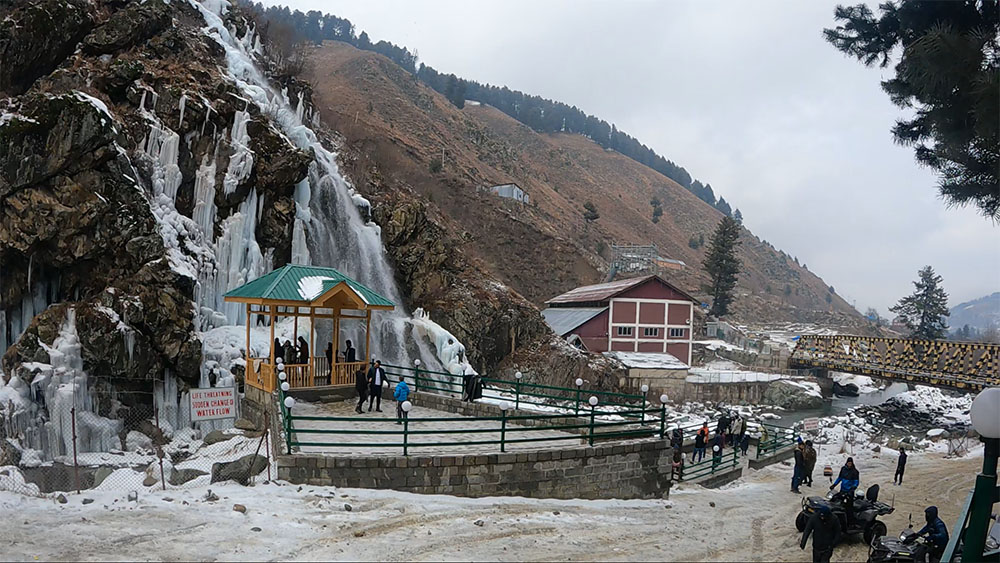 There are a couple of small eateries near the waterfall where we ordered some Maggie and tea while enjoying the view in front of us.
Drung Waterfall to Srinagar
We spent about an hour at the waterfall. The sun was setting fast. Since we also had to get back to Srinagar before dark, we started on our way back at around 4.30 pm.
The rest of the journey was eventless. We drove back to Tangmarg, paid off the taxi driver, boarded our Duster car, and reached Srinagar by 6 pm.
We have not had anything to eat in the entire day except for a few plates of Maggie in Gulmarg and Drung Waterfall. On our way to the hotel, we stopped at Liberty Cafe for an early dinner.
Liberty Cafe is one of my favorite restaurants in Srinagar. The ambiance of the place is good and the food they serve is delicious. For more information on this restaurant, take a look at Liberty Cafe – One of the Best restaurants in Srinagar.
Srinagar to Drung Waterfall Road Condition
The condition of the road between Srinagar and Drung Waterfall is good. The 3 kilometers between Tangmarg and Drung is a little narrow but it is well-tarred. Even the journey between Srinagar and Tangmarg is smooth.
The only thing that makes this drive tricky is after it starts to snow. Even then, the only difficult part is between Tangmarg and Drung.
If you were confident in your driving skills and were carrying snow chains, you can try to go to the waterfall in your own vehicle. But the local taxi union may stop you on the way and force you to rent a local taxi in Tangmarg.
If that happens and you did not want to waste money, just leave your car in Tangmarg and walk the rest of the way. It is easily doable and with the beautiful sights in front of you, you won't even mind covering it on foot.
Also Read: Mobile Network in Kashmir Valley & Data Connectivity
Gulmarg to Drung Waterfall Distance
The total distance between Gulmarg and Drung Waterfall is about 16 kilometers. However, there is no direct road between the two places. You will first have to drive back to Tangmarg and then go to the waterfall.
You will also be pitched for guides while you are in Tangmarg. They will talk about showing you different 'points' in Gulmarg and Drung. This is all a huge scam. Do not fall for it.
There is nothing in Gulmarg or Drung that you need a guide for. These people try to make a fool out of the tourists. There are no points and there is nothing they have to show you that you cannot find on your own.
Other Places to Visit at Drung Waterfall
Drung is a small village. The waterfall is named after the village and is its biggest attraction. In fact, it is now considered among the places to visit during a trip to Gulmarg. Other than this, there is not much else to see in and around Drung.
Supposedly there are some caves and an ancient temple nearby. But since I have not been to either of these places, I really cannot confirm its existence or location.
If you are interested, you can ask the locals and they can let you know. But for the majority of the tourists, it is only Drung Waterfall that is the primary attraction here.
Conclusion
Anyway, we had our dinner at Liberty Cafe and returned to our hotel. Not much happened after that and we went to sleep early.
I checked the weather forecast before going to bed and there was still no sign of snowfall in Srinagar, Pahalgam, Sonamarg, or Aharbal. I did not want to go to either of these places unless there was snow.
So we decided to stay in Srinagar for the next couple of days. The snowfall prediction was for Thursday and that is when went to Pahalgam after two days.
But on Tuesday and Wednesday, we just spent time sightseeing in Srinagar city only. Please click on the link above to continue reading the next part of the travelogue.
I hope the above travelogue, pictures, and information on the traveling from Srinagar to Drung Waterfall were of help. If you have any questions, you can contact me on Instagram and I will be happy to answer. You can also consider subscribing to my YouTube channel and asking a question there.