When is the best time for Everest Base Camp Trek is the first question that would have to be answered when you think about trekking one of the world's most iconic and grand treks.  And why not. It is not an everyday affair that you go to a place like Everest Base Camp. It is not your regular vacation; or a weekend getaway. It is not a place where you could just pack your bags and go. Trekking to Everest Base Camp is an idea that would require some serious thinking and preparations before it can be executed.
Also Read: How to Plan Everest Base Camp Trek – A Complete Travel Guide
This article is first in a series where I have created a complete Everest Base Camp Trek Guide detailing each and every aspect of the trek that you will have to think about and prepare for; from physical challenges to the route to the financial side of it. Later in the series, I have also provided a day by day log of my trek for a better understanding. The article below provides an overview of how the weather trends in the Khumbu region and concludes on the time that can be considered as best to attempt the EBC trek. Khumbu is the Nepalese side of Mount Everest and the region that the Everest Base Camp Trek runs through. I will talk about different seasons in the area and how they affect the trek.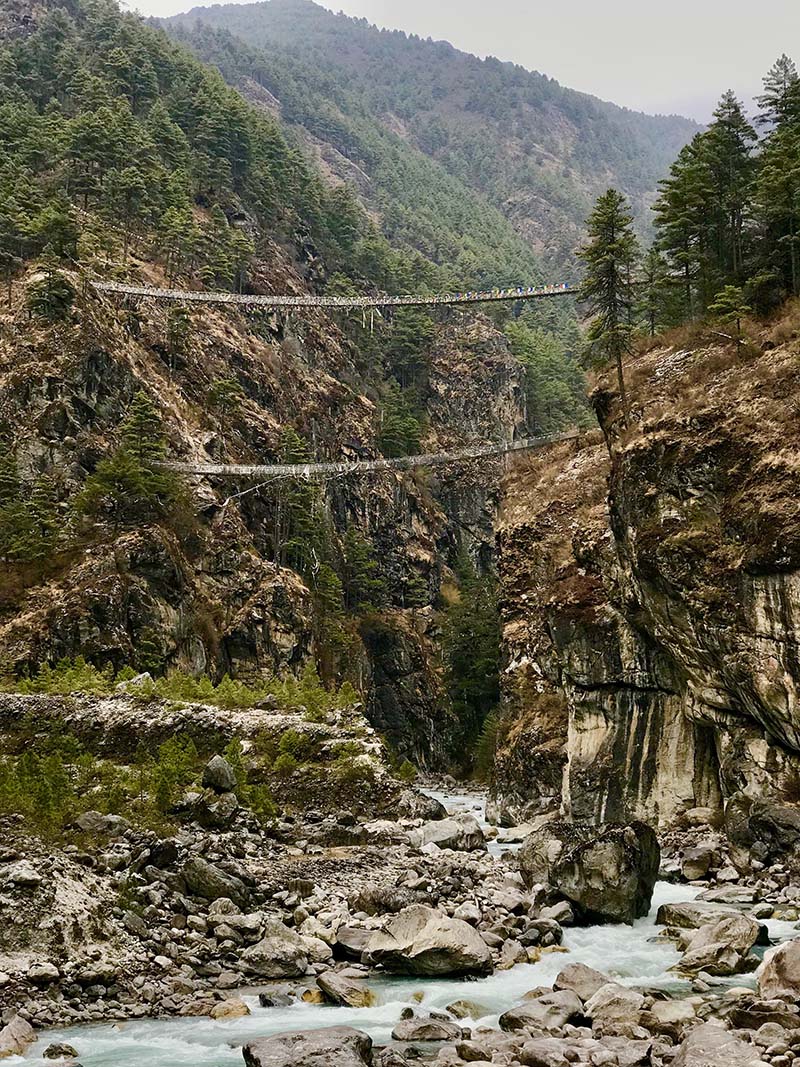 Best Time for Everest Base Camp Trek
There are two peak seasons for Everest Base Camp trek; March to May (pre-monsoon) and September to November (post-monsoon). Late September to November and February to May are the main trekking months because the weather at this time is fairly dry and stable with good visibility; and temperatures ranging between -5°C to 15°C. In the months of April and May, you will in fact find several people at the base camp preparing for their attempts on Everest's summit.  Even though the weather in the months of November, February and March is extremely cold, clear skies and good visibility combined with quieter trails still make it a good time to go to the Everest Base Camp.
Let me explain this a little more in details.
March to May
The pre-monsoon season is the time when there is a lot of activity as it coincides with the climbing season for Mt.Everest.  The routes at this time will be at their busiest. Supplies for expedition teams will be carried by porters and yaks to base camp and hence in case you are doing the trip solo there is no question of you losing your way as the path is quite a clear cut one and busy as well. This is probably the most popular time to attempt EBC trek. There could be occasional snowfall but mostly the weather at this time is stable and dry, making it perfect for trekking and camping. Flowering Rhododendrons in these months turn the entire region quite vibrant and a fest for the eyes.
June to August
June to August is monsoon season in Nepal and the Indian subcontinent, and I would not recommend attempting Everest Base Camp trek at this time at all. It rains heavily, there will be landslides and the sky would be cloudy all the time; obscuring your views of the most majestic peaks on the planet. Without these views, this trek is almost pointless. This is the least busy time on the route with hardly anyone around. The trail will be slippery, far from being safe and enjoyable; and walking in cold weather with the rain beating down on you is definitely not a good idea.
September to November
September to November is an excellent time. The skies are clear, the weather is stable, and nature would be at its pristine best after the rains. as you go closer to November, the cold returns and you will see shades of Autumn especially below Namche because, after that, you are mostly above the tree-line. This period overall is marked by clear days, mesmerizing vistas and near-perfect view of the peaks around. Weather will start to turn colder by each passing day so expect cold days and freezing nights. Traveling in these months also gives you an option of choosing lesser known and ventured upon routes to the base camp.
Also Read: Altitude Sickness on Everest Base Camp Trek
December to February
December to February is unsafe according to me. I do not want to discourage any thrill seekers but one really has to respect nature's powers. Should you want to consider this time pack your gear like you would if your trip was to the North Pole, especially to Indians, who mostly do not have much of cold weather. It will be several notches below freezing; even in the daytime at Lukla (2900m) which is where you fly to, from Kathmandu. Expect Lobuche, Gorakshep, and Everest Base camp (points around or above 5000m elevation, where you will be spending 3 nights) to be around minus 10 degrees Celsius during days and much lower at nights.
The chances of hypothermia are real high. Your path could be blocked with thick snow and at certain sections; a bad footing could lead to serious injury or a fatality. You have to keep in mind that some sections like the final bit from Gorakshep to base camp and back, is mostly just rocks and steep fall on one side. I wouldn't risk walking this section in deep snow. Not to mention most of the accommodation (referred to as teahouses) will be unavailable.
With that being said, the trek does remain open at this time and a lot of people attempt it. Several trekkers even celebrate their Christmas and New Year at the Base Camp. The days, of course, will be much shorter, there will be tons of snow around but if you are ready to risk the weather, it is possible to trek to Everest Base Camp in these months.
Best Time to do EBC trek
Now based on the information above, It is safe to say that you should plan to attempt EBC trek either in the months of March, April, and May; or in September and October. Weather at these times will be favorable and the routes will be busy which means that if needed, help too would be nearby. If you want to attempt the trek at an off-season time, away from the crowds and are ready to battle the cold then you can try in winter months as well.
Also Read: Bhutan Travelogue – One Step Closer to my Soul
Weather on Everest Base Camp Trek
Here is a monthly breakdown of how the trek and the weather here trends throughout the year.
Everest Base Camp Trek in January
It will be freezing Cold, ridiculously difficult to find accommodation, risky and with mostly poor views. The temperature will average out at -12°C minimum and 0°C maximum. This, however, can change depending on where you were and between day and night. Sometimes, if the weather turned extreme, it may very well fall several degrees even further below. The amount of snow on the ground will entirely depend upon the weather. You should pack really warm for a trip in this month and enjoy being one of the very few people on the trail.
Everest Base Camp Trek in February
The weather at this time is more or less the same as January. The maximum temperature, however, starts to rise up a little towards the end of the month; but nights will be terribly cold, sometimes dropping as far down as -20°C. The amount of snow on the ground too is a little more in February, but you will get stunning and uninterrupted views of Everest under a clear sky. The trail will be less busy and the teahouses will be even quieter, giving a true sense of adventure to your trip.
Everest Base Camp Trek in March
Activity on the trail kick-starts and the weather starts to transition from winter to summer towards the end of the month. The average temperature rises slightly to a minimum of -10°C minimum and 3°C maximum. Visiting at this time also means that you can celebrate the Hindu Festival of Holi in Kathmandu.
Everest Base Camp Trek in April
The climbing season for Mount Everest is April and May each year. So the month of April is actually the peak season time on the trek as well. Average temperature goes up to -8°C minimum and 6°C maximum. Days will start to get longer and will provide lots of daylight for exploring with great visibility in the early mornings.
Everest Base Camp Trek in May
This is probably the busiest time of the year in the region and also the most crowded one. Other trails apart from the most commonly used one are also open. Average temperature will go up to -6°C minimum and 12°C maximum. May is the month when most successful attempts to summit Mount Everest happen.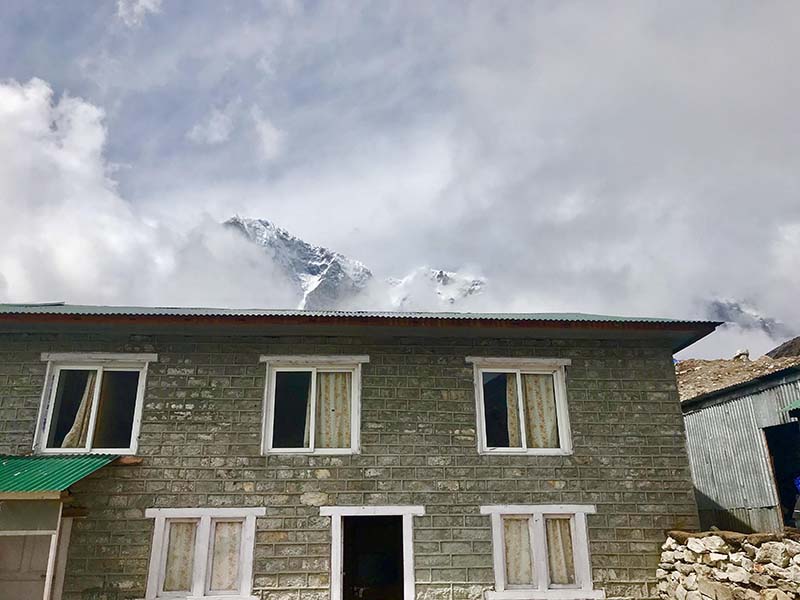 Everest Base Camp Trek in June
Monsoon arrives in Nepal around late May and June is officially the monsoon season. From here on, it is just rain, rain, and more rain. It doesn't necessarily rain all the time but it does rain every single day. The peak climbing season too ends but the weather will continue to warm up at 0°C minimum and 20°C maximum. If thinking about going in June, try to visit in the first few days of the month.
Everest Base Camp Trek in July
July, as well as the following month of August, are marked with heavy rains, landslides, and poor views. The routes as a result tend to be very empty at this time. Trail will get muddy and filled with leeches. Mountains will get surrounded with thick clouds blocking the view. But this is also the warmest time of the year with temperature averaging at 0°C minimum and 20°C maximum.
Everest Base Camp Trek in August
Heavy rains will continue to cause landslides and the trail to be slippery. Views will still remain poor and if you didn't watch your step, you will be  slipping around a lot and end up carrying a few leeches on your body. The average temperature will remain the same as July.
Everest Base Camp Trek in September
The autumn trekking season starts in late September as the monsoon recedes. This is one of the best times to attempt the trek. Wonderful vistas and perfect views will be all around you making it worth your while. Weather will start to turn cold again and average temperature will drop down to -6°C minimum and 6°C maximum. The landscape, all lush and verdant, would seem as if it has been washed clean by the monsoon.
Everest Base Camp Trek in October
The weather at this time will be the same as September but slightly colder. Average temperature will fall slightly further to -8°C minimum and 4°C maximum. The month, however, is still a good time to go to the base camp. There will be clear skies, stable weather, fresh air and amazing views throughout the trail.  There is an Everest summiting window between 1st to 20th of October, so you will also meet a lot of people attempting to reach the top of Mount Everest. Late September and early October is also the period when Nepal's most important festival Dashain is celebrated for 15 days. At this time Durga the Goddess of Victory is offered animal sacrifices. Even Nepal Airlines sacrifices goats on the runway of Kathmandu airport at this time.
Everest Base Camp Trek in November
Weather will get even colder but this still is a great time to go. Average temperature will be at a minimum of -12°C minimum and 0°C maximum. Days in November will be dry and views perfect. Another upside is that it will be less crowded in November and in the following month of December. Fight charges and tour costs too drop a little in these months as it is officially the off-season.
Everest Base Camp Trek in December
Now the weather will turn from extremely cold to unforgiving cold. Heavy snowfall could occur any time and unless you were used to living in such harsh conditions or a die-hard Trekker, going to EBC camp at this time is a risky thing for you to do.
Helicopter Ride to Everest Best Camp
Last but not least, let me also talk about the best time to visit Everest Base Camp by a Helicopter. It means that you board a Helicopter from Kathmandu, reach Base Camp, spend some time and fly back either the same day or next. Why would anyone want to do that? It could be for several reasons but the biggest two are that you were either short on time or stamina. EBC trek is a 10 to 14 days affair and not everyone can spare that kind of time so a lot of people fly sly straight to the base camp.
The trek also will have you walking and climbing steep ascents which again is not everyone's cup of tea and hence the Helicopter Tour.
Best time for Everest Base Camp Helicopter Tour
To be honest, you can fly into the base camp by Helicopter at any time of the year and they all have their pros and cons. The only time you will be advised not to do so is the rainy season. This statement also, however, depends heavily on weather conditions. If it was not favorable for a flight, you may not be able to fly in irrespective of the month of your trip.
Everest Base Camp in Spring Season
This is the best time for a Helicopter ride to EBC. Days will be sunny and skies clear, providing excellent visibility. Temperature during day will also be more of a pleasant cold rather than an unbearable cold. The weather will be favorable and landscape colorful, making a perfect recipe for an awesome journey.
Everest Base Camp in Autumn Season
Another great time to go. Views will be even better as monsoon would have just passed leaving everything verdant and vibrant.
Everest Base Camp in Winter Season
You can fly at this time as well but it will all depend on the weather. Views will be all mostly white and the weather will be extremely cold. Visibility too in winter will not be that good.
Everest Base Camp in Monsoon Season
Weather at this time can change suddenly and drastically making it even dangerous to fly to EBC. Several Helicopter services may even refuse to fly depending on the weather.
Conclusion
And that mostly is all that you need to know about the best time for Everest base camp trek. I hope the information above was of help. If you have any questions; or need any other details; please feel free to ask in the comments section below; or at our Community Forum; and I will be glad to answer.