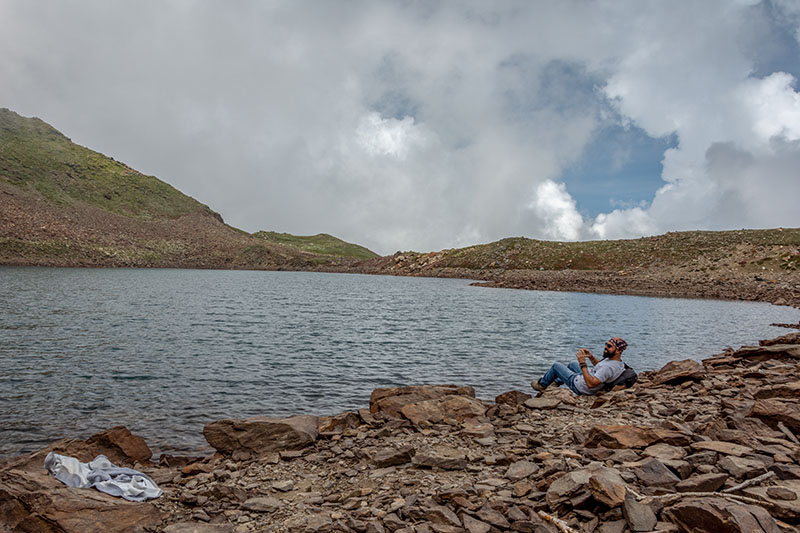 Bhrigu lake trek is counted among the best short treks in all of Himachal. Lasting for a total of 3 days from Manali, it takes you through some amazing grasslands and a beautiful landscape. If you were going to be in Manali anytime soon and thinking of adding some trekking to your trip, the trek to Bhrigu Lake will be a perfect candidate to be included in the itinerary.
As the name suggests, the trek starts from Manali and ends at the Bhrigu Lake, after a total hike of 24 kilometers, spread over 3 to 4 days. Most people finish it in 3 days as I did. But if you wanted it to be more relaxed and with better acclimatization, you can also complete it in 4 days.
There are several travel companies available online and in Manali as well who arrange this trek. But if you wanted to, you can attempt it on your own as well. The trail is well marked, except for the winter season, and easy to navigate. During the trekking season, you will also find a lot of other hikers and can always seek help if traveling solo.
The difficulty level of the trek is beginner to intermediate and it can be attempted even by people who have little to no prior trekking experience. All that you need is a decent level of fitness. How can you plan your trip is what we will be discussing in this article.
About Bhrigu Lake
Bhrigu Lake (or Brighu Lake) is a lake located at an altitude of 4,300 meters (14,100 ft) near Manali. The lake is named after Maharishi Bhrigu. As per the mythology, the sage used to meditate near the lake due to which, it is also considered sacred. Legend has it that the water of the lake never freezes completely even though the area around it gets buried under several feet of snow each year.
The lake is located on the various trek routes of the region. The most popular of all however is the trek from Manali to the lake itself.
Bhrigu Lake Trek Overview
Difficulty: Easy to Moderate
Duration: 3-4 Days
Maximum Altitude: 14,110 ft at the Lake
Starting Point: Manali
Best time to Visit: June to Sept
Total Trekking Distance: 24 kilometers
Also Read: How to Plan a Trip to Manali – A Complete Travel Guide
How to reach Bhrigu Lake
In order to get to Bhrigu Lake, you will first have to reach Manali. This is really the easiest part of the journey. Manali is among the most visited hill stations of our country and remains connected by a motorable road for all 12 months.
If you were coming by your own car or motorcycle, starting from Delhi, the route will be as mentioned below.
Delhi – Panipat – Ambala – Rajpura – Roopar/Roopnagar – Kiratpur Sahib – Swarghat – Bilaspur – Sundar Nagar – Mandi – Kullu – Manali
From Delhi, it will take you about 14 hours to complete the journey. From Chandigarh, the travel time will be between 8 to 10 hours.
There are regular buses available for Manali from every major city nearby. You can either board a state-run bus like HRTC or HPTDC or book with a private tour company.
If you were coming from Delhi, you can easily find a Bus from ISBT Delhi. Private travel companies have their own pick-up points, something that you will need to check with them. Just do a Google search and you will get a long list of buses for Manali that you can book online as well.
The nearest airport to Bhrigu Lake is at Bhuntar, about 50 kilometers away from Manali. You can get a taxi to Manali from the airport itself. Catching a flight to this airport however is not recommended because it is not that well connected and flights often get canceled due to bad weather.
A better way hence will be to book a flight to Chandigarh airport and then book a taxi for Manali from there.
The nearest railway station, as well, is in Chandigarh. It is a major railhead and you will have no trouble finding a train that can drop you at Chandigarh.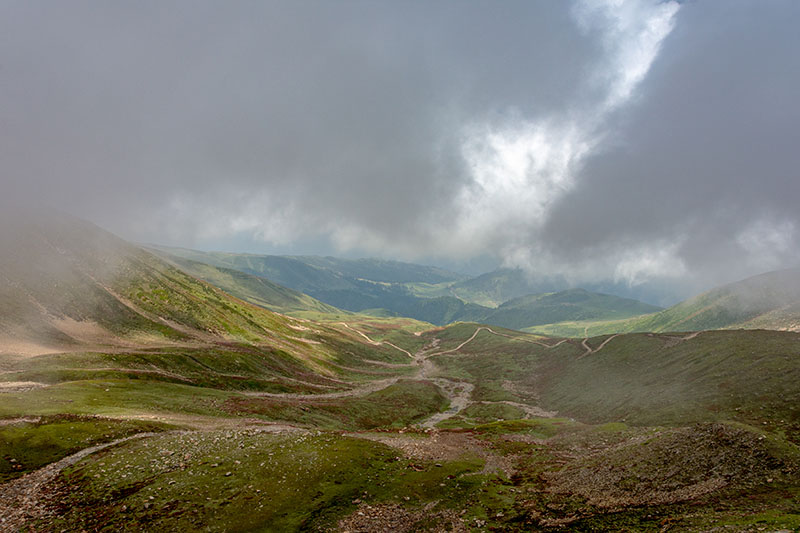 Bhrigu Lake Trek Itinerary
After you have arrived in Manali, the only way to reach Bhrigu Lake is on foot. The itinerary for the trek will be as mentioned below.
Day 1: Drive from Manali to Gulaba. Trek to Rola Kholi.
Day 2: Rola Kholi to Bhrigu Lake and Return.
Day 3: Trek from Rola Kholi to Gulaba. Drive back to Manali.
A more relaxed version of this plan can be as mentioned below.
Day 1: Drive from Manali to Gulaba. Trek to Jonker Thach.
Day 2: Trek to Rola Kholi. Camp at Rola Kholi for the night.
Day 3: Rola Kholi to Bhrigu Lake and Return.
Day 4: Trek from Rola Kholi to Gulaba. Drive back to Manali.
The majority of the trekkers will attempt and complete the trek in 3 days because it is easily doable. But if you had an additional day in hand and wanted to spend more time in the lush green meadows, you can opt for the 4-day plan as well.
Any time that you spend in reaching to Manali and then getting back will be in addition to these days. For example, if you were coming from Delhi, the trek will become a 5 days affair.
A more detailed version of the itinerary is as mentioned below.
Manali to Gulaba to Rola Kholi – Day 1
If you were traveling by your own vehicle, I would assume that you arrived in Manali a day before and are now ready to move on to the Rola Kholi campsite. If you were traveling by Bus, a good way to plan would be to board the overnight bus for Manali. This way, you will reach Manali early in the morning and can be on your way to Rola Kholi right from the bus stand.
Either way, your first destination will be the small village of Gulaba, about 22 kilometers from Manali. If you booked your trek with a tour company, they will arrange the transport; and will pick you from either the hotel or the bus stand. If you were traveling on your own, there is an hourly bus from Manali to Gulaba that you can board. If not a bus, you can also opt for a shared taxi.
Also Read: Places to visit in Manali – What to see in Manali
Gulaba to Jonker Thach / Rola Kholi
The trek begins near the Gulaba check post. You will walk through a dense forest and will arrive at Jonker Thach in about an hour and a half. The word 'Thach' means 'a meadow'. So the name of the place actually is Jonker Meadow. It is a good camping ground and you can stay here for the night if you were planning the trek in 4 days.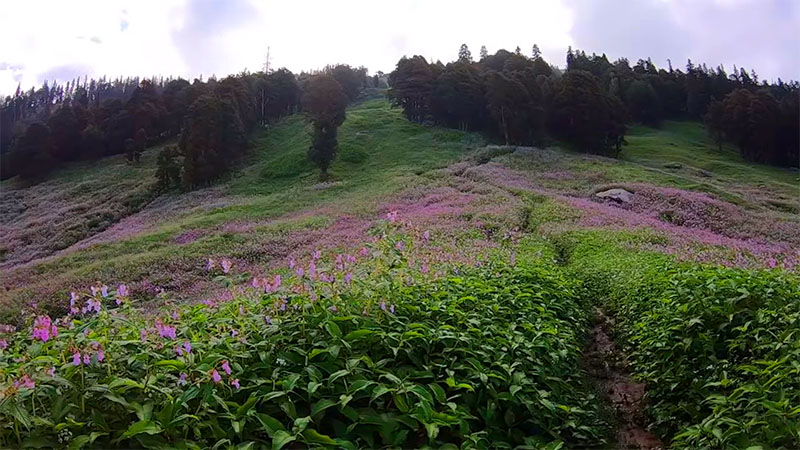 My advice however would be that you continue to Rola Kholi, another grassland about 5 kilometers ahead of Jonker Thach. The hike is not that difficult except for a steep ascent just after Jonker Thach. The rest of the walk is through a scenic grazing ground used by the local shepherd. You will get a clear and beautiful view of the Hanuman Tibba and Seven Sisters peak throughout the trail.
From the Gulaba check post, it will take you about 4-5 hours to reach Rola Kholi, walking a distance of 7 kilometers. You will camp here for the night near a water stream called Chor Nallah. The gain in altitude will be from 2,050 meters (6,726 ft) to 3,830 meters (12,560 ft) at Rola Kholi.
You will cross a few water streams on the way where you can refill your water bottle. At the campsite, Chor Nallah will be your source of water.
Also Read: Jiwa Nala Trek – A COMPLETE Travel Guide
Rola Kholi to Bhrigu Lake to Rola Kholi – Day 2
You must start early on this day as you have a lot of ground to cover and an uphill walk to handle. Except for a short level walk in between, most of the hike to the lake is a steep uphill climb. Depending on your fitness level and speed, it can take you anywhere between 4-5 hours to reach the lake from the campsite.
The gain in altitude will be from 3,830 meters (12,560 ft) at Rola Kholi to 4,270 meters (14,010 ft) at the lake. On the way, you will get a mesmerizing view of prominent peaks like Indrasen, Deo Tibba, and Hanuman Tibba. Arrive at the lake, spend some time and start on your way back on the same trail.
Your return hike will be all downhill so will take you less time. In total, the trekking distance will be 10 kilometers in both ways and can take 7-8 hours.
Rola Kholi to Gulaba to Manali – Day 3
The return journey to Manali is a fairly easy one. The walk will be all downhill to Gulaba from where you will drive back to Manali. You can stay for the night in Manali. A couple of other quiet and beautiful places are Kothi Village and Solang Valley where you can go on Day 3.
If you were short on time, you can in fact be on your way back home. I traveled back from Rola Kholi to the Manali bus stand and found an evening bus for Delhi. I slept in the Bus on my way back home and was in Delhi by 8 AM the next day.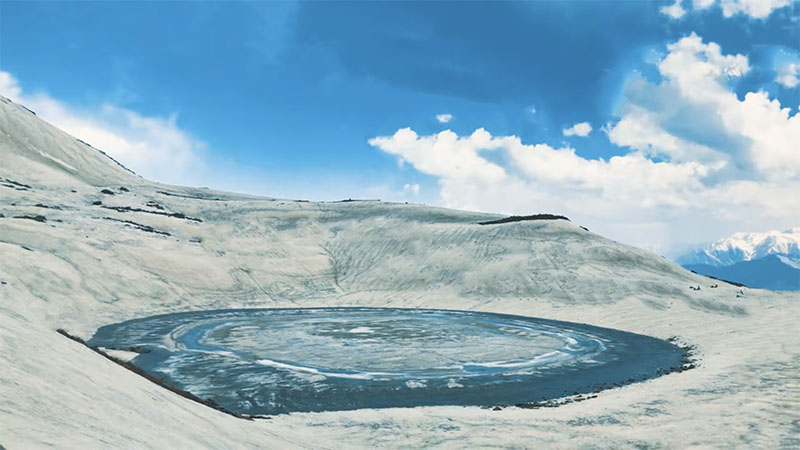 Best Time for Bhrigu Lake Trek
Bhrigu Lake remains open for only 4-5 months a year. Owing to its high altitude, the lake, and the trek remains buried under snow well until April and cannot be attempted. The route opens sometime in May and even then, you will find a lot of snow on the trail. After four months of summer and monsoon, it starts to snow here again in October.
Hence the limited time when you can visit Bhrigu Lake is from June to September. It can be attempted in May and October as well but it will entirely depend on the weather. The trek remains closed from November to April.
Even in this short span of time, the months of June and September are the best time to visit Bhrigu Lake. In July and August, it rains heavily in and around Manali which can definitely raise some safety concerns. So a safer time will be to go either before monsoon or after.
You can hire a personal guide and try to go for a winter trek but then you are just walking through the hills in the snow. There will be no lake to see really expect for white snow all around.
Personally, I will recommend visiting in September. All the rains would have brought the flora of the entire region to life. The grasslands, natural springs, meadows, waterfalls together would present a sight to behold. The mountains would appear as if they have just been washed clean and covered with a carpet of green.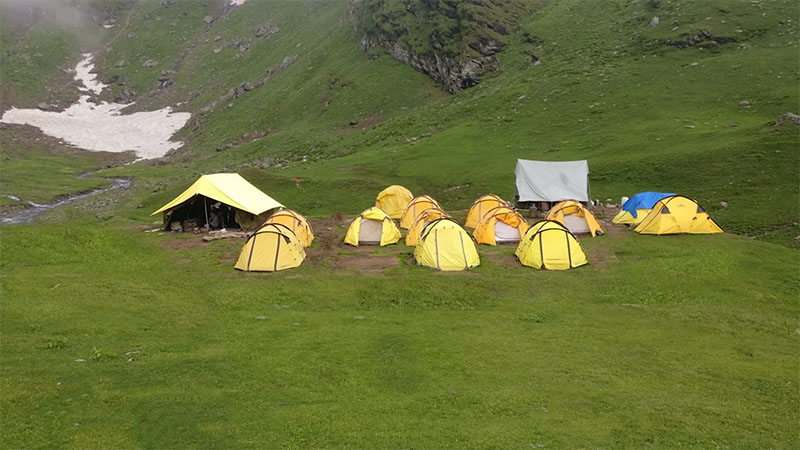 Bhrigu Lake Weather
As you probably would have guessed by now, the weather at Bhrigu Lake remains cold throughout the year. The change is observed only between May to October as the season progresses. For the rest of the time, it is white all around. Let me explain month by month.
Bhrigu Lake in May
The opening and accessibility of the lake in May entirely depend on the weather. If you want to attempt it in May, make sure you check the weather conditions, speak to the local guides, prepare well, and make an informed decision. If you were able to make it to the lake in May, you will find it completely frozen still.
Also Read: Beas Kund Trek – A COMPLETE Travel Guide and Itinerary
Bhrigu Lake Trek in June
The picture I posted above of the lake was taken towards the end of June. The trek opens up sometime in June and even then, there will be snow all the way till Rola Kholi. The lake will still be partially frozen. The average day temperature will be around 15° C. But in the night, it will still fall down close to 0° C.
Bhrigu Lake in July and August
The snow starts to melt in June and is mostly gone by July. This is when the green of the meadows and the blue of the lake really emerges. But this is also when the monsoon season in the valley arrives. If you must attempt the trek in the monsoon season, do it in the earlier part of the month. The average temperature will range between 5° to 15° C. Expect heavy rains in the entire region, sometimes enough to throw a wrench in your plans.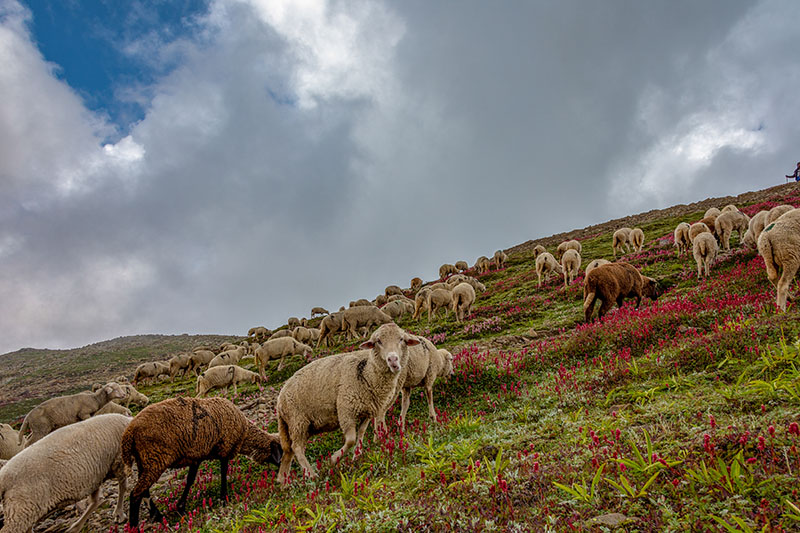 Bhrigu Lake Trek in Spetember
This in my opinion is the best time to go. The monsoon will be all gone but would, leaving behind plenty of greenery and beautiful vistas. It will however continue to get colder as the month will progress. With every passing week, there will be a significant drop in the average. During the night, it will surely come down to 0° C and even in the day, it will rarely cross 10° C.
Bhrigu Lake in October
Depending on the weather, the trek closes in October as the region starts to receive snow again. Before planning a trip at this time, please call ahead and inquire about the weather conditions.
Also Read: Stok Kangri Summit – At the Top of the World
Bhrigu Lake Trek Difficulty
Bhrigu Lake is considered as a beginner level trek. So the difficulty level is from easy to moderate. As long as you have a decent level of fitness, this can even be your first ever trek. There are some steep climbs involved but most of the trek is a steady and gradual uphill walk.
How to know if you are fit enough to attempt it? If you are able to walk / job 7-8 kilometers in an hour, you are good to go. If you have not been working out for a while and have been sitting idle, it would be wise to practice some long-distance walking before heading out to Manali.
Facilities
Electricity – No
Mobile Network – Not available after Rola Kholi
ATM – The last one is in Manali
Stay – Tented Accommodation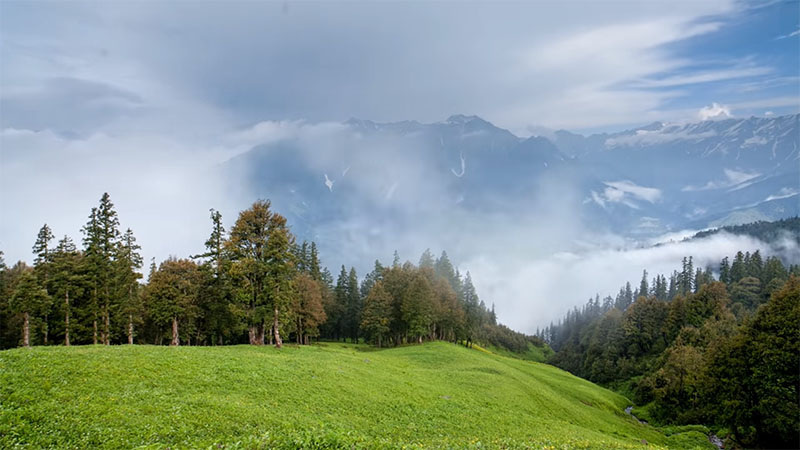 FAQs
Below are some commonly asked questions about Bhrigu Lake.
How to reach Bhrigu lake from Manali?
The only way to reach Bhrigu Lake from Manali is after the 3-4 days trek that I mentioned above. There is no motorable road that can take you to the lake.
Also Read: Rani Sui Lake Trek | Sour Tal Trek – Fun and Adventure
How to reach Bhrigu lake from Delhi?
The best way to plan the journey from Delhi would be to first board an overnight bus for Manali. You will reach the Manali bus stand in the morning and can be on your way to Bhrigu Lake.
Is Bhrigu lake trek difficult?
A lot of beginners and first-timers attempt and complete the Bhrigu Lake trek comfortably. As long as you have some decent fitness and can easily walk 5 to 6 kilometers, you will be able to do it.
Can you suffer from Altitude sickness?
Yes, there is always a chance of AMS on high altitude treks. In the case of Bhrigu Lake, it happens very rarely though. If you start to feel the symptoms, you must give up your plans and trek down to a lower altitude immediately.
Can the trek be done in 1 or 2 days?
No. The minimum period of time you will need from Manali is 3 days for this.
Conclusion
I hope the information above on Bhrigu Lake trek was of help. If you have any questions or need any other details, please feel free to ask in the comments section below, or at our Community Forum, and I will be glad to answer.