This post is in continuation with a previous one and part of my Everest Base Camp Travel Guide. The article below talks in details about how to prepare for Everest Base Camp Trek, how the weather trends throughout the year; and also helps you chose the best time to visit. To read the previous post in this series, please click on the link below.
Also Read: Everest Base Camp Trek – A Complete Travel Guide
How to Prepare for Everest Base Camp Trek
There are two important aspects that affect your progress on this trek; your fitness and altitude. Let us focus on fitness now; I shall cover altitude and acclimatization later.
Everest Base Camp Trek Fitness
While I was doing my research on the trek I came across multiple articles where people say one needs to start preparing months before the trek. If this trek is a trigger to kick-start your fitness regime, then it's perfect to give it a go a few months in advance. Most of us in India are pretty under-fit when it comes to cardiovascular endurance.
This didn't seem the case with most westerners who came for the trek. On most days they'd be up earlier than me and would have set off long before I even woke up. Most would cover distances at a faster rate than me. But we have to take into consideration that they do a lot of hiking and cycling as part of their routine activities unlike us in India where it's mostly always too hot to be outdoors. Work-life balance is better off in most Western countries as compared to India. I could not shrug off the fact that the two weeks were a break from my routine as an Emergency doctor that involved running on timelines to do my shifts at the hospital. So I used to take it easy when it came to waking up and setting off. After all, it is a holiday!
Everest Base Camp Trek Fitness Requirements
So what does one need to do to be considered fit for this trek? The way I experienced it, anybody who can walk, can do this trek. It is just hiking. There is no technical section, no climbing and no use of ropes. It is just one long walk that takes several days and involves certain areas where you need to tread carefully.
So if you can walk normally around your house without any support or difficulty, you can walk to Everest Base Camp and see the tallest mountain on the planet, it's as simple as that. When I was close to the base camp at over 5,000 meters above sea level, I even saw an elderly paraplegic drag himself up with his crutches! How's that for some solid inspiration?
Getting Fit for Everest Base Camp Trek
In my case, I barely trained. I could push some okay-ish weights in the gym but I think my cardiovascular fitness is abominable. I don't like jogging. But I did spend a month prior to the trek, trying to improve my fitness. I did try jogging and brisk walking for around 30-40 minutes on most mornings. Another great exercise is stair climbing as it mimics the leg movements of a trek. Try it with a small bag with a couple of liters of water or a few books in it, go up a few flights of stairs? You should feel breathless and your heart rate goes up. Get used to it, that's the whole EBC trek for you.
This trek was my first high altitude trek. Many say try other smaller treks etc prior to this. Maybe, if you want to see whether trekking is really your thing. But those treks don't have Mount Everest at the end of it to keep you going. I had done multiple Himalayan trips before and I have this undying love for the mountains. Since 2 years I had this trek on my mind and when I got my chance I went for it.
Everest Base Camp Trek Fitness Training
So what is the ideal fitness level needed for this trek? If you can cover 5 kilometers within 30 – 35 minutes you're pretty good. It can be a combination of jogging and brisk walking that you do to finally cover the distance of 5 kilometers, but that's a fair target. If you are taking more than an hour for 5 km, than you need some training else you will need to prolong the trek as you may find it difficult to keep up to the itinerary that most people follow. To sum up, the fitter you are, the more likely you are to finish the trek in 12-13 days. If you are not that fit/can not walk at a basic pace then you will need to prolong the trip.
Also Read: When is the Best time to attempt EBC Trek
Caution
If you are a hypertensive/diabetic, make sure that your parameters are in good control before you undertake this trek. Consult your physician before you plan this. Newly diagnosed diabetics who have just been put on medication may want to put off the trip before they get to a stage where their sugar levels are well under control.
I would recommend all heart patients and patients with prior stroke history to avoid this trek due to the obvious risks involved. I cannot put my finger on any specific age group as you can be fit at 70 and unfit at 30 as well (age is just a number).
Best time to do Everest Base Camp Trek
There are two peak seasons – March to May (pre-monsoon) and September to November (post-monsoon). The pre-monsoon season is the time when there is a lot of activity as it coincides with the climbing season for Mt.Everest. Supplies for expedition teams will be carried by porters and yaks to base camp and hence in case you are doing the trip solo there is no question of you losing your way as the path is quite clear cut and busy as well.
June to August
June to August is monsoon season in Nepal and the Indian subcontinent. I would not recommend trekking at this time at all. It rains heavily, there will be landslides and the sky would be cloudy all the time, obscuring your views of the most majestic peaks on the planet. Without those views this trek is almost pointless.
September to November
September to November is an excellent time. The skies are clear, the weather is stable, and nature would be at its pristine best after the rains. As you go closer to November, the cold returns and you will see shades of the autumn season especially below Namche because post that, you are mostly above the tree-line.
December to February
December to February is unsafe according to me. I do not want to discourage any thrill seekers but one really has to respect nature's powers. Should you want to consider this time, pack your gear like you would if your trip was to the North Pole, especially to Indians, who mostly do not have much of cold weather. It will be several notches below freezing in the even in the daytime at Lukla (2900m) which is where you fly to, from Kathmandu.
Expect Lobuche, Gorakshep, and Everest Base camp (points around or above 5000m elevation, where you will be spending 3 nights) to be around minus 30 degrees Celsius during days and much lower at nights. The chances of hypothermia are real high. Your path could be blocked with thick snow and at certain sections; a bad footing could lead to serious injury or a fatality. You have to keep in mind, some sections like the final bit from Gorakshep to base camp and back, is mostly just rocks and steep fall on one side. I wouldn't risk walking this section in deep snow. Not to mention that most of the accommodation (referred to as teahouses) will be unavailable.
Weather at Everest Base Camp
Here is a monthly breakdown of how the season trends at Everest Base Camp throughout the year.
January: Ridiculously Cold, difficult to find accommodation, risky, mostly poor views
February: More or less the same as January
March: Activity on the trail kick-starts, transition of weather from winter to summer
April: Peak season time. Clear skies, sunny days and pleasant weather.
May: Peak season time. Clear skies, sunny days and pleasant weather.
June, July, and August: Heavy rains, landslides, poor views
September: Clear skies, stable weather, amazing views
October: Same as September but slightly colder
November: Very cold weather but still a great time to go
December: Heavy snowfall could happen any time, unforgiving cold, gets risky as you progress into the latter half of the month.
When did I trek to Everest Base Camp?
I personally did it in the pre-monsoon season of 2018. I took the Royal Nepal Airlines flight from Mumbai on 28th March to Kathmandu (2.5 hours flight) and returned via the same airline on April 13th. The total duration hence was 17 days. This included 2 buffer days which is very important. The reason for two buffer days is mostly because of the unpredictability of the Lukla to and fro flights. Lukla airport is sometimes referred to as the worlds most dangerous airport and for good reason. Unlike the usual, this airport needs clear visuals of the runway for landing and take off. Even if it is a cloudy day, flights get postponed or delayed.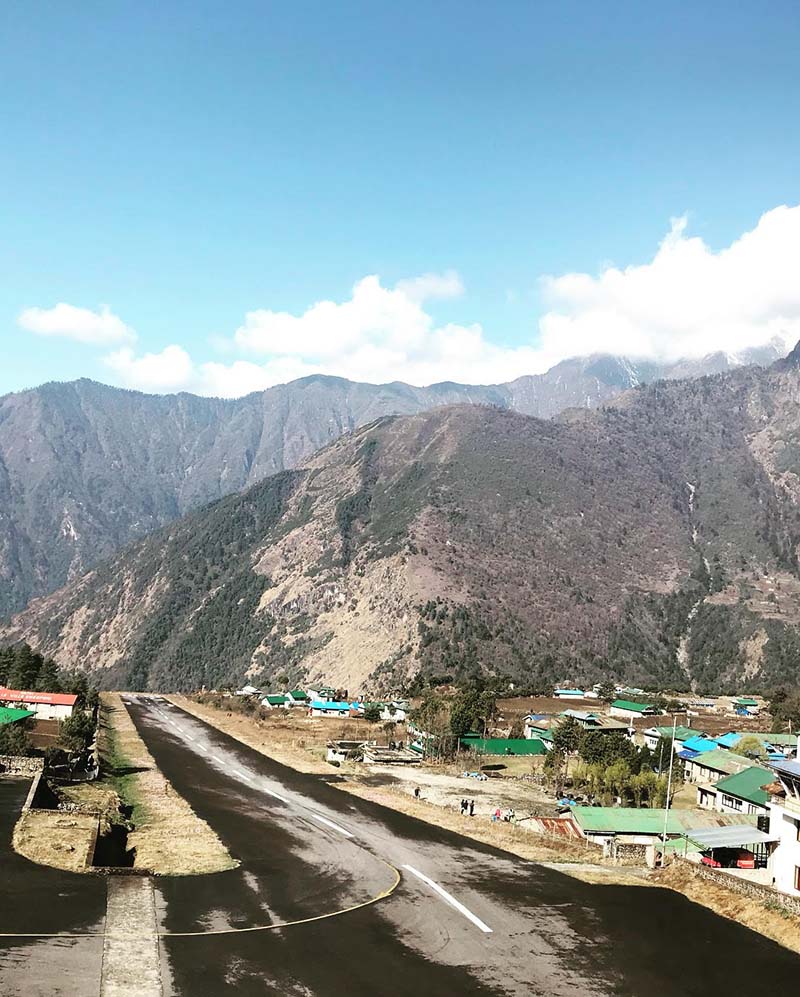 More on this later but the point is you do not want to have your flight out of Nepal to be stacked very close to your Kathmandu flight from Lukla. I don't need to describe the anguish caused by missing an international flight.
As regards to the weather when I did the trek, I can report that I had clear mornings and cloudy evenings with moderate rain/ snowfall on quite a few evenings.
Everest Base Camp Trek Itinerary
Below is the itinerary of my 17 days trip to Everest Base Camp
Land at Katmandu Airport – Day 1
Kathmandu to Lukla (2900 meters) and trek to Phakding (2650 meters) – Day 2
Phakding to Namche (3440 meters) – Day 3
Acclimatisation day at Namche – Day 4
Namche to Tengboche (3867 meters) – Day 5
Tengboche to Dingboche (4400 meters) – Day 6
Acclimatisation day at Dingboche – Day 7
Dingboche to Dughla (Thok La / Thughla) (4600 meters) – Day 8
Dughla to Lobuche (4950 meters) – Day 9
Lobuche to Gorakshep (5140 meters) – Day 10
Gorakshep to Kalapathar peak (5545 meters) and then to EBC (5365 meters) and then to
Lobuche – Day 11
Lobuche to Phukitenga (3300 meters) (between Tengboche and Namche) – Day 12
Phukitenga to Monjo (2800 meters) – Day 13
Monjo to Lukla (2900 meters) – Day 14
Lukla to Kathmandu (1400 meters) – Day 15
Buffer day – Day 16
Fly out from Kathmandu – Day 17
This itinerary differed from what was originally planned because I was hit by altitude sickness at Dughla and had to halt there for a day to recover. Luckily I had two days as a buffer; of which, I used one day at Dughla. And that brings me to my next topic, a very crucial point to be noted in this trek – acclimatization and altitude sickness which I have covered in next part of this series. Please read Altitude Sickness at Everest Base Camp and How to Handle It to continue reading the next part of this article.
Conclusion
I hope the information above on how to prepare for Everest Base Camp Trek was of help. If you have any questions; or need any other details; please feel free to ask in the comments section below; or at our Community Forum; and I will be glad to answer.