If you are considering any adventure lasting a fortnight, what you pack, ie, your gear, is of prime importance. The same rule applies for Everest Base Camp as well. Considering the nature of the trek, you got to make sure that you are bringing everything that you will need but at the same time, are not packing unnecessary stuff. If you have been wondering about what to pack for Everest Base Camp then below is a list of items that can prove to be of help. For the sake of organizing the information, I will be dividing this section into 4 parts.
Clothing
Accessories
Eatables
Medical Kit
This article is a part of my EBC Trek Guide in which I have covered each and every aspect of trekking to the base camp. For other tips like how to prepare for the trek and a day by day breakdown of the journey, please read Everest Base Camp Trek – A Complete Travel Guide.
Clothes for Everest Base Camp Trek
"There is no such thing as bad weather, there is only bad gear" – that's what they say in Norway! I doubt this can apply to Indian summers where you can only strip off every form of gear or turn on the AC, but this is a very valid point to note in cold weather, more specifically mountain weather. Our body produces enough heat to keep itself warm, but we need to attire ourselves to be able to conserve this heat. I have seen Indian city dwellers turn up in Ladakh in winters in their retro-looking leather jackets only to suffer the fury of a negative 15 early mornings! Hence the importance of good gear. Several principles mentioned here can be applied to most cold weather situations.
As with all cold weather protection techniques, the key is to layer up. On an average trek day, you start early on a freezing morning, and as the sun comes up, things change. This again changes as it progresses towards evening and later, a freezing night. This is a dynamic process which if followed properly, is extremely simple and can keep you cozy/comfortable all throughout. Let's deal with this in a head to foot manner.
Head Gear
Many are oblivious to the fact that almost 50% of heat loss is from the head and neck. You may have 4 layers of clothing but if your head and neck are exposed, you will feel cold.
A beanie/Sherpa cap/balaclava or any such warm gear will suffice for protection from cold. Make sure it covers your ears as well. Use a cap/ hat during the daytime for sun protection. You will need good woolen scarf's/ neck gaiters for neck protection.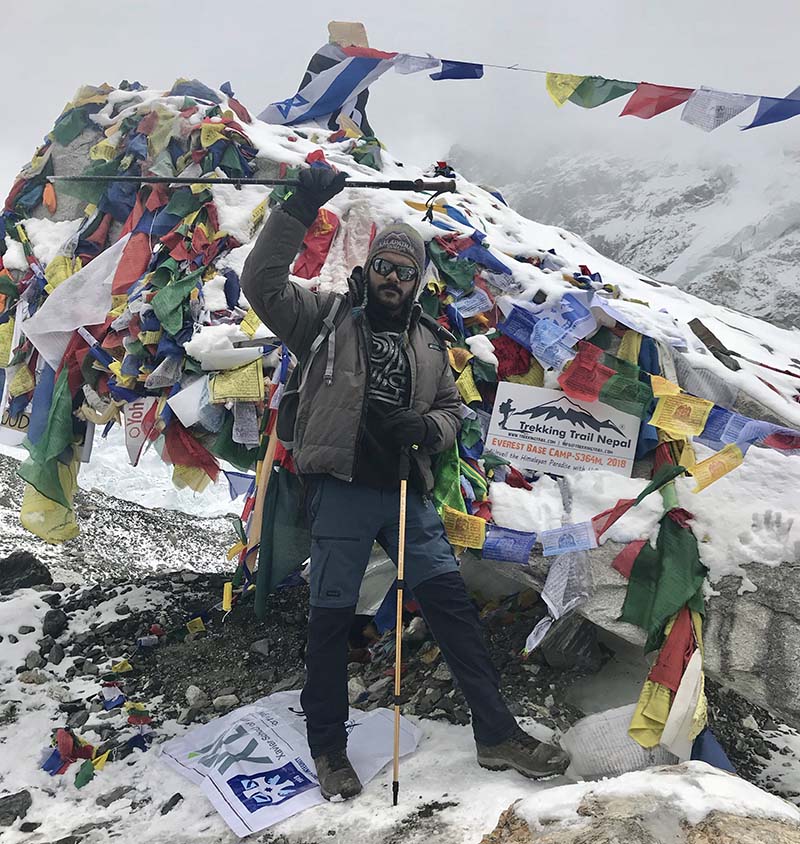 Picture description: At Everest Base Camp (17500ft/5350m). Temperatures somewhere in the sub-zero zone. I was wearing 4 upper layers (thermal, fleece, wooden hoodie and a down jacket), 3 lower layers(two layers of thermals and a trekking pant), 2 layers of woolen socks on each leg and a Sherpa cap gifted to me by my guide.
Upper Body
A base layer is a must and you should carry at least 5-6 if you are going to EBC. Base layers are cheap and do not occupy much space in your luggage. I got mine from Decathlon and I chose the "ski base layer". Try and avoid cotton based thermals as they tend to absorb sweat more rather than let it pass through. This will cause you to feel colder and the clothing will smell as well. Above the base layer should be your fleece. It is ideal if it is a fleece jacket because if the weather warms up you can easily unzip it.
The third layer will be your wind and waterproof jacket. This will be your main shell so try and invest in a good one. I got mine from Columbia.
You will also need a down jacket once you are above the 4000meters zone but I rented mine from Kathmandu. These are expensive and unless you trek regularly to extremely cold weather areas, I would not recommend you to buy one. It also occupies a lot of space and might exceed your luggage limits while flying in and out of Nepal.
Also Read: When is the Best time for Everest Base Camp Trek
Lower Body
A base layer is again a must. I got the ski base layer from Decathlon. Invest in a good pair of waterproof/water resistant trekking pants. I got the Forclaz mountain trek pants from Decathlon. These had enough compartments for my daily use stuff like phone, wallet, etc. Comfortable and quite hardy, they took the torture of the entire trek while staying dry in bad weather.
You should buy one pair of trekking gaiters. Gaiters essentially cover the gap between two other layers. In this case, between your trek pants and your shoes. This will prevent water/snow from entering your shoes from this gap. Gaiters are cheap and tiny as well. You can find one in Decathlon again.
Trekking Shoes for Everest Base Camp

This is the single most important accessory you will need to buy for this trek. I have seen many people recommending that you can rent shoes, etc but I respectfully disagree. No matter how frequent an adventurer you are, a trek to Everest Base Camp is a memory for a lifetime. A bad fitting pair of shoes can easily cause blisters and cause discomfort as well as injury. Imagine a day with an 8 hour trek with an open blister rubbing constantly on your socks – and imagine the condition after 2 weeks of many such days.
Let me guide you through how to pick a good pair of trek shoes.
What to Buy
Waterproof: Needs no emphasis, you will come across snow, water crossings and sometimes even rain.
Ankle Support: Extremely important to note. Because of the varied terrains you will be handling, the chances of twisting your ankle are high. Your shoe support needs to be above your ankle bone level. This prevents twisting of your foot.
Sole: Gore-tex/ Contagrip/Vibram, etc are different types of soles available for trek shoes, it does not matter which you pick but your shoes will need to have a good grip.
Size: It is best if you pick one size above your regular footwear. This is because you will be wearing thick woolen socks (sometimes two layers) and your feet swell up a bit after long hours of hiking. Do not pick shoes that are an exact fit. Look for a comfortable fit wherein you have enough space to move your toes a little bit.
Also Read: How to Prepare for Everest Base Camp Trek
Where to Buy
Do not order your trek shoes one week before the trek. No matter what else you leave for the last, make sure this one item is purchased at least one month prior. It is best if you directly pick a pair from a store rather than ordering online because you have to take into account the fact that you may have to return/replace and all this takes time. The trek shoes need to be worn in well and this takes time too. The last 2-3 weeks I wore my shoes for my morning walks but the pair I picked were so good that they needed minimal wearing in.
If you do want to buy online though then you can check out these shoes on Amazon India.
Which one did I Buy?
I picked the Newton Ridge plus II by Columbia for 8000INR, from a dedicated Columbia outlet. I was extremely happy with the solid feel and for 2 weeks this beast just came away unscathed after doing one of the most difficult treks in the world.
Some other popular choices (I did a small survey with trekkers and Sherpas while I was on the trek) are:
Salomon Quest 4D3 GTX (referred to by many as the best – couldn't find my size online)
Merrell Moab 2
The North Face
La Sportiva
The primary reason I chose Columbia was that they have authorized stores in India and hence I could be assured of quality.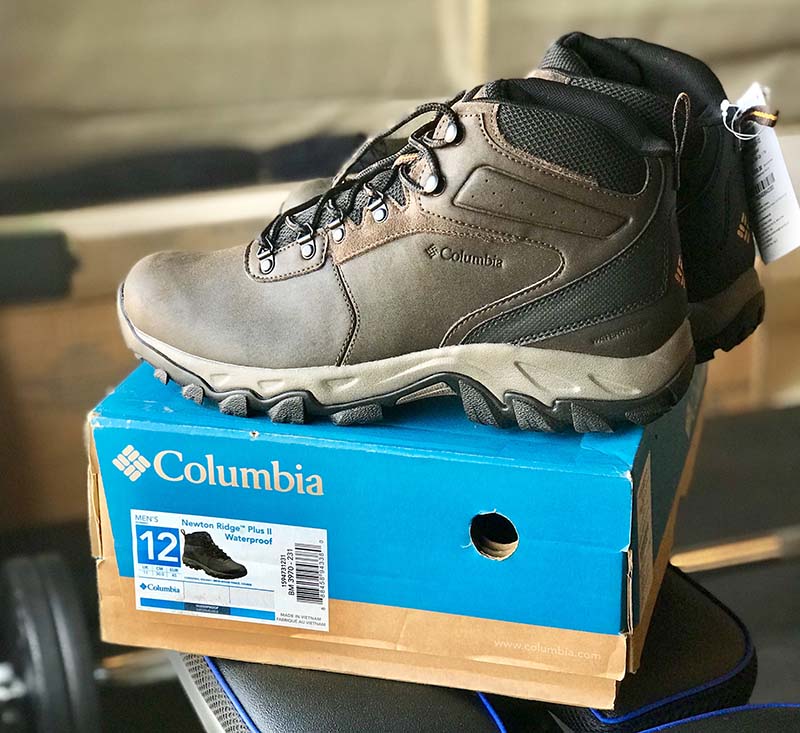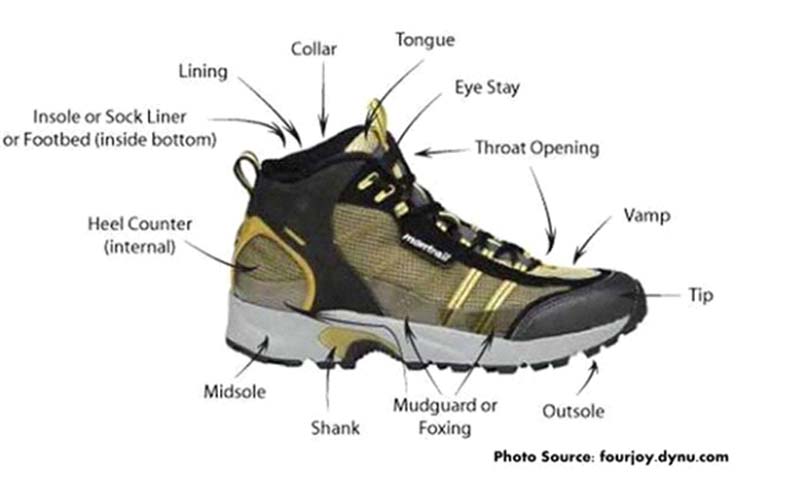 Socks
Carry at least 5 wooden pairs and 3-4 normal pairs. You may want to increase these numbers if you feel your feet sweat more.
Gloves
Carry one waterproof pair and one woolen pair.
Accessories to bring for Everest Base Camp Trek
After clothing, now let us take a look at some other accessories that you will be needing to complete the trek successfully.
Trekking Poles: Quite an important item; I recommend you rent a good pair from Kathmandu. When you trek such long distances uphill and downhill, trekking poles help in distributing nearly 40% of your weight onto your upper limbs and this prevents issues like fatigued legs, knee pain, back pain, etc. Do not ignore this simple hack to making your trek safer and easier.
Knee Support/Knee Brace: If you are not a regular jogger/walker, a simple knee support goes a long way in preventing knee pain in this trek. These are available cheaply at decathlon again.
Sunscreen: Mountain sun is harsh and you'll definitely need to apply sunscreen generously on exposed areas including your ears, and reapply each time you take a break, or every 3 hours. When buying a sunblock lotion, pick one with a minimum of SPF 50.
Lip Balm: This can help avoid chafing of lips. Boroline is a good and cheap alternative.
Sunglasses: You will need polarised sunglasses with UV protection category 4 as you will be in the harsh sun for a span of 2 weeks; and to avoid straining your eyes you need a good pair of sunglasses. The ones I wore were a category 4 polarised pair from Decathlon. I had zero eye strain.
Other Miscellaneous Items
Hand sanitizer
Wet wipes
Toilet seat disinfectant
Moisturiser
Soap solution and dispenser
Shower gel
Torch/Headlamp
Hand towel
Day bag – for your daily items like water bottles snacks, etc. (if you are using porter service)
Also Read: Altitude Sickness on Everest Base Camp Trek
Eatables
As this is a strenuous trek, keeping energy levels high is important. The best way to do this is by using Energy bars, Gatorade sachets, dry fruits, and nuts. While edibles are easily available throughout the trek, there are a couple of issues to be kept in mind. One, there are long stretches where you do not see any signs of human habitation, and this applies for most of the trek. Two, once you go above Namche, each item starts becoming more and more expensive. This is because all supplies to each of these villages have to be carried up from below as there is no road transport in the Khumbu region.
What I would recommend is to stock up on these while you take your international flight. Duty-free shops give the best possible rates. While I was at Mumbai International airport I had a chance to do this but decided against it and I had to pay exorbitant rates for snickers all throughout my journey.
Many trekkers use purifier bottles/purifier tablets but I bought my water all throughout. I wish that there were water purifiers especially on the upper reaches and that I didn't have to buy more and more plastic bottles but this is not the case. Water is more or less reasonable up to Dingboche but above that, the cost climbs steeply. Nearby base camp one would even have to shelve out 400 NPR for a bottle and around 150NPR just to charge a phone.
Charging Phones
If you have a solar to USB battery it could save a lot of money on phone charging. However, I personally do not have experience in this but I did see a few trekkers using it. When it comes to the total cost; I doubt it would make much of a difference if you were to buy a fresh one for this purpose alone.
Medical Kit for Everest Base Camp Trek
Assuming you have no regular medication/allergies to any of the below give medication:
Paracetamol/Diclofenac or combination of both available by a trading name Diclogem or Combiflam – to take care of those headaches
Probiotics eg Vizylac – helps in stepping your tummy's defense and may prevent an upset.
Antacids – if you are prone to acidity
Band-aid/Medicated plasters – can help in case of shoe bites/accidental cuts
Diamox 250mg tablets – 2 strips
Norflox 400mg one strip – just in case you end up in with bad gastroenteritis (food poisoning). But please ask your family physician whether you can take this. I only wrote this because I keep one strip of this in my travel bag and it has come in useful in more than a couple of occasions.
Lip balm
It is imperative for those who have any long term medical conditions to discuss the idea of EBC trek with their doctors, I cannot reiterate this enough!
Conclusion
I ope the information above on what to pack for Everest Base Camp Trek was of help. If you have any questions; or need any other details; please feel free to ask in the comments section below; or at our Community Forum; and I will be glad to answer.