Its common knowledge that as we gain altitude the atmosphere becomes thinner and hence the oxygen concentration is lesser. At Everest Base Camp, the oxygen concentration is half (50%) of what you breathe at sea level and at the top of Mt.Everest, no more than one third (33%). If anyone were to be transported to the top of Mt.Everest directly from sea level, they would fall unconscious in a matter of minutes. That is the effect of altitude and low oxygen and that is what causes altitude sickness on Everest Base Camp Trek.
Also Read: How to Plan Everest Base Camp Trek – A Complete Travel Guide
Altitude sickness at Everest Base Camp Trek

Altitude sickness or acute mountain sickness (AMS) is simply the body being unable to adjust to low oxygen concentration. What we need to focus on is how to prevent it and to understand its wide spectrum ranging from a simple headache to pulmonary or cerebral edema, both of which can kill. At altitudes greater than 2500m, one starts becoming increasingly susceptible to AMS. This entire trek is above that altitude.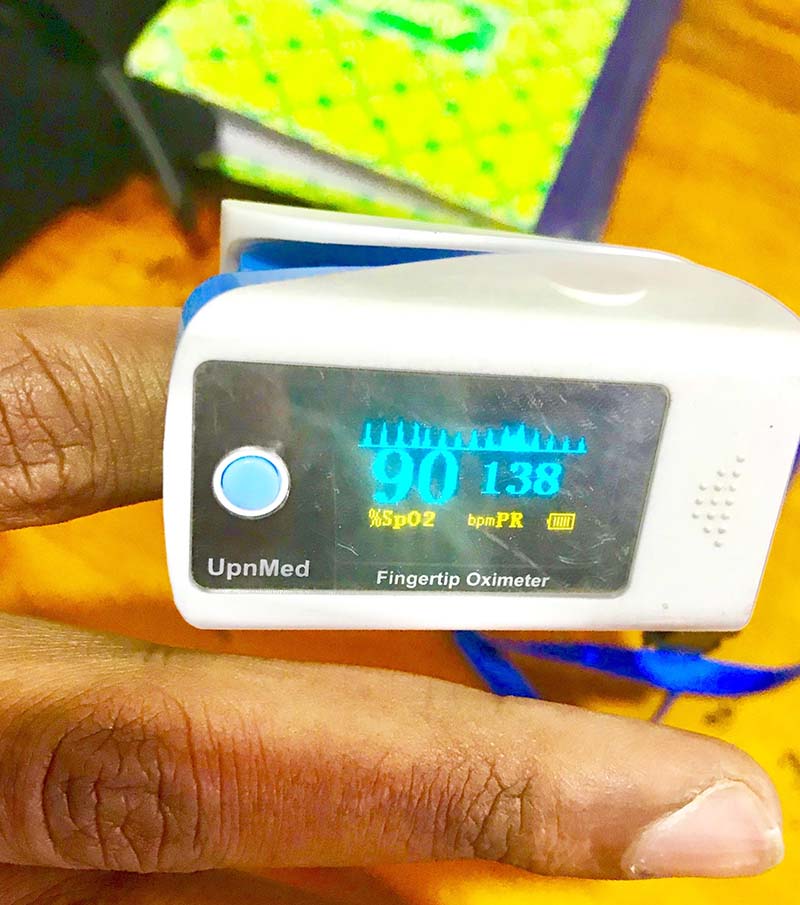 Symptoms of Acute Mountain Sickness
There is no way of predicting who is more prone to AMS, it can happen at any altitude to anyone, more so in unacclimatized people. The key is – LISTEN TO YOUR BODY. While trekking or doing any activity at high altitude, the body will show initial signs, like headache, fatigue, inability to sleep, nausea, vomiting, palpitations, unable to catch one's breath in spite of resting, etc. It is ignoring these signs that lead to the more serious manifestations of AMS to set in.
I personally got hit by AMS in the form of a splitting headache and fatigue on my way to Lobuche from Dingboche. To be precise, at around 4500 meters elevation. I immediately told my guide Sherpa. Of course, being a doctor, I had medication but the plan of action that the guide said was perfect. He told me to take medicines and rest and move ahead the next day only if I got better. If I did not then the next course of action would have been to descend. Fortunately, it did not come to that. I woke up the next day completely refreshed and continued the trek with renewed vigor.
Also Read: When is the Best time for EBC Trek
Causes of Altitude Sickness on EBC Trek
I myself am partly to blame for not acclimatizing properly. In the itinerary that I mentioned above, you would have seen that there are two days specifically kept for acclimatization. The point to note is that there are no rest days where you just sleep or laze, which is what I mostly did. What has to be done is actually an age-old principle which even climbers follow on Mt.Everest and other extreme peaks – which is – CLIMB HIGH, SLEEP LOW.
On the acclimatization days at Namche and Dingboche, you are supposed to do short day hikes to higher locations and come back down to your teahouse to rest. This prepares the body for the next day's trek. From Namche (3440m) there is a wonderful trek to Everest View Lodge at 3880 meters, and from Dingboche, there is a similar hike to a higher elevation. What I did was mostly to laze and relax at the teahouse. Fact is these day hikes will be done by lunchtime and you will have the entire day to relax. Had I done that, I believe I may have acclimatized better.
AMS Prone Areas on EBC Trek
Given below are a few sections on the trek where because of extra strain on the system, AMS is likely. These are also the tough sections of the trek, and when you surpass these sections, the endorphin pump and its adjuvant exhilaration that you will feel after conquering these sections are absolutely unmatched and will stay with you for a lifetime!
Day 2: The section from Monjo to Namche. One steep climb gaining nearly 700 meters in 4 hours walk – an unbelievable feeling when you walk into Namche.
Day 4: The section from Sangnassa, after lunch into Tengboche.
Day 7: The climb up to Thuk La pass. By now you will be more aware of your body's abilities and know when to halt.
The ascent to Kalapathar peak. Mostly done very early morning and in absolute freezing conditions, this is tough. But to your right stands Mt.Everest in all its glory and the first rays of the sunshine on a view you will never forget in your lifetime!
In addition to the above, another difficult section is the final walk to and back from EBC. It is quite challenging and the difficulty is mostly due to the terrain which is mostly rock and ice.
How to Avoid Altitude Sickness on Everest Base Camp
Below are a few tips on how to prevent altitude sickness on Everest Base Camp Trail.
Avoid Exerting Yourself
The first principle is, of course, listening to your body. Do not hesitate to halt. I stopped when I felt the headache. I had kept buffer days for the same purpose. Avoid a crammed itinerary where you are forced to push on and ignore the warnings that your body gives you. The same night while I was at dinner at the teahouse in Thugla, I saw two incidences where trekkers who had gone higher were carried down and seeing the anxiety on their partners faces I was grateful to have rested. It is not a pleasant experience where Sherpas have to carry you down to the Himalayan Rescue Association (HRA) center at Pheriche especially in the night. That too when it is completely preventable. Remember, you are not climbing Mt.Everest.
You are only and simply trekking to its base camp. AMS on this trek is preventable and most importantly, controllable. Only when you push yourself unnecessarily is when things get a little ugly.
Do not Overestimate Yourself
Problem arises when people think of too high of themselves and try to show off. Remember, this is not the place to play macho and ignore what your body is telling you. Always remember the region you were standing in, respect the mountain you were facing and do not overestimate yourself. You got to stop at the first sign of altitude sickness and not try to push yourself even further. The higher you go and the more you exert yourself, the worst it will get for you.
Never try to Hide your Condition

The first thing I did when I suffered from AMS was to tell my tour guide and that is what you should do too. Do not lie or hide about your condition even if it means delaying the entire group with you. Remember this is what you have paid them the money for and the opinion of the group is not more important than your life and health. If they want to frown upon you then so be it but always be vocal about how you were feeling and if something was bothering you.
Relax Plenty
Go at your own pace. Do not feel compelled to catch up when you feel physically exhausted. This is why I feel you should do this trek with people you know – like your close group of friends or family, or your partner or even solo, rather than a group of unknown people, organized by a company. Because in the latter scenario, one is forced to push oneself due to the psychological pressure of not wanting to delay others.
This is also the reason why I call this trek a form of meditation. I believe mediation is a state of higher awareness. In this trek, you have to be aware of your system and control your breathing. You are responsible for your system. Two weeks of this will bring about a change in perspective!
Chose the right Group
This will be in continuation with the point I mentioned above, that when you travel with a tour group or agency, you will be mentally pressurized to keep up even if you were tired and wanted to rest. This will happen even more if you were with the wrong set of people and guides. A quick search on Google will give you information on hundreds of tour agencies arranging the trek each year and claiming to be the best.
But you got to make sure that you do your research well and find out more about what kind of services they are offering, information on medical insurance, some history on the guides that will be accompanying and most importantly, what their itinerary is going to be. Never opt for a rushed itinerary and ensure that you tell the agency about your level of trekking experience so they can put you with the right group.
An Ideal EBC Trek Itinerary to avoid AMS
The itinerary I followed for the trek is as mentioned below. It is a total of 17 days journey and I was still hit by altitude sickness in between.
Land at Katmandu Airport – Day 1
Kathmandu to Lukla (2900 meters) and trek to Phakding (2650 meters) – Day 2
Phakding to Namche (3440 meters) – Day 3
Acclimatisation day at Namche – Day 4
Namche to Tengboche (3867 meters) – Day 5
Tengboche to Dingboche (4400 meters) – Day 6
Acclimatisation day at Dingboche – Day 7
Dingboche to Dughla (Thok La / Thughla) (4600 meters) – Day 8
Dughla to Lobuche (4950 meters) – Day 9
Lobuche to Gorakshep (5140 meters) – Day 10
Gorakshep to Kalapathar peak (5545 meters) and then to EBC (5365 meters) and then to
Lobuche – Day 11
Lobuche to Phukitenga (3300 meters) (between Tengboche and Namche) – Day 12
Phukitenga to Monjo (2800 meters) – Day 13
Monjo to Lukla (2900 meters) – Day 14
Lukla to Kathmandu (1400 meters) – Day 15
Buffer day – Day 16
Fly out from Kathmandu – Day 17
Diamox
The second preventive step is Tablet Diamox. It makes the blood slightly acidic by throwing out bicarbonate via urine and to compensate for this acidity, respiration is made faster and deeper. This, in turn, improves blood oxygenation and hence helps prevent AMS. I started on a 125mg twice daily basis from the day I walked to Namche. Took it daily till the day of my descent from Base Camp.
There is no way of telling how much this helped but this is the regimen I followed. You are free to avoid this and acclimatize naturally. In fact, the next time I do this trek, that is what my plan is. There are other commonly used natural regimens like garlic soup, which I have noticed does have an effect in improving the way you feel after a full day's trek. However, I am not equipped to comment on how it works.
Diamox is mostly preventive rather than curative. But on the day I had that splitting headache, I did take a 250mg dose. Along with painkillers of course. If you are allergic to sulpha drugs kindly avoid Diamox. And consult your physician before going on a course of Diamox, especially if are on any regular medication.
Trek High and Sleep Low
The third and final step is following the principle of trek high and sleep low, on the active acclimatization days. Do take this seriously as it has been designed that way for a purpose.
Do not Smoke or Drink
The worst thing you can do to yourself up there is to indulge in smoking and drinking. The effect it will have on you at such high altitude will be quite drastic and may even send you home packing. Due to low oxygen levels, alcohol and cigarettes are a big NO on EBC trek. You will just be gasping for breath, feel dehydrated and weaker; and may find it even impossible to continue any further on the trek.
Keep Yourself Hydrated
You must keep yourself well hydrated at all times. Drink plenty of water at regular intervals. Being in such cold weather may result in you not feeling thirsty that often but you got to ensure that you are intaking at least 5 kilometers of water every day.
Train Yourself
And by that, I mean to get yourself ready for the trek ahead. Trekking to Everest Base Camp is not going to be a walk in the park and you know it. You got to get your body ready for hours of walking in such harsh weather. Hit a gym or start running outside every day. Your exercise schedule should include jogging or walking in hilly areas. If that is not an option than stay on a treadmill at the highest elevation for an hour every day. Apart from making your legs and body stronger, it will also train your heart to breathe normally even in low oxygen levels and thin air.
Please read How to Prepare for Everest Base Camp Trek to read about how I prepared for my 17 days journey to the base camp.
Altitude Sickness on Everest Base Camp Trek – Conclusion
To sum up, a combination of active acclimatization, going easy on yourself and listening to yourself can negate the need for any medication and prevent/control any signs of AMS. There are enough and exhaustive articles about AMS online; but what I have given here is from the point of view of a practicing physician as well as a trekker who has experienced AMS himself while climbing to Everest Base Camp.
I hope the information above on Altitude sickness at Everest Base Camp was of help. If you have any questions; or need any other details; please feel free to ask in the comments section below; or at our Community Forum; and I will be glad to answer.