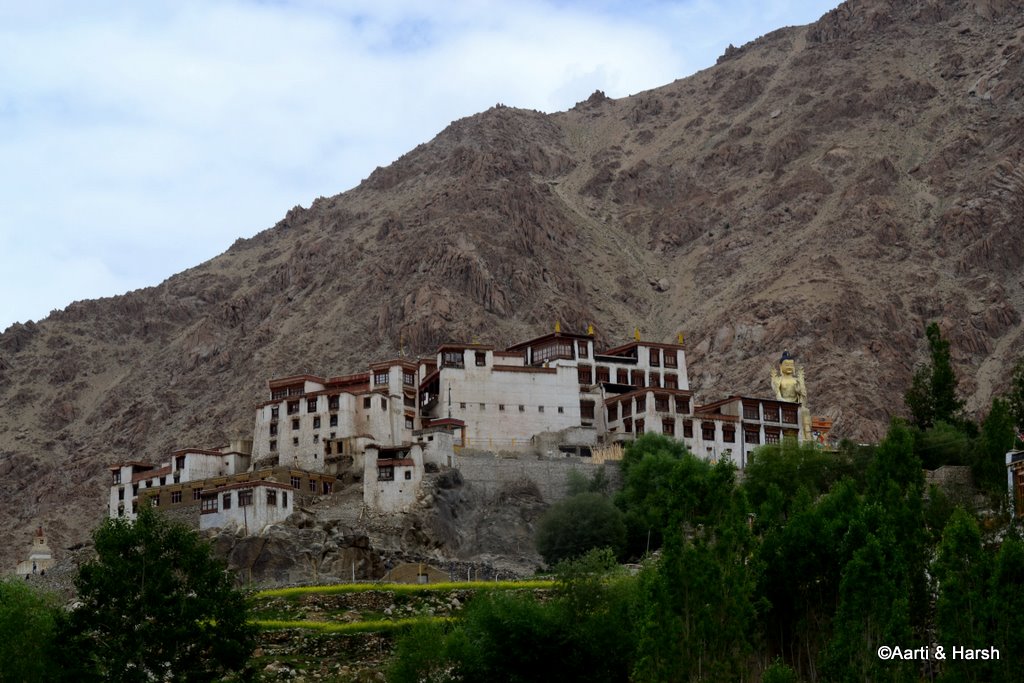 One of the top attractions that drive tourism in the Leh Ladakh region is its ancient and beautiful monasteries. In fact, a day-long monastery tour is a huge thing here among tourists. You start early in the morning and spend the day visiting several monasteries in and around Leh City. Some of these monasteries are large and very well-known while a few others are small and located in remote villages. One thing that is common among all of them, however, is that they are all equally beautiful and serene. One such monastery that I would like to talk about in this article is Likir Monastery.
Likir is a small village located about 55 kilometers from Leh town on Srinagar Leh Highway. This is where the monastery is located and is also named after the village. The Name Likir means "The Naga – Encircled", and it represents the bodies of the two great serpent spirits, the Naga-rajas, Nanda, and Taksako. In order to reach the village, you will have to leave the highway and take the 5 kilometers long narrow road.
Also Read: How to Plan a Trip to Leh Ladakh – A Complete Travel Guide
The village seems a little out of the way now but in ancient times, it used to be on a major trade route that traveled via Tingmosgang, Hemis, and Likir to Leh. How can you plan a trip here and what can you see are some of the details that I will be covering in this post.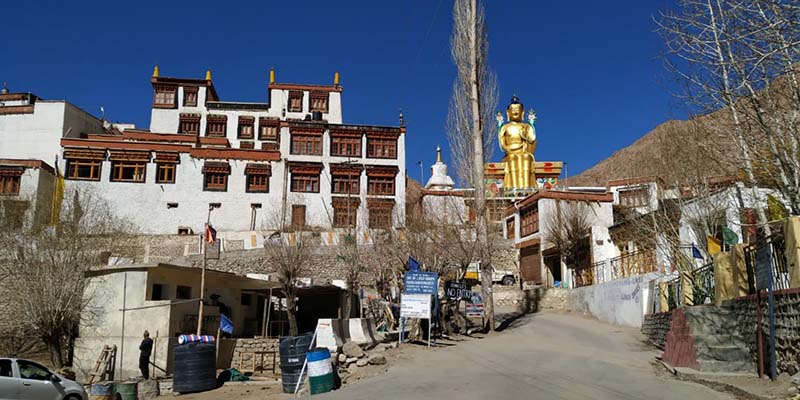 About Likir Monastery
The Likir Monastery was first built in the year 1065 and then rebuilt in the 18th century. It sits on top of a small hill outside the village in a very picturesque location, at an altitude of 3,700 meters. The monastery is perhaps best known for its 25 ft. (7.6 meters) gold-covered Buddha statue.
The original structure was destroyed in a fire and then constructed again in the 18th century. It is now home to about 120 monks and also runs a small school that educates the children from nearby villages. The annual festival of Dosmoche is held here in the month of February each year.
The Gompa is built in a fort-like style and is located at the highest grounds, surrounded by agricultural fields on the lower grounds. The main complex consists of a temple, assembly hall, monk's quarters, and other rooms used for kitchen and dining. Its location and architectural style are of a well-fortified, compact, and strategically sited Monastery; built and rebuilt over a period of time to keep its occupants safe from invasions and attacks.
The monastery is also known as Klu-Khyil Gompa where the name Klu-Khyil means 'Water Spirits'.
Leh to Likir Monastery
From Leh, to reach Likir Monastery, you will start driving on Srinagar Leh Highway towards Kargil. You will cross several other tourist places like Magnetic Hill, Gurudwara Patthar Sahib, and Indus Zanskar Confluence; and villages of Nimmu and Basgo. After about 50 kilometers (9 kilometers after Saspul Bridge), you will come across the Likir Bifurcation point where a road will branch off to your right room the highway. This is the one that you will need to turn on. It is a narrow road but in good condition.
A little after you take this road, you will cross an Orange (Golden Colored) cemented gate and will start noticing a lot of small stupas as you get closer to the village.
There are two things that you will see from the distance, the monastery and the village on a hill and the agricultural fields surrounding it. The patches of green in the barren brown mountains of Ladakh really look like a sight for the sore eyes. A little while later, you will cross another golden-colored gate and would have finally entered the village of Likir.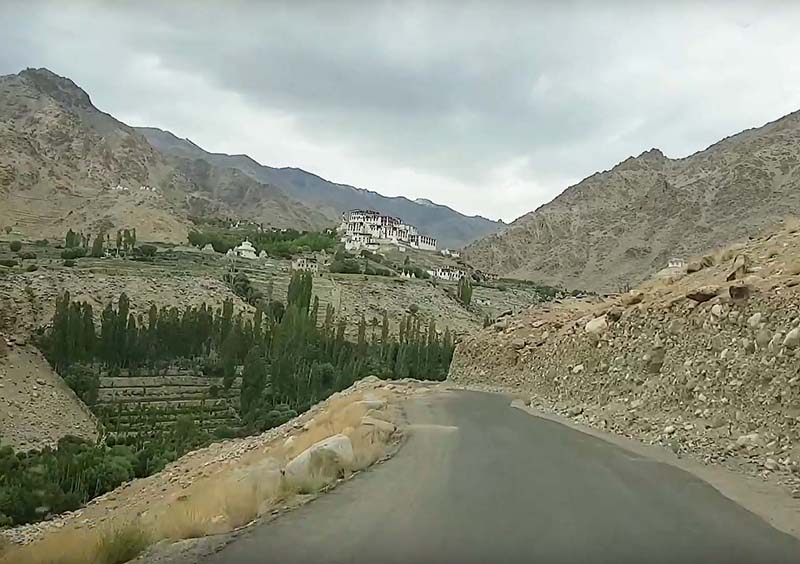 Vehicles are only allowed until a certain point. You will leave your cars or motorcycles a little outside the monastery and will have to walk the rest of the distance. The gold-covered Buddha statue too can be seen from a distance and looks magnificent. As you climb up the stairs and reach the roof of the monastery where the statue is located, you will be offered a great view of the surrounding mountains, the village, and the fields. The white stupas on top of the hills around the village look quite beautiful.
Architectural Style
Likir Monastery expanded in the 15th century. This was a time when the monasteries in Ladakh and Tibet commanded and controlled the region, land, and agricultural produce. This would often lead to conflicts with rival sects of monasteries for political and material control over the region. This is why the monasteries were built like forts, with thick peripheral walls, and at a strategically selected high altitude location; to protect its inhabitants and wealth from rival attacks.
Though the overall layout has changed drastically over a period of time, you will still clearly see that Likir must have been a classic example of such a fortress-type monastery. Agricultural fields surround the hill that the village and the monastery are built on. The main Monastery temple is located at the highest point followed by Monk's residence just below it and the village houses after that on the lower slope.
Also Read: Ladakh Checklist: Things to Carry for Leh Ladakh Trip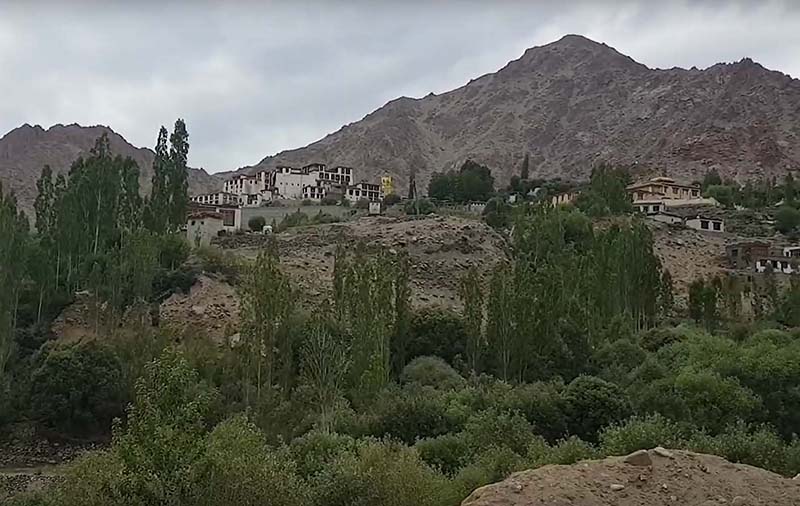 Exploring the Monastery
There are two assembly halls in the monastery, known as Dukhangs. The older Dukhang has six rows of seats for the lamas and a throne for the Head Lama of Likir. It is decorated with statues of Bodhisattva, Amitabha, and three large statues of Sakyamuni, Maitreya, and Tsong Khapa. Other than the statues, the Dukhang also has glass-fronted bookcases containing several rare books and pictures of Sakyamuni and Likir's guardian deity.
The newer assembly hall (which also is 200 years old) has a statue of Avalokitesvara with 1000 arms and 11 heads. The left wall has paintings of the 35 Confessional Buddhas while the right wall has an image of Sakyamuni with two of his chiefs by his side.
The verandah is covered with ancient and beautiful Thangka paintings. There is a large and rare Jupiter tree in the courtyard. The monastery also houses several old manuscripts, a notable thangka collection, old costumes used for Cham dances, and earthen pots.
The room of the main Lama has thangkas and images of lamas and the 21 manifestations of the White Tara. The Gonkhang room too contains beautiful thangkas of the divinities.
The main prayer hall of the monastery has seats allocated and reserved for both the Dalai Lama and his brother, Likir's honorary head lama. There is also a small monastery museum on the rooftop that you can visit. It is just a tiny one-room museum that has on display some Buddhist artifacts, literature, and ancient Thangkas.
The top attraction of the monastery, however, is the 25 ft. high gilded gold statue of Maitreya Buddha, sitting on the roof of the monastery. It was completed in the year 1999 and is really a marvel to look at.
Festivals in Likir Monastery
The annual festival of Dosmoche is celebrated at the monastery from the 27th day to the 29th day of the 12th month of the Tibetan calendar. This is sometime in the month of February as per the solar calendar. In the year 2020, the dates of the festival were 21st to 23rd of February. In the coming years, you can check the dates in THIS POST which contains dates of all festivals celebrated in Ladakh.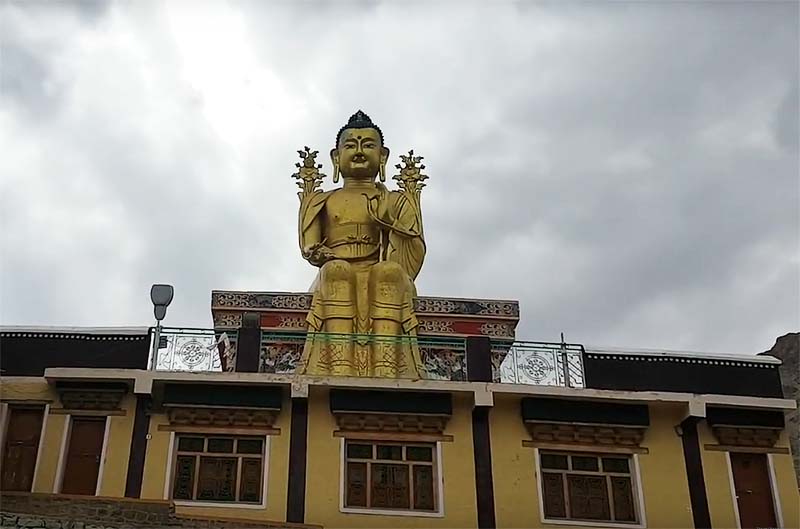 How to reach Likir Monastery
Reaching Likir Monastery is not difficult at all. The village is located in close proximity to Leh town and is very well connected with a good motorable road. From Leh, it is a total drive of 55-56 kilometers which will take you a couple of hours at most. From Kargil, Likir is about 170 kilometers and will easily take 5-6 hours to complete. Please note that for explaining the information below, I am assuming that you have already arrived at Leh town and now want to plan a visit to Likir from there. If you want to know about getting to Leh as well first, please read How to reach Ladakh by Road, Bus, Air, and Train.
By Road
The best and easiest way would, of course, be by your own vehicle. The entire stretch between Leh and Likir is marked by numerous tourist attractions and the overall landscape as well is very pleasing. You will be driving right next to the Indus River and will even get to see its confluence with the Zanskar River. If you were traveling by your own car or bike, then I will recommend taking an early start from Leh. Make it what is commonly referred to as a Sham Valley tour. Drive all day long from one tourist spot to another and return to Leh by evening.
Also Read: How to Plan a Trip to Ladakh with family
By Bike
If you, however, arrived in Ladakh by public transport, either by Air or a Bus, then renting a motorcycle will be a good, convenient and cost-effective mode of travel. You can either rent a motorcycle like Royal Enfield or an automated bike like Activa. Even if you do not want to rent one for the entire duration of your trip, a bike for a day for Sham Valley will be a good idea and can add a different experience to your overall trip.
For information on how much you will pay, please read Leh Ladakh Motorcycle Rental Rates.
By Bus
Unfortunately, there is no direct bus available from Leh that goes all the way to Likir Village. You will have to board a bus going towards Lamayuru, Kargil, or Srinagar and get down near Likir Road. For the last 4 kilometers, you can hitchhike if you came across another vehicle or will have to walk the rest of the way.
For information on the bus routes, please read Leh Ladakh Bus Schedule and Timings.
By Private Taxi
This may cost you a little but will definitely be the easiest and most comfortable way to travel in Ladakh. You will cover the same route I explained above, visit the same places and if you had time in hand, may even go as far as Lamayuru. Please read Leh Ladakh Taxi Rates to read about how much it will cost you.
Shared taxis will be another best way to travel. These are available from the Bus stand itself and are more frequent than a Bus. Just reach the Bus stand in the first half of the day and board any cab traveling towards Lamayuru, Kargil, or Srinagar.
Another mode of travel (and the cheapest one actually) is to hitchhike. This may not be an option in the off-season but between May to September, you will find a lot of people traveling on the route. Anyone going towards Likir will be happy to give you a ride to the village. Someone in a car may not be willing to pick you up but a biker riding solo will definitely do.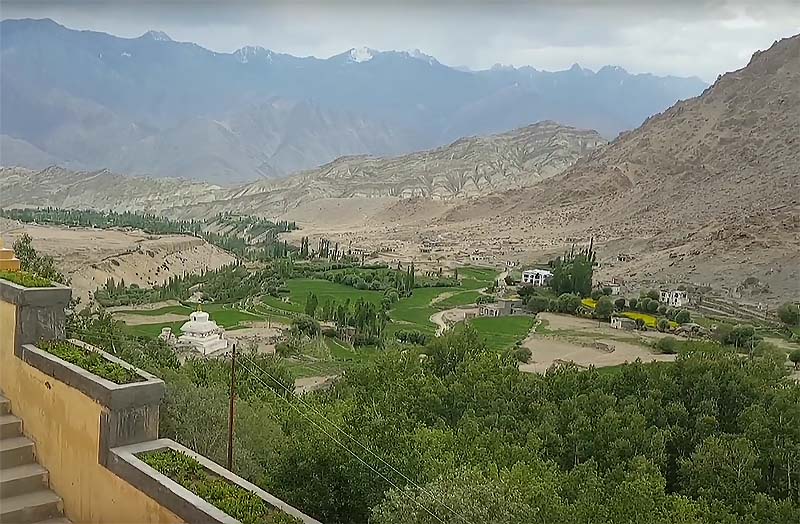 What to See in Likir
Below is a list of places or things that can be considered tourist attractions in Likir.
Natural Beauty
Likir Gompa
Buddha Statue
Monastery Museum
Amazing Landscape
Serenity
Gurudwara Patthar Sahib
Indus Zanskar Confluence
Magnetic Hill
And that is that. Likir is really a tiny village and as such, there is no long list of tourist attractions here. The place is best known for its monastery and the grand Buddha statue that we just discussed. Other than that, it is just natural beauty, stunning landscape, and tranquility that you can enjoy here.
Before you reach the village, however, you will pass through 3 of the most famous tourist attractions of Ladakh. The first one is the sacred Gurudwara Patthar Sahib, located at a distance of 23 kilometers from Leh. It is among the highest Gurudwaras of the world and commemorates Guru Nanak's visit to Leh Ladakh. Take a break, spend some time at the Gurudwara, and pay respect.
After the Gurudwara, you will arrive at the famous Magnetic Hill. The spot is famous as a phenomenon where your car will move uphill on its own, with its engine turned off. Hard to believe? It is true though. To know more, please read The Mysterious Magnetic Hill of Ladakh.
After Magnetic Hill, you will reach the confluence of the Indus and Zanskar Rivers, a stunning sight where these two mighty rivers merge into each other and then continue flowing towards Kargil. It is a great spot to click some beautiful selfies with a stunning landscape in the backdrop.
You will also cross the beautiful villages of Nimmu and Basgo on the way. The entire drive is very scenic and a tourist attraction in itself.
What to do in Likir
Other than the items listed above, below are a few other things to do in Likir Village.
Sham Valley Trek
Photography
Spend some time with the Lamas
Learn about the local culture
Enjoy the peace and do some soul searching
Photography will definitely be your topmost item. Every turn of the road and every direction you turn in will present you with a sight worthy of capturing. The pollution-free skies of the village lit up each night with countless stars, a sight that we city folks hardly get to see. Likir Village is among the best spots in Ladakh to indulge in some night photography. If you have a capable DSLR and know about photography, you will have your fun getting some long-exposure shots of star trails and the Milky Way.
I will highly recommend spending some time with the Lamas and learn about their simple life and local culture. The tiny village built around a monastery is perfect to sit in silence and do some soul searching.
Likir falls on the Sham Valley trek route. I agree that it is not everyone's cup of tea, but the trail from here leads into some very remote villages of Ladakh that not many people visit. If you want to go offbeat and explore the untouched regions of Ladakh; the Sham Valley trek is that you should venture upon.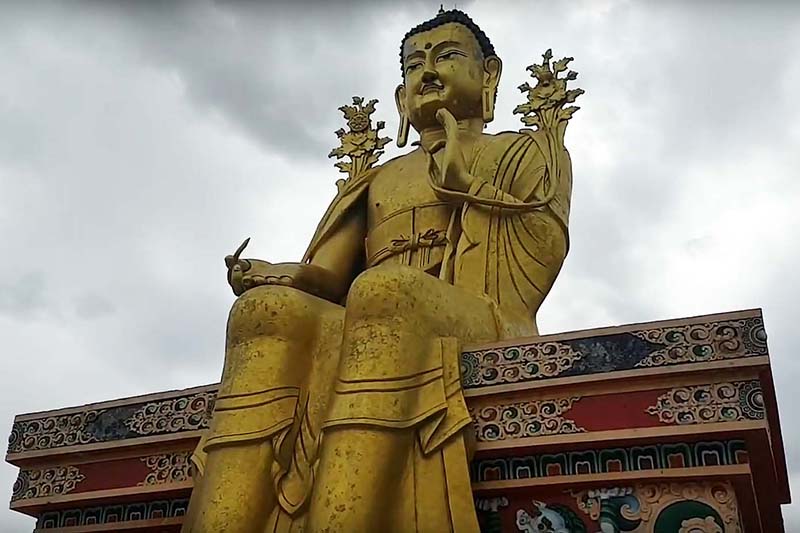 Where to Stay in Likir Village
The villages of Alchi and Likir are at a lower altitude than even Leh City. Due to this, a lot of people land in Leh and come to these villages for their first night for better acclimatization. To get more details, please read How to Handle Acute Mountain Sickness in Leh Ladakh.
So yes, if you wanted to stay overnight in Likir, you can definitely do so. There are several homestays and guesthouses in Likir. These are all good-value budget options located in the scenic area up by the Gompa. Just take a walk through the village, find one that fits your budget, and check-in.
There is one called Norboo Spon Guesthouse that I know to be good, but it is a little outside the village; near the point where the road to Hemis Shukpachan branches off from Likir Road.
If you want to try a homestay in Likir, then I will recommend one called Old Likir Traditional Farmstay, located near the Gompa. The family that owns it is into farming so their house is surrounded by their agricultural fields, and hence the name farmstay.
As far as I know, Likir Monastery does not allow tourists to stay on its premises, nor do they have the arrangements. You can try talking to the Lamas but I do not think you will be allowed and will have to look for accommodation in a village guest house.
Likir is a good place for camping but there are no campsites here. If you were carrying your own camping gear, then you can pitch your tent in the surrounding fields. Do not however do so without taking permission. Just talk to the locals and pay them a little to give you a spot.
Where to Eat in Likir Village
The best place to eat would be the hotel or guesthouse that you will be staying at. They all have simple kitchens and will serve both some north Indian as well as Tibetan dishes like Rice, Chapati, Momos, Thukpa, etc.
If you were planning a day trip only then there are a couple of small shops/eateries near the monastery where you can get tea, some snacks, or a simple lunch.
Nimmu Village on the way has better options and a greater number of shops so you can also stop there to eat. I will also strongly recommend bringing in some snacks before you start from Leh.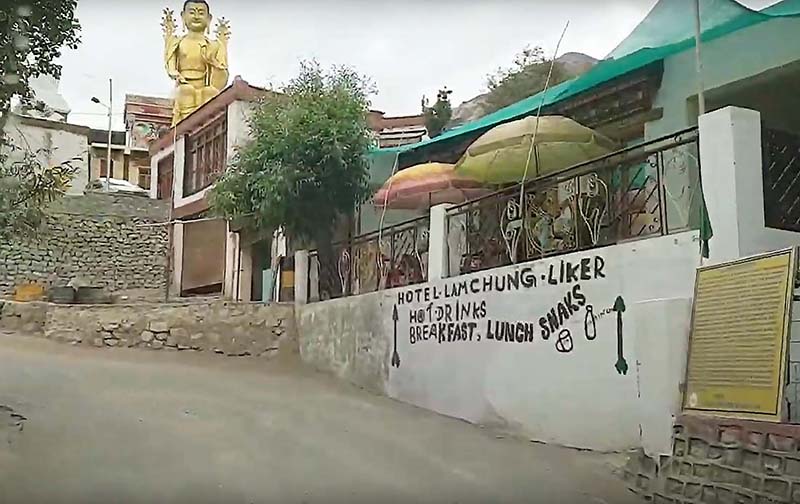 Mobile Network in Likir
BSNL has the widest coverage in Ladakh followed closely by Airtel and Jio. The thing that you should know about mobile connectivity in Ladakh is that only postpaid connections work here due to security reasons. If you had a prepaid phone, it will be as good as a paperweight. But if you were carrying a postpaid connection, you will be able to get connectivity with both BSNL and Airtel in Likir.
In terms of data, you can hope to get connected with Airtel but there will be no internet with BSNL. Please note that even in terms of network coverage, the quality of the connection and voice calls will not be that good.
Best time to visit Likir
There are two points of view if we talk about the best time to visit Likir Village and the monastery. On an overall basis, June to September is the best time to visit Ladakh and will also apply to Likir. The weather at this time is very pleasant and perfect for tourists. Srinagar Leh Highway as well as Manali Leh Route will both be open and reaching Ladakh will not be difficult. All hotels, guest houses, and tourism-related activities too will be open in this period.
If you, however, wanted to know about the monastery; the local culture, and Buddhism; then a better time would be to visit around the Dosmoche festival in February. But please note that the winters in Ladakh are extremely harsh with the temperature at night falling several degrees below zero. Manali and Srinagar roads will be closed so you have no other option but to fly into Leh City.
The road from Leh to Likir, however, remains open in February as well. To know more, please read How to Plan a Trip to Leh Ladakh in February.
Likir Monastery Timings
The monastery remains open from 8 AM to 5 PM every day.
Likir Monastery Entry Fee
There is no fee for entering the monastery but you will have to pay Rs. 20 for entering the museum.
Conclusion
I hope the information above about Likir Monastery and Likir Village was of help. If you have any questions or need any other details, please feel free to ask in the comments section below, or at our Community Forum, and I will be glad to answer.