Continuing in my series on the remote villages of Spiti Valley, in this article, I will provide a detailed travel guide on Lhalung Village. Also spelled as Lahlung Village or Lallung Village, it is part of the belt that forms the tiny hamlets of Spiti around Kaza. It is not yet that known among the tourist community and only a handful of people bother to come this way. But if you want to truly experience the beauty of Spiti Valley and the life of the people here, Lhalung Village is a great place to visit.
Also Read: How to Plan a Trip to Spiti Valley  – A Complete Travel Guide
Lhalung actually means the land of the Gods. This small village is surrounded by the Tangmar mountain on one side and the river Lingti on the other. It is best known for its natural beauty and small but beautiful monastery. There is a lot of greenery around and the entire village is surrounded by fields of different crops. Lhalung can be reached by road either via Dhankar or a road that bifurcates from the main highway near Attargo Bridge. Read on to get more details on visiting this peaceful and serene part of Spiti Valley.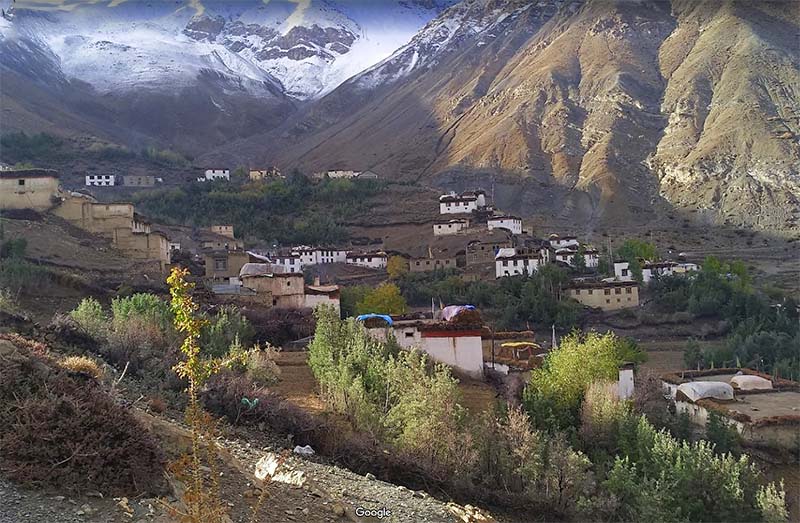 Where is Lhalung in India
Lhalung Village is located in Spiti Valley of Himachal Pradesh. It is at a distance of 28 kilometers from Kaza, 430 kilometers from Shimla and 230 kilometers from Manali. It is at an altitude of 12,000 ft (3657 meters).
How to reach Lhalung Village
If you are visiting Lhalung Village then I assume that you are in fact traveling on the entire Spiti Circuit and Lhalung is a part of your itinerary. In order to get to the village, you will either have to reach Kaza or Tabo in Spiti Valley. This can be done in two ways.
You can start from Shimla and travel to Lhalung via Narkanda, Rampur, Pooh, Nako and Tabo. This will be a journey of 430 kilometers and will take you at least 2 days to complete. On the first day, you will start from Shimla and stay for the night at either Rampur or Reckong Peo. On the second day, start early and reach Lhalung by evening.
The second way to get here is to start your journey from Manali and reach Lhalung via Rohtang, Kunzum Pass, Losar, and Kaza. This will be a much shorter route as compared to Shimla. You will travel a total of 230 kilometers in about 11 to 12 hours in total. For more details on this topic, please read How to reach Spiti Valley by Road, Train, Air or Bus.
Routes to Lhalung Village
There are two routes to get to the village from the main Shimla – Kaza highway. The first one is a road that bifurcates slightly before the Attargo bridge. If you were driving towards Kaza, this road will fall about 30 kilometers after Tabo and to your right. If you reached the Attargo Bridge then you have come too far and will have to return about 1.5 kilometers.
Kaza to Lhalung
If you were coming from Kaza aside and going towards Tabo, this road will fall 1.5 kilometers after Attargo. It is a good road that ends at Lhalung Village after a smooth drive of about 10 kilometers. It climbs up steeply and will take you about 30 minutes to get to the village from the highway.
Dhankar to Lhalung
The second one is an internal road from Dhankar. You will first reach Dhankar and then drive to Lhalung.
Once again, if you were coming from Tabo side, you will drive for about 23 kilometers before you come across a road climbing up to your right. This is the road to the Dhankar Village (also known as Dhankhar). It is a well-marked road and very hard to miss. Turn on this road and after a drive of about 8.5 kilometers and 14 hairpin bends, you will arrive at Dhankar Monastery.
If you were coming from the Kaza side, you will have to drive about 25 kilometers before you reach Dhankar Road.
Dhankar is among the top attractions of Spiti so you must spend some time here. Visit the two monasteries (old and new) and if time allows, you may even trek to Dhankar Lake. It is a short trek of about 2 hours but is worth the time.
After visiting Dhankar, you will then drive to Lhalung Village. It is the longer of the two routes, is completely a dirt trail and will take you about 45 minutes to cover from Dhankar Monastery.
It is a good way to plan your trip if you were coming from Shimla side. You can first arrive at Dhankar Monastery, take the internal road to Lhalung, and then drive back down to the highway near the Attargo Bridge. Or you can also do it the other way around. You will first drive to Lhalung Village from Kaza, then drive down to Dhankar and return to Kaza.
Please note though that the internal road from Dhankar is an untarred road. It is very bad at some places and steep as well.
See the map below to know what I am talking about.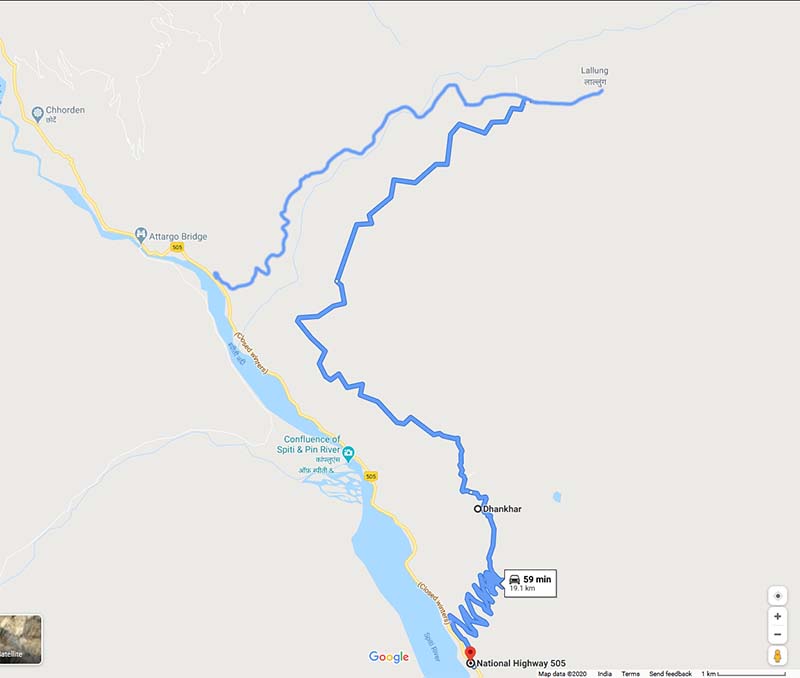 How to reach Lhalung Village by Bus
There is a daily bus from Kaza to Lhalung that starts from Kaza Bus stand at 5.15 pm. It reaches the village in about an hour to 90 minutes and stays there for the night. The next day, it starts from Lhalung at 7.30 AM and arrives at Kaza by 9 AM.
Shared cabs are also an option in Spiti valley but not for the remote villages. It would be very tough to find a shared cab going towards Lhalung.
The last time I was there, I boarded a bus from Kaza to get to Lhalung. I stayed there for the night but did not board the bus for my way back. Instead, I walked down all the way from Lhalung to Dhankar Village. I then visited Dhankar Lake, hitchhiked back to the highway and found a shared cab for Kaza. The walk was long and tiring but the views and the photos I got made it well worth my time and effort.
How to Plan a Journey to Lhalung Village
Irrespective of whether you were coming from Shimla or Manali, I will recommend that you reach Kaza first and break your journey there for the night. The next day, you can plan a day-long trip covering the nearby villages and sightseeing around Kaza. On Day 1, you can cover villages like Kibber, Hikkim, Langza and on Day 2, you can visit Demul, Lhalung, and Mane Villages, etc.
If you were planning to stay overnight, then on Day 2 you can stay in the Lhalung and return to Kaza the next morning.
If you were short on time and were coming from Shimla, then you can take a short detour from the main highway, reach Lhalung Village, spend some time and be on your way to Kaza; like I explained above and shown in the map.
If you were traveling by Bus, then you have no option but to first reach Kaza village and board the daily bus to the village. Because of its remoteness, the frequency of public transport to the village is very less and except for this daily bus, it is extremely rare that you will find any other mode of commute.
You can also hire a taxi from Kaza to show you around the villages including Lhalung. Depending on your itinerary and negotiation skills, it will cost you about Rs. 4000 – Rs. 5000 per day.
Another budget-friendly option will be to rent a motorcycle from Kaza for sightseeing. It will cost you about Rs. 1000 per motorcycle per day. You can also rent an automatic scooter like Active which will cost you even less.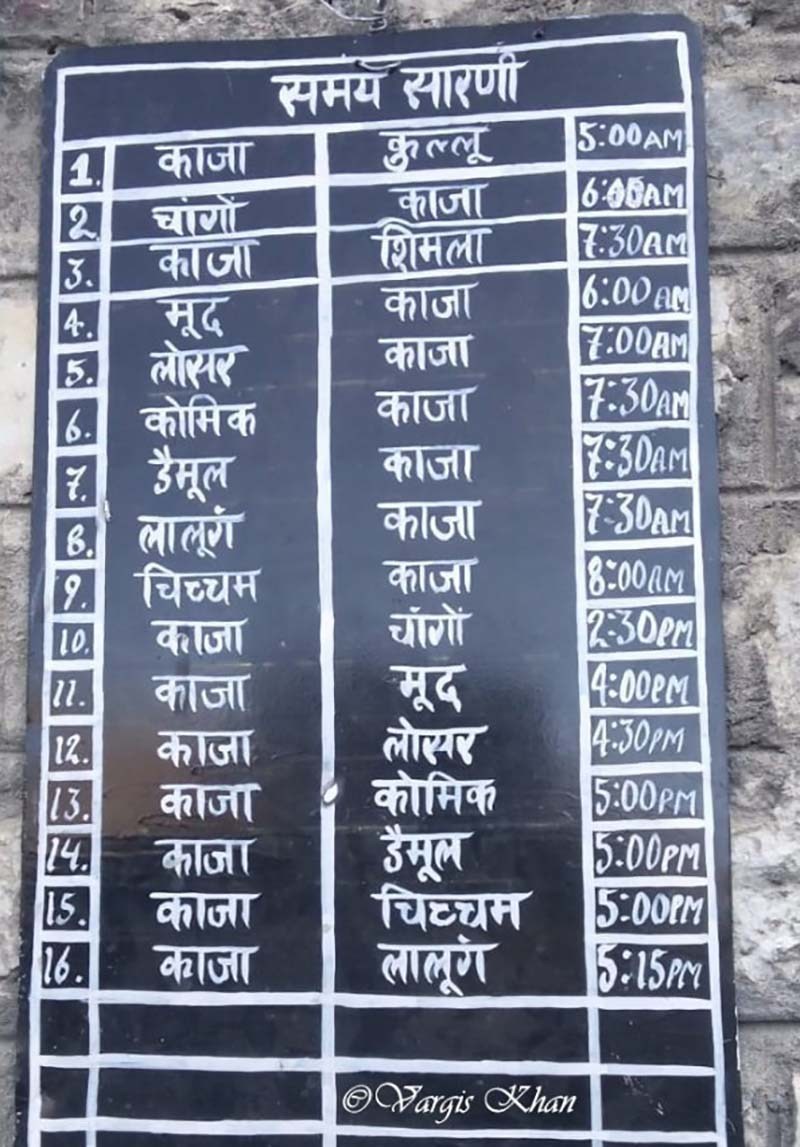 Trekking to Lhalung Village

You can of course trek to the village as well. The most common trek is the one that connects Lhalung to Demul Village. It will take you a few hours to walk the entire distance but the views you get are quite stunning. From Demul, you walk down a gorge, cross a small river, then trek up to Lhalung Village.
You can in fact trek to Lhalung Village from Dhankar via Dhankar Lake as well. I wish I knew this while I was in the village or at least asked around. I first walked on the road from Lhalung to Dhankar Monastery and then went to the lake from there.
I was to learn later that there is a path from Lhalung Village to the lake straight. So I could have in fact covered the lake on my way to Dhankar and saved myself 2 hours.
So if you were up for a walk, you can do Dhankar Monastery – Dhankar Lake – Lhalung Village or the other way around.
Where to Stay
There are no hotels or guesthouses here and the only choice of accommodation is as a paying guest. Most of the villagers have extended their homes by a few rooms and rent those out to tourists. The one I stayed at was Khabrik Home Stay, owned by a gentleman named Tashi Gatuk. You can contact him at 094189 62704. The owner was friendly and I enjoyed my stay with them.
Another good one where my friend stayed was Sonam Homestay, owned by a gentleman called Sonam Tandup. They had good large rooms and it looked more like a guest house than homestay actually.
There is another one called Konchok Home Stay. Their number is 097427 97208. There is also one called Lhalung Homestay but I do not have their number anymore.
What and Where to Eat
There are no restaurants or Dhabas here. You will eat at your homestay only. The food will be very basic, simple but delicious enough. Talk to your homestay owner if you want to try eating some local dish and if they can prepare.
What to See

Lhalung is just a small village and as such, there is no long list of tourist places here. The natural beauty of the place is its prime attraction and the view you get from here of the entire valley is amazing. It is also a very serene and peaceful place, perfect for some soul searching. You can just sit all day long and watch the sky change colors.
Also Read: Sightseeing in Spiti Valley | What to see in Spiti Valley
Mythology
The word 'Lha' in local language means God, and 'lung' means land. So together, Lhalung actually means the land of the Gods. On one side of the village is the Tangmar mountain and the river Lingti on the other.
The very name of the village means the land of the gods. So yes, there is a lot of mythology and folklore that you can learn here. Just get talking to any of the locals and they will love to tell you the stories about their gods and life in general.
The villagers regard Lhalung Devta as The supreme God and head of all the devtas of the valley. He is believed to emerge from the Tangmar Mountain beyond the village. Based on his mood, the color of the mountain changes; red when angry, blue when hurt and yellow when pleased.
The Monastery and the Undying Tree
So a long time ago (10th century approximately); in order to please the God, the villagers decided to build a monastery. They requested Rinchen Zangpo, their spiritual leader, to select a holy site for the same. The learned one gave the villagers a few twigs of Seabuckthorn tree and told them to plant those at different sites of the village.
The next day only one of those dead twigs bore a new green leaf. This is the same tree that is believed to still be in the compound. People believe that the tree is blessed and it never dies. Rinchen proclaimed that place as holy, and miraculously, the next day a monastery appeared there on its own.
The Lhalung monastery is also known as the 'Golden Pagoda' or 'Golden Temple' because the interiors are gilded with gold.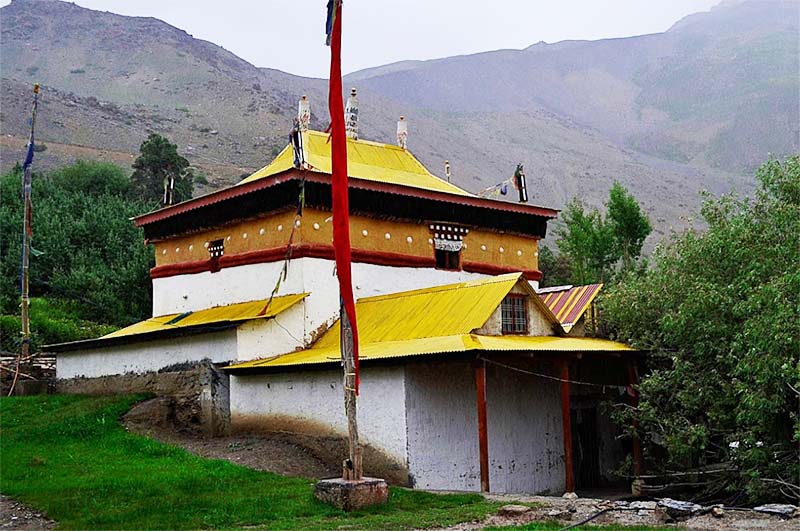 What to do in Lhalung Village

Talk to the villagers, visit the monastery, walk around, go on short treks, experience the local culture, slow down life for a little while and rejuvenate yourself. This is all that you can or rather should do in Lhalung Village. To be very honest, you do not come to a place like this to do tons of things. For that, you go to places like Shimla and Manali. But if you want to spend some time in peace, away from the crowd and hustle-bustle of city life, then visiting offbeat places like Lhalung should do the trick.
Mobile Network
Your only chance of getting a signal here is with BSNL, but that too is highly doubtful. Even if by some miracle you did get the network, the voice quality will be so bad that it will really be good for nothing. In a nutshell, assume that while you are in Lhalung Village, you will have no mobile connectivity. For more details, please read Mobile Network and Data Connectivity in Spiti Valley.
Electricity
Yes, there is electricity in the village. The Himachal government has installed solar panels in every house that locals use to generate electricity. But this also means that the supply is not endless. If you visited in the winter months when the sun can remain hidden for several days, there is a high chance that there will be no electricity.
Surprisingly, the locals here also have TVs connected to a satellite. The TVs and free cable too were provided by the government. I think in my entire life, this was the only place where I enjoyed watching TV so much, and just because it was available when I did not expect it to.
Weather
Due to its high altitude, the weather of Lhalung Village remains cold throughout the year. During the winter season, the entire region gets buried under a thick sheet of snow. This is when the temperature drops down to almost 20 degrees below zero.
During the summer, however, the temperature remains at around 20°C during the day and 5°C at night. The weather at this time is very enjoyable with moderately warm days and pleasantly cold nights.
Spiti is in a rain shadow area so it almost never rains here.
Also Read: What Clothes should you pack for Spiti Valley Trip
Best time to Visit Lhalung Village

The best time to visit Lhalung Village will be between May to September, which is also the best time to visit Spiti Valley. Both the roads leading to the valley, via Shimla and Manali remain open in these months. The weather too will be pleasant and since this is the peak tourist season, you will be able to cover all of the tourist places in Spiti Valley and Kinnaur.
Lhalung Village Altitude
The village is at an altitude of 12,000 ft (3657 meters).
Conclusion
I hope the information above on visiting Lhalung Village in Spiti Valley was of help. If you have any questions, or need any other details, please feel free to ask in the comments section below, or at our Community Forum, and I will be glad to answer.