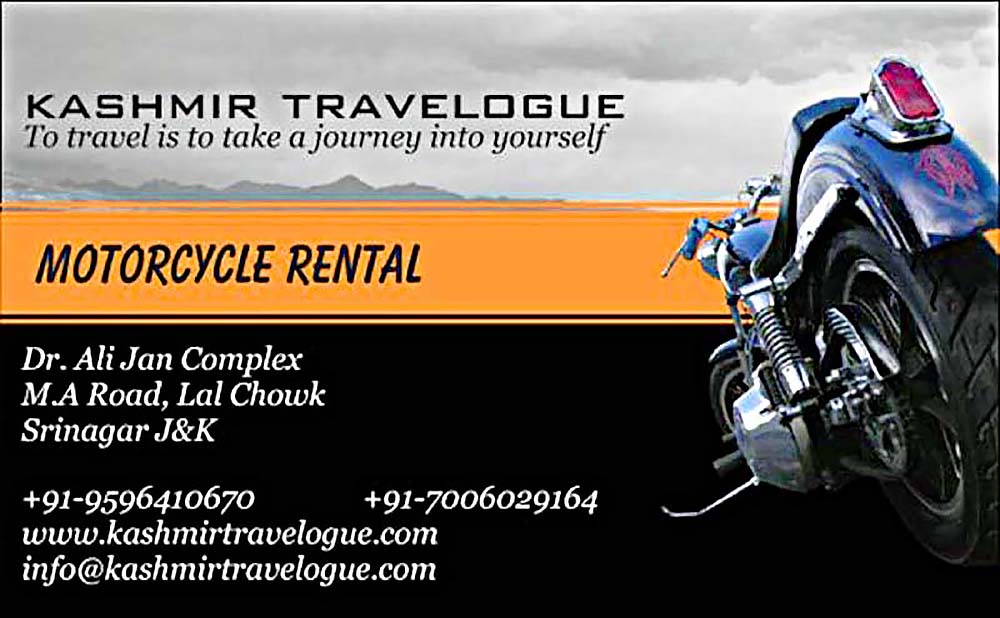 In this article, I will provide some feedback on a motorcycle rental agency that I would personally recommend as the best bike rental in Srinagar. These guys are good, bikes are reliable and the overall customer experience is highly satisfactory. If you need to rent a bike in Srinagar for either local sightseeing or for going to Ladakh, this is the company that you should be calling.
Best Bike Rental in Srinagar
Kashmir Travelogue is the company that I have rented bikes myself a few times before and was never disappointed with. Several people have traveled with this firm after reading my article and not one has come back complaining about them ever.
Kashmir Travelogue
Address:  Dr. Ali Jain Complex, M.A. Road, Lal Chowk, Srinagar
Phone:  9596410670, 7006029164Registered with J&K Governments' Tourism and Transport Departments
Motorcycles
Their motorcycles are all in excellent condition and well-serviced before they hand them over to their customers. The fuel efficiency of each bike is great and you won't have to keep refilling every few hours.
The seat or any other part is not worn out and they ensure that the bike will not break down anywhere during the ride. They primarily deal in cruiser bikes like Royal Enfield or Avenger but other motorcycles like Pulsar and Activa etc are available too.
Charges
A Royal Enfield 350CC will cost Rs. 1500 per day and Rs. 2000 per day for a 500CC motorcycle. Going for a smaller-engine motorcycle, like Avenger, will cost you about Rs. 1300 per day.  These rates are pretty much the standard all across Kashmir and Ladakh.
Considering the condition of the motorcycles and the gear provided, these charges are definitely competitive. Entire riding gear and spare parts provided are covered under this daily rent. If you want to rent a bike in Srinagar, you will have to pay around this amount no matter which agency you chose.
Gear
Below is a list of gear provided. There is no additional cost for these items (except for the ones I mentioned as chargeable) and it is all covered in your daily rent.
Luggage carrier
Helmet
Packing ropes
Maps
Medical kit.
Oil container
Puncture kit
Pillion helmet
Bungee cords
Bike net
Locks.
Binoculars(chargeable)
Digital Camera (Chargeable)
Spares
Below is a list of spares that you will be provided with the motorcycle, all covered under your daily rent except for the items mentioned as chargeable.
Tool Kit
Leg Guard
Chain Lock
Spark Plug
Clutch Cable
Brake Cable
Head & Tail Lamps
Chain Joining Link
Bike Fuses
Mobile Charger mounted on the handle (Chargeable)
Rain Coat (Chargeable)
Face Mask (Chargeable )
For both the gear and spare parts, the daily price is a great deal, considering the fact that most of the rental agencies will give you just the motorcycle and a helmet. They will charge you extra for everything else like even the luggage carrier.
Support
In case you need the motorcycle modified per your taste, that can be done as well for a marginal cost. If you are riding in a large group and would rather have a support vehicle with a mechanic accompanying you for your peace of mind, that service too can be arranged.
If you need any help arranging for camps or anything else to make your visit to Kashmir or Ladakh easy and memorable, let these guys know and they will be more than happy to assist in any way they can.
One Way Ride
In case you do not intend on returning via Srinagar then the same daily rental will apply with an additional charge of Rs. 7000 for handing over the bike outside Srinagar. This too is a standard charge and some of the agencies cost even as high as Rs. 10,000 to Rs. 15,000 for this facility.
Deposits
A security deposit of Rs. 20,000 for each motorcycle would have to be made which will be refunded at the time when you return the motorcycle. In case you are not able to pay this amount, you can pay Rs. 5000 and hand over your passport; both of which you will receive back at the time of handing over the motorcycle.
This charge too is pretty much standard all across Kashmir and Ladakh. No matter where you rent the bike from, you will have to pay this amount as a security deposit.
Documents required
In order to rent a motorcycle, you will have to produce a copy of your driver's license and a copy of valid identity proof like an Aadhar card or Voter's ID. For foreign nationals, an international driving license is required.
Best Bike Rental in Srinagar – Conclusion
If you need a reliable bike for your Kashmir or Ladakh ride; a bike that you can actually take without worrying about how it will perform or fear of any breakdowns; then you should give Kashmir Travelogue a try. They in my opinion are one of the most genuine bike rental agencies in Kashmir.
They have excellent mechanical support and provide amazing customer service. The bikes are all in perfect condition at the time of renting. The gear they provide is genuine and at a reasonable price.
Formalities are very simple and above all the price is very cheap as compared to others. Take my word, you will not be disappointed. Give them my reference and you may even get a discounted price.
I hope the information above on the best bike rental in Srinagar was of help. If you have any questions, please feel free to ask in the comments section and I will be happy to answer. You can also follow me on Instagram and chat with me live or subscribe to my YouTube channel and ask a question there.