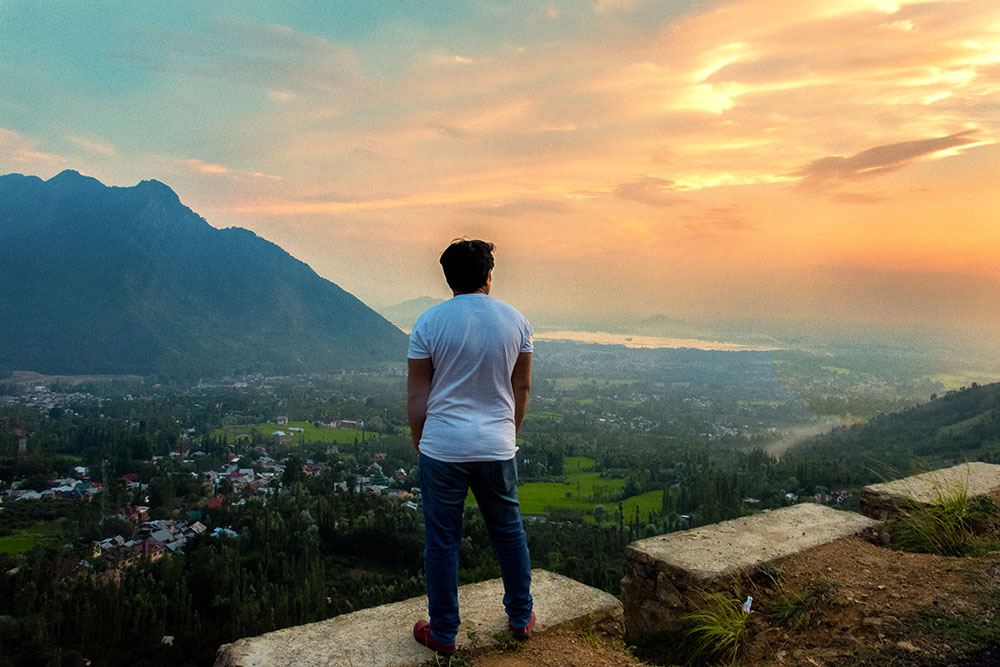 Astanmarg is not really a name that many tourists know about. As a matter of fact, even some of the locals I met in Srinagar didn't know where it was. What made me so curious about it though was the view that it offered.
Standing at Astanmarg in the evening and watching the sun go down was truly a magical experience. It is one of the best viewpoints in all of Srinagar and a must-visit place for anyone planning a trip to Kashmir.
Not many people go in that direction, primarily because it is not high on the list of places to visit in Srinagar. The majority of the folks you will find up there will just be the locals from Srinagar or any of the nearby villages.
This makes Astanmarg a perfect place for anyone wanting to spend some time away from the crowd with a view that will remain in your memories for a long time.
How can you plan a trip from Srinagar to Astanmarg is what we will talk about in this article.
About Astanmarg
Astanmarg is basically a viewpoint, a meadow on top of the Zabarwan range surrounded by a couple of small villages. You drive up the mountain on a steep and narrow road and reach a point where the road ends, leaving you with an amazing view of the entire Srinagar city and Dal Lake.
It is true that you can get similar views from other places as well, like the Shankaracharya temple, Hari Parbat Fort, and Pari Mahal. But what really sets Astanmarg apart is that it is largely unknown and thus never crowded.
At all the other places in the city, you will be with a lot of other tourists and locals. But at Astanmarg, you will be sitting all by yourself, in total peace.
The second factor that sets Astanmarg aside is the panoramic view that it offers. At all the other places, your view is mostly limited to Dal Lake and the houses around it.
But from Astanmarg, you really get a wide view of the entire city, Dal Lake, the Golf Course, and the mountains of the Zabarwan range surrounding it from all sides.
There are different pronunciations of the name as well. When I was asking people for directions, some of them called it Astaanmarg, some Hastanmarg, and others Hastaaaanmarg.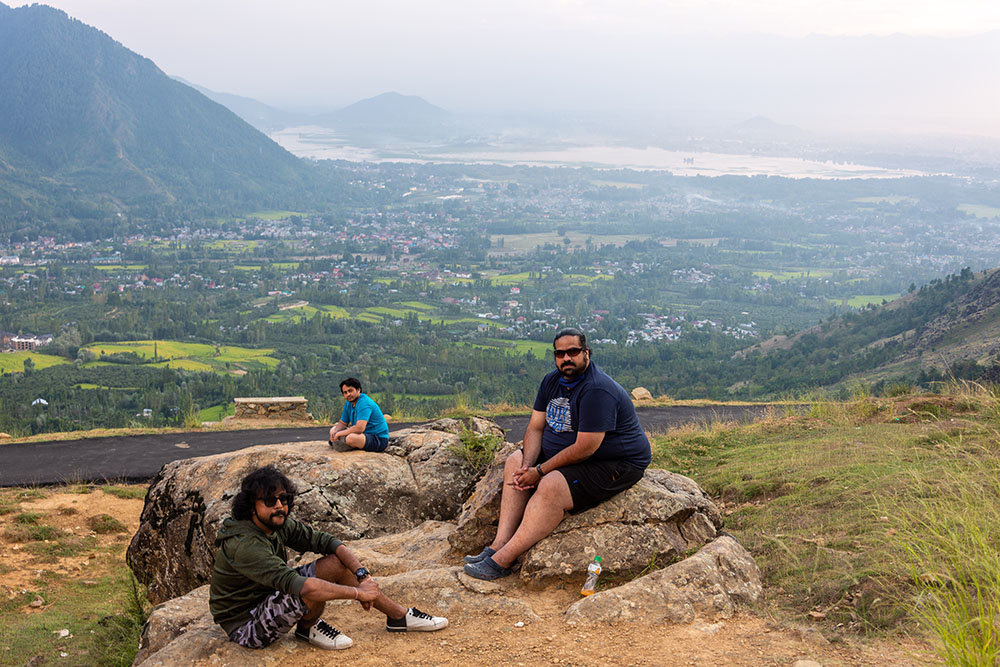 Where is Astanmarg
Astanmarg is located at a distance of 10 kilometers from Shalimar Bagh, 13 kilometers from Nishat Bagh and Dal Lake, and about 25 kilometers from Lal Chowk in Srinagar.
How to reach Astanmarg
Depending on where you were staying in Srinagar, in order to reach Astanmarg, you will first have to get to Shalimar Bagh. Though you can take a couple of other routes as well, this is the fastest and the best way to approach the viewpoint.
From Shalimar Bagh, turn right and continue driving towards Harwan Garden for about 4 kilometers. After Harwan, the road then turns narrow and steep for about 6 kilometers.
Continue driving up to the point where the road ends and you have arrived at Astanmarg.
Until Harwan Garden, the way is easy to navigate. But after that, it can get confusing. My advice will be that you keep Google Maps on. At several places, it would seem that you have come the wrong way but that is how that road is.
You will be passing through narrow streets at several places and it will be a steep incline throughout. See the video below to get an idea.
One time when my mobile data was not working, I had to rely on directions given by the locals. But in the end, it all just got way too confusing and I returned back to Srinagar without reaching Astanmarg. So if possible, keep Google maps handy.
What to see
The view, as I mentioned above, is what you go to Astanmarg for. Other than that, you can cover a couple of other places either while going to Astanmarg or coming back.
Nishat Bagh & Shalimar Bagh – Thess Mughal gardens need no introduction. You can easily include both of them in your trip to Astanmarg.
Harwan Garden – This is one of the lesser-known gardens of the Mughal garden but definitely worth a visit. You can cover this as well while visiting Astanmarg.
Fakeer Gujri – This is another meadow that is located quite close to Astanmarg. It also serves as a camping site and has lush green pastures. If you are into camping, this is one of the best places in Srinagar to pitch your tent.
Astanmarg Paragliding
The Tourism department of Jammu and Kashmir introduced Paragliding at Astanmarg in 2013. It hasn't really caught up that well though yet and as far as I know, there are no paragliding agencies that are readily available at the starting point. You will have to book your tour in advance in Srinagar.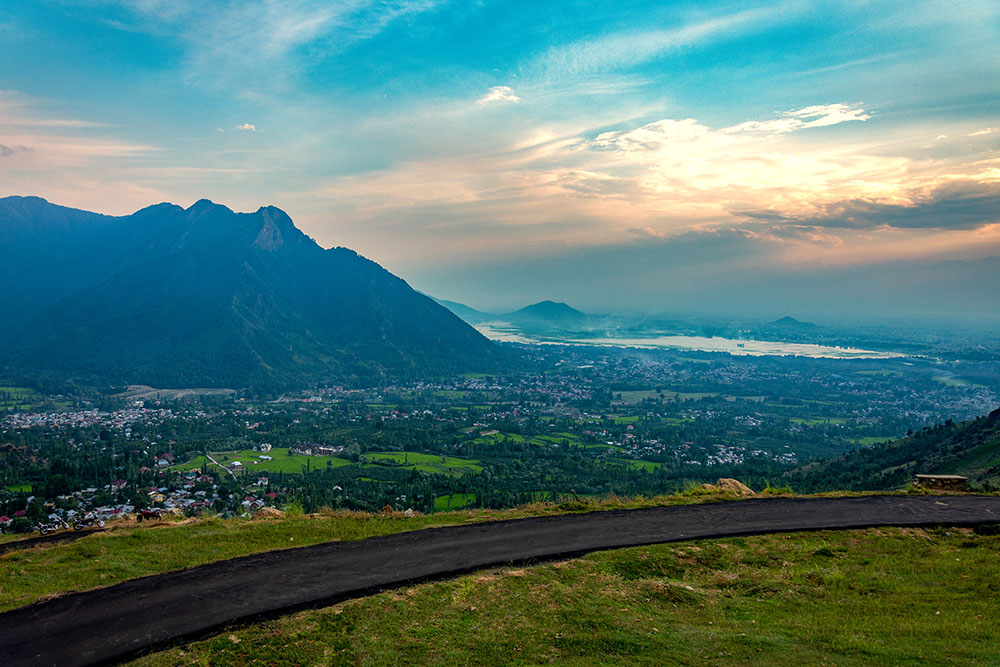 Best time to Visit Astanmarg
In my opinion, the best time to be at Astanmarg is around sunset. This is when you will get the best view. You can go during the daytime as well but it will just be hot and the sun will be harsh.
On top of that, the view around noon is not that great and there will be a lot of haze over the city.
I haven't been there in the morning but I think being at Astanmarg at the time of sunrise can also be a good option; if you can manage to be out of bed so early and drive all the way up.
Sunset at Astanmarg
You do not exactly get to see the sun going down. As you can see in the pictures below, the view is actually hidden behind a mountain. But at the same time, it creates an amazing effect of the orange light illuminating the entire city.
Put that together with the green pastures, the blue of the sky, a lake in distance, silent valleys, and small villages on the slopes of the mountains, and you really get a beautiful view.
Mobile Network & Data Connectivity
The place is on the outskirts of Srinagar City. Irrespective of which network you were on, you will have full reception and good data connectivity at Astanmarg.
Conclusion
This is a must-visit place in Srinagar that unfortunately does not get much attention. If you were going to spend a couple of days in the city, I will highly recommend spending some time at Astanmarg.
I hope the pictures and information above on Astanmarg were of help. If you have any questions, you can contact me on Instagram and I will be happy to answer. You can also consider subscribing to my YouTube channel and asking a question there.