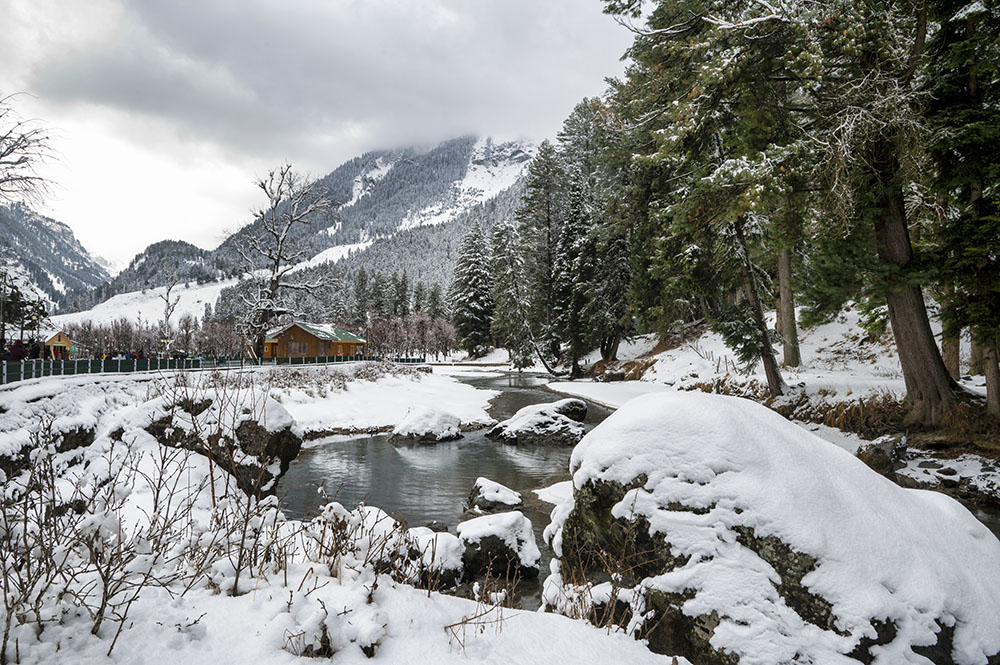 Pahalgam in winter is among the most charming and alluring sights that one can see in Kashmir. Once the falling snow turns the streets of this small town white, it starts to look like a place straight out of a postcard.
The aura of the surrounding mountains, the curves of the frozen Lidder river, and the flowery flakes of the snowfall make it look all the more fascinating. In short, it is one place that you must not miss if you are planning a winter trip to Kashmir.
In this post, I will provide complete information on visiting Pahalgam in winter. The details below include insights on the overall cost of the trip, your accommodation choices, the best way to reach, accessibility to certain areas, and your sightseeing options.
For a complete travel guide on visiting Kashmir, you can take a look at How to Plan a Trip to Kashmir Valley. For getting the best hotel rates, and taxi charges, and to organize your trip to Kashmir, you can speak with Kunal @ 9910 402 252.
Below is a short video of our trip from Srinagar to Pahalgam in winter. You can also take a look at the video to get more details on planning your trip.
How to Plan a Trip to Pahalgam in Winter
I will start with how you can reach Pahalgam in the winter and then move on to the other details. If there were any questions that you could not find answers to in the post below, you can always contact me on Instagram and I will be happy to assist.
How to reach Pahalgam in Winter
Pahalgam is one of the most easily accessible regions of Kashmir and it remains so in the winter season as well. Depending on how you were traveling, you can get there either by your own vehicle, taxi, or even public transport.
How to reach Pahalgam from Srinagar
Once you have arrived in Srinagar, the only way to reach Pahalgam is by road. There is a helicopter service available as well but it is mostly during the time of Amarnath Yatra only.
If you were traveling by your own car or bike, you can follow the route mentioned below to get to Pahalgam.
Srinagar – Qasim Bagh – Pampore – Awantipora – Anantnag – Mattan – Hassan Noor – Aishmuqam – Pahalgam
This is the most commonly used route for the journey. From Srinagar, you drive through the city, cross Qasim Bagh, and reach NH44 (Jammu Srinagar Highway).
From there, you start driving towards Pampore and Awantipora. You will not have to drive through the towns though. Both Pampore and Awantipora will be on your left but you will remain on the highway and drive past them.
As you get closer to Anantnag, you exit the highway and take the single-lane road to your left. You will then drive through the busy towns of Anantnag, Mattan, and Hassan Noor to reach Aishmuqam.
Aishmuqam is the place where the famous qawwali 'Bhar do Jholi Meri' in Bajrangi Bhaijaan was shot. The dargah sits on the top of a hillock and is visible from the road. If you had time in hand, you can take the uphill road to the shrine and pay a visit.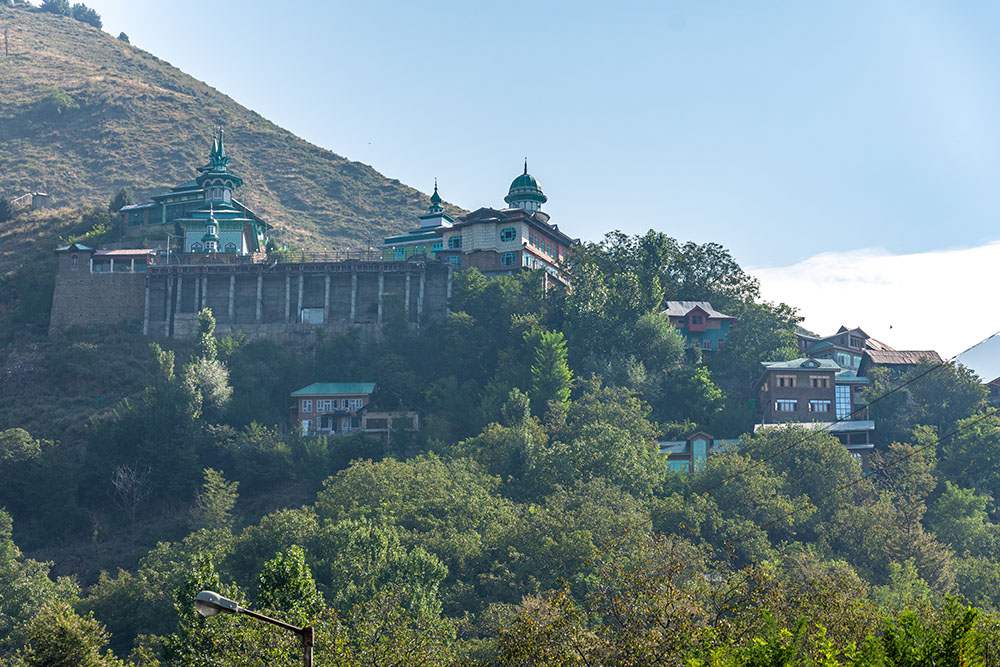 After Aishmuqam, continue driving along the Lidder River for another 40 kilometers to reach Pahalgam. There will be a check post on the way, a little before Pahalgam town and you will have to pay Rs. 50 as an entry fee. The views will also improve after Aishmuqam and the drive will become more enjoyable.
Road Condition
The condition of the road on this entire route is a mix of good and average. There are hardly any bad sections in between and the journey can easily be completed in about 3 hours.
If it was snowing on the day of your travel, you will have to drive very carefully. This entire stretch including NH44, Avantipora, and Anantnag receives significant snowfall, especially in the month of January. Take a look at the video below to know what I am talking about.
If you weren't confident in your driving skills, then you should either postpone your trip to Pahalgam in winter by a day or two. Or you can rent a local taxi and leave your vehicle parked at the hotel.
Private Taxi
A taxi will come in two forms. You can either rent a private taxi or travel by a shared cab. A better way to manage your trip by cab in Kashmir is to book one taxi for the entire trip. That way, you will be able to reduce the taxi cost a little.
If you were looking for a private cab, it will cost you anywhere between Rs. 2500 to Rs. 3500 for a drop to Pahalgam, depending on your negotiation skills. For more details, please take a look at Taxi Rates in Srinagar.
The important thing to note here is that a taxi from Srinagar will only be able to drop you off in Pahalgam. You cannot use the same cab for local sightseeing. The local taxi union restricts the Srinagar cab from taking tourists to places like Betaab Valley, Chandanwari, or Aru Valley.
For visiting local attractions in Pahalgam, you will have to rent another cab from Pahalgam itself. Depending on the places you want to visit, this will cost you another Rs. 2000 to Rs. 4000 approximately. For more details on the rates, please take a look at Pahalgam Local Sightseeing Taxi Rates.
Srinagar to Pahalgam Bus Service
The direct bus between Srinagar and Pahalgam remains available only during the Amarnath Yatra season, from late June to early August.
This bus starts from Pantha Chowk in Srinagar and reaches Pahalgam via the Anantnag route that I mentioned above. You can also look for a bus to Anantnag from Dal Gate but the chances of finding one are very little.
For the rest of the year, if you were traveling by public transport, you will have to break your journey into two parts. From Dal Gate, you will first have to look for a bus for Anantnag. These buses are privately owned and operated and there is no set timing for them.
From Anantnag, you will then have to look for another mode of transport for Pahalgam. Regular buses are available throughout the day and like Srinagar, they do not stick to any specific timings. The fare per person for a journey from Srinagar to Pahalgam is Rs. 150 approximately.
Shared Taxi
If you did not find a bus for either Anantnag or Pahalgam, then your next option will be to travel by shared cabs. The frequency of the shared cabs is much better than a bus in Kashmir and you will have no trouble finding one.
They work in the same manner as a bus. You will first have to look for a shared cab for Anantnag from Gate in Srinagar. Once you get to Anantnag, you will then board another shared cab for Pahalgam. The total fare will be around Rs. 200 per person.
Rented Bike
If you wish to, you can also rent a bike in Srinagar. The benefit of a bike will be that you will not have to rent another taxi in Pahalgam. The rent of a bike will be around Rs. 1500 to Rs. 2500, depending on the bike you chose.
For renting a bike in Srinagar, you can contact Faisal at 9596 410 670. For more details, please take a look at How to rent a bike in Srinagar.
Please note that a bike is not an ideal mode of travel while traveling to Pahalgam in winter. The weather will be very cold and if there was snow, the roads will also become risky.
You should only do this if you have plenty of experience riding a bike in the snow. Even most of the bike rentals in Kashmir close shop during the winter season.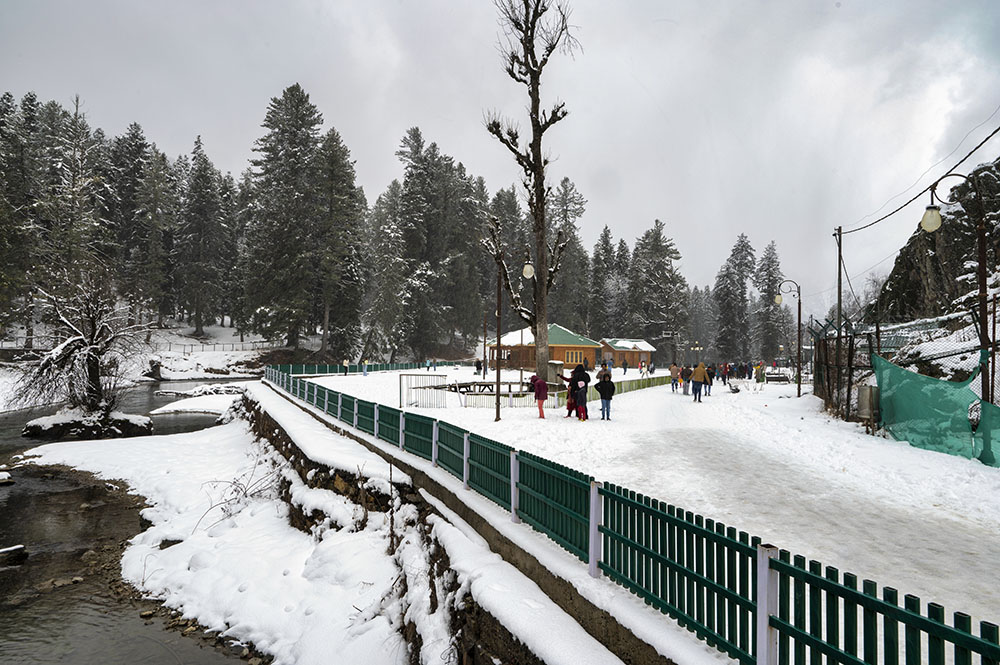 Places to Visit in Pahalgam in Winter
The four major tourist attractions of Pahalgam are Betaab Valley, Chandanwari, Aru Valley, and Baisaran Hills. There are several other places as well but these are the four destinations that find a place in every tourist's itinerary.
Your sightseeing in Pahalgam in winter will entirely depend on the month of your travel. Can you visit all of these four destinations and a few others? Let us take a look.
For complete information on all tourist places in Pahalgam, please take a look at Places to Visit in Pahalgam & Things to Do.
Betaab Valley in Winter
Betaab Valley remains open for all 12 months, including the peak winter season. It is located at a distance of about 7 kilometers from Pahalgam and is one of the most visited places in all of Kashmir.
The entire stretch between Pahalgam and Betaab Valley receives heavy snowfall in the winter season. But at the same time, the snow-clearing operation also continues.
So irrespective of the month of your trip, Betaab Valley is one place that you can definitely include in your plan. It looks quite beautiful in the winter season and will not disappoint you.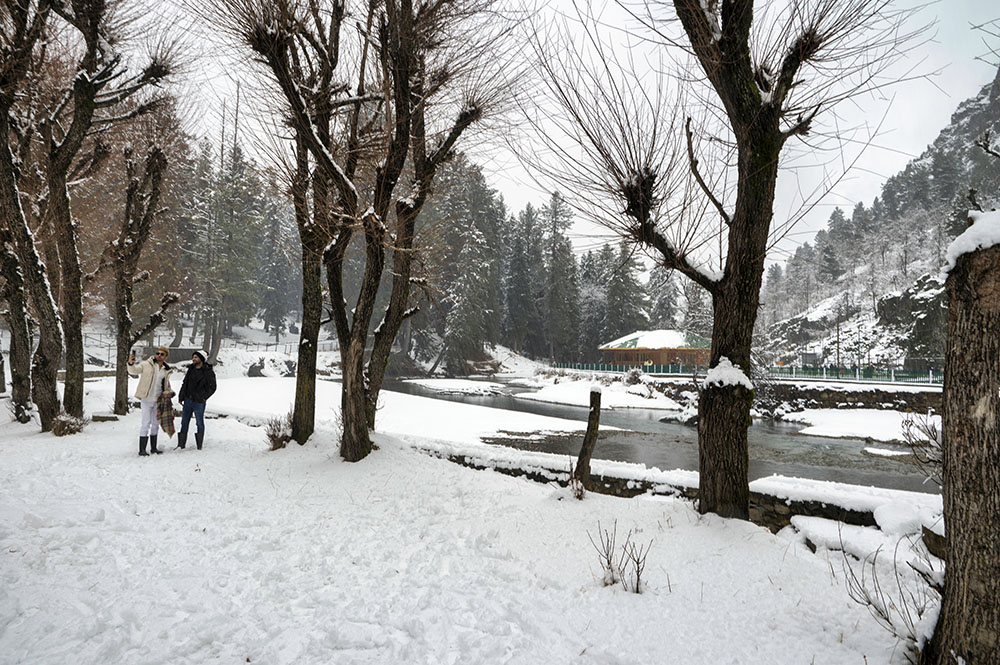 Chandanwari in Winter
The road that leads to Betaab Valley continues uphill for another 8 kilometers and ends at Chandanwari. You will however not be able to reach here during the peak winter season. The snow-clearing operation only remains active till Betaab Valley and not beyond that.
What is Chandanwari? It is basically the last point that is accessible by road for Amarnath Yatra. The road ends in Chandanwari and after that, you start trekking to Amarnath.
The 16 kilometers long road from Pahalgam to Chandanwari is a steep climb. Because of the altitude, it snows heavily in this region and it gets difficult to keep the route open in January and February.
So if you were traveling in November, December, and late March, then yes, you can go to Chandanwari as well. But if your trip was planned for January, February, or early March, you will have to keep it out of your itinerary.
Aru Valley in Winter
Much like Chandanwari, Aru Valley also remains inaccessible from January to early March. It is located only about 12 kilometers from Pahalgam but the road is so steep and narrow that it becomes risky to be on it in winter.
You can include Aru Valley in your plans in November, December, and late March but not if you were planning a trip in January, February, or early March.
Taxi Services
I should also mention here the taxi services in Pahalgam and how you can save yourself from being scammed. There is a taxi union in Pahalgam, a proper taxi stand, and a booking counter as well. The taxi rates to all the local sightseeing places are fixed.
But the thing is that when you ask them for a taxi, you may get told that all the destinations are open. Let me give you an example. Let us say that you asked for a taxi to Betaab Valley and Chandanwari.
The person at the ticket counter will charge you for both places and align a taxi driver with you. They will not tell you that the road is not open all the way to Chandanwari.
The taxi driver will take you to Betaab Valley and then maybe 2 more kilometers towards Chandanwari. So you overpaid thinking that you will go to Chandanwari but only visited Betaab Valley. There will be no refund if you argue about it later. You will just waste your energy and time.
Same way, if you booked a cab for Aru Valley, the driver will only take you a few kilometers on that road and bring you back. He will not drive the entire 12 kilometers to Aru but they will charge you in full.
So when you are booking the cab and the person at the counter tells you that the road is open, make sure you talk to him and clarify that the road is open all the way.
Make sure you tell them that you do not want to be brought back midway or after a few kilometers. They fool tourists like that over there.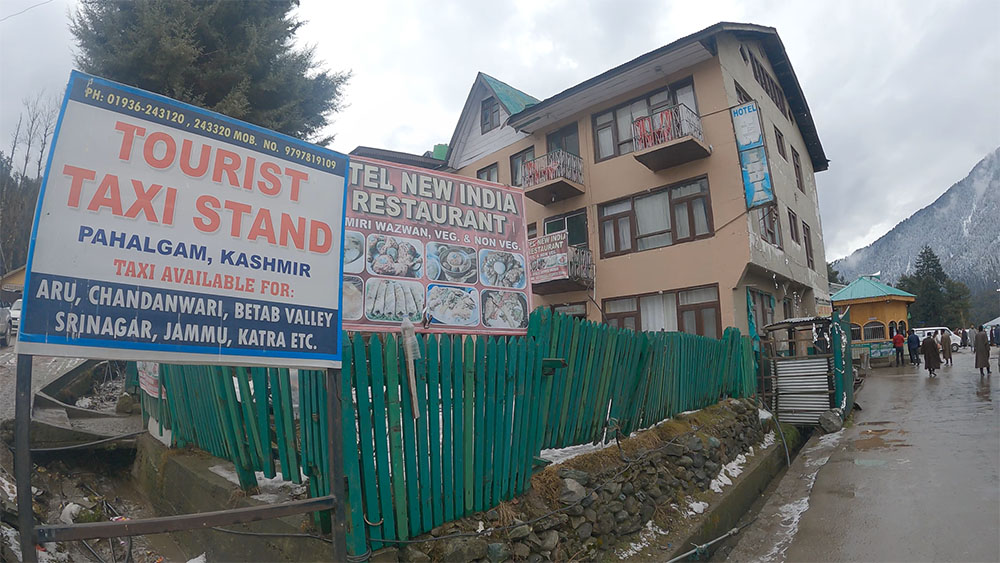 Baisaran Hills
Baisran Hills is a trek to a meadow-like area. You can either walk on your own or rent a pony to take you there. It takes about 3 to 4 hours for a return trip to Baisaran Hills.
The trek remains open in the winter season as well but can get risky after a snowfall in January and February. You should either rent a pony or take a local guide with you if you want to go on foot.
If you rent a pony, expect the charges to be around Rs. 3000 per pony. It will depend on your negotiation skills as well but this is what they usually charge in the winter season.
Other Places to Visit
Some of the other places that you can visit in Pahalgam in winter are Aishmuqam, Pahalgam Golf Course, Lidder Amusement Park, and Sun Temple.
Sun Temple is located near Anantnag, about 38 kilometers before Pahalgam. Aishmuqam is also located on the way, about 20 kilometers before Pahalgam. This is the place where the famous song 'Bhar do Jholi Meri' from the movie Bajrangi Bhaijaan was shot.
Pahalgam golf course and Lidder Amusement Park are located within Pahalgam town only and remain open in winter as well.
Now, these were some of the most popular tourist destinations in Pahalgam. There are a few others that are not so popular but definitely worth visiting. For a complete list, I will recommend taking a look at this post Places to Visit in Pahalgam and Things to Do.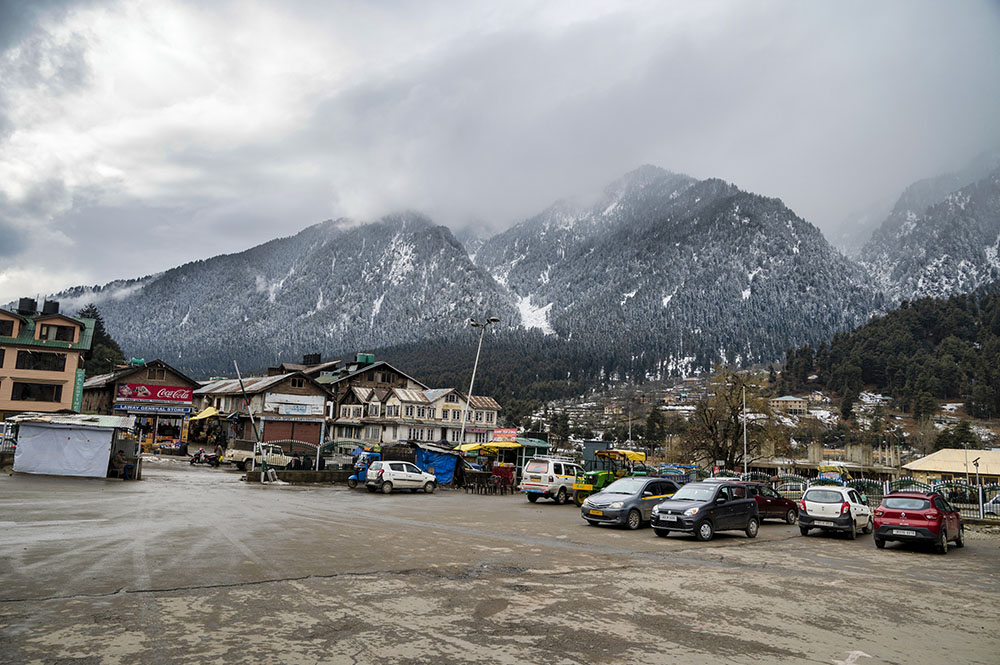 Things to do in Pahalgam in Winter
Apart from enjoying the natural beauty of the place and spending some time in peace, you can indulge yourself in some winter sports, of which Skiing is the major one.
I have seen Skiing being conducted in Betaab Valley but mostly amateur and the kind that tourists enjoy for an hour or two. If you are an advance or professional skier, then Gulmarg is the place that you should go to and not Pahalgam.
If there was a lot of snow in the lower areas, there could be skiing available on the golf course as well. I have also heard of Skiing being arranged in Aru Valley. But this will depend on whether it was even accessible at the time of your trip.
I cannot confirm this but supposedly there is a two-day snow festival in Aru Valley. I have seen the one that happens in Gulmarg but never in Pahalgam though, not sure if it is still happening.
Riding on snow scooters (ATVs) and wooden sleds are two other popular activities in winter. If you are in for more adventure and are physically fit, then you can trek to Baisaran Hills.
Where to Stay in Pahalgam in Winter
The best place to stay in Pahalgam, in my opinion, is Aru Valley. But since that remains closed during the winter season, you will have to look for a hotel in Pahalgam town only.
There are no hotels near Betaab Valley either. Baisaran Hills is a trek so accommodation there is also not an option.
But being the popular tourist destination that Pahalgam is, the entire town has a lot of hotels and guest houses to choose from.
The only thing that you should keep in mind is that the hotels here can be a little expensive in winter. Lately, the prices have been ridiculously high. Do not be surprised if you are asked to pay between Rs. 7500 to Rs. 15000 for very basic hotels.
Whether or not to book in advance is entirely up to you. My recommendation will be that if your trip is in January or February, you should call ahead and book your stay. Hotels in these months get occupied completely and you may not find a place to stay at all.
Before you book a hotel, please make sure you inquire about their heating arrangements. The room should have heaters in it. If they say that they will give you hot water bottles, do not stay there and look for another hotel.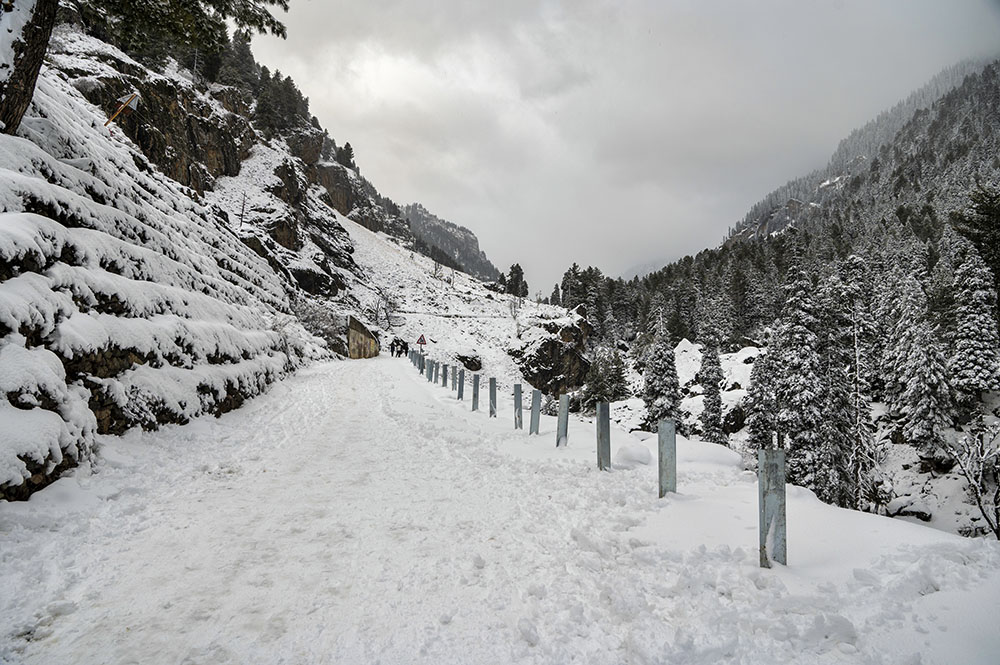 Clothes to Pack for Pahalgam in Winter
For a winter trip, you will have to pack all heavy woolen clothes, a windproof jacket, gloves, caps, thermals, and woolen socks. You should expect the average temperature below 0 degrees and pack accordingly.
If you do not have snow boots then you can bring your normal shoes as well. Just make sure that pack the ones that are water-resistant and are at least ankle-high to prevent any snow from entering the shoes.
If you want to go playing around in the snow, then snow boots are available for rent in almost all of the places where it snows.
Good quality warmers that you can wear underneath your clothes will be highly beneficial. The second most important thing is to pack a high-quality, warm, and windproof jacket.
For more information on this topic, please take a look at Clothes for Kashmir Trip – What to Pack.
Mobile Network & Data Connectivity
All cellular companies have good coverage in Pahalgam and you will get 4G data as well. No matter which network you were on, your phone will work fine in Pahalgam.
The reception will hold strong in Betaab Valley and Aru Valley as well but you may lose network in Chandanwari sometimes. There is no reception in Baisaran Valley or Tulian Valley though.
All the hotels here have free wifi available. BSNL currently provides internet services in Pahalgam. The last time I was there, I heard that Airtel and Jio were planning to bring Fiber internet to Pahalgam after which it will only get even better.
For more information on this topic, please take a look at Mobile Network in Kashmir & Data Connectivity.
Best Time to Visit Pahalgam in Winter
The best time to visit Pahalgam in the winter season is the months of January and February. This is when the entire town is covered with a thick sheet of snow and looks like a winter wonderland.
You can plan a trip in November and December as well but these are mostly dry months. The weather will be very cold, the scenery will be dull and there won't even be any snow around.
Pahalgam usually starts to receive snow by the end of November but it is mostly in the upper areas, like Aru Valley and Chandanwari. It could snow in the main town as well but the intensity will be very low.
Mostly, in these two months, it will snow a few inches and will melt away in a matter of hours. The snow starts sticking to the ground only toward the end of December or early January.
A winter trip to Pahalgam can also be planned in March but try to do that in the early part of the month. This is when you will find a lot of snow in the upper reaches of the valley.
For more information on this topic, please take a look at When is the Best Time to Visit Pahalgam.
Conclusion
That is mostly all that you need to know about visiting Pahalgam in winter. I hope the information above was of help. If you have any questions, you can contact me on Instagram and I will be happy to answer. You can also consider subscribing to my YouTube channel and asking a question there.
This error message is only visible to WordPress admins
Error: No feed found.
Please go to the Instagram Feed settings page to create a feed.