I got to know about the Zanskar region only after I joined BCMT. Several beautiful logs from many other seasoned travelers inspired me to plan a Zanskar Valley bike trip myself. It was a great experience and turned out to be one of my best rides ever. The post below is a detailed log of the journey.
This remote region is 1100 km away from my home in Ludhiana. The problem was that all the friends I made through BCMT had already visited the region. Some people had been there twice even. Thus, I had no experienced company to join me and the trip had to be done solo.
My regular friends are into the luxury kind of vacations; if you know what I mean. Roaming on broken roads in far off lands doesn't catch their fancy one bit. So it was a no go from their side. My wife and sons wanted to join in but with school, tuitions, music classes, and home responsibilities, that couldn't transpire either.
That left Blor Betty – my trusted Duke390 daily ride and me alone to make the trip.
After much cajoling, convincing, and finally getting the blessings of my parents, approval of the high stepper wifey, blessings from the Lord above, finally on a cool Sep29 Blor Betty and me rolled towards Zanskar Valley.
Zanskar Valley Bike Trip
Preparations for the trip began immediately after approval from parents. The first and most important part was to get the motorcycle ready. Saddlebags were brought out from storage and packed by wifey. I already had those from my previous rides. The bike was serviced and got a new clutch, chain sprockets and chain, aluminum 22mm self-made handlebar risers, and a new rear tire.
I also packed in a puncture repair kit and a USB driven air compressor keeping in mind the bad roads from Panikhar onward. With all that done and taken care of, it was time to start the trip. For more details on this topic, you can take a look at How to Prepare your Motorcycle for Ladakh Trip.
Time needed for a Bike Trip to Zanskar Valley
I think it will entirely depend on where you were coming from. I was traveling from Ludhiana and completed the ride in 8 days. If you were coming from Delhi, you will need at least 9 days. You should calculate it like this. From Srinagar, you will take 2 days to get to Padum and then another 2 days for the return journey. You will spend at least a day or 2 in Padum as well. So that is 5 to 6 days. Any time you spend traveling to and from Srinagar will be in addition to that.
Places to visit in Zanskar Valley Bike Trip
Zanskar Valley has a long list of tourist attractions. Between Srinagar and Padum and then around Padum, there are numerous places that will catch our attention. For a complete list, please take a look at Tourist Places in and around Zanskar Valley.
Day 1 – Ludhiana to Srinagar
I left home (Ludhiana) at 6.15 am after a light breakfast. The start of my Zanskar valley bike trip was a smooth one. Cruising at 110-120 kmph, I crossed Udhampur at 11 am. I finished my lunch at Peerah at 12 pm and straight away ran into a traffic jam due to the ongoing four-lane construction work on the highway.
I crossed Banihal only at 6.30 pm and traveled onward to my homestay at Srinagar.
Srinagar is a big city. With a massive traffic jam on Baramulla road, it took me almost 50 minutes to reach my destination. I had been here before but if it was going to be your first time, I will highly recommend spending a day or two in the city. There are a lot of places that are worth visiting in Srinagar. For more details, please take a look at How to Plan a Trip to Srinagar.
The first look of the Kashmir valley is always enticing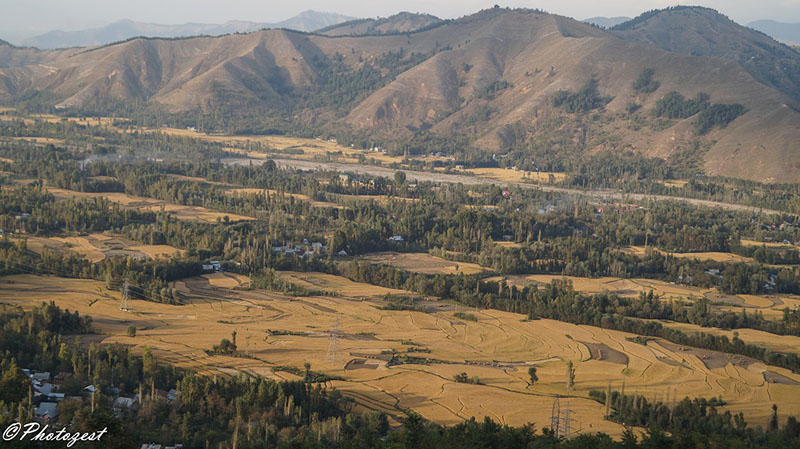 "The Homestay" is a place owned and run by S. Jagjit Singh (9419015555,7006535443). It is a beautiful clean cozy place to stay for the night. After a bath to wash off all the road grime, a sumptuous dinner, and a long conversation with Jagjit Ji, it was time to call it a day.
Day 2 – Srinagar to Panikhar
I slept well and was up at 6.30 am the next morning. I was fully fresh and ready to roll on the road to Kargil. Delicious Parathas were served and savored as breakfast from Jagjit Ji's kitchen. His hospitality was exemplary. It is no wonder that he is the official publicity secretary for the Kashmir Hotel and Restaurant Federation.
After a delicious breakfast, I was on the road at 8.15 am. The city of Srinagar was not fully active when I left. I made good progress to quickly cross the main areas, skirt the Dal lake, and onwards Sonmarg via Ganderbal. Zoji La pass was totally dry and was quickly covered. Soon I was in the Ladakh valley.
While at the top it is always a pleasure to see the birth streams of the river Sindh that flows towards Kashmir and another river that flows towards Ladakh. The charms of nature.
The weather was overcast with spells of sunshine in between. The roads were relatively empty.  I was enjoying having them to myself. I spent a lot of time stopping and soaking up nature; to feast my eyes on the beautiful surrounding. But I guess that was the purpose of the trip.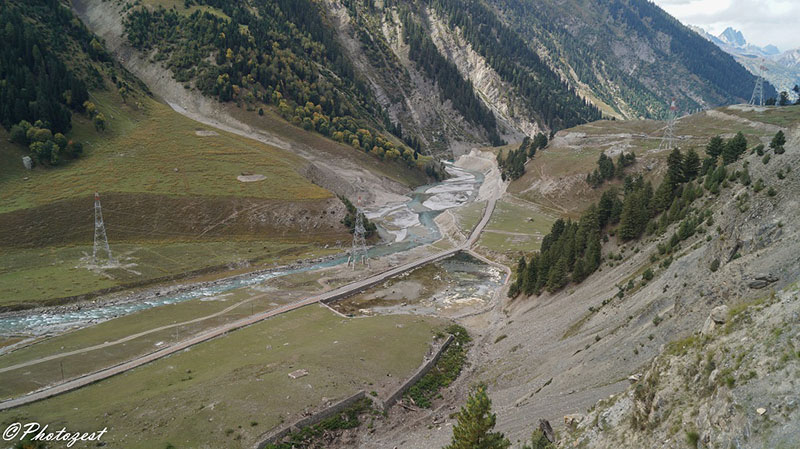 At the Gumri Shiv mandir, I paid my respect to the deity while on the move and stopped at the Pandrass check post to enter my details. From there until Dras was a speeding whir.
Also Read: Suru Valley – A COMPLETE Travel Guide & Itinerary
Dras
Dras was fully filled with festivities with lots of people leaving for their pilgrimage-Umrah. There was a lot of hustle and bustle on the road here. I decided to stop for lunch here while enjoying all the liveliness in the town.
I spent the next full 2 hours and multiple cups of coffee talking to the local people and taxi drivers at the Drass dhaba. It was really fascinating to hear their tales of going on the Umrah.
Then at about 1.30 pm, I noticed the sky was even more overcast. This was a sign to move on and resume my journey to Kargil.
It is always such a pleasure to view this half of Kargil city across the river Sindhu. Here, while parking my bike on the road shoulder, the side stand sank into the sand and the bike fell on me. I had a difficult time extracting myself from under it all by myself.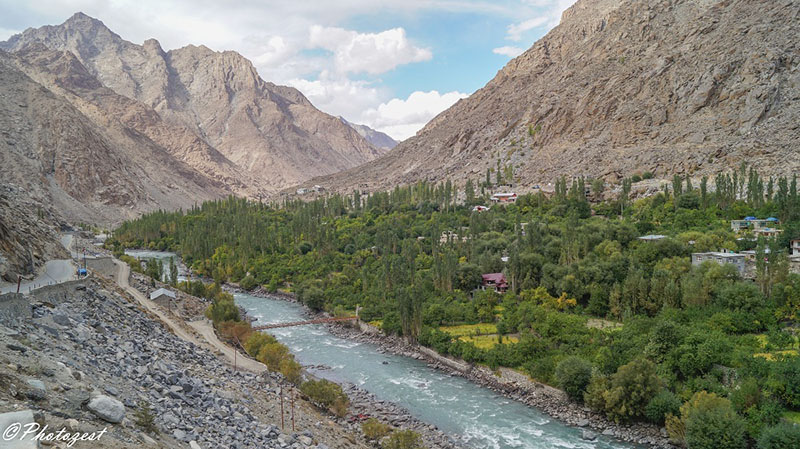 Kargil
At Kargil, I stopped at the gas station to refuel my bike. I was carrying a couple of coke bottles and got those filled as well with extra fuel.
At the petrol pump, the attendant was helpful and gave me info about the Suru valley and the villages on the way. I decided I will halt for the night at the Panikhar JKTDC guest house. As per the attendance, the road until Panikhar was all tarred and smooth (and it indeed was as I was to find out later).
The Suru valley was bewitchingly beautiful with autumn in full bloom. I rode the scenic road with multiple stops on the way to savor the views and to talk to the warm people of Suru.
Panikhar
At Panikhar, I went straight to the JKTDC guest house but the caretaker was not there. While waiting, the lady from the house just opposite the guest house offered me a stay in her house. She quoted Rs. 500 including dinner and breakfast and I accepted readily.
The house belonged to a retired govt teacher and had a clean and airy ambiance. I was ushered into their best room and served salty tea, also known as 'Kashmiri Chaai'.
I got cleaned up and sat with the family for an early dinner. We had lots of small talk with all the members of the family and I finally retired to my room at 8.30 pm.
Also Read: Zanskar Valley Taxi Rates
Day 3 – Panikhar to Rangdum
I had a very sound and refreshing sleep and was woken by the house owner Mr. Aslam at 7 am with a hot cup of tea by my bedside. I got dressed and went outside.
It was cold and the sun was still to rise from behind the mountains. But this a magpie and a little lamb kept me company. The magpie was super energetic and the lamb was the epitome of docile.
Today the journey was to be only till Rangdum. It is at a distance of about 70 km from Panikhar. So I started late and took it nice and slow to absorb the beauty around me.
It is after crossing the village of Parkachik and the Parkachik glacier that the real isolation of this region hits. The terrain changes from terraced fields to rolling wetlands within the valley. It also marks the shifting of cultures from predominantly Shia Islam to Buddhist.
The beautiful Suru River with its various shades of turquoise blue keeps you constant company.
Also Read: Kargil Taxi Union Rates
Rangdum
At Rangdum, I stopped in front of the La Himalaya Guesthouse. I found the rooms neat and clean and so took a room for Rs. 1200. This was the steepest tariff of the entire trip.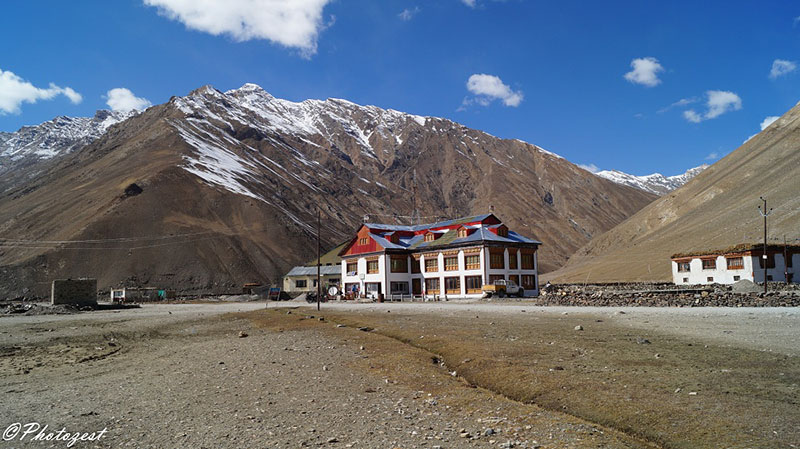 The owner Dorje was a talkative guy. He was answering all the questions I was shooting at him and this played a big role in my booking the room.
After shifting my saddlebags to the room and roaming by the Suru riverbank, I came back to have a lunch of dal-chawal. It was nothing tasty but was piping hot.
The time was slightly past 3 pm and I had an entire evening left to myself. Just then, another rider on a modified bike walked in. He was wearing a motocross helmet, motocross shoes, and all. A nod and a smile at each other and introductions were exchanged.
We got talking. He introduced himself as Madhusudan. He was doing a practice run before participating in the Raid De Himalaya rally. We bonded well and rode together for the next 4 days.
Madhu also booked himself a room in the same guest house. We had food and were standing in the sun outside the guest house when we were invited by Dorje for a trip to the Rangdum Gompa in his pick up truck.
Also Read: Kargil to Padum Travel Guide
Rangdum Gompa
The man Dorje was no less than a rally driver himself the way he hustled and slid his Tata207 pick up on the loose gravel road. I hung on for dear life for the 5 minutes it took us to the top of the Gompa from the guest house. The return journey was done in less than 3 minutes. One wicked ride for sure.
The road leading to Rangdum after the Saru police outpost. The vastness and emptiness personified. Clouds hugging the peaks in the distance.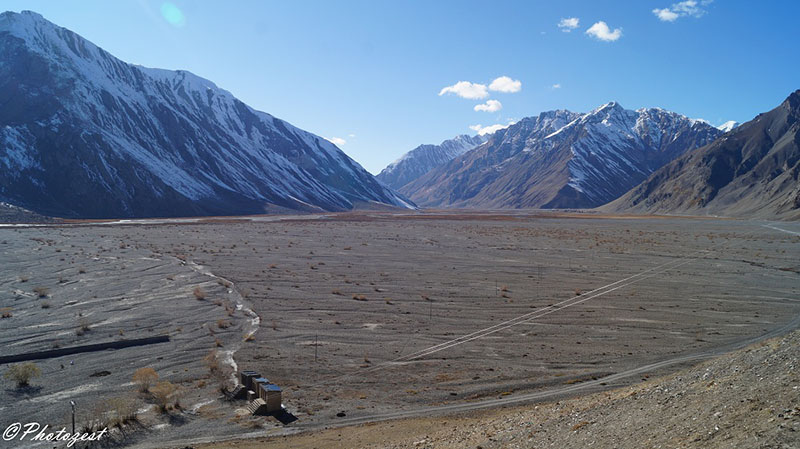 Gompa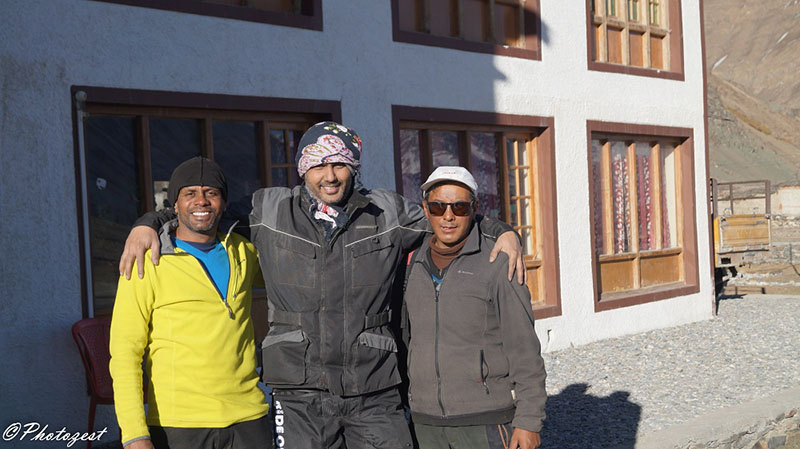 The ride to the Gompa caused me to be hit by AMS. As the evening descended, the headache was painful enough for me to take a Paracetamol tablet and go to sleep. The landscape and the scenery got amazingly beautiful as the sun started to go down. I wish I had stayed up but I just did not feel like doing anything else. My headache was killing me altitude sickness was taking over so I just decided to rest.
I was woken up by Dorje for dinner at 9 pm. I still was not feeling and did not feel like eating anything at all. Somehow I managed to get out of the bed but just had a single Roti and went back to sleep. That marked the end of the day for my third day of the journey. The destination for tomorrow was Padum, the very heart of Zanskar Valley.
Day 4 – Rangdum to Padum
I woke up the next morning at around 8 am with a queasy feeling in my stomach. As soon as I got out in fresh air, I immediately vomited out the 2 glasses of warm water I had in my room. This however put my stomach at ease and I started to feel much better.
Two more riders on Bullet 500 had stopped at the hotel the previous evening and I got acquainted with them over breakfast.
It was cold enough in the night that the water gully flowing in front of the hotel had frozen in the night. As the sun shone brighter it started to thaw bit by bit. It was just so beautiful to watch this happening.
After settling the bills with Dorje and a breakfast of a slice of bread with butter, Madhu and I were on the road to Pensi La Pass, the gateway to Zanskar.
There was a lot of army training activity going on in the area and we waved and saluted our soldiers sweating it out in the rarefied air. In the shadow area of a tall mountain, the top of the Suru river was frozen and the river water was flowing beneath the thin sheet of ice
Also Read: Zanskar Valley – A Complete Travel Guide & Itinerary
Pensi La Pass & Drang Drung Glacier
The pass itself was beautiful with clean snow. We spent a little time clicking pictures there and then proceeded on.
On the way down, we were awestruck by the beauty and sheer magnificence of the Drang Drung glacier. The glacier gives birth to the river Stod which accompanies one all the way to Padum. There it joins the river Tsurp Chu to form the mighty Zanskar River.
A frozen stream – on the way to Penzi La top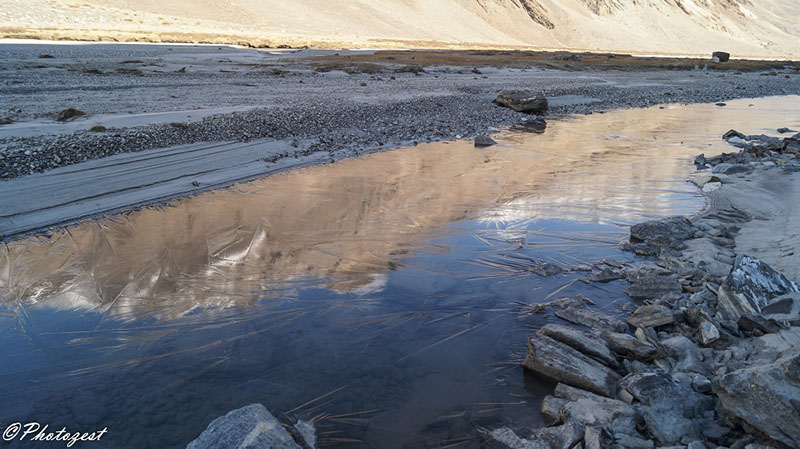 The mighty glacier -Drang Drung-in all its glory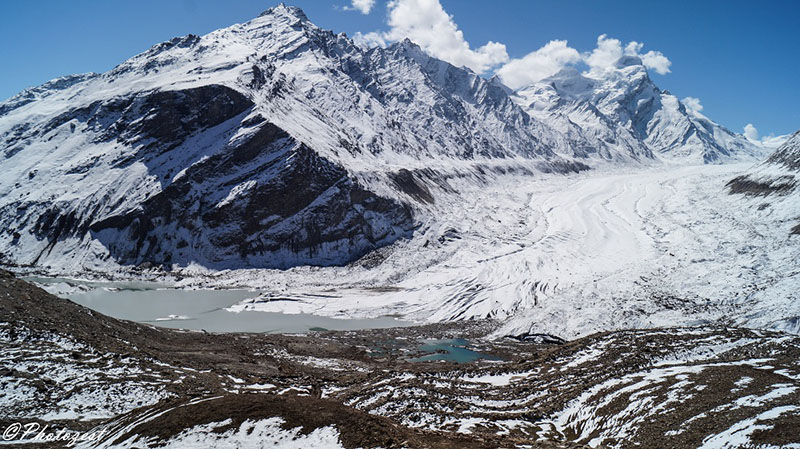 Pensi La Pass with a small lake on the top. There are two of these lakes here but the other one was completely frozen and covered by snow.
Just before Padum, I was alone on this blacktop. I and revved my heart out, stretching the legs of the Duke390 till 130kmph.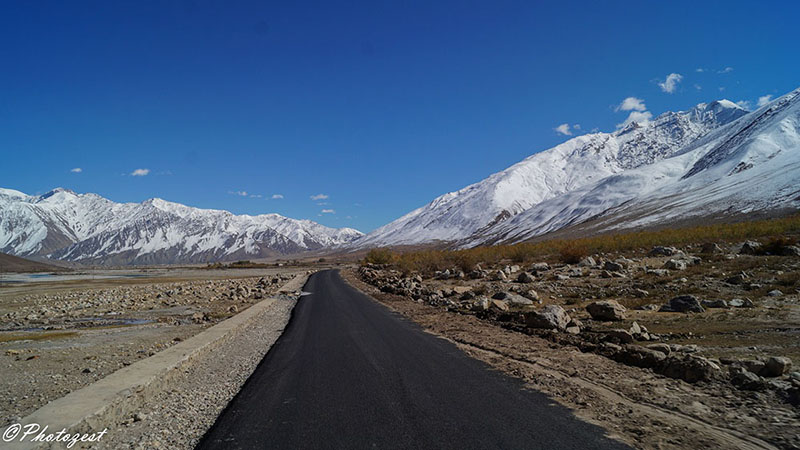 This landmark signifies that you are about to hit Padum.
Padum
At Padum, we checked into Hotel Gaskit. The spelling of the name may be wrong but it is right there on the road, opposite Padum post office.
Padum Village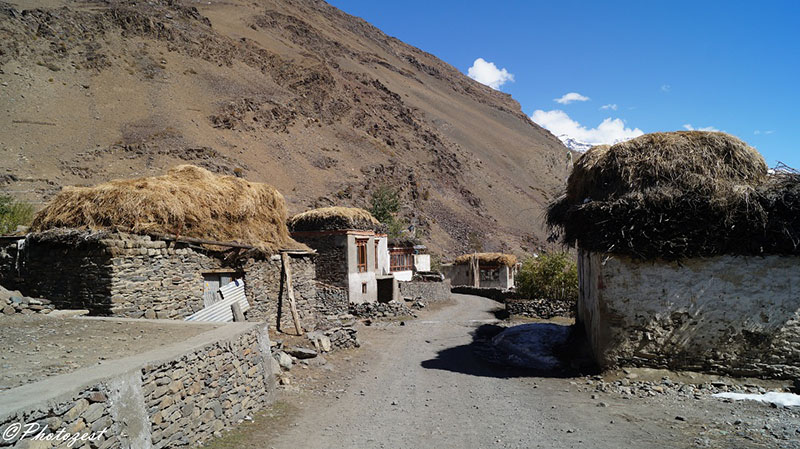 We got a clean big room with an attached bath/toilet for Rs. 700 per night. It had a restaurant manned by friendly and efficient staff and was the preferred place for hanging around for a lot of locals, foreign tourists, trek guides, and school children alike.
Inside of the restaurant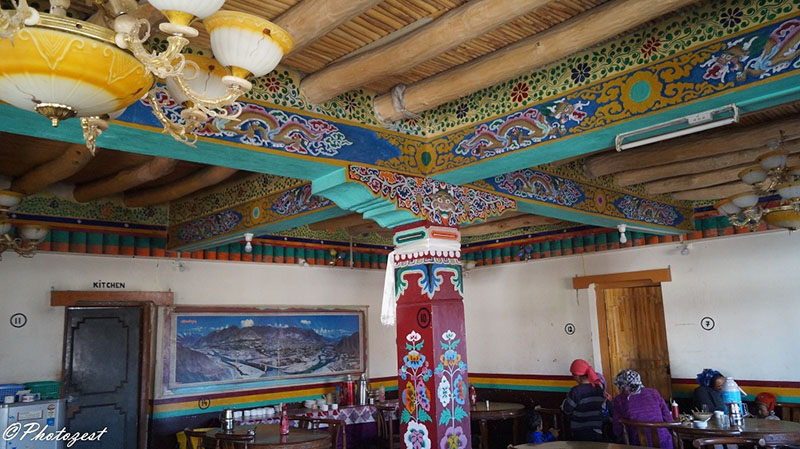 After settling in, we moved our luggage from the bikes into the rooms, cleaned up, and met in the restaurant for a cup of coffee. After that, my co-riders were off to find beer.
The parking of the hotel passed a thin alley which was all hard-packed ice. Moving the bikes was interesting with lots of slipping, sliding, and cursing. It really made of wonder how people ride on snow to reach winter wonderlands.
My co-riders had a beer party and stated that they would have rest the coming day. My plan was that I would go to Karsha and Zangla. With this, I was in bed by 8 pm. Tomorrow I go to meet the king of Zangla.
Also Read: Phugtal Monastery Trek – A Complete Travel Guide
Day 5 – Padum to Karsha Monastery to Zangla to Padum
I got up early, had a light breakfast, and got ready to explore Zanskar Valley. The plan for today was to cover the village of Karsha and Zangla, both located within a short distance from Padum. I knew it was not going to take longer to reach either of these places and I had the entire day reserved for it. So there was no need to hurry and I took a late start from Padum.
About Zangla in Zanskar Valley
Zangla is a small village located about 32 kilometers from Padum. The place is best known for its ancient monastery and for acting as the base for several major treks in the Zanskar region. The drive from Padum to Zanglas as well is quite scenic. My reason for the visit, however, was to meet the king of Zangla.
That is right. In ancient times, Zangla was a small kingdom in itself and the descendants of the royal family still live here. There is even a small castle in the village from the old times that is still home to the village royal family.
Also Read: Tourist Places in Zanskar Valley and its Vicinity
About Karsha

 in Zanskar Valley
The village of Karsha, also spelled Kursha, is located about 11 kilometers from Padum. It is best known for Karsha Monastery which is the largest and most important monastery in Zanskar. The monastery is under the control of the younger brother of the Dalai Lama.
From the monastery, you also get an amazing view of the entire valley. The Doda River flows past the monastery from its source at the Drang Drung glacier of the Pensi La.  The annual festival of Karsha Gustor is celebrated here every year in January with masked cham dances.
With the sun shining bright and a little before noon, I first started riding towards Karsha from Padum and reached there in no time.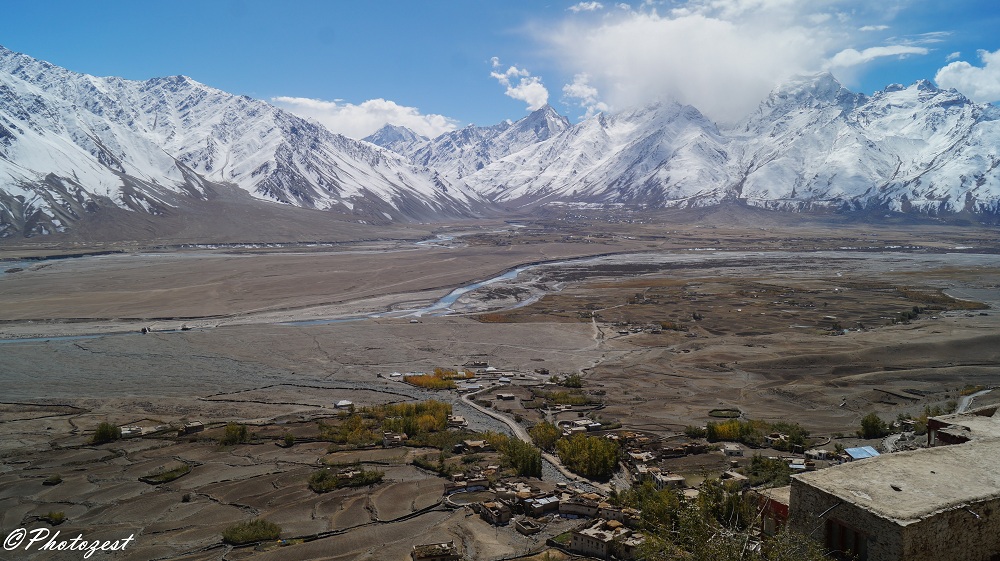 Monastery when viewed from the village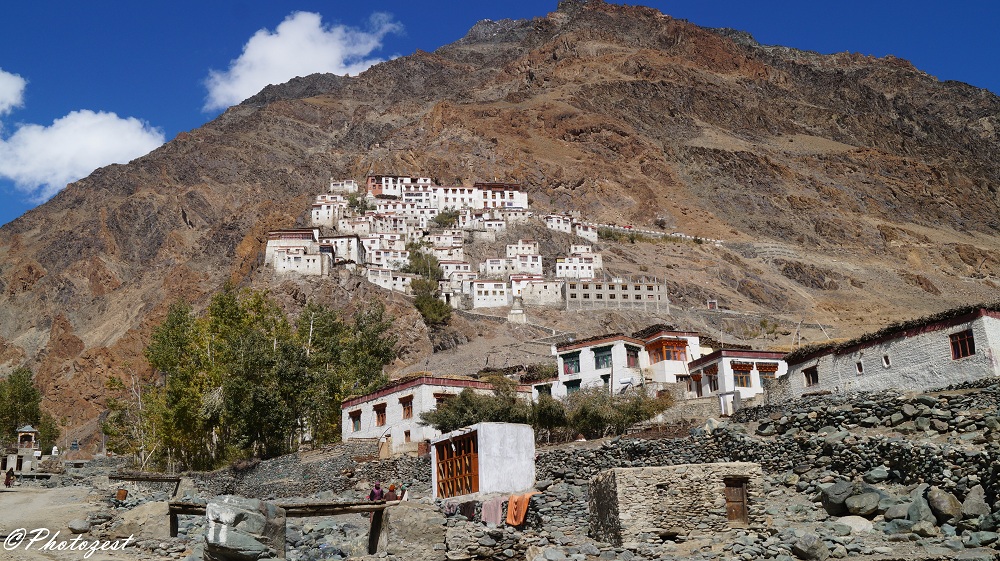 Karsha Monastery
The monastery is an old institution and it houses between 80-100 monks at a given time. It is under the management of the younger brother of the Dalai Lama. The Dalai Lama had visited the monastery a few days before my visit.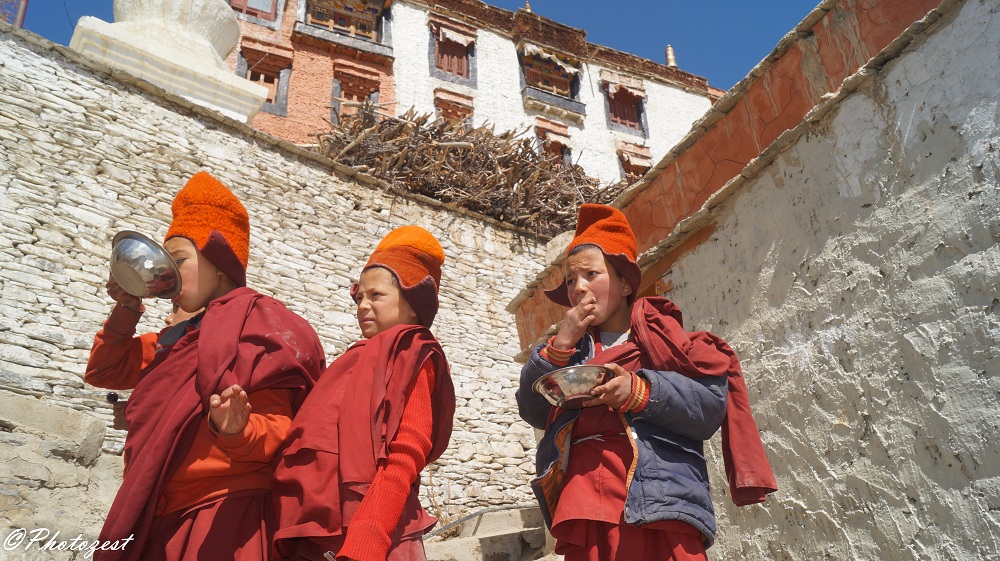 It was lunchtime during my visit so I didn't disturb the monks too much and didn't ask too many touristy questions. I just soaked in the sun and the views from the heights. After half an hour moved on towards Zangla.
The runway of a Road to Zangla after crossing the Tsurp Chu bridge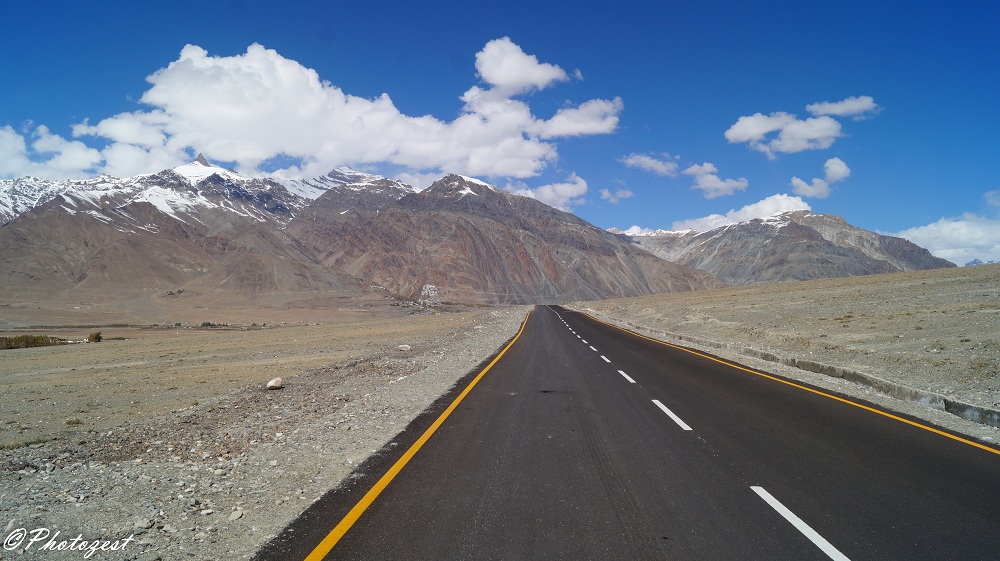 After about 10 km of the pristine road, it turns into a badly broken dirt trail. I was told that this will shortly be paved and be the highway to Leh. This was the best stretch of the road in my entire Zanskar valley bike trip.
Also Read: Zanskar Valley by Public Transport – How to Plan a Trip?
Could not capture the exact u- bend of the Zanskar river better from the road-see the trailing part of the river in the background before the mountains.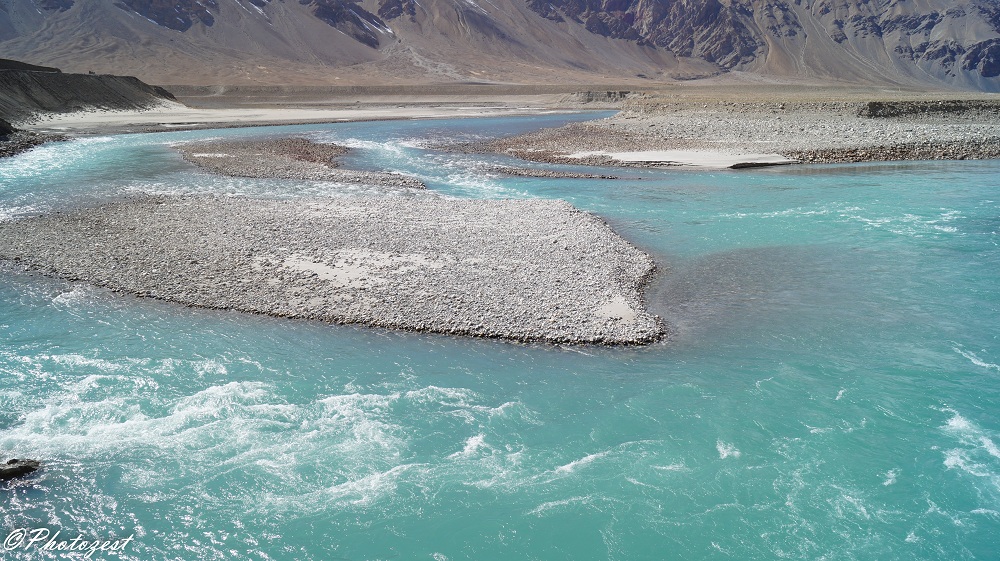 Entering the Zangla village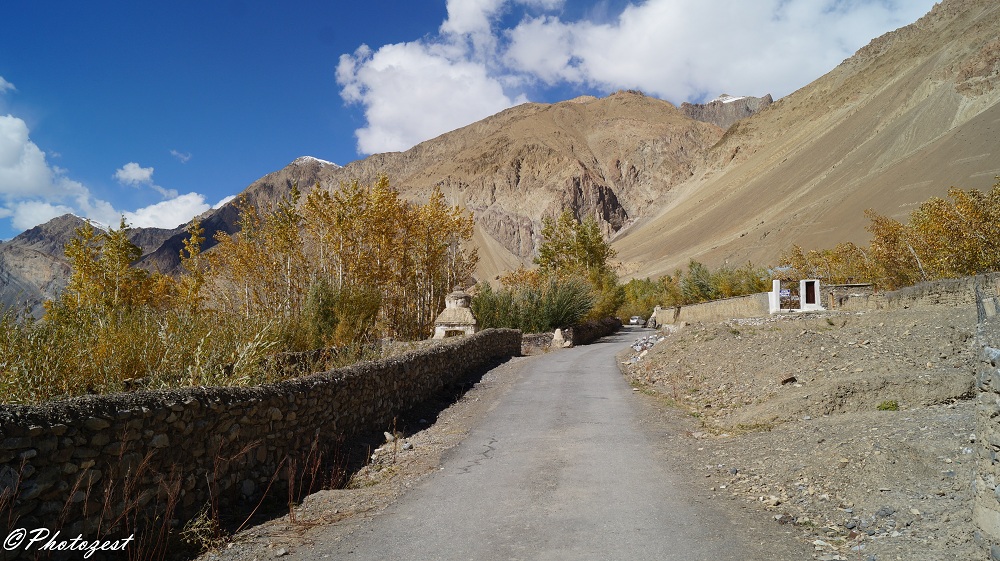 Zangla Village
I crossed the village and ran into this lady by a stream on the road. When I inquired about meeting the king of Zangla, she told me that she was the king's daughter.
So say hello to the princess !!!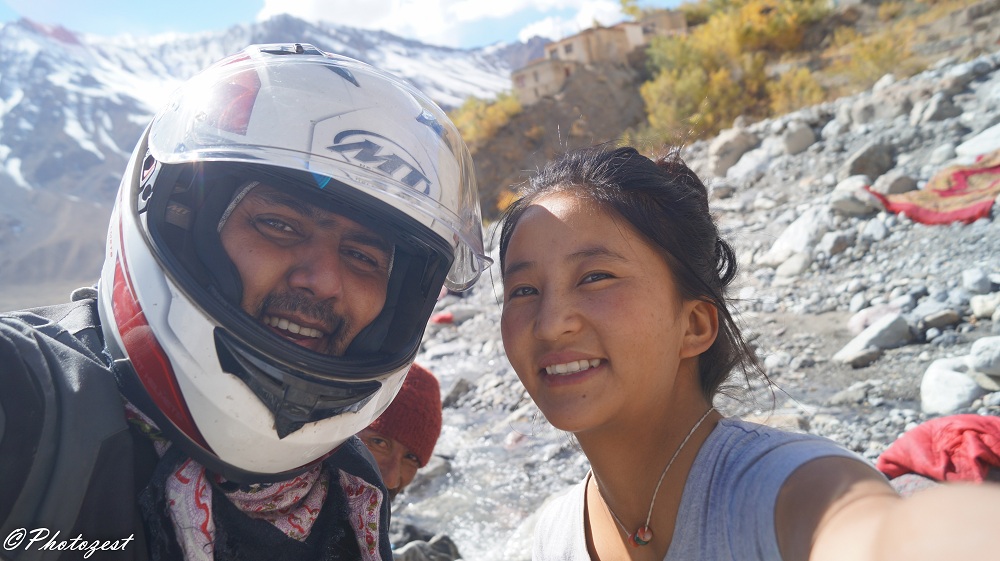 She guided me back to her house. I said I will take you back with me. She said she still has to wash a lot of clothes by the water stream. With that, she wished me well and went to join other people washing utensils and clothes by the stream.
The king's house. It is the biggest single non-commercial structure I saw in the entire Padum/Zangla. It is also known as Zangla Palace.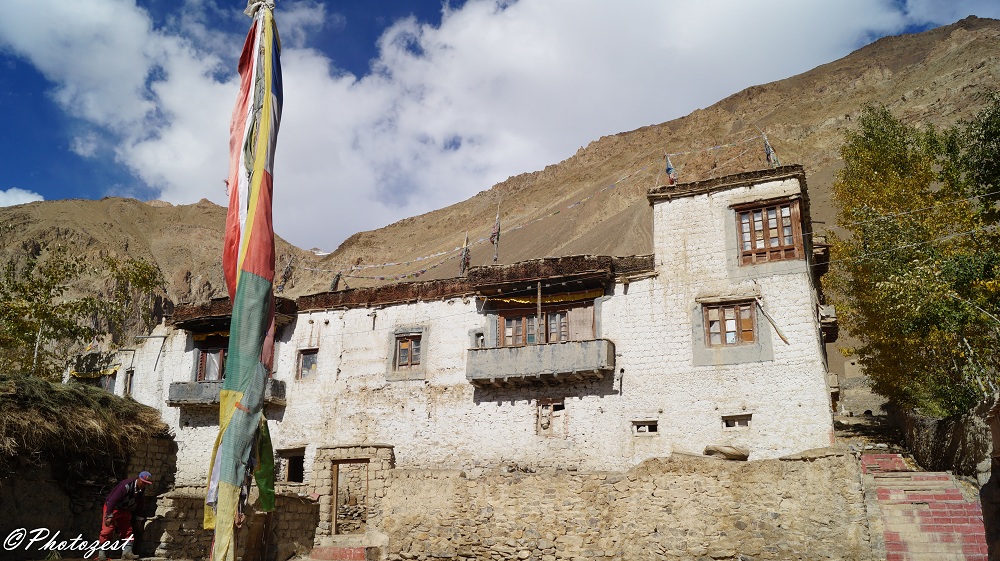 The humble king. He didn't know proper Hindi and his English I couldn't understand. So our time together was kind of short.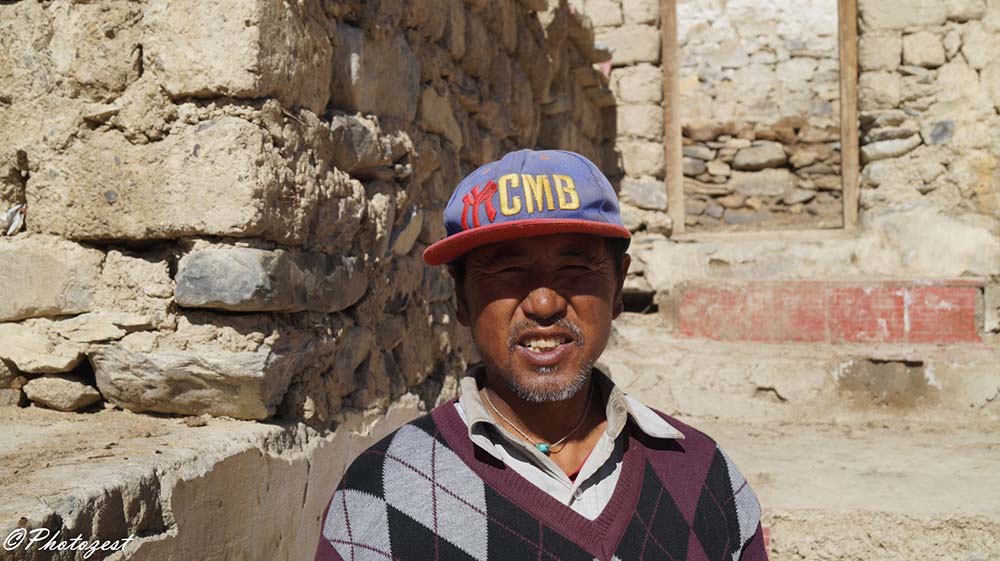 Another man who was baking cow-dung pancakes supervised by the king was more talkative. I inquired about visiting the Zangla fort. He said the way to the fort was blocked by a landslide and I couldn't possibly cross over on the motorbike. On top of it, there was not enough sunlight time left for a hike to the fort and return to Padum.
So the visit to the fort is till the next visit. A place to visit for my next Zanskar valley bike trip.
Also Read: Budget Trip to Zanskar Valley – How to Plan Your Journey?
Zangla to Padum
Verdant wetlands I didn't notice while riding into Zangla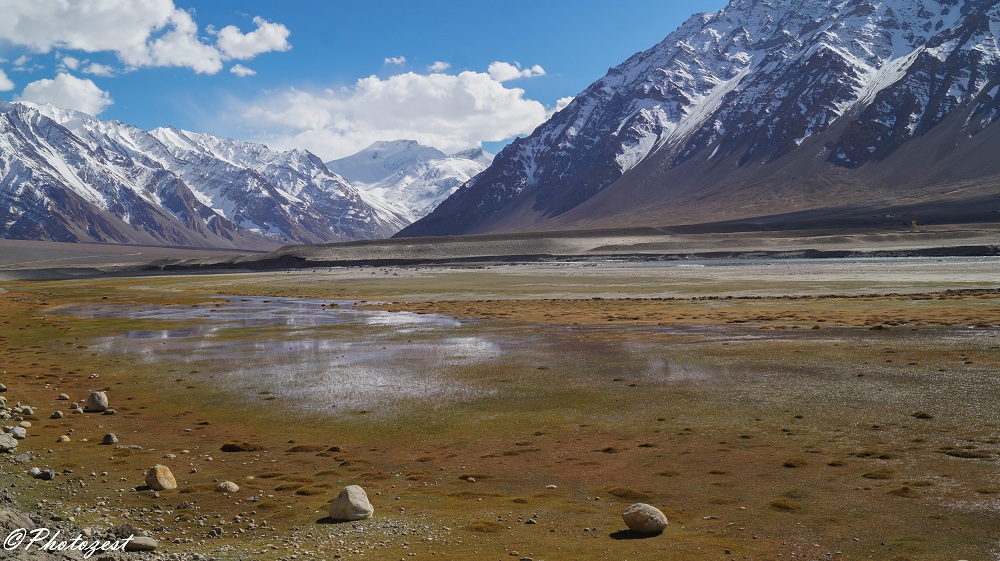 I stopped to talk to the gentlemen by this broken-down truck. We exchanged pleasantries and I asked for water. I hadn't carried any provisions or tools with me on the trip to Karsha and Zangla. This struck me when I saw this breakdown. The truck's radiator hose had burst and a new hose was being fitted.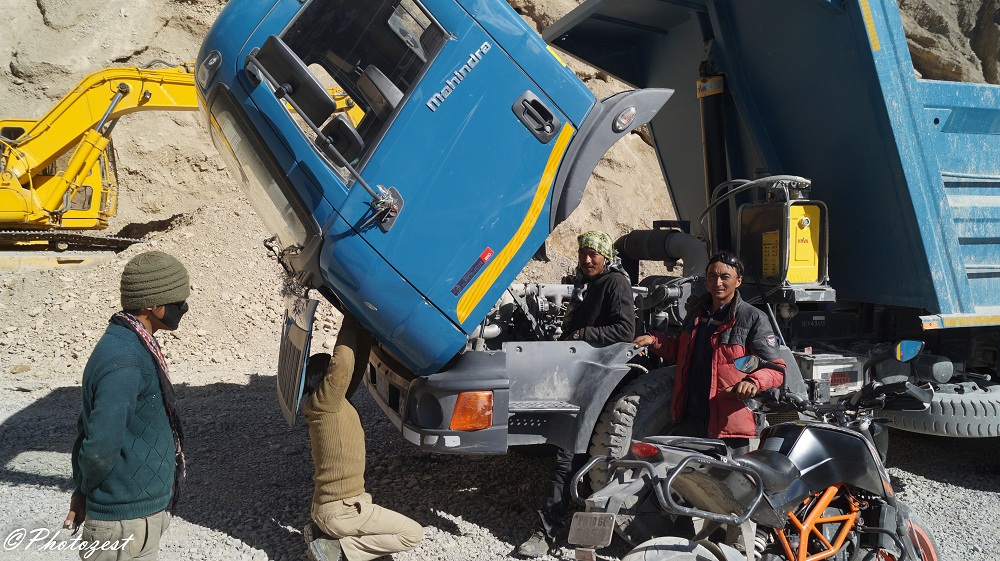 Anyway, the driver smiled at my water request and said you will not like our water. But thirsty me insisted and they smilingly gave me their bottle. When I opened the cap, they all burst out laughing. It was vodka/gin mixed with water which I politely gave them back.
Also Read: Padum – Sightseeing, Accommodation, and Other Facilities
Just then the excavator driver brought me pure water to drink. Thirst quenched, I thanked them and moved on to Padum.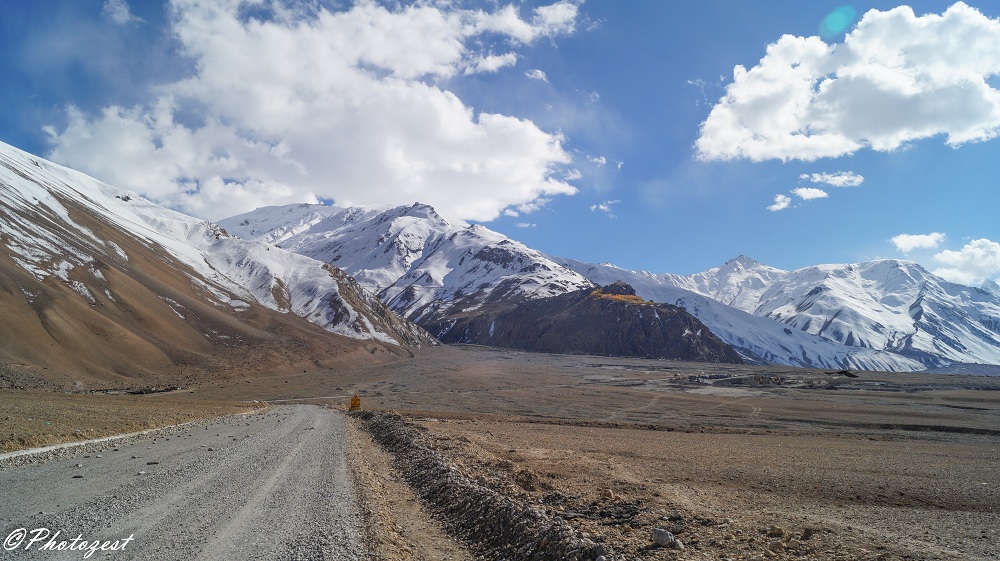 The Stongde monastery perched atop the hill overlooking the Stongde village. Viewed from the road below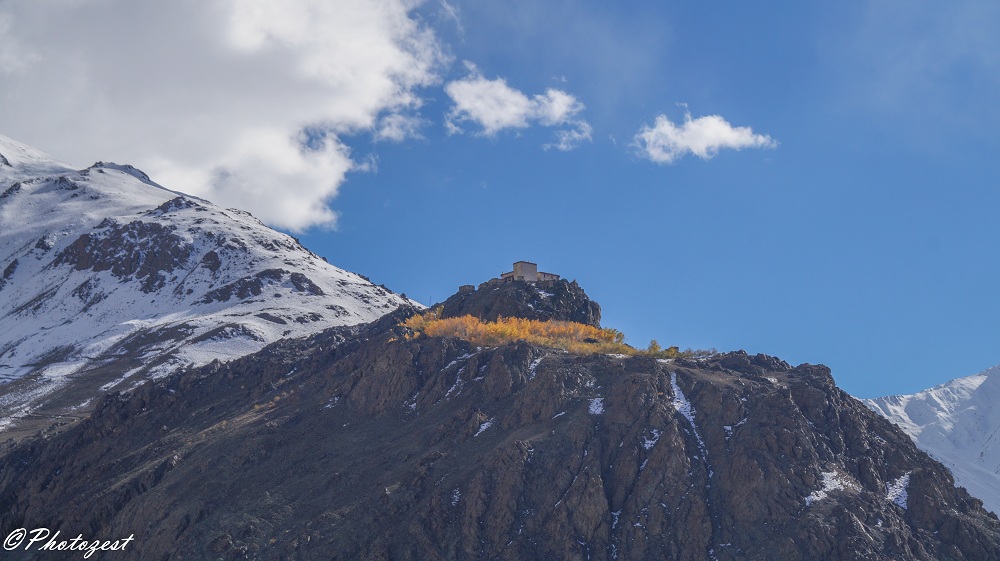 There was still plenty of sunlight left after I arrived at the hotel in Padum. For a minute I thought to explore some other nearby areas but then gave up the idea. I have been riding almost every day so a little bit of rest was needed. With that thought, I called it a day and retired to my room.
Resting after coming back to the hotel. She did extremely well in the entire Zanskar valley bike trip.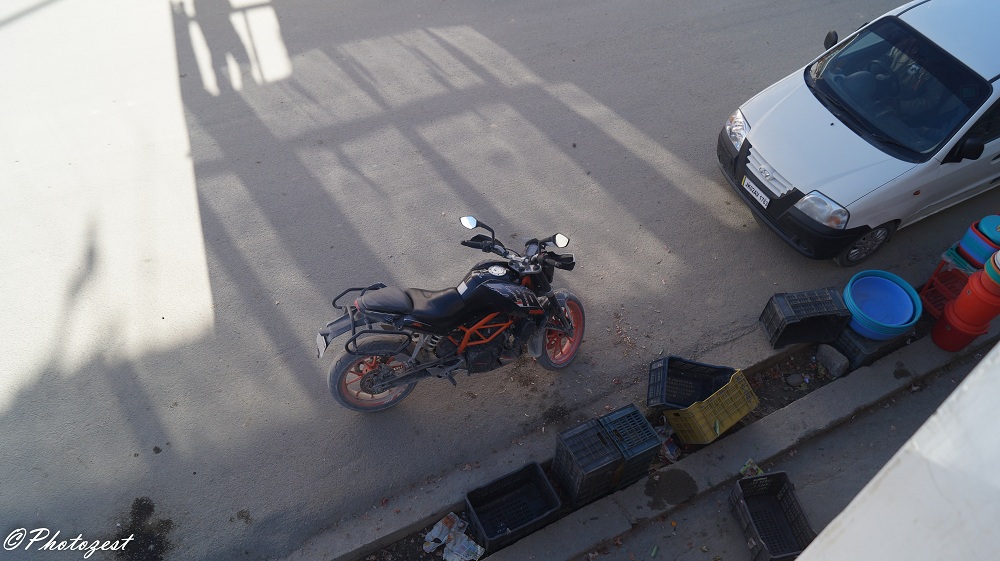 Day 6 – Padum to Sankoo
This was the day when I was to start my return journey home but there was still one more place that I wanted to cover; the high altitude pass of Umba La.
It is a high altitude pass located between Drass and Sankoo. The elevation of the pass is 4,496 meters (14,750ft). It is one of the least traveled and lesser-known passes in Kashmir, Ladakh, and Zanskar. Traveling on this road, you can actually go from Dras to Sankoo directly, or vice versa. This way, you will not have to go to Kargil first. This road is open only for about 6 months in a year though, from May to October.
Since I had already covered Kargil on my way to Padum, I wanted to take a different route on the way home. From Sankoo, I intended to travel via Umba La, exit at Dras, and return to Srinagar from there. To be honest, it was one destination in my entire Zanskar valley bike trip that I was most excited about.
The plan was to spend a day in Suru Valley and stay in Sankoo. The distance between Padum and Sankoo 190 kilometers but due to bad roads, it can take a while to cover. So I decided to take an early start.
Also Read: Zanskar Itinerary, Route Details and Road Map
Padum to Pensi La
I cleared the bills and bid goodbye to the pleasing staff of the Gaskit hotel. Madhusudan and I pointed our motorcycles towards the road to Sankoo. I had to procure 5 liters of petrol for the return journey from local suppliers at Rs. 125 per liter.
Starting back on a sunny morning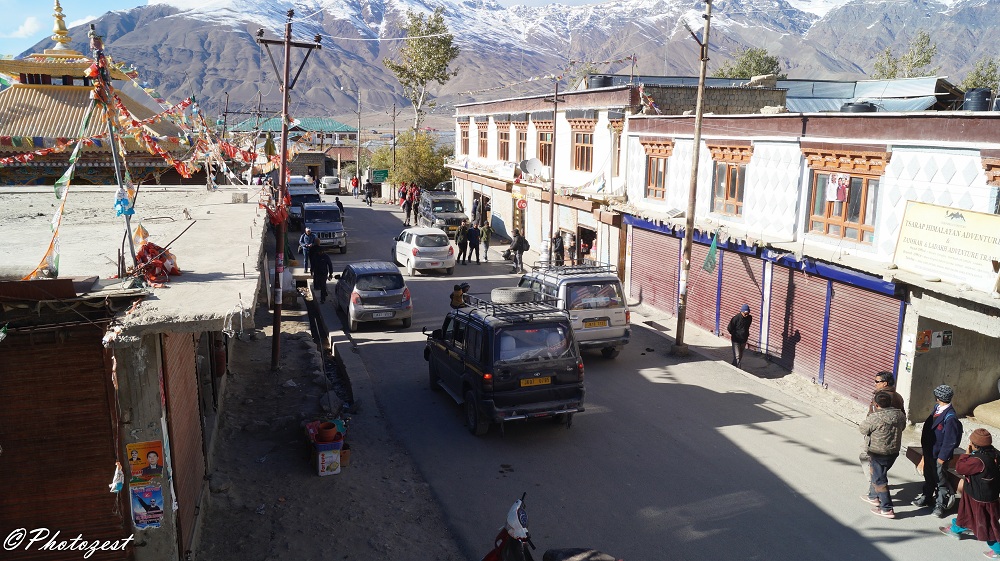 Meeting the mighty and beautiful glacial creation Mr. Drang Drung again. Windswept but standing defiantly proud. I admit I am in awe of it.
One of the twin lakes on the Penzila top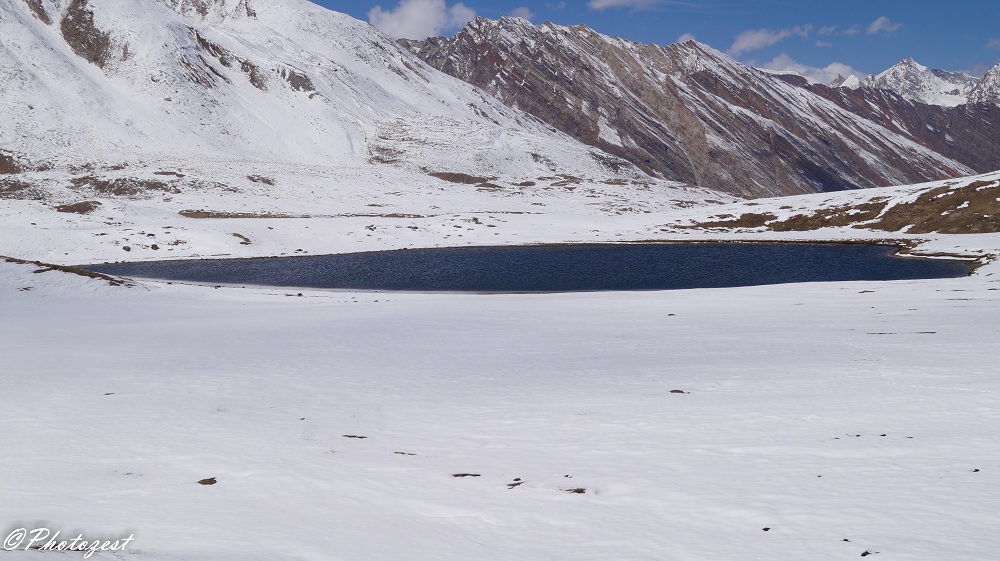 And the other one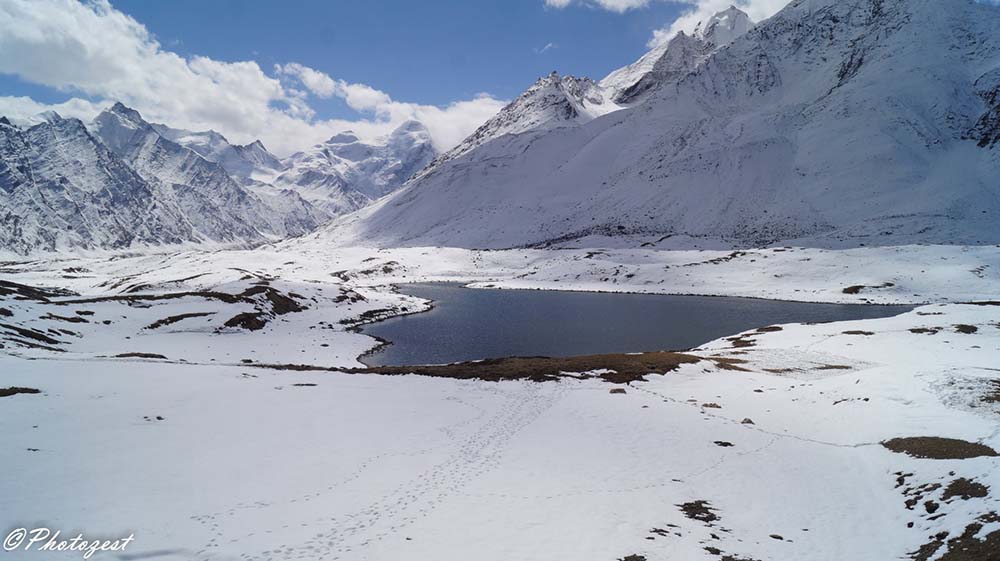 Rangdum gompa in the distance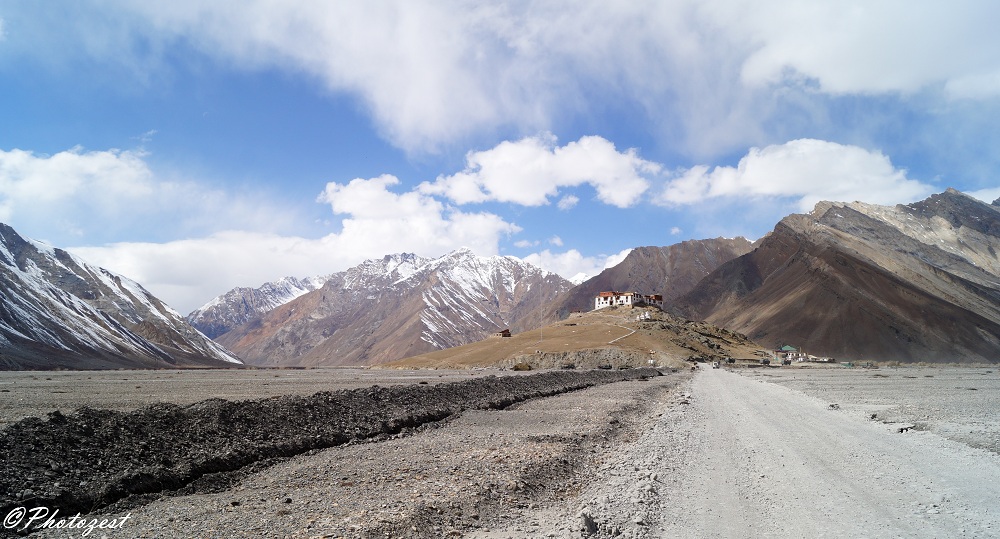 The growing number of trees indicated that Parkachik was near. After a while, I reached the snout of the Parkachik Glacier.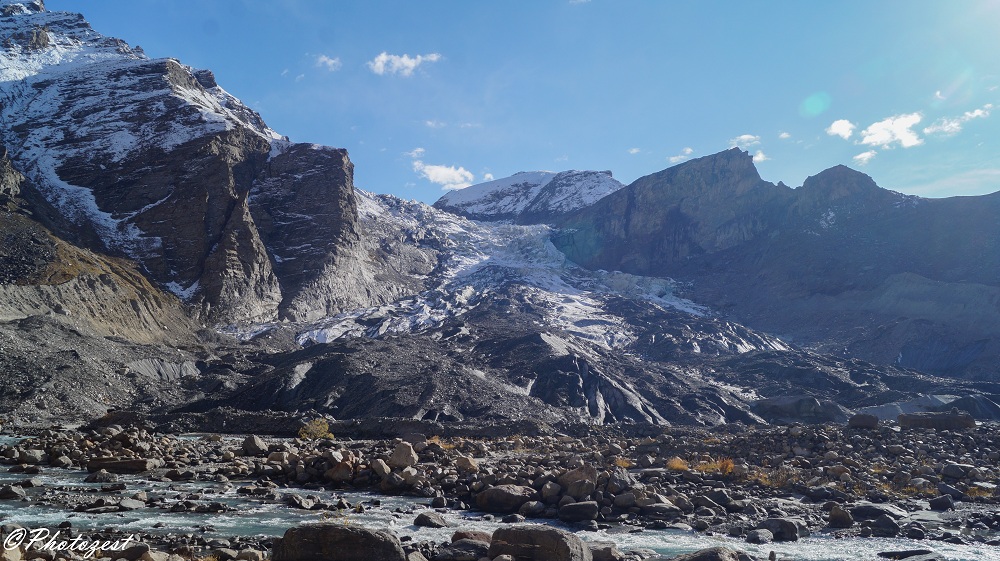 Another receding glacier. I don't remember the name but I think it was Shafat Glacier. The villagers said that it has receded to the top in the last 25-30 years. Earlier its snout was much lower facing into the valley.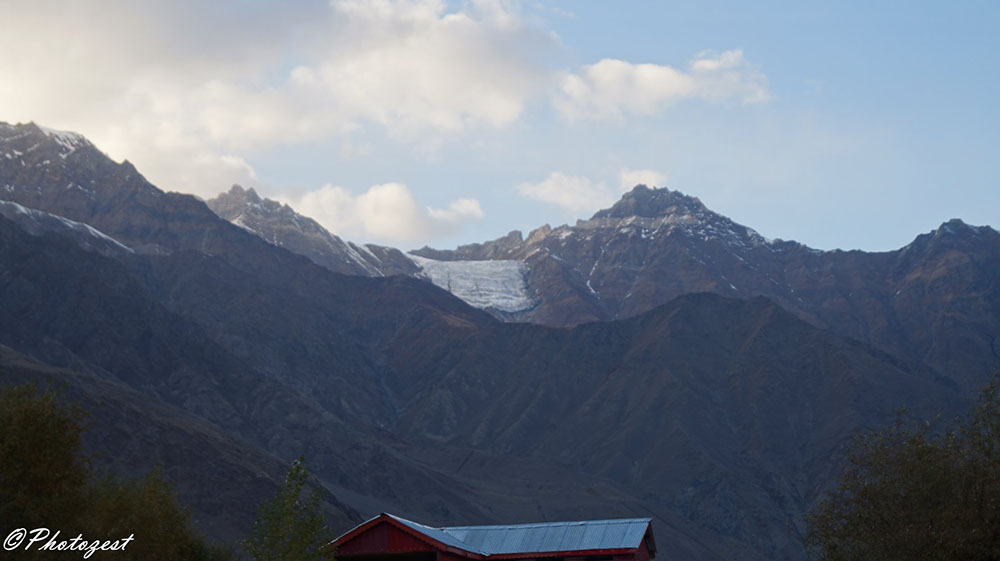 Madhu and I stopped for the night at Goba guest house in Sankoo. It is right on the road just before the cut to Umba La. It suited us because of its location but also turned out to be a great place to stay.
Also Read: Leh to Zanskar Itinerary – How to Plan your Journey?
Day 7 – Sankoo to Umba La to Dras to Qazigund
The place where I stayed in Sankoo deserves a special mention. The name of the small guest house is Goba guest house. It is lovingly run by the Goba family and they provided me and Madhusudan with exemplary hospitality.
This day was in many ways the last day of the trip, the end of my Zanskar valley bike trip. I knew I was going to stay at Dras for the night but after that, it was just a straight home run. After Dras, it was just the return journey which is always boring and depressing.
But that was an affair for tomorrow. Today I was excited. Today was the day when I get to finally meet the long-elusive Umba La pass. I think the reason why I was so excited about it was that not many people have crossed it. All the destinations in my Zanskar Valley bike trip so far have been visited and talked about by numerous people. But not Umba La. This pass is rarely seen by anyone and I was going to be among the rare few.
Also Read: Mobile Phone Connectivity in Zanskar Valley
Sankoo to Umba La
And what a beauty it turned out to be. This ride was total solitude. In the nearly 66km ride, we did not come across a single soul on the road. So I was kinda thankful that Madhusudan was riding with me as this was his recce of this competitive stage in the Raid de Himalayas in which he was participating.
Umba La route existed for centuries as a shepherd route but was made into a proper motorable road during and after the Kargil war of 1999. It was made as an alternative route as the enemy shelled the National Highway 1D from beyond the mountains.
From Sankoo, the road turns up right into the mountains. The farthest village is at a distance of 9-10kms and after that, you are all alone with nature.
Umba La turned to be two passes in one. After Sankoo, you climb up the first mountain top and then ride down into a valley. After that, you again climb up another mountain, reach the top, and then drive down to Drass. So Umba La is not actually one but two twin passes.
We had the good fortune of seeing snow on both the tops-and man, was it cold. With a storm front chasing us all the way down to Drass, we even encountered rain.
Leaving habitation behind
We stopped and took a break at the first mountain top that we climbed from Sankoo.
Umba La to Dras
First look of Drass below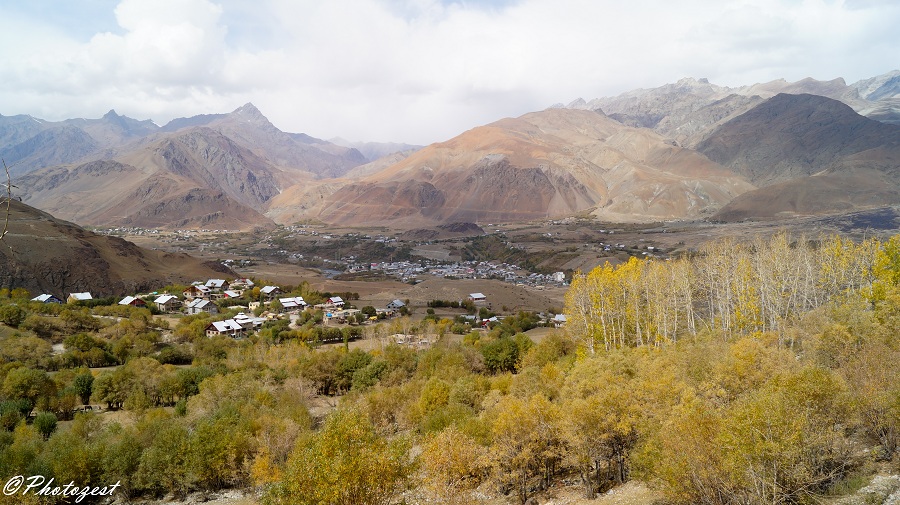 Madhu and I had started from Goba guest house in the morning at 10 am, and reached Drass at 2 pm. The ride was only 66 km but took us a good 4 hours to complete.
We had our last meal together at Drass and bid goodbye to each other. Madhu went to Lamayuru and I starting on my return journey to Ludhiana in the slight drizzle prevalent there.
At Ghumri, snow flurries started to fall and accompanied me till Zozi La from where drizzling kept up till Srinagar.
I stopped for the night at Qazigund at a guest house, next to the Qazigund bus stand.
Also Read: Zanskar Valley Itinerary – A Sample Travel Plan
End of Bike Ride to Zanskar Valley
I know I was still on the road but in many ways, this marked the end of my exciting bike ride to Zanskar Valley. From here on, it was just a long journey back home. Was I tired? Yes. Was I sad? Yes to that too. But one thing was certain. I was definitely coming back to Padum to explore it even further.
Day 8 – Qazigund to Ludhiana
I started from Qazigund at 7 am and was in my house in Ludhiana having coffee at 5.30 pm after passing through a horrendous 3-hour traffic jam at Ramban.
This marked the end of my Zanskar Valley Bike Trip. All in all, it was an awesome soul-fulfilling trip, safely completed done By God's Grace – Amen.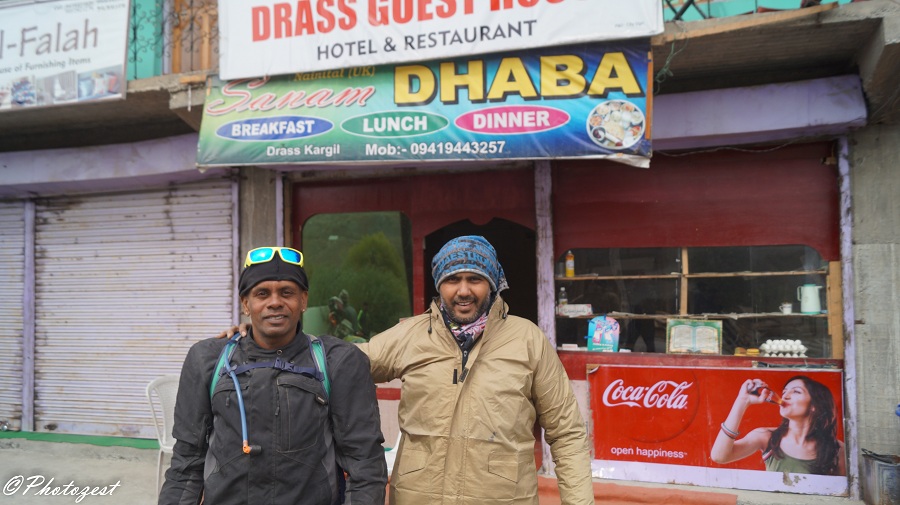 Is it safe to go on  Bike Trip to Zanskar Valley?
I think it will depend on your itinerary, riding skills, and personal choices. As long you know how to handle a bike in the hills, ride safely, do not take unnecessary risks, you will be OK. Zanskar is a very safe place and the people here are very warm. But with that said, it is a remote region full of challenging roads so precautions must be observed.
When is the Best time for Zanskar Valley Bike Trip?
June to October is the only time that you can go for a bike ride to Zanskar Valley. Of these months, June, September, and October is the best time. The months of monsoon, July and August, should be divided.
How much a Bike Trip to Zanskar Valley Cost?
It will really depend on our personal spending habits, your vehicle's mileage, and the city you were coming from. Please take a look at How to Calculate the Cost of a Bike Trip to Zanskar for more details on this.
Which Bike is best for Zanskar Valley Trip?
There is really no best bike as such. Any motorcycle that is well maintained can easily complete this journey. All that you need to do is to get it serviced well in advance, replace ore repair whatever seems dicey, and carry some necessary spare. For more details, please take a look at How to Prepare your Bike for Ladakh Trip.
Zanskar Valley Bike Trip – Conclusion
I hope the travelogue and information on the Zanskar Valley bike trip were of help. If you have any questions or need any other details, please feel free to ask in the comments section below, or at our Community Forum, and I will be glad to answer.