It was the month of August. There was regular news from Uttarakhand and Himachal of heavy rains wreaking havoc, declaring the two hilly states unsafe to travel. Thankfully, there was no such word from Kashmir and everything seemed fine. That is when our plan to travel from Delhi to Pahalgam for 3 days started to take shape.
The trip was going to last for a total of 11 days though, covering some offbeat areas in Kashmir that are not yet on the tourist map. This included the valleys of Lolab and Bangus and the border village of Keran.
In Pahalgam, the idea was to trek to Baisaran Valley, visit Sinthan Top and Margan Top, and trek to Chauharnag Lake. We also wanted to spend some time covering Aru Valley, Betaab Valley, and Chandanwari and view the sunset or sunrise from Sun Temple. 3 days was ample time to do all this.
With this rough draft of an itinerary in mind, we booked our flight tickets for Kashmir. On Day 1, we were to fly to Srinagar and go straight to Pahalgam to spend the next 3 days there which I will talk about in this post. You can also take a look at the video below of our Delhi to Pahalgam journey on Day 1.
Unfortunately, the rains followed us to Kashmir as well, forcing us to make minor changes to our itinerary. But overall, we were able to cover the majority of the places that we wanted to. Read on to find out more.
About Pahalgam
Pahalgam really needs no introduction. It is one of the most visited destinations of Kashmir that receives tourists in all 12 months. As a matter of fact, due to its religious significance, it is said that Pahalgam itself attracts about half of the visitors to the valley.
The name Pahalgam literally means a village of shepherds in the Kashmiri language. The town is located in the Anantnag district of Jammu and Kashmir and is well-connected to the rest of the country.
There is not much to see or do in Pahalgam town itself, to be honest. Most of its primary tourist attractions are located at a distance of 8-10 kilometers from the main town. The majority of the hotels however are located in Pahalgam. Because of this, it serves as a base to explore all of the nearby areas.
Delhi to Pahalgam Flight
Our Delhi to Pahalgam flight was scheduled for 7.40 a.m. It was an IndiGo flight and thinking that reaching the airport 2 hours before the flight was OK, I started from my place at 5 a.m. and reached the airport by 5.30 a.m.
A surprise awaited us though. The amount of traffic and the crowd at the airport was insane. There was a huge line of cars and for the last 3 kilometers to the entry gate, we literally crawled through the traffic inch by inch.
When we entered the airport, I immediately realized that we should have come sooner. At the IndiGo counter, there was a long queue of people awaiting their turn to check-in.
We got in the queue and stayed there for over 90 minutes. That is how long it took for us to check our baggage in. As a matter of fact, during the last 30 minutes, I started getting calls from IndiGo telling me that the boarding process had started and I needed to hurry.
Nonetheless, we finally checked in our baggage and ran through the airport to the boarding gate. Thankfully, we were not the only ones who got late. There was a whole bunch of other people as well.
Due to all of this, the flight got late and I think we took off at around 8 am. Our journey from Delhi to Pahalgam finally started.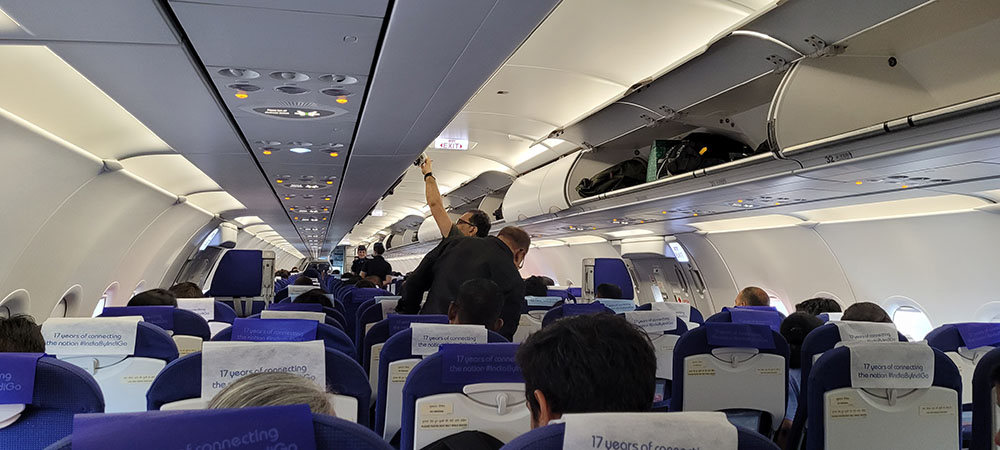 The actual airtime between Delhi and Srinagar is only about 45 to 50 minutes. So even though the flight was 20 minutes late, we still made it to Srinagar by 9:10 am which was the scheduled time.
How to reach Pahalgam from Srinagar
From Srinagar airport, the best way to reach Pahalgam is by private taxi. You can either book one in advance or can get one from the airport itself.
A taxi will come in two forms, a private taxi, and a shared cab. If you were looking for a private cab, it would cost you anywhere between Rs. 3000 to Rs. 4000 for a drop to Pahalgam, depending on your negotiation skills.
One important thing to note here is that a taxi from Srinagar will only be able to drop you off in Pahalgam. You cannot use the same cab for local sightseeing. The local taxi union restricts the Srinagar cab from taking tourists to places like Betaab Valley, Chandanwari, or Aru Valley.
To visit local attractions, you will have to rent another cab from Pahalgam itself. Depending on the places you want to visit, this will cost you another Rs. 2000 for a day approximately. For more details on the rates, please take a look at Pahalgam Local Sightseeing Taxi Rates.
Srinagar to Pahalgam Bus Service
The direct bus between Srinagar and Pahalgam remains available only during the Amarnath Yatra season, from late June to early August.
This bus starts from Pantha Chowk in Srinagar and reaches Pahalgam via Anantnag. You can also look for a bus to Anantnag from Dal Gate but the chances of finding one are very little. For the rest of the year, if you were traveling by public transport, you would have to break your journey into three parts.
From the airport, you will first have to go to Dal Gate and look for a bus to Anantnag from there. These buses are privately owned and operated and there is no set timing for them.
From Anantnag, you will then have to look for another mode of transport for Pahalgam. Regular buses are available throughout the day and like Srinagar, they do not stick to any specific timings.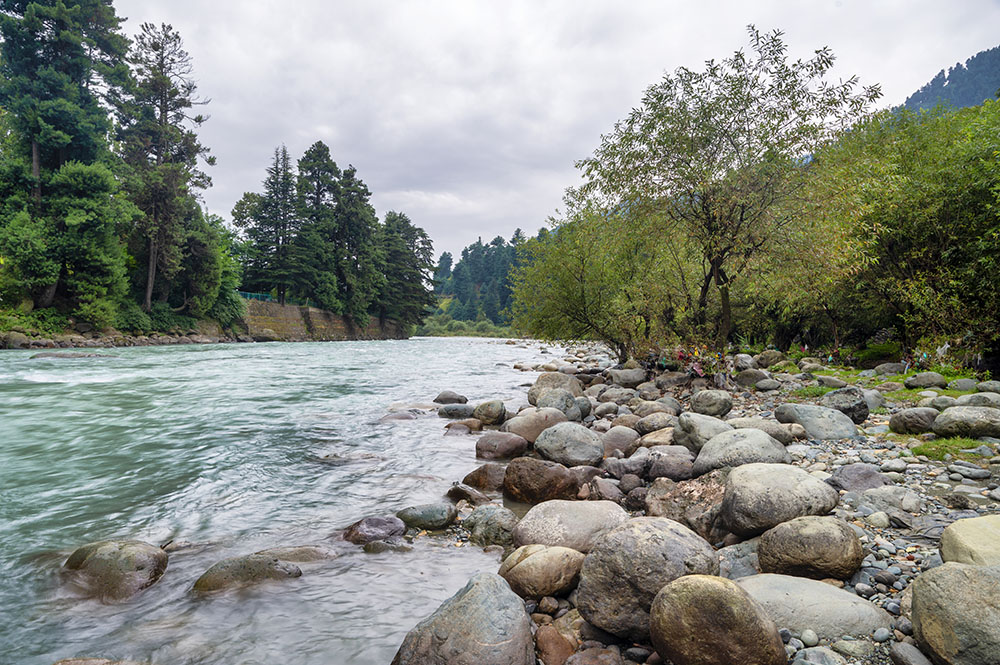 Kashmir Travelogue
We did not need to rent a taxi though as a friend was going to pick us up. His name is Faisal and he runs the best bike rental agency in Srinagar by the name of Kashmir Travelogue.
He is really a very nice guy who knows how to take care of his customers. I met him through my blog, rented bikes from him a few times, and due to his hospitality, ended up being friends with him.
He also has a cottage in Pahalgam that he rents out to tourists. It goes by the name of Maryam Cottage and that is where we were going to stay as well. So the plan was that he would pick us up from the airport and drive us to his cottage in Pahalgam.
We landed in Srinagar, collected our baggage, and stepped out of the airport.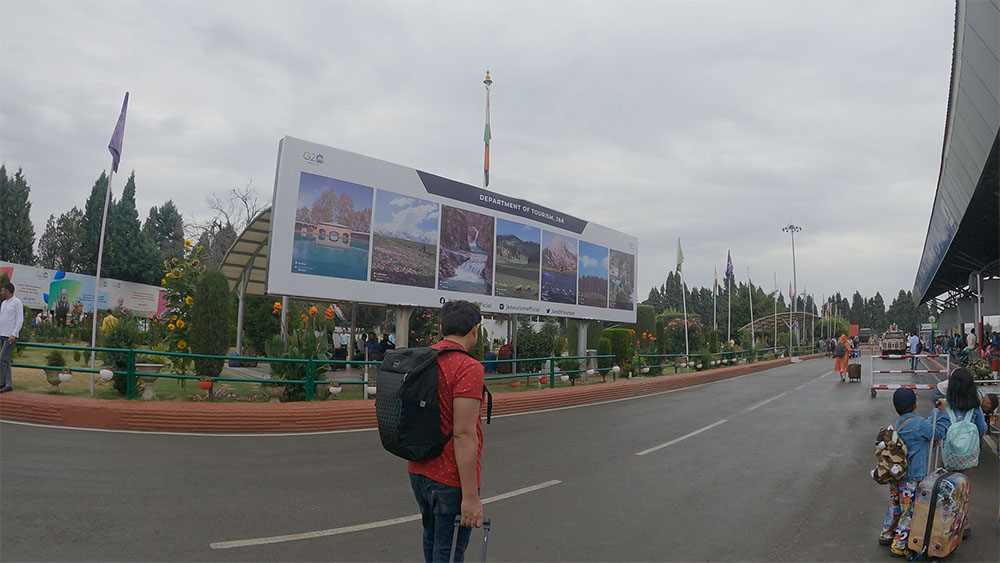 Faisal, as he promised, was already waiting for us. We got into his Duster car and the first destination was his office in Srinagar to collect some necessary items for bonfire and barbeque.
We reached his office and spent the next couple of hours there getting something to eat and preparing for our stay in Pahalgam. Finally, at around 12 noon, we started on our way to Pahalgam from Srinagar.
Delhi to Pahalgam Direct Route
Before I move on with the travelogue, let me also talk in brief about how you can reach Pahalgam from Delhi if you are traveling by road. In this case, you do not really have to go to Srinagar first and can go to Pahalgam directly.
From Delhi, get an early start to avoid traffic. Your destination on Day 1 would be Jammu City. It is approximately 600 kilometers from Delhi but due to the excellent condition of the roads, the journey can easily be completed in 10 to 11 hours.
Spend the night in Jammu City and on Day 2, get an early start again. Stay on NH44 and drive to the small town of Anantnag. It is about 190 kilometers from Jammu and the journey will take you anywhere between 5 to 7 hours, depending on the traffic.
From Anantnag, turn right on the road to Pahalgam. Ask the locals if you were unable to find the way or just follow Google Maps. You will then drive through the busy towns of Anantnag, Mattan, and Hassan Noor to reach Aishmuqam.
After Aishmuqam, continue driving along the Lidder River for another 40 kilometers to reach Pahalgam. The views also will get better after Aishmuqam and the drive will become more enjoyable.
The condition of the road on this entire route is a mix of good and average. There are hardly any bad sections in between and on an overall basis, you will really like this stretch of the road. Do keep in mind though that Delhi to Pahalgam is a minimum journey of 2 days. It cannot be done in a single day.
By Public Transport
You can also plan this journey by public transport. The best way to do that would be to first board a train for Jammu. Once you reach there, depending on the time, you can either spend a day in Jammu or continue your journey to Pahalgam.
For the next part of the journey, you can look for the connecting train from Jammu to Ramban. After Ramban, you will have to cover the rest of the journey by either Bus or shared cabs that you can get from the train station as well.
If the train was not available, look for a bus or shared cab for either Srinagar or Anantnag from Jammu railway station itself. The chances of finding a shared cab will be higher than a bus.
Once you get down at Anantnag, you will again have to look for either a bus or a shared cab that can drop you to Pahalgam. There is no set timing of buses on this route and you may have to wait for a while before you find one.
Coming back to the travelogue now, we started from Srinagr shortly after 12 noon and reached Pampore in no time. Pampore is the area where saffron farming in Kashmir primarily happens.
November is the saffron harvesting season. It usually is a 1 month period, between October 20th to November 20th. At this time, when saffron fields blossom, this entire region becomes a sight to behold.
But our trip was in August end and it wasn't the purple of the saffron flowers we were seeing. It was all lush green all around. Nonetheless, it was still very beautiful.
Nutflix Nuts & Dry Fruits
Faisal stopped the car in front of a dry fruit shop in Lathpora, a small village en route. It falls right along the Jammu Srinagar Highway. The name of the shop was Nutflix Nuts & Dry Fruits.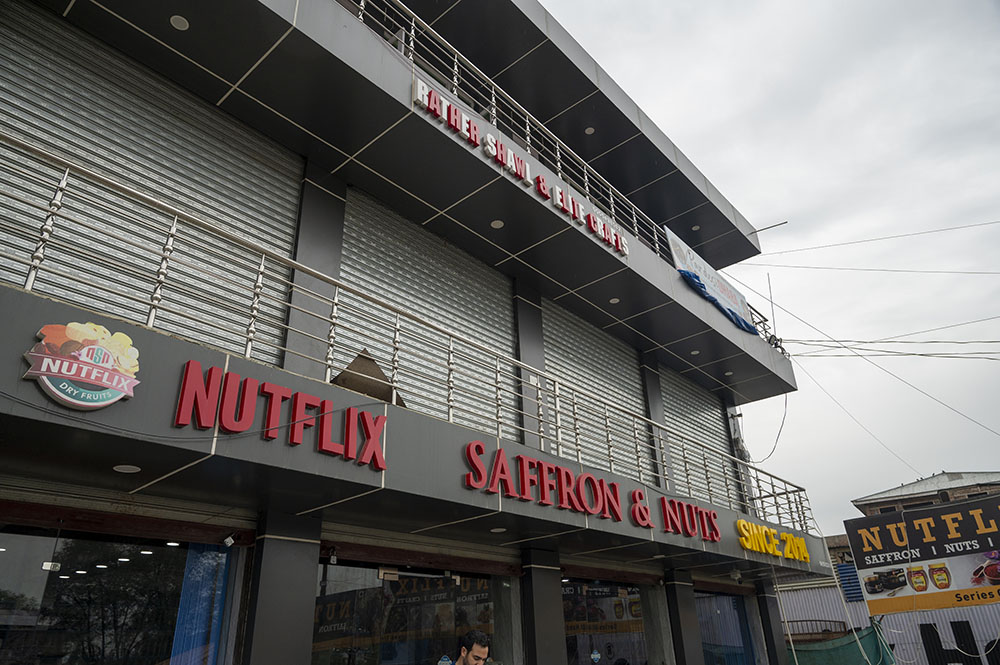 We stepped into the shop and I had a very interesting conversation with the owner. He briefed us about Saffron farming, how is it done, the harvesting period, and how to identify real saffron and Shilajit from the fake ones.
You can take a look at the video I posted above to hear him talk about things to keep in mind while buying dry fruits, saffron, or Shilajit in Kashmir (or anywhere else for that matter).
If you also want to buy some dry fruits during your Kashmir trip, this shop is actually a good one and I will recommend visiting them. It is a drive of about 1 hour at most from Lal Chowk in Kashmir.
After resting for a while and having some Kahwa, we then continued our journey. The next break came in the town of Anantnag to get some food and vegetables for dinner.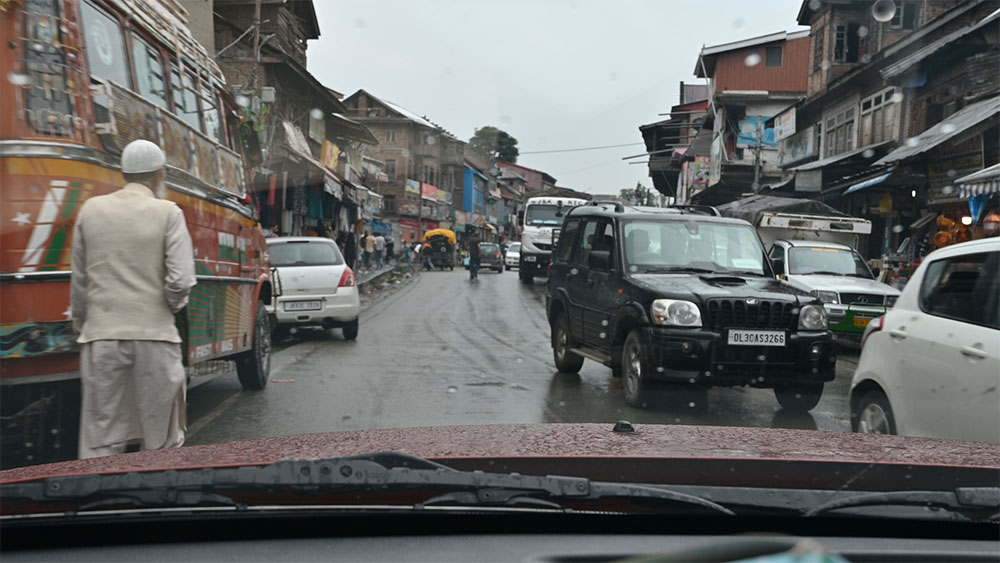 After Anantnag, we again stopped briefly in Aishmuqam. This time, we wanted to eat some Poori Halwa that is sold in the market here.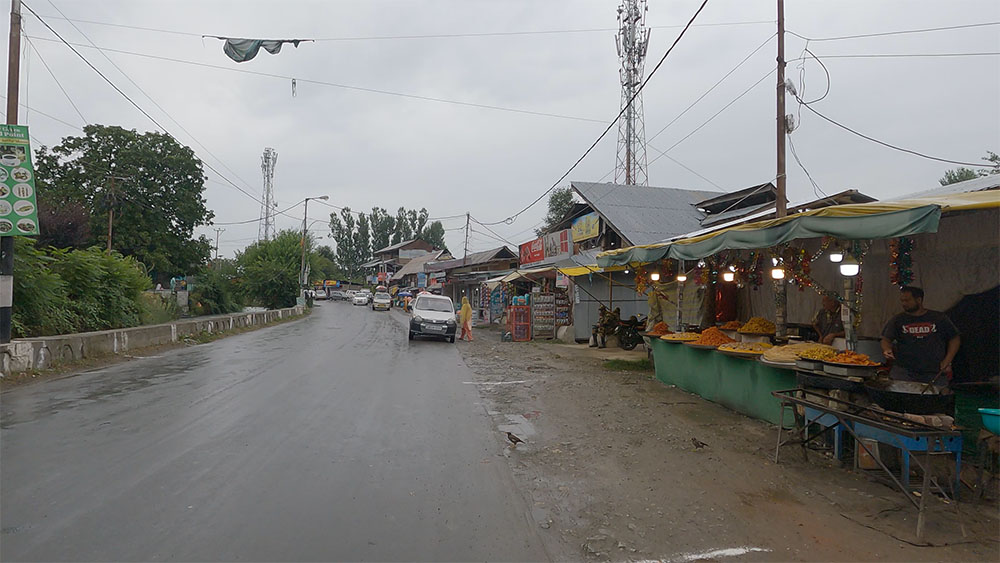 Aishmuqam is the place where the song Bhar do Jholi Meri from the movie Bajrangi Bhaijaan was shot. The shrine is visible from the main road itself but to get there, you will have to get off the main road, turn right, and drive uphill on a narrow road for about 3 kilometers.
We had no intention of going to Aishmuqam. All we wanted was to get some delicious Poori Halwa which we did and went on our way.
Also Read: When is the Best Time to Visit Pahalgam
Maryam Cottage, Pahalgam
The drive between Aishmuqam and Anantnag is really among the best parts of a trip to Kashmir. With Lidder River to your left and mighty peaks right in front, the road takes you through a very charmingly scenic area.
We were totally enjoying the drive and stopped several times in between to click pictures and shoot videos. About 4-5 kilometers before Pahalgam, we turned left, crossed a bridge, and reached Maryam Cottage, our abode for the next 3 days.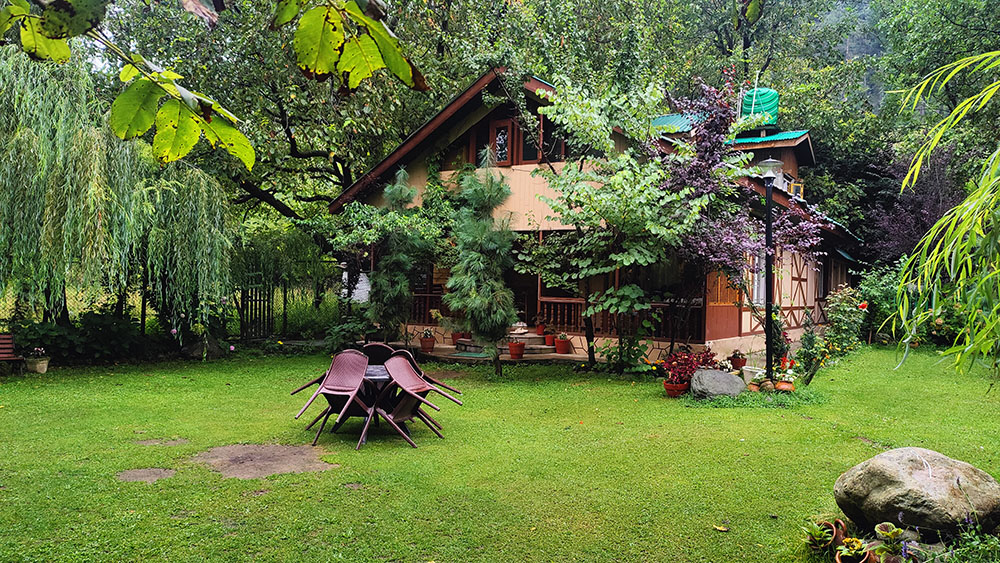 This cottage is located in a small village and, in my opinion, is one of the best places to stay in Pahalgam. It sits right next to the Lidder River, in a very peaceful setting, and is perfect for spending some time in peace, away from the crowd, in the lap of mother nature.
The cottage has 2 bedrooms, a very large hall, kitchen, garden, and a lot more to offer to its guests. It is actually a house in itself and is a great place to stay if you are visiting Pahalgam with family or friends. Take a look at Maryam Cottage – The Best Place to Stay in Pahalgam for more details.
Where to Stay in Pahalgam
Being the popular tourist destination that Pahalgam is, there is no scarcity of hotels here. The entire town has a lot of hotels and guest houses to choose from.
But at the same time, during tourist season, Pahalgam tends to get a little crowded. Even the simplest and most basic hotels would ask for outrageous prices, taking benefit of the tourist season.
The next thing that bothers me here is the pony owners and the smell of the dung in the air. Pahalgam literally means a village of the shepherds and they are in plenty here.
You will see ponies and livestock everywhere. The roads will be covered in horse-dung, no matter where you go. The smell of the dung is so prominent that it overshadows all other smells and will remain with you as long as you stay in Pahalgam.
And to be honest, the main Pahalgam town is not even that scenic. It is actually a little disappointing. It is the scenery around the Pahalgam, towards Betaab, Aru, or Chandanwari, or on the Anantnag road that makes it worth a trip.
This is the reason why I prefer to stay a little out of Pahalgam. Maryam Cottage provided a near-perfect choice to enjoy the scenic beauty of the region.
What to see in Pahalgam
When you plan to visit Pahalgam, you do not see Pahalgam itself. Rather, it is the places near Pahalgam that are the main tourist attractions, like Aru Valley, Betaab Valley, Chandwanwari, Sun Temple, Chatpal, Baisaran Hills, etc. Pahalgam just becomes the base to explore those places because most of the hotels in the region are located here.
I have covered this topic in another article Places to Visit in Pahalgam and Things to Do that I will request you to take a look at.
I had been to Pahalgam twice before and had seen most of the tourist places here. The only one that was left was the trek to Baisaran Hills.
My original plan was that we would reach Pahalgam by noon at most and would go straight to Baisaran. That however did not happen. By the time we arrived there, it was already 3:30 p.m. and a little late for the trek.
On top of it, it had rained heavily in Pahalgam that day. The situation was not ideal for a trek anyway. So for the rest of the day, we just rested, sat by the river, and discussed our plans for the next day.
Achabal Gardens, Daksum, Sinthan Top, and Chatpal Village were decided to be the destinations we would cover the next day. It was going to be a drive of nearly 250 kilometers in total and required an early start.
Thus ended our journey from Delhi to Pahalgam. We were all pretty tired by the end of the day. We had dinner by 9 pm and went to bed by 10 pm, ready for our journey on the next day. Please click on the link above to continue reading the next part of the travelogue.
Delhi to Pahalgam – Conclusion
 I hope the travelogue, pictures, and information above on traveling from Delhi to Pahalgam were of help. If you have any questions, you can contact me on Instagram and I will be happy to answer. You can also consider subscribing to my YouTube channel and asking a question there.