When you talk about Mughal gardens, two names come to mind immediately – Shalimar Bagh and Nishat Bagh. These are the two most famous ones but there are a few others as well, scattered in different parts of the valley. Achabal Garden is one such lesser-known Mughal Garden of Kashmir.
It is located in the small town of Achabal, at a distance of 67 kilometers from Srinagar and 46 kilometers from Pahalgam. It is not yet popular as a tourist destination though and is mostly visited by the locals only for family outings and picnics over the weekend.
But it is a beautiful garden nonetheless, as beautiful as the ones located in Srinagar City. It is well-maintained, clean, and picturesque, and can definitely be included in your Kashmir itinerary.
I visited Achabal Gardens during my recent trip to Pahalgam. It was the second day of our trip. We were on our way to Sinthan Top and took a break on the way, to spend some time in Achabal Garden. To read the previous part of this travelogue, please follow the link below.
You can also take a look at this video that I shot while I was in Achabal Garden. It is actually a video of our entire trip to Sinthan Top, covering Achabal and Daksum as well.
Margan Top & Chauharnag Lake
This was the second day of our trip and our second day in Pahalgam as well. On Day 1, we arrived in Srinagar from Delhi and went straight to Pahalgam from the airport. I have talked about this in detail in the previous part of this travelogue.
The original plan for Day 2 was to go to Margan Top and trek to Chauharnag Lake. It was going to be a day trip and I was quite excited about it. But fate had other plans and rains arrived just in time to force us to modify our itinerary.
It was actually raining even when we arrived in Kashmir on Day 1. It kept drizzling all day long and black clouds remained in the sky until the evening. When I went to bed that night, in my heart I knew that visiting Margan Top was not going to be possible the next day.
The biggest reason behind this was that the road to Margan Top is a badly broken dirt road. Driving on it in a 2×4 vehicle while it rained was not the best of the ideas.
The second reason was that even the trek to Chauharnag Lake would be slippery after the rains, a risk not worth taking since we were short on time and planning to cover it all in a single day.
It rained heavily that night and even when we woke up at 6 am, it was still raining. With heavy hearts, we decided to skip Margan Top and Chauharnag Lake and agreed to go to Sinthan Top instead.
Day 2 – Achabal Gardens, Daksum, Sinthan Top
The heavy downpour that we saw at 6 a.m. soon stopped, thankfully. When we finally left our beds at 7 a.m., it was all clear, even though there were still clouds in the sky.
Sinthan Top is about 90 kilometers from Pahalgam. I knew that the condition of the road was good so there was no need for us to hurry. We could easily go to Sinthan Top and be back in Pahalgam in 5 to 6 hours.
The next 2 hours were spent getting ready and getting some breakfast. In Pahalgam, I was staying in Maryam Cottage which is located on the outskirts of Pahalgam, in a village called Langanbal.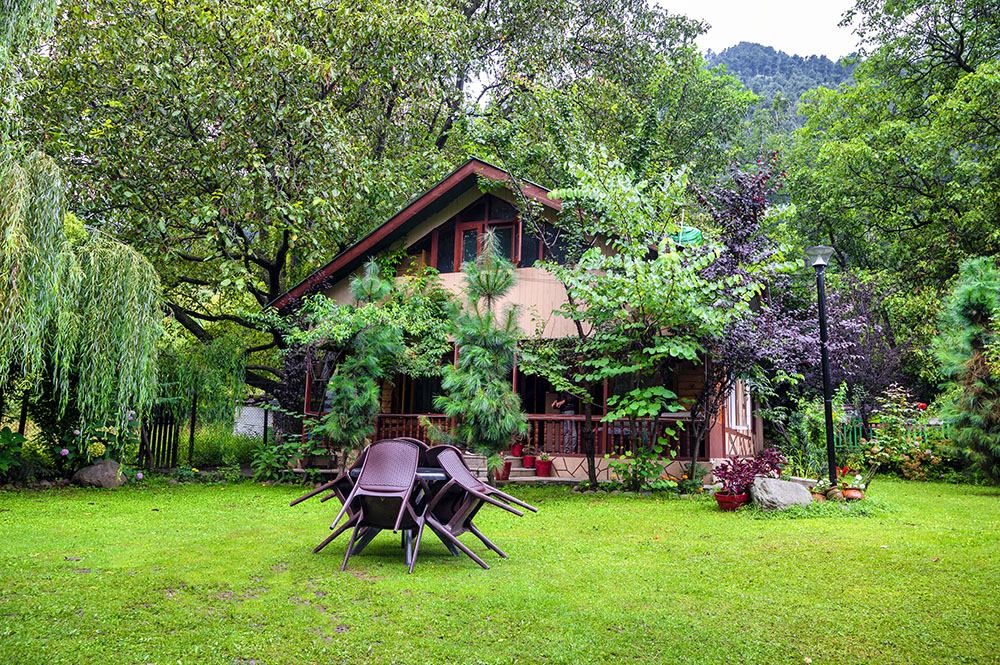 It is in my opinion the best place and spot to stay in Pahalgam. The cottage was beautiful and the location was very scenic. You can read a detailed review of this cottage in another post – Maryam Cottage – The Best Place to Stay in Pahalgam.
The problem with Pahalgam is that it is not really that scenic in the town itself. All the tourist spots are on its outskirts, at a distance of about 8 to 10 kilometers.
On top of it all, the name of the village literally means a village of Shepherds, and Shepherds are in plenty here. As a result, the smell of the dung from their livestock overshadows all other smells.
Irrespective of where you are in Pahalgam, this smell will stay with you and will drive you crazy while you are there. So a word of advice is that if you are visiting Pahalgam, stay in its outskirts.
Anyway, we got ready and after a delicious breakfast served by our host Faisal, by 9 am, we finally drove out of our cottage and started on our way to Sinthan Top.
Achabal Garden
There is not really a lot to write about the first hour of the journey. It was an eventless drive with a few short photography breaks on the way.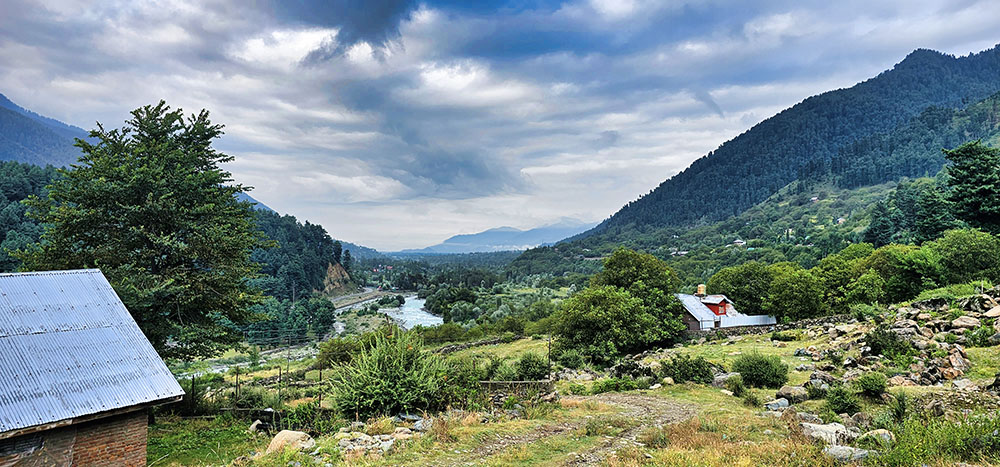 Sun in this part of Kashmir Valley can be really harsh, enough to ruin your day and give you some serious tan. But thankfully, because of the clouds, there was no sun in the sky which worked in our favor.
Also Read: How to Plan a Trip to Kashmir – A Complete Travel Guide
The weather was pleasant and we were really enjoying our journey and breaks. The longest we stopped was at this spot, near the river. I think we spent a good 15-20 minutes here, just sitting and taking -pictures.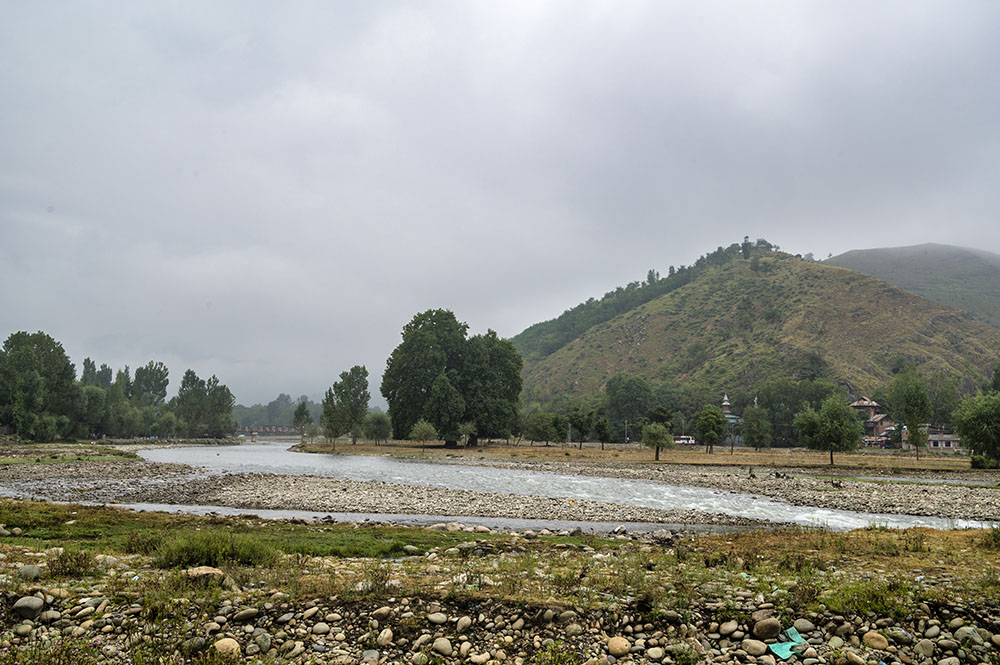 Achabal is only about 46 kilometers from Pahalgam. After a short enjoyable drive, we finally entered the town and reached its main market which was just opening up.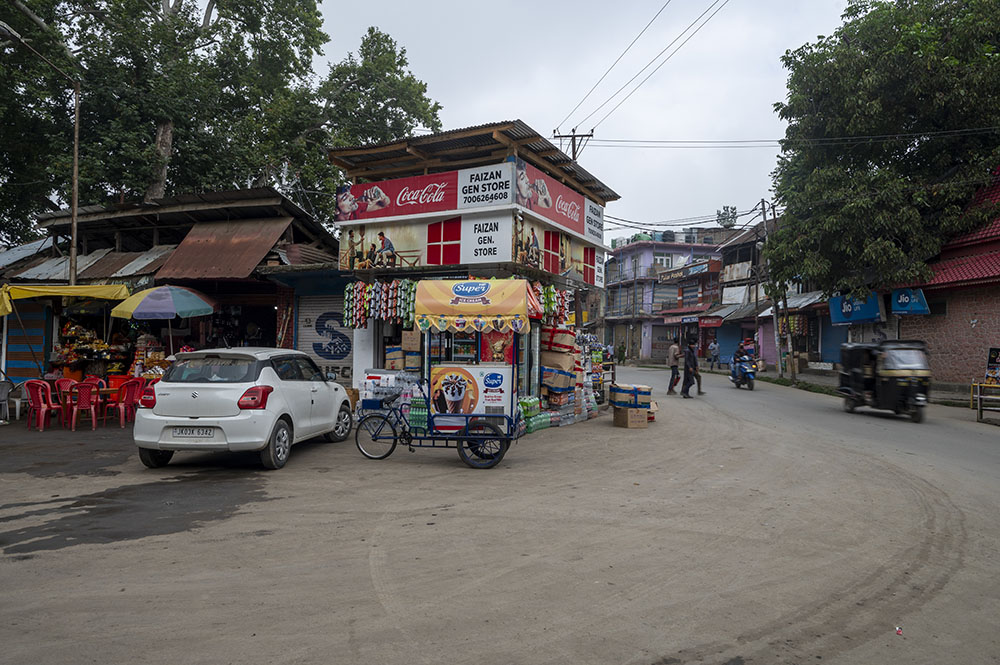 In all honesty, Achabal was not really on our plans for the day. The plan we had in mind was to go to Sinthan Top and visit Daksum on the way. Acbahal Garden was something that we decided to visit at the last minute when we drove past its gates.
I knew of Achabal Gardens before and had thought about visiting it during my previous Kashmir trips. But since I had never had the chance to be in this part of the valley before now, this plan never materialized.
So when we drove past the garden gates and Faisal pointed it to us, I immediately asked him to stop. We had the entire day to us and there was plenty of time to visit Achabal Gardens as well on our way.
Also Read: Places to Visit in Pahalgam & Things to Do
How to reach Achabal Mughal Garden
Achabal is located near the town of Anantnag. So if you were coming from Srinagar, drive to Anantnag first and then take the road to Achabal from there. The garden is also marked on Google Maps. So you can just follow the directions and it will take you to your destination.
The same rule will apply if you were in Pahalgam as well. But in this case, you will not have to go to Anantnag first. There is a connecting road just before Anantnag that goes straight to Achabal.
A private taxi will be the best mode of travel if you have reached Kashmir by flight. Depending on your itinerary, the per day cost of a cab will come out to be around Rs. 3000.
Public transport on this route can be a little problematic for tourists. Bus service is not that frequent and you will have to rely on shared cabs entirely. You will have to wait by the road for a Sumo to arrive that can take you to the next town.
Also Read: Clothes for Kashmir Trip – What to Pack
Acbahal Garden Entry Fee
There is an entry fee of Rs. 40 per person for Achabal Gardens. We parked our car near the main market area, walked back a little to the garden gate, bought the ticket, and entered the garden.
It was a Sunday when we were there and I was expecting the garden to be a little crowded. But to my surprise, there weren't a lot of people around. I think it was because of the fact that we were there a little early in the morning.
History of Achabal Garden
The garden was built in 1620 by Mughal Empire Emperor Jahangir's wife, Nur Jahan, and was named Begumabad in her honor. It was also given a second name, Sahebabad, after Emperor Jahangir himself. In the later years, Jehanara Begum, the oldest daughter of Shah Jehan, remodeled the garden and also added a hammam to it.
Also Read: When is the Best Time to Visit Pahalgam?
Afterwards, the garden deteriorated and it was only in the 19th century, during the reign of Maharaja Ranjit Singh, that it was restored and rebuilt. The garden was rebuilt again on a smaller scale by Maharaja Gulab Singh, declaring it a public garden.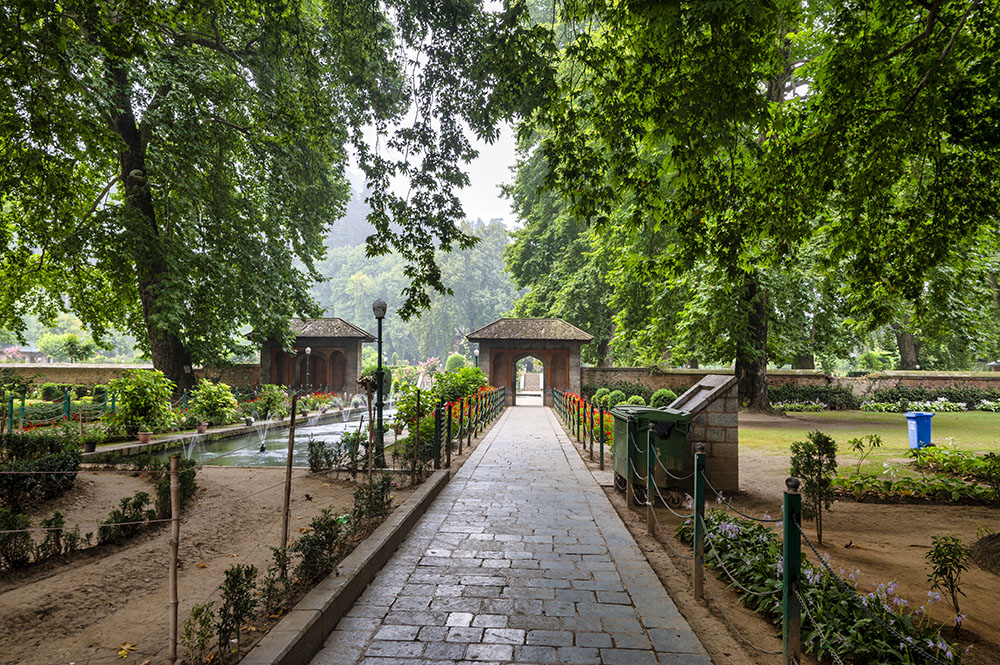 Architecture of Achabal Gardens
The garden follows the Persian style of architecture which was brought to Kashmir by the Shah Miri Sultanate. Later, Mughal Emperors refined this art and took it to even greater heights throughout their rule.
Laid out in the concept of chahar bagh, it consists of four parts, with walkways lined with trees and flowers, with a hill in the background. A spring comes out of a few places from under the hill whose water flows through the garden in canals.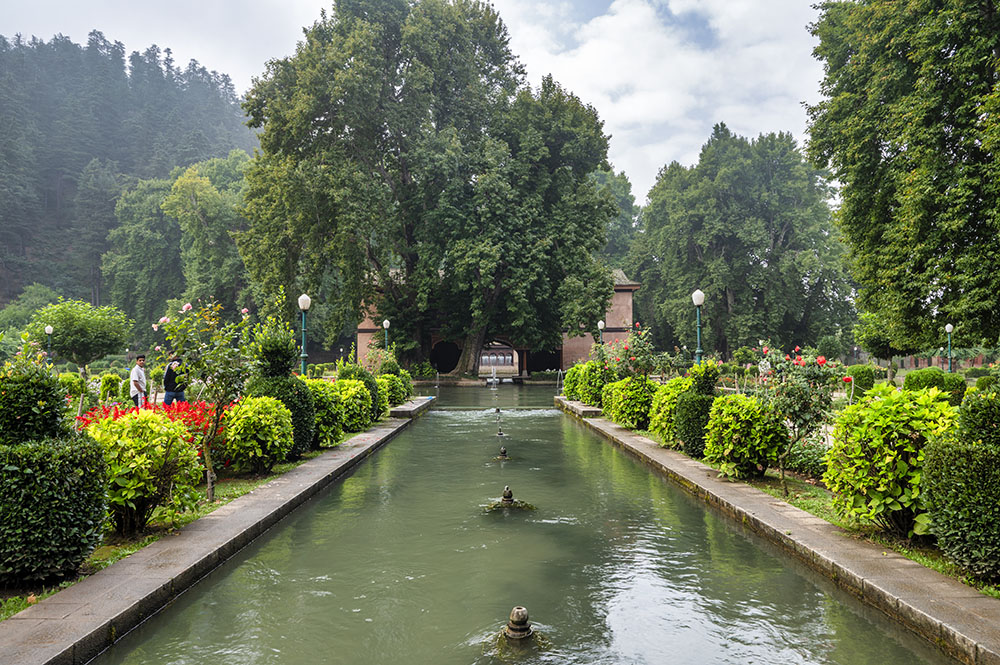 The garden laid out at the time of Noor Jehan was much bigger than what it is today, playing out the symphony of water, wood, and stone. It had four terraces, pools, cascades, water channels, and a number of buildings.
Also Read: How Much Does a Kashmir Trip Cost?
But what stands now is no lesser in beauty. The entire garden is marked with a long series of beautiful flowers. Platforms and pavilions sit along the course of the water and it is all very well maintained.
The Spring
The source of the water in the Achabal Gardens is an underground spring, which is said to be the re-appearance of a portion of the river Bringhi.
If one is to believe the stories, it is said that a large portion of the water from the Bringhi River disappears through a fissure underneath a hill at a nearby Village. This water then reappears in Acbahal Garden from several places.
It is also said that in order to test this, a quantity of chaff was thrown into the Bringhi River and that chaff came out of the Achabal spring.
I read this part on the Wikipedia page about Achabal Gardens so I cannot really verify any of these claims. But what I can definitely confirm is that the quantity of water from the springs in the garden will surprise you.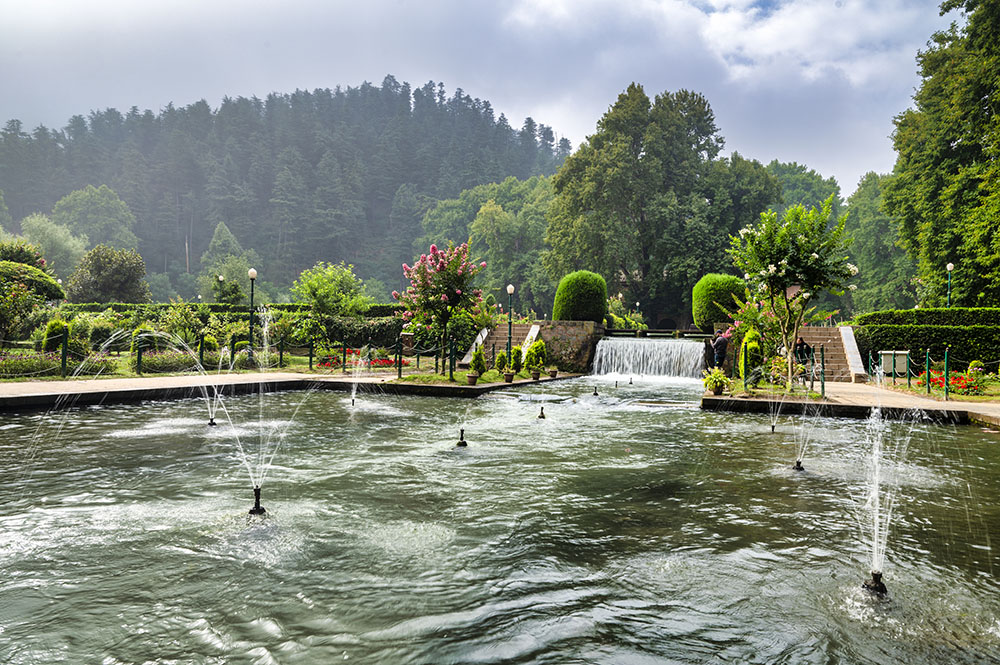 Best Time to Visit Achabal Garden
Because of all the water that the garden gets from the spring, it is well irrigated and is always lush green. So you can visit here any time of the year and you will have a pleasant view in front of you.
The only time when it may not look that appealing is during the winter season, from November to February. The entire Kashmir at this time looks dull and dry (if there was no snow) and Achabal Gardens is no exception.
Timings
The garden remains open from 9 a.m. to 6 p.m. for the general public. It is open even on Sundays and all national holidays. Actually, holidays are when it is most crowded.
We spent about an hour in the Achabal gardens, clicking pictures, and shooting videos. In many ways, I actually liked it even better than Shalimar Bagh in Srinagar, which is in dire need of some restoration.
After an hour, we walked back to our car and moved on to our next destination for the day, Daksum. Please click on the link above to continue reading the next part of the travelogue.
Achabal Gardens – Conclusion
I hope the travelogue, pictures, and information above on Achabal Garden were of help. If you have any questions, you can contact me on Instagram and I will be happy to answer. You can also consider subscribing to my YouTube channel and asking a question there.